We test and review fitness products based on an independent, multi-point methodology. If you use our links to purchase something, we may earn a commission. Read our disclosures.
All types of rowers have pretty much the same rowing machine benefits: It's low-impact, provides a full-body workout, and gets your heart rate up—all positive things on the journey to better health.
If you're considering a rower for your home gym, you may have come across the ProForm 750R in your research. In this ProForm 750R rower review, I'll let you know if this piece of fitness equipment should stay on your radar.
More Than a Decade of Rowing Experience
Our team of expert product testers has completed its fair share of rowing machine workouts. From our own home gyms to CrossFit boxes and commercial gyms, GGR writers—who are also certified personal trainers and CrossFit coaches—have been sweating it out on rowing machines from all the major brands for more than 10 years. We know what to look for when it comes to rowing experience, durability, ergonomics, and more.
Smart Features at a Smart Price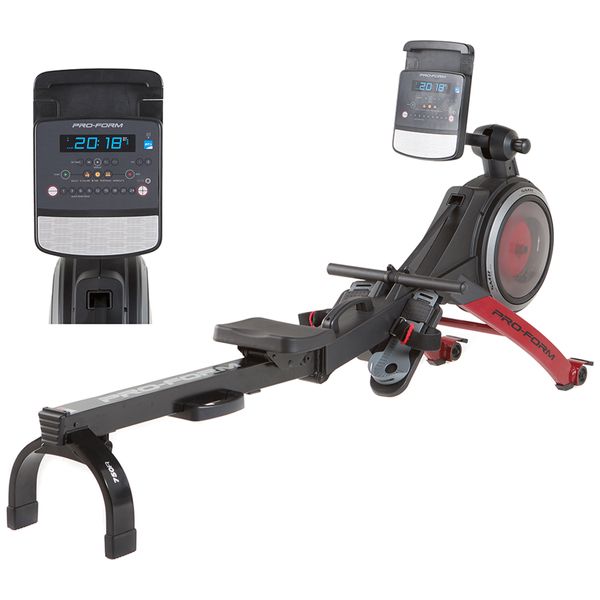 ProForm 750R Rowing Machine
The ProForm 750R Rowing Machine is a magnetic rower that works with an iFIT subscription. It's certifiably mid-tier as far as rowers go, clocking in at around $800 but still packing plenty of features. It has a full-length slide rail that folds when not in use, plus a console that adjusts vertically to accommodate different heights and preferences.This rower doesn't have a large display like some other fancy smart rowing machines, but it does have a sturdy device holder that can support a full-sized tablet. So, to stream workouts, you'll need your own device, but that makes the 750R a great option for people who already have a tablet. Because there's no big touchscreen, you can store this rower vertically if you need to.The 5-inch high-contrast display shows basic rowing metrics, including time elapsed, estimated calories burned, distance rowed, and pace.
A Quick Look at the ProForm 750R Rower
ProForm is a big name in the conditioning space, and we've tried our fair share of cardio machines from this brand, including the Carbon T10 treadmill and Hybrid Trainer. They offer solid mid-tier options across treads, exercise bikes, rowers, and ellipticals, and we were excited to test out the 750R.
My Tips
Come prepared to use your own smart device for programming to get the most out of this machine.
Measure your space before you buy—this machine has a relatively large footprint, but it does fold when not in use.
Pros:
Budget-friendly smart rower
Compatible with iFIT
Folds for storage
Device holder fits tablets up to 7.5"
Cons:
Weight capacity is only 250 lbs
Machine itself is on the heavier side (116 lbs)
Requires your own smart device
Some reviews call out slack in resistance at high stroke rates, although we didn't notice this during our own testing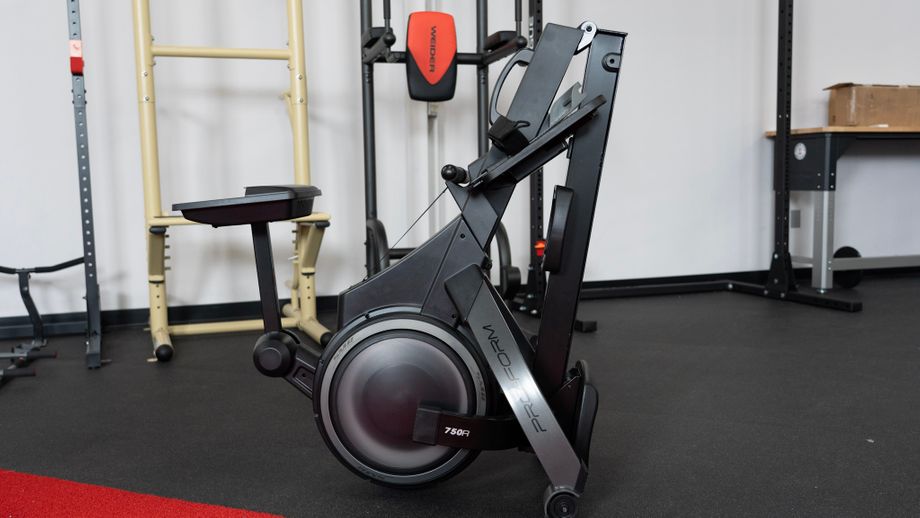 Is the ProForm 750R Rower Worth the Money?
This machine provides some great features at a relatively low cost. But, it's not for everyone. Here's who I think should click "add to cart," and who should keep scrolling:
Great for:
Those looking for a smart rower at an affordable price
Compact storage
Value shoppers
Not recommended for:
Those who want a large built-in display
Trainees who don't care for iFIT programming
People on a super tight budget
Are ProForm Rowers Worth the Money?
ProForm currently offers three rowers—the 750R, and its bigger brother, the R10, plus the Proform Pro 440R, which is on closeout.
At about $800, we feel confident that the 750R is a good value for the money—you get great smart features at a fraction of the price of other smart rowers on the market, plus it folds. In fact, we even named this machine as one of the best budget rowing machines.
The R10 is quite a bit more expensive at $1,400. The only sizable difference between it and the 750R is that you'll get a built-in 10-inch touchscreen with this machine, as opposed to having to use your own device. If having an integrated screen is important to you and your workout experience, this may be worth the extra money. If not, we'd recommend putting your dollars toward the 750R.
The 440R will likely be phased out of the line soon, but we detailed more on it below.
ProForm 750R Rower Specs
| | |
| --- | --- |
| Dimensions | 86.5" L x 22" W x 45.5" H |
| Display | 5" high-contrast, multicolor |
| Product Weight | 116.6 lbs |
| Weight Limit | 250 lbs |
| Bluetooth | Yes |
| Transport | Front-mounted wheels |
| Storage | Integrated tablet holder (holds up to 7.5-inch wide device) |
| Construction | Steel, aluminum, and plastic |
| Resistance Type | Magnetic |
| Resistance Levels | 24 digital levels |
| Programming | iFIT |
| Warranty | 5-year frame, 1-year parts and labor |
Workout Experience
We've tried the crème de la crème of smart rowers, including the CITYROW MAX, Aviron Tough Series, and Ergatta, and to be honest, we weren't sure if the 750R would keep up. But we were pleasantly surprised—for one because this rower will only set you back $800, whereas the aforementioned rowers all cost upward of $2,000.
Hopping on the 750R, we immediately noticed that the seat was comfortable—great start. With a 250-pound weight capacity, we weren't sure what the stability would feel like, but it definitely felt sturdy and durable to GGR staff writer and rower extraordinaire Amanda Capritto, who got up close and personal with this machine.
The flywheel and magnetic resistance system produce a quiet and smooth ride, particularly compared to an air rower, which is generally louder. Plus, you can change the digital resistance levels with a tap of a button, as opposed to a more traditional damper system.
There are no extras like water bottle holders or fans on this rower, but that wasn't a dealbreaker for us at this price and with everything else it comes with.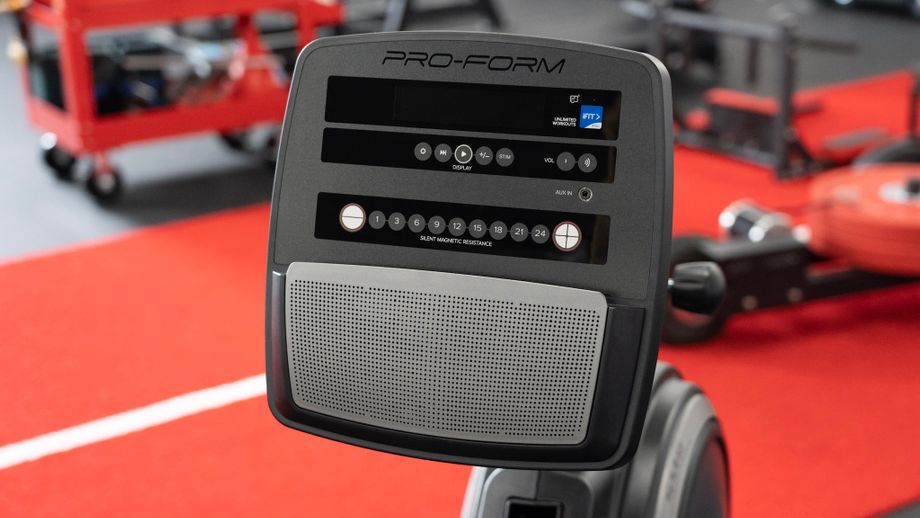 Programming
The ProForm 750R rower is compatible with iFIT. With purchase, you'll get a 30-day iFIT membership to try it out. After that, iFIT will cost you $39 per month for the monthly family plan, $180 per year for the Yearly Individual Plan, or $396 per year for the Yearly Family Plan.
Here's how the programming works: You'll download the iFIT app on your smartphone or tablet, connect your device to the rower via Bluetooth, and set it up on the rower's tablet holder.
Then, you'll pick your iFIT workout. There's something for everyone, from Global Workouts, like the English Channel Endurance Series or the Zambia Beginner Series, to Studio Classes like Getting Started With Rowing and Shred & Burn. The personal trainers will automatically change your resistance as you row through each workout, taking the guesswork out of it.
But don't fret: If you don't want to use iFIT, the 750R also comes with 20 built-in workouts that you can take advantage of as well. These range from simple time goals to more complex interval HIIT rowing workouts.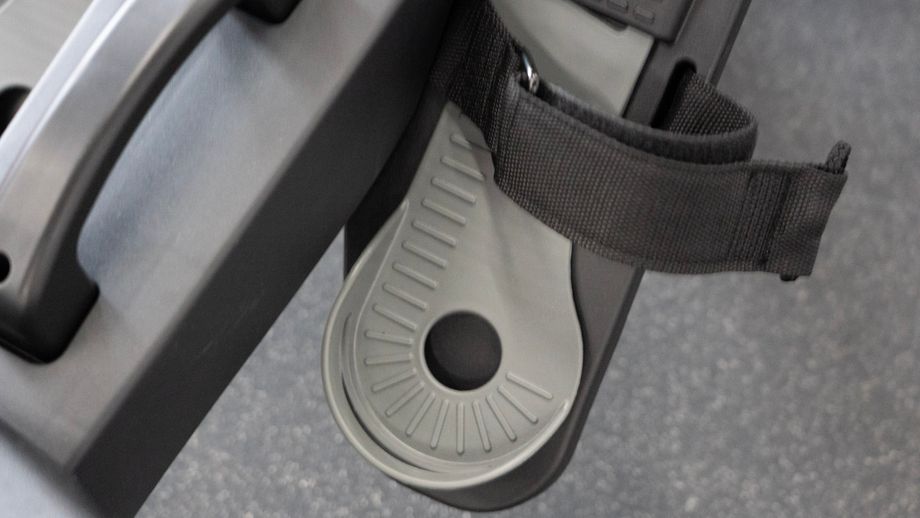 The Ergonomics
The 750R is comfortable to use— it's outfitted with an ergonomic, molded seat and a steel seat rail. We couldn't find the rail length anywhere, but it felt similar to the Concept2 RowErg, which has a 54-inch-long slide rail. Amanda, who is 5-feett-6-inches tall, was able to reach full leg extension with plenty of extra room left on the slide rail.
The handlebars are angled in a way that's comfortable on the wrists, and the 5-inch display is vertically adjustable so tall and short rowers can have the same viewing angle. There are also adjustments for the foot cradles for different-sized feet, as well as foot straps that adjust.
This machine comes equipped with pivoting foot pedals, which means the pedal moves back and forth with your foot throughout the stroke. These are good for people with poor ankle mobility, compared to fixed pedals, as they don't require full dorsiflexion. However, for someone who's used to fixed pedals such as those on the Concept2 RowErg, the pivoting will take some getting used to.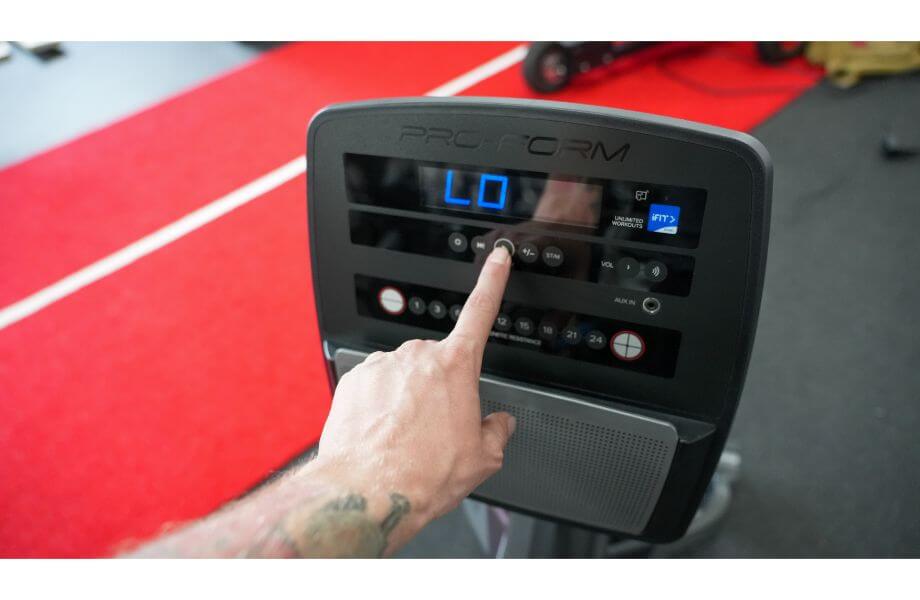 Footprint and Portability
For a foldable rower, the 750R is impressive from a size perspective. It still feels substantial, and it is at 86.5 inches long by 22 inches wide by 45.5 inches high. The 750R folds up in a SpaceSaver Design for a smaller footprint when not in use, essentially halving the length of the machine.
It weighs 116 pounds, so it's a bit heavy, but it has front transport wheels to easily move it around. Amanda said she had no issues moving it.
Durability and Construction
Overall, this rower feels pretty durable.
"It's not a tank like the Hydrow, Aviron, or NordicTrack rowers, but it's very stable during use and has a lot of aluminum construction," Amanda says.
Frame
While the slide rail is steel, there is some plastic, like on the footing of the machine and the foot cradles; this isn't excessive by any means, but may be something to keep an eye on in terms of wear.
And, from a tech perspective, the 750R is actually less likely to break because it doesn't have a big, fancy HD display. You can safely assume that the small LCD monitor is pretty trusty.
Handle
The ProForm 750r Rower has an ergonomic handlebar that's comfortable on the wrist.
Seat
The ProForm 750r Rower has a 250-pound weight capacity, which is pretty good but not the best. Despite that, the seat was comfortable for testers of all sizes and we had no issues with it during our workouts.
Flywheel
We weren't able to track down the weight of the ProForm 750r Rower's flywheel, but the good news is it utilizes low-maintenance magnetic resistance and is super quiet.
Resistance
The ProForm 750r Rower has 24 digital levels of resistance, and while some reviews claim there's a bit of slack at the higher end it wasn't something we noticed during testing.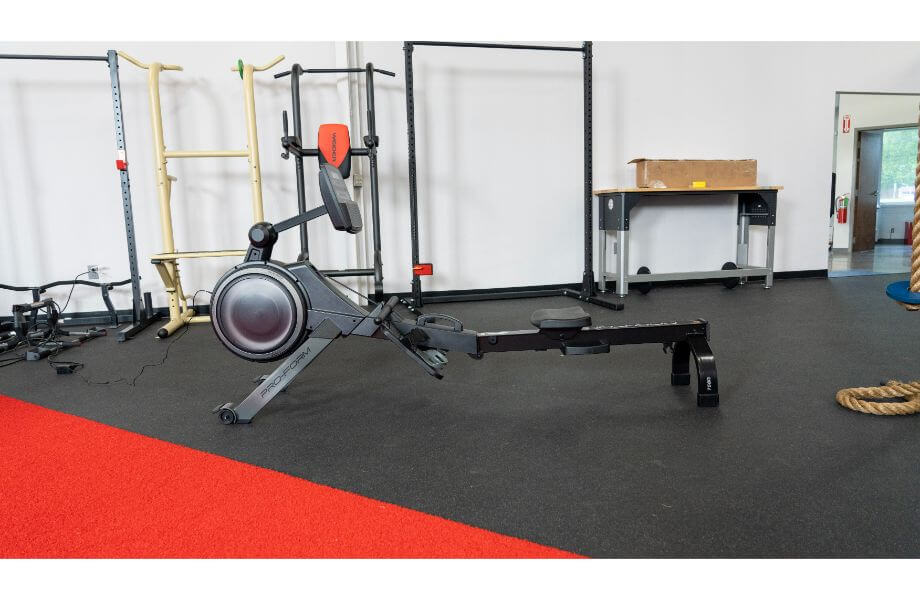 Tech Specs
Here's a look at the ProForm 750r Rower's technology features
Console
You may see the small 5-inch high-contrast display on the 750R and think "basic," but there are plenty of other tech features on this machine.
Let's start with the monitor, though: It's simple, and displays stats like time, distance, strokes per minute, and total strokes.
"Aside from the lack of an integrated display, this rower has all of the same tech features as the NordicTrack RW900, which I love," Amanda says.
Accessories
The 750R rower features:
Auto-adjust resistance, which means iFIT trainers can remotely control your resistance
Bluetooth compatibility
Live and on-demand classes via iFIT
Dual 2-inch speakers
Noise
The ProForm 750r Rower's speakers have a pretty standard sound quality.
Workouts
The ProForm 750r Rower has 20 built-in workouts that range from time goals to high-intensity interval training. If you don't find one that works for you, it comes with iFIT programming.
iFIT is one of the best online workout programs, in our opinion. You can choose from hundreds of live or on-demand workouts for everything from rowing classes to running workout programs.
ProForm 750R Rower vs. ProForm 440R Rower
ProForm 440R Rower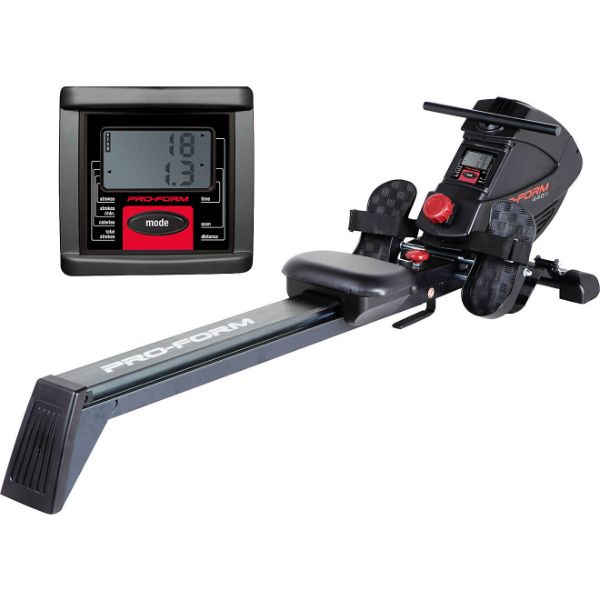 ProForm 440R Rower
The ProForm 440R Rower is an economical rower featuring oversized pivoting pedals with an adjustable nylon foot strap, 8 levels of magnetic resistance, transport wheels, and a folding frame design. A large LCD monitor displays strokes per minute, total strokes, distance, time, and calories throughout the workout. Equipped with a low pulley station, the 440R functions not only as a rower but also as a strength training tool. This lightweight cardio machine folds and with its front transport wheels, it is easy to move and store when not in use. Its compact nature, however, is limiting. The shorter rail length makes it difficult for taller individuals to use it comfortably and with proper form. Although the price is on the lower end, the unpadded handrail is still disappointing and particularly uncomfortable for many users. There have also been reviews of the rowing cord/rope fraying and breaking after only moderate use. And, if you are looking for pre-programmed workouts for some external motivation, you will not find that in the 440R but you do receive a one month free membership to iFit. Still, the build quality is on par with other models at this price point. The footrests are large enough for most users which contributes to a comfortable rowing position for most. While the seat does fall on the smaller side, it is well padded.  
The ProForm 440R is on closeout, which likely means it's being phased out of the line. However, comparing the two will show you if it's worth trying to snag a 440R on an awesome sale.
| | | |
| --- | --- | --- |
| Machine | ProForm 750R | ProForm 440R |
| Price | $800 | $399 |
| Resistance | 24 levels of magnetic resistance | 8 levels of magnetic resistance |
| Weight Capacity | 250 lbs | 250 lbs |
| Monitor | 5-inch multicolor display | LCD monitor |
| iFIT-enabled | Yes | Yes |
| Tablet holder | Yes | No |
| Dimensions | 86.5" L x 22" W x 45.5" H | 76.6" L x 20.5" W x 38.3" H |
| Foldable | Yes | No |
| Warranty | 5-year frame, 1 year for parts and labor | 5-year frame, 90 days for parts and labor |
| Item Weight | 116 lbs | 75 lbs |
As you can see, while the 750R is double the price, it offers three times the levels of resistance, plus a tablet holder to really get the most out of iFIT programming. And even though it's quite a bit larger than the 440R, it does fold.
If you're a beginner, or just want a no-frills rower, the 440R is probably your best bet. Consider the 750R if you're more interested in interactive programming and have the space to dedicate to a larger machine.
Customer Experience
Purchasing and assembling our ProForm 750R rower was pretty seamless. There are a few things to note though.
Because of COVID, the company suspended all white glove delivery services, so you'll have to assemble this bad boy yourself.
Luckily, GGR Operations Manager Sam "asSAMbly" Presley, who is in charge of assembling all the equipment at GGR HQ, said the 750R was a pretty simple build. Here's his take:
"This rower comes in a pretty compact box for its size. Although it's not super heavy, some people may need a second person to help them move it to the location they want to build it at. We didn't run into any problems when building the rower other than some of the screws not lining up with plastic pieces."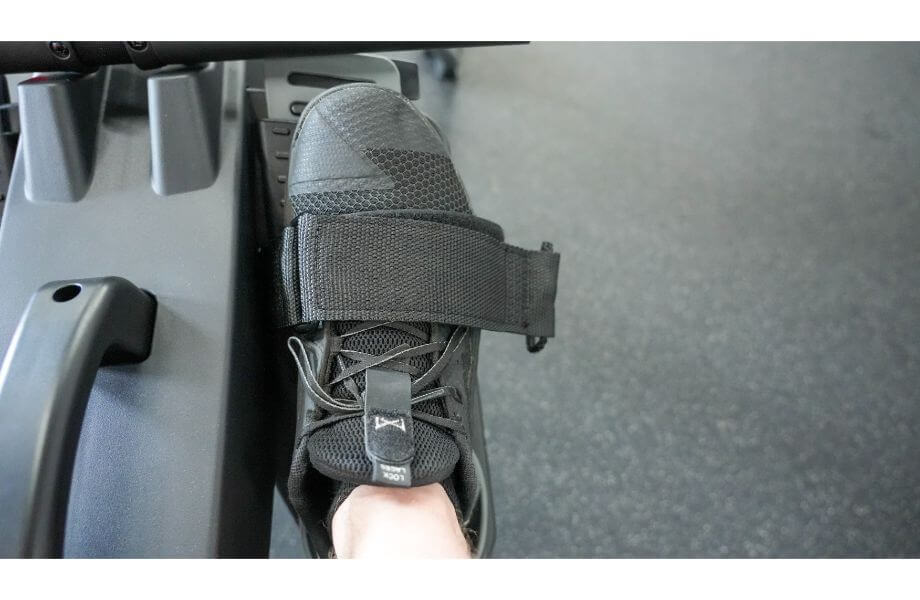 You can finance the machine through the ProForm website for $21 per month for 39 months if you qualify. Or, if you enroll in ProForm+ for $39 per month, you can get your 750R rower for free with the purchase of a 3-year iFIT membership.
If you're not happy with your purchase, you can return the 750R within 30 days, but you'll be out a $250 shipping fee plus a 10% restocking fee. Ouch.
Additionally, there is a 10-year warranty on the frame, plus two years on parts and one year on labor—this is on par with industry standards, so a definite plus.
Customer Reviews
The ProForm 750R rower has a 3.8 out of 5-star rating on Amazon as of this writing. There are no reviews on the manufacturer's website.
Fans of this piece of cardio equipment said it feels sturdy and love that it folds up for a smaller footprint when not in use. iFIT programming also wins points.
On the other hand, though, the biggest complaint about this rower was about the iFIT subscription. You can use the rower without iFIT, but the experience won't be as immersive—just something to keep in your mind as you're weighing the purchase.
Final Verdict of Our ProForm 750R Rower Review
If you're looking for a smart rower on a budget, consider the ProForm 750R. It has some impressive smart features for just $800, and the folding capability is another huge plus.
Compatible with iFIT programming via your own smart device, the 750R allows trainers to automatically adjust your resistance during a workout.
The folding mechanism essentially cuts the length of the rower in half, and front transport wheels make it fairly easy to move around despite its weight.
Full Rating of the ProForm 750R Rower
ProForm 750R Rower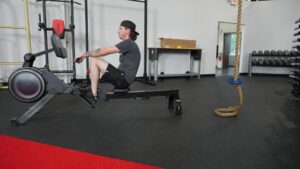 The ProForm 750R Rower is a mid-tier smart rowing machine with a quiet magnetic flywheel, 24 levels of resistance, and plenty of interactive workouts thanks to iFIT.
Product Brand: ProForm
Product Currency: $
Product Price: 799
Product In-Stock: InStock
ProForm 750R Rower Review FAQs
What is the best rowing machine?
Does ProForm make good rowers? 
As a whole, ProForm conditioning equipment has a good reputation. The company currently offers three rowers at different price points, our favorite being the 750R, which is a solid mid-tier option that folds and has some impressive smart features. 
Which ProForm rower is best?
We like the ProForm 750R rowing machine as an option that won't break the bank at about $800, but still offers nice tech features. It also folds but is still respectable in size.