We test and review fitness products based on an independent, multi-point methodology. If you use our links to purchase something, we may earn a commission. Read our disclosures.
Fitness equipment has grown "smarter" over the years (Tonal sesh, anyone?), and rowing machines are no exception. The NordicTrack RW900 rowing machine is, in my opinion, one of the best value smart rowers out there, and in my NordicTrack RW900 review, I'll tell you why.
Rowing Since 2012
I've been rowing on ergs for 10 years. Although most of those years have been on trusty Concept2 air rowers, I've used my fair share of magnetic and water rowers, as has the rest of our team of fitness professionals and product testers. I tested the RW900 at our equipment testing facility in Springfield, Missouri, using it for several workouts and comparing it directly to others in its class. (Read our guide to the best rowing machines.)
NordicTrack RW900 Rower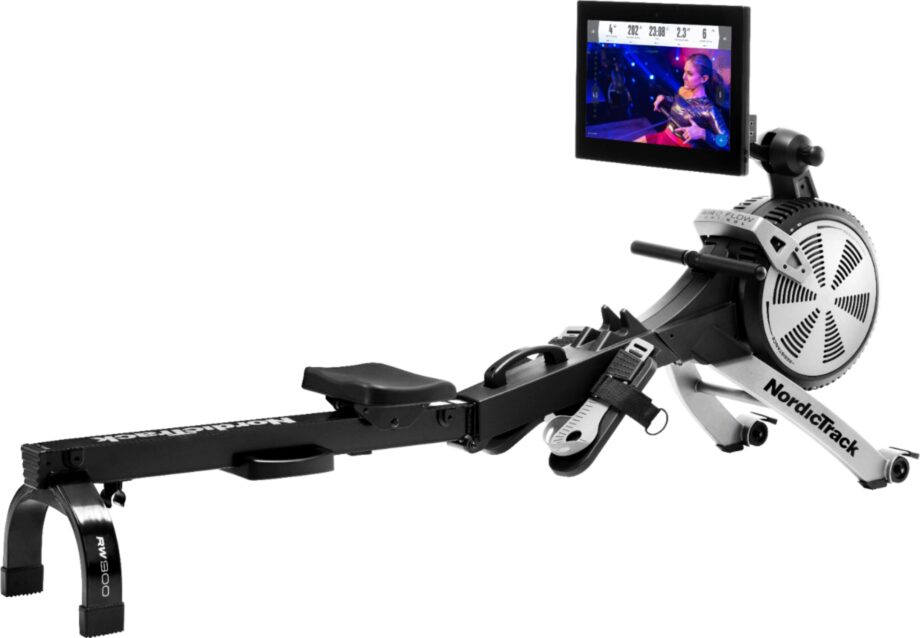 NordicTrack RW900
With the RW900's Rotating Smart HD Touchscreen, you can take part in immersive workouts, then hop off your rower for a strength training session or yoga in beautiful locales. Every iFit rowing workout features Automatic Trainer Controll where our world-class trainers adjust your rower's digital resistance for a great workout. Experience the difference of Automatic Trainer Control. Our elite trainers can auto-adjust your digital resistance while the manual air resistance allows you to control another level of intensity. Our oversized, pivoting pedals with quick-release, adjustable foot straps give you the confidence that you'll stay secure during your most intense trainer-led workouts.
A Quick Look at the NordicTrack RW900 Rower
The NordicTrack RW900 is the top-tier model in NordicTrack's current line of rowers. It looks a lot like the Hydrow rower (I give a head-to-head comparison of the two later in this review), but thanks to NordicTrack's integration with iFIT, the programming options are unmatched as far as rowing machines go.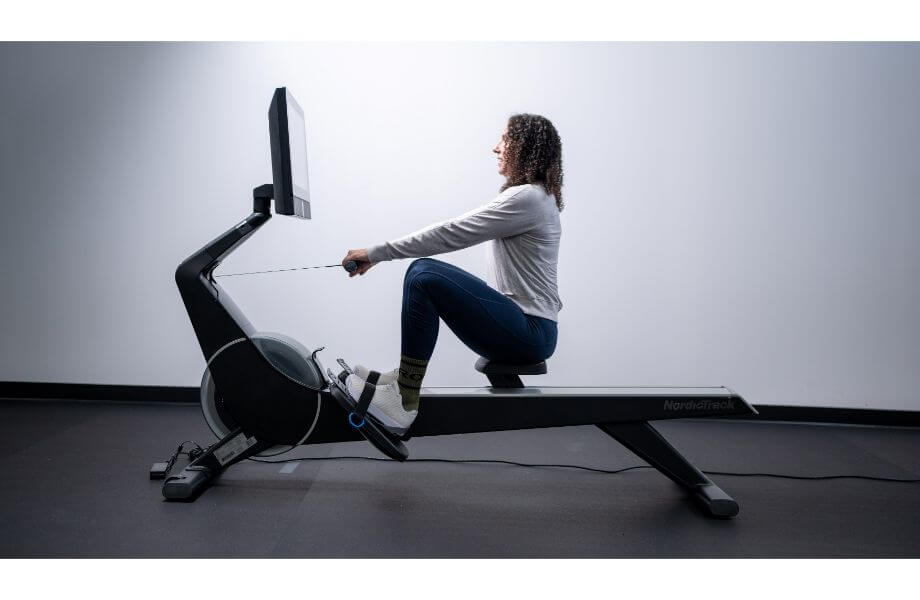 At a glance, the RW900 rowing machine is a solidly constructed rower with a nice touchscreen display that streams iFIT workouts and has nearly silent magnetic resistance. Let's dive into the finer details of NordicTrack's top-of-the-line rower to see if it's the best NordicTrack rower.
My Tips
Skip this one if you don't have much space in your home gym. It doesn't fold, and due to the large display, it doesn't store upright, either.
Take advantage of the swiveling screen. I love this rower as a cross-training option because you can do floor workouts by adjusting the display and using the iFIT membership you already pay for.
RELATED: Cross-Training for Runners
Pros:
Works with iFIT programming
Quiet magnetic resistance
At the time of writing, comes with a free pair of adjustable dumbbells
Large HD touchscreen tilts and swivels so you can do workouts off of the rower
Comfortable, large padded seat
Beautiful 1080px display
Large variety of workout options
Trainers can remotely adjust resistance during live workouts
Financing available
Cons:
Price starts at about $1,800
Monthly subscription required for use
Large footprint—not recommended for small spaces
Requires an outlet
Storing in a non-climate-controlled environment voids warranty
Low weight capacity of 250 lbs
Is the NordicTrack RW900 Rower Worth It?
As it stands, the RW900 rower is one of the least expensive smart rowing machines on the market. There's Hydrow, which starts at about $2,500; Ergatta, which is priced around $2,200 for just the machine; and the Aviron series, which starts around $2,200.
And then you have the RW900 hovering at a price point of about $1,800, yet it seemingly includes all of the same high-tech and luxurious features as the more expensive smart rowing machines. (The only smart rower I know of that's cheaper than the RW900 is the Echelon Row-S, which costs about $1,600.)
Is it too good to be true? Is there something wrong with the RW900? Nah. My hands-on testing experience with the RW900 proves otherwise.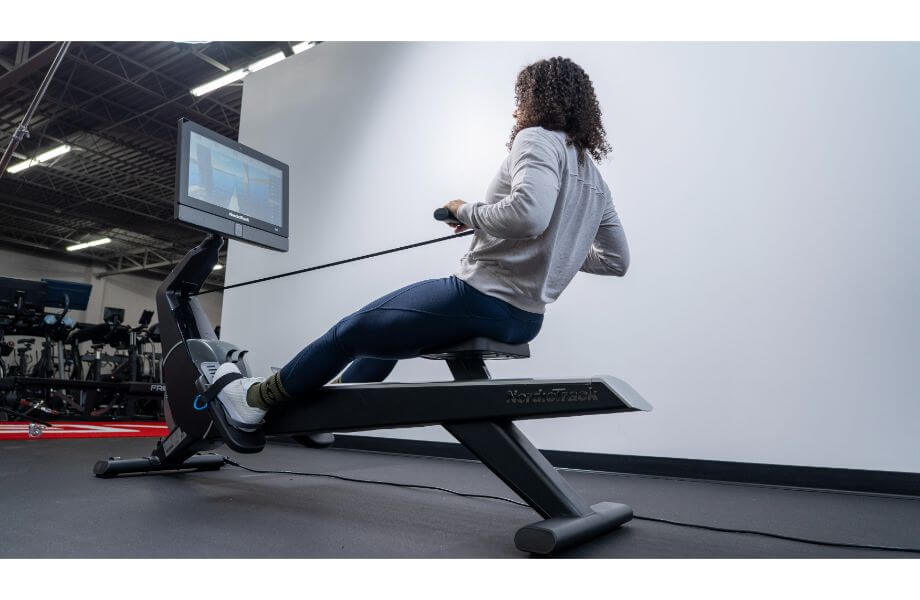 Great for:
People who want a tech-infused rowing machine for a lower price than most
Trainees who prioritize variety in their workout routine and want more than just rowing workouts
Home gym owners with a lot of space for a rower
Not recommended for:
People who want an air rower or a water rower
Trainees who prefer manual or free mode to instructor-led workouts
Home gym owners who don't have a lot of space
NordicTrack RW900 Specs
Dimensions
Display
Product Weight
Weight Limit
Bluetooth
Transport
Storage
Construction
Resistance Type
Resistance Levels
Programming
Warranty
82″ L x 22″ W x 54″ H
22-in tilt and pivot HD touchscreen
163 lbs (in box)
250 lbs
Bluetooth 5.0 connectivity
Front casters
Does not fold
Aluminum, steel, plastic
Magnetic flywheel
26
iFIT
10-year frame; 2-year parts; 1-year labor
Workout Experience
While I'm admittedly more of a Concept 2 Model D rower kind of gal (manual mode FTW), I did enjoy my experience with the NordicTrack RW900 rower. Because I've spent so many years exercising on rowers with air resistance, on which the resistance is entirely user-dependent, I had a lot of fun messing around with the 26 levels of resistance on the RW900.
Even more fun was the AutoAdjust feature, which is NordicTrack's term for remote-controlled adjustments of the digital resistance. In other words, during live iFIT classes, your instructor can (and will!) remotely and automatically change the digital resistance throughout the workout.
This is such a cool feature, because it means you don't have to lean forward and change the resistance level mid-rowing stroke—instead, you can continue to focus on proper rowing form and getting that heart rate up.
Programming
iFIT programming is bomb, period. Among our team of expert product testers, we have a lot of love to give for various fitness apps and programs, but iFIT remains a crowd favorite. You get one month of a family membership free upon purchase of the RW900.
There are virtually endless rowing machine workouts to choose from, and there are multiple filtering options so you can easily find what you need. Like other smart rowers, the RW900 streams gorgeous on-the-water rowing workouts filmed in locations all over the world. There are plenty of studio and real-time classes, too.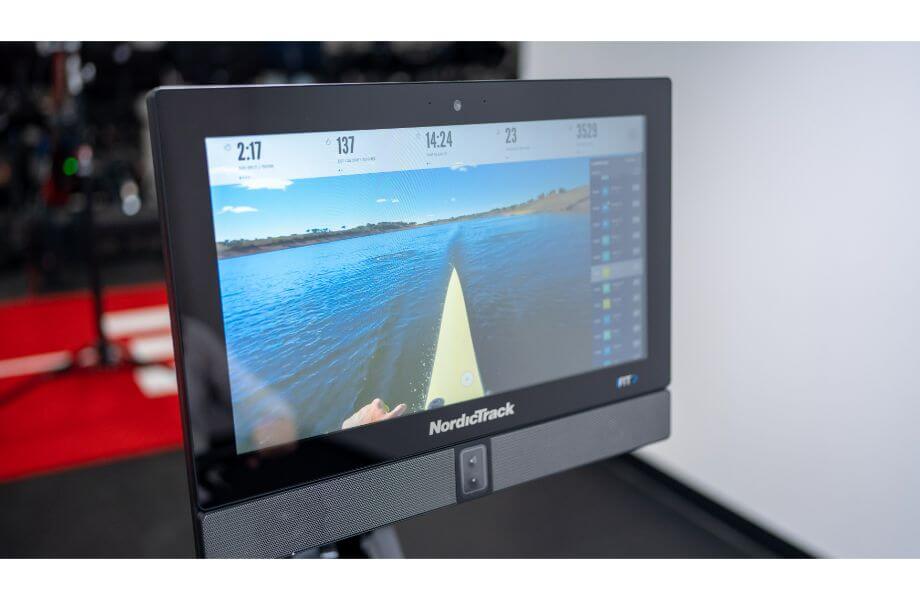 What I really love about iFIT and the RW900, though, is that you can do so much more than rowing workouts on it. Thanks to the swiveling display, you can do off-the-rower strength training and other full-body workouts, such as yoga, bootcamp, high-intensity interval training, and more.
As a personal trainer and proponent of functional fitness, I absolutely love this because I think variety is so important for injury prevention and long-term exercise adherence. This, ultimately, is why the RW900 is my favorite cardio machine for cross-training. (Plus, at the time of writing this, the RW900 comes with a free pair of NordicTrack adjustable dumbbells. This may not be a forever offer, but it feels worth calling out here.)
RELATED: Best Adjustable Dumbbells
I do find it unfortunate that you can't use the rower at all without an iFIT subscription. It would still be a cool rower without the membership, and I'd love to see a free mode or manual mode for people who simply want to hop on and look at their 500-meter split time.
iFIT Subscription
An iFIT subscription costs $39 a month or $396 per year for a family membership, and $180 a year for an individual subscription.
Studio rowing: Garage Gym Reviews staff writer and iFIT enthusiast Caroline Lubinsky has tried out multiple iFIT rowing workouts and is more than impressed by them. "iFIT has a ton of well-done classes, but the rowing instruction is particularly good," Caroline says. "Whether you're more comfortable with in-studio classes or rowing on an open body of water, iFIT has options for you. As someone who has taken both, I personally prefer the in-studio classes. They remind me a lot of the Peloton studio classes because iFIT has actual people in the room doing the workout alongside the instructor."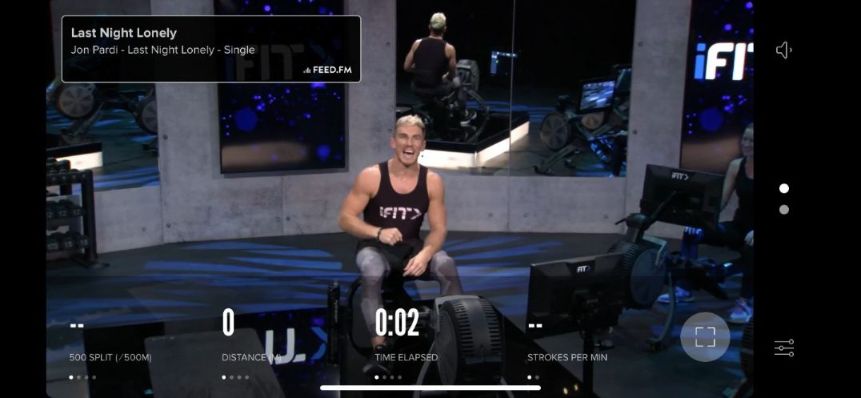 Outdoor routes: There are also classes that mimic outdoor rowing, which Caroline has also tried out. "The classes on the water remind me of those from Hydrow, so if you actually row outside in your spare time, you'll likely enjoy these."
The Ergonomics
I found the RW900 comfortable during use. It has a large, padded, contoured seat. The slide rail has a slight decline toward the flywheel, which makes it easier on the hips on the recovery portions of the rowing stroke.
The handles are slightly angled and feature "soft-touch" grips, which just means they're coated in a nice, smooth, rubbery compound that keeps hands from slipping while sweaty.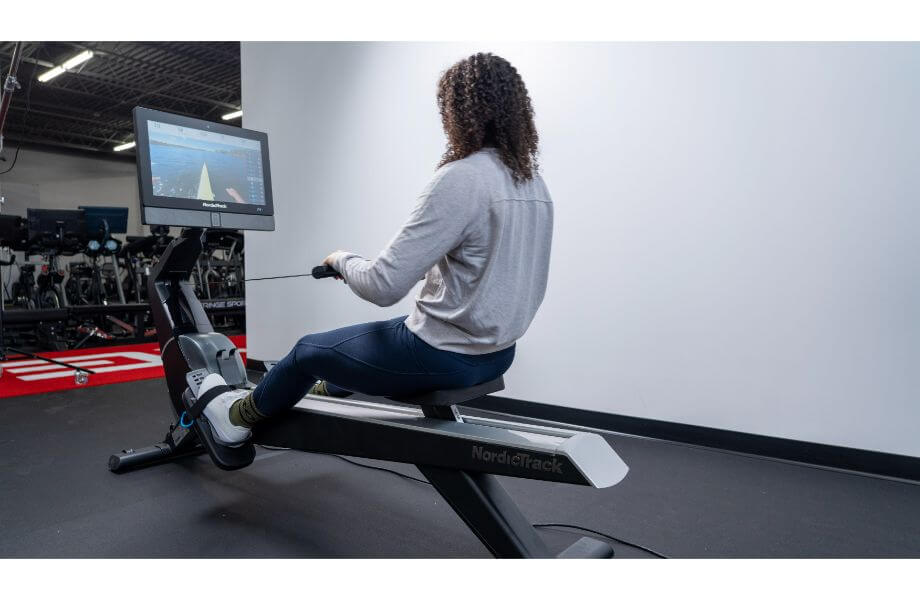 I'm not super enthused about the foot situation. The foot cradles are very oversized, which, to me, feels odd.
There are six adjustments you can make to the length of the foot cradle, and the adjustable nylon foot straps are there to accommodate foot or shoe width, but something still felt off about them—not so much that it made exercising on the RW900 uncomfortable, but certainly noticeable at first. It might be the pivoting pedals that I don't like, since I'm used to the static pedals on the Concept2.
Console
The NordicTrack RW900 comes with a 22-inch tilt and pivot HD touchscreen that delivers crystal-clear pictures and sound.
Warranty
There is a 10-year frame warranty, 2-year parts warranty, and 1-year labor warranty for the NordicTrack RW900 rowing machine.
Footprint and Portability
The RW900 is not small. I don't recommend it for small home gyms. It measures 82 inches long, 22 inches wide, and 54 inches high. It doesn't fold, and due to the large display, it's not recommended that you attempt to store it in the upright position.
One person can easily move the rower, although it takes some finagling if it's in a tight spot. You do have to lift it pretty high in order to get the front-mounted transport wheels to move smoothly. Once you get it into the upright position, it doesn't feel very heavy while moving it, despite a product weight of more than 100 pounds.
Durability and Construction
The RW900 seems like a durable piece of fitness equipment. It feels very stable during use: I didn't experience any rocking, shaking, or other questionable movement during my workouts on it. The seat moves smoothly along the slide rail with no catching or bumping.
The parts are largely made of aluminum; the seat rail is steel. There are some plastic components, such as the foot cradles, but they are a flexible plastic that shouldn't crack or adopt a permanent bend.
Although the product weighs more than 100 pounds, it only has a user weight capacity of 250 pounds. I expected the weight limit to be higher, considering both the frame design and materials used. For reference, the Concept 2 Model D rower supports up to 500 pounds, and the Hydrow rower can handle up to 375 pounds.
Tech Specs
This rowing machine has all of the latest tech you'd expect to find on a smart rower: remote-controlled resistance adjustments, HD touchscreen, Bluetooth connectivity, live and on-demand workout classes, heart rate monitor compatibility, WiFi connectivity, and a 30-watt sound system.
Other NordicTrack Rowers
In addition to the RW900, there's also the NordicTrack RW700 and NordicTrack RW600. These are both very similar to the RW900, except they both feature a foldable slide rail and the displays are smaller. The RW700 has a 14-inch display and the RW600 has a 10-inch display. They cost about $1,300 and $1,000, respectively.
NordicTrack RW900 vs. Hydrow
The Hydrow Rower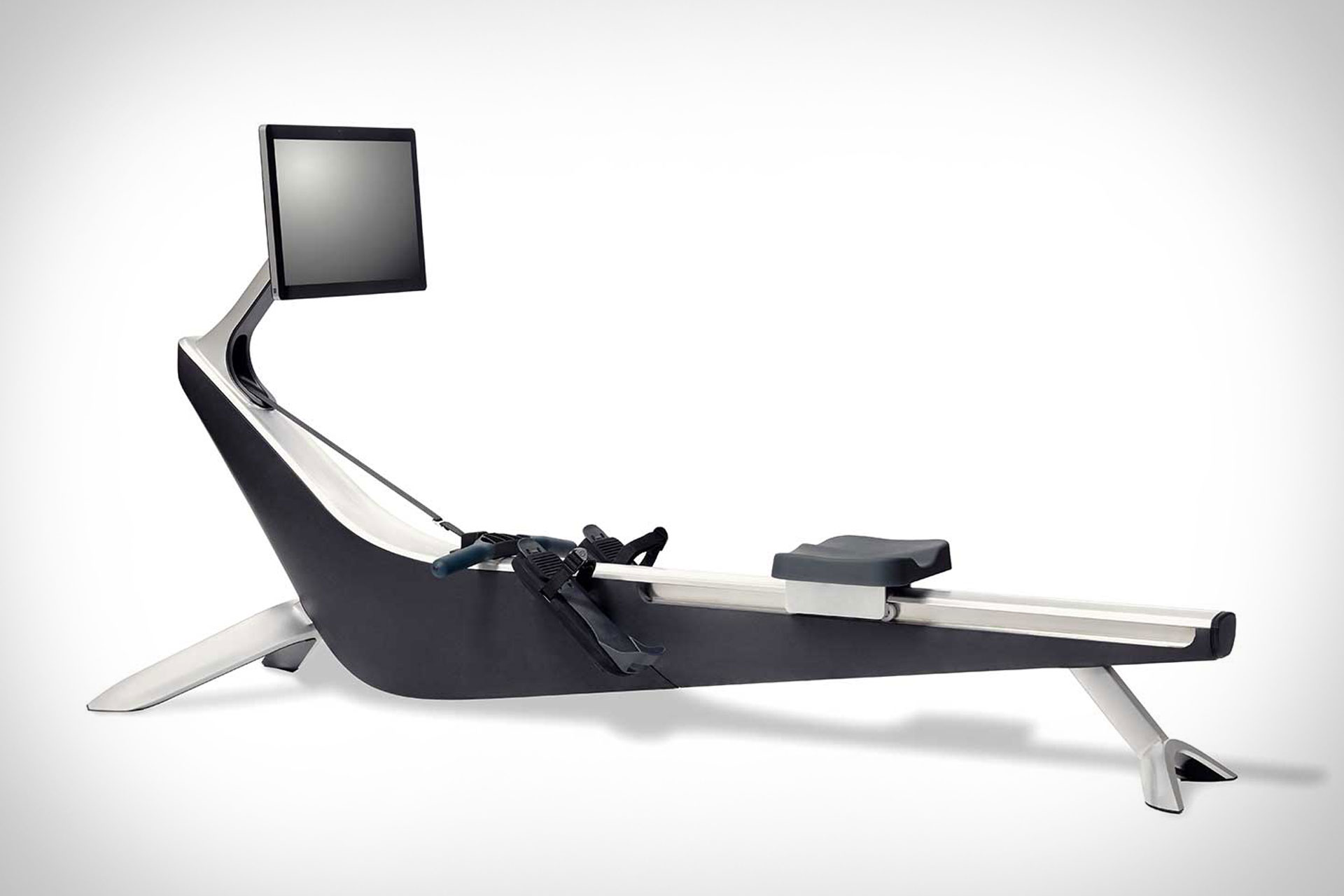 Hydrow Connected Rower
We completely re-engineered the rowing machine with patented technology, making each stroke feel like you're out on the water. Then, we built an immersive experience around it. The Hydrow was designed from the ground up. While the design team wanted to create a unique machine that was elegant and sophisticated for the home, it was just as important to engineer a machine that was unmatched in performance and built to last. Hydrow's brilliant 22" touchscreen display and impressive front-facing speakers bring the river to your living room, captivating you from the moment you sit in its seat. The Hydrow's patented drag mechanism is electromagnetic and computer-controlled. The distinctive components make it the closest thing to being on the water.Garage Gym Reviews Exclusive: Use code ROWGGR to receive $150 off any purchase that includes a rower
If you set up a Hydrow rower and a NordicTrack RW900 next to each other in a room, you'd have to walk up close to begin pointing out differences. It's pretty clear that the new version of the RW900 is an attempt at competing with Hydrow: The frames look almost identical, both utilize magnetic resistance, and many of the features are eerily similar.
There are some differences in the construction of the two rowers—such as the swiveling screen and pivoting pedals on the RW900—but the biggest difference is in the programming and the pricing.
The NordicTrack rower uses iFIT, while Hydrow uses its own native programming. iFIT has more cross-training opportunities and the app has a better filtering experience in my opinion, which is one of the reasons we named it the best rowing app.
As for pricing, the RW900 costs about $1,800 and the monthly subscription fee is $39; the Hydrow starts at about $2,500 with a monthly subscription fee of $38.
Read our full Hydrow review.
Customer Experience
NordicTrack has a robust support arm with many ways to contact the company if you need to. You can use the online chat function, email customer service, or call the 24/7 support phone line.
The RW900 comes with a 10-year frame warranty, 2-year parts warranty, and 1-year labor warranty. If you need to return the rower for any reason, you can do so within 30 days of the delivery date, but you'll be on the hook for a $250 return fee. This fee is due to the size and weight of NordicTrack products, which affects shipping, handling, and restocking costs.
Ordering and Assembling the NordicTrack RW900 Rower
When you go to buy the RW900 on the NordicTrack website, you'll be prompted to choose a package with an iFIT monthly membership or a yearly subscription.
You can get the RW900 on Amazon, but I recommend buying from the NordicTrack site so you can apply for financing if you need to, as well as ensure you can use the return policy and warranty if needed (sometimes things are more complicated with Amazon purchases).
According to Sam, our equipment facility manager who assembles most of our equipment, the NordicTrack RW900 Rower is one that you really need to follow the step-by-step instructions on. Although it's an easy build overall, he says "there is a method to their madness in being able to build the rower the correct way the first time."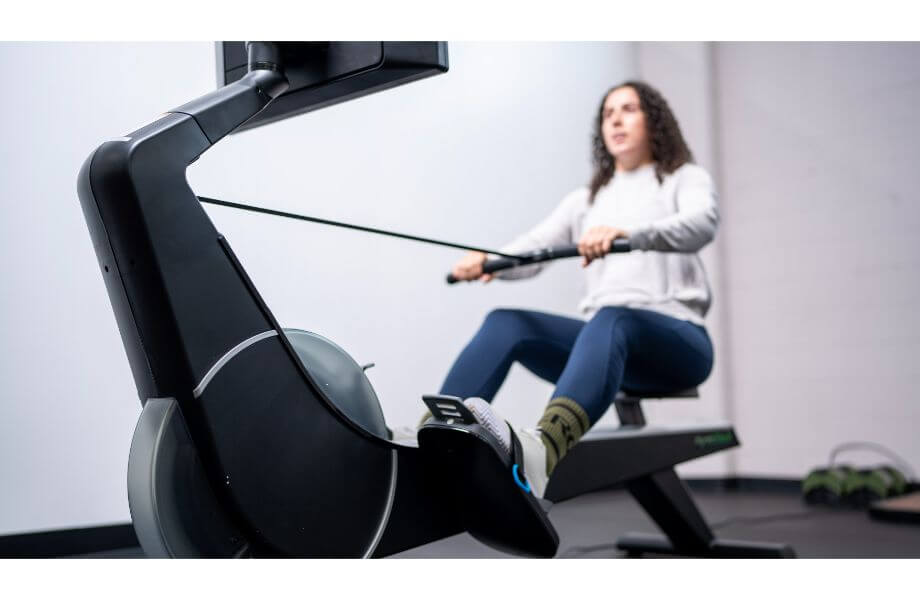 The nice thing is that a lot of it is already built right out of the box; you just need to attach the screen, seat, feet and foot holders. The one downside is that it's a pretty large box so you will need two people to move it. NordicTrack does state on the website that assembly requires two people.
If you happen to want professional assembly, you can get that for an additional $199. Just select the option at checkout.
Customer Reviews
Most reviews of the NordicTrack RW900 are positive. One buyer posted after a month of owning the rower:
"Rock solid construction, functional design, smooth and quiet operation. Excellent screen size for iFIT integration with full range of rower-specific workouts in worldwide locations, and user performance driven auto-tension adjustments. Ideal exercise equipment for narrow, moderate length home gym space. Nothing better for full body workouts … arms, legs, core."
Most positive reviews are similar, praising both the construction of the rower and the iFIT programming.
The few negative reviews I found were of the old RW900 model, which is no longer in production. Other negative reviews cite poor customer service, but most of these are on Amazon (which is why I recommend buying directly from NordicTrack).
Final Verdict of Our NordicTrack RW900 Review
A rower is a great way to get some low-impact cardio exercise in, and the RW900 is a good choice for people who want a high-tech rowing machine with instructor-led workouts—provided they weigh 250 pounds or less.
The only major downfall to the NordicTrack RW900 is the low user weight capacity.
The RW900 looks and feels a lot like Hydrow, but I think iFIT programming is better than Hydrow programming, so I recommend the RW900 to people who value variety and cross-training.
Full Rating
NordicTrack RW900 Rower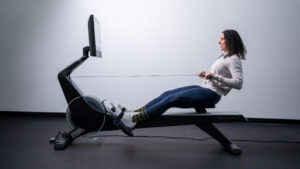 Our NordicTrack RW900 rower review details the new smart rower with remote-controlled resistance and iFIT integration.
Product Brand: NordicTrack
Product Currency: USD
Product Price: 1799.00
Product In-Stock: InStock
NordicTrack RW900 Rower FAQs
Commonly asked questions about the NordicTrack RW900 rower are:
Is the RW900 worth it?
In our opinion, the NordicTrack RW900 is one of the best-value smart rowers on the market thanks to its durable construction, iFIT rowing classes, and a good price point.
Does NordicTrack make good rowers?
NordicTrack has a line of rowers which, at the time of writing, contains three different machines. In our experience, NordicTrack generally makes high-quality equipment. Our product testers were impressed with the RW900, and although we haven't tested the others, our overall experience with the brand leads us to believe that the other models are good, too.
Which NordicTrack rower is best?
Because our testers haven't been able to use all of the NordicTrack rowers that are currently available—only the RW900—we can't say which NordicTrack rower is best. We recommend weighing the features against the price points of each to determine which is best for you.
Can you watch TV on NordicTrack RW900?
No, you cannot watch TV on the NordicTrack RW900. The screen is used to stream live and on-demand workout classes.