We test and review fitness products based on an independent, multi-point methodology. If you use our links to purchase something, we may earn a commission. Read our disclosures.
The TikTok girlies were onto something when they re-popularized the sleek-hair trend––sleek is here for the long haul. NordicTrack must have taken note when revamping the design of the RW700 rower, considering this cardio machine is sophisticated and polished.
In this NordicTrack RW700 rower review, I'll break down the specs, warranty, and useability of this machine (beyond its sleek appearance). I always heard this saying growing up: Looking good gets you in the door, and what's inside lets you stay. Does the RW700 have a heart of gold or just a pretty face? Find out below.
Our Rowing Machine Reviews are Oar-Some!
Whether you want to find the most oar-some rower or you're tread-y for a new cardio machine, GGR is here to be your personal assistant. Our years in the fitness industry have prepared us to be experts who are dedicated to testing and reviewing equipment. You now have a team of certified personal trainers, nutrition coaches, competitive weightlifters, and former college athletes on your side. How cool is that?
NordicTrack RW700 Rower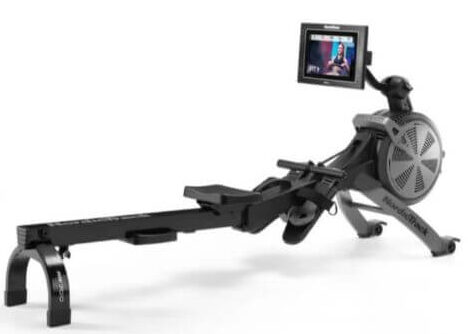 NordicTrack RW700 Rower
The NordicTrack RW700 rower is the mid-tier rower offered by the company. It comes with a 10-inch tilting and pivoting HD touchscreen. Similar to the other models, the RW700 streams iFIT programming with AutoAdjust technology, which allows your expert trainer to adjust the resistance during your workout.The RW700 has 26 levels of digital resistance and a quiet ride achieved with silent magnetic resistance and an innovative sliding rail system. The RW700 has oversized pedals with nylon foot straps to easily enter and exit the rower. The rower also has ergonomic soft-grip handles. While working out, you can use Bluetooth technology to listen to workouts via headphones.The RW700 currently has very limited reviews, and they are all negative. The rowers either did not work upon arrival or very quickly started malfunctioning. Our hope is that NordicTrack has since resolved the issue.
A Quick Look at the NordicTrack RW700 Rower
NordicTrack tends to update their products each year and unsurprisingly, the RW700 rower has received the same treatment. The 2022 model is available for outright purchase, while the 2021 version can be procured through the NordicTrack+ program. Essentially, if you purchase a four-year subscription to iFIT, NordicTrack will give you the 2021 edition of the RW700 for free.
For context, you'll end up paying around $1,872 (if you choose to do a one-time payment) for the 2021 model of the RW700 alongside the four years of iFIT. However, this machine does have a slightly larger touchscreen and can be folded in half.
This is a good way to get a high-quality rower to use alongside stellar interactive programming for less. However, for clarity, I'll be referencing the newest 2023 model throughout this review.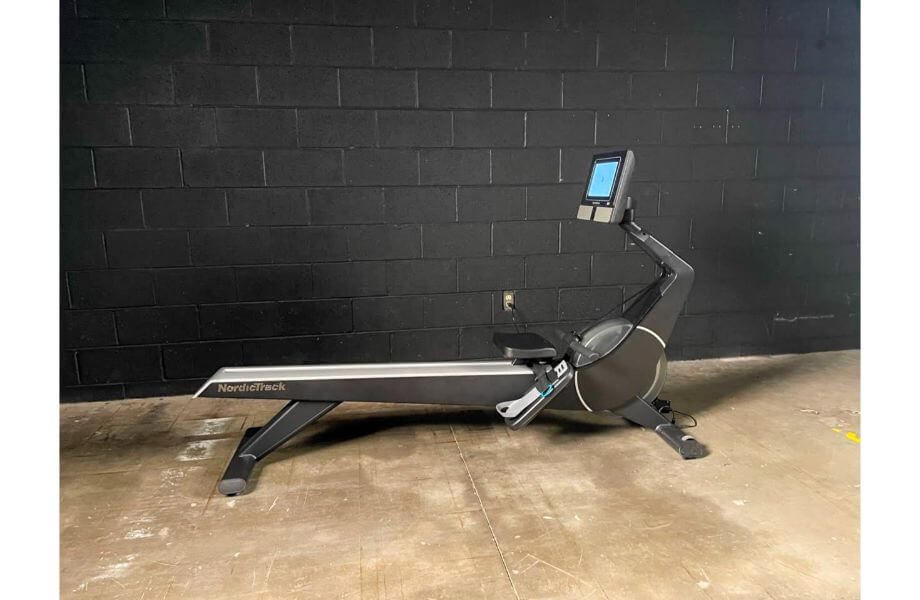 My Tips:
Want to save some cash? Check out our NordicTrack promo code page.
Make sure to stick the RW700 close to an outlet––it has to be plugged into a wall to work.
Pros:
Compatible with iFIT programming
10-inch touchscreen
Excellent financing options
Smooth drag mechanism
26 levels of adjustable resistance
Magnetic resistance
Bluetooth connectivity
Cons:
Customer service is spotty
250-pound weight capacity is subpar
Cannot be stored in a garage or the warranty will be voided
Nylon straps hit high up on the foot
Is the NordicTrack RW700 Rower Worth It?
Don't you wish dating profiles came with a "are they worth it" section? Although we can't expect potential partners to be this forthcoming, you can bank on GGR to give us the scoop on the prospective fitness equipment and the best NordicTrack rowers. Here's a quick breakdown of who I think would love the NordicTrack RW700 and who should keep dating around:
Great for:
People who want a mid-range rower for their home gym
iFIT workout enthusiasts
Those who need a quiet rower
Indoor rowing
Not recommended for:
Heavier folks
Individuals with small feet
Folks who want water or air resistance
NordicTrack RW700 Rowing Machine Specs
| | |
| --- | --- |
| Footprint | 87″ L x 22″ W x 47″ H |
| Weight | 146 lbs |
| User weight capacity | 250 lbs |
| Programming | iFIT on-demand programming |
| Price | Around $1,300 |
| Warranty | 10-year frame, 2-year parts, 1-year labor |
| Display | 10" smart HD touchscreen |
| Resistance levels | 26 digital resistance levels |
| Type of resistance | Silent magnetic resistance |
| Bluetooth audio | Yes |
| Rail | Oversized steel seat rail |
| Automatic trainer control | Yes |
| Foot straps | Adjustable nylon foot straps |
| Transport wheels | Yes; Front-mounted transport wheels |
| Flywheel | Inertia-enhanced flywheel |
Sweating with the NordicTrack RW700 Rower
The NordicTrack RW700 rower stands out to me for two reasons: One, it has a strap for the pull, and two, it is exceptionally quiet. You may be asking yourself, "Caroline, why do you care about having a strap for the pull?" Excellent question, reader! A strap or belt for the pulling mechanism will require less maintenance over the years than rowers with a chain pull. For me, the less upkeep I have to do for my fitness equipment, the better.
Plus, if you're looking for a rower you can use without waking up the entire house, this might be a good option for you. I was shocked at just how quiet the RW700 is. The slide rail is smooth like butter and glides with ease down the track. I do wish NordicTrack revealed how long their slide rail is, but I guess it's none of my business. Pretend I've inserted the "All right then, keep your secrets" Lord of the Rings meme here.
I think it's also worth noting that the machine felt really stable while I used it. In all fairness, I am not near the 250-pound weight capacity, so your mileage may vary if you're heavier. Although the weight capacity industry standard for a rower is 250 pounds, I think NordicTrack could have done better. For context, the Concept2 rower has a 500-pound weight capacity, which makes it a way more inclusive option. I think fitness should be for everyone (and health doesn't have a size), so I hope to see the brand expand this in the future.
The RW700 features 26 different resistance levels, which blows the industry standard of 12 out of the water (see what I did there). It is worth noting that you have to adjust these resistance levels digitally, so there isn't a knob to turn.
Although the 2023 RW700 doesn't fold like its 2021 counterpart, it isn't very difficult to move. The machine weighs 146 pounds, so it isn't exactly light, but it is compared to NordicTrack treadmills and ellipticals.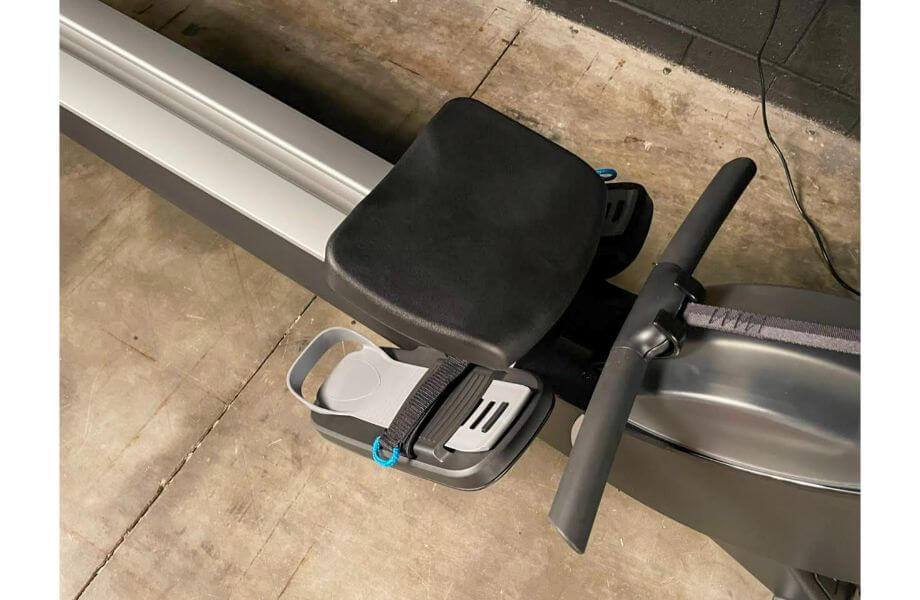 The Ergonomics
The seat on the RW700 is pretty typical––think medium-support and slightly oversized. Your butt won't hurt like the first time you tried a cycling class, but it isn't an easy chair either.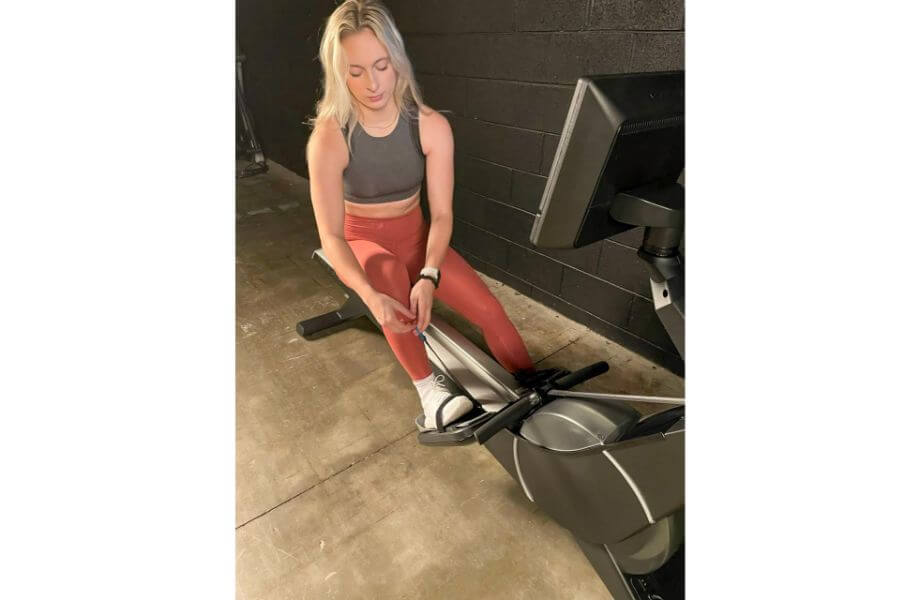 In terms of the foot pedals, I'm not the biggest fan. Although the pivoting pedals and nylon straps are adjustable, they hit towards the top of my foot in a weird way. Since you cannot adjust the place where the strap hits you, it ends up around the top of the toes. Unless you have a men's size 15 foot like GGR writer Anthony O'Reilly, you'll probably have the same issue.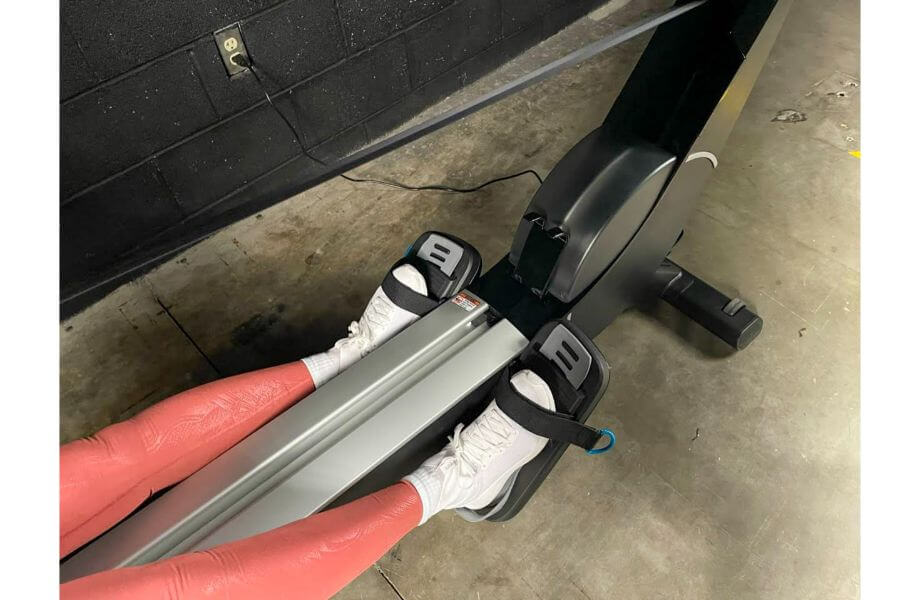 NordicTrack advertises their ergonomic handle as being "soft touch", but I didn't notice anything special about it. If you've used the Concept2 rower before, the RW700's handle feels similar.
Technology Benefits and Conveniences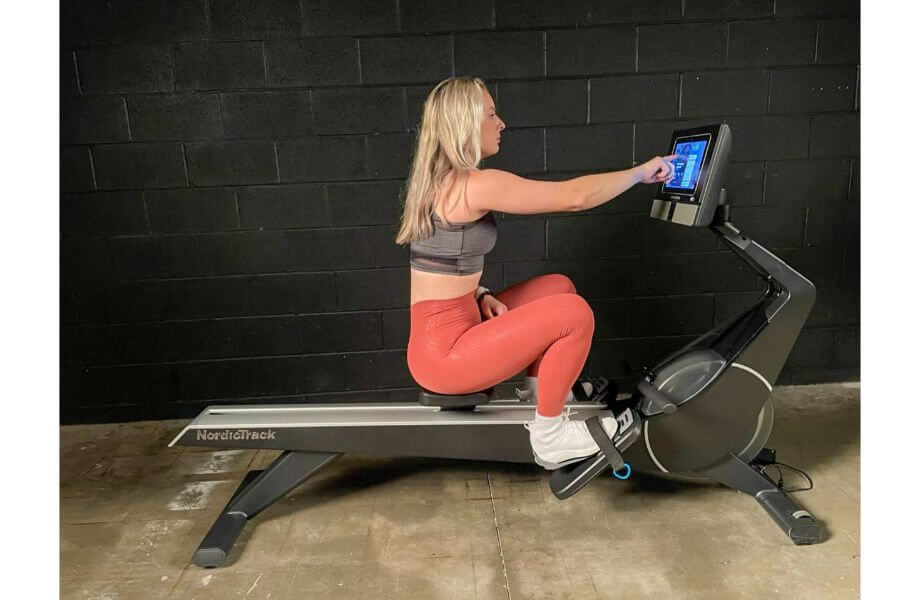 The NordicTrack RW700 has a 10-inch HD touchscreen, which is about the smallest size I'd recommend for someone with bad eyesight (oop, me). However, I found the touchscreen to be responsive and iFIT programming to be downright fun.
Although I've used iFIT many times, the rowing experience is quite engaging. The instructors are chatty and the classes are mostly on actual bodies of water (like the classes from Hydrow) versus in-studio sessions.
You'll be able to view a variety of metrics on the top of the touchscreen, such as split time, calorie burn, time elapsed, strokes per minute, and distance traveled.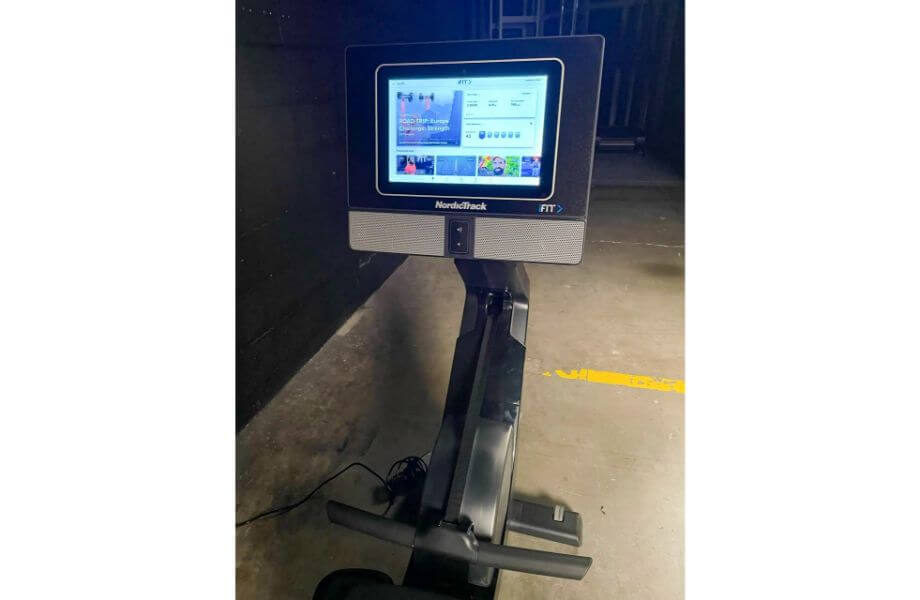 Besides the touchscreen, the 2023 edition of the RW700 has Automatic Trainer Control, which allows your trainer to change the resistance of your machine during an iFIT class. You can also turn this off, but I think it is a useful way to stay engaged in a workout without having to fumble around for the resistance.
Also featured on the RW700 is a high-quality speaker system, Bluetooth audio connectivity, and an aux input for playing music.
Comparison to Concept2 RowErg Rower
Concept2 RowErg Rower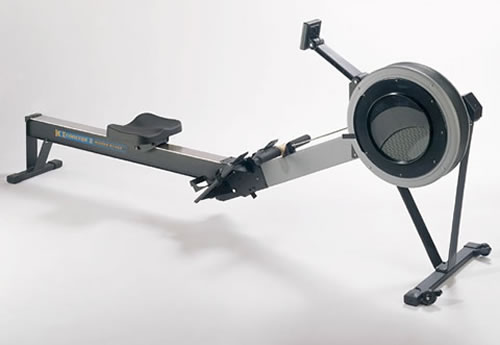 Concept 2 Model C Rower
The Concept2 Model C Rower was in production from 1993-July 2003. It is no longer in production.
Previously referred to as the Concept2 Model D rower, the RowErg is a staple at many CrossFit boxes for a reason––it's a solid machine. Not sure which option is right for you? Check out the similarities and differences between these two rowing machines:
Check out our full Concept2 RowErg Rower review.
| | | |
| --- | --- | --- |
| Rowing machine | NordicTrack RW700 Rower | Concept2 RowErg Rower |
| Price | Around $1,300 | Around $1,100 |
| Warranty | 10-year frame, 2-year parts, 1-year labor | 5-year limited warranty |
| Display | 10-inch HD touchscreen | LCD display |
| Programming | iFIT compatible (subscription sold separately) | N/A |
| Weight capacity | 250 lbs | 500 lbs |
| Weight | 146 lbs | 57.32 lbs |
| Type of resistance | Magnetic | Air |
| Resistance levels | 26 levels | 10 levels |
| Footprint | 87″ L x 22″ W x 47″ H | 96" L x 24" W x 14" H |
Customer Experience
NordicTrack offers a 10-year frame warranty on almost all their cardio machines (I'm talking ellipticals, rowers, treadmills, and bikes). Although a 10-year frame warranty would be considered subpar for a treadmill, the industry standard for a rowing machine is five to 10 years. This means NordicTrack is more than hitting the rowing industry standard.
NordicTrack also has a pretty normal return policy––you have 30 days to return something you don't want to keep for a refund. You may be subject to a $250 shipping charge and restocking fee if the item doesn't come back in the same condition.
Customer service-wise, NordicTrack isn't the best. Although there are a variety of avenues through which you can contact the brand, the response time can be slow. Other reviewers also mention customer service can be difficult to reach, especially when they need assistance replacing a part.
Ordering and Assembling the NordicTrack RW700 Rower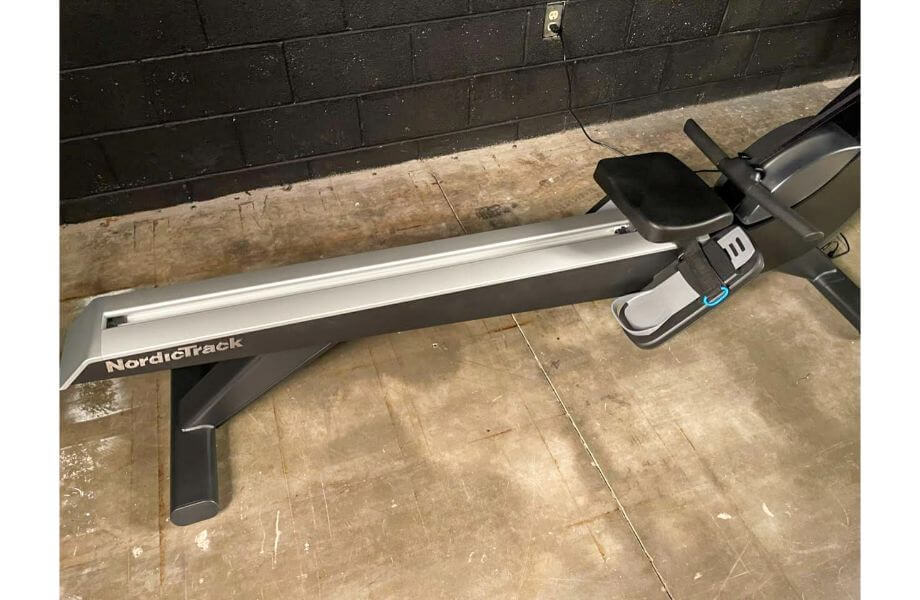 Ordering the NordicTrack RW700 rower is a simple process. I'd recommend deciding ahead of time if you'd like to pay the $1,300 upfront, or take advantage of NordicTrack's financing through TD Bank. If you qualify (based on your credit score), you could pay as little as $34 per month for 39 months with 0% APR.
Currently, NordicTrack offers free standard delivery on the RW700, which will essentially put the machine outside of your door. If you'd like professionals to move the rower into your home and assemble it, it'll run you $99.
According to our NordicTrack rep, the assembly process on the RW700 is pretty simple, but will require a second set of hands.
"The RW700 will likely take around an hour with the help of an additional person," he explained. "There aren't too many parts like you'd see on the Commercial 1750, so it is a less-involved process."
Customer Reviews
NordicTrack doesn't usually allow customer reviews to be visible on a product page and the RW700 rower is no different. Luckily, Amazon also carries this machine, which has over 800 reviews and a 4.2-out-of-5 rating.
Happy customers like the fun classes iFIT provides, the touchscreen, and the overall look.
"The rower has a very solid build quality and setup was very easy," reviewer Allen explained. "The workouts with iFIT are outstanding. I have loved rowing the rivers of the world with Olympians and champions."
On the other hand, displeased customers didn't love the customer service, iFIT freezing frequently, and issues with the magnetic resistance.
"About 2 weeks ago, a loud clicking/ticking sound started whenever the program automatically adjusted the magnetic resistance above a certain level," reviewer DC Momma explained. "The level in which it starts making the clicking sound seems to change based on the alignment of the stars and moon. But when it kicks in, you just have to stop. It's that loud and annoying."
Final Verdict of Our NordicTrack RW700 Rower Review
The NordicTrack RW700 is an impressive mid-range rowing machine. Here are my main takeaways TLDR-style:
There are 26 different levels of magnetic resistance on the RW700.
The 10-inch touchscreen can only be used to view iFIT programming, but you do currently get a free 30-day trial with purchase.
Heavier people should pick something else––the RW700 only has a weight capacity of 250 pounds.
Be prepared for some weird foot feels––the foot pads and strap hit at an odd place.
The sleek design is a cut above that of other rowing machines (in my humble opinion).
NordicTrack RW700 Rower Rating
NordicTrack RW700 Rower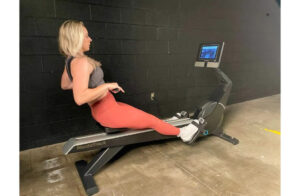 Check out our NordicTrack RW700 rower review for the 4-1-1 on this mid-range cardio machine.
Product Brand: NordicTrack
Product Currency: USD
Product Price: 1299.00
Product In-Stock: InStock
NordicTrack RW700 Rower Review FAQs
Is a NordicTrack rower worth the money?
If you're a fan of interactive programming, purchasing a NordicTrack rower will likely be worth the money. If you're not a fan of high-tech machines or want to program your own rowing workouts, you might do better with something a bit more simple.
Is a NordicTrack rower good?
Yes, NordicTrack does make good rowing machines. They also make a variety of other cardio equipment such as treadmills, ellipticals, and bikes. If you're not a rowing fan, NordicTrack still has plenty of other options to help you get your heart rate up.
Can you watch TV on NordicTrack rower?
You cannot watch television on a NordicTrack rower. iFIT is the only thing you can view on the included touchscreen, but you can utilize your phone or other smart device to watch Netflix while you workout.