We test and review fitness products based on an independent, multi-point methodology. If you use our links to purchase something, we may earn a commission. Read our disclosures.
The Eleiko Öppen Deadlift Bar is a trap bar that utilizes an open-ended concept, barbell handles, and a built-in jack to create the best trap bar we have tested. Although expensive, the Öppen Deadlift Bar is an extremely useful and innovative specialty bar that we recommend to anyone with a desire for the best and who doesn't mind paying for it.
Our Eleiko Öppen Deadlift Bar review takes a look at this classic bar and shows you what's been updated in the second version released in 2023, the features it has to offer, and whether it's worth the premium price.
Best Open Trap Bar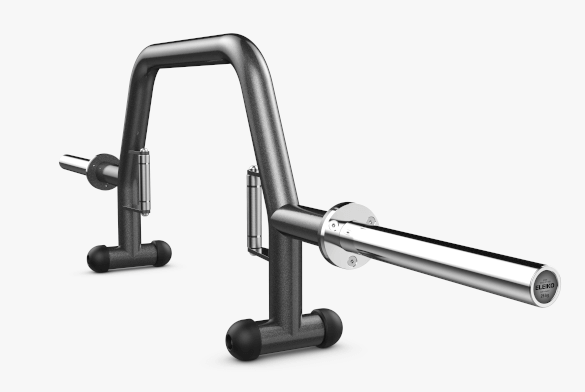 GGR Score: 4.4
Community Score: 4.5
Product Highlights
Open design for versatility
Exceptional knurling
Great attention to detail
Eleiko steel
Pros & Cons
Pros
Some of the best knurling on a trap bar 
Open-end design increases its versatility 
Rackable, and can be used with most squat racks
Cons
Most expensive trap bar, at around $800
Welds aren't the best, especially for Eleiko 
Could use some knurling on the center of the bar
Bottom Line
If you want a high-end trap bar, the Eleiko Bar is fantastic thanks to its exceptional knurling, open-end design, and the fact that it is rackable.
The Eleiko Öppen Deadlift Bar is one of the only specialty bars Eleiko has come out with (besides their curl bar) and features the typical refinement and simplicity of other Eleiko products. Essentially, the Öppen Deadlift Bar is an open-ended trap bar that utilizes their world-class barbells and knurling for handles and features a unique built-in jack that is extremely useful.
Although Eleiko hasn't ventured far outside of barbells and plates, I'm glad they have this bar as it is the best on the market, in our opinion, as of this writing. We don't use that moniker lightly, it's that good, although pricey.
Video Review
What is the Eleiko Öppen Deadlift Bar?
Put simply, despite the name, the Eleiko Öppen Deadlift Bar is essentially an open-ended trap/hex bar.
Every now and then a new lifter will come in and ask about the "Strongman Hula-Hoop" located next to the barbells. But nowadays, most people (including casual gym goers) will have an idea of what it is you do with a trap bar. Considered by many to be the most valuable specialty bar, the trap bar has become a mainstay in dedicated strength training gyms everywhere since its introduction 30+ years ago.
The high value of the trap bar for most lifters is that it is a strategic yet subtle play on the barbell deadlift. Throwing some barbell variation into the mix has been good for many seasoned lifters. The diamond-shaped bar was invented by powerlifter Al Gerard. Al was an innovative guy who wanted to find a way to continue training the barbell squat and deadlift in spite of recurring back issues he had grown accustomed to.
He started out with standing on a box and grabbing 2 heavy dumbbells by his sides so that he could perform a squat/deadlift hybrid movement. That's when he quickly began to think about how he could load such a movement safer and easier. Once he sketched the original diamond design down on some paper, you could say the rest is history.
RELATED: Best Deadlift Shoes
For years, the diamond shape of the trap bar changed very little from its mainstream debut in 1986. In the early 2000s, some companies picked up on the idea and started tweaking this diamond pattern in favor of a hexagon. The hexagon shape provided the lifter with perhaps a little extra room for their stance and foot positioning. Besides that, little changed. The trap bar remained as a very basic specialty barbell, and rarely did a company move away or experiment with that basic geometry.
The newest version of the Eleiko Öppen Deadlift Bar, we believe to be the best trap Bar currently on the market. Not only does it improve on its predecessor, but it is also built more impressive than any of the open styles we have seen come out in the past couple of years.
What We Like About the Eleiko Öppen Deadlift Bar
Here's what I like about Eleiko in general, and I told their Marketing Director this when he asked what I thought about the bar. Eleiko has a high-level of execution through simple products. I, as much as likely you reading this love a piece of equipment with a lot of bells and whistles.
Adjustments, attachments, customizable options are all things I love, but here's the issue, the more changes and features added to a product, the more likely it is for there to be issues.
Think about it, as much as I like my Leatherman Multi-Tool, if I just need a knife, I'm going to reach for my BenchMade every day of the week. Eleiko recognizes this. Here was Jochem (Eleiko's Head of Marketing) reply to me, "We try to be the best in the existing categories and deliver outstanding lifetime value through smart engineering."
Eleiko, in general, doesn't try to compete in areas they don't feel they have a competitive advantage. Despite being in the fitness industry as long or longer than any current standing company, I have never seen an Eleiko made leg extension, functional trainer, or air bike.
Not that Eleiko couldn't make one of those machines, but instead of spending R&D money and time to create a wide array of equipment that is all just "okay", their efforts are focused on a few pieces of equipment that they feel they can be the best in, and the Eleiko Öppen Deadlift Bar is a great example of this.
The Eleiko Öppen Deadlift Bar is essentially a trap bar. But, what separates the Öppen Deadlift Bar from the competition is not just in its features, but it's attention to detail. Without a doubt, and this may come as a surprise to some, my favorite feature of the Öppen Deadlift Bar from Eleiko is the bar handles.
Rather than using a cheap pipe and having some second-rate knurling used (even the best trap bars on the market do this, for instance, the Rogue TB-2 Trap Bar has so many improvements that need to be made but up until this point was the best overall option) the Eleiko Öppen Deadlift Bar utilizes what feels and looks like the same steel and knurling as their world-renowned IWF Weightlifting Barbell. In fact, because we have an Eleiko Training WL Bar on hand, I was able to compare and they are pretty much exact.
Having a handle on a trap bar that feels and looks like a barbell may seem obvious, but up until this point, we haven't really had it, and especially haven't had it at this level. In order to help center the hand on the bar, an extremely important and often overlooked feature, the Öppen Deadlift Bar utilizes two evenly spaced knurling marks similar to what would be found on a barbell. This allows you to find the center of the bar quickly and easily. Why most other trap bars haven't done this up to this point is beyond me.
Outside of the handles, which in reality is the least marketed feature, are quite a few unique characteristics. First, the most obvious difference between the Öppen Deadlift Bar and traditional trap bars is its open-ended design. Although Eleiko isn't the first to offer this feature (Intek Strength and a couple of other companies have released open-ended trap bars, all of which claim to be the first), its use of it is outstanding.
One only needs to use an open-ended trap bar for a short period of time to realize how much better it is than being surrounded on all sides by a bar. The open-ended design allows for a great increase in movements to be used by the trap bar including lunges, bounding leaps, tricep extensions, and more. For the garage gym owner, versatility is of utmost importance for nearly every piece of equipment, and there is not a more versatile trap bar on the market currently than this one.
In order to reduce shipping, the Eleiko Öppen Deadlift Bar is shipped with the sleeves detached from the main frame. This is a great idea, and although I was worried it would reduce the strength of the bar, I have yet to notice any potential issue. The reason for this, is the sleeve has a male connector piece that slides into a female sleeve on the frame and is then secured using phillip's head stainless steel bolts. It's easy to assemble, works extremely well, and reduces the cost of shipping. All in all, a great idea.
The next big feature of the bar is something that his something that has been previously done, but not in the seamless way that Eleiko has done it. The feature I'm referring to is the ability to stand the bar up on its end so plates can be added or removed without any friction from the platform.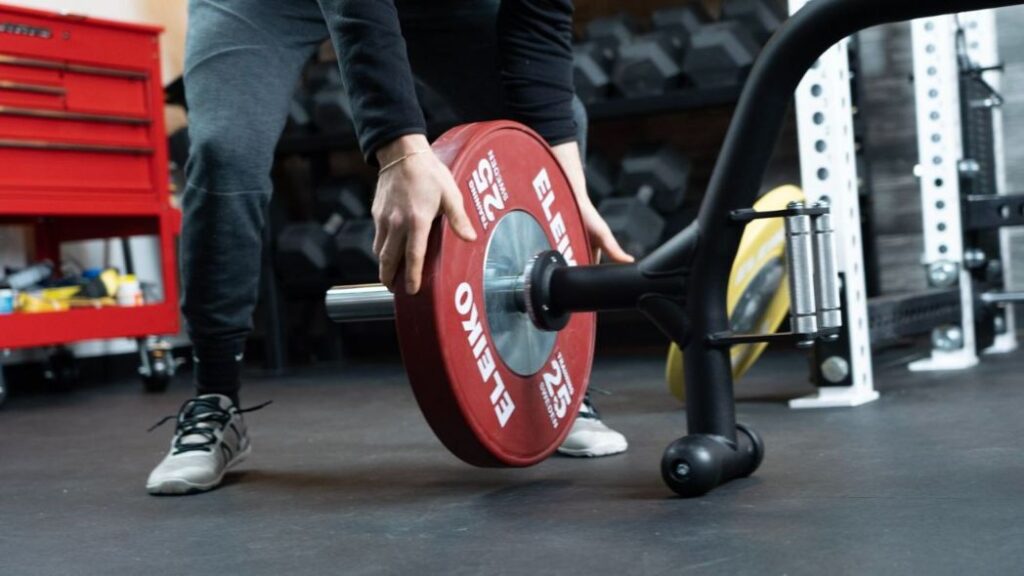 The first bar I saw use this feature is the goofy-looking York Multi-Hex Trap Bar. This is not a good bar and although I like that it has a jack built-in, York's execution is lacking in refinement, especially in comparison to the Öppen Deadlift Bar. Once you use this feature on a heavy set of pulls (or light for that matter) you'll ask yourself why you didn't come up with it. It's incredibly simple and even more useful, which in the mind of many is the ideal innovation (Everything should be as simple as possible, but no simpler – Albert Einstein.)
The last feature of the bar that is special and ties into another feature that I haven't seen mentioned is that the bar is rackable. Although not everyone uses a trap bar in the rack, you'll want to use this one as overhead presses with it feel stupendous. The feature of the bar this ties into is that, believe it or not, the Eleiko Öppen Deadlift Bar can effectively be used as a cambered squat bar.
Although I wish there was knurling on the center of the bar to help it grip your shirt, the bar diameter feels comfortable and you can choose to hold the handles for stability or wrap your arms around the sleeves. No, it doesn't feel as good as a traditional camber bar, but it works just as well and is easily rackable. When I saw this bar, I thought it was possible and am happy to report it is. I would have liked to see Eleiko knurl this portion as previously mentioned, but it's possible that they didn't even think about it.
In the end, the Eleiko Öppen Deadlift Bar is currently the best trap bar available. Although pricey, it's versatile and extremely well executed—if you want the best, this is it.
RELATED: Eleiko Discount code
What's New With the Eleiko Öppen Deadlift Bar?
The newest version of the Eleiko Öppen Deadlift Bar comes with two handle heights, which is great for training versatility and allows both beginners and lifting veterans to use it to the best of their abilities. This feature can also be found on the more affordable REP Open Trap Bar.
It also has a rubber-footed loading jack to easily load and unload weight plates onto the bar and protect your floors. This also helps to keep the bar balanced while you're lifting.
Minor Shortcomings
Although the Eleiko Öppen Deadlift Bar is excellent overall, we would be remiss to not mention the things we think could be improved.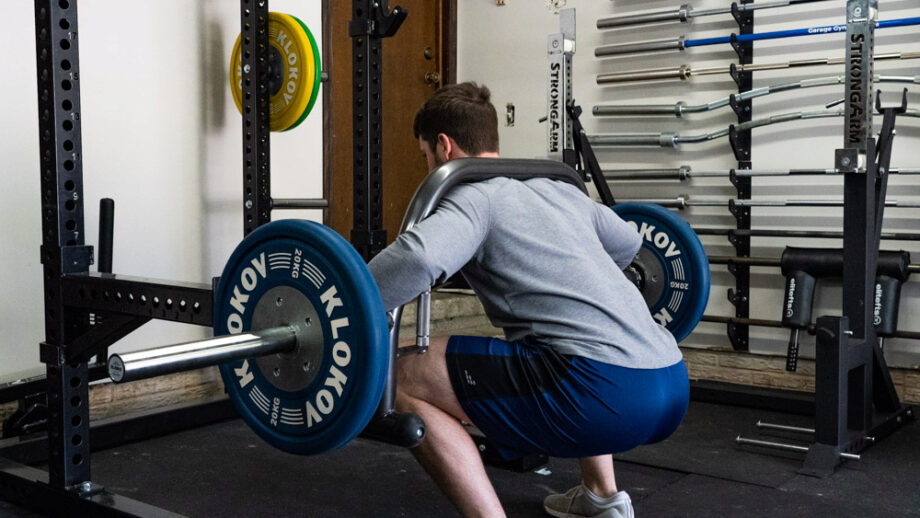 First, as previously mentioned, we would have liked to see the center of the bar feature some sort of grip or knurling to increase the shirt-stay when using it as a cambered bar. This is very much a secondary use, but it works extremely well for this purpose and some knurling would have just helped make the slick surface stick better.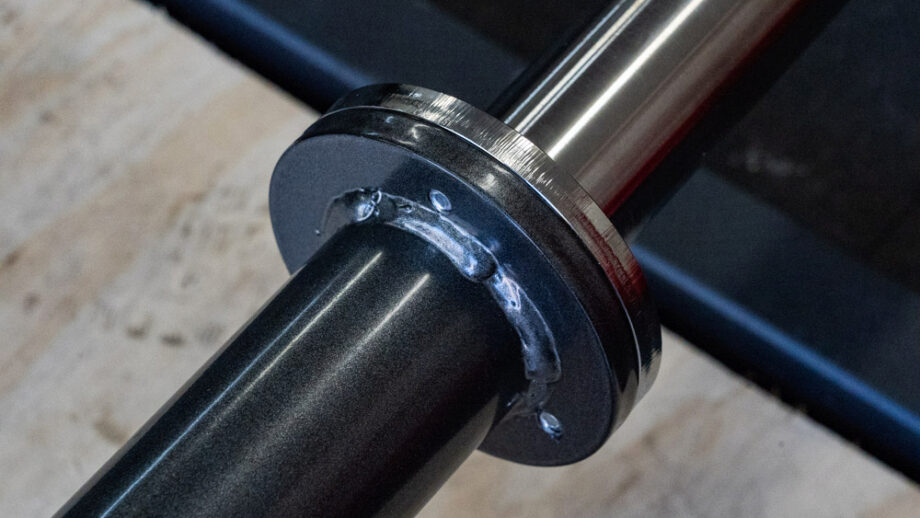 Next, one part of the bar that doesn't scream, "ELEIKO!" to us are the welds. Although they're functional, they're not pretty. I don't believe they're using a robot-welder for them and I think they should, largely for uniformity. This is obviously nit-picky, but Eleiko is striving to be the best and have an expectation to produce high-quality from top to bottom products, therefore, I have no issue making this suggestion.
Lastly, it would be cool if Eleiko made optional handles with widths. They could easily be interchanged with an Allen Wrench, would increase the versatility of the bar, and offer another item for Eleiko to make money on. A win for all involved.
Full Rating
Eleiko Öppen Deadlift Bar
The Eleiko Öppen Deadlift Baris a trap bar that utilizes an open-ended concept, barbell handles, and a built-in jack to create the best trap bar we have tested. Although expensive, the Öppen Deadlift Bar is an extremely useful and innovative specialty bar that we recommend to anyone with a desire for the best and doesn't mind paying for it.
Product Brand: Eleiko
Product Currency: USD
Product Price: 799
Product In-Stock: InStock
Eleiko Öppen Deadlift Bar FAQs
Is a deadlift bar worth it?
If your primary aim is to lift the greater weight from the ground, a deadlift bar will likely be beneficial. The following are some characteristics of deadlift bars: Thinner than standard bars — the majority are around 27mm thick. In comparison to power or Olympic bars, the knurling is more severe.
How much is Eleiko Öppen deadlift bar?
The Eleiko Öppen deadlift bar is $850
Is an Eleiko bar worth it?
In full honesty, Eleiko bars are unnecessary for most home gym owners, though if you're looking for the absolute best-of-the-best and don't mind spending several hundreds of dollars, then you'll be rewarded with one of the best barbells on the market.