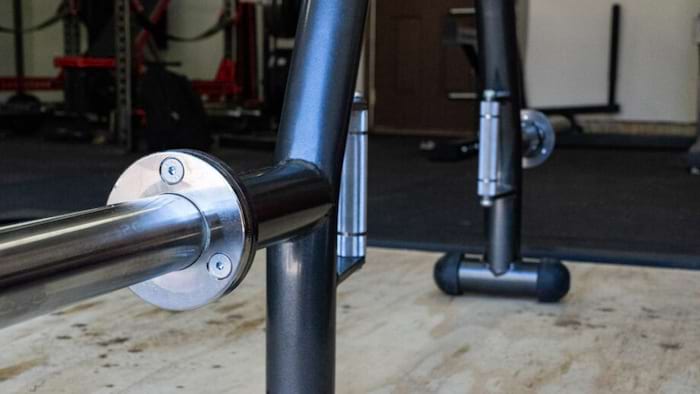 Here's what I like about Eleiko in general, and I told their Marketing Director this when he asked what I thought about the bar. Eleiko has a high-level of execution through simple products. I, as much as likely you reading this love a piece of equipment with a lot of bells and whistles. Adjustments, attachments, customizable options are all things I love, but here's the issue, the more changes and features added to a product, the more likely it is for there to be issues. Think about it, as much as I like my Leatherman Multi-Tool, if I just need a knife, I'm going to reach for my BenchMade every day of the week. Eleiko recognizes this. Here was Jochem (Eleiko's Head of Marketing) reply to me, "We try to be the best in the existing categories and deliver outstanding lifetime value through smart engineering."
Eleiko, in general, doesn't try to compete in areas they don't feel they have a competitive advantage. Despite being in the fitness industry as long or longer than any current standing company, I have never seen an Eleiko made leg extension, functional trainer, or air bike. Not that Eleiko couldn't make one of those machines, but instead of spending R&D money and time to create a wide array of equipment that is all just "okay", their efforts are focused on a few pieces of equipment that they feel they can be the best in, and the Eleiko Öppen Deadlift Bar is a great example of this.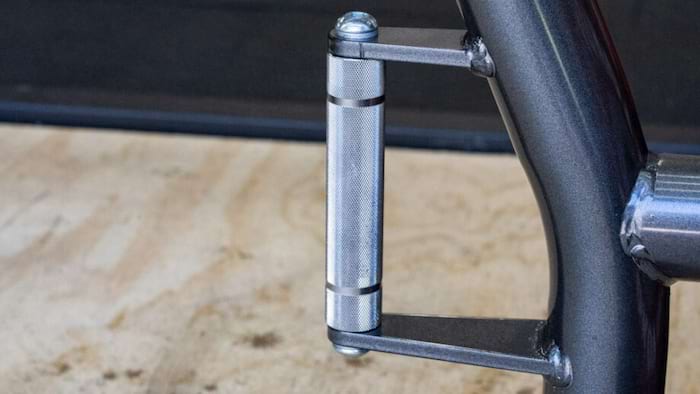 The Eleiko Öppen Deadlift Bar is essentially a trap bar. But, what separates the Öppen Deadlift Bar from the competition is not just in its features, but it's attention to detail. Without a doubt, and this may come as a surprise to some, my favorite feature of the Öppen Deadlift Bar from Eleiko is the bar handles. Rather than using a cheap pipe and having some second-rate knurling used (even the best trap bars on the market do this, for instance, the Rogue TB-2 Trap Bar has so many improvements that need to be made but up until this point was the best overall option) the Eleiko Öppen Deadlift Bar utilizes what feels and looks like the same steel and knurling as their world-renowned IWF Weightlifting Barbell. In fact, because we have an Eleiko Training WL Bar on hand, I was able to compare and they are pretty much exact.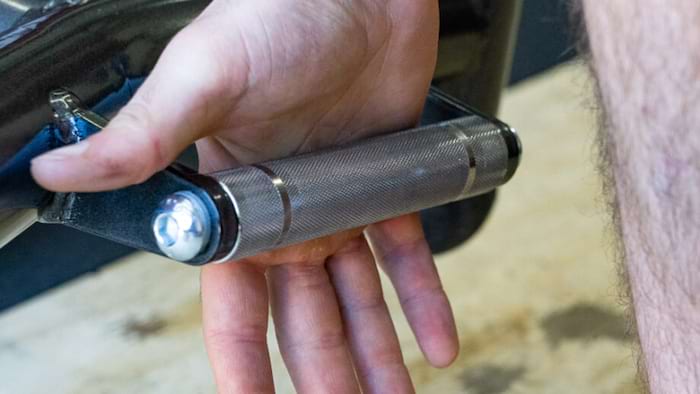 Having a handle on a trap bar that feels and looks like a barbell may seem obvious, but up until this point, we haven't really had it, and especially haven't had it at this level. In order to help center the hand on the bar, an extremely important and often overlooked feature, the Öppen Deadlift Bar utilizes two evenly spaced knurling marks similar to what would be found on a barbell. This allows you to find the center of the bar quickly and easily. Why most other trap bars haven't done this up to this point is beyond me.
Outside of the handles, which in reality is the least marketed feature, are quite a few unique characteristics. First, the most obvious difference between the Öppen Deadlift Bar and traditional trap bars is its open-ended design. Although Eleiko isn't the first to offer this feature (Intek Strength and a couple of other companies have released open-ended trap bars, all of which claim to be the first), the use of it is outstanding. One only needs to use an open-ended trap bar for a short period of time to realize how much better it is than being surrounded on all sides by a bar. The open-ended design allows for a great increase in movements to be used by the trap bar including lunges, bounding leaps, tricep extensions, and more. For the garage gym owner, versatility is of utmost importance for nearly every piece of equipment, and there is not a more versatile trap bar on the market currently than this one.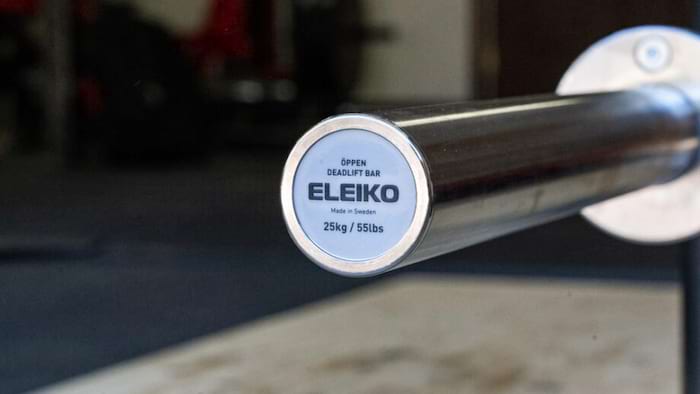 In order to reduce shipping, the Eleiko Öppen Deadlift Bar is shipped with the sleeves detached from the main frame. This is a great idea, and although I was worried it would reduce the strength of the bar, I have yet to notice any potential issue. The reason for this, is the sleeve has a male connector piece that slides into a female sleeve on the frame and is then secured using phillip's head stainless steel bolts. It's easy to assemble, works extremely well, and reduces the cost of shipping. All in all, a great idea.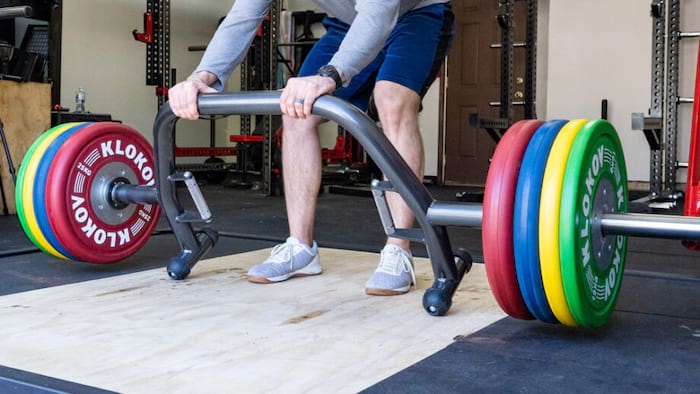 The next big feature of the bar is something that his something that has been previously done, but not in the seamless way that Eleiko has done it. The feature I'm referring to is the ability to stand the bar up on its end so plates can be added or removed without any friction from the platform. The first bar I saw use this feature is the goofy-looking York Multi-Hex Trap Bar. This is not a good bar and although I like that it has a jack built-in, York's execution is lacking in refinement, especially in comparison to the Öppen Deadlift Bar. Once you use this feature on a heavy-set of pulls (or light for that matter) you'll ask yourself why you didn't come up with it. It's incredibly simple and even more useful, which in the mind of many is the ideal innovation (Everything should be as simple as possible, but no simpler - Albert Einstein.)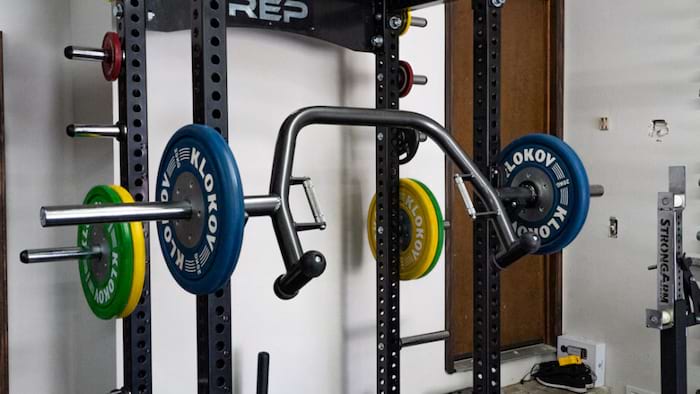 The last feature of the bar that is special and ties into another feature that I haven't seen mentioned is that the bar is rackable. Although not everyone uses a trap bar in the rack, you'll want to use this one as overhead presses with it feel stupendous. The feature of the bar this ties into is that, believe it or not, the Eleiko Öppen Deadlift Bar can effectively be used as a cambered squat bar. Although I wish there was knurling on the center of the bar to help it grip your shirt, the bar diameter feels comfortable and you can choose to hold the handles for stability or wrap your arms around the sleeves. No, it doesn't feel as good as a traditional camber bar, but it works just as well and is easily rackable. When I saw this bar, I thought it was possible and am happy to report it is. I would have liked to see Eleiko knurl this portion as previously mentioned, but it's possible that they didn't even think about it.
In the end, the Eleiko Öppen Deadlift Bar is currently the best trap bar available. Although pricey, it's versatile and extremely well executed—if you want the best, this is it.