We test and review fitness products based on an independent, multi-point methodology. If you use our links to purchase something, we may earn a commission. Read our disclosures.
While many people prefer to deadlift while barefoot, there are many reasons why you might want a good shoe while trying to pull heavy weight on a barbell. For those not working out from home, many commercial gyms don't allow you to workout without shoes (or maybe you don't trust their janitor to thoroughly clean the floors).
Or maybe you just find it more comfortable to have something on your feet than not at all. Whatever the reason, we've found some of the best shoes for deadlifting that can help you pull off a conventional or sumo deadlift.
We'll go over our top picks, and later go a little more in-depth on why some people might ignore gym shoes altogether when going for this classic powerlifting move. We'll also explain why a weightlifting shoe isn't necessarily the best choice for deadlifts.
Dozens of Shoes Tested, and We're Lacing Up for More
We're dead serious about finding the right shoes for every occasion. Not only have we compiled a list of the best CrossFit shoes, best weightlifting shoes, and best cross-trainers, we've also created a handy guide that allows you to find out what type of shoe you should wear based on how you train.
One reason we're able to do this is because we have a team of people with different needs and preferences. We have people with narrow feet, wide feet, people who need a lot of arch support, and team members who do Olympic lifting, CrossFit, and powerlifting.
As with anything else you'll find on this site, we make sure to actually wear the shoes before we type a word about them. Sure, there are other great shoes out there, but until we try them out, we don't feel comfortable saying much about them.
Lastly, I personally deadlift over 500 pounds (and we have others on our team who do as well) which gives us insight on how the shoes feel when pulling slag iron from the depths of the abyss.
Top Picks for the Best Shoes for Deadlifting
Best Deadlift Shoe Overall: NOBULL High-Top Trainers
Good for: Lifters who want a reliable shoe with a flat, stable base
Best Ankle Support

NOBULL High-Top Trainer Shoes
The secret ingredient is NOBULL's ultra-durable SuperFabric®, which is built to withstand harsh weather, glass, and even barbed wire (if you're ever in that situation). Better still, the material is uniquely breathable, keeping your feet cool and comfortable throughout a workout. SuperFabric® guard plates are applied to a highly flexible, lightweight mesh base layer, giving you 360 degrees of protection AND freedom of movement.High-Tops for hard work. When the workout calls for more, the High-Top Trainer goes the distance.High-cut collar provides padding and a secure fit for movement in any direction.The outsole lug pattern on the Trainer was designed for multi-environment usage, allowing for an easy transition between inside and outside with the right blend of flexibility, traction and support. High carbon lateral and medial guards are included for added protection on sidewalls, and a reflective NOBULL logo provides visibility when you need it most.Specifications:Unisex Athletic Shoe (See conversion chart for correct sizing) Abrasion resistant SuperFabric® upper and guard plates offer max protection from elements Versatile outsole lug pattern High carbon lateral and medial guards Lightweight, highly flexible mesh base layer Reflective NOBULL branding Includes (2) pairs of laces
Pros:
Great ankle support and stability
Minimal heel-to-toe drop
Has great versatility and can be used for most other lifts
A very durable shoe, while still being lightweight and breathable
Comfortable enough to be worn outside the gym
Cons:
Starting at $130, they're a bit pricey for a shoe with a simplistic design
Has a narrower toe box than some might like in a deadlift shoe
Has a pretty lengthy break-in period
I've said tons about the low-top NOBULL trainers, which are a great pair of shoes and I've recommended them many times. But today we're going to talk about the high-top trainers. The reason being it offers a little more ankle support since they extend above the ankle bones.
The NOBULL High-Top Trainers have high carbon laterals and medial guards that keep the ankle secure during heavy lifts and normal use (such as walking to the gym). The carbon rubber outsole will protect your tendons from any damage during workouts, or if you wear them outdoors during any adverse weather.
In my experience, NOBULL trainers have an adjustment period, but once that's done you've got a shoe that will serve you well. It has a reinforced heel that provides further support to those who need it, and a minimal heel-to-toe-drop that's great for deadlifts.
High-top shoes are great for two types of people: those who need overall ankle support, and those who prefer sumo deadlifts. With sumo lifts, there's a little more stress on the ankles due to the wider stance.
Some studies have shown that high-top shoes are an effective way to prevent the foot from moving in a way that can cause the ankle to sprain, or suffer further injury if you've sprained it in the past.
Drake really put it best when he rapped "Like a sprained ankle, boy, I ain't nothing to play with." You really can't do much in the gym with a bad ankle, so be sure to protect it.
Best Deadlift Shoe With Ankle Support: Converse Chuck Taylor All-Stars 
Good for: Anyone who needs additional ankle support while lifting   
Best Deadlift Shoe
Converse Chuck Taylor All Stars
Converse Chuck Taylor All Stars are the original minimalist shoe. With a near-zero heel-to-toe drop, a sturdy rubber outsole, and lace closure, they provide stability for heavy lifts. The minimal drop also allows you to feel grounded during deadlifts and squats.
Pros:
Very affordable at $60
The flat heel and minimal midfoot cushioning are optimal for deadlifting
Can get them in low-tops or high-tops
High-tops offer great ankle security
Countless designs for you to choose from
Cons:
Not a good fit for back squats or running
Narrow through the midfoot
Canvas construction isn't the most durable
Honestly, most shoe companies should take a good look at Chucks before attempting to produce a powerlifting shoe. With a rigid outsole, ankle support (assuming you're wearing the high-top version), and a thin, flat sole, it's no wonder this pair of shoes has enjoyed cult status among lifters for many years now.
Seriously, go into any powerlifting gym and you'll probably notice more than a few people wearing these on their feet. It was also our Community Choice winner in our best cross-training shoes roundup.
The canvas fabric upper is breathable and gives you ample room to splay out your toes to distribute the weight evenly throughout your foot. All of these features help to keep you balanced (I don't think I have to explain why that's important) and grounded so you can push off the floor and complete your rep.
Now, these are No. 1 on this list, but if we were writing about any other facet of training, it'd be a different story. For one, they don't have the elevated heel you need in a good squat shoe to get the full range of motion. And while they're good for running errands, these don't have the cushioning to act as running shoes.
RELATED: How to Choose Running Shoes
But for deadlifts, Chuck Taylors are as good as it gets (many people also choose these during bench presses, though the type of shoe you wear for that move is less important). Perhaps one of the most attractive features of these shoes is the price point; it's hard to beat $60 for a shoe that can help you through heavy lifting and look great while you're out on the town.
Most Comfortable Deadlift Shoe: Vans
Good for: Anyone who needs a shoe that will feel good on their feet
Most Comfortable
Vans
Vans Sk8 Hi Shoes feature cotton drill lining, collar padding, triple stitching on collar, perforated upper and die-cut EVA insert. Also, the original Vans Off the Wall vulcanized "waffle" outsole completes the package offering incredible flexibility and grip.Canvas Rubber sole Solid Round-toe Lace-up
Pros:
Super affordable with some designs starting at $55
They're a great-looking shoe
Most designs are weather-resistant
Come in low-, mid-, and high-top
Classic rubber waffle outsole is grippy and comfortable
Cons:
Not a shoe that can be worn for many other lifts
They don't have the widest toe box
Not very durable
When you think about it, skateboarders and powerlifters have a lot in common when it comes to the type of shoe they need. Both want something that has a thin sole to help them feel grounded, has a snug fit without being too tight, is breathable, and above all feels comfortable.
Vans excel in comfort due to the classic rubber waffle outsole that helps with the grip but for overall comfort as well. This design, which is formed in an iron that's heated to more than 300 degrees, helps provide the excellent traction that Vans are known for while also helping you feel supported whether you're standing over a barbell or just taking a walk down the street.
The midsole is made from a closed cell foam that offers some cushioning. It's not the best for shock absorption, look elsewhere for that, but they won't get compressed under heavy loads.
If you wear these shoes, there's a good chance you'll be one of the best-dressed lifters in the entire gym. The classics look good on their own, but if you're willing to spend a little extra, you can purchase funky styles inspired by horror movies, horoscopes, ones that look like a cow, and many more.
Now, if you're just deadlifting or doing bench presses you can get away with these, but they're not cross-training shoes.
Best Deadlift Shoe for Competitive Weightlifters: Nike Romaleos 4
Good for: Anyone who's training for or participating in competitive weightlifting
Best for Competitive Weightlifters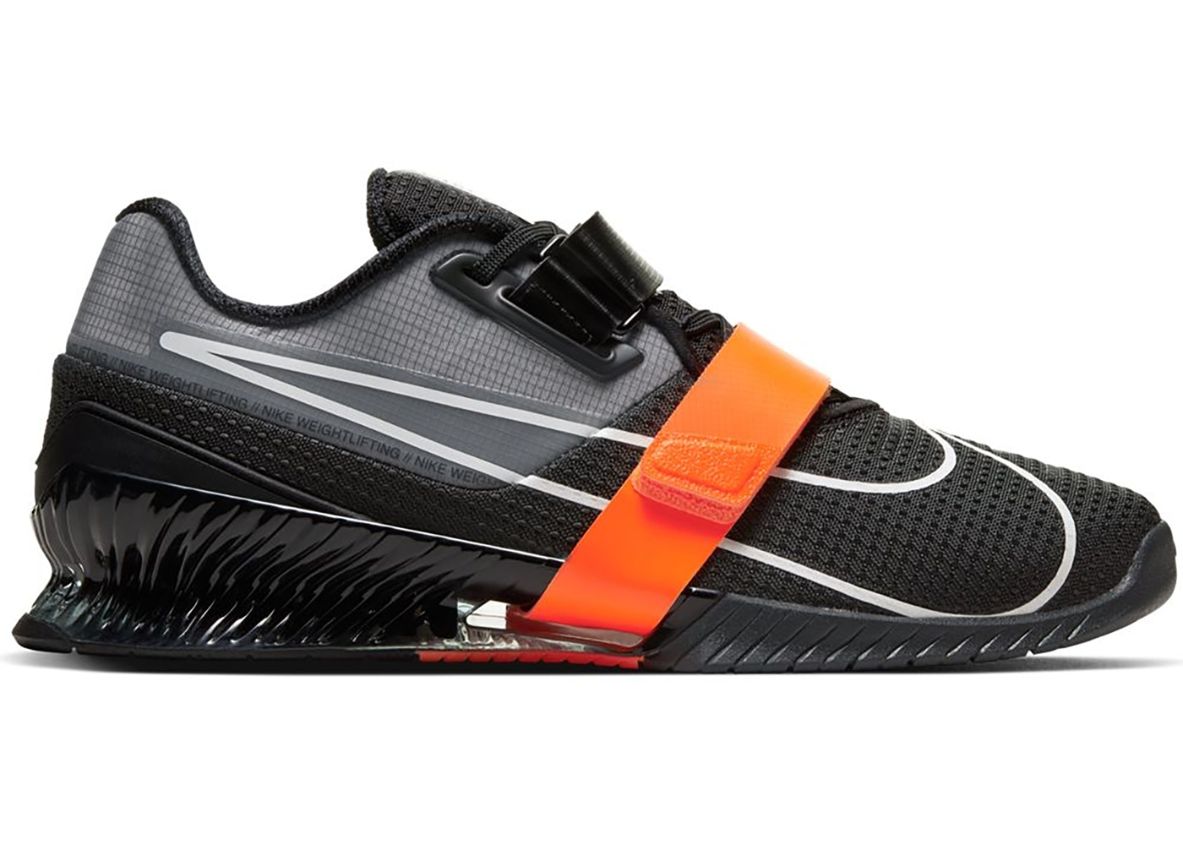 Nike Romaleos 4
The Nike Romaleos 4 weightlifting shoe is the latest iteration in this line. It blends the breathability of the Romaleos 3 with the sturdy outsole of the Romaleos 2. The Rom 4s feature a 20mm heel to toe drop as well as dual velcro straps.
Pros:
A versatile shoe that can be worn for just about any lift
Great colorway options
You will feel like you're stuck to the ground in these shoes
It has a wider toe box than previous Romaleos
Cons:
They're very expensive at $200
The 20mm heel-to-toe drop isn't ideal for deadlifts
The materials used to make it breathable make me concerned it's not very durable
If you're someone who needs a shoe that will support you through the powerlifting Big Three and Olympic lifts, then the Nike Romaleos 4 should be your go-to. But really, if you've spent any amount of time in competitive lifting, then you're probably already familiar with these. I mean, the Roms are a classic dating back to the incomparable Romaleos 2s.
I feel incredibly supported and grounded while wearing these shoes no matter how heavy I'm lifting. I don't think any other shoe has made me feel as secure as these have. These have a wider toe box than the prior Romaleos, flared edges on the heel for added stability, and sufficient grip. They're also one of the best-looking weightlifting shoes, in my humble opinion.
Unlike most of the other shoes on this list, you can wear the Roms for just about any lift. Going for a deep squat? Roms. Trying to master the snatch or the clean and jerk? Roms. Ready to deadlift? Ro…well, let's talk about that one for a second.
Can you deadlift in the Romaleos? Sure, but ideally you want your feet to be as flat as possible when going for a big pull and these shoes come with a 20mm heel-to-toe drop. That's not to say you still can't deadlift in them, but you'll definitely feel more comfortable in flat shoes than you would in these.
Competitive weightlifters, however, live in higher-heeled shoes and often deadlift in their weightlifting shoes. Rather than doing traditional deadlifts, they often do clean deadlifts or snatch deadlifts, so wearing their weightlifting shoes makes sense.
Garage Gym Reviews Senior Editor Kate Meier is a trained weightlifter and usually leaves her Romaleos on when she deadlifts. "Deadlifts tend to be an accessory lift for us that we do toward the end of our training, so I don't change out of my shoes for them."
In addition, Mark Rippetoe of Starting Strength actually recommends deadlifting in weightlifting shoes as it creates a stable foundation and isn't a massive change in height.
Also, these shoes are expensive ($200 ain't chump change). That's why I recommend them for competitive weightlifters, who are not allowed to compete while barefoot. So if you're in the market for a great shoe for competitions and don't have a strict budget, this is my top pick.
For more on why I love this shoe, check out my full Nike Romaleos 4 review.
Best Deadlift Shoe for Wide Feet: UA Charged Commit 3
Good for: People with wider feet who need a comfortable shoe
Best for Wide Feet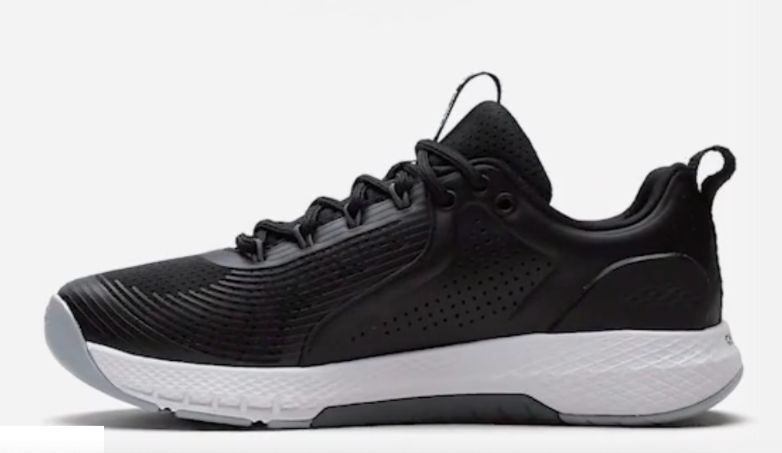 UA Charged Commit 3 Training Shoes
These are serious training shoes. There's a leather on the top of your foot to keep you stable, flex grooves on the bottom so you can move, and Charged Cushioning® for max impact absorption.Lightweight mesh upper with textured overlay details delivers complete breathability Dual-external heel counter hugs for your foot for added stability Leather, mid-foot saddle provides comfortable support Cushioned sockliner molds to your foot, eliminating slippage & providing ideal underfoot comfort Charged Cushioning® midsole absorbs impact & converts it into a responsive burst Full rubber outsole with strategically placed flex grooves for multi-surface traction & flexibility
Pros:
A wide toe box
Well priced at under $100
Also good for running and everyday use
Cons:
Laces could be tighter
Has an 8mm heel-to-toe drop, so it's not the flattest shoe
The outsole wears down pretty quickly
One of our fitness writers, Anthony O'Reilly, wears a size 15 4E shoe, so he knows a thing or two about wide feet. He's worn these shoes during Deadcember, which is a month-long workout program where you deadlift every weekday during December (it's as exhausting as it sounds), and found they offer the perfect balance of stability and comfort.
RELATED: Best Online Workout Programs
"Most shoes aren't available in my size or they're cut a little too short so they're uncomfortable on my feet," Anthony says. "But these fit just right and they've been a great fit for my powerbuilding type of training. My only issue is the laces aren't the tightest and I find myself readjusting them more often than other shoes, but overall they get the job done."
Anthony says he especially likes the shoes' wide toe box, which not only helps make it a more comfortable shoe but also helps him get his feet in the best position before attempting a deadlift. And even though they're not the flattest shoes, he hasn't noticed any discomfort or problems when lifting with these compared to the times he goes barefoot.
The shoes are made with Under Armour's own "Charged" cushioning, which provides some comfort but you'll still be able to feel the ground underneath your feet. Anthony has had no issues getting enough foot drive while wearing them, and the breathable upper keeps him cool throughout his entire workout.
The all-rubber outsole is pretty grippy, but Anthony has noticed it tends to wear down after a few months. For a shoe that sells for less than $100, it's a good deal for people who typically have issues finding good gym shoes.
Best Budget Deadlift Shoe: Feiyue FE LO 1920
Good for: People who are on a budget that need a good training shoe
Budget Deadlift Shoe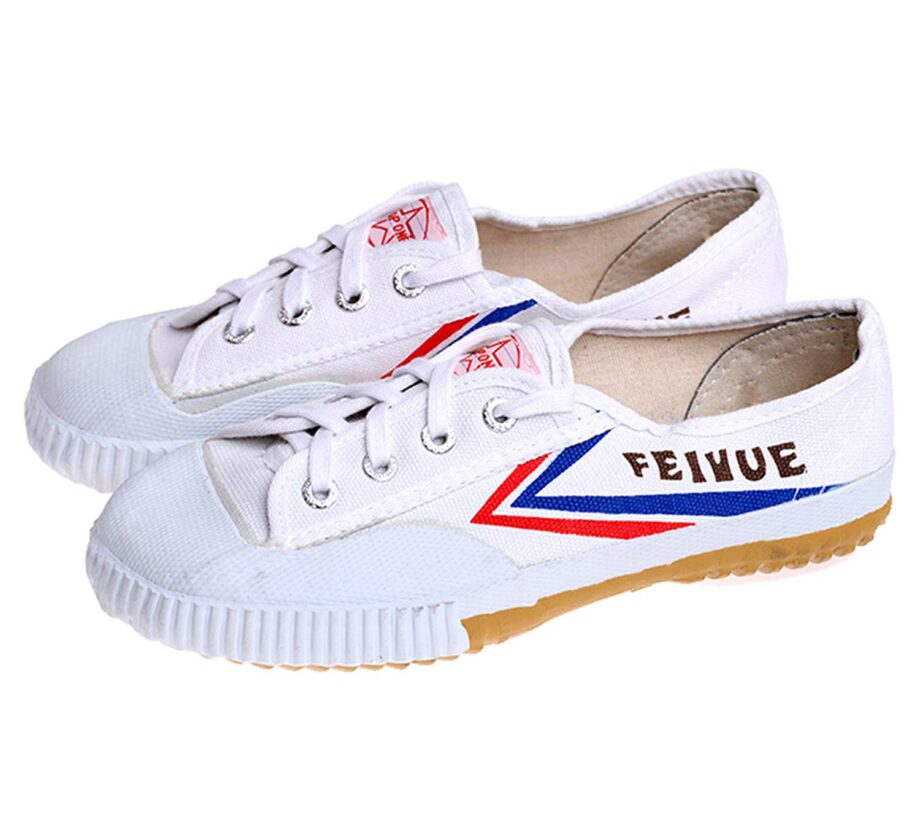 Feiyue Kung Fu Shoes
The #1 shoe choice for Shaolin monks and masters! Feiyue Martial Arts shoes have a simple, durable canvas lace-up top and a padded yet light sole. The tread is perfect for all styles, providing maximum traction for ultimate performance.Most of all, you cannot beat the price. You can buy several pairs of Feiyue shoes for the price of a single pair of most other martial arts shoes. And the Feiyue shoes might last just as long, if not longer! Try a pair today. You'll discover why hundreds of thousands of martial artists are choosing to wear Feiyue Martial Arts shoes for their practice!
Pros:
Super affordable at $25
Minimal cushioning and the tread has great traction
Great for recreational athletes
Cons:
This shoe is a lot of things, but durable is not one of them
Not for the serious powerlifter
If you wear a half size, round up to the nearest full one (so if you're a 7.5, go for an 8)
These might be the only shoes in the world that are simultaneously endorsed by powerlifters, Shaolin monks, martial arts masters, and parkour athletes.
But let's focus on why someone who's looking to perfect their deadlift might want to try these ultra-cheap shoes. For one, it has minimal cushioning and only a barefoot-style shoe or deadlift slipper is going to have less than this. These were designed to teach your feet how to move naturally, instead of depending on the shoe to do the work for you. Trust me, you're going to feel just about everything under your feet while wearing these.
Plus, the all-rubber outsole is very grippy and the heel height is basically zero (so you don't want to pick these for squatting or running). The toe box isn't the widest, but they're super flexible so you should have enough room to spread out.
If you need a little more support the insoles are actually removable and you can replace them with ones sold by Feiyue or the brand of your choice.
We're big advocates of "you get what you pay for," but when it comes to these shoes you're actually getting a lot more for an ultra-affordable price. The one part where that might not be true is when it comes to durability, especially if you decide to wear these for everyday use.
But you could pick up five or six of these for the price of most athletic shoes, so it's really up to you if you think slipping on a new pair every few months is worth it. I've been wearing these for years and I like them a lot more than some of the big name brands out there.
What to Know About Deadlifting While Barefoot
And now for the shoes A LOT of people consider to be the best for deadlifts: none. Among our team and those in the Home Gym Community Facebook group (feel free to join us) there are a lot of barefoot enthusiasts, especially when it comes to the deadlift.
And there's many good reasons why people might choose to do so. For one, going barefoot puts your body in a more natural position to lift up heavy weights. Certain shoes, especially those with a raised heel, tilt your body forward and you'll have to fix your posture before going for the lift to avoid any possible injuries.
This is also important because if your balance is off some muscles can't work as efficiently as they should during a big move like the deadlift, and other muscles may have to take over. This could result in an injury, or a failed PR attempt.
A big part of deadlifting is driving your feet into the ground to get the best force transfer. Think about when you were a kid and you jumped on mattresses (or maybe you still do…we won't tell anyone). A firmer mattress generally allowed you to jump higher because you could launch off of it. It's the same philosophy with the deadlift. When you're barefoot you can create more force from the ground and have a better chance at defeating gravity's attempt to keep the barbell on the platform.
So why did we spend all this time writing about shoes for deadlifts? As we mentioned, some gyms don't allow lifters to go barefoot. And professional powerlifters aren't allowed to compete without shoes so they may want to train with them on so they know how they'll feel during competition.
One advantage shoes have over barefeet is they're grippier than your feet. A rubber sole is more likely to stick to the ground than your sweaty feet or socks, which reduces the likelihood of you slipping.
People may also need additional ankle support, or just feel more secure with something on their feet.
As we like to say, there's no right or wrong answer and you should do what you feel comfortable with. We're just here to educate you on the pros and cons of different styles.
Deadlift Shoes vs. Weightlifting Shoes
Let's break down the difference between a deadlift shoe and a weightlifting shoe.
For one, there's the matter of cushioning. Let's pretend you're trying to jump on a very soft mattress. You might be able to get a decent jump but you'll find that you probably sink into the bed and are unlikely to get as high as you did with a firmer mattress. It's also a little more difficult to get steady footing with a softer surface.
Now, most weightlifting shoes aren't going to be marshmallowy soft like a running shoe, but they're going to have a little more than something like Chucks or Vans, which mimic the barefoot feeling preferred by powerlifters.
Weightlifting shoes also have a raised heel, which is great for letting you hit depth during squats but it puts your body in an unnatural position for deadlifts. You need something flat with a thin sole.
Other Deadlifting Shoes We Researched
Believe it or not, there are some fitness products that even we haven't been able to try out (but we're doing our hardest to collect them all). Here are some highly-regarded deadlift shoes that you might want to explore for yourself.
Sabo Deadlift Shoes: We've read a lot about the line of Sabo deadlift shoes, and they sound really good. They're flat, have a thin outsole, velcro straps to keep you locked in, and come up around the ankle. From what we could tell, they're one of the hottest deadlift shoes out there (at least that's what the internet says, but we know better than to trust everything we read on the web…except for this site, of course).
Deadlift Slippers: Similarly, I have some experience with deadlift slippers but not enough to feel comfortable including them on this list. If you don't know what these are, they're essentially a thin piece of material you slip over your foot, so they're more like a sock than a slipper. They're perfect for people who workout in a gym that doesn't allow barefoot lifting.
Asics Matflex Wrestling Shoes: Wrestling shoes (we're talking Olympic wrestling here, not WWE) are flat shoes that mimic a barefoot feeling, give you great ankle mobility, and have little to no cushioning, which is why they're so beloved by many powerlifters. The Matflex from Asics is considered one of the best, but again none of us have been able to try these minimalist shoes.
Otomix Stingray Deadlift Shoes: Another pair of shoes we have yet to get our hands on, but from all the online reviews these would seem like a shoo-in for a best deadlifting shoes. Reviewers seem to love the thin sole on these shoes and the composition puts you in perfect position for a deadlift. We hope to try a pair soon.
Benefits of Deadlift Shoes
So why would one wear a pair of deadlift shoes? We'll go over some of the reasons why they're better than a traditional weightlifting shoe, or no shoes at all.
Ankle Support: A well-made deadlift shoe is going to come around the ankle to reduce its range of motion, thereby keeping it in place and reducing impact to this vital joint. This is especially important for those who may have had ankle injuries in the past.
Better Body Position: Since your feet are the foundation for the rest of your body, how you plant them is going to impact your lift. Regular shoes may tilt you over the bar if they have an elevated heel.
No Bounce: The deadlift is not a move where you want extra range of motion, and the hard sole and thin makeup of deadlift shoes prevents any bounce from occurring during lifts. You'll remain stable and balanced the entire time.
Reduces Range of Motion: Everyday training shoes actually increase the amount of distance the bar has to travel from the ground to the top of the lift, but with deadlift shoes you eliminate that problem.
How We Picked and Tested
It should go without saying, but we did deadlifts in these shoes. Like, a lot of deadlifts. But how well they felt when we went for our weekly 1,000-pound deadlift (just kidding…or am I?) wasn't the only thing we were interested in. Here's a look at some of the other factors we took into consideration.
Durability: We're not made of money, and it's safe to assume you're not either. That's why when we lay some dough down we want to make sure we're getting our money's worth for it. We wanted to make sure these shoes didn't deteriorate after a few weeks.
Value: If a shoe costs a little more money, it better be worth it. Shoes that charge a premium should feel and perform much better than something that's more budget-friendly. If the budget ones are just as good, I'm not going to waste my money on the big name product.
Aesthetics: It's not a necessity, but you also don't want an ugly shoe hanging out in your closet.
Comfort: They need to feel good while we're lifting, and while we're walking into the gym.
What to Look for in a Deadlift Shoe
When looking for the best shoe for deadlifting, here are a few things to keep in mind.
Flat and Thin
We've stressed several times throughout this piece that a good deadlift shoe is one that's flat, so it shouldn't have a raised heel, and has a thin sole so you can make full contact with the ground. There shouldn't be much, if any cushioning.
Closure Mechanism
As with any shoe, you want to make sure your deadlift shoes don't slip off while you're wearing them. Most of our top picks come with laces,. Honestly, it doesn't matter which one you use so long as they allow your foot to feel like it's going to stay in the shoe and not pop out.
Slip Resistance
The last thing you want to do when picking up anything, nevermind a loaded barbell, is slip and possibly fall or drop whatever it is you're holding on your feet. You shouldn't feel like you're on skates when wearing deadlift shoes, so find one with a grippy outsole. Rubber is usually best.
Hard Outsole Material
A harder outsole will give you a more firm foundation to start your deadlift, compared to something with a more pillow-like base.
Ankle Support
This is optional, and really concerns people who may have had ankle injuries in the past or prefer to lift sumo. Or maybe you're someone who just wants to take care of their joints. If you fall into any of these categories, look for a high-top shoe over a low-top one because the former come up around your ankle bones and do a good job at reducing the range of motion and keeping them in place.
Toe Box
Of course, this is going to come down to the size of your foot but generally you want a wider toe box so you have room to spread out your feet to get better balance and force transfer.
Best Deadlift Shoes FAQs
What shoes should I wear to deadlift? 
The shoes you wear to deadlift should be flat, have a thin sole, provide good traction, and if needed give ankle support. Chucks and Vans are good examples of proper deadlift shoes. 
Do I need flat shoes to deadlift? 
Do you NEED them? No, but they're better than shoes with a raised heel because they put your body in a more natural position. So they're preferable but not necessary. 
Are lifting shoes good for deadlifts? 
In a word: no. That's not to say that you can't but lifting shoes are more suited for squats and Olympic lifts because of the higher heel-to-toe drop, which forces your body to lean forward during deadlifts (and that's something you don't want) 
Is it bad to deadlift with shoes?
Some people prefer to go barefoot, but as long as you wear the right footwear there's nothing inherently wrong with doing deadlifts in shoes. Unless you're talking dress shoes, then that's a bad idea.