We test and review fitness products based on an independent, multi-point methodology. If you use our links to purchase something, we may earn a commission. Read our disclosures.
You're in the middle of a WOD. It's hot. You might redline but there's no turning back. You're racing against the clock and all you can think about is your achy arches and the blister forming on your heel. Yikes. That's not what you want! You can avoid CrossFit horror stories like that by wearing the right training shoes. In my NOBULL shoes review, I'll let you know if these popular —but controversial— weightlifting shoes are the right choice for you.
Why You Should Trust Us
We wrote the most comprehensive guide to the best training shoes you'll probably find anywhere on the internet. Aside from that, and our product testers have years of experience in the fitness industry and have personally worn most of the CrossFit shoes on the market, from the original Reebok Nanos all the way to the Nike Metcon 7 shoes and the Reebok Nano X1s.
NOBULL Trainer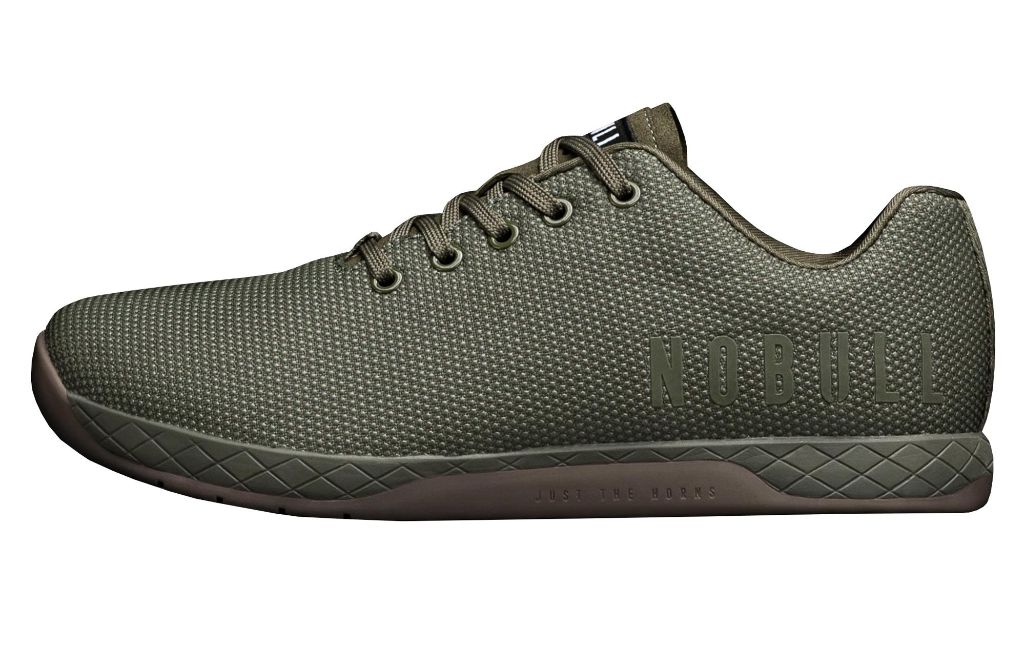 Community Score: 2
Product Highlights
4mm heel-to-toe drop
Stylish looks
Versatile
Durable
Great for CrossFit
Pros & Cons
Pros
Performs well across a variety of exercises
Stylish look
Durable
Several height levels
Cons
Expensive
Takes a while to break in
4mm heel-to-toe-drop may not be good for some movements (such as squats)
Bottom Line
A versatile and durable cross-training shoe with some unique colorways.
A Quick Look at the NOBULL Trainer Shoes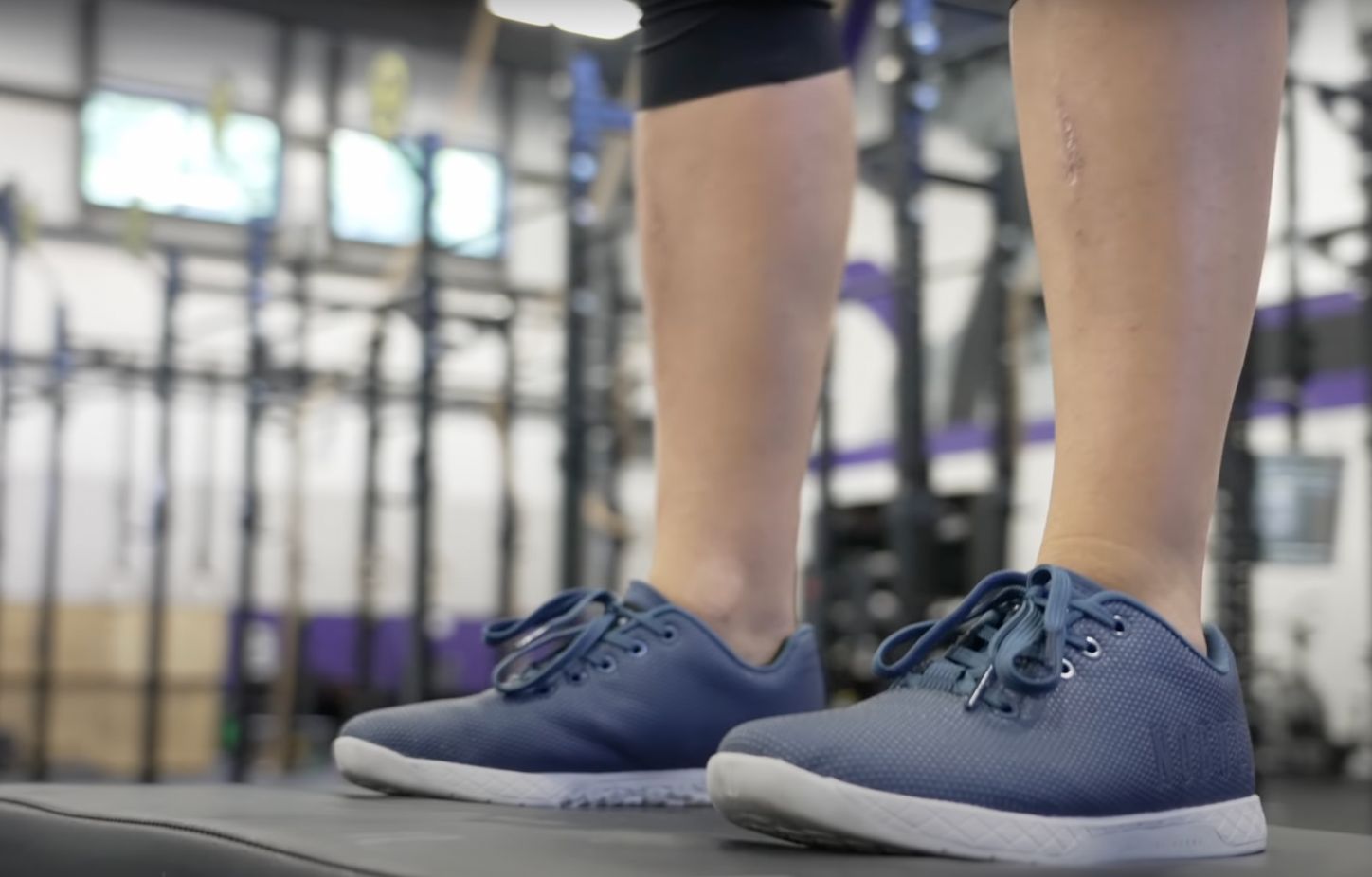 NOBULL has come a long way as a brand since its launch in 2015. What started as a new-age brand became the CrossFit Games title sponsor in 2021 with an impressive roster of sponsored athletes—Brooke Wells, Katrin Davidsdottir, Scott Stallings, Will Greier, Tia-Claire Toomey, and Justin Medeiros, to name a few.
Since releasing the original NOBULL Trainers in 2015, the company has launched an entire apparel line as well as new types of shoes, including the NOBULL Runners, NOBULL Lifters, and NOBULL Trail Runners, as well as cycling shoes, golf shoes, and slides.
The shoes themselves, however, haven't changed much at all. The Trainers in particular still sport the same design as they did six years ago. This is a good thing or a bad thing depending on who you ask.
The people who like these shoes really like them, and the people who don't like them really don't like them. There aren't many people who feel totally neutral about NOBULL shoes, and you'll be hard-pressed to change someone's mind about them. (Although one of our product testers and editor, Kate Meier, did order these shoes hoping to dislike them, and she ended up enjoying them.)
(P.S. Here's how to get a NOBULL discount code.)
Coop's Tips:
Be prepared for a flat-footed feeling at first. These have minimal cushioning.
Have some patience with these. They may take a few workouts to break in due to the rigid upper made of seamless SuperFabric®.
The design is similar to Converse All-Stars, but way more durable. If that's not your jam, consider the Reebok Nano X1s for more cushion.
My Favorite Things:
Flat sole provides stability for lifting weights
Lightweight and breathable but still durable
Tons of colorways to choose from with a minimalist design
My Callouts:
Despite having a ton of colorways, many of the designs can seem bland
SuperFabric® upper makes the shoe rigid during initial use
Price starts at $130 for a rather basic design
Are NOBULL Trainer Shoes Worth It?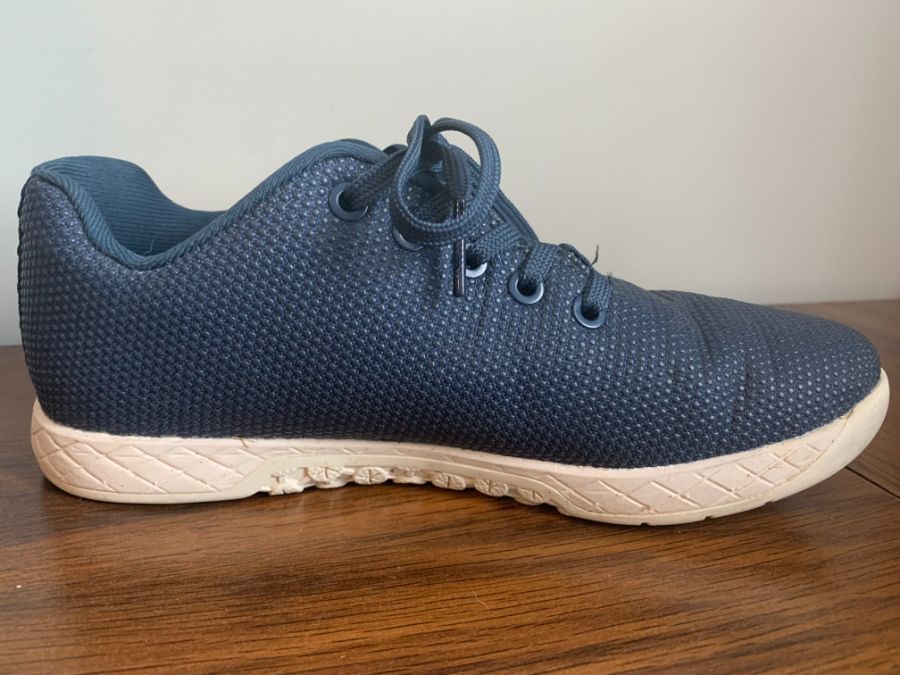 Once again, for whatever reason, NOBULL shoes have become the most debated shoe in the CrossFit community. So it truly depends on who you ask. Even our own team at Garage Gym Reviews has different opinions on whether or not NOBULL Trainer shoes are worth it.
Amanda Capritto, one of our fitness writers and longtime CrossFitter, winces at the price tag and she's a self-proclaimed NOBULL junkie. At $130 to $170 for a basic training shoe, the price is indeed high. But it's worth it if you like the minimalistic design and utilitarian styles.
Great for:
People who prefer minimalist training shoes
Athletes looking for a weightlifting shoe they can wear anywhere
Anyone who values durability in CrossFit shoes (so, everyone)
Not recommended for:
Anyone who needs or wants arch support
People who like a wider toe box
People who plan to run in their training shoes
Wearing the NOBULL Trainers Shoes
Kate serves it straight: "I really didn't want to like these shoes. I'm typically not a NOBULL fan just because their look isn't that appealing," she told me. "When I initially put these on, I didn't like the feel. The bottom felt hard, and I'm used to weightlifting shoes. However, once I got to working out with them, I really liked them. I did workouts that included running, jumping and squat cleans, and I never felt uncomfortable in the shoes."
Initially, these can feel a little rough because the bottoms are relatively flat and hard. However, exercising in them feels great. The harder bottom gives you a good platform for squats, but it's still flexible enough to get through more dynamic movements. Also, the suede tongue is soft and comfortable. Myself, Kate, and Amanda all find the NOBULL Trainers to fit true to size.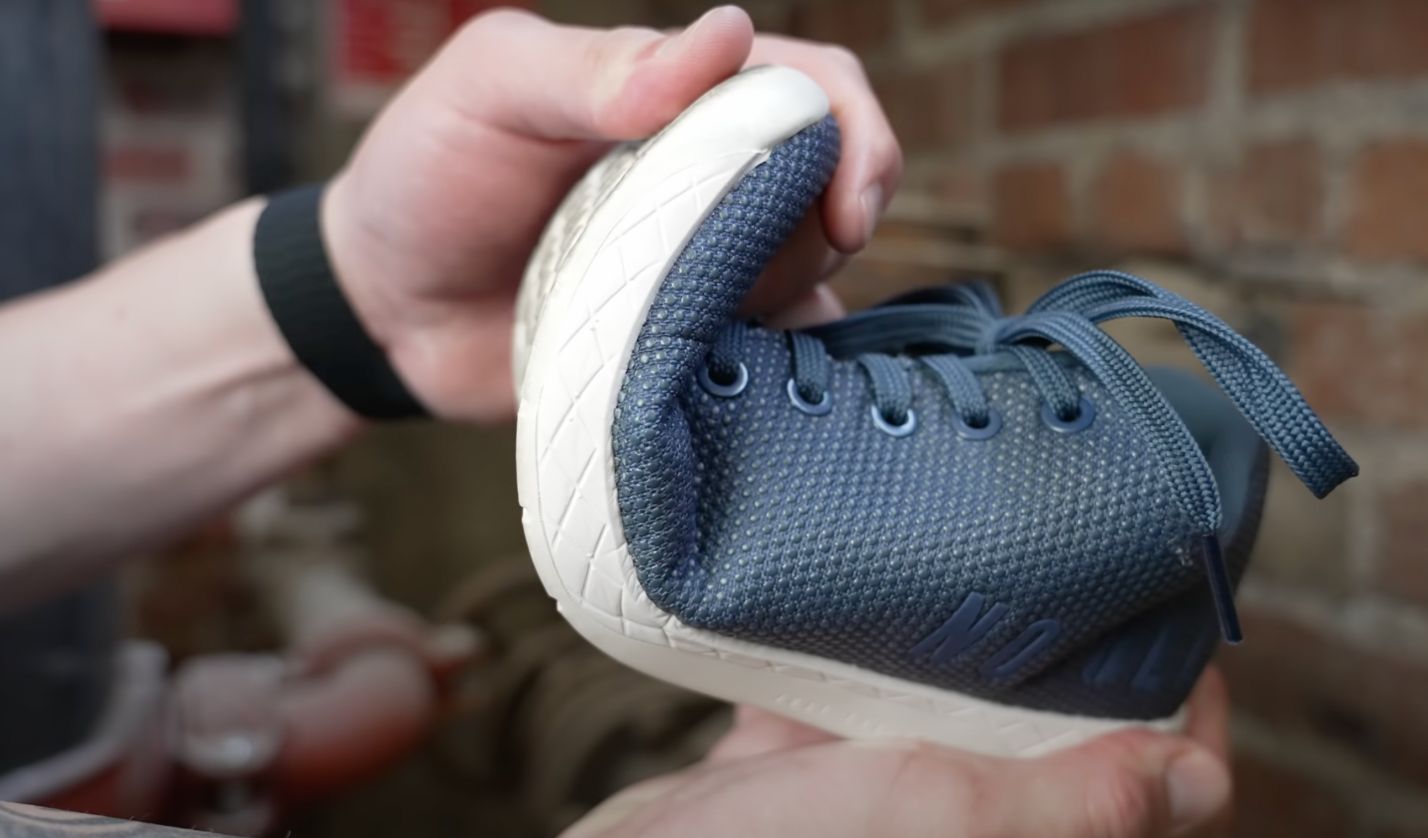 Wearing NOBULL Trainer Shoes for CrossFit
If you want a CrossFit shoe, these are spot-on. While they're not our top pick for the overall best training shoe (we collectively decided on the Reebok Nano X1s for that), the NOBULL Trainers are still one of the best options for cross-training.
As all CrossFitters know, durability is key in a good pair of shoes. Between burpees, rope climbs, handstand push-ups, and other movements, training shoes take quite the beating during CrossFit WODs. The seamless SuperFabric® upper on NOBULLs is probably the most durable construction I've come across. Because it's one-piece construction, it eliminates the possibility that your shoes start to come apart at the seams. Amanda has been wearing the same NOBULL shoes for three years and (when washed, she clarifies), they still look, feel, and function like they're brand new.
As for comfort, this is where things start to get controversial. NOBULL Trainers are flat—like, really flat. Most complaints are about the lack of arch support and shock absorption. If you're used to more cushioning, transitioning to NOBULL Trainers might be tough. However, Kate, who was initially wary of the shoes, says they're "shockingly comfortable once you get moving in them."
For box jumps and other high-impact movements, you might miss some of the shock absorption you've experienced while wearing Nanos or workout shoes designed for high-intensity interval training (HIIT) workouts. The high-top trainers add ankle stability if that's something you're looking for.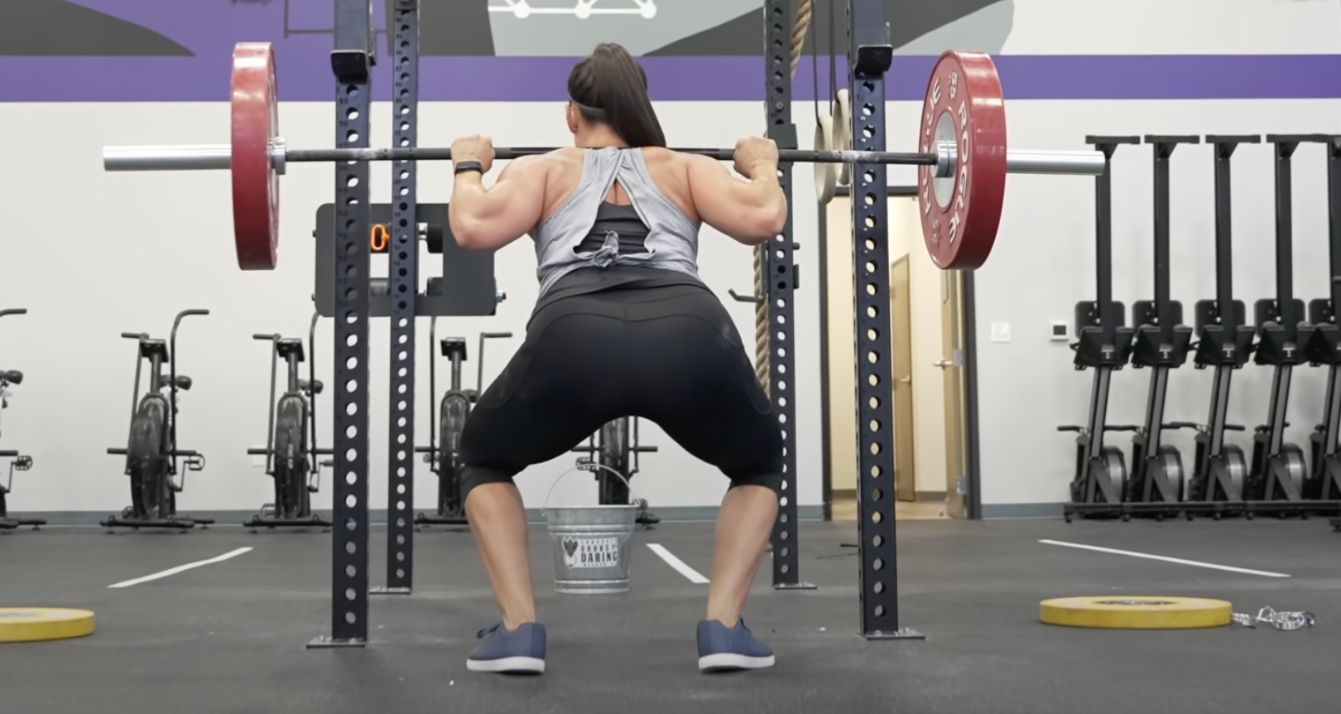 Wearing NOBULL Training Shoes for Lifting Weights
Unlike the Reebok Nano Xs and X1s, which I think are too cushioned for heavy lifting, the NOBULL Trainers are great for heavy squats, deadlifts, and even the Olympic lifts due to their super flat sole and minimal heel-to-toe drop.
True weightlifting shoes still provide better support and offer mobility assistance for Olympic weightlifting, but for the most part, I'd recommend the NOBULL trainers for lifting weights. They feel great during all types of lifting, including powerlifting and bodybuilding workouts.
Between myself, Kate, and Amanda, we've worn NOBULL shoes for just about any lift you can think of. They don't have as steep of a heel as, say, the Nike Metcons do, so they are particularly great for deadlifting.
RELATED: Best Shoes for Deadlift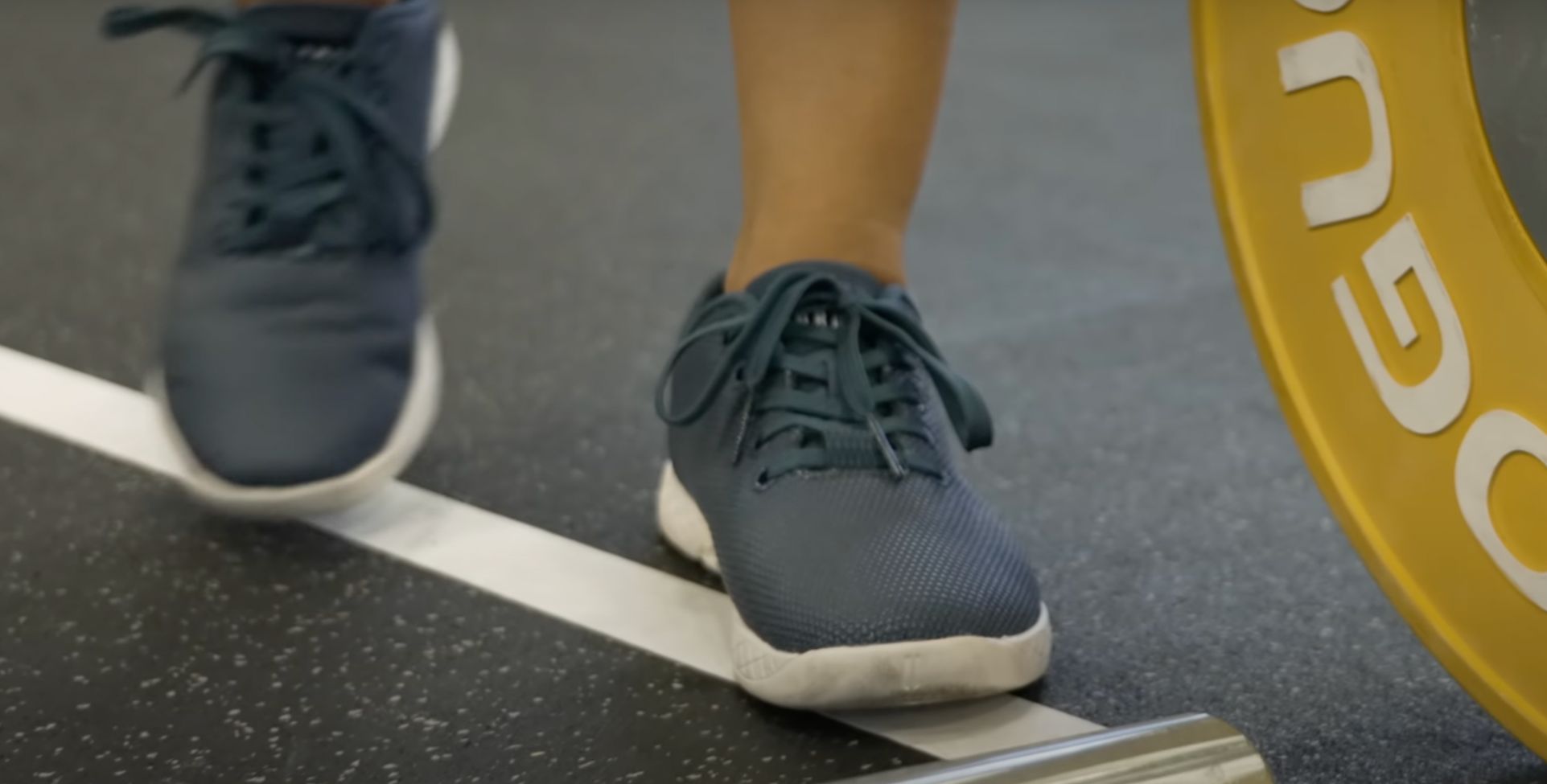 Wearing NOBULL Trainer Shoes for Cardio
Nope. Nope; no; nada. Heed our advice and just skip the NOBULL Trainers for your daily walk or if you feel inspired to go for a run. As much as our product testers love the NOBULL shoes for training and lifting weights, no one on our team likes these for pounding the pavement.
There's no arch support, the forefoot isn't flexible enough to roll with a running stride, and the low heel tab might cause blisters with repetitive foot strikes. You can get away with wearing NOBULLs during a WOD that has short bursts of running, such as 200-meter repeats, but even then, you might find them uncomfortable.
NOBULL does make running shoes if you're interested in wearing NOBULL sneakers for cardio sessions.
Wearing NOBULL Trainer Shoes Walking and Everyday Activities
Kate tells me she wouldn't wear these shoes to just walk around all day. After taking her dogs on several walks in the NOBULL Trainers, she decided that although they were okay, they aren't the most comfortable shoes for something recreational.
I know a lot of people who love NOBULL shoes so much that they wear them out socially or otherwise outside the gym.
For Kate, these aren't those shoes. For Amanda, they're shoes she'll wear to go out for a casual dinner or to a bar where she knows she'll be sitting for the most part. The simple design makes them great for matching with any outfit in her opinion.
NOBULL Training Shoes Construction and Materials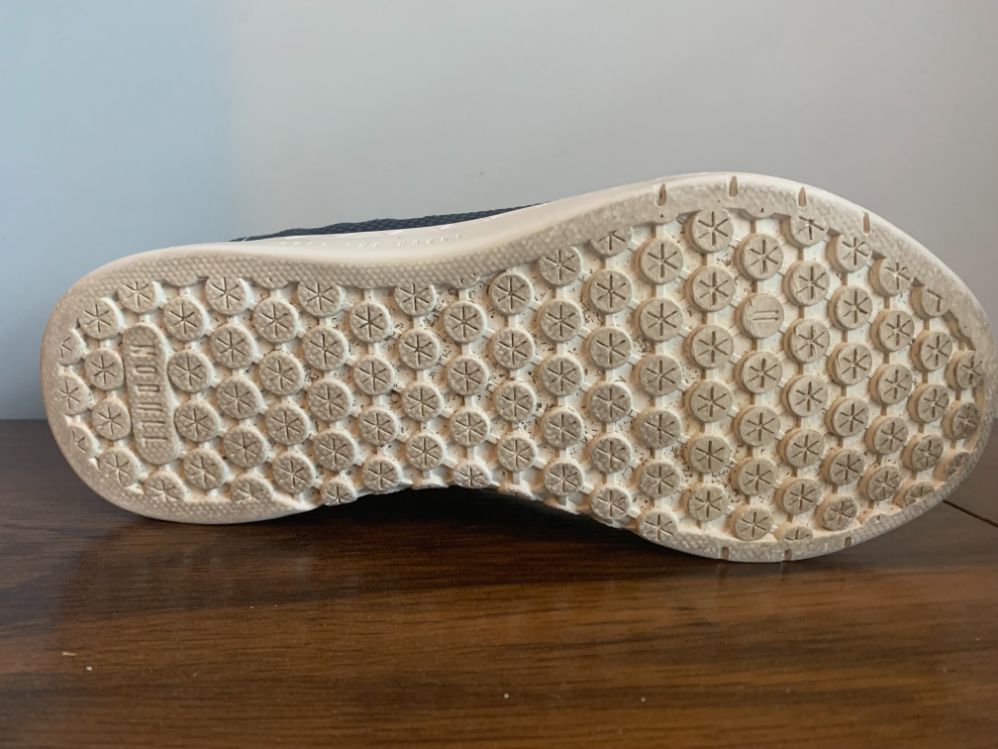 At this point I'm beating a dead horse, but the NOBULL shoes are some of the most durable shoes I've ever worn. The outsole is constructed of carbon rubber, which can withstand rope climbs and outdoor elements.
The SuperFabric mesh lends itself to breathability without sacrificing durability. There's a microsuede upper option, too, but Kate wasn't crazy about it. Regardless of which upper fabric you choose, the seamless one-piece construction remains constant, as does the suede tongue.
Here are a few other things myself and our product testers loved about the construction of the NOBULL trainers:
The reinforced heel is ideal for staying strong during handstand push-ups
Suede tongue eliminates rubbing and irritation on the top of the foot
Anatomical sockliner molds to the shape of your foot after repeated use
Medial rope grip provides extra protection against abrasion
Reinforced sidewalls are also abrasion resistant
Outsole lug pattern supports use in different outdoor elements, including mud and rain
Very minimal midsole provides stability during highly dynamic exercises
At the end of the day, the NOBULL Trainer is a solid athletic shoe for CrossFit workouts.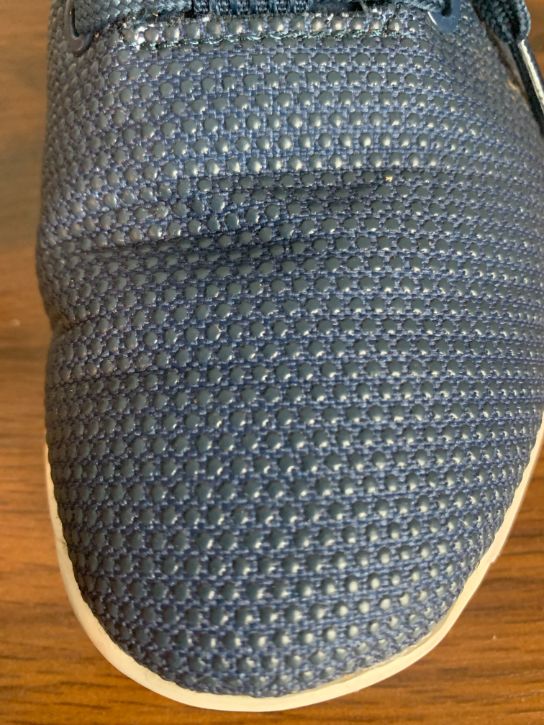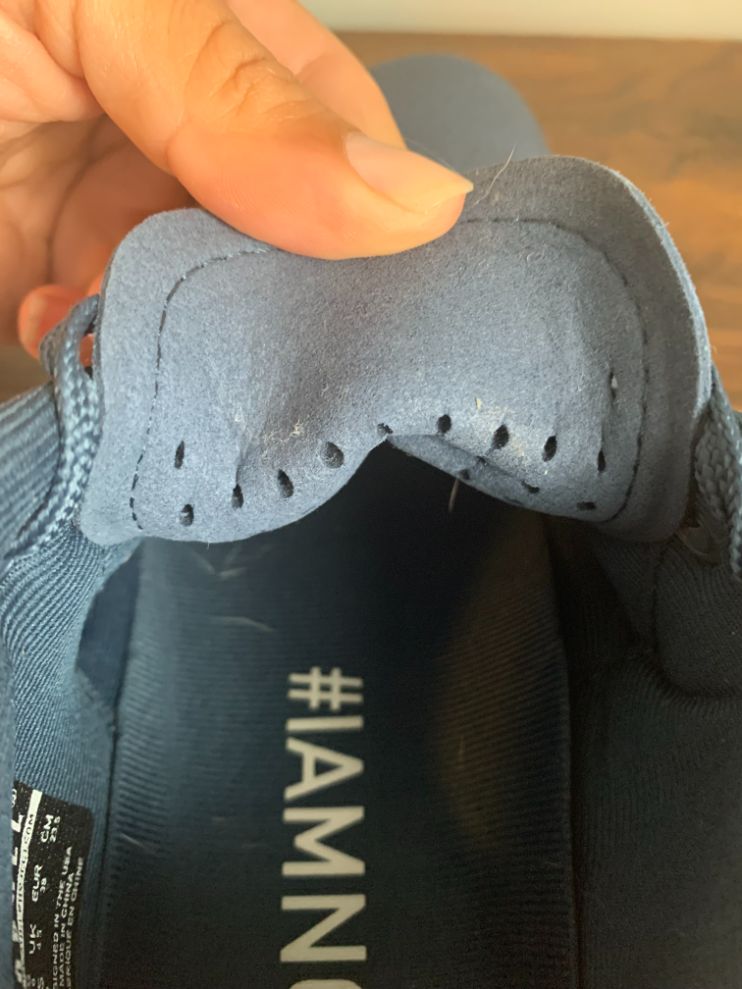 NOBULL Training Shoes Colorways and Design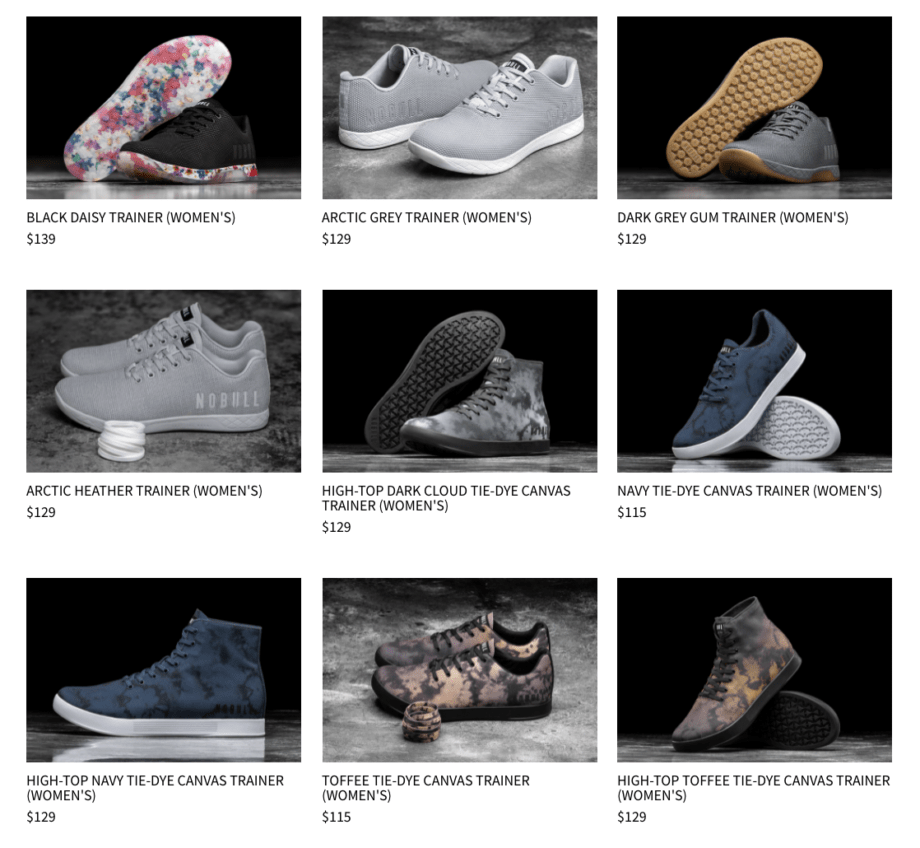 Here's another controversial aspect about NOBULL shoes: the looks. Some people love the simple designs whereas others feel the colorways and aesthetics leave a lot to be desired.
Typically, NOBULL shoes have a very utilitarian look to them—solid color, no contouring, plain white or gum bottom, with essentially just the words "No Bull" on them.
They have expanded their line substantially over the last few years to include more designs and patterns, many with vibrant colors, both on the shoe and on the sole. Kate wore the Navy Trainers, which are simply navy blue with the white sole, and with the navy laces. They came with a pair of cream-colored laces as well, which very slightly add a break in the monotony.
Kate tells me she's generally not attracted to how plain the NOBULLs are. "They remind me of something that the military would issue," she says. "If they didn't say "No Bull" on them, I'd think they were super overpriced shoes from a box store." Ouch!
On the flip side, Amanda loves the simplistic nature and finds it easy to match them with any workout clothes she wants to wear. She's a fan of the deep, earthy colors and monochrome upper construction.
NOBULL Trainer+ Review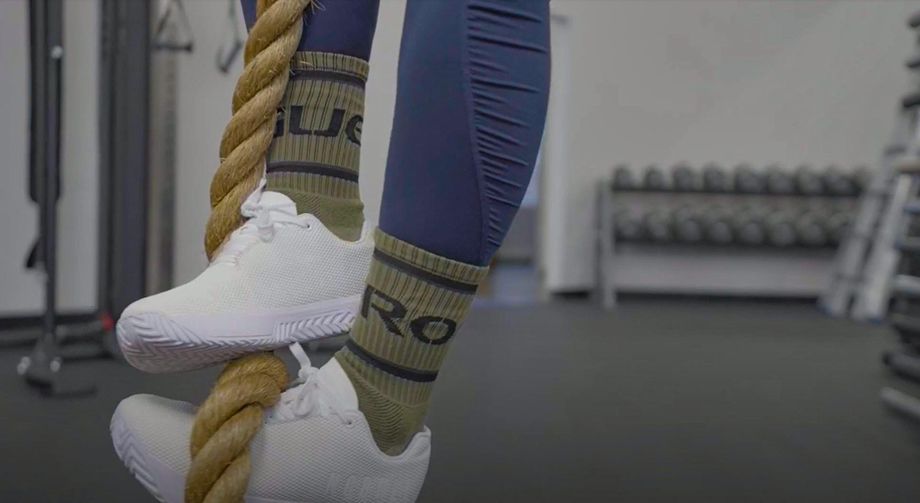 In February 2023, NOBULL expanded its range of training shoes with the NOBULL Trainer+, a modified version of the Trainers.
At first glance, the Trainer+ looks like a chunkier version of the original Trainers—and it essentially is, with a few extra perks (or downfalls, depending on how you look at it).
The Trainer+ features a thick midsole constructed of EVA foam, the same material used in the vast majority of running shoes. The midsole is about an inch in height, which looks like a lot, but doesn't translate to a big change in feel. The foam itself, however, does alter the feel of the shoes compared to the old Trainers.
NOBULL Trainer+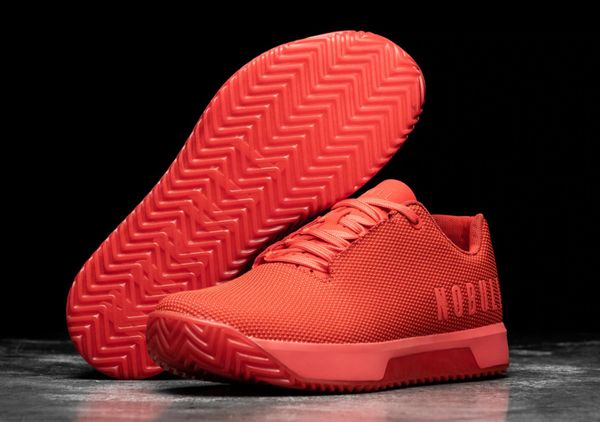 Product Highlights
The NOBULL Trainer+ is the newest training shoe from NOBULL, a modified version of the original Trainer. The Trainer+ features a thick EVA midsole for more shock absorption, as well as 360-degree abrasion-resistance to protect your shoes from rope climbs. The outsole sports deep, herringbone patterned lugs for extra traction in any conditions.
Pros & Cons
Pros
EVA midsole offers more shock absorption
Seamless fabric is easy to clean and resistant to abrasions
Deep lugs offer superb traction in all weather conditions
Medial rope grips for climbing
Flat sole for added stability during barbell movements
Cons
EVA midsole shows signs of compression after just a few workouts
Heel cup sits a bit low and may take some breaking in
Bottom Line
The NOBULL Trainer+ is a new version of the NOBULL Trainer that features deeper outsole lugs and a shock-absorbing EVA foam midsole.
Thanks to the EVA midsole, the Trainer+ absorbs much more shock than its predecessor. What this means for your next WOD is that you'll feel lighter and bouncier during box jumps, burpees, and run intervals.
However, the addition of EVA foam isn't an entirely positive thing. You may find yourself feeling less stable while lifting weights, particularly during barbell cycling (fast movement of a lightweight barbell through a high-volume set). It seems NOBULL tried to counter this with a wider outsole, which adds to that overall chunky look of the shoe.
The Trainer+ sports the same seamless upper made of the brand's patented SuperFabric, a durable, abrasion-resistant material that feels almost like a flexible plastic. A few other features remain the same on the Trainer+, too, such as the perforated suede tongue and encapsulated shoelace eyelets.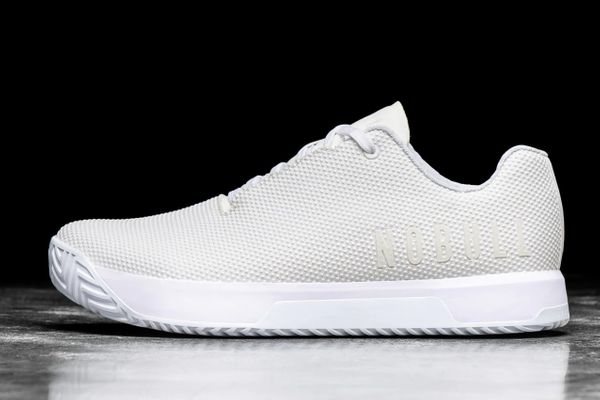 Aside from the midsole, the other prominent difference between the Trainer and Trainer+ is the outsole. The new outsole features a herringbone pattern with ultra-deep lugs. This added traction should prevent slipping during outdoor workouts or on wet floors.
Finally, the Trainer+ features a larger toe bumper, a more aggressive rope grip, and more cushion in the heel cup.
I've been wearing the NOBULL Trainer+ shoes for several weeks, and overall, I've liked them just as well as my original Trainers. I definitely notice improved traction when walking around outdoors, especially after a rainstorm, as well as more shock absorption during explosive movements. I still prefer to do lifting WODs in my original trainers.
I noticed some creases in the EVA midsole after just a few workouts, so this is something I'll keep an eye on over time to see if the midsole suffers permanent compression.
Right now, the NOBULL Trainer+ is available in eight colorways, but I'm sure that number will continue to grow. All color options currently cost $139, whereas prices for the regular trainers range from $115 to $169.
NOBULL Training Shoes vs. Other CrossFit Shoes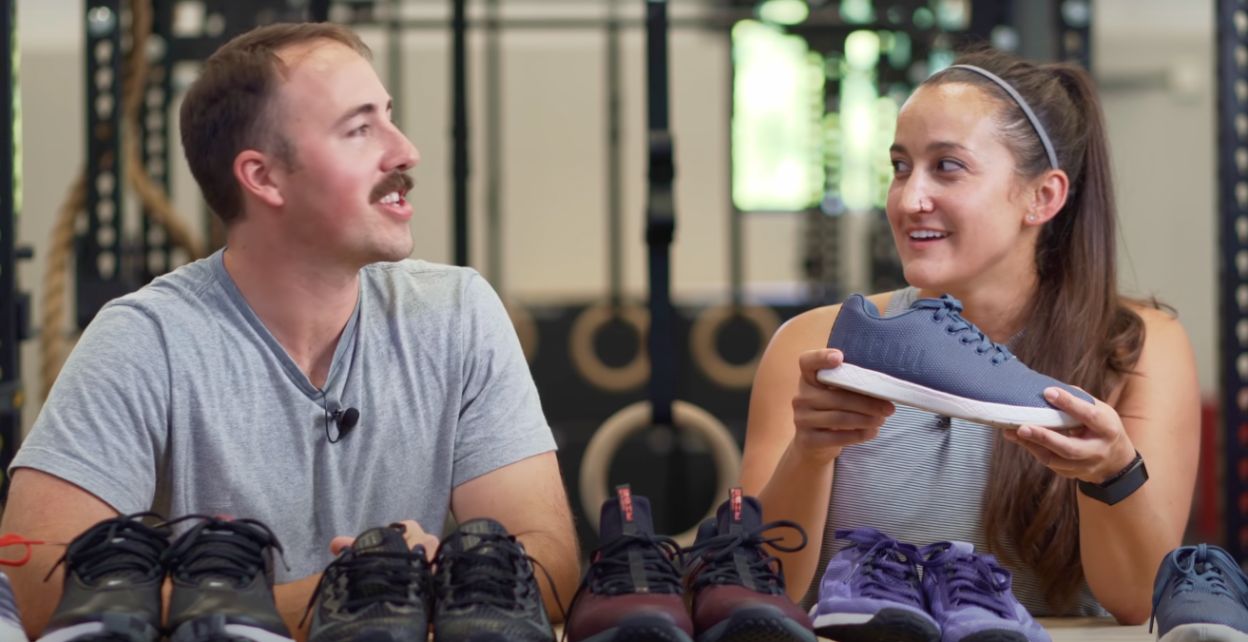 The NOBULL Trainers are probably the most similar to Nike Metcons. Like the NOBULLs, the Metcons have a minimal midsole, extremely durable sidewalls, and medial rope grips. Both of these CrossFit training shoes feel flat and rigid, at least during initial use, and take some time to break in. After the break-in period, though, you'll be set up with a pair of extremely stable, hardwearing cross-trainers.
NOBULLs Trainers are somewhat reminiscent of older versions of the Reebok Nanos, specifically the Nano 5s and Nano 6s. The newer nanos, especially the Nano Xs and X1s, are vastly different from NOBULL Trainers in a lot of ways, but especially in the level of cushioning and available colorways.
NOBULL Trainer Shoes Specs
| | |
| --- | --- |
| Price | $130 to $170 |
| Heel to Toe Drop | 4mm |
| Size Range | Women's 5-11; Men 8-18 |
| Colorways | More than 20 for men and women |
| Tread | Rubber |
Ordering the NOBULL Trainer Shoes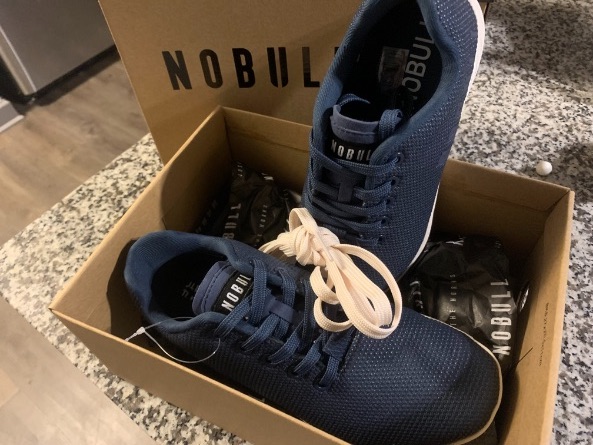 I had absolutely no issues with ordering, and the shoes arrived in less than a week. NOBULL generally has fast shipping, and shipping is free on orders over $99. You'll have no problem meeting that order minimum as the NOBULL Trainers start at $130. Return shipping is also free if you're located in the U.S. NOBULL has partnered with AfterPay to provide interest-free pay-over-time options.
Customer Experience
If you find out you're one of those people in the "I Hate NOBULL Club," you can return your shoes within 60 days for a refund. They must be in brand-new condition though, so you can't really take them for a spin at the gym. You'll have to make your decision upon trying them on and taking a few steps. Do some practice air squats to make sure.
Customer Reviews
NOBULL Trainers have good reviews across the web. Positive reviews point out characteristics like sturdiness, stability, and aesthetics. The biggest complaints I've heard and read about NOBULLs cite the shoe being rigid or too tight. (The Trainers do edge on narrow, so maybe skip these if you have a wide foot.) Lack of arch support is another common complaint, so if you know you struggle with that, I recommend looking elsewhere for cross-training shoes.
Final Verdict of Our NOBULL Training Shoes Review
Are NOBULLs absolutely the best shoes? Nah. But are they a great shoe? Absolutely. When it comes to NOBULL Trainers, you just have to decide whether the specs match up with your preferences. We think these are a great option for people who generally prefer minimalist shoes and value stability over cushion.
These are flat shoes well-suited to CrossFit and lifting weights.
We wouldn't recommend NOBULL Trainers for running, walking long distances, or everyday wear.
People tend to either really love or really hate these. You probably won't know for sure until you try them.
The price is high for such a basic shoe design, but if you fall into the camp of NOBULL lovers, you won't care.
Full Rating
NOBULL Trainer
The NOBULL Trainers are well-suited to those who do CrossFit and lift weights. They come at a high price, but are well-loved by those who wear them.
Product Brand: NOBULL
Product Currency: $
Product Price: 129
Product In-Stock: InStock
NOBULL Training Shoes FAQs
Are NOBULL Trainers good for CrossFit?
NOBULL training shoes are great for CrossFit. They're durable and stable, which is exactly what you need for CrossFit workouts.
Are NOBULL Trainers good for Olympic weightlifting?
Some people like to wear NOBULL Trainers for Olympic lifts, but true weightlifting shoes will typically be the better choice for most people, especially if you're moving really heavy weight.
Are NOBULL Trainers good for running?
NOBULL Trainers are not good for running for most people, especially those used to cushioned running shoes with a thick midsole. Even running short distances in these training shoes might result in sore feet and poor running dynamics.
RELATED: How to Choose Running Shoes