We test and review fitness products based on an independent, multi-point methodology. If you use our links to purchase something, we may earn a commission. Read our disclosures.
A pair of high-quality sneakers can make or break your training session. Who likes to stop mid-workout to adjust the tongue or laces of their shoes, or wiggle their foot around to achieve more comfort? Likewise, feeling like you're gonna topple over during squats or scrape your shin due to a failed box jump is a major workout mood-killer. That's why good training shoes are so important, and that's why I recommend the Reebok Nano X1s for most people who do CrossFit. In my Reebok Nano X1 review, the Garage Gym Reviews team shares our experience with the newest Nanos available.
Why You Should Trust Us
I've been testing fitness equipment for years. And you know what I have to wear while testing all of the best home gym equipment? Shoes. Not only have I spent years buying and trying workout shoes to find my favorite pairs for different types of workouts, I actually created an entire roundup of the best CrossFit shoes to help you find the perfect pair of sneaks, too.
Reebok Nano X1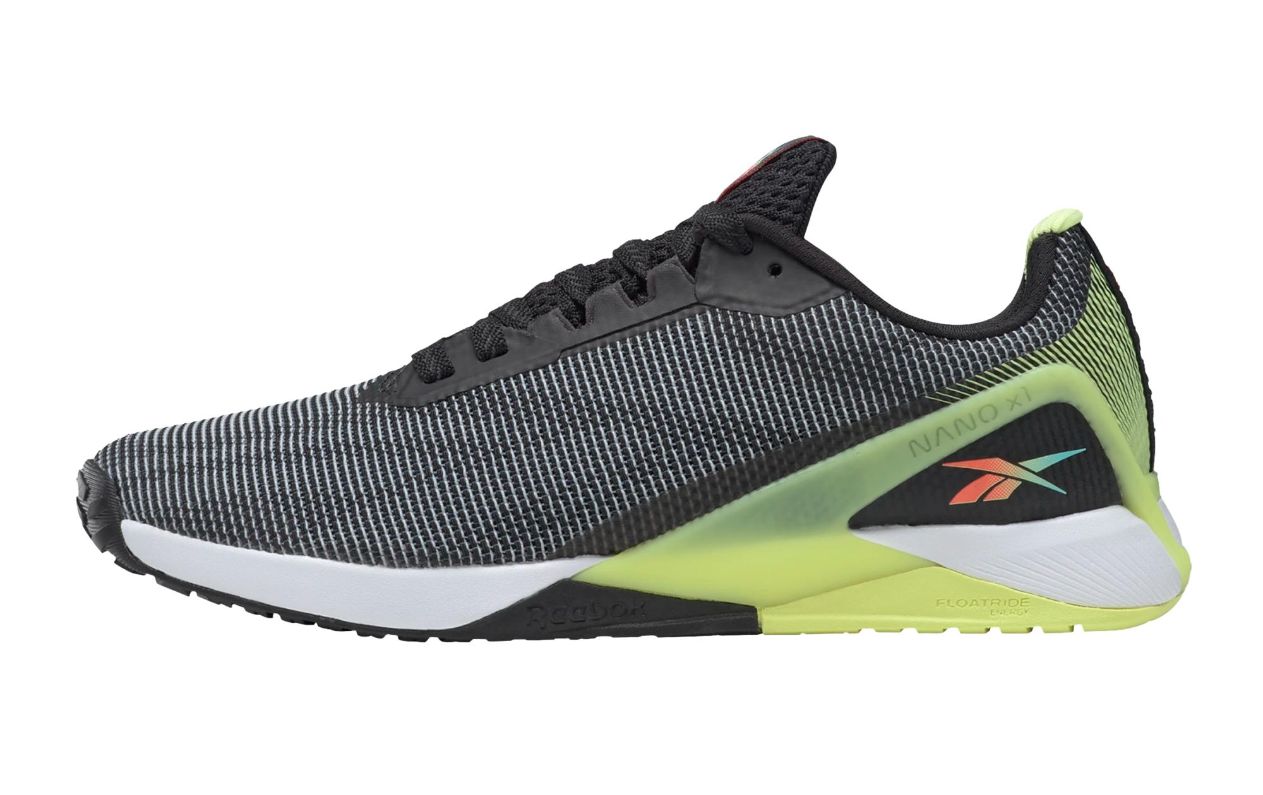 Reebok Nano X1
The Reebok Nano X1 is designed for wearability. With Floatride cushioning, a refined toe shape optimized for more movements, an energy return running foam and speed chassis, you'll add comfort to every step, get a locked-in feel and better stability in Reebok Nano X1 training shoes.From box jumps to burpees and squats to sprints, the Reebok Nano X1 is a beast that comes in two powerful forms. Reebok Nano X1 Grit upper is built with material that's ultra-strong, durable and lightweight. And the Reebok X1 Knit is built with a softer Flexweave knit upper. Both Reebok Nano X1 training shoes feature a comfort collar for improved comfort–no break-in period needed, and all-day wearability guaranteed. If you're looking for the official cross training shoes of all things fitness, Reebok Nano X1 training shoes are all in.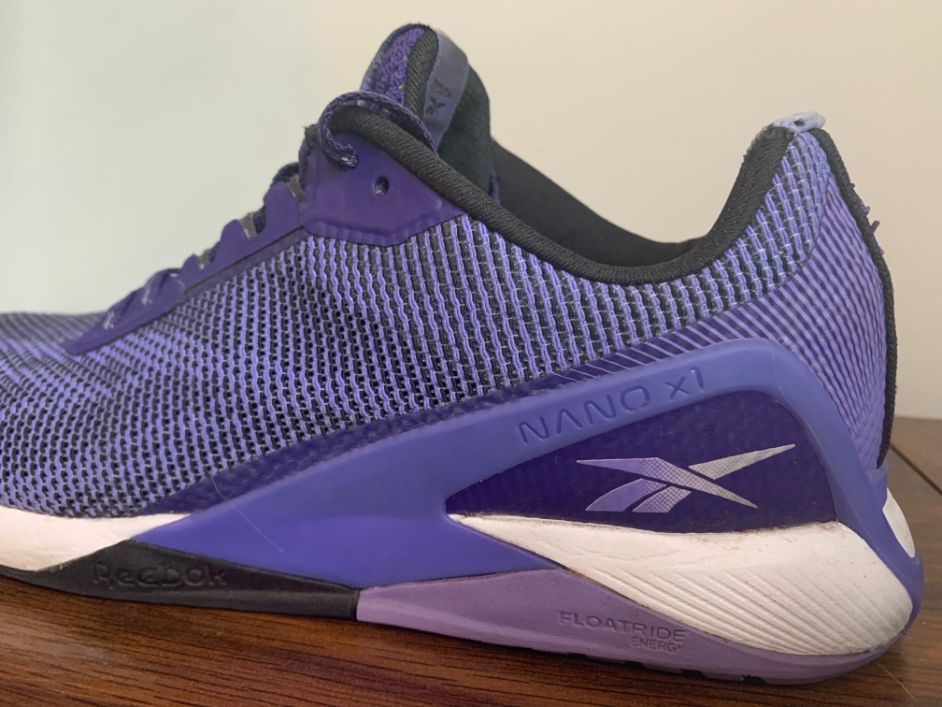 A Quick Look at the Reebok Nano X1
Reebok is now on the 11th iteration of the Nano, a shoe that has become nothing short of symbolic in the CrossFit world. The Nano X1s are easily some of the most comfortable training shoes I've ever worn, and that's saying a lot because I've worn a few versions of this shoe that I absolutely despised (*ahem*Reebok Nanos 5 and 6). I honestly love these workout shoes so much that I'm hesitant to see what changes Reebok makes to the next generation of the Nano. I always say, "If it ain't broke, don't fix it."
Coop's Tips:
You may want to wear taller socks with these shoes, as the heel tab is higher than it is on previous Nanos.
Heel cup is rounded versus the straight heel cup on the Nano 9 and Nano X; keep this in mind if you prefer the heel design on the 9s and Xs.
I like these for workouts with many different movements, but it can still be beneficial to have different shoes for different purposes
My Favorite Things:
Perfect balance of cushion and stability
Durable textile upper survives running, burpees, rope climbs, and more
Comes in more than 20 colorways
Lightweight heel clip provides added stability and slip for handstand push-ups
My Callouts:
Heel tab is higher than average and may cause blisters
Feels a bit squishy and clunky at first, compared to previous Nanos
The tongue still feels overly padded to me, but it's skinny enough to not get in the way
Related: The Reebok Nano X1s made our Best Fitness Gifts list!
Is the Reebok Nano X1 Worth It?
Let's just say I'm not the only one who loves the Reebok Nano X1. Kate Meier, our fitness editor and longtime CrossFitter and weightlifter (and self-proclaimed Nike snob) told me the Nano X1s are arguably the most comfortable CrossFit shoes she's ever worn. And Amanda Capritto, a fitness staff writer here at Garage Gym Reviews who's normally a die-hard NoBull fanatic, says she loves the Reebok Nano X1s for a lot of high-impact CrossFit movements where NoBulls don't provide as much shock absorption.
In terms of value, I think the X1s come at a great price point. These all sit around $130, except the Vegan and Lux options, which are $150. Considering Nike Metcons and the NoBull Trainers run much more expensive, the Nano X1s are a good deal.
Great for:
People who do traditional CrossFit-style workouts
Anyone who wants an all-around shoe for multiple activities
People who enjoy more cushioning in cross-training shoes
Not recommended for:
People who generally prefer less cushion in a cross-training shoe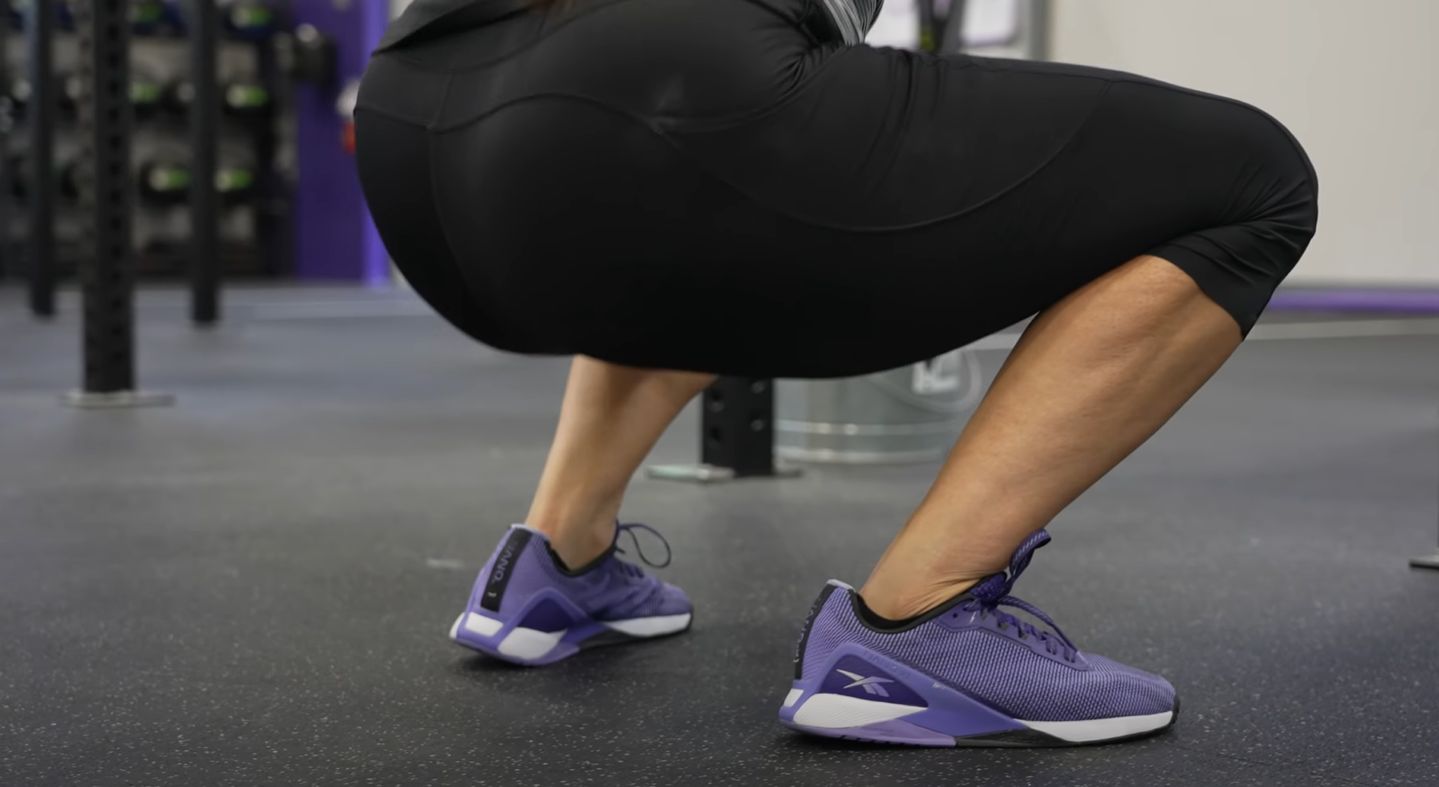 Wearing the Reebok Nano X1 Training Shoes
It's hard to make an all-around shoe, but Reebok nailed it with the Nano X1s. Most shoes marketed as a do-it-all shoe still lack in some departments, but the X1s prove comfortable during all activities.
Kate can't gush about them enough: "I've always had mixed feelings about Nanos," she tells me. "I owned the 2s, which I absolutely loved. Then I tried out a few other pairs in later iterations—I think the Nano 5s or Nano 6s—and I didn't like them. That's when I basically switched over to Nike and never looked back."
Until now. "Wow, the Nano X1s are some of the most comfortable shoes I think I have ever been in," Kate says. "They are great for literally any activity I do: running, jumping, squatting, walking the dog, coaching. I have not had one problem with these whatsoever."
Obviously, there are a few activities for which shoes designed specifically for said activity will prevail. Running will always be more comfortable with running shoes. Olympic weightlifting will always be more comfortable with lifting shoes. You get the point. However, if you need cross-training shoes, you won't regret buying the Reebok Nano X1s.
RELATED: How to Choose Running Shoes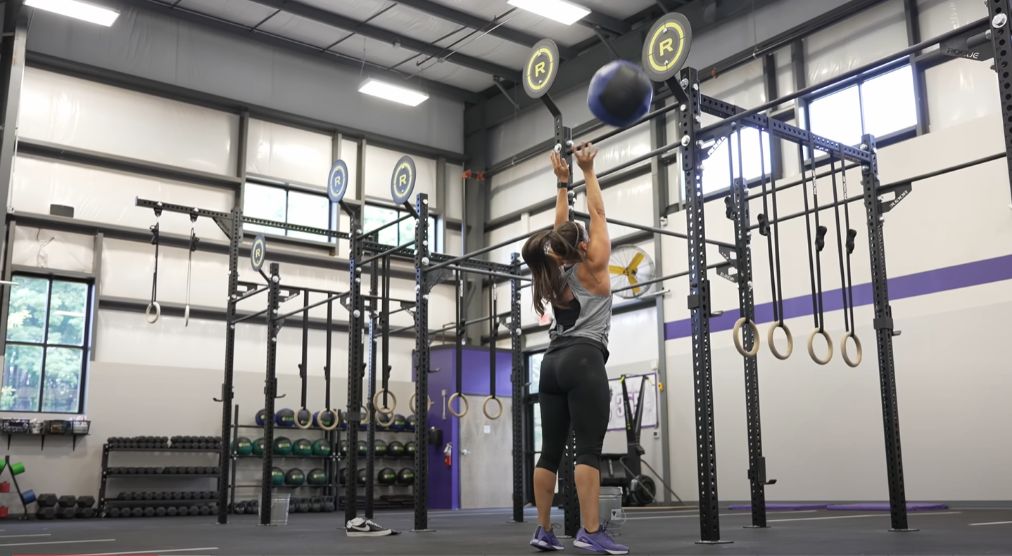 Wearing the Reebok Nano X1s for CrossFit
Every functional fitness enthusiast needs to add the Nano X1s to their shopping list immediately. I kid you not: These are true cross-trainers. If these shoes are best for anything, it's CrossFit. Whether your workout calls for box jumps, handstand push-ups, rope climbs, dumbbell snatches, lunges, or anything else, you'll find the Nano X1s to provide ample support, stability, shock absorption, and durability.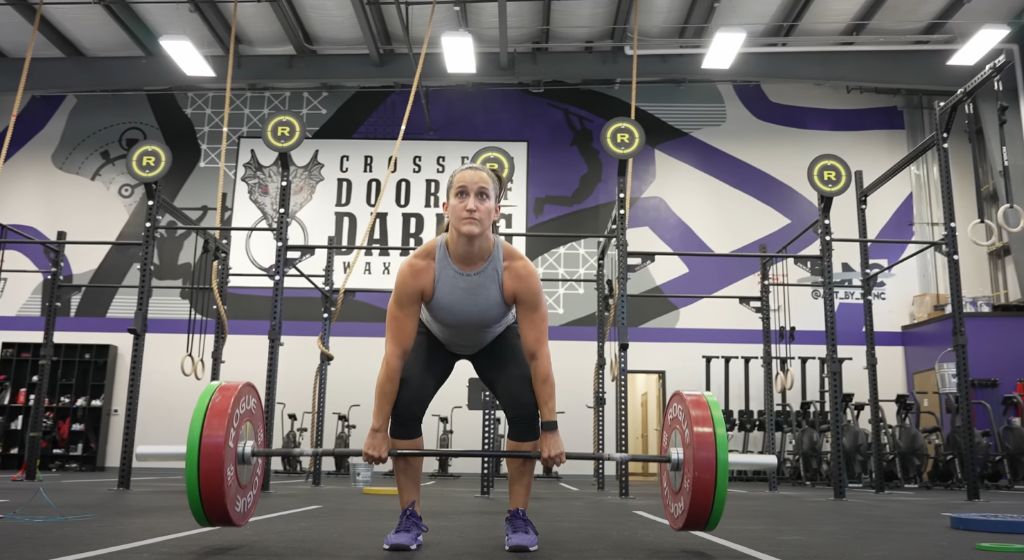 Wearing the Reebok Nano X1s for Lifting Weights
The Reebok Nano X1s aren't the absolute best shoes for lifting weights in my opinion. If you're doing any type of heavy lifting, whether you're doing straight sets or supersets, you might be better off with a flatter, more minimal shoe. Transitioning from something like Chucks to the X1s will be a bit weird for sure.
There's not so much cushion that you'll feel unstable during squats, but I (and Kate and Amanda) prefer something designed specifically for lifting weights if that's what we're going to be doing. That's not to say we don't like wearing the X1s during WODs with weightlifting movements. For lightweight, high-volume stuff, they're totally fine. But if we're going to attempt a new 3-rep max clean-and-jerk, Nanos aren't the ideal shoe for that.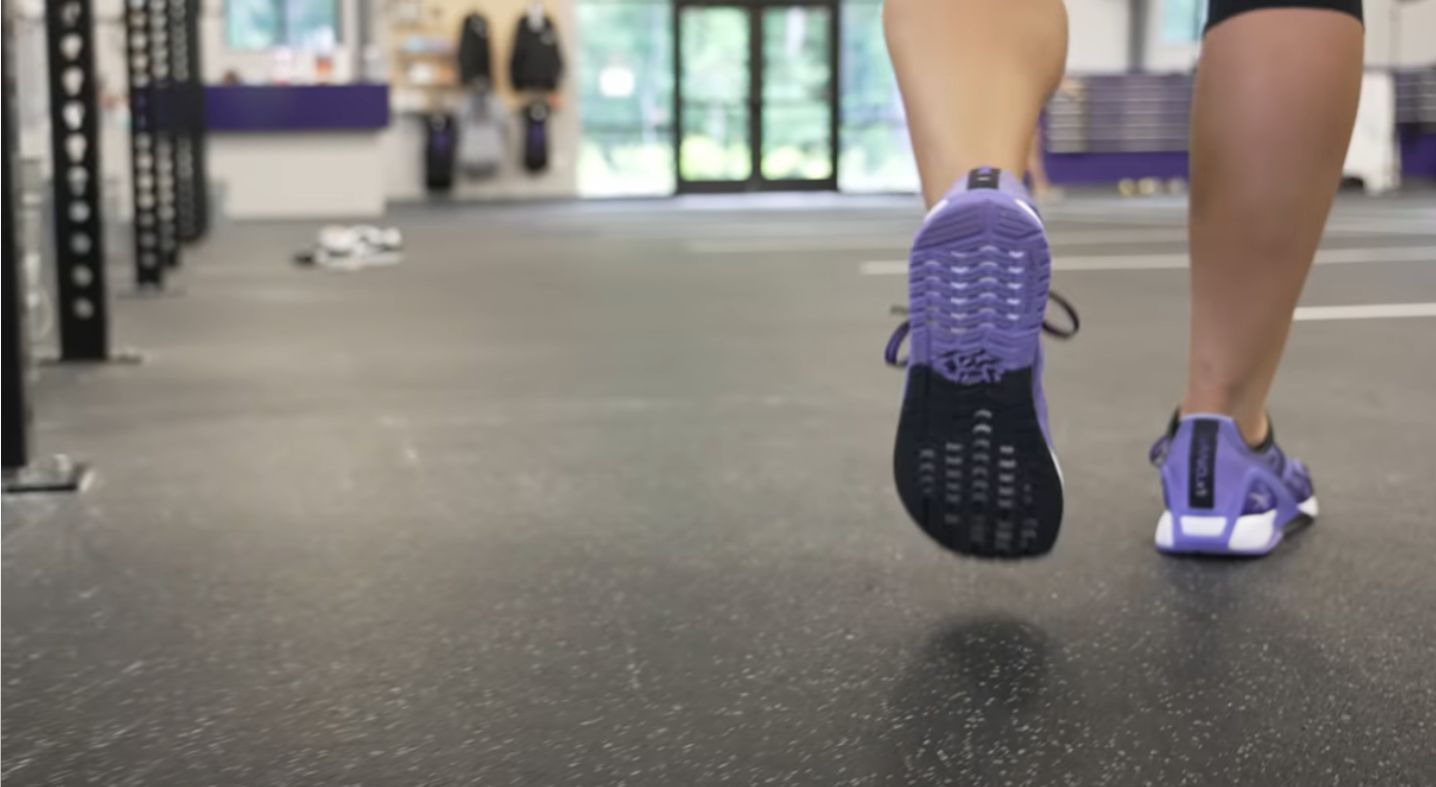 Wearing the Reebok Nano X1s for Cardio
Amanda, our fitness writer, runs with her dog 3 miles a few days a week. She decided to try the X1s out for mid-distance running and her verdict is that they aren't the best choice for strictly cardio workouts.
After a few days of running three miles in the Nano X1s, she found her feet and ankles to be really sore and achy, and she switched back to her trusty Brooks running shoes.
I've used the X1's in various conditioning intervals that switch between equipment like the Concept 2 SkiErg andTrueForm Runner and although I prefer a specific running shoe for running, the X1's get by, unless you're a major heel striker.
Like I said, sometimes the best shoe is one that's designed purposefully for the activity you're doing. Amanda says the X1s are fine for running short distances during workouts, but she wouldn't like to run more than a mile in them on any given day.
Wearing the Reebok Nano X1s for Walking and Everyday Activities
Most shoes designed for CrossFit or HIIT workouts can get uncomfortable after a couple miles of walking. However, with the Nano X1s, that's not the case. I could wear these all day—they can take me from the gym to grocery shopping to happy hour (ayyy) with no issues.
Kate feels the same way. She walked her dog several miles in the X1s and had no issues. Amanda, on the other hand, prefers to reserve the X1s for training. She's walked several miles and run many errands in her X1s, but still likes more arch support for everyday activities.
Reebok Nano X1 Construction and Materials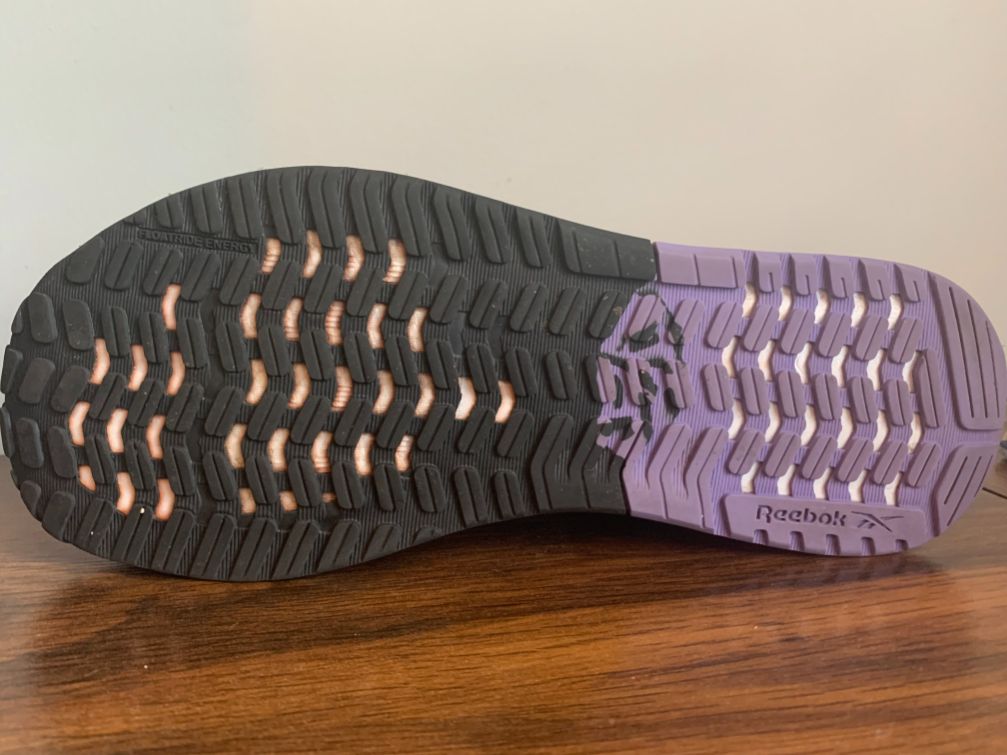 The Nano X1s are designed to withstand a ton of high-impact use. The upper is a blend of woven textile with a reinforced rubber outsole. The outsole is all rubber and pretty grippy, which provides great tread and traction for whatever you're doing, whether that's squatting or climbing a rope.
The EVA foam midsole provides a lot of cushion: That's why these are so incredibly comfortable. However, they aren't so padded that you don't get decent support when in the squat rack. Are they the absolute best shoes for squatting? No. But they still give enough support.
On either side of the heel is a thermoplastic polyurethane (TPU) casing. That keeps the shoe lightweight but reinforces the heel for support. The high heel cup may cause blistering for some athletes, but this can be solved by wearing taller socks or even ankle socks with a heel tab.
The flexweave knit upper results in breathability yet durability, so you definitely don't have to worry about your toe poking a hole in the toe box after a few workouts with burpees or lunges.
The X1s have a 7mm heel-to-toe drop, which is a slight increase from the Reebok Nano X.
I like the flat laces. The tongue is slightly padded, which is a change from previous Nanos that Amanda doesn't like, but it's still skinny enough not to get in the way.
Most people I know haven't had any major issues with Nanos, but Kate says she has friends who have worn Nanos in the past who complain that the outsole comes unglued after a lot of use (particularly due to handstand push-ups). Time will tell if this also happens with the X1s.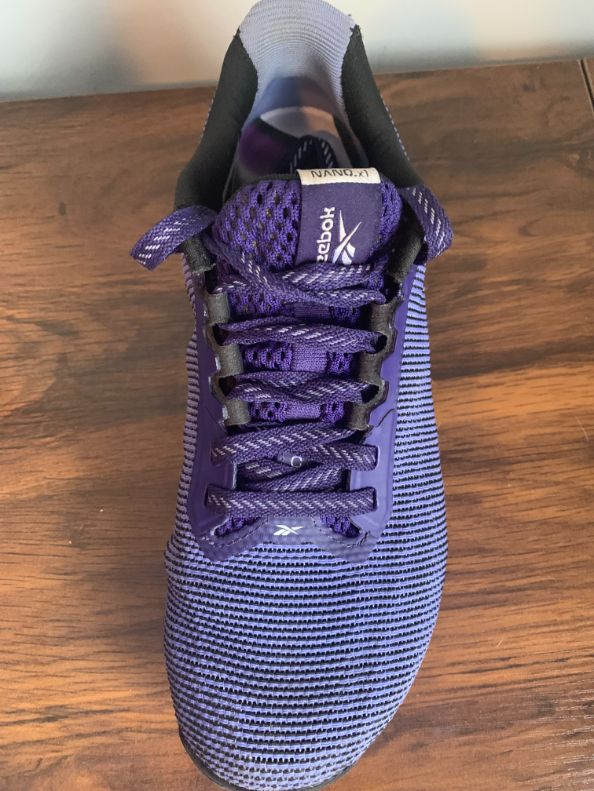 Reebok Nano X1 Colorways and Design
You have so many options for variations of the Nano X1.
As of this writing, there are 19 women's options, including takes on the X1 like the Grit and the Adventure. Each of those comes in multiple color options.
There are 24 versions in men's sizes, including the Nano X1 Grit, Pride and Lux, each of which all come in a number of color options.
All of the X1 designs and colorways look like classic Reebok shoes, with a lot of the lines, contouring and curvature you can expect. They look super sporty.
Reebok Nano X1 vs. Other CrossFit Shoes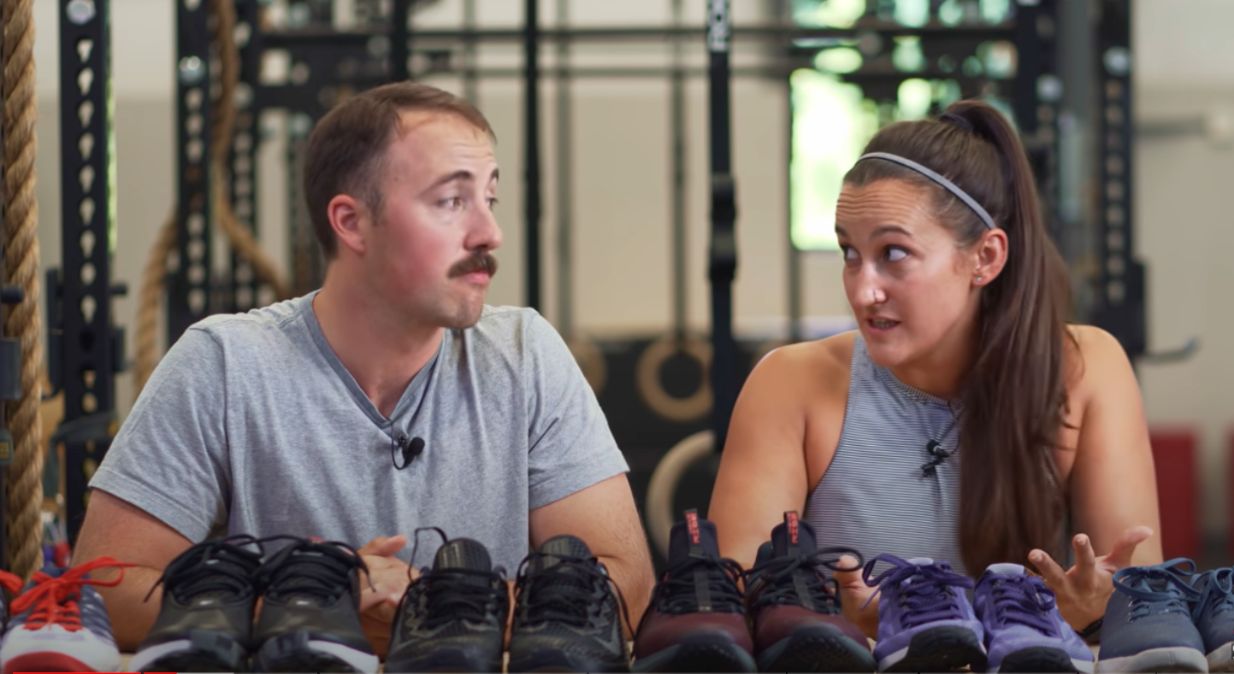 Compared to other popular CrossFit shoes, such as the NoBull Trainers and Nike Metcons, the Reebok Nano X1s have much more cushioning. In my experience, the Nanos also have more forefoot flexibility and a toe box better suited to most people.The Nano X1s are constructed with the same Floatride Energy Foam that Reebok uses in running and HIIT shoes, while NoBulls and Metcons tend to feel much more flat. There are pros and cons to both types of shoes for use during CrossFit workouts.
Related: Check out the inov-8 F-LITE G 300 Review.
Reebok Nano X1 Specs
| | |
| --- | --- |
| Price | $130 |
| Heel to Toe Drop | 7mm |
| Size Range | Men's 7 to 14; women's 5 to 11 |
| Colorways | More than 20 colorways |
| Tread | Rubber |
Ordering the Reebok Nano X1 Training Shoes
I had no problems ordering the Reebok Nano X1s and receiving the correct item in the correct size. I ordered from the Reebok website, but you can also get limited colorways, designs, and sizes on third-party retailers including Amazon and Rogue Fitness.
If you order directly from Reebok, you can get a lot of perks. For instance, you can choose to pay over time with Klarna or Afterpay, and you get free shipping since the shoes cost more than the minimum qualifying order value of $49.
Customer Experience
If you're thinking about buying the Reebok Nano X1s, rest assured that Reebok will take care of you if you decide they're not for you. You can return the shoes for a full refund within 30 days, which should be plenty of time to decide if you like them or not. NoBull and Nike offer a 60-day return period, so Reebok is sort of slacking in that department, but I still think 30 days is a decent return window.
Customer Reviews
In general, customer reviews of Nanos are positive. Positive reviews include that you can wear the Nano X1s every day; most criticisms touch on how high the back of the heel comes. Overall, customer reviews agree with my general sentiment that the Nano X1s are a highly comfortable all-arounder.
Final Verdict of Our Reebok Nano X1 Review
The Reebok Nano X1s are some of the best CrossFit shoes available, and I won't even listen to any arguments about that. Just kidding. I love a good debate, but for real, these are some of the best. They're not the best for everything—like I mentioned, if you run long distances, just get some dang running shoes. But they are quite possibly the very best shoe if you need just one pair of trainers with adequate capabilities for a wide range of physical activities.
Durable and adequately stable, yet still cushioned and supportive
Price range makes for a great value compared to other CrossFit shoes
All in all, a great shoe
Many colorways to match your personal style
Free shipping from Reebok website is an added bonus
Full Rating
Reebok Nano X1
I recommend the Reebok Nano X1 shoes for most people who do CrossFit. They're durable, comfortable, and all around a great shoe.
Product Brand: Reebok
Product Currency: $
Product Price: 130
Product In-Stock: InStock
Reebok Nano X1 FAQs
Are the Reebok Nano X1 training shoes good for Olympic weightlifting?
The Nano X1s are good for some barbell work, but if you plan on doing any heavy lifting or working on technical lifts such as snatches, cleans, and jerks, we recommend wearing true weightlifting shoes.
Are the Reebok Nano X1 training shoes good for CrossFit?
Yes, the Nano X1s are some of the best CrossFit shoes available. They're not only great for typical CrossFit exercises, but they also wear well for plyometrics, high-intensity interval training, and explosive movements like box jumps.
Are the Reebok Nano X1 training shoes good for running?
Our product testers found the X1s to be decently comfortable for short distances, but we recommend wearing running shoes for distances longer than one or two miles. The X1s will provide enough support for running 200, 400, and 800 meters during a CrossFit WOD.
What are the best CrossFit shoes?