We test and review fitness products based on an independent, multi-point methodology. If you use our links to purchase something, we may earn a commission. Read our disclosures.
Jumping rope is a great way to get your sweat on, offering endless benefits to your overall health. It can boost your aerobic capacity, improve your heart health, and give your muscles a good challenge. It's a great workout, no matter your skill level. But if you keep getting tripped up on the length of the rope, your skipping workout might just push you to the end of your rope.
Whether you intend to use your jump rope as part of your warm-up or for a blast of cardio, finding the correct jump rope length can make all the difference. This trusty GGR tutorial will review how to measure jump rope length to find your ideal fit.
RELATED: Benefits of Jumping Rope
How Long Should a Jump Rope Be?
To keep it simple, your jump rope should be about three feet longer than your height. So if you're 5 feet, 8 inches, your jump rope should measure approximately 8 feet, 8 inches from end to end, give or take. As you get more comfortable and efficient skipping rope, you may even want to shorten its length by another six inches.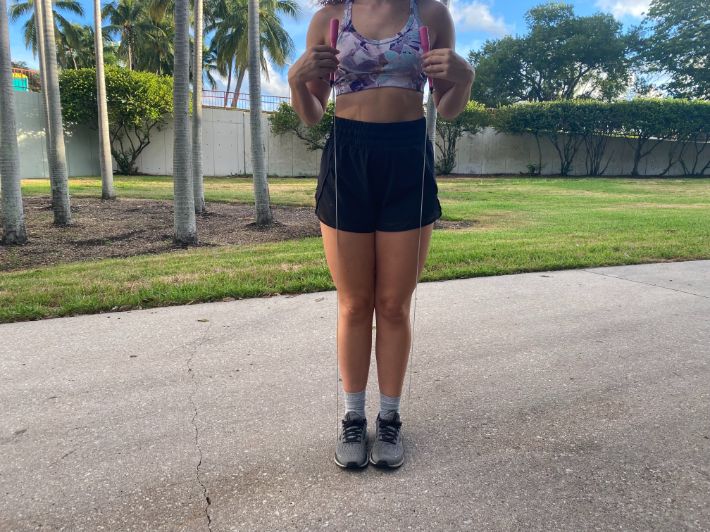 Some jump ropes allow for a one-time adjustment, while others can be adjusted multiple times. If you plan to switch between freestyle skipping and speed rope, a rope with unlimited adjustments might be the way to go. Same for those who plan to share a jump rope with friends, family, roommates, etc.
How to Tell If Your Jump Rope Is Too Short
There's nothing more frustrating than getting tripped up while skipping rope—three trip-ups and you'll hear me say some choice words! It's not an uncommon occurrence if you need a shorter rope, but it can also happen if you need a longer rope as well.
If your jump rope is too short, you might find yourself jumping higher than needed to clear the swinging rope. Exhausting. Or you might find the rope constantly hitting your feet. Maddening. Either way, if your jump rope is too short, you might want to go shopping for a new, long rope.
How to Measure Jump Rope Size: Chart by Height
Check out this handy-dandy guide to finding the correct cable length for you.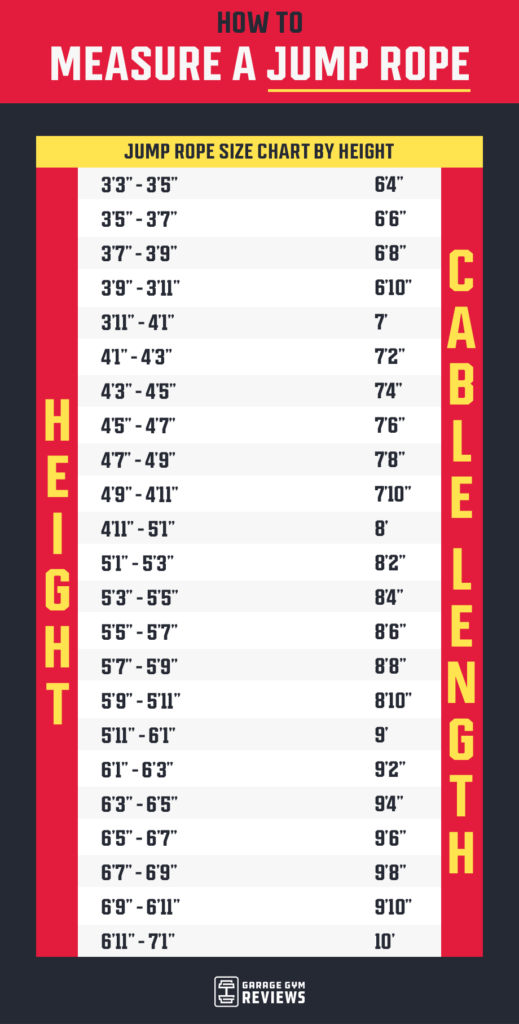 | | |
| --- | --- |
| Height | Cable Length |
| 3'3"-3'5" | 6'4" |
| 3'5"-3'7" | 6'6" |
| 3'7"-3'9" | 6'8" |
| 3'9"-3'11" | 6'10" |
| 3'11"-4'1" | 7' |
| 4'1"-4'3" | 7'2" |
| 4'3"-4'5" | 7'4" |
| 4'5"-4'7" | 7'6" |
| 4'7"-4'9" | 7'8" |
| 4'9"-4'11" | 7'10" |
| 4'11"-5'1" | 8' |
| 5'1"-5'3" | 8'2" |
| 5'3"-5'5" | 8'4" |
| 5'5"-5'7" | 8'6" |
| 5'7"-5'9" | 8'8" |
| 5'9"-5'11" | 8'10" |
| 5'11"- 6'1" | 9' |
| 6'1"- 6'3" | 9'2" |
| 6'3"- 6'5" | 9'4" |
| 6'5"- 6'7" | 9'6" |
| 6'7"- 6'9" | 9'8" |
| 6'9"- 6'11" | 9'10" |
| 6'11"- 7'1" | 10' |
How to Measure Jump Rope Length
There's no way to sell standardized jump ropes with ideal cable lengths for everyone, so your new jump rope will likely require some adjustment to find the perfect fit. Any extra length will result in too much rope overhead, while not enough length will leave the rope slapping your shins. Not to mention, incorrectly sized jump ropes can put you at risk for injury, negatively affect your posture, and frustrate the heck out of you.
Not sure if your rope is the correct length? Let's measure it and find the right length in these five easy steps:
Step on the middle of the rope with one foot and bring your feet together.
Pull the end of the rope tight and point the top of the handles towards your chest.
Bring the rope handles together and check where the cable ends (not the top of the handles).
The cable should stop at your sternum or your armpits. If it falls short, swap it out for a longer rope. If it's too long, see step 5.
Trim the excess rope using wire cutters for cable ropes and scissors for PVC ropes. (A little helpful advice from someone who learned the hard way: It's better to leave extra length than to cut too much at first. You can always repeat the process if needed, but cutting it too short means going back to the store for another long rope.)
The different types of jump ropes have their own mechanics, so getting to the right length may look different from rope to rope. But don't worry, we've got ya covered. We've reviewed four different types of jump ropes and broken down how to adjust their length.
Types of Jump Ropes and How to Adjust Them
The first step to a successful jump rope workout is picking the right jump rope. Then, you'll want to adjust the length of your rope to find the correct length for your height. Let's check out different types of jump ropes and explore how to find the best jump rope length for you.
Speed Ropes
Speed ropes are lightweight and intended for fast-paced jumping. Think of them as the sprint workout of jump ropes. They're usually made with a thin cord and ball bearings in the handles so the rope can spin fast. Advanced jumpers, especially those in the CrossFit community, reach for the speed rope when they want to incorporate moves like double-unders and criss-crosses.
RELATED: Jumping Rope Vs Running
When it comes to adjusting the length of your speed rope, there's no need to stress because it's pretty easy. Most speed ropes come with a holding screw in the handles. You can adjust the length by loosening the screw, moving it to your desired length, and tightening the screw again. Once you're sure that the length works for you, use wire cutters to trim to the extra length.
Knitted Jump Ropes
When I think of knitted jump ropes, I think of the old school ropes we jumped double-dutch with on the playground. While those were technically knitted ropes, they also make sports-driven knitted ropes these days. While they're sturdy, they are lighter in weight than other options.
In my opinion, beaded jump ropes can fall under the knitted jump rope category. Sure, their design focuses on the beads, but underneath you'll find a knitted rope.
Adjusting the length of a knitted rope is super easy. Just pull the rope through the handle and tie a knot where it measures to your sternum. You might want to test the length a few times before cutting the extra length. You may even consider burning the ends after you cut them to prevent fraying over time. However, I'm going to go on record here saying that fire is outside of my scope, so carefully do that at your own risk.
PVC Jump Ropes
PVC jump ropes are lighter than weighted ropes but heavier than speed ropes, making them an excellent choice for beginners.
These ropes are easy to adjust. Most brands place a plastic clip inside the handle. You release the clip, move it to the desired length, and put it back in place. Then you can trim the extra length with a pair of scissors. A helpful tip: test the length for a couple of workouts before making the cut, just in case you went too short. After measuring, a friend cut her jump rope right away, and it ended up being way too short. And when I say "a friend," I mean me.
Weighted Jump Ropes
Jump roping is a good sweat. Want to kick it up a notch? Weighted jump ropes have extra weight in the handles (usually between 1-6 pounds), giving your arms and shoulders a bit of a burn as you jump. Weighted ropes tend to be slower than speed ropes, allowing you to focus on your coordination and form.
Weighted ropes, like the Crossrope, cannot be cut. So you'll have to put your trust in the science behind the design and choose the jump rope length that coordinates with your height. If you're in between sizes, we recommend sizing up. And if the rope happens to be too long, you can tie a knot near the handle to shorten the length a touch.
Cordless Jump Ropes
A cordless jump rope is exactly what it sounds like; a jump rope with nothing to trip over! If you're limited on space or maybe have low ceilings, a cordless setup might be your answer. Cordless jump ropes have weighted handles that allow you to focus on speed and effort without worrying about tripping over a rope.
If your cordless jump rope needs adjustment, there's no need to do any trimming. You just pull the excess length into the handles to shorten the cords. And if you need to extend the length, just pull the cords out of the handle. Simple as that. The cordless jump rope is never too long or too short.
Final Thoughts: How to Measure a Jump Rope
Who knew there was such a science to skipping rope? The good news is, once you find the perfect length for your jump rope of choice, it's pretty simple to get a good sweat going. Take your time measuring, and remember that you want the end of the cord (not the handles) to reach your sternum. If it's too long, trim any extra length and secure the ends of the rope in the handles. Once you've got your jump rope at the ideal length, you can get to work!
Adjustable jump ropes include speed, knitted, PVC, weighted, and cordless ropes.
The correct-size jump rope is typically three feet longer than your height.
You will need wire cutters or a pair of scissors to trim the extra length of your jump rope.
Weighted ropes cannot be cut, but you can tie a knot to shorten the length if needed.
FAQs: How to Measure a Jump Rope
What tools do you need to adjust a jump rope?
To adjust your jump rope, you will need wire cutters or scissors, depending on whether you have a wire or PVC rope.
Are jump ropes easy to cut?
Yes, most jump ropes are easy to cut. All you need is a pair of scissors or wire cutters. Just be sure to measure carefully! What did your trusty shop teacher say back in the day? Measure twice and cut once.
What kind of jump rope is best for beginners?
PVC jump ropes or beaded ropes are great for beginners. They are easily accessible, affordable, simple to adjust, and comfortable in weight for someone trying to build their skill level.