We test and review fitness products based on an independent, multi-point methodology. If you use our links to purchase something, we may earn a commission. Read our disclosures.
Fitness enthusiasts are always looking for ways to strengthen their posterior chain, particularly the glutes and hamstrings. Some athletes want to develop explosive strength and power; others want to work on functionality; and other people just want to add some more weight to their deadlift.
This has led to the rise of machines like glute ham developers (GHD's) and reverse hypers to work just on that: strengthening the core, glutes, and hamstrings. However, for most home gyms, the footprint for a GHD is a bit too large, so a Nordic curl board is a decent alternative, and provides the ability to do one of the most challenging exercises ever. However, the footprint is still large.
Enter the Nordic Mini. In our Freak Athlete Nordic Curl review, we'll go over how this board has set itself apart from other competitors with a budget-friendly price and one the smallest footprints seen from a Nordic curl board.
We Train Nordic Curls—A Lot
At Garage Gym Reviews, we are a team of fitness professionals, certified coaches, and competitive athletes committed to providing you with the best unbiased information about gym equipment possible. We are passionate about what we do, and that passion carries over into our reviews.
We've tested a lot of equipment over the years, from initial construction to repeated use and durability. Our equipment reviews are exhaustive to help you make an informed decision on the equipment you use and purchase.
In particular, Coop has been training Nordic curls over the last year, and has tried plenty of Nordic board setups, from DIY to the Rogue Floor Glute. Needless to say, we have a lot of experience with Nordic boards are out there and what to look for in a quality piece of equipment.
Freak Athlete Nordic Curl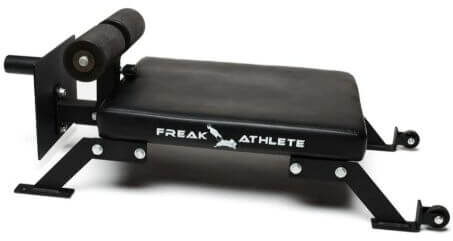 GGR Score: 4.3
Product Highlights
18" x 24" surface, which supports users up to 6' 10'  and boasts a 350-lb weight capacity

Portable with built-in transport wheels

Designed to enable exercises typically completed on a full-sized GHD machine
Pros & Cons
Pros
Portable
Compact
Affordable
Lots of exercise choices
350-lb weight limit
Only weighs 45 lbs
Full-size footplate
Cons
Sells out quickly
Not quite as versatile as a full-sized GHD (can't do ab exercises)
Counterbalance required
Bottom Line
Freak Athlete's Nordic Mini is a good option for home gym owners who want a GHD but do not have the space.
A Quick Look at the Freak Athlete Nordic Curl
Freak Athlete Essentials was founded based on the principles of ATG training – programming created by Ben Patrick, the Knees Over Toes Guy. The founder of Freak Athlete, Benji Stark-Elster, used the training from ATG in his recovery from a torn ACL; that philosophy has carried over into the products they manufacture. They focus on building knee strength, or bulletproofing your knees, through equipment like weight sleds and tib bars.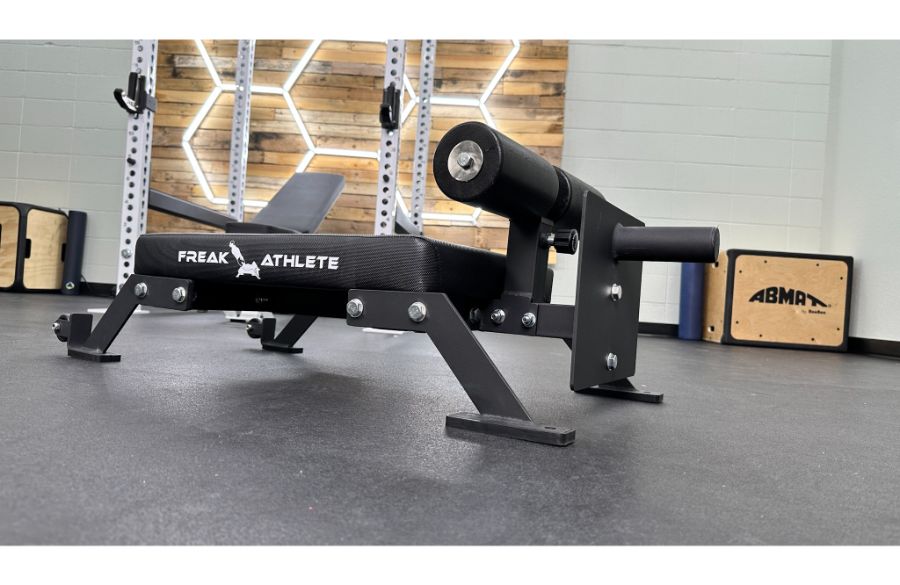 The Freak Athlete Nordic Mini is another piece of gym equipment to strengthen the posterior chain and knees. Specifically, the Nordic Mini helps solve other problems that other Nordic boards and GHD machines have, offering a small footprint for your garage gym at a budget-friendly price.
Before You Buy
Nordic curls are tough; this is not a beginner's exercise. There are ways to scale and progress to a full Nordic curl (we'll discuss these later), but be ready to struggle with these exercises at first.
The Nordic Mini helps save space in your home gym compared to other boards in the market; however, it is basically used for one exercise. Although it's for a great, challenging exercise, remember that this is a specialty piece of equipment.
Because of its shorter board length, the Nordic Mini is less stable than typical Nordic boards. Fortunately, the Mini is designed with an Olympic sleeve on the back of the foot plate to load with plates for a counterbalance. As we learned in our review, use the counterbalance!
Video Review
Is the Freak Athlete Nordic Curl Worth It?
The Freak Athlete Nordic Mini is a great piece of equipment for the lower body, particularly the glutes and hamstrings. In the Nordic curl space, the Mini is unique due to its smaller footprint and budget-friendly price.
There are high-quality curl boards out there by companies like Rogue and Sorinex, but they have a price point to match. For its price, the Nordic Mini provides a good, quality alternative to the higher-priced boards out there. If you are looking for an affordable piece of equipment to attack the posterior chain like no other machine, the Freak Athlete Nordic Mini is definitely worth a look.
Great for:
Anyone looking to increase hamstring strength and flexibility
People wanting an affordable alternative to a GHD machine
Individuals interested in a GHD without the large footprint
Not recommended for:
Beginners to strength training
Folks who do not have full range of motion through both knees
Anyone taller than 6' 10"
Freak Athlete Nordic Curl Specs
| | |
| --- | --- |
| Price | $299 |
| Footprint | 38" L x 18" W |
| Board dimensions | 24" L x 18" W |
| Weight | 45 lbs |
| Weight capacity | 350 lbs |
| Height capacity | 6' 10" |
| Transport wheels | Yes |
| Adjustable ankle lock | Yes |
Using the Freak Athlete Nordic Curl
The Freak Athlete Nordic Curl is a simple piece of equipment to use. On the back end of the board is a foot plate with an adjustable ankle lock. The rollers can be adjusted through four different heights to make sure that varying ankle and foot sizes will be secure.
On the other side of the board is a weight sleeve, able to hold a couple of full-size 45-pound Olympic weight plates. This can be used for plate storage, but is mainly used as a counterbalance. The Freak Athlete website suggests about 25 pounds to counterbalance a person weighing 150 pounds, and 75 pounds for a person weighing 300 pounds. However, after our review, we'd suggest adding a little more weight if possible, as you will be producing a lot of force during this bodyweight movement.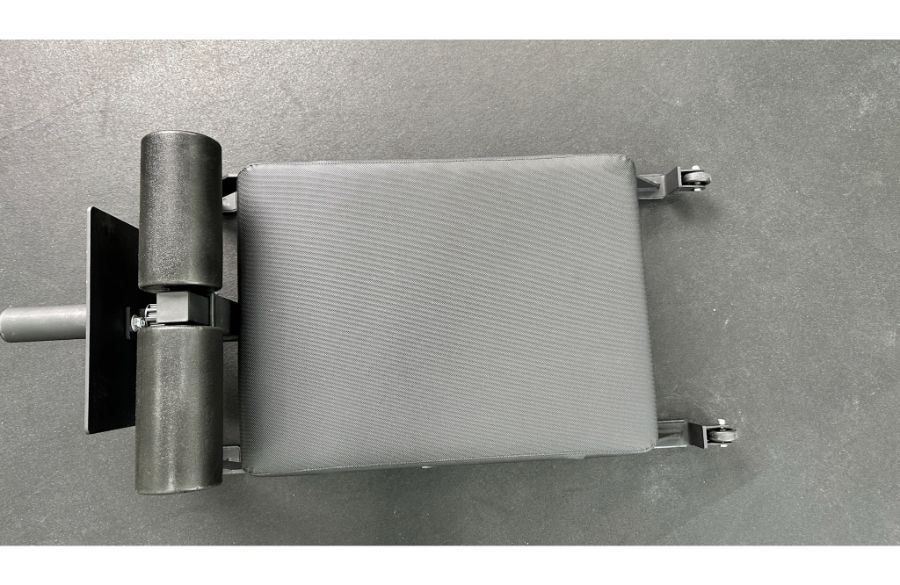 Using the Nordic Mini is easy enough; just slide your ankles underneath the foam padding, feet against the footplate and knees on the foam board. Then, perform a Nordic curl…this is the part that's easier said than done. A Nordic curl is done by lowering the upper body to the floor, touching the chest to the floor, and bringing yourself back up to the starting position, focusing on hamstring flexion on the way up. This is a much more difficult movement than other hamstring exercises, like leg curls, and it will require some time to progress to a full Nordic hamstring curl.
Scaling a Nordic Curl
There are many progressions to performing a Nordic curl. One of the easier methods is simply to perform the eccentric movement, controlling the movement as much as possible on the way down, and then pushing yourself back up to the starting position. As you get better at the movement, these can be performed while holding a weight plate on the way down, and then letting go of the weight plate as you pull yourself back up.
Additionally, you can use resistance bands, holding one end and attaching the other to the foot plate, or to a power rack above. The band will give you a little bit of support on the concentric part of the movement.
Lastly, we can cut the range of motion by adding blocks in front, giving us a goal to aim for. As you get better at the Nordic curl, you can remove blocks to lower the height and increase the range of motion. It's the idea of progressive overload but in a bodyweight movement.
Freak Athlete is making an extension to the Nordic Mini that will allow for incline angle adjustment, allowing for that progressive increase to range of motion. Be on the lookout for that!
Construction & Durability
The Nordic Mini is assembled using bolts, not welded, which is nice for a board like this. When you assemble it, you can let the machine settle before fully tightening the bolts. This should help it be level from the start.
The foam padding on the ankle rollers is not high-end, but is pretty good for its price. In our testing, there was no cracking or deterioration on the padding from repeated use. However, with as firm as the outside of the foam is, there is probably a chance of it cracking down the road. With that said, the foam is soft enough to feel comfortable, and sturdy enough to keep your feet stable.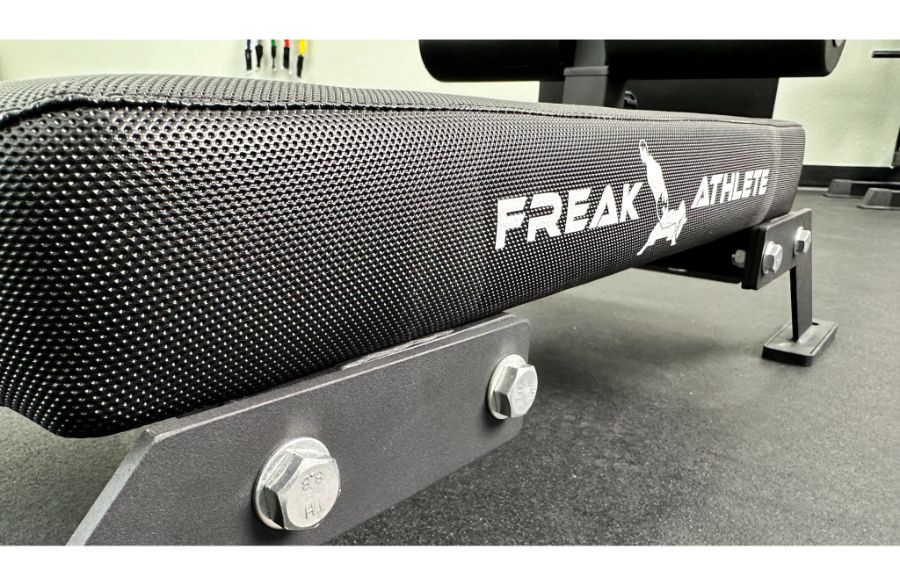 One of our favorite parts was the curl board itself. With all the force going to your knees in this exercise, the board needs to be supportive to the knees, but not so hard that it is uncomfortable. The Nordic Mini is covered with a grippy nylon, reminiscent of older REP benches, which is durable and will last. The foam has again just the right amount of firmness, offering a level of support that some other curl boards do not. Freak Athlete delivered on this part.
Footprint & Portability
Out of the Nordic curl boards out there on the market, the Nordic Mini is easily one of the most portable options out there. Only 38 inches long and weighing 45 pounds, the Mini has wheels on one end, which allows it to be rolled from one end of the gym to the other in no time. Its small footprint can make this a great choice for any home gyms where space is limited.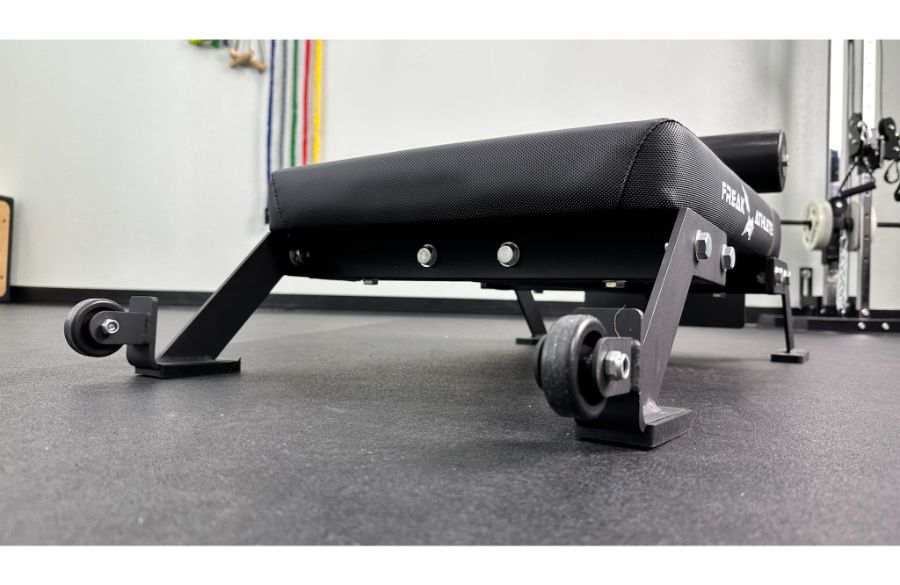 With that said, one issue we have is that the Nordic Mini is not designed to be stood up. One end has the wheels, and the other has the weight sleeve, not allowing the board to stand up on its own. If it could be stood up, this would save even more space in a garage gym; we'd love to see this feature introduced in a future design.
Comparison to Sorinex Poor Man GHD and Rogue Floor Glute
When compared to other brands, Freak Athlete has two areas that set it apart from competitors: its smaller design and footprint, and its lower price. The Sorinex P3 Poor Man GHD and the Rogue Floor Glute both have smaller footprints than any glute ham developer you'll find in a commercial gym, but overall both brands are still more bulky and expensive than the Freak Athlete Nordic Curl Mini.
| | | | |
| --- | --- | --- | --- |
| | Freak Athlete Nordic Curl | Sorinex P3 Poor Man Glute Ham Developer | Rogue Floor Glute |
| Price | $299 | $699 | $600 |
| Footprint | 38" L x 18" W | 58' L x 22" W | 62" L x 24" W |
| Board dimensions | 24" L x 18" W | Not disclosed | 49" L x 22.75" W |
| Weight | 45 lbs | 86 lbs | 108 lbs |
| Weight capacity | 350 lbs | Not disclosed | Not disclosed |
| Height capacity | 6' 10" | Not disclosed | Not disclosed |
| Transport wheels | Yes | Yes | Yes |
| Adjustable ankle lock | Yes | Yes | Yes |
Sorinex P3 Poor Man Glute Ham Developer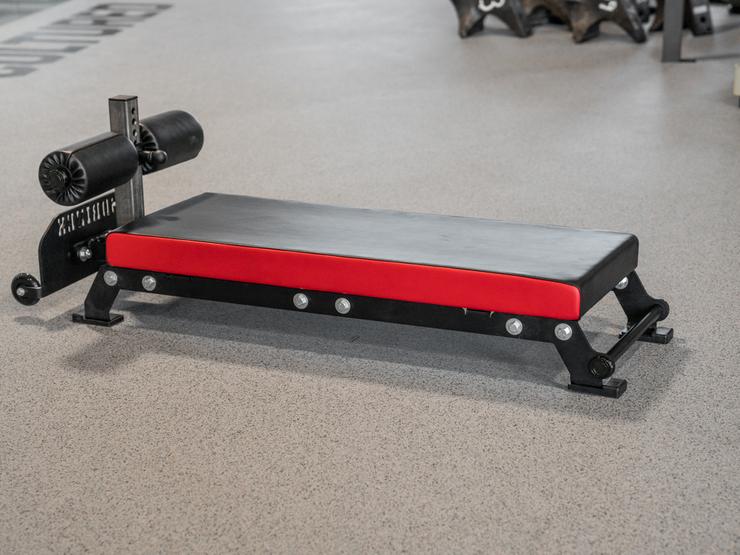 GGR Score: 4.5
Community Score: 4.5
Product Highlights
GHD machine used to train nordic curls
Measures 58" L x 22" W x 19.5" H
Weighs 86 lbs
Upholstery available in 9 colors
Roller pad height is adjustable
Equipped with transport wheels
Made in USA
Pros & Cons
Pros
Takes up less space than a traditional GHD
Transport wheels
Adjustable roller pad height
Cons
Cost
Still takes up nearly 5 feet of ground space
Bottom Line
The Sorinex P3 Poor Man Glute Ham Developer is a more compact version of a GHD that can be used specifically for nordic curls.
Rogue Floor Glute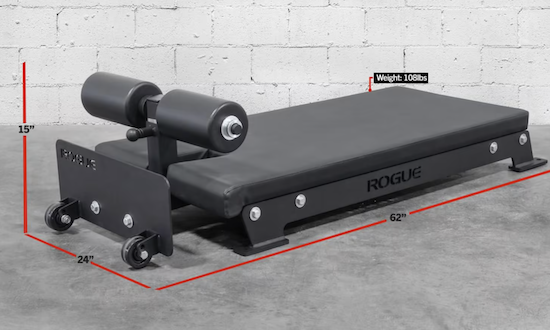 GGR Score: 4.7
Community Score: 4.7
Product Highlights
More compact alternative to traditional GHD machines
Laser-cut-steel floor machine
62" x 24" footprint
Adjustable foot pads can be set at six different height options
Made in USA
Pros & Cons
Pros
More compact than traditional GHD
Made of 11-guage steel
Transport wheels
Cons
Can only be used for specific exercise
Takes up 5 feet of floor space
Bottom Line
The Rogue Floor Glute provides a nice way to practice nordic curls in a more compact package than a traditional GHD, though it still takes up 5 feet of floor space.
Customer Experience
According to website reviews, Freak Athlete's customer service is top-notch. Customers can reach them through email or through a website contact form.
Freak Athlete provides a 90-day money-back guarantee on all products, no questions asked. Just contact them to initiate the return process.
Ordering the Freak Athlete Nordic Curl
Once you've ordered from Freak Athlete, you can expect your items to be shipped on the next business day. U.S. customers should see their order three to five business days after it has shipped. There's also Canadian shipping through their U.S. store, as well as websites dedicated to the UK and Europe, Australia, and New Zealand.
A slight issue is that the Nordic Mini is popular and sells out quickly. Currently, the Nordic Mini is on sale for a preorder. Typically, this piece of gym equipment costs $299, and it is now marked down to $249. Take advantage of this while you can!
Customer Reviews
As of this writing, there are 57 reviews for the Nordic Mini on Freak Athlete's website. The customer reviews average out to about 4.8 stars and are overwhelmingly positive. Reviews speak highly of Freak Athlete's customer service and the Mini's small footprint, as well as getting a quality product at a lower price point than competitors.
Final Verdict of Our Freak Athlete Nordic Curl Review
The Freak Athlete Nordic Mini solves a lot of typical problems we see with Nordic curl boards. It offers a smaller footprint that sets it apart from the competition. And for its price, it is a well made piece of equipment. Many people don't want to spend hundreds of dollars on a single-use product, but those same people could justify the price of the Nordic Mini, coming in at about a third of the price of its competitors.
For those interested in a Nordic board, there are other boards from Rogue or Sorinex that are higher quality; if you have the space in your garage gym and the money, they are great options. However, if you are looking for something to save space, or better for a budget, the Freak Athlete Nordic Mini is a fine piece of equipment to fit your needs.
Freak Athlete Nordic Curl Rating
Freak Athlete Nordic Curl Mini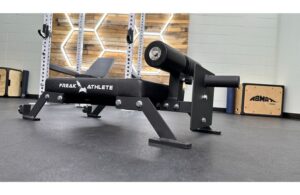 Need a budget friendly curl board with a small footprint? Learn about the space-saving Nordic Mini in our Freak Athlete Nordic Curl review.
Product Currency: USD
Product Price: 299
Product In-Stock: InStock
Freak Athlete Nordic Curl FAQs
Are Nordic curls better than deadlifts?
While Nordic curls are an effective and challenging hamstring exercise, I would not say they are better than deadlifts. Nordic curls are great for building and strengthening hamstrings, but a deadlift does that as well. Plus, a deadlift gets more muscle groups involved, making it a functional, full-body exercise. I would suggest that Nordic curls are a great way to supplement your hamstring training, but for posterior chain training, deadlifts are one of the best strength exercises out there.
Can I do Nordic curls every day?
I wouldn't recommend Nordic curls every day, as it can be extremely taxing on the hamstrings; for this reason, there will be days of diminishing returns without proper recovery. With proper programming and variety in sets and reps, it would be possible, but you will probably see more success and overall gains with a training program offering more variations when it comes to hamstring exercises. 
Do Nordic curls build muscle?
Yes, Nordic curls will build muscle, particularly in the posterior chain, which includes the lower back, glutes, and hamstrings. The movement of the Nordic curl helps strengthen these lower body muscles, and when we strengthen muscles, we build muscle, too!