We test and review fitness products based on an independent, multi-point methodology. If you use our links to purchase something, we may earn a commission. Read our disclosures.
Rogue Fitness is one of the only companies allowed by Louie Simmons to produce the Reverse Hyper or sell in the US. I personally think the reverse hyper is an essential tool for rehab. I've used them and the relief you receive for your lower back is out of this world. With the Z Hyper, Rogue has beefed up just about everything and included a bolt-together design that should save on shipping and allow for easier portability, beefed up 3×3″ 11-gauge steel construction, and an option stabilizing cross member.
The Rogue Z-Hyper is Rogue Fitness premiere reverse hyper designed to be as sturdy and stable as possible. After using and reviewing the Z-Hyper and comparing it to other options, we think for most people that the Rogue RH-2 or Rogue Westside Scout Hyper is a better option for a home gym. However, if you plan to upgrade to the Rogue Donkey someday, the Z-Hyper is a good option.
Rogue's Top Hyper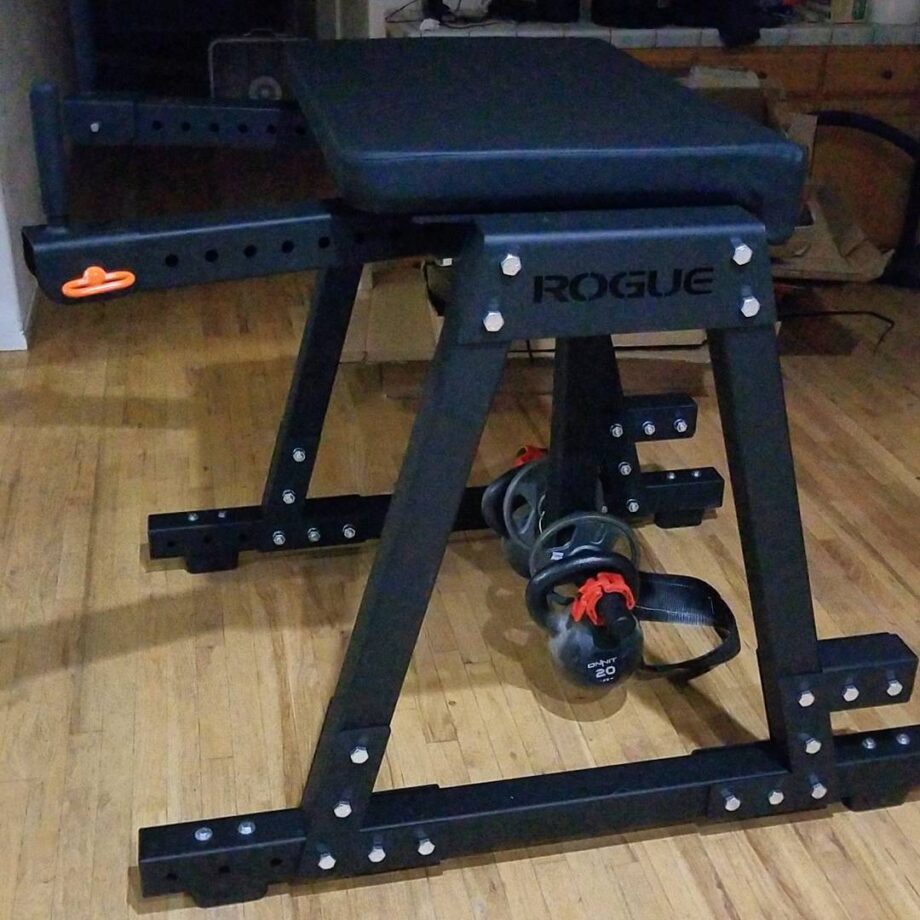 Rogue Z Hyper
The Rogue Z Hyper upgrades several features from our standard RH-2 Reverse Hyper machine, including a new bolt-together design (for easier portability), a beefed up 3x3" 11-gauge steel construction, and adjustable front handles (ranging from 2-14" from pad edge) that allow users of any size to custom-tailor their desired hand placement. Comparable machines on the market can cost more than $1,500, but the Z Hyper's efficient design makes it a uniquely affordable choice.Manufactured in Columbus, Ohio, the Rogue Z Hyper is approved by Louie Simmons himself as an effective tool for physical therapy, back rehab exercises, and for regular everyday training–particularly for those looking to reduce back tightness and strengthen the hamstrings, glutes, and hips. Like the RH-2, the Z Hyper includes an oversized pad (35" wide x 24" deep x 3" thick) with an extended back lip to keep the user's hips from resting on any metal/hard surface. A 3x3" step on each side of the unit makes it easier to climb aboard, and rubber feet are included on the base for extra grip/stability and floor protection.The two plate storage posts on the Z Hyper each have 10.5" loadable length. With the addition of an optional base crossmember (bolts below the handles), users can also attach bands to the storage posts for greater resistance and more variation.
The Rogue Z-Hyper is one of the most sturdy reverse hypers on the market. Although it has some improvements over its younger brother, the Rogue RH-2 like adjustable handles, it's not very evolutionary. We like the Z-Hyper, but that's because we like the RH-2. Don't get me wrong, it's a good reverse hyper machine, but there are better values available.
RELATED: DIY Reverse Hyper Machine
What is the Rogue Z Hyper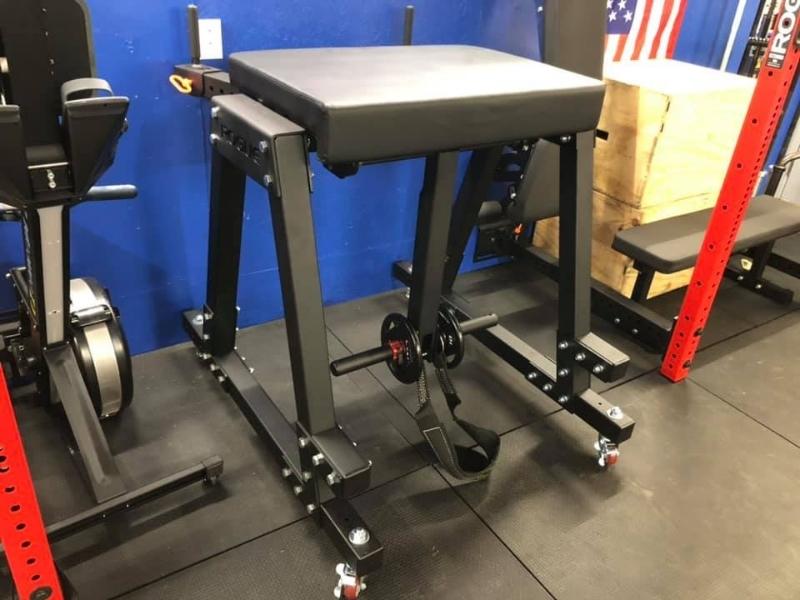 The Rogue Z-Hyper is one of Rogue's more overdone, heavyweight versions of the World Famous Reverse Hyper created by Louie Simmons. This Z-Hyper is constructed with 3×3 11-gauge steel posts creating an uber solid version of the age-old design.
With many options of reverse hypers on the market today, this is a somewhat affordable take on a fully commercial piece of equipment that will last longer than you will. The reverse hyper was originally designed as a rehab device to allow decompression of the spine. However, all reverse hypers are able to increase dynamic strength development as well. They're great machines, although they do take up a lot of space.
The Z-Hyper from Rogue Fitness is not their first foray into making reverse hypers. The RH-2 is a hyper we've tested and reviewed over the years and will accomplish, essentially, the same thing that the Z-Hyper will.
Specifications
Made in Columbus, OH, USA
Bolt-together design
3×3" 11-gauge steel construction
Footprint: 51.5″ long x 43″ wide (1.31m x 1.09m)
Compatible with all increments of bumpers and steel, including 45lb steel plates
10.5" usable storage length on each side of the swing arm allows for a capacity of over 700 lbs of steel plates
Adjustable Front Handles (ranging from 2-14″ from pad edge) to accommodate varying user heights
Over-sized Pad with extended lip portion for better comfort
Protective Rubber Feet
Includes (1) pair of Rogue Metal Axle Collars and (1) Spud Inc. Hyper Strap
Optional Base Crossmember addition for resistance bands
Optional Reverse Hyper Roller Attachment also available*
What We Like About the Z Hyper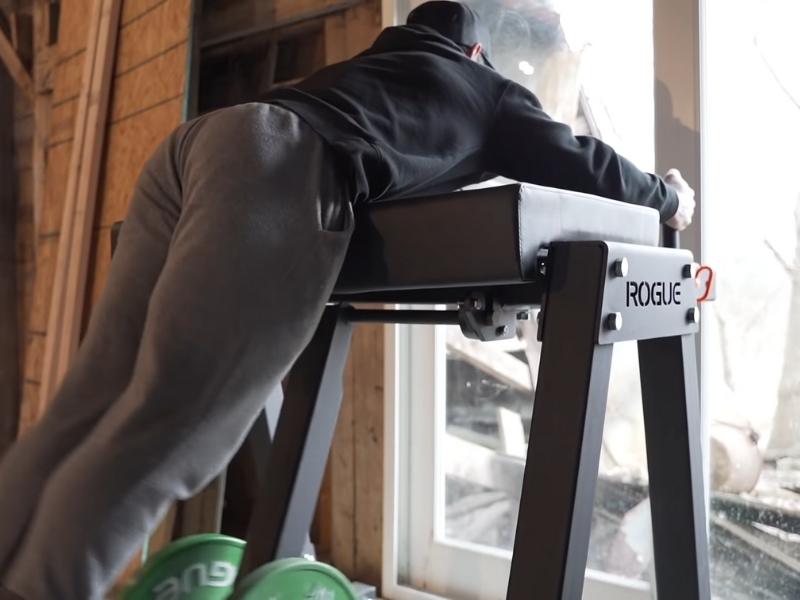 The Rogue Z-Hyper is Rogue's most stable reverse hypers that they've released to date. With a massively overdone frame and high attention to detail construction, in which you get more than you pay for this legitimately commercial-grade product.
In this design, Rogue took the same uprights they use for their Monster Squat Racks and chopped them down to frame this behemoth. It is seriously thick and overdone. In fact, for some home gym owners with tight space, it's a bit excessive. But, more on that later.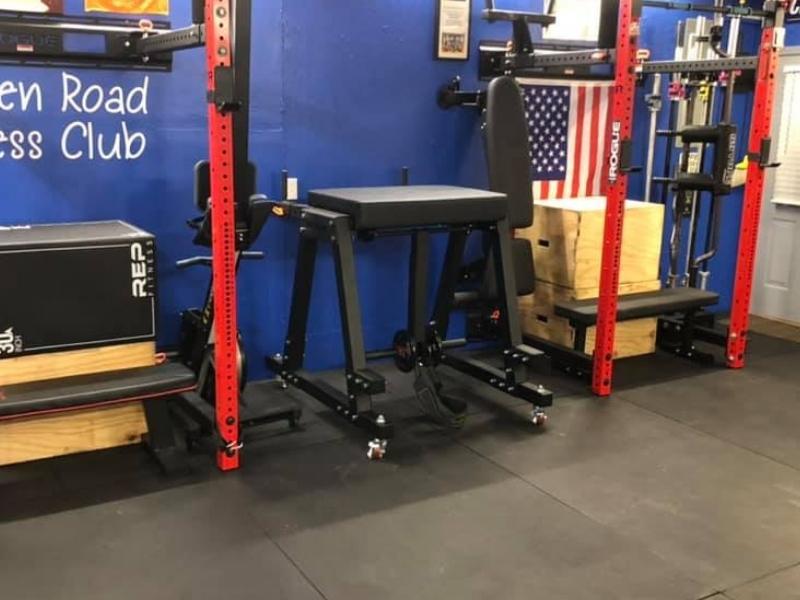 The 11 gauge steel construction brings the Z-Hyper to weigh in at 320 pounds. And, that's not even including the weight when it's fully loaded along with the trainee on top of the table. Unlike their other models, Rogue doesn't even bother to put a weight capacity rating on the product page because trust me, you will not be testing this machine's capacity.
Have hundred-pound plates? Throw them on. Although a monstrous piece of equipment, Rogue designers made the machine quite ergonomic in that it is quite comfortable to use. The padding is clearly high quality and is super firm, yet comfortable on your hips. It's the same that's used on the Rogue RH-2 Reverse Hyper and very similar, if not the same to what's used on the Rogue Abram GHD 2.0, which we've reviewed.
From use, I know that much lower-end, more budget-conscious reverse hypers leave users with hip bruising and overall discomfort due to poor padding in that area. The pad also compresses quickly over time and makes it somewhat concave on the edge.
One key difference between the Z-Hyper and the RH-2 other than the stability is that the handles on the Z-Hyper adjust forward and back. This allows the unit to fit nearly any sized trainee. It's a nice feature to have, but certainly not revolutionary. It's also something that's been copied by Titan Fitness on their H-PND Reverse Hyper.
On the theme of an overkill build, the 10.5-inch loadable pins make these machines adequate for even the heaviest powerlifters or strongman competitors. For reference, this holds 4-5 cast iron hundred-pound plates. PER SIDE. There's no need to worry that this machine won't be able to hold enough weight for your hypers.
With high-quality plated pins and an optional roller attachment for your legs, this isn't as feature-filled as some of the Westside Barbell Reverse Hypers, but it's quality nonetheless. For all the patriots out there, this Rogue Hyper is fully made in America. Yet, Rogue managed to minimize shipping costs by making this machine mostly a bolt-together frame, saving size and, if need be, making it easier to transport should you ever move it. Not nearly as portable as the Rogue Scout Hyper, but enough to make you appreciate the bolt-together construction.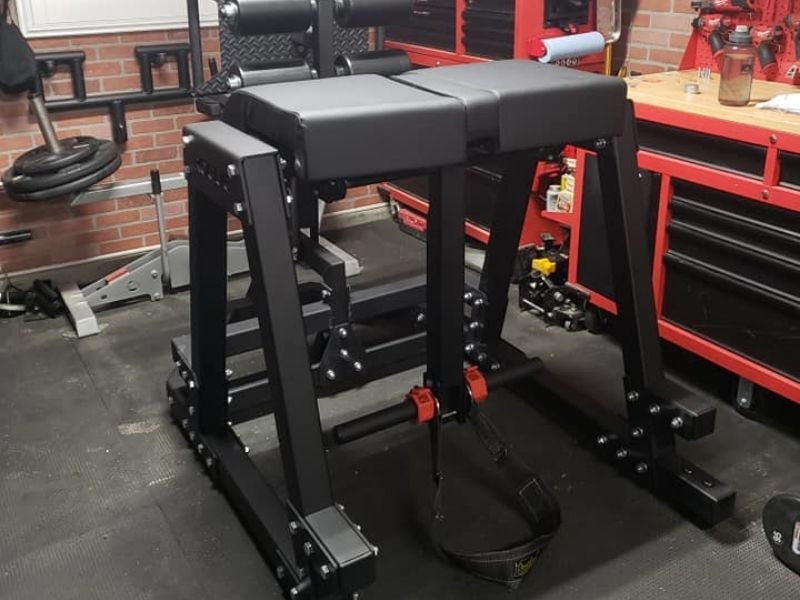 One of the cooler features of the Z-Hyper is that it can convert into the Rogue Donkey, a reverse hyper/GHD combo unit. It's massive, but probably one of the more stable GHD's or reverse hypers available. If you have any inclination that you'd like a Donkey in the future, it may be worth it to just get the Z-Hyper in the beginning.
Although the price point of about $1,000 after shipping isn't a steal by any means, compared to many other high-quality made-in America hypers, it is quite a discounted rate. Compared to Sorinex's Frankenhyper which would run you $4,000+ after fees, The Z-hyper could be made into a comparable Rogue Donkey for a ballpark $2,000, half of its competitor.
Overall, if you have the money, and more importantly the space, for this beast, I would recommend the Rogue Z-Hyper as you will get a professional machine that will last many lifetimes. However, I don't think it's significantly enough better than the RH-2 for most people. Or even the Rogue Westside Scout Hyper, which is the ideal reverse hyper for a home gym in my opinion.
Shortcomings, But Not Dealbreakers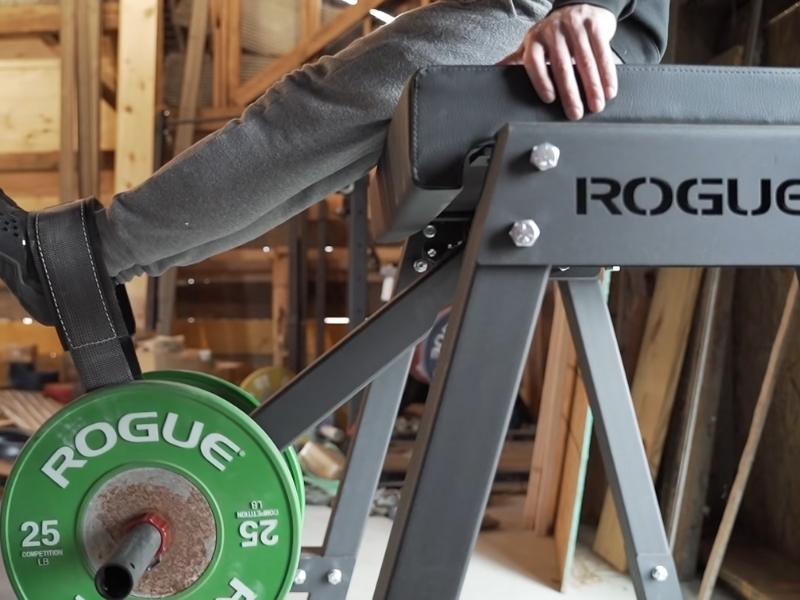 Although a high-quality machine, the Z-hyper is not without its flaws. To be completely honest, 3×3" 11 gauge steel tubing is a cool thing to add, but the RH-2 was perfectly stable with its 2×2" steel tubing. While it looks pretty sweet, the super thick uprights are pretty overkill since they aren't really used for anything. Although they help contribute to a super stable base, I don't believe I ever heard anyone complain about the stability of Rogue's less built-up options.
While super useful, the footprint makes this machine pretty impractical for a home gym unless you're working with a 3-car garage or a huge space. At nearly 4 by 4.5 feet with lots of space needed for your kickback, this just won't work for your average home gym owner. This is one of those hypers, that when brought into a home gym, inevitably turns into a storage bench.
Although super high quality, you just don't get the use out of the 20 square feet needed to store it to make it worth it. I'd love to see some innovation around making reverse hypers more useful. In their current state, they're just to another thing that I believe should apply to more than just this piece of equipment by Rogue is the color options. Yeah, the black looks cool, but we want to see more colors available to match the racks.
Rogue Z Hyper vs. Rogue RH-2 vs. Rogue Westside Scout Hyper
Rogue's wide array of Reverse Hypers is capped by the Rogue Westside Scout Hyper, the Rogue RH-2 Reverse Hyper, and the Z-Hyper. These three machines offer three different levels to the infamous Reverse Hyper.
Budget Reverse Hyper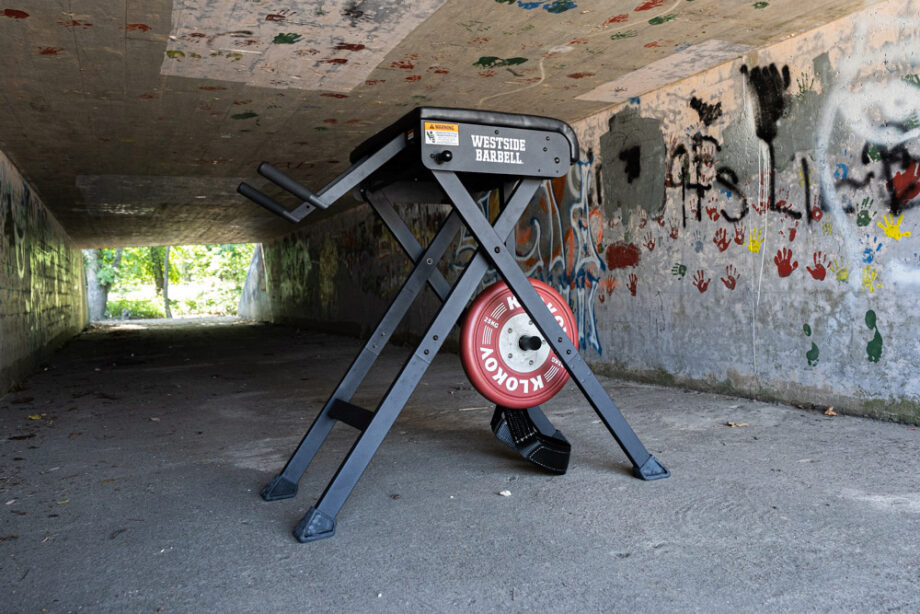 Rogue Westside Scout Hyper
The Scout Hyper is a patented, foldable reverse-hyper machine developed by powerlifting legend Louie Simmons and Westside Barbell. This uniquely lightweight and mobile design features hinging legs that lock into place with pop pins and easily fold back for efficient storage after use (the total depth of the unit, when folded, is just 13").Louie Simmons created this model with home, work, and light clinical use in mind—with particular benefits for younger athletes or those new to reverse hyper training. The unit comes standard with a durable, round-edge pad (27.5" wide x 21.5" deep x 2" thick) to limit friction against the hips, as well as a nylon webbing hyper strap, two weight posts (5.25" loadable length), a set of spring collars, and 6" long handles. A bolt-on handle extension kit is also available a la carte for users who need to accommodate a shorter distance from the end of the pad to the handles.The Scout Hyper comes with rubber feet (to provide grip to the floor and help keep the unit level) and a rubber-covered step for safe mounting and dismounting. When a workout is complete, the user simply has to (1) pull out and spin the pop pins to unlock the unit, (2) tip the machine up while pushing on the horizontal rear leg crossmember, and (3) press down on the handles to complete the folding process. Please Note: The unit stands up by itself when folded, but we do recommend either storing it flat on the ground or, if storing it upright, to do so against a wall and out of the reach of children.Whether you train in a small garage gym or a large-scale facility, space efficiency always counts. The Westside Scout Hyper offers storage convenience with its patented groove folding mechanism, collapsing down to a depth of just 13" when stowed. It's also considerably lighter and more portable than most traditional Reverse Hyper machines, making it easy to move, unfold, and lock-in before each use.Regular use of the Scout Hyper can provide safe traction, pressure/tension relief in the lower back, and strengthening of the posterior chain. "We spend hours sitting or standing at home, work or at school," Louie Simmons says. "These simple yet everyday occurrences place significant pressure and torsion on our lumbar spine leading to mild or even severe daily discomfort. That's where the Scout steps in. A daily prescription of three to five sets of 15 reps on this machine could be the difference from painful to pain-free lumbar health."User assembly is required with this unit, but should take less than 30 mins. All required hardware is included. Rubber feet are provided for improved stability, and a rubber covering on the step makes it easier to get on and off of the machine. Please BE CAUTIOUS when folding and unfolding the Scout, and be aware of pinch points. If the red marking on the pop pin shaft is visible then the pin is NOT fully seated. Periodically check that the pop pin and swing-arm bolts are tight on both sides of the machine, as well as the bolt that secures the hyper strap.
The Z-Hyper and the RH-2 are quite similar in their construction but the Z-Hyper is slightly more beefy with larger posts and a more stable handhold. Both of these two machines hold the same weight and function very similarly. If you're looking for the best, the Z-Hyper is for you.
However, for most of the people out there, you aren't working with unlimited space and unlimited pockets. The Rogue Scout Hyper would be the best machine for a smaller workspace such as a garage gym or home gym. At nearly half the price of the other two machines, there would be no reason to clutter your basement and drop the extra $400+ for one of the beefier rigs.
Rogue's Original Hyper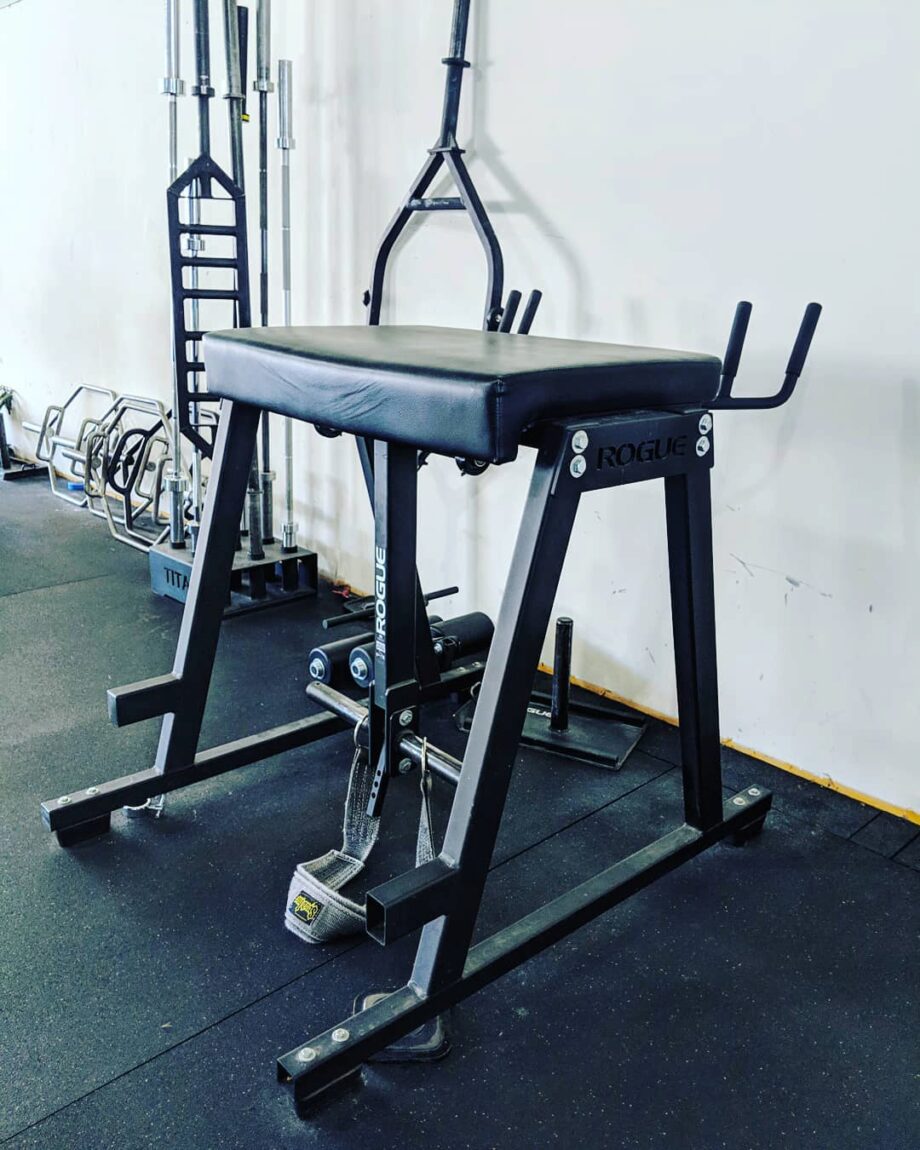 Rogue RH-2 Reverse Hyper
Manufactured and fully assembled in Columbus, Ohio, the Rogue RH-2 is a reverse hyper machine designed to meet the unique, changing needs of the athletes it serves. Widely utilized for physical therapy and back rehab exercises, the Reverse Hyper can also be used with light weights in everyday training to reduce lower back tightness and strengthen hamstrings, glutes, hips, and more.
For a commercial weight room or a collegiate weight room setting, I would recommend the Z-Hyper for a number of reasons. First off, any person of any size can use this with no issues. Second of all, these tanks will take a beating for as long as they are needed. With 3×3 posts, this thing isn't going anywhere.
Possibly the most appealing reason is that this Hyper can be turned into a Rogue Donkey very easily. This gives you the functionality of the rogue GHD and of a hyper. Last but not least, the Rogue Z-Hyper and the RH-2 are made in America whereas the Rogue Scout Hyper is made in China. Some people believe strongly in Made in America whereas others do not.
Full Rating
Rogue Z Hyper Reverse Hyper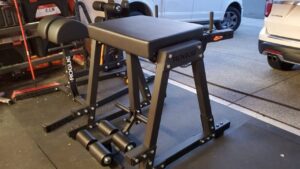 The Rogue Z-Hyper is Rogue Fitness premiere reverse hyper designed to be as sturdy and stable as possible. After using and reviewing the Z-Hyper and comparing it to other options, we think for most people that the Rogue RH-2 or Rogue Westside Scout Hyper is a better option for a home gym. However, if you plan to upgrade to the Rogue Donkey someday, the Z-Hyper is a good option.
Product Brand: Rogue Fitness
Product Currency: $
Product Price: 915
Product In-Stock: InStock
Rogue Z Hyper Reverse Hyper FAQs
How do you use reverse hyper in rogue?
Ensure that your back is completely flat. And now is the time to get started.
Is the reverse hyper machine good?
A reverse hyper machine can help relieve back pain by decompressing the spine, pumping fluid back into the intervertebral discs, and lowering pressure. Strengthening: Using a reverse hyper machine while training and lifting will assist strengthen back muscles and avoid injury.
How often should you reverse hyper?
Light, medium, and heavy weights can be used 3-4 times per week to increase strength. It's crucial to start with our progressions and gradually introduce the reverse hyper. Too much, too soon can be very potent and cause a lot of tightness and discomfort.