We test and review fitness products based on an independent, multi-point methodology. If you use our links to purchase something, we may earn a commission. Read our disclosures.
If you compete in bodybuilding, powerlifting, or weightlifting, odds are, creatine is on your radar. And even if you're just an avid gym-goer who loves to lift, you're probably familiar with this supplement as well. It's one of the most widely researched sports supplements, and thus its effectiveness has been demonstrated in muscle gains, strength, and performance.
Bulk Supplements is a manufacturer that produces a staggering number of sport and wellness supplements—all with a no-frills approach and often in bulk quantities—and micronized creatine powder is one of them. Our Bulk Supplements creatine review will dive into the details of this product, which has a cheaper price and a much shorter ingredient list than most.
Is it a good product? Spoiler alert: We think it's a great product, and we'll tell you why.
Medical disclaimer: This article is intended for educational and informational purposes only. It is not intended as a substitute for medical advice. For health advice, contact a licensed healthcare provider. GGR also recommends choosing a product that has been third-party tested for quality.
We're Here For Your Gain(s)
In our search to recommend the best creatine to you, dear reader, we've actually tested at least nine creatine supplements (and counting), plus researched dozens more. We want to know how they taste, how soluble they are, and how they make us feel—and that intel, combined with insight from our registered dietitian experts, helps inform our reviews and roundups on products like creatine, BCAA, pre-workout supplements, and more.
Bulk Supplements Creatine Powder
GGR Score: 4.6
Product Highlights
5 grams of pure creatine monohydrate

Formulated to promote muscle mass, improve recovery time, and increase anaerobic strength

Available in multiple sizes as well as in capsule form

Dairy-, soy-, sugar-, yeast-, and gluten-free
Pros & Cons
Pros
Receives very positive reviews from the vast majority of users
Great customer service
Mixes well
Several sizes available
Both vegetarian and gelatin capsules available
Dairy-, soy-, sugar-, yeast-, and gluten-free
Cons
In capsule form, you must consume seven pills
Bottom Line
Bulk Supplements' Creatine Powder is an effective supplement that is sugar-, dairy-, soy-, gluten-, and yeast-free so may be a good choice for anyone with dietary restrictions.
What is Creatine, And Why Should You Supplement?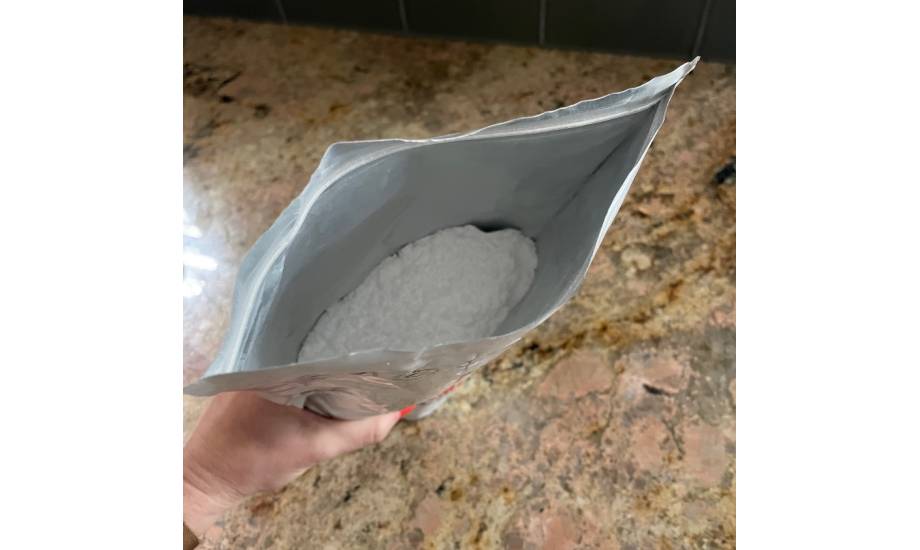 Let's start with the basics. Creatine1 is an amino acid, which is a building block of protein. It's found in animal protein and is also made by your body in the liver, kidneys, and pancreas1. It's stored mostly in your muscles and is used to replenish adenosine triphosphate, or ATP, which is the energy source your body uses for essentially everything, but especially during intense exercise to power explosive movements.
The idea behind creatine supplementation is that by increasing the amount of creatine you consume, your body can produce more ATP, which will support greater strength and power.
Dr. Krissy Kendall, lecturer in Exercise and Sports Sciences within the School of Medical and Health Sciences at Edith Cowan University (Perth Western Australia) and supplements expert, says that while your body makes 1 to 2 grams of creatine per day, people who train consistently may need as much as 10 grams daily to maintain creatine stores.
Creatine happens to be one of the most widely researched supplements, and many a study has demonstrated that it can be effective for short-duration, high-intensity intermittent exercise, supporting the effects of resistance training on strength and muscle mass, as well as overall athletic performance.
Types of Creatine
While there are many creatine formulas out there, there are four popular types used in supplements today:
Creatine monohydrate, which is the most popular and most researched form. It's also the cheapest. Bulk Supplements creatine powder falls into this category.
Creatine HCL, which is said to absorb faster and better because of the addition of hydrochloric acid.
Kre-Alkalyn, which is also said to absorb faster because of the addition of an alkaline powder.
Creatine nitrate, which is said to have greater solubility than creatine monohydrate.
A Quick Look at Bulk Supplements Creatine Monohydrate
Now that you know more about creatine as a whole, back to our Bulk Supplements Creatine Monohydrate Review. Bulk Supplements is based in Henderson, NV, and offers more than 500 dietary supplements for sale, most of which are—you guessed it—available in bulk quantities. The products are considered pure and "clean," and are not flavored—even the best protein powders—so you won't find any fillers, additives, or other junk among the ingredient list.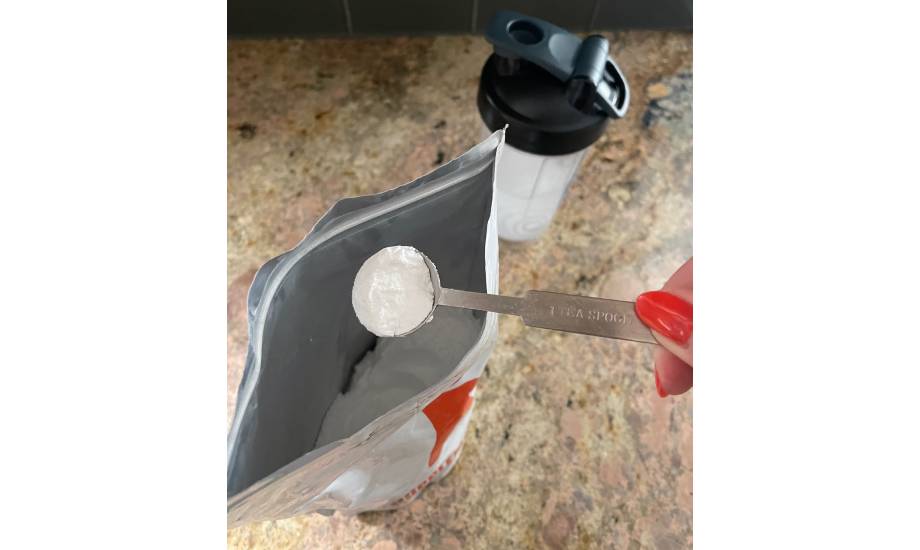 Cutting to the chase, BulkSupplements.com creatine is an affordable, no-frills creatine product suitable for those who are looking for a boost in muscle strength and size2. Let's dig in.
Before You Buy
You can subscribe and save 5% on your order, if you know you'll be ordering your creatine with regularity.
Know that there's no scoop included in the bag, so you'll need to use your own measuring spoon.
Is Bulk Supplements Creatine Worth It?
If you train regularly and are looking for supplements to help support your hard work, creatine is research-backed and clinically demonstrates benefits in strength and size. (Whereas certain supplements are banned by college and professional sports associations, creatine is one that athletes can take, and many do3.) Bulk Supplements creatine powder specifically could be appealing to many people on the hunt for a good creatine supplement.
Great for:
A beginner who wants to see if creatine is for them
Those who want to mix their creatine into another drink, like a whey protein shake
Those on a budget
Those who want to buy in bulk
Not recommended for:
Those who prefer a flavored, standalone creatine supplement
Those who have a history of kidney or liver issues
Bulk Supplements Creatine Specs
Because this supplement is so simple, our specs chart will be short and sweet.
| | |
| --- | --- |
| Price per serving | $0.75 for a 3.5-oz package, down to $0.26 for an 11-lb package |
| Flavors | Unflavored |
| Ingredients | Micronized creatine monohydrate |
Experience Using Bulk Supplements Creatine
I'm a fairly new creatine adopter, and I was excited to try out a bunch for our supplements research on creatine. I rotated between about six products for several weeks, so it's hard to know which one had what long-term effects.
However, I will say that one thing I appreciate about the Bulk Supplements creatine powder is that I can easily mix it into my post-workout shake with whey protein powder. Their creatine powder really has no taste—unlike other supplements that claim to be unflavored but really aren't—and because it's micronized, it's easily soluble. It is a bit annoying that you have to dig out your own measuring spoon to dose it, but that's not a dealbreaker for me.
I also appreciate that Bulk Supplements' creatine powder—and the rest of their supplements for that matter—is very simple. You don't have to worry about fillers or sweeteners, just the active ingredients. This is a big part of the reason one of our testers, GGR editor Frieda Johnson, says Bulk Supplements creatine is her go-to. "After the better part of a decade taking creatine daily, I've tried a lot of different products—different brands, flavored versus unflavored, single-ingredient products versus post-workout blends—and this is the one I always come back to. It's affordable, effective, and simple," she says.
Price Per Serving
Bulk Supplements' creatine monohydrate powder comes in several serving size bags, from 3.5 ounces to a whopping 11 pounds. The 3.5-ounce bag comes out to about $0.75 per serving for a one-time purchase, while if you purchase 11 pounds, it takes the price per serving down to $0.26.
There's also a subscribe-and-save option that will give you 5% off your recurring order.
Formulation
The only ingredient in Bulk Supplements' creatine is micronized creatine powder—that's it. No added sugar, dairy, gluten, or other additives, and it's not flavored with anything. One serving contains 5 grams of creatine, which is the high end of the research-backed dosage4 to see benefits from this supplement.
Other creatine products, like Kaged Pre-Kaged, may contain additional ingredients like beta-alanine or betaine anhydrous to function as a pre-workout, while others like Legion's Recharge have ingredients like L-carnitine L-tartrate, which has been shown5 to fight muscle soreness and support muscle repair.
RELATED: Creatine vs Pre-Workout
None of these is better than the other, it just depends on your goals. If you're just looking for a standalone creatine product, Bulk Supplements has you covered with its simple formulation.
Taste and Solubility
I tested out Bulk Supplements creatine powder and am happy to report it was a pleasant experience. It's completely flavorless, and essentially unnoticeable in a flavored drink (I tried it in both Powerade Zero and in my post-workout protein shake). It also dissolves well thanks to its micronized nature, which means the particles are much smaller than they would be in a normal creatine supplement, making for better absorption.
Side Effects
For healthy individuals who consume creatine as directed, there aren't any notable side effects to report. You may experience some water retention and subsequent minor (and temporary) weight gain, as creatine pulls water into the muscles, and some people experience gastrointestinal issues, like stomach aches, particularly if you're on a loading protocol of creatine or are new to the supplement.
Dr. Kendall says that taking smaller doses of creatine—3 to 5 grams daily—as well as choosing a micronized version, like Bulk Supplements', may help mitigate these symptoms.
There are myths that creatine can cause kidney damage, renal dysfunction, or hair loss in healthy people, but research6 does not support any of these claims. However, if you do have a history of kidney or liver issues, it's best to avoid creatine and speak to your healthcare provider as possible interactions could occur.
Third-Party Testing
BulkSupplements products are produced in an NSF-certified facility and are third-party tested. According to their website, they run tests that include:
ICP-MS heavy metal test (Hg, As, Pb, Cd)
FTIR purity test
UV-Vis potency test
Titration potency test
Microbiology contamination test
Loss on drying, pH, density and particle size
You can email customer service at cs@bulksupplements.com for a certificate of analysis on any product. I did this and heard back less than one business day later.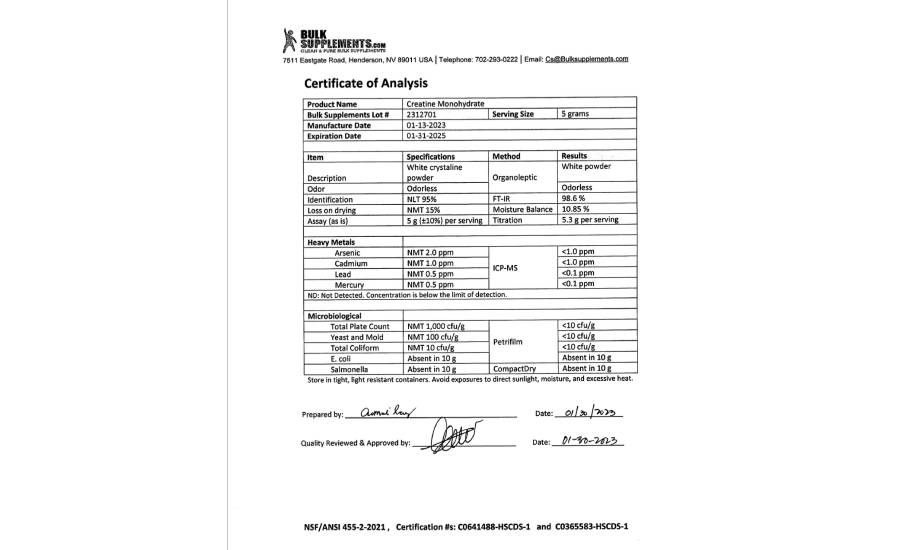 Comparison to Optimum Nutrition Micronized Creatine Powder
Optimum Nutrition Micronized Creatine Powder
GGR Score: 4.5
Product Highlights
Banned substance tested and approved

5 grams of micronized creatine monohydrate 

Only available as unflavored

Best used during the loading phase

Potentially increases energy, endurance, and decreases recovery time

Supports lean muscle growth
Pros & Cons
Pros
Very affordable
Pure creatine monohydrate
Can be mixed into your favorite beverage
Keto-friendly
Users report its effectiveness in building muscle
5 grams of creatine monohydrate per serving
Cons
May cause digestive issues in some
Does not dissolve well according to some reviews
Bottom Line
If you're looking to add some bulk with pure creatine, Optimum Nutrition Micronized Creatine Monohydrate is one worth considering.
Optimum Nutrition is known for sports supplements at a more affordable price, and its creatine powder is no different. In fact, we named it as the best budget creatine in our roundup of the best creatine supplements.
It's very similar to Bulk Supplements creatine in that it's micronized, only contains creatine, and offers 5 grams of creatine per serving. (You do have to take 2 teaspoons of Bulk Supplements creatine powder versus just 1 teaspoon for a serving of Optimum Nutrition's, though.)
At $0.66 per serving for the 60-serving container, Optimum Nutrition's creatine powder is a bit cheaper, but it's worth noting that it goes in and out of stock frequently. Customer reviews are favorable, so if you can get your hands on this supplement, it's a great option.
Customer Experience
If you have questions for Bulk Supplements, you can reach them via live chat on their website, phone, or email.
You can return your unopened product within 30 days of ordering for a full refund, but you have to pay shipping charges to send it back. If you've already opened your product you can still return it, but you'll only receive a partial refund equal to the price of the smallest size of that product that's offered.
Ordering Bulk Supplements Creatine
You can purchase Bulk Supplements creatine directly on BulkSupplements.com, or from a retailer like Amazon. On the company's website, once you decide on your package size and if you'd like to make a one-time purchase or subscribe to save 5%, you'll add the creatine to your cart and put in your payment information.
Customers rave about the fast shipping, and I agree—I received mine within a day and a half of ordering it. You'll also receive free shipping on orders over $59.
Customer Reviews
Bulk Supplements micronized creatine powder has a 4.8-star rating out of 5 on its website, based on nearly 10,000 reviews. On Amazon, it has a 4.6-star rating out of 5, with more than 39,000 reviews—whoa.
On BulkSupplements.com, customers rave about the quality product, fast service, and affordable price.

Negative comments focus on the packaging—for some people the seal does not reseal easily—and that the bag doesn't come with a scoop.

Final Verdict of Our Bulk Supplements Creatine Review
If you're looking for a supplement to help support you in your goal to build muscle and strength, check out creatine. If you're looking for a creatine supplement that's pure, quality, and affordable, check out Bulk Supplements micronized creatine powder.
The only ingredient in this supplement is creatine monohydrate, and it's dosed at 5 grams per serving, the ideal amount based on research4.
It costs $0.75 per serving—or less if you purchase a bigger bag or subscribe—which is competitive with the best price out there for creatine supplements.
It mixes well and is flavorless, making it a versatile supplement and a suitable addition to many beverages.
Bulk Supplements Creatine Rating
Bulk Supplements Creatine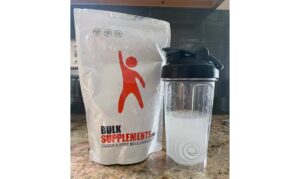 In this Bulk Supplements creatine review, we dive deep into this no-frills supplement to uncover whether it's actually legit.
Product Currency: USD
Product Price: 15
Product In-Stock: InStock
Bulk Supplements Creatine Review FAQs
These statements have not been evaluated by the Food and Drug Administration. This product is not intended to diagnose, treat, cure, or prevent any diseases.
References