We test and review fitness products based on an independent, multi-point methodology. If you use our links to purchase something, we may earn a commission. Read our disclosures.
Workout supplements can make our efforts to build muscle strength, support weight loss, and maintain muscle mass so much easier. However, all the best BCAAs, protein powders, and pre-workouts can add up and get expensive so fast. Luckily, Nutricost is a brand that's made a name for itself in providing creatine without breaking the bank.
Surely a creatine powder that costs cents per serving size is too good to be true? Well, maybe not. We tried Nutricost creatine monohydrate powder ourselves and are eager to share with you what we experienced. Read on to check out how we rated it in this Nutricost Creatine review.
Medical disclaimer: This article is intended for educational and informational purposes only. It is not intended as a substitute for medical advice. For health advice, contact a licensed healthcare provider. GGR also recommends choosing a product that has been third-party tested for quality.
We Know Creatine Because We Take Creatine
After testing dozens of creatine products, we have been around the block when it comes to run-ins with the good, the bad, and the ugly of creatine supplements. However, it's not just things like ingredients and price we can speak on, but also taste and effects. Our team of testers is made up of fitness professionals, dietitians, and personal trainers who both take creatine and use it with our athletes, so we know the importance of a high-quality supplement. Thus, we are committed to giving our honest feedback, so you can choose the best dietary supplement for you.
Nutricost Creatine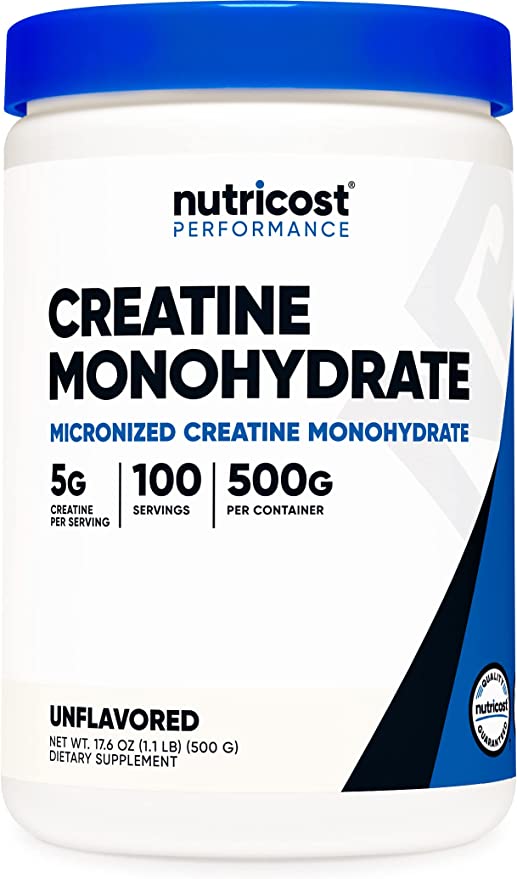 GGR Score: 4.3
Product Highlights
Powder creatine monohydrate supplement 

5 g of creatine per serving 

Improved strength and muscle growth 

Injury prevention and cognitive and bone health
Pros & Cons
Pros
Subscribe and save 15%
Non-GMO and gluten-free
Manufactured in cGMP-compliant facility
Affordable at under $0.40 per serving
Unflavored variety have 1 ingredient, micronized creatine monohydrate
Cons
Some flavors sold out
Flavored versions contain sucralose which may cause stomach upset
Mixed reviews on mixability
Mixed reviews on taste
Bottom Line
Nutricost Creatine Powder contains 5 grams of creatine per serving and is available in both flavored and unflavored varieties. Nutricost shares that their creatine supplement can help with muscle building and strength, injury prevention, and cognitive and bone health. This supplement has mixed reviews on taste and mixability.
A Quick Look at Nutricost Creatine
Nutricost offers a pure creatine monohydrate powder with minimal frills and an effective, economical serving size to help you with your athletic performance and muscle growth goals. There are no BCAAs or amino acids included, as this supplement includes just the creatine. However, there are not many additives either. You get 100 servings in a standard tub, which is perfect for bodybuilders and other fitness enthusiasts who supplement with creatine frequently.
Before You Buy
Costs less than $0.40 per serving
There are flavored options, but these contain sucralose
This flavorless creatine can be added to protein powder or pre-workout
Is Nutricost Creatine Worth It?
Nutricost has one of the most affordable creatine powders on the market, with the workout supplement costing as little as $0.25 depending on where it's purchased. You can even benefit from free USA shipping if you invest enough.
Given the low price, this would be a great micronized powder to use for a creatine loading phase or creatine cycling, when multiple servings are required a day for more short-term athletic performance benefits.
Great for:
People who want a brand that offers both flavored and unflavored options
Those who are on a budget
Those pursuing a creatine cycle or loading phase
Not recommended for:
Individuals who like flavored creatine, but dislike artificial sweeteners
People who prefer creatine capsules
Athletes who are only permitted to take supplements third-party tested by an approved body for sport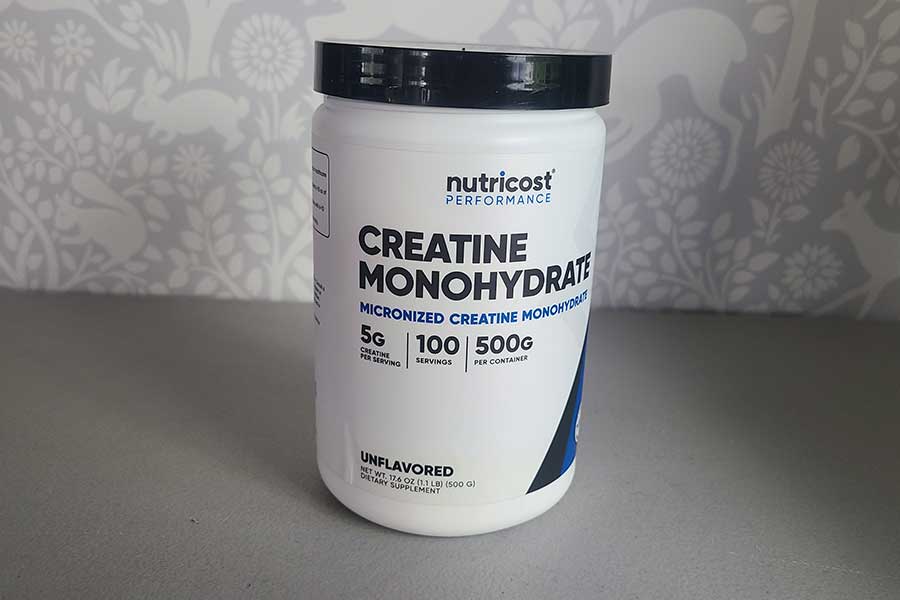 Nutricost Creatine Specs
| | |
| --- | --- |
| Price per serving | $0.33 |
| Flavors | Unflavored, Blue Raspberry, Fruit Punch, Watermelon, Pineapple Mango |
| Grams of Creatine | 5 grams per serving |
| Creatine Type | Micronized creatine monohydrate |
| Third Party Tested? | Yes |
| Money-Back Guarantee? | Yes |
Experience Using Nutricost Creatine Monohydrate
GGR editor Frieda Johnson has experience using creatine and tested the Nutricost creatine for us. She says this, "I take creatine regularly and have been for years. It's one of the more affordable sports nutrition supplements on the market, but this is impressively affordable even with that expectation."
She also notes that she tolerated the supplement well. "I had no side effects, and my experience taking it seems to be in line with my experience of consuming 5 grams of creatine monohydrate daily for quite some time, as in I had no interruption in positive benefits after swapping this in," Frieda says.
RELATED: Best Creatine for Women
Price Per Serving
Interestingly, pricing is different depending on the flavors you choose. The most affordable flavor is unflavored (unsurprisingly) with the price varying between other flavors. For simplicity, here is how the price per serving shakes out by flavor on the brand's website:
Unflavored – $0.33
Blue Raspberry – $0.40
Fruit Punch – $0.40
Watermelon – $0.37
Pineapple Mango – $0.37
It is also available through third-party sellers like Amazon and Walmart, where you may be able to get an even better price. No matter which kind you get, though, this creatine earns a 5 out of 5 for price.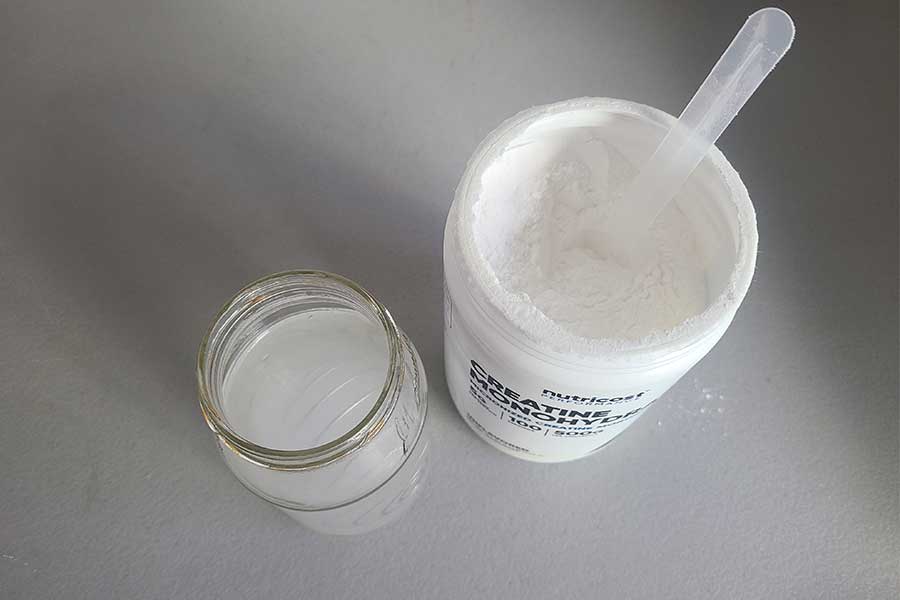 Formulation
Nutricost creatine contains 5 grams of creatine monohydrate powder, which is the clinically effective dose1. The dietary supplement is also non-GMO and gluten-free with minimal fillers. The unflavored version earned a 5 out of 5 for formulation because it contains no fillers at all, just one ingredient: micronized creatine monohydrate powder. Now this sounds super fancy and all, but studies have shown that micronized powder is no more bioavailable2 than standard creatine. What benefit micronized powder does have, however, is it may mix better than non-micronized creatine due to the product being processed to remove larger crystals typically contained in the supplement.
RELATED: Types of Creatine
The flavored versions of this creatine do contain some additional ingredients. For example, the watermelon flavor also contains malic acid, citric acid, natural & artificial flavors, sucralose, and beetroot powder (for color).
For those who are unfamiliar, sucralose is better known by the name Splenda and is an artificial sweetener. While there's no solid evidence that artificial sweeteners are harmful, this is something to be aware of if you are someone who actively avoids them.
Taste and Solubility
Our team member Frieda used the unflavored version of Nutricost and had this to say after trying it, "This is actually tasteless; I mixed it in water and couldn't taste anything." She did have some slight issues with the solubility, though, as has been noted by other customer reviews. "It settles as much as every other kind of creatine monohydrate I've ever tried—which is to say, it settles quite a bit," she says, rating it a 3 out of 5 for solubility.
Side Effects
There are no serious creatine side effects when taken as directed. Creatine may cause temporary weight gain in the form of water retention and bloating during the first few weeks of use, as creatine pulls water into the muscles as part of its function. Dehydration or gastrointestinal distress may also occur with new creatine users, so be sure to stay hydrated and see a medical professional if symptoms do not subside even after consistent supplementation. Frieda rated this a 5 out of 5 since she experienced no negative effects.
RELATED: Does Creatine Cause Acne?
It is not recommended that those who suffer from kidney, heart, or liver disease take creatine, and anyone taking prescription medications should consult a physician before taking any supplementation due to the risk of drug interactions causing further side effects.
Third-Party Testing
Although Nutricost creatine monohydrate is manufactured in a GMP compliant, FDA registered facility, it has not been tested for banned substances or purity by an accredited third-party lab recognized by sporting bodies. Nutricost does note that its creatine has been tested by ISO-accredited third-party labs, but these labs test supplements to ensure they do not contain toxic substances. They do not necessarily test for banned substances for athletes.
Comparison to Bulk Supplements Creatine Monohydrate Powder
Bulk Supplements Creatine
GGR Score: 4.6
Product Highlights
5 grams of pure creatine monohydrate

Formulated to promote muscle mass, improve recovery time, and increase anaerobic strength

Available in multiple sizes as well as in capsule form

Dairy-, soy-, sugar-, yeast-, and gluten-free
Pros & Cons
Pros
Receives very positive reviews from the vast majority of users
Great customer service
Mixes well
Several sizes available
Both vegetarian and gelatin capsules available
Dairy-, soy-, sugar-, yeast-, and gluten-free
Cons
In capsule form, you must consume seven pills
Bottom Line
Bulk Supplements' Creatine Powder is an effective supplement that is sugar-, dairy-, soy-, gluten-, and yeast-free so may be a good choice for anyone with dietary restrictions.
Both of these are creatine monohydrate supplements that have been micronized and both contain 5 grams per serving. However, Bulk's creatine supplement does not come in any flavors and is more expensive than Nutricost. We at GGR did give it a slightly higher rating, though, because Bulk's creatine supplement is third-party tested by NSF for Sport.
| | | |
| --- | --- | --- |
| | Nutricost Creatine | Bulk Supplements Creatine Monohydrate |
| GGR Score | 4.3 | 4.6 |
| Type | Micronized creatine monohydrate | Micronized creatine monohydrate |
| Price per serving | $0.33 | $0.75 |
| Grams per serving | 5 grams | 5 grams |
| Flavors | Unflavored, Blue Raspberry, Fruit Punch, Watermelon, Pineapple Mango | Unflavored |
| Third-party tested for sport? | No | Yes |
Customer Experience
If you need support from Nutricost Supplements while using their creatine monohydrate powder, you can go to the "Contact Us" page on their website for access to multiple methods of communication. There is no immediate form of contact, such as a chatbot, but they can be reached by phone at 866-438-3694 or by email at support@nutricost.com. You can also mail queries to the address below:
351 E 1750 N Vineyard UT 84059
(866) 438-3694
support@nutricost.com
Social media profiles are also provided, but it is unclear if they can be contacted for customer service issues through these avenues.
Ordering Nutricost Creatine
To purchase a product with Nutricost, you do not need an account, similar to most retail websites. What's cool to note is that you can receive a free gift if you spend more than $50 on your order.
To purchase your creatine, you just add it to your virtual cart, fill in your shipping information, and select your payment method. If you enroll in the subscribe and save program, you can get automatic deliveries of creatine delivered every 30 days and save 20% off of your order, as well.
The cost of shipping varies by location, and when I went to place my order to be delivered to California, shipping was $7 flat. Keep in mind that taxes and fees will also apply, but you can get free USA shipping if you spend over $59.
Nutricost has a 60-day money-back guarantee if you want to try their workout supplement risk-free. You will have to cover the cost of shipping, but will receive 100% of your money back if you send the product back within 60 days. No more detail than that is given about their policy, but you are prompted to contact Nutricost if this case applies to you or if you need more information.
If you choose to purchase Nutricost creatine monohydrate powder from a third-party seller like Amazon, prices, shipping, and return policies will be dictated by the seller and may differ from the Nutricost website.
Customer Reviews
Nutricost creatine monohydrate powder is rated 4.5 stars out of 5 according to 15 verified product reviews on the Nutricost website. Most reviewers love the results and simplicity of the product, but more critical reviews aren't happy with customer service.
Amazon reviews are also very positive with 4.7 out of 5 stars based on 30,288 reviews. Product reviews indicate that the creatine powder is of good value for the price, is great for mixing into other supplements like protein powder or post-workout, and is high-quality. That said, ratings are mixed on solubility.
Final Verdict of Our Nutricost Creatine Review
Nutricost creatine powder is a great value, high-quality wellness supplement that's worth a try, especially when you consider the 60-day money-back guarantee. Our team loved its effects and taste along with the quality of the product. Finally, given its bulk packaging and low price per serving compared to the market average, this would be an ideal brand to opt for if you are creating cycling or loading. Here are the other highlights we found:
Simple formulation
May be problematic for athletes or those who avoid artificial sweeteners
Very wallet-friendly with multiple opportunities for savings
Very positive Amazon and verified customer reviews
Full Rating
Nutricost Creatine
Nutricost Creatine Powder contains 5 grams of creatine per serving and is available in both flavored and unflavored varieties. Nutricost shares that their creatine supplement can help with muscle building and strength, injury prevention, and cognitive and bone health. This supplement has mixed reviews on taste and mixability.
Product Brand: Nutricost
Product Currency: $
Product Price: 21.00
Product In-Stock: InStock
Nutricost Creatine: FAQs
Is Nutricost creatine certified?

Nutricost is manufactured in a GMP compliant, FDA registered facility and tested by ISO-accredited labs.
Is Nutricost creatine third-party tested?

Nutricost creatine monohydrate powder is not third-party tested at this time by any accredited body acknowledged by sport organizations, but has been tested by ISO-accredited labs. 
What brand of creatine is good?

Most brands of creatine that are third-party tested with at least 5 grams of creatine per serving will provide results and are safe for athletes. 
Is Nutricost safe for sport?

Unfortunately, since Nutricost is not tested by a third-party lab recognized by WADA or similar governing bodies, it cannot be reliably considered safe for sport. 
These statements have not been evaluated by the Food and Drug Administration. This product is not intended to diagnose, treat, cure, or prevent any diseases.
References
Naderi A, de Oliveira EP, Ziegenfuss TN, Willems MT. Timing, Optimal Dose and Intake Duration of Dietary Supplements with Evidence-Based Use in Sports Nutrition. J Exerc Nutrition Biochem. 2016;20(4):1-12. doi:10.20463/jenb.2016.0031
Kreider RB, Jäger R, Purpura M. Bioavailability, Efficacy, Safety, and Regulatory Status of Creatine and Related Compounds: A Critical Review. Nutrients. 2022;14(5):1035. Published 2022 Feb 28. doi:10.3390/nu14051035