We test and review fitness products based on an independent, multi-point methodology. If you use our links to purchase something, we may earn a commission. Read our disclosures.
Although cold water immersion therapy dates all the way back to Ancient Greece1, it's been a recent trend in the health and wellness industry. And for good reason, too. Ice bath benefits include reduced inflammation, immune system support, stress management, and even the potential for reducing body fat and weight loss.
However, researchers admit that there are still many unknowns about cold water therapy, and there is more research needed around many of the potential health benefits.
That said, our team of expert product testers (including the founder of Garage Gym Reviews, Coop Mitchell) wanted to hop on the cold plunge train. We personally tested several of these ourselves and researched dozens more to see which one delivers the best cold plunge tub experience. We also consulted with Dr. Mike Masi, a doctor of physical therapy (DPT), to assess the merit of this recovery method and examine each tub based on these factors:
Footprint and Portability: How much space does it take up? Is it easy to move when not filled with water?
Durability and Construction: Does it feel stable when getting in and out of the water? Does the material retain temperature well?
Draining and Cleaning: How easy is it to dump the water and ensure cleanliness?
Conveniences: Is there a way to monitor or regulate the temperature? Are there added features such as a phone holder or lights? These can help enhance your cold plunge experience.
Best Cold Plunge Tub
Best Cold Plunge Tub Overall: The Cold Plunge
Good for: Anyone who wants to submerge in cold water as part of a weekly routine
The Plunge, sometimes called The Cold Plunge, is our top pick for the best cold plunge tub on the market right now because it's spacious, does not require plumbing, uses standard 110-volt power, and can be used indoors or outdoors.
It's about 150 pounds dry and 1,000 pounds when filled with water. Although it's not the heaviest we've tested, we still like the fact Cold Plunge provides you with free in-home delivery.
Coop enjoyed his testing experience and notes, "Honestly, if you plan on taking consistent ice baths, this is by far the ideal option, even though it has a costly price point."
Coop thinks this is the ideal option because the chiller can cool water down to 39 degrees. There is no need to go out for ice every time you want to take an ice bath.
The other things you can expect include:
A cell phone holder so you can practice your Wim Hof Method breathwork
No plumbing required: It's designed to be self contained once you fill it from a garden hose or other water source
Circular filtration to keep water quality top notch since you don't need to have new water coming in
An ozone sanitation system which is an oxidizer2 that breaks down common water contaminants
A 20 micron filter pulls out hair, skin cells, and other debris out of the water
An insulated cover and fully insulated tub to keep water cool and regulate energy usage
While the OG Cold Plunge model is designed to just cool, if you're interested in a tank that can both heat and cool, the brand has you covered with three different models with the dual action temperatures: Cold Plunge Pro, The Hot & Cold Plunge, and the The Hot & Cold Plunge Pro XL.
You can read more about our hands-on experience with the original model in the Cold Plunge review.
| | |
| --- | --- |
| Price | $4,990 |
| Footprint | 67" L x 31.5" W x 24" H |
| Temperature range | 39-103 degrees Fahrenheit |
| Features | 20 micron filter, underwater light, circular filtration, cell phone holder, ozone sanitation system, insulated tub and cover, drain |
| Water capacity | About 100 gallons |
| Warranty | 1 year |
Best Cold Plunge For Small Spaces: Redwood Outdoors Alaskan
Good for: People seeking a solid wooden barrel for outdoor cold therapy sessions
The Redwood Outdoors Alaskan Cold Plunge Tub is an aesthetically pleasing vertical tank that will fit snugly in a small place. While it could certainly be used indoors, it's ideal for outdoor use because it does not require power and doesn't take up a whole lot of room in your yard or on your deck.
The interior is a plastic liner fitted to the spruce wood exterior. You'll have to assemble the exterior spruce barrel portion, but the liner comes fully assembled. Additionally, our tester Jake, who has used the Outdoor Alaskan, says, "It has a built-in seat, which is an added perk."
The dry weight of the Alaskan is 250 pounds with a 130-gallon capacity. That means with the tank filled, this vertical tub weighs over 1,300 pounds. It also has an easy-to-use drainage system with a relief valve near the bottom of the tank.
It's also worth noting that the base price reflects the cost of the tub only, which means you'll have to bring your own ice to drastically drop the water temperature. The cover is an additional $99, and the cold plunge chiller unit will cost you an additional $2,699.
For more, check out our Redwood Outdoors Yukon Tub review.
| | |
| --- | --- |
| Price | $1,999 base price |
| Footprint | 37" L (diameter) x 40.5" H |
| Temperature range | N/A |
| Features | Drain, hard plastic liner |
| Water capacity | About 130 gallons |
| Warranty | 1 year |
Best Splurge Cold Plunge: Sun Home Cold Plunge Pro
Good for: Folks seeking a sleek tub with a chiller integrated into the design
If you want to splurge on a cold plunge tub, the Sun Home Cold Plunge Pro might be for you. While we have not yet tested the Sun Home, we will be testing it at our Springfield warehouse very soon.
What you can expect is a fast cooldown process that the brand claims can bring water down to 37.5 degrees in just a matter of minutes. It also features an integrated chiller that is not separate from the footprint—it's all in one. While the design looks sleek, the all-in-one integration will be heavier.
The footprint also looks a lot bigger than the tub itself. While the entire unit is 64 inches long, the tub will only give you about 42 inches of legroom, which is shorter than the Cold Plunge we picked for best overall ice bath.
One cool bonus feature we like is the underwater light for a true spa-like feel or for use at night.
The Sun Home tub is 245 pounds dry and about 900 pounds when filled with water and the water capacity is about 79 gallons. It's worth noting that the water capacity was not originally listed as a spec on the website, but we reached out to customer service via live chat to find out and they got back to us later in an email and updated the website.
| | |
| --- | --- |
| Price | $8,099 |
| Footprint | 64" L x 34" W x 33" H |
| Temperature range | 37.5 to 104 degrees Fahrenheit |
| Features | Dual hydro jets, built-in self priming system, LED lighting, WiFi enabled, insulated tub |
| Water capacity | 79 gallons |
| Warranty | 5-year limited |
Best Hot and Cold Plunge: Polar Monkeys Brainpod 2.0
Good for: Anyone who plans to take advantage of both hot and cold water therapy
The Polar Monkeys Brainpod 2.0 can heat and cool, if you want it to. It has the ability to heat and cool a temperature range that goes from 39 degrees to 102 degrees Fahrenheit. If you'd rather stick with just cooling, the price drops from $4,380 to $3,990 which is a $390 difference.
Although our product testers have used this cold plunge tub, we still find it odd that the website doesn't disclose the water capacity. We based our 55-gallon estimation on the weight of the tub (140 pounds) and the weight filled with water (600 pounds), which are two specs you can find on the website.
With that information plus the weight of one gallon of water (8.34 pounds), that's how we estimated about 55 gallons. Jake, one of our expert product testers, thinks that capacity is about right, though, noting that it wasn't much bigger than your average bathtub.
One thing Jake points out about his experience with the Polar Monkeys is the fact the 0.6 horsepower motor is going to take up a decent amount of space in addition to the tub. However, he did like the fact the drain port has two options: You can either drain the tub by unscrewing that cap or you can attach your garden hose to the drain outlet and drain away from the tub and chiller.
| | |
| --- | --- |
| Price | $4,380 (without heating, base price is $3,990) |
| Footprint | 67" L x 31.5" W x 22.8" H |
| Temperature range | 39 to 102 degrees Fahrenheit |
| Features | Built-in filtration system and pump, hoses, drain valve, |
| Water capacity | 55 gallons (not confirmed by Polar Monkeys) |
| Warranty | 1 year |
Best Insulated Cold Plunge Tub: Renu Therapy Cold Stoic 2.0
Good for: Anyone looking for superior insulation to keep energy costs low
The Renu Therapy Cold Stoic 2.0 is our top pick for best insulation on a cold tub because even when it's unplugged, the insulation keeps the water below 60 degrees. Plus, when it's plugged in and running the 0.25 horsepower chiller, you can bring the temperature down to 36 degrees, which is the coldest we've tested so far.

Expert product tester, Lindsay Scheele, notes that she "Tested three different cold plunges on the same day (that were all set to the same temperature) and this one seemed the coldest by far even though all the temperature readouts were the same."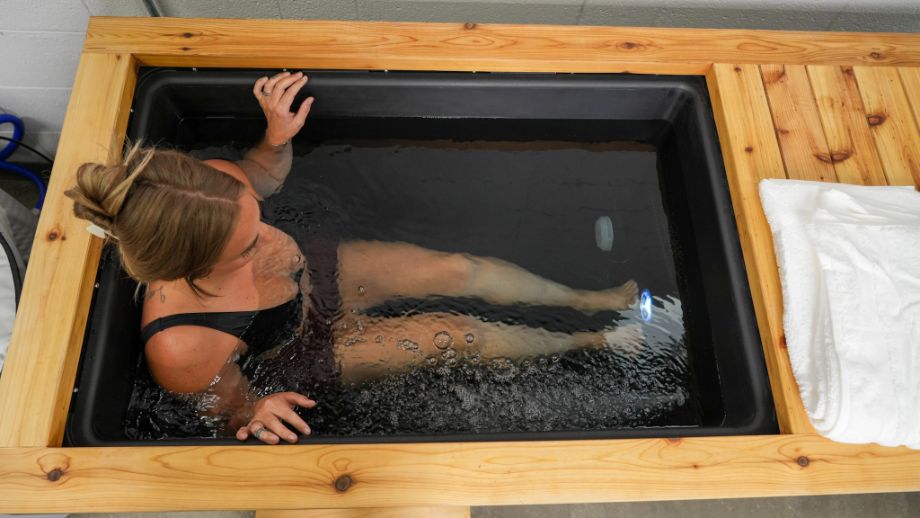 However, this high-quality insulation is going to cost you. This is the most expensive cold plunge tub we've tested at nearly $10,000. While there are financing options through Affirm, this price is not for the faint of heart. However, you will notice at checkout that you'll be asked to check a box for residential or commercial use, so we think commercial gyms, spas, and wellness centers are more likely to make this hefty purchase.
RELATED: Best AC For Garage Gyms
Overall Lindsay rates the Cold Stoic tub at 4-out-of-5 stars, but when it comes to value, she gave it 2.5 stars because of the ultra-expensive price tag. "While the website says it has advanced filtration and an ozone purification system for keeping the water clean, I don't know how much more value this tub offers over comparable tubs at half the price," says Lindsay.
However, Lindsay appreciates the aesthetics of the cold tub with the built-in chiller integrated into the footprint and design. There are vents on two sides of the Renu tank to allow the chiller to vent, but otherwise it's extremely sleek looking.
Lindsay mentions in her Renu therapy cold stoic review that as sleek at it is, she was surprised about the lack of legroom. While the footprint is quite spacious, the tub does not span its entire length. "At 5 feet and 4 inches tall, I had to cross my legs or keep them slightly bent while stretched out—otherwise I would hit the walls," says Lindsay.
It's also worth noting the Cold Stoic tub is 350 pounds dry and about 1,145 pounds when filled and can be stored indoors or outdoors. You'll have six tank colors to choose from and four wood options for the top decking and the step stool.
| | |
| --- | --- |
| Price | $9,699.99 |
| Footprint | 70" L x 33" W x 35″ H |
| Temperature range | 36 to 60 degrees Fahrenheit |
| Features | Insulated tub, UV-protected frame, filtration and purification system, extra side vent |
| Water capacity | 95 gallons |
| Warranty | 5-year limited |
Best Inflatable Cold Plunge: Redwood Outdoors Yukon Tub
Good for: People who want a lighter, portable ice bath option
The Redwood Outdoors Yukon Tub is an inflatable option if you're thinking about carting your cold plunge around from your house to the gym or from a friend's house to the lake house.
It can be inflated in 10 minutes with the complementary hand pump that comes with the tub. It's also fairly easy to drain, deflate, and pack up in the backpack that comes with the tub, too. The dry weight is 30 pounds and it has a 120-gallon water capacity.
GGR expert product tester and leader reviewer at Garage Gym Reviews Everything, Lindsay Scheele, says, "The inflatable tub actually made for a comfortable neck support as I leaned back into a reclined position. That said, I wouldn't trust it to sit on the side by any means."
The base price of $899 reflects the tub and soft cover and doesn't include the chiller system. If you're interested in regulating the temperature with a more sophisticated system than just adding ice, you'll have the ability to purchase the brand's chiller system for an additional $2,599.
Overall, Lindsay enjoyed her experience with Yukon cold plunge tub and gave it a 3.8-out-of-5-star rating. While she appreciates that the tub is roomy and she could fully stretch out her legs, the inflatable design has one major disadvantage: It requires frequent draining.
The brand recommends changing the water frequently (or draining completely) because the inflatable design can lose its shape and bulge through the middle if water stays in the tub for more than 48 hours. While the tub is meant to be packable, we still think this is a lot of water changing and upkeep.
| | |
| --- | --- |
| Price | $899 (chiller is an additional $2,599) |
| Footprint | 59" L x 31.5" W x 32.75" H |
| Temperature range | Goes as low as 37 degrees Fahrenheit (with chiller) |
| Features | Carrying bag, air pump, tub cover |
| Water capacity | 120 gallons |
| Warranty | 1-year limited |
Best Vertical Cold Plunge: Nordic Wave Viking Tub
Good for: People who would prefer to sit upright versus recline in a cold tub
The Nordic Wave Viking ice bath tub features a vertical design, which is different from the many bathtub-like plunges we've tested and researched. The vertical design allows you to sit in an upright position versus reclining or lying down. Some folks prefer the sitting position during a cold plunge because you're not exactly relaxing in chilling waters. Ultimately, it's a personal preference.
It comes standard with the tub, lid, chiller, and a step stool for dropping into the vertical tub.
The Viking has a 95-gallon water capacity and can accommodate folks over 6 feet tall. The vertical tub has 2-inch insulation and a heavy, insulated lid to keep the temperature regulated while not in use.
It's worth noting that specs below list the overall footprint, which includes the chiller and step stool. The tub alone is 36 inches long, 30 inches wide, and 41 inches tall. It weighs 60 pounds, the tub cover weighs 16 pounds, and the chiller weighs an additional 55 pounds.
Plus, it comes in three different colors: Charcoal Gray, Arctic White, Slate Blue to fit with your style.
| | |
| --- | --- |
| Price | $5,999 |
| Footprint | 84" L x 40" W x 41" H |
| Temperature range | Goes as low as 38 degrees Fahrenheit |
| Features | Chiller system, insulated tub, step stool |
| Water capacity | 95 gallons |
| Warranty | 5-year on tub, 2-year on chiller |
Best Customizable Cold Plunge: Inergize Cold And Hot Plunge Tub
Good for: Anyone looking for portability as well as both hot and cold therapy
The Inergize Cold and Hot Plunge Tub is pretty much as customizable as it gets: It's both foldable for on-the-go use and sturdy for staying at home. Plus you can heat, cool, and even use the app to control the temperature remotely with the powerful cooling unit.
Jake, one of our expert product testers, used the Inergize and timed the process of inflating and deflating. With the air pump that comes with the Inergize tub, it took Jake four minutes to inflate and six minutes to deflate. He also notes that with the water filling process (about 60 to 70 gallons), the whole thing only took 20 minutes to set up.
The temperature regulation system can bring water down to 37 degrees or up to 107 degrees. For reference, the average setting for a traditional hot tub is 104 degrees. Jake admits he hasn't tested the heat settings yet.
Although he hasn't put the heat to the test, Jake enjoyed the fact the footprint is just over 4 feet long, which allowed him to fully stretch out his legs and submerge his head under the water, which we think is feature to be desired in the best ice bath regardless if its an inflatable tub or not.
| | |
| --- | --- |
| Price | $5,490 |
| Footprint | 51" L x 28" W x 30" H |
| Temperature range | 37 to 105 degrees Fahrenheit |
| Features | 24/7 filtration, app controlled, duffle bag |
| Water capacity | 60-70 gallons |
| Warranty | 1-year warranty |
Best Cold Plunge For Tall People: Ice Barrel 400
Good for: Tall folks who want a vertical ice bath experience
Although the Ice Barrel 400 has a smaller footprint than other cold plunge tubs we've tested, it's still a viable option for tall folks up to 6 feet and 6 inches and has a 300-pound weight capacity.
It does not require electricity and can be used indoors or outdoors. It's also made from recycled low density polyethylene materials and it's non-toxic, BPA-free, and non-porous.
It's much lighter than other ice baths on the market, weighing in at 55 pounds when empty and 930 pounds when full with the 105-gallon capacity. The downside to the smaller and lighter design is the fact it still needs ice to achieve really cold temperatures.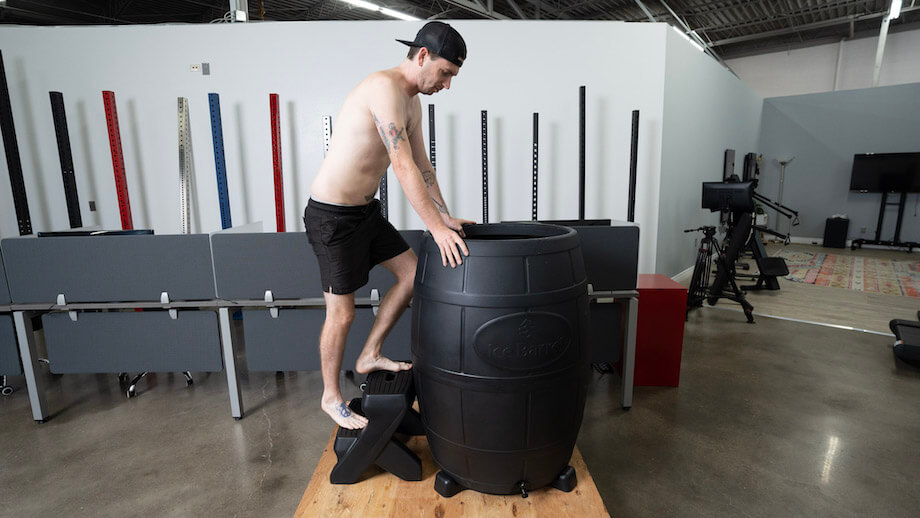 Because it's not equipped with electricity and a chiller, Coop Mitchell, the founder of Garage Gym Reviews who has personally used the Ice Barrel, says "It's practical for someone who wants to take ice baths and doesn't mind using actual ice. Plus, it's not double walled for insulation."
That said, Coop does like the fact that the Ice Barrel can be stored outside and puts you in a great position during use. For anyone who prefers the seated position versus the reclined position, the barrel shape will be in your favor.
Read more about Coop's thoughts in the Ice Barrel review.
| | |
| --- | --- |
| Price | $1,199.99 |
| Footprint | 31" L (diameter) x 42" H |
| Temperature range | N/A |
| Features | Insulated barrel, drain |
| Water capacity | 105 gallons |
| Warranty | Limited lifetime |
Best DIY Cold Plunge: Tuff Stuff Stock Tank
Good for: Folks on a budget or anyone who just want to give cold therapy a try
If you're someone who wants to experience an ice bath, but you'd rather not spend thousands of dollars on fancy cooling systems or use your own bath tub, you may just need a good-old-fashion DIY option.
RELATED: DIY Gym Equipment
If that's the case, why not pick up a Tuff Stuff oversized stock tank from Tractor Supply? (As you might know from Coop's infamous suggestions, some of the best home gym flooring options also come from Tractor Supply.)
GGR head of content and USA Weightlifting L-1 coach, Kate Meier has personally used the stock tank method, keeping the Tuff Stuff tank outside her large home gym where her entire weightlifting team trains. The tub can fit two grown adults, as long as they don't mind being in close quarters with each other.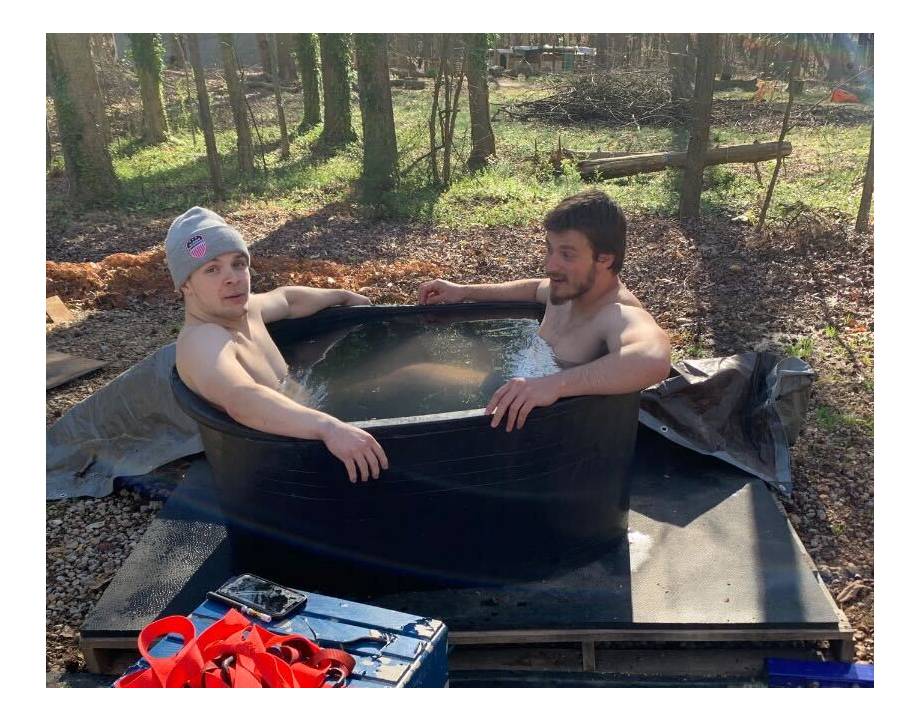 While a stock tank does not offer temperature control, it has similar functionality as The Ice Barrel just without a protective cover.
"We fill the tub with hose water and throw in bags of ice or a collection of frozen water bottles we keep in the gym freezer," Kate says. "To keep the tub sanitary between uses, we put epsom salt in the water and cover it with a tarp. However, we still drain it after just a few plunges."
The Tuff Stuff tank is made from sturdy low-density polyethylene (which holds up to UV rays, heat, and cold) and has a plug for easy drainage. All for just over $100.
| | |
| --- | --- |
| Price | $109.99 |
| Footprint | 53" L x 36" W x 20" H |
| Temperature range | N/A |
| Features | Drain plug |
| Water capacity | 110 gallons |
| Warranty | 1 year |
Other Cold Plunge Tubs We Researched
While we've tested nearly every tub featured on this list, we've researched a dozen more. Here are some other brands that didn't quite make the cut:
How We Picked and Tested The Best Cold Plunge Tub
For any equipment our product testers use or research, we have a strict testing methodology in place so each of our experts makes the same considerations. Here are the factors we had in mind when testing cold plunges specifically:
Footprint and volume: We not only considered how much space this is going to take up (in your home, garage, porch, or backyard) we also wanted to know how much water each cold plunge tub holds relative to the footprint.
Delivery and setup: While researching and testing our experts noted if it was an easy set up process (like just unboxing or inflating) or if it was difficult and required full assembly.
Durability and construction: When something is designed to hold water, we expect it not only to do just that but resist rust, mold, and general wear and tear.
Ergonomics: Although seated or reclined is a personal preference, we wanted to be sure there is wiggle room and a design that allows you to put your arms out of the tub if desired.
Additional conveniences: These are things that go beyond just providing a place to hold cold water like chillers, filtration, or temperature regulation apps.
Price and value: While cold plunge tubs are often expensive additions to your home gym, we wanted to consider what you're getting for the price (which often includes chillers, pumps, and filtrations systems).
Benefits of Cold Plunge Tubs
If you're wondering about the reasons why folks invest in a cold plunge for their home, here are three potential benefits:
Potential to Reduce Inflammation
For most folks, muscle soreness after a workout is inevitable. But for athletes being sore can hinder performance especially if an athlete has back-to-back events (like a double header baseball game or a multi-day bike race).
Dr. Michael Masi, doctor of physical therapy (DPT) and strength coach, notes that ice baths make the most sense for athletes.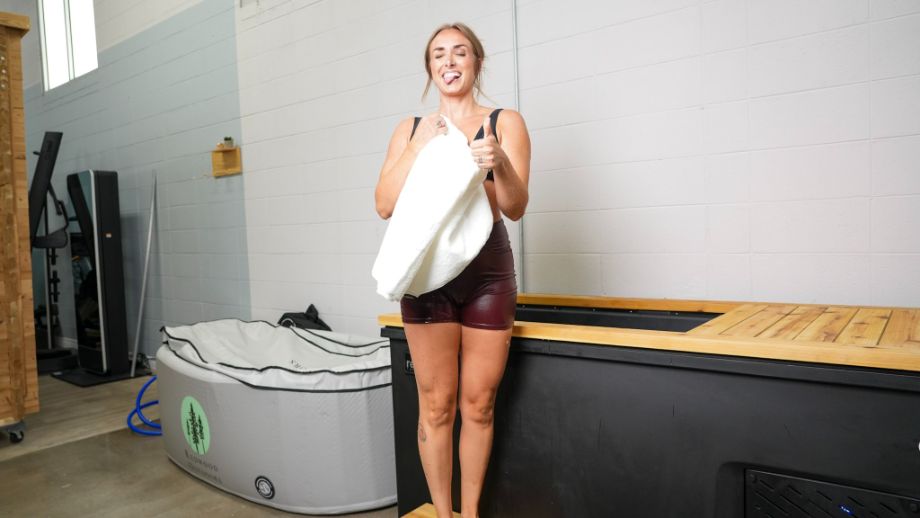 "Cold water immersion can help with muscle recovery because it reduces the inflammation from working out and provides less perceived soreness," says Mike. "In reality, inflammation is a natural response to aid muscle growth."
In other words, for most folks, full-body cold water immersion can help reduce perceived soreness3 but it doesn't necessarily help with muscle recovery or muscle growth.
RELATED: Best Muscle Recovery Tools
Immune System Benefits
While more research on immersion therapy and the immune system is still needed, at the moment there is research to support4 that the combination of cold exposure, breathing exercises, and mediation can activate the sympathetic nervous system. Doing that provides an epinephrine release (which is basically adrenaline) that can help regulate your natural immune response to fight infections.
The key here is not cold water exposure alone, it's the combination of breathwork and meditation that activates the sympathetic nervous system and provides immunity benefits. This method is typically referred to as the Wim Hof Method.
Mental Health and Stress Management
Mental health is another area that still has many unknowns about the potential benefits of ice baths. However, related to the activation of the sympathetic nervous system, this activation can also be helpful to the way you feel and your overall perception. One study5 found that participants of a four week trial found a reduction in stress, anxiety, and depression after regular cold water exposure every week for four weeks.
RELATED: Exercise and Mental Health
What To Look For in the Best Cold Plunge Tub
Here are some things to consider before you order a cold plunge tub for your home gym:
Size and Capacity
Like any large piece of equipment, measure your space! You'll also need to consider how you'll fill up the tank and how close your proposed area is to a water source. If the tub you're considering has a chiller, you'll also need a power source nearby, too.
It's also worth noting that cold plunge tubs come in various sizes and capacities. If you're adding a cold tub to your deck, be sure that the total weight of the tub (when full with water) can be supported. Some of the tanks featured on this review are several hundred pounds when full.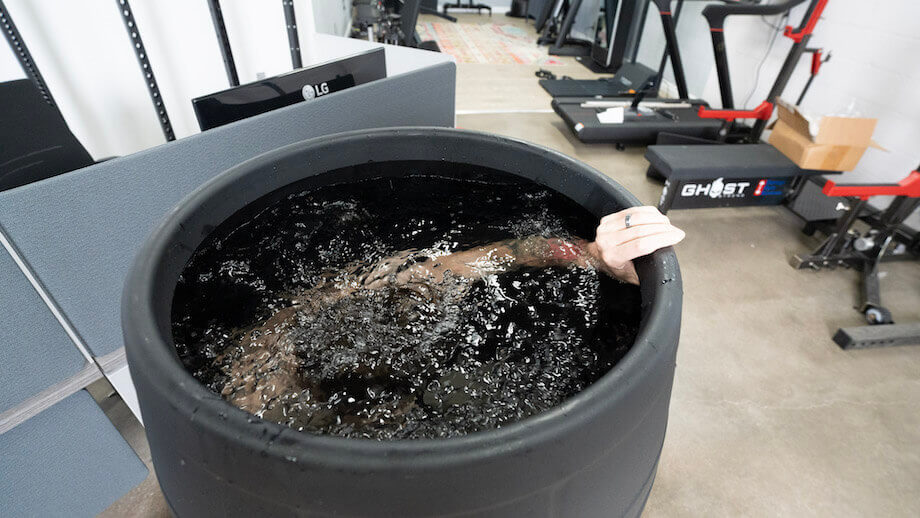 Insulation and Material
The material of the tub is crucial for maintaining the desired water temperature. Look for tubs made from high-quality, durable materials that offer good insulation. High-quality insulation will help retain the cold water temperature and minimize heat exchange with the surrounding environment. Stainless steel or high-grade acrylic are popular choices for cold plunge tubs due to their durability and insulation properties.
RELATED: How to Insulate A Garage Gym
Filtration and Maintenance
Proper water filtration and maintenance are essential to keep the water clean and safe for regular use. Look for a cold plunge tub that comes with a reliable filtration system. Additionally, consider the ease of maintenance and cleaning. A well-designed tub with easy-to-access filters and simple cleaning procedures will save you time and effort in the long run.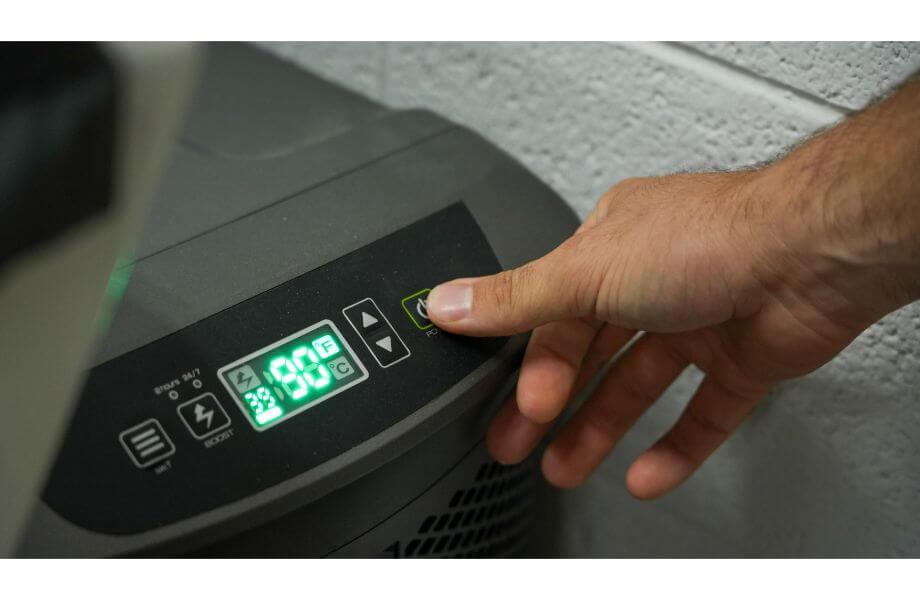 Warranty Policy
Compared to other large and costly purchases you'll make for your home gym the warranty policies on most cold plunge tubs pale in comparison to big investments like the best squat racks and treadmills. Most of the tubs we included offer a one-year warranty while only a few have a five-year policy. While this may not be a dealbreaker, we think it's worth thinning about.
Best Cold Plunge Tub FAQs
Can you do a cold plunge in a bathtub?
You certainly can fill your bathtub with cold water and add ice to make it even colder. The benefit of having a specific tank or tub for ice baths is the temperature regulation, filtration, and ability to leave water in the tank for use throughout the week.
Are cold plunge baths good for you?
While ice baths and cold water exposure are the latest health and wellness craze, the research around it and the health benefits are still in the beginning stages. However, we have highlighted some of the top ice bath benefits and pulled some of the most recent research to back it up.
Is 55 degrees cold enough for a cold plunge?
While many of the electronically regulated cold plunge tubs go down to 38 degrees, not everyone will need temperatures that low. Wim Hof, creator of the Wim Hof Method, teaches folks to use a combination of breathwork, mediation, and cold water exposure to reap the most health benefits from cold water immersion. His method starts with short cold showers eventually leading up to colder water temperatures for longer durations. That said, 55 degrees may be cold enough for you if you're still getting accustomed to cold water therapy. 
Is a cold plunge tub worth it?
If you're an elite-level athlete, then yes a cold plunge tub could be worth it to help with recovery after competitions or intense training sessions. The average person, however, should focus on more traditional recovery methods such as eating enough protein and getting 7-9 hours of sleep per day before considering an expensive purchase like a cold plunge tub.
Is it OK to use a cold plunge every day?
Cold plunge research is still in its early stages, but there appear to be no negative side effects to using a cold plunge every day.
References