We test and review fitness products based on an independent, multi-point methodology. If you use our links to purchase something, we may earn a commission. Read our disclosures.
The following statements are meant to serve as generic recommendations. Consult a local HVAC professional for proper sizing the capacity recommendations based on where you live.
If you are working on outfitting your garage with the best home gym equipment, cardio machines, and gadgets, why not outfit your gym with something to keep you cool and comfortable? In this roundup of the best AC for garage gyms, we're going to give you our top picks for keeping things cool.
When it comes to the summer heat, it can be mentally and physically exhausting to drag yourself through a workout. Investing in an air conditioner can make your gym more comfortable and not only that, it may even make your training routine more manageable during the dog days of summer.
Before we get into our top picks, I think it's worth mentioning that before you dive into this type of investment, it will be worth making your gym as airtight as possible (like adding garage insulation) to minimize air leakage through uninsulated garage doors and old garage windows.
Expert Testers for Everything in Your Garage Gym
Although the expert product testers here at GGR range from Olympic athletes to certified personal trainers, we know when we're outside of our wheelhouse when it comes to heating and cooling. We have tried the best treadmills, barbells, and shoes for all sorts of activities, but when it comes to trying air conditioning units, we knew it would take more than just testing a unit to give you the full rundown on an AC.
For this roundup featuring the five best AC units for your garage gym, I turned to a trusted resource I know very well: my husband, Matt Strong. He is a professional engineer who specializes in HVAC (heating, ventilation, and air conditioning) design and equipment specification.
Our team also resourced the Home Gym Community on Facebook for initial recommendations and insight on the community's favorite products.
5 Best AC for Garage Gyms
Best Overall AC for Garage Gyms: MR COOL Mini Split Heat Pump
Good for: Folks who want a ductless mini split that provides year round temperature control
The MR COOL Mini Split Heat Pump is our top pick when it comes to the best garage cooling solutions. Bonus: it heats, too! It's a wall-hung unit (with the air compressor installed outdoors) so you can maximize your floor space. And if you're not thinking about getting the most of your square footage, GGR founder Coop Mitchell notes it can be one of the biggest home gym mistakes for newbies.
That said, Coop has not one, but two MR COOL units in his garage gym. "Heating and cooling is essential in a space where you want to train comfortably," says Coop.
I think it's also worth mentioning that this unit is often advertised as a DIY installation. However, in the product description you'll find that the manufacturer's recommendation is that this unit is meant to be installed by a HVAC technician.
RELATED: DIY Squat Rack Guide
Matt also notes that while "MR COOL is often advertised as DIY, there may be an electrician required depending on the size [of the unit] and there are some processes that are quite involved," he says.
If you are not convinced that this ductless mini split heat pump is the right option for you, we had several of our Facebook group members say installing a mini split was an excellent choice.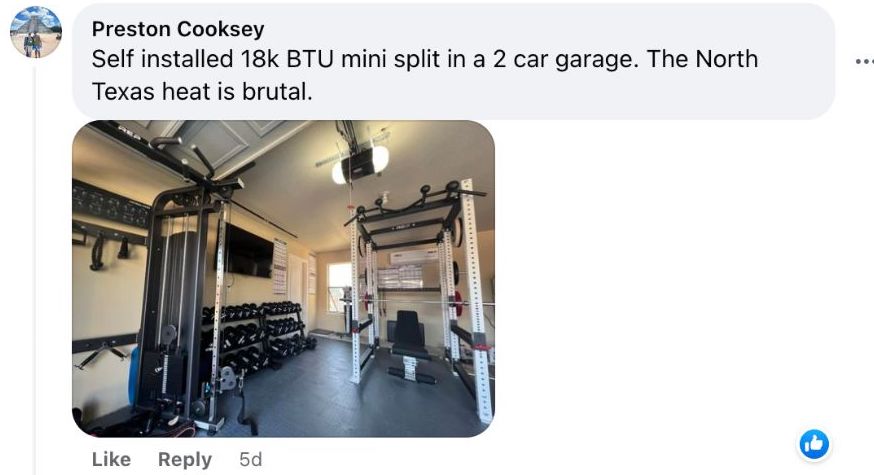 | | |
| --- | --- |
| Price | About $900 on Amazon |
| BTU rating | 9,800 BTU |
| Voltage | 115v volts |
Best Portable AC for Garage Gyms: Midea Portable Unit
Good for: Anyone looking for a portable air conditioner that is easy to order on Amazon
If you're looking for one of the best portable air conditioners that doesn't require a full-blown installation, the Midea Portable AC Unit uses a small duct to draw hot air out of your garage. This unit requires a window so you can feed the hose out of the garage.
In fact, one of our Facebook group members commented about portable units in general saying, "with air conditioning you're not making an area cold–you're moving hot air from one place to another place. You need to have the exhaust going outside so that it works. Otherwise, you're actually making it hotter."
That said, this unit comes with a window slider to secure the duct hose and foam insulation to minimize window air leakage. We also appreciate the fact that the Midea is Wi-Fi enabled with app connectivity and voice control options for Alexa and Google Assistant.
The 12,000 BTU rating is suitable for garages around 450-square feet and runs quietly at 42 decibels.
RELATED: Best Garage Shelving
| | |
| --- | --- |
| Price | About $530 on Amazon |
| BTU rating | 12,000 |
| Voltage | 115 volts |
Best Durable AC for Garage Gyms: LG Portable Air Conditioner
Good for: Folks looking for a energy efficient and portable air conditioner
The LG Portable Air Conditioner is another portable garage air conditioner that will make an ideal addition to your garage if you're looking for a durable solution. LG is known for long-lasting equipment and offers a one-year limited parts and labor warranty as well.
We like the fact that this unit comes with a removable and washable air filter with a check filter alert—so you actually know when to change it! Plus you can run this LG unit in three different ways: cool air mode (air conditioning and dehumidification), dry mode (dehumidification only), and fan mode (circulating air). This unit also comes with three different fan speeds and can be run with a remote control.
The 14,000 BTU rating is ideal for 500 square foot garages and runs quiet at 44 decibels. You'll also like the fact this unit has an auto-swing air vent that helps direct the flow while running in either of the three modes.
Window vent installation is included and is easy to do. This is another unit that will require it to be vented out a window. One Facebook group member commented reiterating that, "you can't destroy heat—you can only move it from one place to another."
| | |
| --- | --- |
| Price | About $700 |
| BTU rating | 14,000 |
| Voltage | 115 volt |
Best AC for Humid Climates: Honeywell Portable AC
Good for: Anyone living in an area with hot, humid summer months
We like this Honeywell Portable air conditioner for the easy draining solutions if you're living in a humid part of the country. This Honeywell unit has an auto evaporation feature that allows you to run the air conditioner without the need to continuously empty the drain pan. The built-in dehumidifier removes up to 50 pints of water in 24 hours, which will work well for several workouts in a row.
Plus, this unit offers an ample 11,000 BTU cooling capacity, this will take care of garage spaces up to 500 square feet.
If you plan to run your air conditioner for longer durations (or roll into another room) there is a drain outlet that you can connect a hose to for continuous draining in super humid conditions (or long durations). I like that the drain outlet is set directly under the air filter, which is fairly high on the unit so it can drain into a bucket if needed rather than precariously setting up a hose from a low port (which is usually the case) into an oddly low bucket or pan.
You'll also like knowing this unit alerts you when the air filter needs to be cleaned, which is easy to do by raining under a faucet. Keeping up with the filter helps maintain maximum cooling power and protects your airflow from dust, hair, and allergens.
RELATED: Best Lighting for Garage Gyms
| | |
| --- | --- |
| Price | About $500 on Amazon |
| BTU rating | 11,000 |
| Voltage | N/A |
Best AC for Dry Climates: Hupro Swamp Cooler
Good for: Folks who live in areas with dry, hot air and want to add moisture back into the air
The Hupro Swamp Cooler will be ideal for a very specific person living in a dry climate. This unit provides cool air and moisture, which is different from the other air conditioners on this list because most units draw out the moisture from the air in a collection tank.
According to Matt, "These work by evaporating water, they are often called evaporative coolers, which adds humidity to the air," he says. Where we live in New England, you'll often hear people repeat the age old saying: it's not the heat, it's the humidity. That said, this won't be a unit for my fellow East-Coasters.
This unit will require you to fill the humidifier tank, which is easy with a top-fill design so it can mist and cool your air. This unit is small and can be placed on a table in your gym and won't interfere with your gym equipment.
The top-fill tank is also easy to clean and big enough to reach in with a sponge or cloth, which will prevent mold build up.
RELATED: The 10 Most Important Budget Home Gym Tips
| | |
| --- | --- |
| Price | About $115 |
| BTU rating | N/A |
| Voltage | 110 volt |
Other AC for Garage Gyms We Researched
Senville Mini Split: This unit is essentially the same as MR COOL mini split air conditioner but it costs a few hundred dollars more.
The Whynter ARC-14S: I own something very similar to this unit (mine has heating and cooling capabilities) and although it's very good at keeping my house cool, it's sort of a pain to drain when the machine has reached the 71 pints per day dehumidifying capacity. In the peak of summer New England heat, I have to drain it every single day.
How We Picked AC Units for Garage Gyms
Here are some of the factors we considered when choosing the best ACs for garage gyms:
Size
Capacity
Cooling
Energy-efficiency
Dehumidifying capabilities
We also turned to our Home Gym Community on Facebook for their favorites. Once we had a good list in place, I worked with Matt to determine which would be best in garage gyms.
Benefits of AC for Garage Gyms
If you are not yet convinced of the benefits of having an air conditioner in your home gym, I asked Coop what he thought the top three benefits are of working out with an AC:
Temperature Control
Working out and moving your body inevitably raises your body temperature. So when it's hot, it can be mentally and physically difficult to drag yourself through a workout knowing you're going to be even warmer by then end.
That's when we cue the air conditioning for maximum comfort! "It's nice waking up in the morning and heading out to the garage knowing the barbell won't be literally freezing or so humid in the gym that I'm essentially swimming through my workout," says Coop.
I also think it's worth noting that overall climate control can help you keep your equipment in tip-top shape. However, you'll still need to perform regular maintenance on your equipment and clean your barbell once in a while, too.
Improved Air Quality
Air conditioners can help filter out dust and dirt, which can help give you cleaner air to breathe as your sucking wind through a metcon. The one thing Matt notes about air filtration is the fact that you might need to change filters frequently if you use a lot of chalk in your gym.
Increased Workout Efficiency
With Coop's first gym, it was too small to install any heating or cooling systems, so he essentially had to dress for the weather. "I bundled up and saw the mental difficulty of training in extreme heat and extreme cold as part of the workout," says Coop.
Although the mental toughness is not necessarily a bad thing to overcome, Coop admits he's more mentally focused on training (not merely surviving a workout).
I personally find when I'm too hot it can be distracting for me to train at the level of intensity I want and I'm more apt to cut it short. Honestly, air conditioning is part of my home gym essentials list and it's up toward the top with my preferred lineup of dumbbells, kettlebells, and resistance bands.
What to Look for AC for Garage Gyms
Here are some things to consider when shopping for air conditioners for your home gym:
Cooling Capacity
When shopping for an air conditioner for your home gym, you will need to know the size of your space in addition to the cooling capacity of the machine you're interested in. You certainly don't want to end up with a machine that is not powerful enough to cool the size of your garage gym.
According to Matt, cooling capacity is measured in British Thermal Units (BTUs) per hour (or kilowatts for electric devices) and may be expressed in 'tons of cooling' or BTU/h 12,000 BTU/h is equal to 1-ton of cooling.
Matt's general recommendation for the average garage gym owner is to seek out air conditioner size of 12,000 BTU/h (1-ton) or 9,000 BTU/h (3/4-ton). If you're looking for more clarity on your specific space, there are online calculators or you can consult an HVAC professional to determine the cooling load of your space.
Matt also notes that "When looking at heat pumps, remember that they can heat and cool, not just cool. Generally the heating value is higher than the cooling value. For example, a 12,000 BTU unit can do about 14,000 BTU of heating."
Energy Efficiency
Since air conditioners consume a significant amount of energy, you may want to consider the energy efficiency rating. Not all units disclose this information, but you'll be looking for one of two things: Energy Efficiency Ratio (EER) or Seasonal Energy Efficiency Ratio (SEER) rating. Many ACs will be rated around 14 or 15 SEER, with some of the best and most efficient models ranging from 17 to 20 SEER. Higher ratings can help you save money on your electricity bills in the long run.
Noise Level
Depending on where you live, you may need to consider how much noise the type of air conditioner you're considering will make. Some machines will give you a decibel rating while others will not mention it at all.
Noise level might be important to some folks with young kids, close neighbors, or anyone concerned about being able to hear music while training. Mini split air conditioners with the compressor outside will offer the most quiet option.
Best AC for Garage Gyms FAQs
What is the disadvantage of an AC gym?
The benefits of having an AC in your home gym will likely outweigh the disadvantages, however there are a few things to consider including increased energy costs, additional maintenance, and they can be rather noisy.
What is the benefit of garage AC?
We think the top three benefits of having an AC in your home gym is having temperature control, improved air quality, and the ability to increase your workout efficiency.
What type of AC is best for a garage?
The best air conditioner for your home gym will depend on your unique situation including the size of your garage gym, climate, budget, and windows or wall space needed for the unit you're looking at. Here are some of our top picks:
Best Overall AC for Garage Gyms: MR COOL Mini Split
Best Portable AC for Garage Gyms: Midea Portable Unit
Best Durable AC for Garage Gyms: LG Portable Air Conditioner
Best AC for Humid Climates: Honeywell Portable
Best AC for Dry Climates: Hupro Swamp Cooler