We have affiliate relationships through which we are paid a commission on sales through some of the links on our site. Read our disclosures.
The Squat Rack is the centerpiece for just about every home gym in the world. However, some people don't have the money or desire to buy a pre-made option. This is where the DIY Squat Rack comes in…
I love DIY projects.
I especially love when they're well built and provide an effective piece of equipment for training.
This guide is built based off of two other guides. The parts list is based on Buff Dude's design (they also have an AWESOME YouTube Channel.) The actual build is from Reddit User Holding_my_weiner (great name, right?) HMW said I could post the guide as long as I linked to his Imgur build, so here is that.
This is one the best looking and most functional DIY Squat Racks/Power Racks I've seen. Not only does it look like a beast, the various construction materials and the way it's put together ensure it will perform like a beast for years to come.
Without further ado, I present to you the DIY Squat Rack Guide…
(P.S. If you don't have it in you to DIY, check out my recommendations for the best squat racks you can buy.)
Materials Needed for Squat Rack
8 – 8 Foot 4×4 Douglas Fir or Equivalent Wood
8 – 3×5 Flat Steel Ties (Simpson's Strong-Tie TP 5)
14 – 1/2x2x2 3/4 90 Degree Steel Ties (Simpson's Strong-Tie A23)
1 – 1/8 inch Drill Bit For Pilot Holes
3/4″ Pipe List Needed:
Racking Pins:
2 – Chair Flanges
2 – 1 1/2 Inch Pipes
2 – Pipe Connectors
2 – 4 1/2 Inch Pipes
2 – Caps
Safety bars:
2 – 60 Inch Pipes
2 – 4 Inch Pipes
2 – 90 Degree Elbows
2 – Caps
Pull Up Bar:
Tools Needed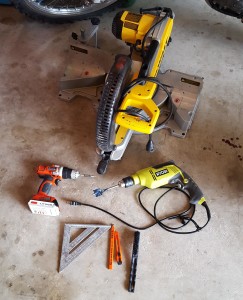 Build Instructions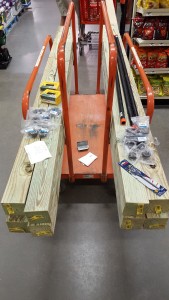 1. Collect the necessary materials.
Any big home store will have all that you need.
One suggestion is to make sure all of your boards are straight and true. Dealing with a warped board is not only difficult but also could cause your rack to fail prematurely.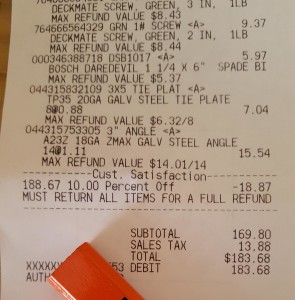 2. Project total should come out to around $200.
All told, the total came out to less than $200.00 from Home Depot. Not too shabby for a rack that should outlast you, if used properlythat is.
You can also see from the receipt some of the items purchased.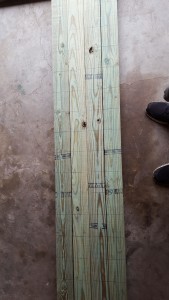 3. Mark Boards 4.5″ center to center. Use the Square to make sure everything is straight.
Although the picture looks slanted, the lines are actually marked correctly.
This is one of the most important parts of the project. Marking the holes incorrectly can lead to incorrectly drilling the holes, and thus causing the rack to be much weaker than it would have been otherwise.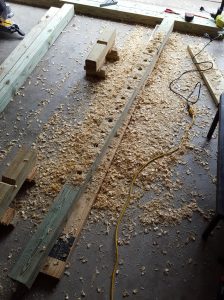 4. Drill the holes for spotter arms and j-cups.
Using the lines you've marked, drill the holes using either a hand drill or a drill press.
A drill press is highly recommended here as off-center, and slanted holes can hurt the structural integrity of the rack. There's not much worse than being worried about whether your squat rack can hold the weight you've just racked.
Although you can definitely accomplish the task of drilling the holes for the spotter arms and j-cups using a hand drill, your results may end up looking like this: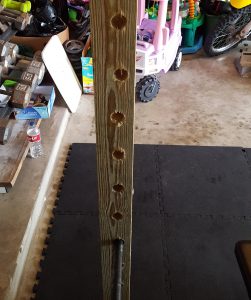 As you can see, the holes are not only off-center, but they're also slanted. This makes it not only difficult to insert the spotter pins but also pretty close to impossible.
Also, because the holes are off-center, the rack is more susceptible to breaking. Something we want to avoid at all costs.
You can also drill holes for the pull-up bar. The location is up to you, I would just make sure it doesn't intersect with the holes drilled for the spotter's arms.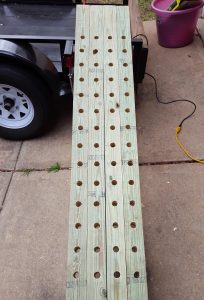 5. Sand and clean up holes.
Take your sander and make sure all of the holes are clean so that the spotter arms can pass through quickly.
You can also sand and stain the posts at this point if there is a particular look you want to achieve.

6. Cut cross pieces.
Using your hand saw or chop saw, cut the 4-foot cross pieces. You will need a total of six 4-foot pieces, with onebeing used optionally, as shown later on.
You will also need to cut the 45-degree pieces used for the bottom corners.
These will provide more structural integrity for the rack and prevent any swaying while using it for things like pullups.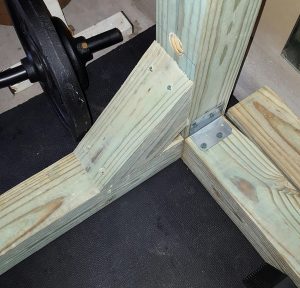 The size of these don't have to be exact. However, I would suggest making them uniform to give the rack a more professional look.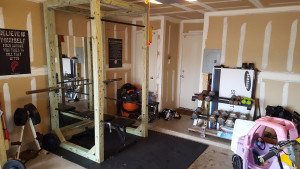 7. Assemble the rack!
Using your various screws, put the rack together.
The best way to do so is starting off on one post at a time, making sure to keep everything level along the way.
Make sure to use your steel ties in the corners as shown here: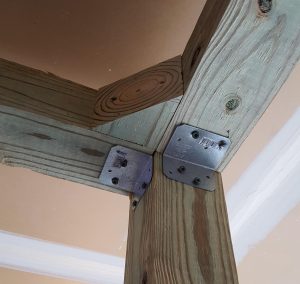 Assembly is pretty self-explanatory.
For extra stability, you can choose to place the optional cross-member at the base of the rack like was done here: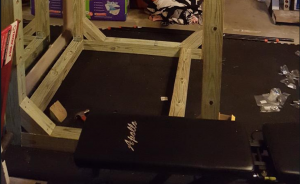 This piece isn't necessary unless you're squatting above 400 lbs. It also helps to keep the rack from swaying during kipping pullups.
8. Admire your work!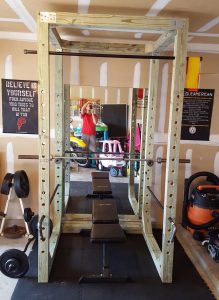 In this picture, you can see how the pull-up bar, spotter arms, and j-cups have been attached.
This bad boy is about as versatile as they come.
What if I Don't Want to Build My Own Rack?
I would much rather buy a squat rack than build one.
I understand the love of Do-It-Yourself Projects – I have a whole section of the website dedicated to them.
But, to me, a rack that will be holding massive amounts of weight and is something i'll be using just about everytime I'm in the gym deserves extra attention.
Here are a couple racks I would suggest:
Rogue Fitness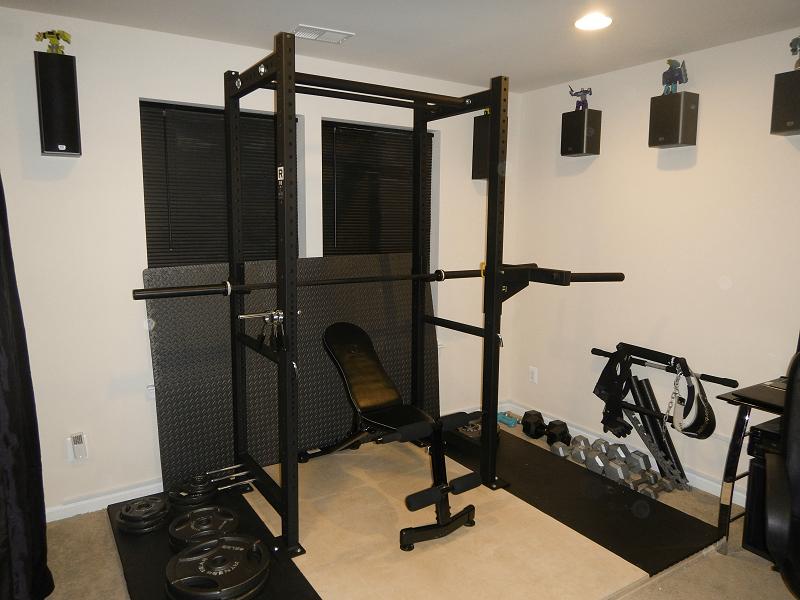 Rogue R-3 Power Rack
Part of the Rogue Infinity R-Series, our original R-3 Power Rack features 2x3" 11 Steel Gauge uprights (90 3/8" tall) with 5/8" holes in the Westside pattern—1" through the bench
This is the power rack I use in my gym as show in "The World's Greatest Garage Gym" walk-through as well as in the Ultimate Home Gym Guide.
You can read my full in-depth review here of the rack, but if you want the tl;dr version, this is the best rack for your money.
Rogue Fitness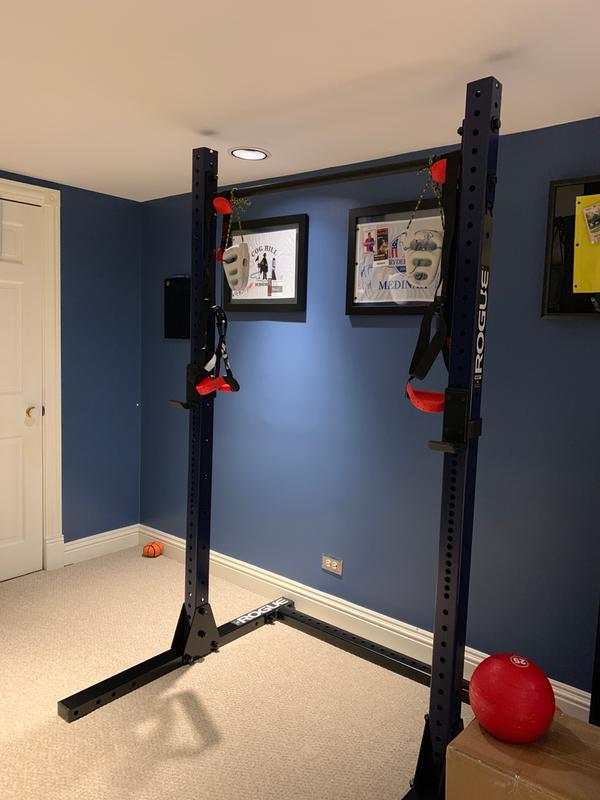 Rogue SML-2 Squat Stand
The SML-2 Monster Lite Squat Stand delivers much of the strength and versatility of a power rack in an efficient, compact frame. Featuring 3x3" 11-gauge steel uprights, an adjustable fat/skinny pull-up bar, and 5/8" holes in the Westside spacing pattern, it's an affordable hybrid of Rogue's 90" S-2 and Monster SM-2 squat stands.The American-made SML-2 is equally equipped for squats, bench, pull-ups, clean pulls, floor press, and more. And with a footprint of just 49" x 48", it's a squat stand well suited to both a garage gym or a large-scale training facility.The SML-2 is manufactured in Columbus, Ohio, using (2) heavy-duty 11-gauge 3x3" square laser-cut steel uprights and (3) 2x3" 11-gauge steel base tubes for optimal stability. The unit includes laser-cut 5/8" diameter holes and SAE grade 5 bolt hardware. The finish is our signature black powdercoat.While it's called a squat stand, the 90" SML-2 can be used much like a full-scale power rack, from bench work to pull-ups, clean pulls, floor press, and more. The unit has a weight capacity of 1,000 LBS, but creates just a 49" x 48" footprint in your gym, making it a space efficient option that gives up little in functionality.Every weld and laser-cut at Rogue is inspected individually at each step of the process for integrity and appearance. Every part is again individually inspected for finish after the powder coat process. The entire package receives a final comprehensive quality assurance check before it's shipped. Once in use, the SML-2 is guaranteed by Rogue for Life.Even without custom additions, the SML-2 comes with all of the hardware and basic accessories necessary to have a pro-caliber squat stand at your disposal. This includes all necessary 5/8" bolts and fasteners, a pair of Monster Lite J-Cups (with protective UHMW plastic inserts), and your choice of either a Fat/Skinny or Single Pull-Up Bar.
This is actually the first rack I ever had. This is more than enough for just about everybody.
It can hold a tremendous amount of weight and also gives you the ability to do pull-ups.
You can find my full review of it here: Rogue SML-2 Squat Stand Review
Final Thoughts
The DIY Squat Rack is a fun build.
There are a few problems inherent in the build, however.
First, I would make sure you use the heaviest-duty materials possible. This rack could potentially save your life someday.
I'd also suggest buying a commercial rack if you're going to be squatting or pressing over 400 lbs. Wood, although strong, is not as strong as steel. You can also get a mighty fine steel rack for not a whole lot more than a wood rack.