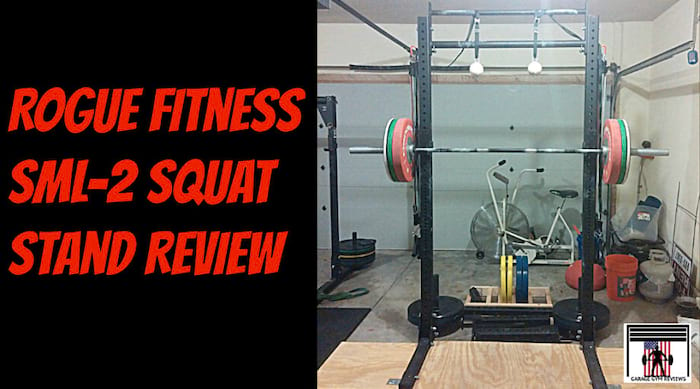 The main difference between the different squat stands is the gauge of the steel, width of the uprights, and hardware used to keep the racks together. They have the Echo, Infinity, Monster Lite, and Monster lines. For the majority of the population the Echo and Infinity lines are more than enough. All of the lines use 7 gauge steel except for the Monster which has 11 gauge steel. The left over difference then comes down to the width of the uprights. The Echo is 2x2, Infinity 2x3, Monster Lite is 3x3, and the Monster is 3x3 with the addtion of 11 gauge steel and heavier duty hardware. Do you need thicker gauge steel? Do you need heavier duty hardware? Do you need wider uprights? I'll answer this question for most of you... NO! But if you like the look and the security of knowing the rack can hold 10x more than you'll ever squat than you have my permission to splurge--like I did.
How it was acquired:
I purchased this bad boy straight off of Rogue's website along with a Rogue Ohio Bar and their HG plates which both will be reviewed later on. As I'm sure many reading know, Rogue ships fast! So I received like 3 days later after ordering it and had free shipping because I combined a bar and plates along with the rack.
Total Cost: $607.75 including Monster Lite Safety Spotter Arms
Fat/Skinny Combination Pull Up Bar:
When you go to purchase the Squat Stand there is a drop down asking if you want a single skinny bar, or the combination of the fat and skinny bar. Due to my height (5'10"), I knew that purchasing the combination skinny and fat bar wouldn't be a problem. That being said, for the majority of people I would suggest purchasing the single skinny bar. The reason is because for most reading this, you are doing Crossfit workouts and will not use the fat bar very often. Secondly, the bar is bolted to the rack so flipping it can take some time, well at least it did until I did a little modification that I'll explain later in this review. I've also seen it suggested and can see how it would work wonderfully if you have the tools to purchase the combination bar and just cut it in half, giving you two bars. That being said if you're doing mostly metcons, go for the skinny bar, its the one you'll find in any Crossfit Gym and the one you'll use most often.
The J-Cups that come with the Squat Stand are out of this world! First, they're made out thick powdercoated steel, and weigh around 7.5 lbs. a piece. More importantly, they're rated to hold a 1000 lbs. I've seen very few people walk out a bar weighing a grand from a squat rack outside of 'Captain' Kirk Karwoski (video here) but if you wanted to, these J-Cups are rated for that heavy of a bar. One thing I really like about Rogue is their attention to detail. The welds on the J-Cups are all even and clean, and to protect the knurling on your bar they bolt UHMW plastic on top of the J-Cups. Just put the J-Cup in the rack horizontally, once all the way in drop it to vertical and they are locked in ready to take any abuse you throw at them. In fact, I was once Overhead Squatting at a Crossfit Gym that had a Rogue Rig and I dropped the bar with 225# from overhead on the J-cups, and they barely even budged. (Don't test this out though)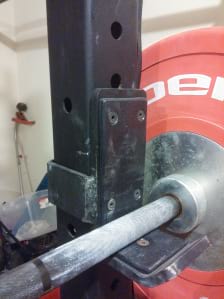 I can not stress enough that if you'll be benching alone using the Squat Stand that you should purchase the Safety Spotter Arms. You do not want to be pinned by a heavy bar by yourself in your garage, that's how people die and stories come out every year about some kid putting too much weight on the bar and choking himself out Cold Stone Steve Austin style with a bar on his neck. Don't be that guy. The Spotter Arms look like a machine gun and often when I'm putting then on my rack I'll pretend I'm Rambo (just another added benefit.)
The Spotter arms come with the same UHMW plastic to protect your bar, and also have hitch pins to keep the spotter arms in place although I don't think they're needed. I've used the Safety Spotter arms for everything from a DIY Reverse Hyper which I will soon be building and explaining to rack pulls and box jumps. I've also used it as a makeshift work bench which I will also create a DIY post for later on. The only downside about the Monster Lite series is the accessories cost more due to them being heavier duty, but I'm glad I went the route I did.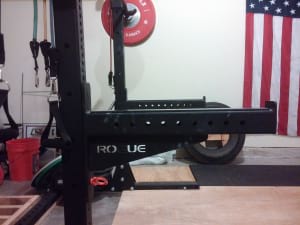 Can you Kip on it?:
Well yes, sorta. As it comes it will rock when kipped on. However if you put some weight on, I used sandbags when I first got it, it will stand up pretty well to any kip/toes to bar you throw at it. Granted if you can, I would bolt it to a platform like I did. The problem with just putting the weight on the base is that it still rocks and moves some, but it's still usable. I went ahead and bought an Again Faster Home Pullup Bar to hang on my ceiling that has made doing butterfly pull-ups on a breeze.