We test and review fitness products based on an independent, multi-point methodology. If you use our links to purchase something, we may earn a commission. Read our disclosures.
The Rogue SML-2 Squat Stand is one of the best squat stands available. It's stout, has many accessories available, and is priced really well. We highly recommend the SML-2 for anyone that wants a squat stand that doesn't take up a ton of space.
Rogue Fitness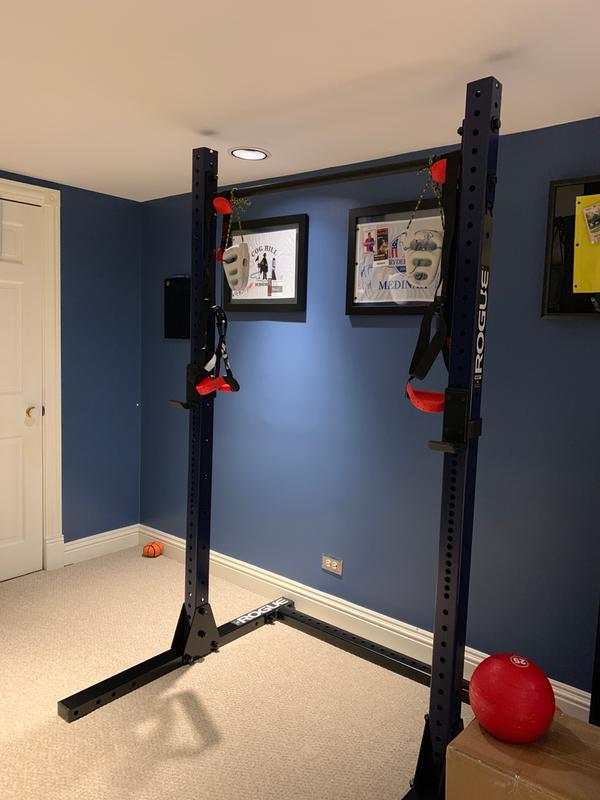 Rogue SML-2 Squat Stand
The SML-2 Monster Lite Squat Stand delivers strength and versatility all while remaining compact and efficient. It has 3x3 foot 11-gauge steel uprights, a fat/skinny pull-up bar that is adjustable, and ⅝-inch holes in Westside spacing pattern. It is often referred to as the affordable hybrid of Rogue's S-2 and Monster SM-2 Squat Stands. The options are limitless as you can use it for squats, bench, pull-ups, clean pulls, floor press, and more. Its footprint is only 49 x 48 inches, making it perfect for garage training or a gym facility. American manufacturers use two heavy-duty 11-gauge 3x3 foot square laser cut steel uprights and three 2x3 foot 11-gauge steel base tubes to provide the rack with stability. The unit also comes with laser-cut 5/8 inch diameter holes and SAE grade 5 bolt hardware. The SML-2 Monster Lite Squat Stand features Rogue's signature black powder coat finish. It may be referred to as a squat stand, but it can also be used like a full-scale power rack. It has a weight capacity of 1,000 pounds, but only takes up 49 x 48 inches, making it functional and efficient. This product is made in Columbus, Ohio. Each part of the process is monitored and inspected by Rogue workers. This means each weld and laser-cut is monitored to keep up with the rack's integrity and appearance. Furthermore, Rogue individually inspects the final parts after the final coating process as well. The final package will also receive one last final comprehensive check before it gets shipped. Once in use, the SML-2 Monster Lite Squat Stand is guaranteed by Rogue for life. With your SML-2 Monster Lite Squat Stand also comes any hardware and basic accessories necessary to build and use your stand. This even includes all ⅝-inch bolts and fasteners you  need, a pair of Monster Lite J-Cups (with protective UHMW plastic inserts), and your choice of the Fat/Skinny or Single Pull-Up Bar. 
Rogue Fitness in my opinion is the premier garage gym equipment supplier. They have everything with top notch quality and service. I've seen so many stories of somebody complaining about something going wrong with their order or shipping and the owner Bill Henniger personally making things right. That among other reasons are why I have a lot of Rogue gear in my garage and that's why the centerpiece to my garage is the Rogue SML-2 Squat Stand.
Rogue SML-2 Squat Stand Review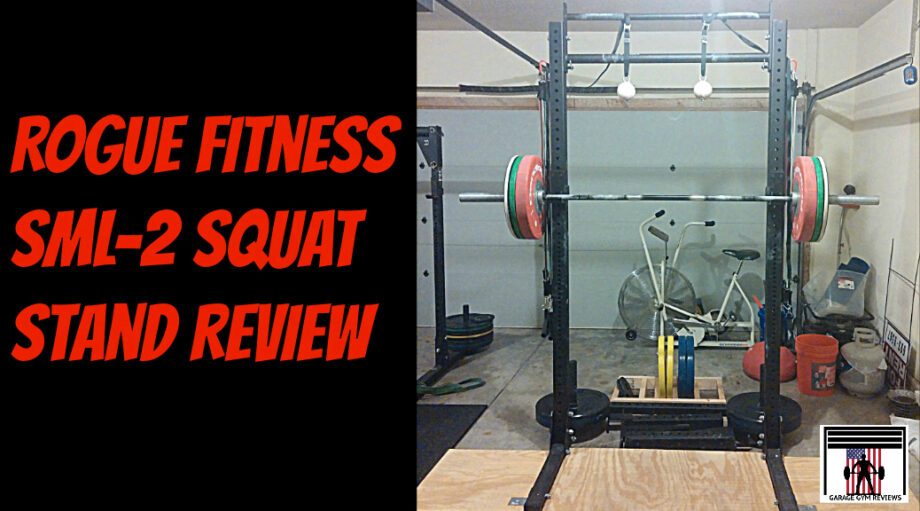 The main difference between the different squat stands is the gauge of the steel, width of the uprights, and hardware used to keep the racks together. They have the Echo, Infinity, Monster Lite, and Monster lines. For the majority of the population the Echo and Infinity lines are more than enough. All of the lines use 7gauge steel except for the Monster which has 11 gauge steel. The left over difference then comes down to the width of the uprights. The Echo is 2×2, Infinity 2×3, Monster Lite is 3×3, and the Monster is 3×3 with the addtion of 11 gauge steel and heavier duty hardware. Do you need thicker gauge steel? Do you need heavier duty hardware? Do you need wider uprights? I'll answer this question for most of you… NO! But if you like the look and the security of knowing the rack can hold 10x more than you'll ever squat than you have my permission to splurge–like I did.
How it was acquired:
I purchased this bad boy straight off of Rogue's website along with a Rogue Ohio Bar and their HG plates which both will be reviewed later on. As I'm sure many reading know, Rogue ships fast! So I received like 3 days later after ordering it and had free shipping because I combined a bar and plates along with the rack.
Total Cost: $607.75 including Monster Lite Safety Spotter Arms
Fat/Skinny Combination Pull Up Bar:
When you go to purchase the Squat Stand there is a drop down asking if you want a single skinny bar, or the combination of the fat and skinny bar. Due to my height (5'10"), I knew that purchasing the combination skinny and fat bar wouldn't be a problem. That being said, for the majority of people I would suggest purchasing the single skinny bar. The reason is because for most reading this, you are doing Crossfit workouts and will not use the fat bar very often. Secondly, the bar is bolted to the rack so flipping it can take some time, well at least it did until I did a little modification that I'll explain later in this review. I've also seen it suggested and can see how it would work wonderfully if you have the tools to purchase the combination bar and just cut it in half, giving you two bars. That being said if you're doing mostly metcons, go for the skinny bar, its the one you'll find in any Crossfit Gym and the one you'll use most often.
The J-Cups that come with the Squat Stand are out of this world! First, they're made out thick powdercoated steel, and weigh around 7.5 lbs. a piece. More importantly, they're rated to hold a 1000 lbs. I've seen very few people walk out a bar weighing a grand from a squat rack outside of 'Captain' Kirk Karwoski (video here) but if you wanted to, these J-Cups are rated for that heavy of a bar. One thing I really like about Rogue is their attention to detail. The welds on the J-Cups are all even and clean, and to protect the knurling on your bar they bolt UHMW plastic on top of the J-Cups. Just put the J-Cup in the rack horizontally, once all the way in drop it to vertical and they are locked in ready to take any abuse you throw at them. In fact, I was once Overhead Squatting at a Crossfit Gym that had a Rogue Rig and I dropped the bar with 225# from overhead on the J-cups, and they barely even budged. (Don't test this out though)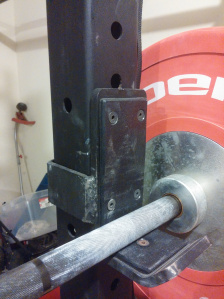 I can not stress enough that if you'll be benching alone using the Squat Stand that you should purchase the Safety Spotter Arms. You do not want to be pinned by a heavy bar by yourself in your garage, that's how people die and stories come out every year about some kid putting too much weight on the bar and choking himself out Cold Stone Steve Austin style with a bar on his neck. Don't be that guy. The Spotter Arms look like a machine gun and often when I'm putting then on my rack I'll pretend I'm Rambo (just another added benefit.)
The Spotter arms come with the same UHMW plastic to protect your bar, and also have hitch pins to keep the spotter arms in place although I don't think they're needed. I've used the Safety Spotter arms for everything from a DIY Reverse Hyper which I will soon be building and explaining to rack pulls and box jumps. I've also used it as a makeshift work bench which I will also create a DIY post for later on. The only downside about the Monster Lite series is the accessories cost more due to them being heavier duty, but I'm glad I went the route I did.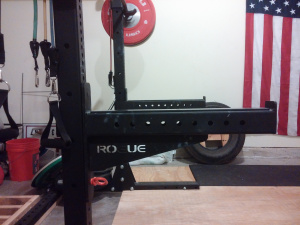 Can you Kip on it?:
Well yes, sorta. As it comes it will rock when kipped on. However if you put some weight on, I used sandbags when I first got it, it will stand up pretty well to any kip/toes to bar you throw at it. Granted if you can, I would bolt it to a platform like I did. The problem with just putting the weight on the base is that it still rocks and moves some, but it's still usable. I went ahead and bought an Again Faster Home Pullup Bar to hang on my ceiling that has made doing butterfly pull-ups on a breeze.
Modifications
On nearly anything I buy, I do some sort of modification to make it suit my preferences. The first modification I made was taking the side plate storage that came with my Rogue Y-1 Yoke and putting it on the base of the stand as seen here: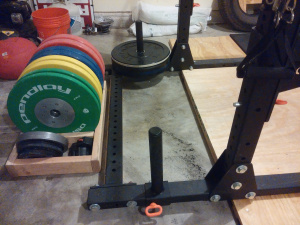 Next, I took the bottom bolts off of my combination pull-up bar and put trailer hitch pins that way I can spin the bar from Fat to Skinny easy and without having tools. You can see it here: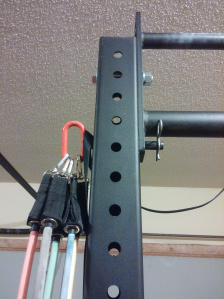 The last modification I made was bolting the Squat Stand to my weightlifting platform. I went to Home Depot and purchased two L brackets, bolts, washers, and lag bolts and bolted it down. In order to make the Squat Stand even with the platform I took a 2×4 and put it under the back of the base and used commercial double sided tape to keep it from shifting around. It's worked out great. You can see pictures of the details here.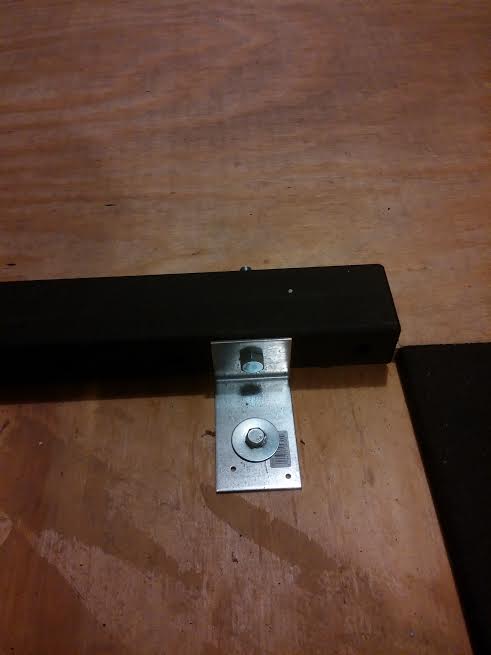 For further details on the modifications including how to build the platform check out my DIY Instructions here: DIY Weightlifting Platform with Squat Stand Attached
Final Thoughts
Would I buy another one? No, only because I also have a Rogue Y-1 Yoke and find it more versatile. If I could do it over again I would buy the Y-1 Yoke instead of the Squat Stand and buy another stand-alone pull-up bar. I also now have a Rogue R3 (click to read my review) which in my opinion is one of the best power racks available. However, if you'd like a Squat Stand that is mobile, takes up little space, and includes a pull-up bar I would highly recommend you check out the Squat Stands from Rogue. Their customer service is excellent, and the quality of their equipment is even better.
Full Rating
Rogue SML-2 Squat Stand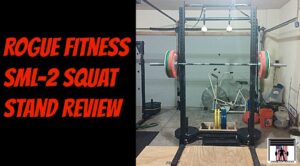 The Rogue SML-2 Squat Stand is one of the best squat stands available. It's stout, has many accessories available, and is priced really well. We highly recommend the SML-2 for anyone that wants a squat stand that doesn't take up a ton of space.
Product Brand: Rogue Fitness
Product Currency: USD
Product Price: 460
Product In-Stock: InStock
Rogue SML-2 Squat Stand FAQs
What is the best Rogue squat rack?
Rogue carries a lot of the best squat racks. One of the best squat stand is the Rogue SML-2 squat stand.
How tall is the Rogue SML 2 squat stand?
TheRogue SML 2 squat stand is 92″.
Can you use Rogue squat rack for bench press?
However, because of its unusual adaptability, it can be used for squats, bench presses, clean pulls, floor presses, overhead presses, and much more.