We test and review fitness products based on an independent, multi-point methodology. If you use our links to purchase something, we may earn a commission. Read our disclosures.
High-protein meals are so important for both building muscle and controlling hunger. Protein, especially from animal sources, contains the critical amino acids we need to build muscle quickly and efficiently. Also, it is digested slower in the stomach than the other macronutrients, which makes it a great tool for controlling hunger and minimizing the need for extra snacks or cravings.
RELATED: High-Protein Foods
Even so, it can become rather monotonous to eat the same meals day in and day out just as it can become monotonous to repeatedly rack your brain for new meals that are both exciting to eat, but also contain a sufficient amount of protein in them.
So, we've put together a list of flavorful and diverse high-protein meals you can use to shake up your new meal prep or even make for dinner tonight. You can choose from breakfast, vegan, or sheet pan options, all of which have at least 28 grams of protein to keep you satisfied and well-nourished.
Medical disclaimer: This article is intended for educational and informational purposes only. It is not intended as a substitute for medical advice. For health advice, contact a licensed healthcare provider.
20 High-Protein Meals
Serves 4; Per Serving – Calories: 397 | Carbohydrates: 42g | Protein: 36g | Fat: 17g
Sheet pan meals are some of my favorite meals because, if you're someone who does a lot of meal prep, you know the pain of that sink full of dirty dishes! This meal of colorful peppers and shrimp can be cooked entirely on a single sheet pan, which makes cooking in bulk super easy and can double as a quick weeknight dinner after a long day. Finally, shrimp is one of the best sources of lean protein given its favorable macronutrient ratio. For 100 grams of shrimp, you'll get about 25 grams of protein and virtually zero carbohydrates or fat, and it's a delicious way to increase your protein intake.
RELATED: High-Protein, Low-Fat Foods
Serves 6; Per Serving – Calories: 383 | Carbohydrates: 35g | Protein: 33g | Fat: 14g
This chili features a lot of canned foods on the ingredient list, which I love. In my opinion, people are majorly sleeping on canned vegetables due to a stigma that they are not good for you. On the contrary, canned fruits and vegetables are associated with higher intakes of certain nutrients and a higher quality of diet overall, according to a study conducted in 20161. They also tend to not turn brown in the bottom of your fridge because you didn't get around to cooking them in time (you know you've done it!).
Serves 4; Per Serving – Calories: 398 | Carbohydrates: 35g | Protein: 29g | Fat: 14g
Asian cuisines like Korean food are some of my favorites to cook because of the deep flavors and the ease of balancing the meal. A well-seasoned protein, some stir-fry veggies on top of some rice, and you're good to go. With this recipe, I would just recommend choosing a 97% beef rather than the suggested 85%. Not only because it'll lower the saturated fat content of the recipe, but leaner beef tends to have more protein ounce for ounce. That's because 15% of the weight doesn't get drained off, leaving you with more meat in your meal.
Serves 6; Per Serving – Calories: 404 | Carbohydrates: 31g | Protein: 49g | Fat: 8g
The traditional Mediterranean Diet (abbreviated to the MedDiet in the dietetics and medical world) has been ranked by the U.S. News and World Report as the healthiest diet there is six years in a row. That's due to epidemiological studies consistently showing that those who follow the MedDiet have lower incidences of cancer and heart disease along with a higher life expectancy2. So, it just feels right to have a Mediterranean burger on this list, and the addition of feta and homemade yogurt sauce give it a nice twist. For some added bulk and micronutrients, it is definitely recommended that you add the optional veggies to the burger.
Serves 3; Per Serving – Calories: 364 | Carbohydrates: 39g | Protein: 30g | Fat: 8g
This far down the list it seemed appropriate to give you good people a breakfast option. The addition of protein powder gives this French toast a good boost in protein content. Vanilla is recommended, but a chocolate or even a cinnamon flavored one could be a hit. This is a quick and easy recipe that you can whip up in a matter of minutes, and that you can pair with some eggs or chicken sausage for an even bigger protein boost. At the very least, though, I would recommend topping these with some fresh fruit like strawberries, blueberries, or bananas for some flavor and fiber.
Serves 6; Per Serving: Calories: 376 | Carbohydrates: 26g | Protein: 36g | Fat: 15g
For readers who like a more "elevated" dish, here's one that's high in protein and packed with veggies. Don't get too intimidated, though, as this is another sheet pan recipe, so you don't need culinary skills that are too advanced to make it. It's also another great option for high protein meal prep because it also includes two servings of vegetables per serving. Just add a healthy carbohydrate source like brown rice, quinoa or whole grain barley as a bed and this would make a solid pre-workout meal.
Serves 2; Per Serving – Calories: 356 | Carbohydrates: 15g | Protein: 31g | Fat: 19g
Here's a nice low carb meal, if you're looking for one on this list. Pork chops are a good way to throw some variety into your protein sources. There are times when all of us need a break from the usual ground turkey and chicken recipes that we prepare. The addition of parmesan cheese, garlic, and thyme also gives this recipe a nice, comfort food feel that probably beats your typical meal prep lunch.
Serves 4; Per Serving – Calories: 399 | Carbohydrates: 48g | Protein: 35g | Fat: 7g

I love burrito bowls as a high protein meal because the inclusion of chicken breasts, black beans, and even Greek yogurt as a substitute for sour cream can rack up some healthy protein calories pretty effortlessly. Also, who doesn't love a good old Chipotle burrito bowl after a hard workout? The good thing about this recipe is that it lets you enjoy something just as good while saving some cash at the same time.
Serves 4; Per Serving – Calories: 472 | Carbohydrates: 40g | Protein: 28g | Fat: 23g
Let's shake up the status quo of ground beef and ground turkey tacos with something we all love: salmon! We do know that salmon can be kind of pricey, so if you are still interested in making this recipe without breaking the bank, consider buying canned salmon or salmon in pouches. A tasty cabbage slaw will add some much-needed fiber to keep you feeling full and is a nice change from your traditional pico de gallo as a topping. It will add some nice flavor and color to the dish!
Serves 1; Per Serving: Calories: 514 | Carbohydrates: 63g | Protein: 37g | Fat: 14g
If you've been in the space of eating for fitness long enough, you've likely heard of protein pancakes. This recipe in particular is a great way to start your day off as it includes both protein powder and soluble fiber from oats, so you should feel nice and full until lunchtime after these babies. Just make sure you pick a protein powder that has at least 30 grams per scoop. A little pro tip? The best way to ensure that your pancakes do not burn or undercook is to start with smaller pancakes.
RELATED: Best Protein Powder for Muscle Gain
Serves 2; Per Serving – Calories: 470 | Carbohydrates: 30g | Protein: 51g | Fat: 19g
This is a healthy variation of a Mexican classic that uses low fat cheese, Greek yogurt, and avocado, so it has a lower saturated fat than one would typically find in enchiladas. It also uses egg whites as a tortilla substitute for an even higher protein content. That said, if you want to use it for a pre-workout meal, you'll want to find a good carb source to pair it with.
Serves 15; Per Serving – Calories: 343 | Carbohydrates: 21g | Protein: 28g | Fat: 17g
Pin this one for your meal prep! With this recipe, you will be able to keep yourself stocked up with protein-heavy lunches for the entire week as it makes a whopping 15 servings. These burritos get their spice and nice kick from chipotle peppers and chili powder, so don't worry about having a bland meal. I would recommend wrapping the leftovers in aluminum foil and rewarming them in the oven to keep the tortillas crisp and warm rather than soggy.
Serves 4; Per Serving – Calories: 302 | Carbohydrates: 16g | Protein: 30g | Fat: 13g
Extra lean ground beef and peanut butter? Both of these foods are known to be good sources of protein, but I am sure that we would never have thought of eating them together as one dish. This stir fry also features cabbage, which is a wonderful vegetable to start making a regular appearance in your home considering it's high in vitamin K, a nutrient good for your blood and bone health. The price of cabbage is also extremely affordable when compared to other vegetables, so you can make your own version of takeout that's a lot more healthful.
Serves 4; Per Serving – Calories: 494 | Carbohydrates: 50g | Protein: 31g | Fat: 20g
Here's a high protein dinner that's packed with superfoods for a filling, healthy meal. The addition of sweet potato, broccoli, and bell pepper make these bowls a feast for the eyes, as well, and many a dietitian will tell you that color on your plate (or in your bowl) is so important. The range of antioxidants present in different vegetables is what is responsible for their different colors. For example, lycopene is an antioxidant that is known to be preventative for a wide array of health conditions and also gives tomatoes its rich red color3. Beta carotene is a powerful antioxidant that helps reduce inflammation in the body and is also responsible for giving sweet potatoes their orange pigment4. You get the point. Basically, a meal that includes vegetables with a variety of colors exposes you to a wide range of antioxidants and this chicken recipe is a good way to do that.
Serves 1; Per Serving – Calories: 619 | Carbohydrates: 80g | Protein: 40g | Fat: 18g
This is a protein-packed breakfast that's a total cliche as far as social media is concerned. Everybody is all about their overnight oats these days, but with 40 grams of protein…do we really care? This particular variation includes walnuts, chia seeds, and peanut butter. However, the fun thing about overnight oats is you can totally make it your own and add whatever fun toppings fit your fancy. Just make sure to still include the correct ratio of liquid to oats so you get a suitable consistency.
Serves 4; Per Serving – Calories: 664 | Carbohydrates: 92g | Protein: 40g | Fat: 16g
Hey, vegans! Sorry it took so long, but your time has come. This meal prep recipe gets its 40 grams of protein from tempeh and lentils, the latter of which is such a wonderful source of protein. Various studies show that lentils contain the highest amounts of starch and insoluble fiber, as well as prebiotic carbohydrates that help maintain a healthy gut microbiota which can help maintain colon health5.
RELATED: Best Vegan Protein Powder
When you add the whole-grain protein source of quinoa, plus some kale and sweet potatoes, not only is this a protein-packed recipe, but one that's sure to keep you full and satisfied. The best part though, is the vegan sour cream that goes on top. It's made from cashews, so you get slightly more protein, some heart healthy fats and none of the saturated fat you'd get from traditional sour cream.
Serves 4; Per Serving – Calories: 388 | Carbohydrates: 4g | Protein: 39g | Fat: 22g
Here's a recipe for those of you who follow a keto or low-carb diet. Instead of the traditional breadcrumbs that are normally used in meatballs, this one calls for pork rind panko to keep the carb content low. It can also be used, however, as a substitute for those who eat gluten-free. The protein comes from Italian sausage and has relatively few ingredients outside of that, so it's easy to put together and can cook in as little as 18 minutes. Add it with some zucchini noodles or other vegetable pasta if you want to add some bulk and make this recipe a full, high protein dinner.
Serves 4; Per Serving – Calories: 343 | Carbohydrates: 34g | Protein: 32g | Fat: 9g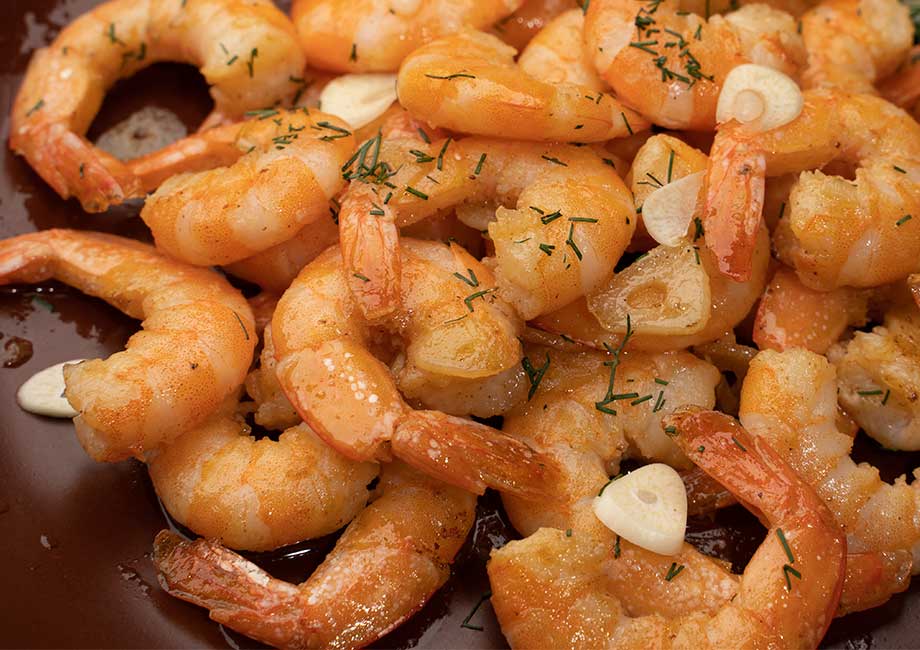 OK, so I know quinoa is making an appearance once again on this list, but hear me out. This is a whole-grain source of complete protein and one of the rare plant proteins that have these bragging rights. This means quinoa has both non-essential and essential amino acids just like whey protein or even shrimp, so it can double as both a carb and protein source. This recipe is also a freezable one that can be kept in the freezer for up to three months. In other words, if you are looking for a healthy meal recipe that you can keep on hand for those times when you are in a pinch for dinner, then this could be the right recipe for you!
Serves 2; Per Serving – Calories: 760 | Carbohydrates: 50g | Protein: 50g | Fat: 42g
Using chicken thighs and a low-sodium Thai peanut sauce, this is a flavorful meal you can make in one skillet. Also, it contains grated zucchini, one of the few vegetables with a surprising amount of vitamin C in it; one large zucchini is able to provide nearly 100% of the daily value of vitamin C! We are also loving the amount of veggies in this recipe in general with carrots, two types of onions, and cabbage to boot. Just be sure to add some carbs if you're going to be enjoying this around training time.
Serves 3; Per Serving: Calories: 867 | Carbohydrates: 90g | Protein: 36g | Fat: 42g
Last, but not least, we have one more vegan recipe for you. A 2014 study showed that, when compared to other diets, people who follow a vegan diet tend to have the lowest calorie intake and the lowest protein intake6. This can make it particularly difficult for vegans to bulk up within the constraints of their diet given that you need to be in a significant calorie surplus in order to build muscle mass. So, we present to you a high-protein, high-calorie meal made from economical ingredients that's perfect for those of you who are plant-based and trying to eat more. Despite the high calorie and fat count, this is a low-saturated fat dinner recipe. Finally, this recipe features a good amount of cilantro, which has been shown to be protective against heart disease7.
High-Protein Meals: Final Thoughts
As a sports dietitian, I preach to my athletes (much to their exhaustion) about how important it is to include a solid amount of protein in every meal, especially if they hold a lot of muscle on their body and protein intake needs to remain high to maintain that lean mass.
RELATED: How Much Protein Do I Need?
Studies have also shown that keeping your protein intake consistently and evenly distributed between your main meals (breakfast, lunch and dinner) stimulates muscle growth more effectively than when much of your day's protein is skewed toward one meal8. So, if gaining and maintaining muscle is your goal, pre-planning your meals with recipes like the ones above can make a huge difference.
Additionally, you should make sure your meals are balanced in terms of macronutrients and that they are always accompanied by some kind of fruit or vegetable so that you are maintaining nutrition through micronutrients, as well. Finally, make sure you choose recipes that are fitting for your cooking level, budget, and time in your schedule to be sure you're adopting an eating pattern you can sustain.
High-Protein Meals: Q&A
What foods are high in protein for dinner?
Seafood like shrimp and tuna are great high protein foods for dinner given their low fat content. This means that they can deliver more protein ounce for ounce than higher fat meats like beef ribs and pork sausage.
What are the 10 highest protein foods?
A few of the highest protein foods that come from animals include tuna, venison, turkey leg, lean ground pork, and tilapia, ranked in order of highest to lowest protein content. Also ranked from highest to lowest protein content, the highest protein foods that come from plants are seitan, lentils, tempeh, almonds, and sunflower seeds.
What are five high-protein foods?
Five of the most common and economical high-protein foods are chicken breasts, pork loin, eggs, tuna, and tilapia.
What are easy high-protein foods?
The easiest high-protein foods are probably the ones you'll find in a can which can save you money in the long run and won't spoil as quickly as fresh protein. Additionally, you can easily add it to recipes without working about as much prep or cooking time. Examples of these foods are canned tuna, salmon, lentils, and black beans.
These statements have not been evaluated by the Food and Drug Administration. This product is not intended to diagnose, treat, cure, or prevent any diseases.
References