Titan Fitness kind of came out of nowhere and had really begun catching the attention of many home gym owners.
I started seeing Titan Racks being talked about a little over a year ago and the question that always came up was, "how can they sell these racks for so cheap?"
And I've wondered too. In fact, I was so curious that I bugged Titan Fitness until they gave me an answer. That answer was, "Trade Secrets =p." So, not much of a reply, but I'd guess it's related to running tight margins, having good relationships with overseas manufacturing plants, and skimping on some features that could be viewed as "non-essential."
Looking at Titan as a company, it becomes quite apparent that they are first and foremost a ramp and forklift attachment company who saw a need in the fitness market and have capitalized.
Unlike other companies trying to keep up with Rogue, Titan has shown that innovation is great for some, low prices are great for most.
Is the T-3 the greatest, sturdiest, best power rack of all time? No, it's not. And that's not Titan Fitness' goal. In fact, one could argue, and I will argue that Titan Fitness is trying to fill a need in the industry and that is slightly cheaper made racks, for a whole lot less money.
And that's exactly what they've done with the Titan T-3 Power Rack.
Titan T-3 Details
Looking at the stat sheet for the Titan T-3, it appears that there really isn't much difference between it and the Rogue R-3.
Here are some details:
2x3" 11-gauge steel uprights.
1" hole spacing through bench area.
Black powder-coat
Bolted to ground
Skinny and Fat Pull-up Bars
90" tall
Now, I could go through every detail of the rack, but what everyone wants to know, is how does it stack up to the Rogue R-3. Therefore, let's just dive right in.
I've gone into great detail on the Rogue R-3, but now let's see how the Titan stacks up.
First, let's look at them from an overall perspective.
In all my testing, including using one that was bolted to the ground, I did not find a significant difference in stability between the R-3 and the T-3. It would go without saying that a welded unit like the Rogue R-3 will be more stable overall, but, in use, I didn't really notice any differences.
And that's a pretty big deal because the T-3 is a completely bolted together unit. This means it's more portable and easier to adjust depending on your foundation than the R-3. The bolts may, however, lead to more maintenance to keep tight and less durability. But again, I don't find the welded aspect of the Rogue R-3 to be a significant benefit over the T-3.
One aspect of the R-3 that outdoes that of what Titan offers is the powder-coat.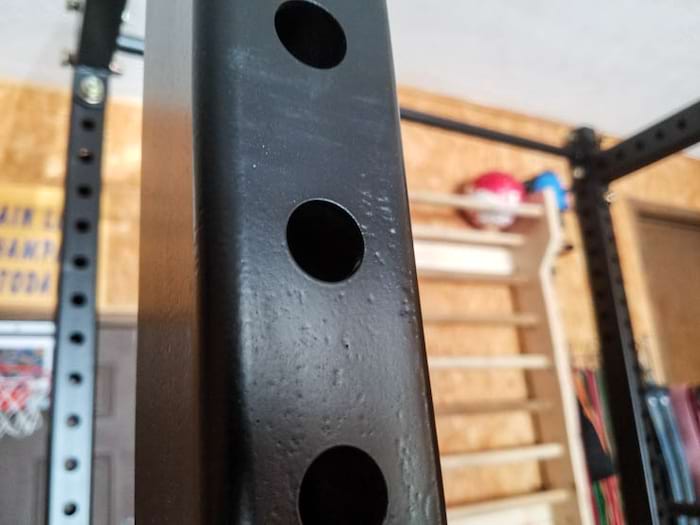 After much back and forth with Titan Fitness, they have assured me that the T-3 is powder-coated and not simply painted as many have claimed. I have no real way of saying for certain that they're telling the truth other than to trust their word. (I have no reason not to at this point.)
Although the Titan rack is powder-coated, it's certainly not the best quality. As you can see in the above picture, saying the powder-coat lacked uniformity would be an understatement. It's spotty, and not even throughout.
I decided to test how durable it was by jamming the J-Cup against it and even went to the length of scratching each upright with a dull razor blade. Here are the results: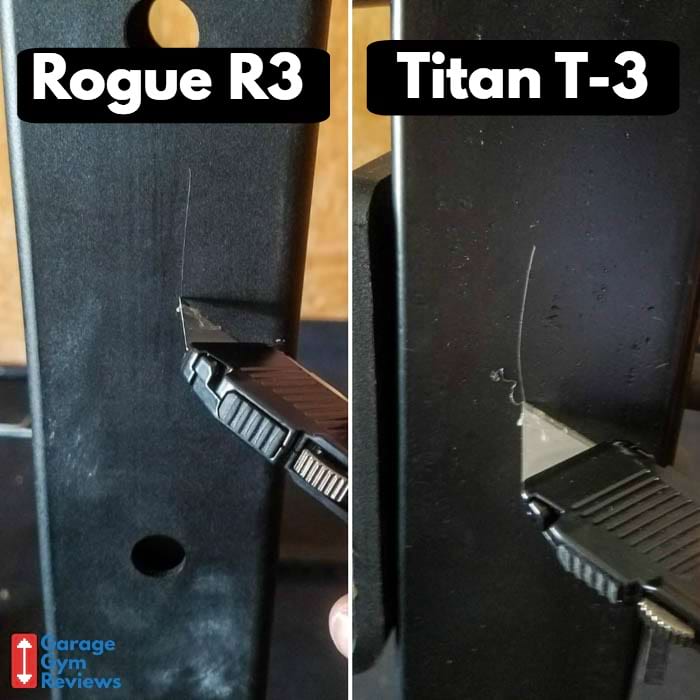 As you can see, the Rogue R-3 was more resistant to scratching and after rubbing the scratches, the one on the Rogue pretty much blended in. The scratch on the Titan T-3 stood out plain as day.
The question you need to ask yourself is, how much does that matter to you? I don't baby my power rack, and so there are scratches, rust, and chalk all over it. What matters though is that it does not affect the performance of the rack. Despite there being scratches, the Titan T-3 is not going to perform any worse than before it had scratches.
Another aspect that Rogue outshines Titan is in their welds.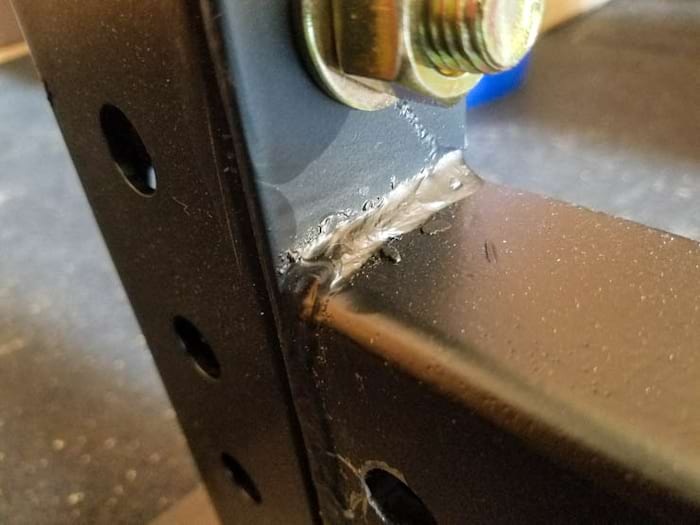 Man, Titan's welds are ugly. There's really no getting around that.
But again, there's a reason they're able to keep their costs so low. If minor details like the appearance of the welds on the rack annoy you, then Titan probably isn't a company you'd buy equipment from anyways.
Here's a shot of the welds on the J-Cups: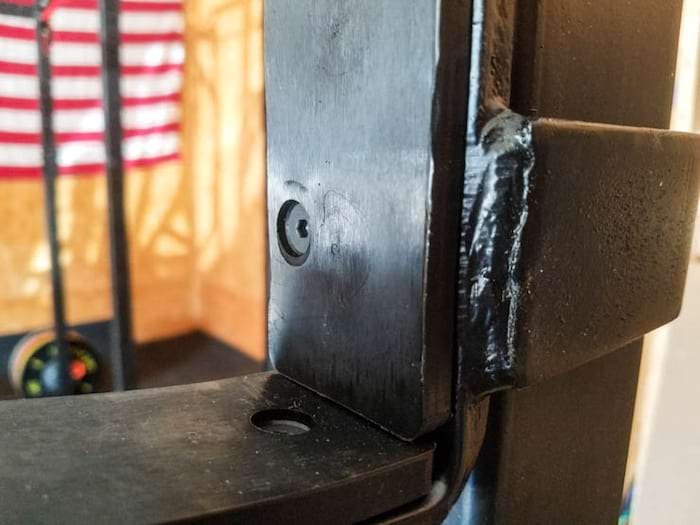 Speaking of J-Cups, there is another minor annoyance I have with Titan.
Like I said, I've used a lot of racks including just about everything from Rogue as well as many other companies like EliteFTS, Fringe Sport, Get RXd, Again Faster, and others. A feature I've never noticed until now is that J-Cups come in pairs. And just like a pair of shoes, each J-cup has a different connecting brace than the other.
The J-Cups that come with the Titan T-3 (or at least came with mine) features J-cups with the brace on the same side.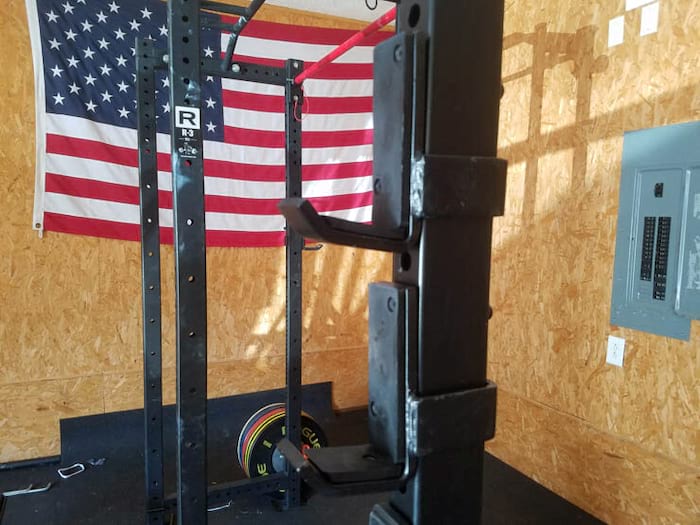 Again, this does not affect the rack's performance, but it is a minor annoyance, especially for the OCD side of me.
The j-cups that come with the T-3, outside of the brace being on the same side, are high quality with replaceable UHMW plastic inserts.
Before I evaluate the rest of the accessories, there's one other possible disadvantage on the Titan T-3 when compared to what Rogue offers.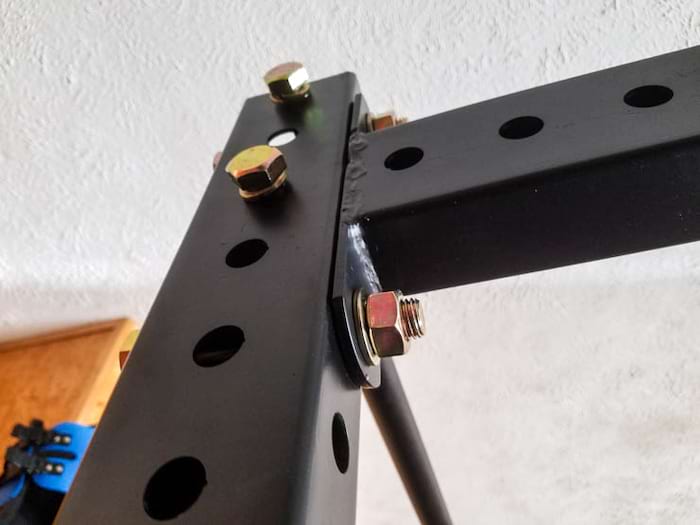 Yes, that's an ugly weld, but you'll also notice how thin the steel is for the piece of steel that connects the cross-member to the upright. My contact at Titan said the steel is 3/16" thick, which is thicker than 11 gauge (what's used in the uprights.)
If I hadn't been spoiled by Rogue, I'd probably never notice that it seemed thin, until I went over to look at all of the connection pieces on their attachments.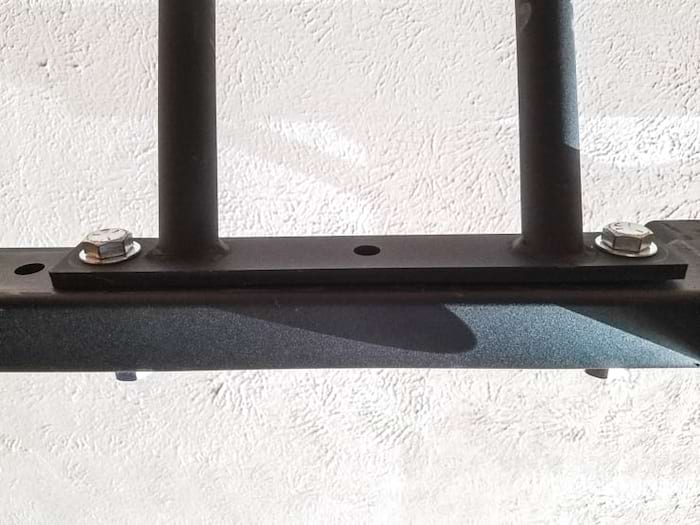 That is 3/8" thick steel!
And if you were to purchase the bolt-together R-3, the connection points are all the same as well. Again, we must ask the question, is it necessary? It's likely not and is yet another reason Titan is able to keep their costs lower.
Let's move on to the accessories.