We test and review fitness products based on an independent, multi-point methodology. If you use our links to purchase something, we may earn a commission. Read our disclosures.
The Rogue R-3 Power Rack is one of the best selling squat racks of all time…and for good reason. The Titan T-3 Power Rack is a rack that takes many of the same features as the R-3 at a vastly lower price-point. We put them against each other to see which is the best value.
Titan Fitness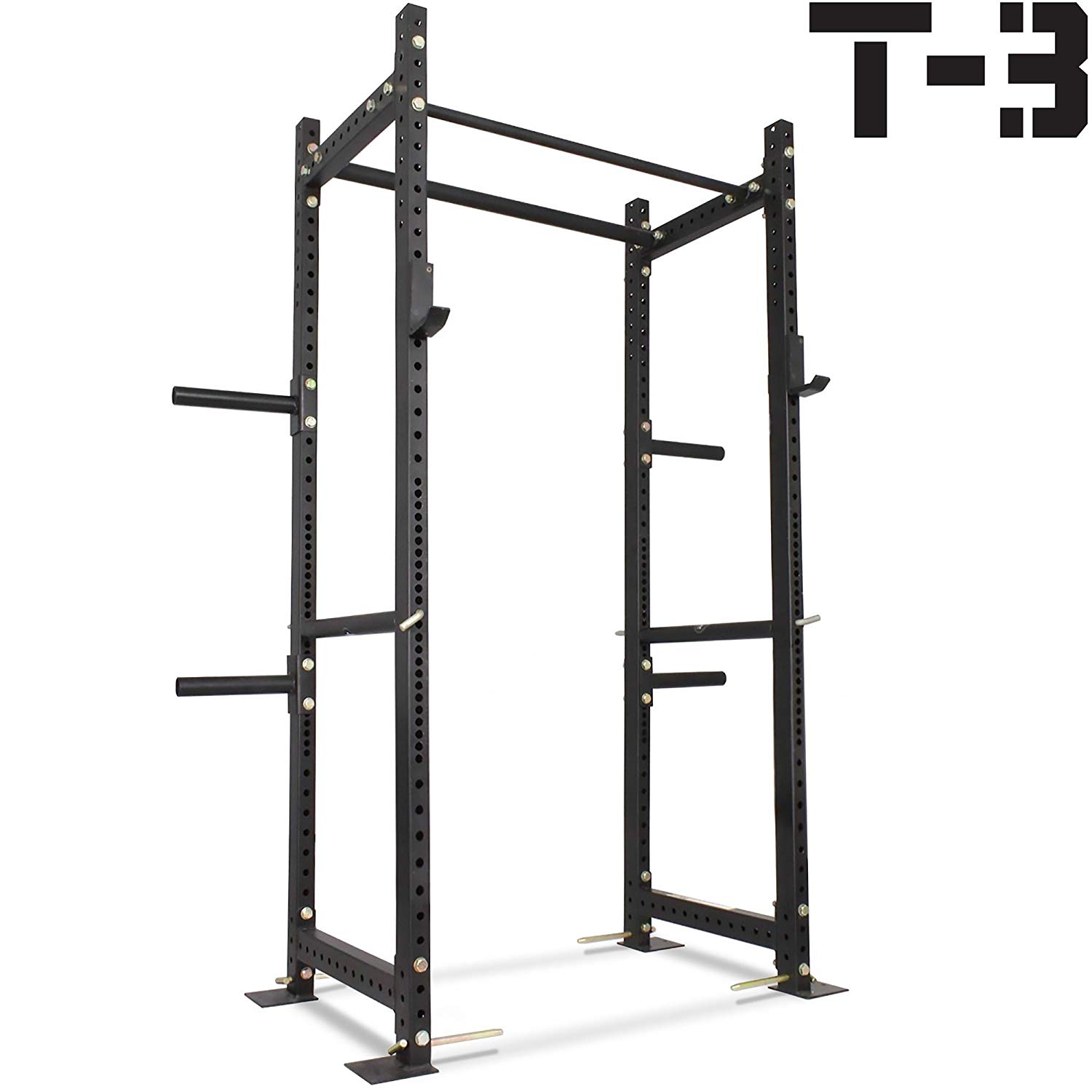 Titan T-3 Series Power Rack
The Titan T-3 Series Heavy Duty Power Rack is perfect for any professional or at home gym!Built using heavy 11ga (3.25mm) steel, this rack will not ever give way or back down. T-3 Power Racks use heavy duty 2"x 3" steel tubes– you'll most likely notice right away how every piece is heavy and solid.These power racks are the perfect fit for dips, bench press, curls, pull ups, and much more. The pre-drilled holes follow the popular "West Side" hold pattern, allowing you to move the bar up or down in 1" increments when using a bench.The weight holder attachments and J-hooks are included, and are easily installed. The 5/8" hardware also provides maximum security, even when the rack is completely maxed out. The bolt-together construction allows you to easily transport and fit the rack in to any room or basement!Features: - T-3 Series of Power Racks contain 2"x3" steel tubes - Capacity: 1000 lbs - 1" round steel j-hooks - Chin up bars: 1 1/4" & 2" diameter - Includes J-Hooks and weight holders
The Rogue R-3 Power Rack is the reigning champ of power racks. In my opinion, for the majority of garage gym owners, there has not been a rack worth purchasing over the R-3. Not only is it backed by the Rogue Fitness name and all that comes with it, but it's also super high quality and willing to take anything you can throw at it.
Sure, there are bigger, beefier racks; but for the most part, they're unnecessary. There wasn't a company or rack that could compete with the value of the Rogue R-3…until maybe today. Titan Fitness over the past year has introduced their line of power racks (most notably, the Titan T-3) that are in many respects duplicates of the popular Rogue Racks, except for things I'll detail in this review. Oh, they're also much cheaper (like half the price cheaper.)If you're looking for the best value in a power rack, these are your best options, and I'll detail which one should hold the most attention.
Rogue Fitness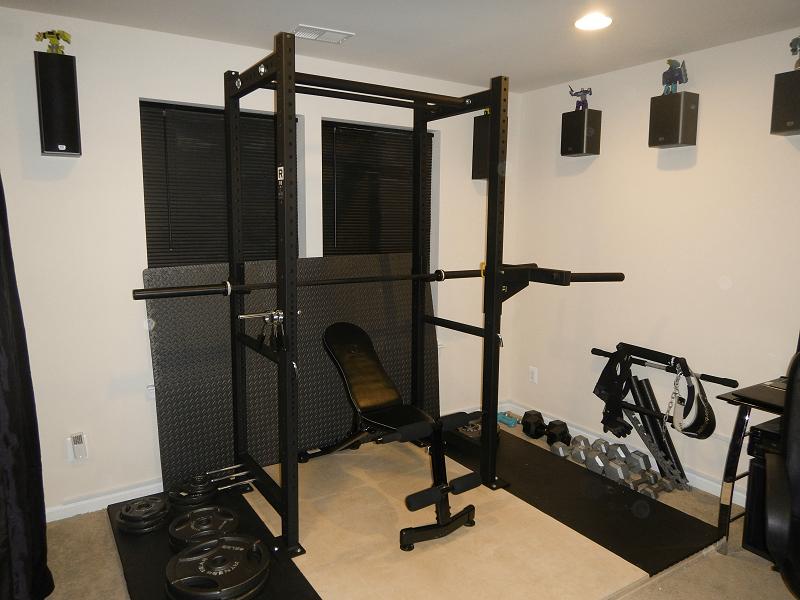 Rogue R-3 Power Rack
Part of the Rogue Infinity R-Series, our original R-3 Power Rack features 2x3" 11 Steel Gauge uprights (90 3/8" tall) with 5/8" holes in the Westside pattern—1" through the bench
Now before I get into the details on these racks, I must first say that in all reality, you can't be wrong with either. If you're looking for a power rack for your own personal use, these are more than capable of taking the beating that you'll throw at them. But, if you're like me, the details matter. You're interested in what powder-coating is used, are the welds clean, are there compatible accessories, does it shake, etc.
There's a whole gamut of questions that can be asked in deciding on which power rack to choose. There are also a lot of details that are often overlooked at first glance. Because of this, I'm going to attempt to go through as many of the features that I find important on each rack and then compare the advantages and disadvantages of each. Although the Rogue R-3 and Titan T-3 power racks look alike, they are different. First, let's start with the current titleholder.
Video Review
Rogue R-3 Power Rack
The Rogue R-3 Rack is the rack I've chosen to have a permanent foothold in my garage. I've owned or used just about every rackRogue makes. Starting with the SML Squat Stands (I currently use one as a standing desk) and moving all the way up to the monstrous RML-690C. The problem with the smaller racks is they don't allow for a lot of the fun stuff I like to do.
Using bands is difficult, forget using bands is difficult, forget doing any movements besides strict pull-ups on the pull-up bar, using the safeties is not only inefficient but not nearly as safe as working inside a rack. To put it plainly, If you want a rack for more than just squatting, then get a power rack. On the other end of the spectrum, we have the oversized Rogue RML-690C.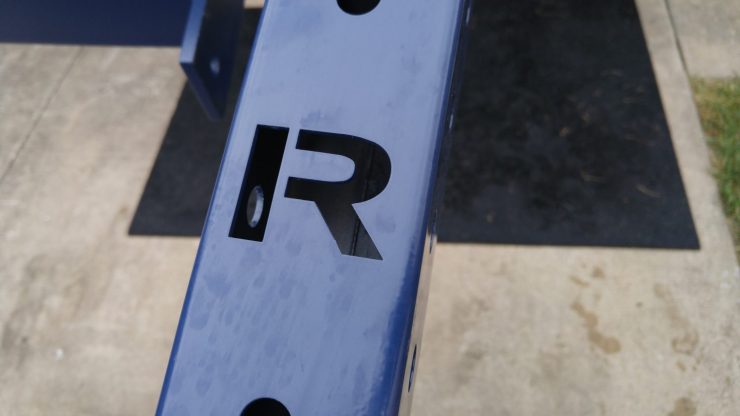 I purchased the RML-690C after being enamored by its beautiful blue color (I also got a killer deal on it.) However, after delivering it to the house, I realized quite quickly that the amount of space it took up was WAY too much. You see, it's great to have a lot of equipment, but what's the point of having equipment if you don't have the space to use it. Because of these issues– the small rack being too small and the big rack is…well… too big, the size of the R-3 and T-3 are the perfect size for 95% of garage gym owners.
I'll start looking at the overall rack and then zoom into some of the details. The Rogue R-3 features 2×3″ 11-gauge steel uprights that are 90″ tall with 5/8″ holes. One feature that Rogue first brought to market and every company since has copied is the Westside Barbell hole spacing pattern. This is a special way of saying that the holes for pin safeties and j-cups are spaced 1″ through the bench and clean pull zone, and 2″ through the rest. Since this has become a desired feature for consumers, just about every company producing racks now uses this style of hole spacing as well–Titan Fitness included.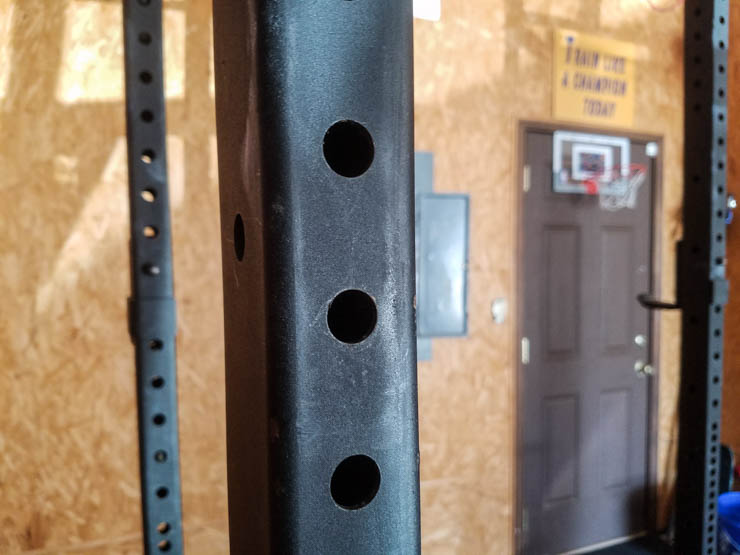 In the beginning, Rogue's Infinity Line was just about the only rack style you could buy. The Infinity Line is what the Rogue R-3 is a part of, which basically means that the racks are made of 2×3″ 11-gauge steel uprights, along with 5/8″ bolting.
In my opinion, this is all that's needed. The Monster-Lite series may have wider steel tubes, but they're not thicker steel, and it's unnecessary. From the perspective of Rogue, they want more people to buy the Monster Lite Series because they can charge more for the accessories (kind of like printer companies who sell toner cartridges for astronomical amounts, but I'll save rant that for a future article.)Either way, 2×3″ 11-gauge steel uprights are more than enough.
One of the features of the Rogue R-3 Rack that increases its sturdiness is that its uprights are welded together using 2×3″ 11-gauge steel cross-members. Welds are a much more solid way of connecting two pieces of steel together versus bolts that are used on the Titan T-3.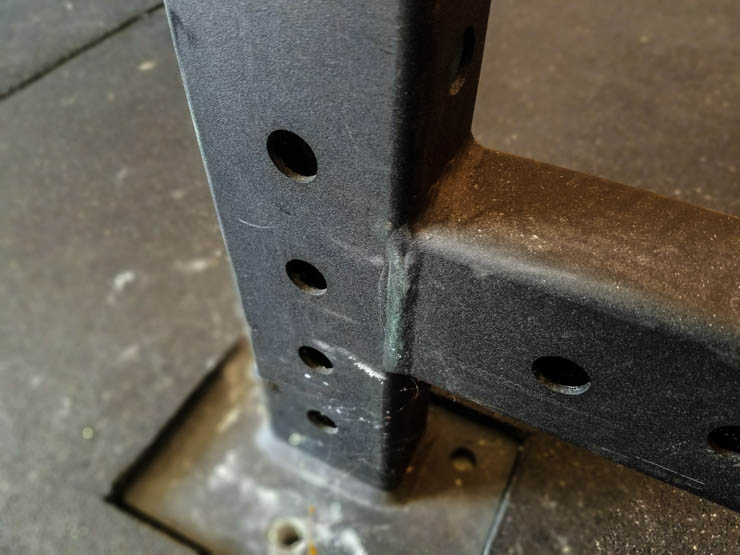 That said, the cross-members are welded, but the pull-up bar is not. This isn't as big of an issue because the uprights should be bolted either through concrete or a weightlifting platform. The problem that arises is not swaying from forwards to backward, but side to side.
Both racks experience this swaying, but I really only notice it when using the Matador dip horns. One feature that Rogue has spent a lot of time and money on perfecting is their powder-coat. You see it on just about everything they make from their specialty bars to their racks. Rogue has begun selling custom colored equipment, but in my mind, the flat black powder-coat will always reign supreme.
Seeing Rogue's facilities makes you realize that their products are cutting edge. Everything is laser cut and machine assembled. I love handmade products like Position Weightlifting Shoes, but the equipment is different. I want my barbells to be straight and my power racks to be strong. For that, I trust a high-powered, over-priced machine to do the job.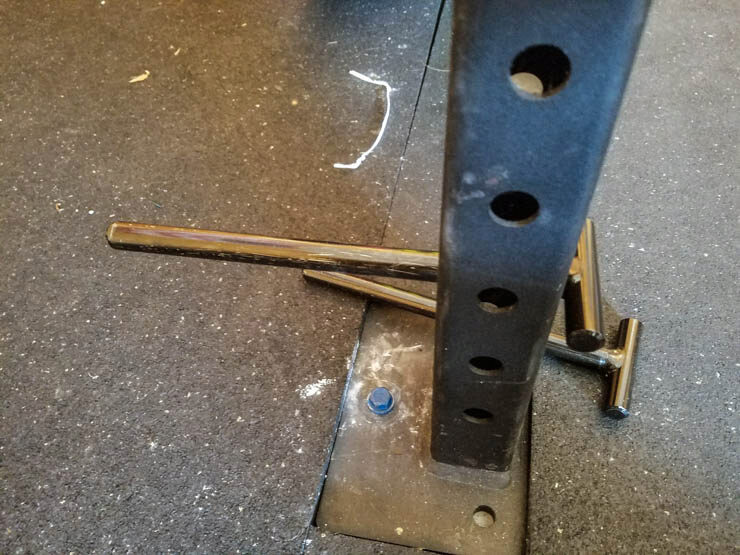 There's a reason that all of Rogue's welds are so clean. This is a part of their products that outperform all other companies. You won't see spotty welds on Rogue equipment because it won't pass quality control, and if it somehow did get past QC and ended up on your doorstep, then they'll make it right…FAST.
The last part of using Rogue equipment that is a significant benefit, although costly, is the available accessories. Being a part of the Infinity Seriesmeans anything that is compatible with the 2×3″ tubing will fit your rack.
Here's what mine looks like when it's decked out: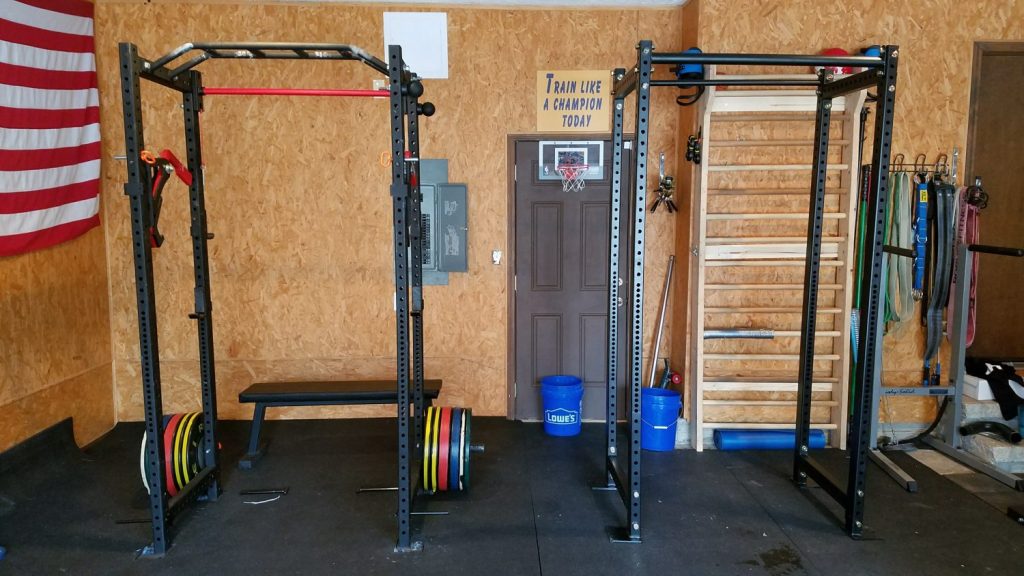 Titan T-3 Power Rack
Titan Fitness kind of came out of nowhere and had really begun catching the attention of many home gym owners.I started seeing Titan Racks being talked about a little over a year ago and the question that always came up was, "how can they sell these racks for so cheap?"And I've wondered too. In fact, I was so curious that I bugged Titan Fitness until they gave me an answer. That answer was, "Trade Secrets =p."So, not much of a reply, but I'd guess it's related to running tight margins, having good relationships with overseas manufacturing plants, and skimping on some features that could be viewed as "non-essential."Looking at Titan as a company, it becomes quite apparent that they are first and foremost a ramp and forklift attachment company that saw a need in the fitness market and have capitalized.
Unlike other companies trying to keep up with Rogue, Titan has shown that innovation is great for some, low prices are great for most. Is the T-3 the greatest, sturdiest, best power rack of all time? No, it's not. And that's not Titan Fitness' goal. In fact, one could argue, and I will argue that Titan Fitness is trying to fill a need in the industry and that is slightly cheaper made racks, for a whole lot less money. And that's exactly what they've done with the Titan T-3 Power Rack.
Titan T-3 Details
Looking at the stat sheet for the Titan T-3, it appears that there really isn't much difference between it and the Rogue R-3.
Here are some details:
2×3″ 11-gauge steel uprights
1″ hole spacing through bench area
Skinny and Fat Pull-up Bars
Now, I could go through every detail of the rack, but what everyone wants to know, is how does it stack up to the Rogue R-3. Therefore, let's just dive right in.
I've gone into great detail on the Rogue R-3, but now let's see how the Titan stacks up. First, let's look at them from an overall perspective. In all my testing, including using one that was bolted to the ground, I did not find a significant difference in stability between the R-3 and the T-3. It would go without saying that a welded unit like the Rogue R-3will be more stable overall, but, in use, I didn't really notice any differences. And that's a pretty big deal because the T-3 is a completely bolted-together unit.
This means it's more portable and easier to adjust depending on your foundation than the R-3. The bolts may, however, lead to more maintenance to keep tight and less durability. But again, I don't find the welded aspect of the Rogue R-3 to be a significant benefit over the T-3. One aspect of the R-3 that outdoes that of what Titan offers is the powder-coat.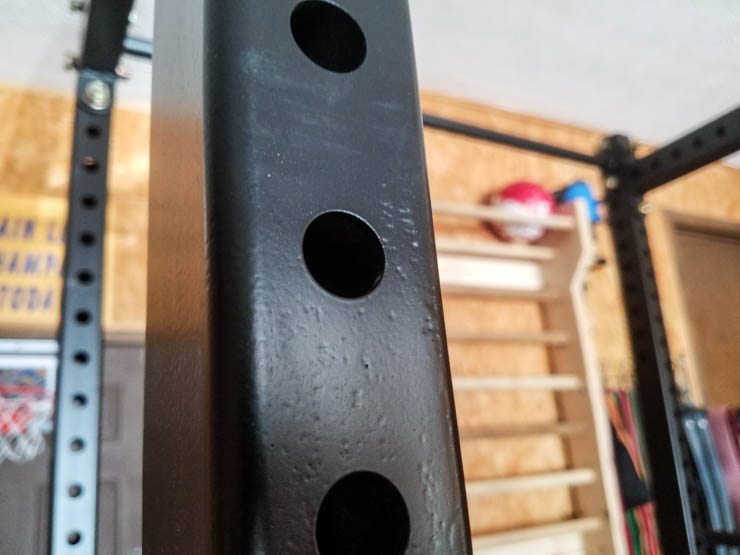 After much back and forth with Titan Fitness, they have assured me that the T-3 is powder-coated and not simply painted as many have claimed. I have no real way of saying for certain that they're telling the truth other than to trust their word. (I have no reason not to at this point.)Although the Titan rack is powder-coated, it's certainly not the best quality. As you can see in the above picture, saying the powder-coat lacked uniformity would be an understatement. It's spotty, and not even throughout.
I decided to test how durable it was by jamming the J-Cup against it and even went to the length of scratching each upright with a dull razor blade. Here are the results: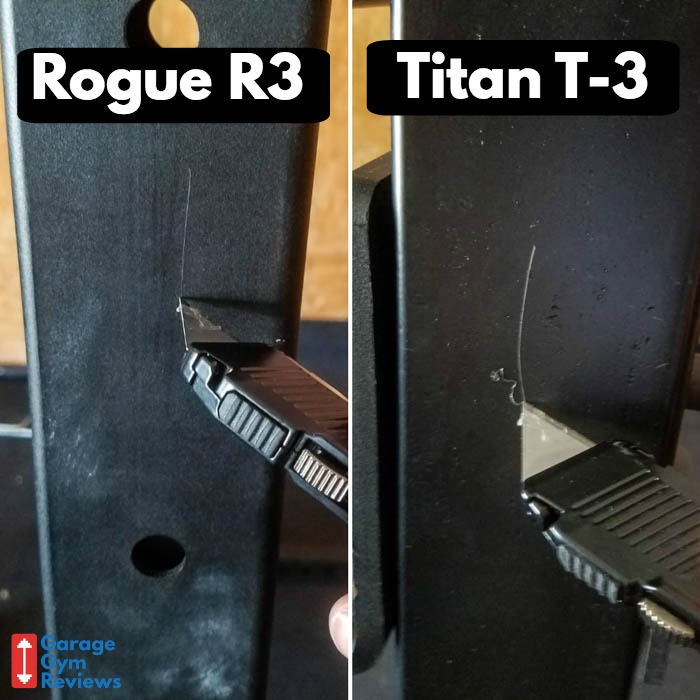 As you can see, the Rogue R-3 was more resistant to scratching and after rubbing the scratches, the one on the Rogue pretty much blended in. The scratch on the Titan T-3 stood out plain as day. The question you need to ask yourself is, how much does that matter to you? I don't baby my power rack, and so there are scratches, rust, and chalk all over it. What matters though is that it does not affect the performance of the rack. Despite there being scratches, the Titan T-3 is not going to perform any worse than before it had scratches. Another aspect that Rogue outshines Titan is in their welds.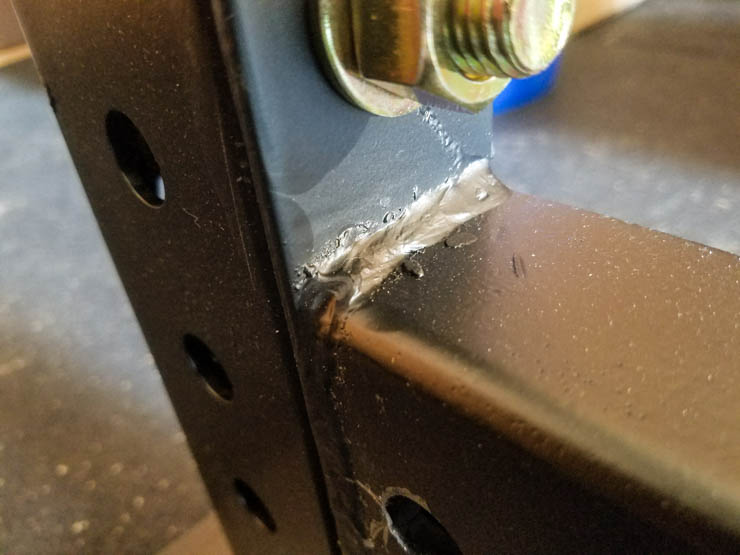 Man, Titan's welds are ugly. There's really no getting around that. But again, there's a reason they're able to keep their costs so low. If minor details like the appearance of the welds on the rack annoy you, then Titan probably isn't a company you'd buy equipment from anyways.
Here's a shot of the welds on the J-Cups: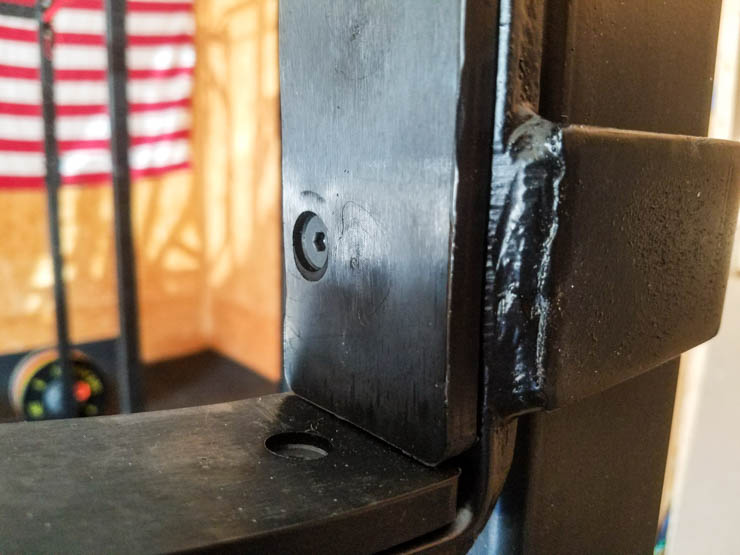 Speaking of J-Cups, there is another minor annoyance I have with Titan. As I said, I've used a lot of racks including just about everything from Rogue as well as many other companies like EliteFTS, Fringe Sport, Get RXd, Again Faster, and others. A feature I've never noticed until now is that J-Cups come in pairs. And just like a pair of shoes, each J-cup has a different connecting brace than the other.
The J-Cups that come with the Titan T-3 (or at least came with mine) feature J-cups with the brace on the same side.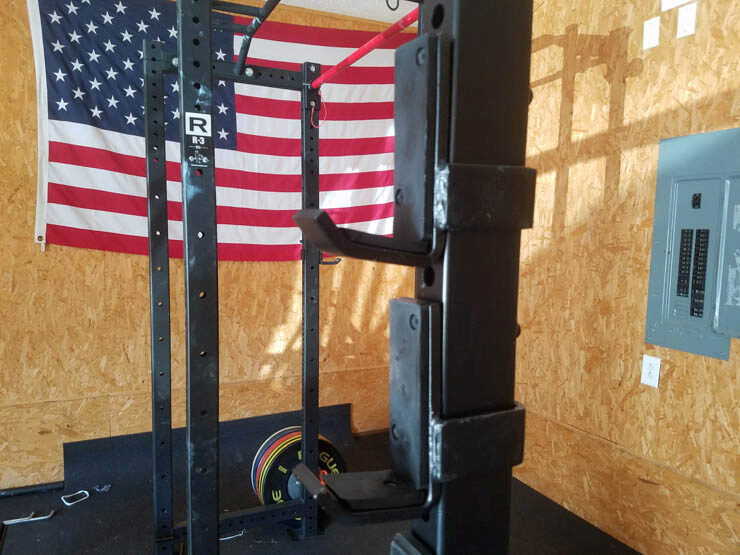 Again, this does not affect the rack's performance, but it is a minor annoyance, especially for the OCD side of me. The j-cups that come with the T-3, outside of the brace being on the same side, are high quality with replaceable UHMW plastic inserts. Before I evaluate the rest of the accessories, there's one other possible disadvantage on the Titan T-3 when compared to what Rogue offers.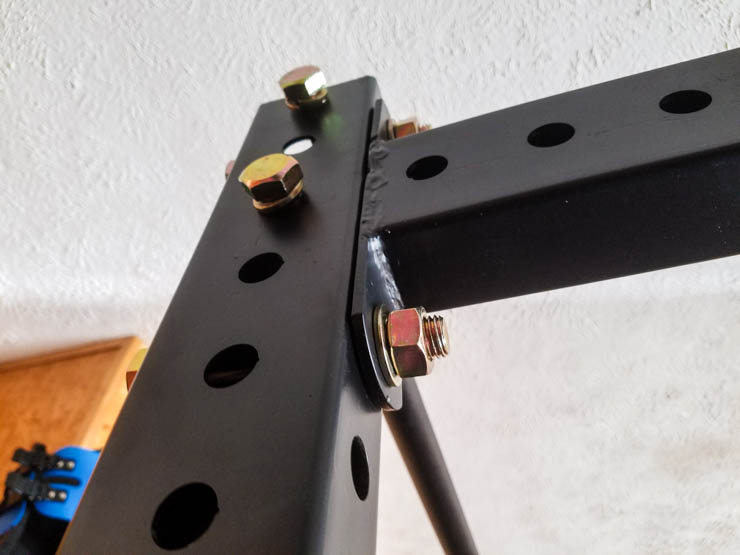 Yes, that's an ugly weld, but you'll also notice how thin the steel is for the piece of steel that connects the cross-member to the upright. My contact at Titan said the steel is 3/16″ thick, which is thicker than 11 gauge (what's used in the uprights.)If I hadn't been spoiled by Rogue, I'd probably never noticed that it seemed thin, until I went over to look at all of the connection pieces on their attachments.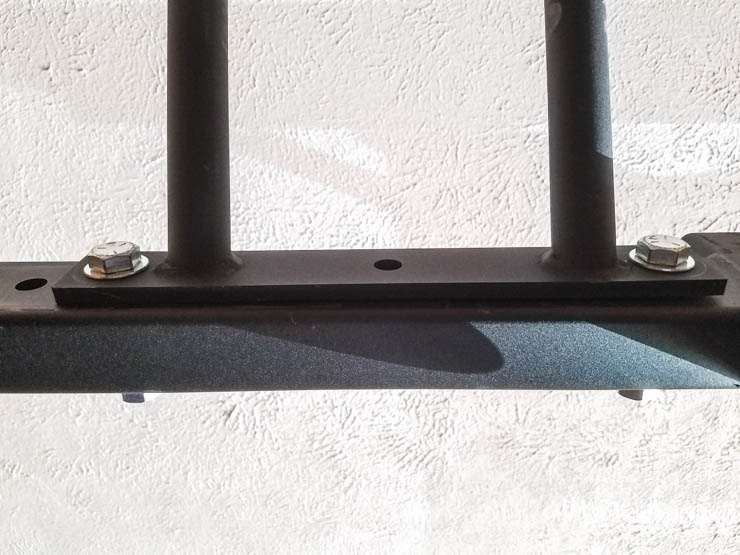 That is 3/8″ thick steel! And if you were to purchase the bolt-together R-3, the connection points are all the same as well. Again, we must ask the question, is it necessary? It's likely not and is yet another reason Titan is able to keep their costs lower. Let's move on to the accessories.
Rogue R-3 vs. Titan T-3 Accessories
Rogue has done a lot of things right, but in my mind, one of the best things they've done is create so many options for accessories. Sure, they're expensive, but it's obvious people are willing to pay the price for more versatility. One of the things I was most hopeful for when Titan began producing more accessories was compatibility with Rogue racks. Unfortunately, this is not the case, and I'm guessing it's for a reason. Rogue Fitness accessories will work with Titan Fitness Racks. Titan accessories will NOT work with Rogue racks. Bummer, I know.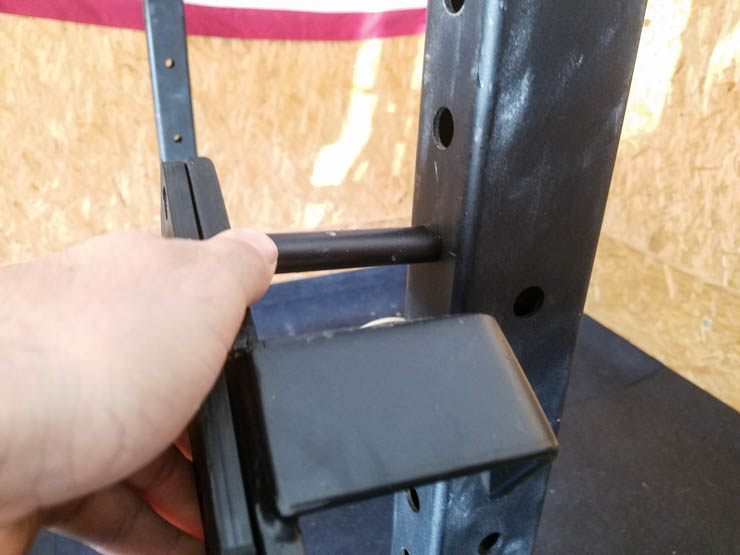 I'm guessing this keeps consumers from purchasing a Rogue rack and then decking it out with cheaper Titan accessories. Or, it could be patent related, who knows. One of the biggest benefits the Titan T-3 has over the R-3 outside of price is the included accessories.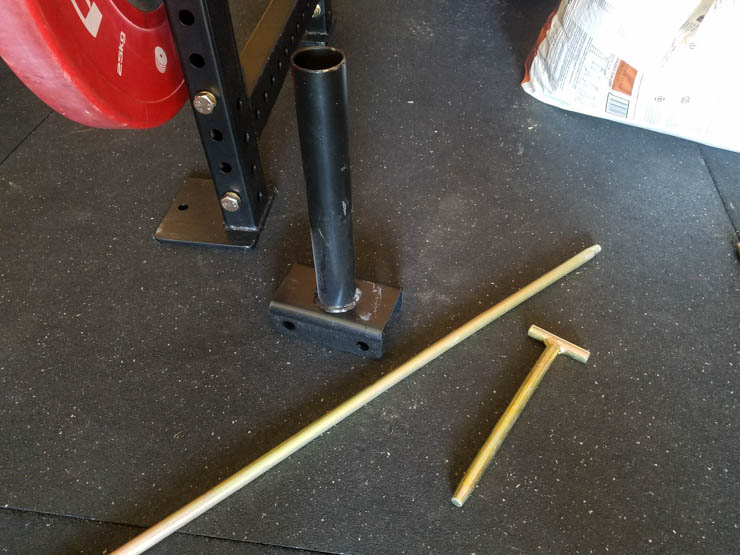 The T-3 comes with:
1 pair of Pin/Pipe Safeties
4 Band Pegs1 Fat (2″) Pullup Bar
1 Skinny (1.25″) Pullup Bar
And it's all included. Rogue can't hold a candle to that. The accessories are pretty great too. The plate posts held the weight well, the band pegs gripped the bands, and the pin/pipe safeties will save you from dying. That said, the pin/pipe safeties on the T-3 are less "heavy-duty" just as most of the rack is when compared to Rogue's R-3. Here is the thickness of the pipe safeties: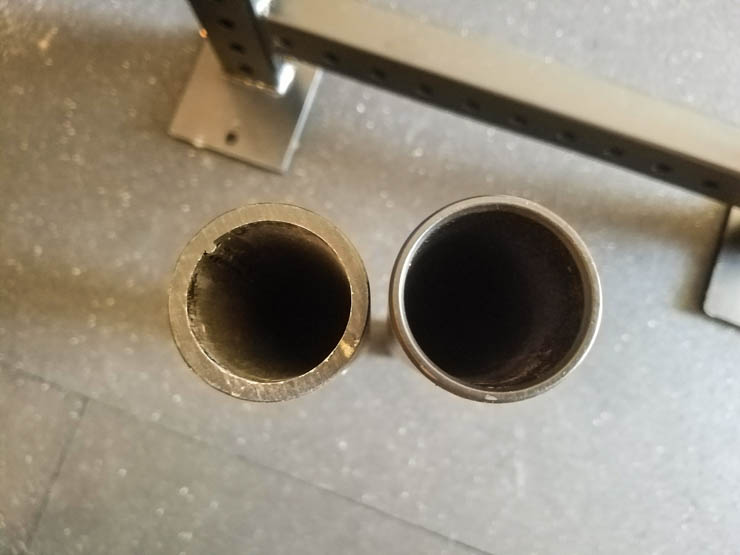 I'll let you guess who makes which (hint: Rogue is on the left.)
The last feature of the Titan T-3 that I really like is separate pull-up bars. Rather than being connected like Rogue has done, Titan decided to keep them separate adding stability to the rack and allowing for two people to do pull-ups at the same time.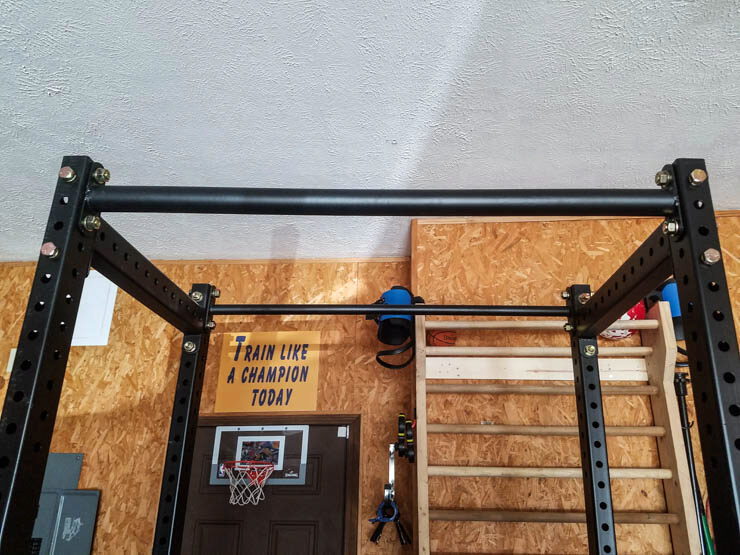 The powder-coat holds chalk decently well, but it's quite a bit slicker than Rogues.
So, which should you buy?
I've written an exhaustively detailed article on both racks, but now you have to decide which is best for you. As of this writing, the Rogue R-3 retails for around $700 not including shipping.
The Titan T-3 is around $420 with free shipping. That's a BIG difference. If you want the absolute best and are willing to spend the money than I would suggest going with the Rogue R-3 Power Rack. If you don't sweat the details and simply want a rack that is going to perform years of reliable service, then go with the Titan T-3 Power Rack. You literally cannot go wrong with either, it just comes down to how much you want to spend. I would like to end with what I truly believe: The Titan T-3 is the best value power rack available today, and nothing comes even close!
Titan Fitness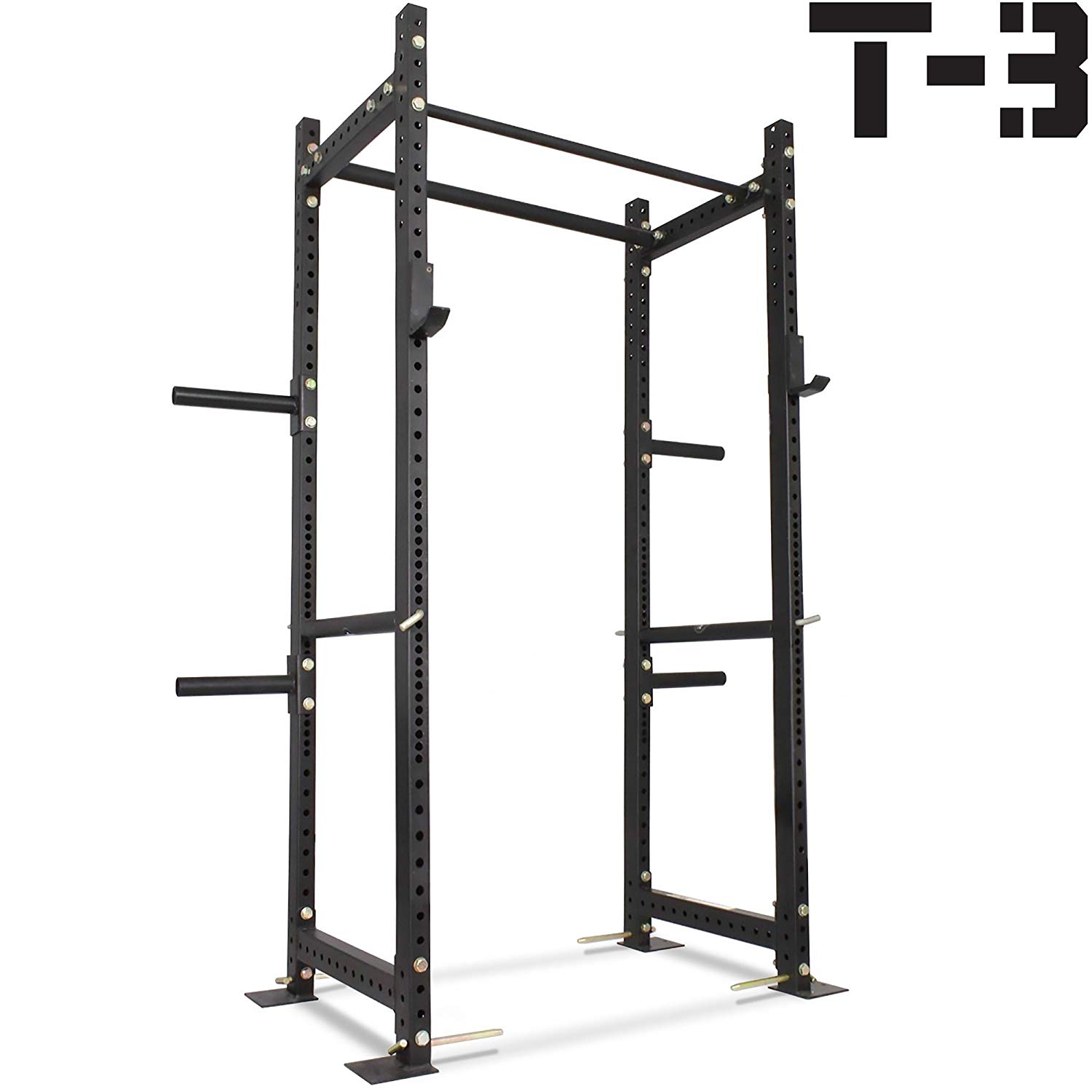 Titan T-3 Series Power Rack
The Titan T-3 Series Heavy Duty Power Rack is perfect for any professional or at home gym!Built using heavy 11ga (3.25mm) steel, this rack will not ever give way or back down. T-3 Power Racks use heavy duty 2"x 3" steel tubes– you'll most likely notice right away how every piece is heavy and solid.These power racks are the perfect fit for dips, bench press, curls, pull ups, and much more. The pre-drilled holes follow the popular "West Side" hold pattern, allowing you to move the bar up or down in 1" increments when using a bench.The weight holder attachments and J-hooks are included, and are easily installed. The 5/8" hardware also provides maximum security, even when the rack is completely maxed out. The bolt-together construction allows you to easily transport and fit the rack in to any room or basement!Features: - T-3 Series of Power Racks contain 2"x3" steel tubes - Capacity: 1000 lbs - 1" round steel j-hooks - Chin up bars: 1 1/4" & 2" diameter - Includes J-Hooks and weight holders
Full Rating