We test and review fitness products based on an independent, multi-point methodology. If you use our links to purchase something, we may earn a commission. Read our disclosures.
Ah, pregnancy—the miraculous time in a woman's life where she grows life, cell by cell. It's natural to want to put the best in your body during this time—smoothies chock full of organic greens and fruits, meals filled with lean protein and green vegetables, snacks overflowing with micronutrients—but let's be honest: From first-trimester sickness to third-trimester fatigue, healthy eating doesn't always jibe with being pregnant.
I can attest to this, as I'm on the brink of delivering my third baby, and I've definitely thought about supplementing with the best greens powder for pregnancy on the days when I just don't want to cook up a wholesome meal.
But are the best greens powders good for all of us pregnant moms? You might think so, but there are ingredients to be aware of and precautions to take before you start swigging. We consulted registered dietitian Sydney Lappe and curated a list of the best greens powder for pregnancy, and asked her about what pregnant moms should know. Let's dive in!
Medical disclaimer: This article is intended for educational and informational purposes only. It is not intended as a substitute for medical advice. For health advice, contact a licensed healthcare provider. GGR also advises you to choose a product that's been third-party tested for accuracy.
6 Best Greens Powders for Pregnancy
Best Overall Greens Powder for Pregnancy: Live it Up Super Greens
Good for: Pregnant moms looking for an all-purpose greens powder
Being cognizant of the ingredients you put into your body is important all the time, but especially during pregnancy, as what the mother eats during gestation can have an effect—both positive and negative—on the baby.
That's why we like Live it Up Super Greens (formerly Enso Supergreens) as the best greens powder for pregnancy; not only is it 100% vegan with all-natural ingredients, it contains no added sugars, artificial sweeteners, caffeine, or gluten. It's also third-party tested, so you can rest assured that what's on the label is what's in the bag—an important criteria for athletes, but also pregnant moms. 
"I first and foremost encourage anyone to consult with their doctor before taking any greens powders or dietary supplements, especially during pregnancy when nutritional needs matter for two," says Sydney Lappe, R.D. "But Live it Up Super Greens is a solid option for expecting moms and growing babies due to its whole foods-sourced ingredients, naturally occurring vitamins and minerals, and third-party certification. It does contain higher amounts of some nutrients, like vitamin A, which is important to be aware of since excess dosing can be harmful."
There's an 8-gram proprietary blend of supergreens, which is not ideal—I'd want to know exactly how much of each ingredient is present in the formula—but I feel solid in recommending all of the ingredients in the blend as safe for pregnancy. You'll also get a digestive enzyme complex and 5 billion CFUs of dairy-free probiotics, including lactobacillus acidophilus, lactobacillus casei, bifidobacterium bifidum, and bifidobacterium lactis—current research1 demonstrates that probiotics appear to be safe during both pregnancy and breastfeeding.
While Live it Up Super Greens don't have an assigned flavor, Original has a mint overtone to it that took GGR staff writer Lauren Strong by surprise. "There is nothing on the label preparing you for the minty flavor of this drink, and although I'm not a huge fan of any of the greens drinks I tested, there was something more tolerable about a natural mint flavor that wasn't trying to mask the greens."
| | |
| --- | --- |
| Price per serving | $2.00 |
| Dosage | 1 scoop (8 g) |
| Flavors | None |
| Important ingredients | Supergreen blend, digestive enzyme complex, dairy-free probiotics |
| Third-party testing | Yes |
Best Greens Powder for Pregnancy With Prebiotic Fiber: Transparent Labs Prebiotic Greens
Good for: Adding some prebiotic fiber to your diet
Prebiotics—non-digestible food substances—work as fuel for probiotics, which are the good bacteria in your gut. Transparent Labs Prebiotic Greens is packed with these high-fiber ingredients, offering a combined 7 grams of acacia fiber, green banana flour, and Jerusalem artichoke fiber. We know that both prebiotics and probiotics are suggested to be safe during pregnancy and breastfeeding1 and provide benefits like improvement of gut health and immune system support2.
In addition to prebiotics, this Transparent Labs greens powder provides spirulina and chlorella3, both algae green "superfoods" that deliver vitamins, minerals, and protein. We like that each ingredient is quantified on the label, and that each serves a direct purpose—no mumbo jumbo here.
Transparent Labs products are Informed Choice-certified—a super plus in our book—and the greens powder comes in two flavors: Peach Mango and Unflavored. I've tried Peach Mango, and so has my teammate at GGR, senior staff writer Amanda Capritto. I liked the flavor—it's inevitably still grassy, but the Peach Mango masks it. It is a bit sweet, but I'd prefer that over grass. Amanda wasn't a huge fan of Peach Mango unless it's mixed into orange juice.
| | |
| --- | --- |
| Price per serving | $1.53 |
| Dosage | 1 scoop (15.5 g) |
| Flavors | Peach Mango, Unflavored |
| Important ingredients | Spirulina, chlorella, acacia fiber, green banana flour, Jerusalem artichoke fiber |
| Third-party testing | Yes, Informed Choice |
Best Affordable Greens Powder for Pregnancy: Jacked Factory Greens Surge
Good for: Mamas who want to save money on a simple greens powder supplement
If there's one thing I know, it's that kids cost a lot of money—so why not save a few coins on your greens powder if you're able? We've named Jacked Factory's Green Surge our best budget pick since it packs a lot of beneficial stuff into a powder that costs about $1 per serving—significantly less than other greens powders on the market.
Bob Iafelice, RDN, reviewed Green Surge for us and said he likes it because rather than including "every green under the sun, this product focuses only on the most effective superfoods, probiotics, and enzymes."
That includes a probiotic and inulin (prebiotic) blend, a digestive enzyme blend, and various green and fruit powders, including spirulina, spinach, wheatgrass, barley grass, apple, and pineapple. The blends are proprietary, which, again, we don't love, but at least we know the amount of each ingredient.
We'll note that Green Surge does contain 250 milligrams of green tea leaf extract per serving, so if you're watching your caffeine intake during pregnancy, be wary of this. It's also sweetened with sucralose, which can be a no-go for some as well.
"Caffeine isn't always in greens powders, but that's the thing: It's not always expected and can be overlooked," Sydney says. "And to make matters more confusing, research regarding safe levels of caffeine intake during pregnancy is conflicting—some studies4 suggest there's no safe level of caffeine while some organizations—like the American College of Obstetricians Gynecologists5 (ACOG)—express moderating caffeine intake to no more than 200 milligrams per day (about two cups of coffee) doesn't appear concerning. Again, this is really why it's so important to discuss your personal needs and express any concerns with your doctor."
I've tried Green Surge in the Mixed Berry flavor, which looks as though it's been discontinued, and thought it was tasty for a greens powder. It's a bit sweet, thanks to the sucralose and stevia, but that helps mask the grassy flavor.
| | |
| --- | --- |
| Price per serving | Less than $1 |
| Dosage | 1 scoop (5.5 g) |
| Flavors | Unflavored, Lemon Lime, Sour Apple, Mint Chocolate, Mixed Berry |
| Important ingredients | Probiotic and inulin blend, digestive enzyme blend, green and fruit powders, green tea leaf extract |
| Third-party testing | No |
Best Vegan Greens Powder for Pregnancy: KOS Show Me the Greens
Good for: Moms who want only plants in their greens powder
If you're vegan or a plant-forward eater, you'll appreciate KOS Show Me the Greens. This USDA organic, dairy-free, gluten-free, soy-free, and plant-based formula will leave you feeling good about the ingredients you're putting into your body for you and baby.
RELATED: Best Protein Powder for Pregnancy
The formula contains an Algae Superfood blend, an Alkalizing Greens Blend, a Fruit and Veggie Blend, and a Digestive Prebiotic Blend—all of which are proprietary, and you know our feelings about that—but are full of nutrient-dense, organic ingredients nonetheless. Show Me the Greens is not third-party tested, but for what it's worth, we find KOS to be a fairly transparent company overall.
In a flavor called Green Apple Sorbet, our testers found it drinkable—it's definitely apple-flavored with an "aftertaste of Earth"—but they also said it's a bit gritty, so have your shaker cup or frother handy.
| | |
| --- | --- |
| Price per serving | $1.18 |
| Dosage | 1 scoop (9.5 g) |
| Flavors | Green Apple Sorbet |
| Important ingredients | Algae Superfood Blend, Alkalizing Greens Blend, Fruit and Veggie Blend, Digestive Prebiotic Blend |
| Third-party testing | No |
Best-Tasting Greens Powder for Pregnancy: Patriot Power Greens
Good for: Pregnant moms who want their greens powder to actually taste good
Team GGR has tried more than 30 greens powders in our search for the best, and one of the best-tasting—and pregnancy-friendly—options we've found is Patriot Power Greens. GGR senior staff writer Amanda Capritto tried this powder, which comes in a Berry flavor, and was shocked at how good it tastes.
"This is the ONLY greens powder to date that I've tried and can actually sip, rather than chug it in as little time as possible to get the benefits but not the terrible taste," she says, "It tastes like a juice-tea blend—kind of like black tea with fruit extracts."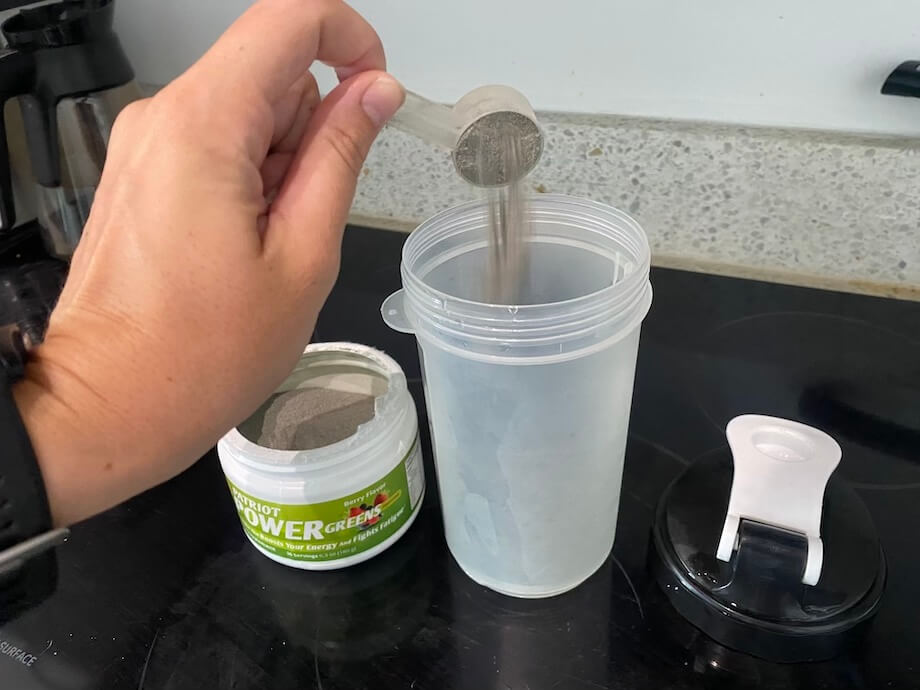 It also dissolves completely, which shocked Amanda, as normally greens powders are either gritty or have to be shaken after they re-settle.
"Formulation matters most, but a soluble greens powder you enjoy drinking is a mega win to help encourage fluid intake," Sydney says. "And an unappetizing greens powder can be quite the turnoff for any consumer—and especially pregnant women who are more prone to food aversions, including texture sensitivities."
And not only does it taste good, Patriot Power Greens has good stuff in it, too. There are 76 ingredients total, including 40 fruits and vegetables, 10 probiotic strains, prebiotics, and 6 digestive enzymes, as well as vitamin and minerals including vitamin A, vitamin C, vitamin D, folate, B vitamins including vitamin B12, zinc, calcium, magnesium, selenium, and chromium.
Read our full Patriot Power Greens review written by expert and certified nutritionist Linsday Boyers to learn more about this tasty supplement.
| | |
| --- | --- |
| Price per serving | $1.57 |
| Dosage | 1 scoop (5.4 g) |
| Flavors | Berry |
| Important ingredients | 40 fruit and vegetable powders, additional superfoods like coconut water and spirulina, probiotics, prebiotics, and digestive enzymes |
| Third-party testing | No |
Best Greens Powder for Pregnancy Gut Health: 1st Phorm Opti-Greens 50
Good for: Moms looking for a little extra digestive support from their greens powder
We like 1st Phorm Opti-Greens 50 for a few reasons: No. 1; it's Informed Choice-certified, meaning what's on the label is what's actually in the bag—important for athletes who undergo drug testing, but also pregnant moms.
Next, Opti-Greens' blend of digestive enzymes and 5 billion CFUs of probiotics from strands like Bifidobacterium longum6 and Lactobacillus rhamnosus7, which have proven benefits on the digestive system, can be effective for pregnant people looking to protect their gut health.
I've tried this greens powder, and while it is on the pricier side, I like the brand's overall transparency. The Natural Berry flavor is pretty sweet—you'll have to be OK with the stevia extract flavor—and there is green tea leaf extract present (though we don't know in what amount thanks to a proprietary blend), so if you're concerned about caffeine intake, this may not be the greens powder for you.
| | |
| --- | --- |
| Price per serving | $2.33 |
| Dosage | 2 scoops (10 g) |
| Flavors | Natural Berry |
| Important ingredients | Green superfood complex, glycemic balance blend, phytonutrient complex, plant enzyme blend |
| Third-party testing | Yes, Informed Choice |
Other Greens Powder for Pregnancy We Researched
There are many quality superfood powders on the market and we evaluated many of them to see if they should be on this list. Here are a few:
How We Picked and Tested the Best Greens Powder for Pregnancy
While a greens powder may seem like a no-brainer for a healthy pregnancy, think again! There are certain criteria you should be aware of if you're planning to consume one of these powders while pregnant. Here's how we broke our list down:
Formulation
This is the most important consideration. There's research8 that supports certain ingredients common in greens powders, namely adaptogens, are not safe during pregnancy and should be avoided. We consulted with an RD to ensure that the greens powders on our list didn't contain any harmful ingredients.
Third-Party Testing
We're always advocates for third-party testing here at GGR, but this is especially important when you're pregnant, as you want to know that exactly what's listed on the label is what you're putting into your body. Since the FDA doesn't regulate the supplements industry, verification by a third-party lab is the only way to know for sure that a product is safe.
Cost
High-quality greens powders are usually not the most budget-friendly supplement and can range anywhere from $1 on the low end to upwards of $3 on the high end. We tried to provide a range of prices in our roundup so more people could feel comfortable with what they're spending.
Flavor
Yes, greens powders are designed to pack in nutrients you may be missing from your diet, but we think they should taste decent, too. We've personally tested all of the greens powders on this list, so we know they taste pretty OK, if not a little grassy.
Benefits of Greens Powder for Pregnancy
Supplements should always act as such in your diet—not replacing whole foods and real fruits and vegetables, but filling in gaps in a healthy diet consisting of leafy greens and other highly nutritious produce.
That being said, one of our resident experts and a dietitian, Destini Moody, names these five characteristics as potential super greens powder benefits in a recent article she wrote for us:
Whether from food aversions or appetite changes, you may find that you can't tolerate fruits and veggies like you did pre-pregnancy. A greens powder may be a viable way to replace some of those lost micronutrients, but there are several considerations to keep in mind.
Dosing and Interactions
Super greens powder side effects are real, and especially when you're pregnant, it's important to be aware of any potential dangers associated with ingesting them.
First and foremost, it's important that you speak with your healthcare professional if you're pregnant and looking to supplement with a greens powder—they will be able to guide you to the right product.
Adaptogens
Pregnant women should pay close attention to adaptogens like ashwagandha, rhodiola, ginseng, maca, Holy Basil, and even mushrooms in any products they consume. These herbs, roots, and plant substances help us manage stress but can be unsafe for use during pregnancy as research6 has shown they can potentially cause uterine contractions.
Heavy Metals
There's also some concern that greens powders can be contaminated with heavy metals. As one of our RD experts, Destini Moody, points out in her Green Vibrance review, "One of the dangers of consuming greens powders is potential exposure to lead and other heavy metals. This is because these metals can be in the soil in which the vegetables are grown and can be present even in organically grown produce."
While some Consumer Reports testing14 did detect contaminants like lead, mercury, arsenic, and cadmium in greens powders, other research15 finds that the levels are not found to be unsafe.
Vitamin Toxicity
Be advised that if you're already taking a prenatal vitamin, you'll probably be covering all of your nutritional bases with that. Many greens powders are meant to stand in for a multivitamin, so again, check with your OB-GYN or midwife to ensure you won't be overdoing it on any specific vitamins or minerals.
Buying Guide: What to Look for in Greens Powder for Pregnancy
Choosing the right dietary supplement for your needs can be a challenge because there are so many products available that make a whole lot of claims. Here's what to look for in greens powder for pregnancy.
Ingredient List
As we mentioned above, certain ingredients are not recommended for pregnant moms. Scrutinize the label and consult your doctor to ensure you're taking a product that's safe for you and your baby.
Also, if you follow a specific diet, you'll want to ensure that the ingredients are all A-OK. It's also not a bad idea to keep an eye out for fillers—every ingredient in the greens powder formulation should serve a purpose.
Health Benefits
Is there a certain benefit you're looking to get out of your greens powder, like reduced bloating, increased antioxidant intake, or just better wellness? Some greens powders are better-suited for specific conditions than others.
"While all greens powders can boost nutrient intake, some provide more targeted ingredients for targeted benefits," Sydney explains. "Of course, we want you to resolve any ailments and optimize your overall well-being, but it's vital to address your needs and those of your baby. After delivering, and with breastfeeding in mind, is a more opportune time to experiment with greens powders—like with stress-relieving adaptogenic mushrooms!"
Testing and Transparency
This is worth repeating again and again—the more you know about each ingredient in your greens powder supplement and how much of it is present, the better off you'll be. Look for companies that have a good reputation and offer third-party testing from a reputable organization like Informed Choice or NSF.
Cost and Vendor
Lastly, of course you'll need to consider your budget before you purchase a greens supplement, plus where you'd like to buy it. All of these products are available online, and many are available on Amazon, which means quick shipping. Consider the return policies on your greens powders as well—depending on the company, some will accept returns even on opened products and give you a full refund, while some won't.
FAQs About Greens Powder for Pregnancy
Can you drink greens powder while pregnant?
Maybe. It's advised that you speak to your healthcare provider to make that decision. There are ingredients common in greens powders that pregnant people should avoid, so it's best to get insight from a trained professional who knows your health history.
Are super greens good during pregnancy?
In general, greens powders may help fill nutritional gaps in your diet, but special precaution needs to be taken when you're pregnant, particularly as it relates to adaptogens. Consult your doctor if you're interested in taking greens powder during gestation.
What greens are good for pregnancy?
Can you drink AG1 while pregnant?
Because Athletic Greens AG1 contains a mix of adaptogens including ashwagandha and eleuthero root, it's best to avoid it during pregnancy. Speak with your doctor if you're considering consuming AG1 during pregnancy. (You can also read my full Athletic Greens review for the low down on all of this product's specifics—it's definitely one we recommend trying when you're no longer pregnant!)
These statements have not been evaluated by the Food and Drug Administration. This product is not intended to diagnose, treat, cure, or prevent any diseases.
References