We test and review fitness products based on an independent, multi-point methodology. If you use our links to purchase something, we may earn a commission. Read our disclosures.
Greens powders have steadily gained popularity over the last several years as an alternative to multivitamins in pill form and a way to intake more vitamins and minerals in the absence of a nutrient-rich diet. While such powders aren't ever a replacement for whole fruits and vegetables, they, like other supplements, can help close gaps between the nutrients you get from food and what you need each day.
In our Nested Super Greens review, we look at the ingredients that make up this greens powder and share the potential benefits of greens powder.
Medical disclaimer: This article is intended for educational and informational purposes only. It is not intended as a substitute for medical advice. For health advice, contact a licensed healthcare provider. GGR also recommends choosing a product that has been third-party tested for quality.
Nearly 20 Greens Powders Tested
Our product testing staff is full to the brim with certified fitness professionals, certified nutrition coaches, and athletes who are eager to test products and help consumers—you—make smart purchasing decisions that benefit their health and don't dent the wallet too much. We perform hands-on testing to find out how products live up to their product descriptions online, and in the case of greens powders, we've tested almost 20 products in this category at the time of writing.
Nested Super Greens
GGR Score: 4.1
Product Highlights
Contains over 20 whole foods, probiotics, fiber, and enzymes

100% organic, non-GMO, and vegan

One scoop contains 667 milligrams of spirulina, 400 milligrams of chlorella, and 1.67 billion CFU of probiotics

Third party-tested and approved

Lifetime money-back guarantee
Pros & Cons
Pros
Non-GMO, Vegan, 100% organic
Available in chocolate flavor
Contains prebiotic inulin to help feed healthy bacteria in the gut
Over 20 whole foods included
Many reviews report noticeable differences in energy, mood, and digestion
Cons
May be too strong for some and irritate the stomach
Taste is not great but, as a powder made primarily with vegetables, that is not surprising
Bottom Line
While the taste may not suit everyone, Super Greens effectively provides users with a potent dosage of phytonutrients, micronutrients, probiotics, fiber, and enzymes.
A Quick Look at Nested Super Greens
Nested Super Greens is manufactured by Nested Naturals, a supplements and nutrition company focused on all-natural, holistic wellness. All Nested Naturals products are plant-based, non-GMO, and packed in 100% recyclable materials. The brand also focuses on ethical sourcing and cruelty-free production, making this an ideal brand for those who are eco-conscious individuals.
Nested Naturals claims that their Super Greens support healthy digestion and gut health, and can ease bloating. In addition to the superfood blend of various vegetables, Super Greens includes dairy-free probiotics, enzymes, and fiber.
RELATED: Best Ashwagandha Supplement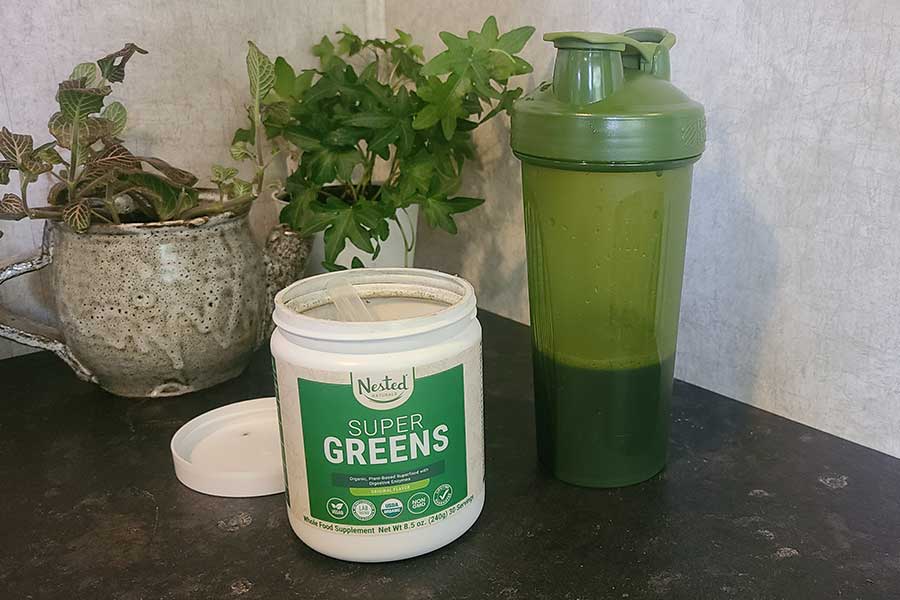 Before You Buy
This product is unflavored and sweetened just slightly with monk fruit. It tastes…green. So look for a flavored product or plan to mix it with juice or a sports drink if you can't handle the grassy taste.
Super Greens contains 1.67 billion CFUs of probiotics. If you already take a probiotic, compare labels to make sure you won't be overdoing it by adding Super Greens to your daily nutrition.
Are Nested Super Greens Worth It?
Greens powders in general are a safe supplement worth buying if there are gaps in your diet and you can pay the price. And if you can handle the taste, of course; not everyone is down to swig a glass of grass in the morning.
Good for:
Anyone looking to boost their daily micronutrient intake with a powder
Those who would prefer to take a powder supplement than a capsule or caplet
People who can handle the natural flavor of greens powders
Individuals on vegan, vegetarian, non-GMO, lactose-free, or gluten-free diets
Not recommended for:
Individuals who do not like the taste of greens powders—this one is unflavored
People who are opposed to texture in their beverage
People looking to substitute this drink for real fruits and veggies
Those who already take a multivitamin or probiotic supplement that may provide many of the same nutrients
Nested Super Greens Specs
| | |
| --- | --- |
| Price | $31.95 for 30 servings or $59.95 for 60 servings |
| Price per serving | $0.99 to $1.06 |
| Serving size | 1 scoop (about 8 grams) |
| Calories per serving | 30 |
| Formula | Alkalizing blend, fiber blend, antioxidant blend, probiotic blend, enzyme blend |
| Alkalizing blend | Barley Grass (Whole Leaf) Powder, Alfalfa Grass (Whole Leaf) Powder, Wheatgrass (Whole Leaf) Powder, Spirulina Powder, Chlorella (Cracked Cell) Powder‡ Sea Kelp, Spinach Powder, Broccoli Powder, Parsley Powder, Collard Green Powder |
| Fiber blend | Apple Powder, Rice Bran Solubles Powder, Jerusalem Artichoke Inulin Powder |
| Antioxidant blend | Beetroot Powder, Acerola Extract Powder, Eleuthero Root Powder, Echinacea Powder, Acai Juice Powder, Green Tea Extract Powder, Milk Thistle Powder, Gingko Leaf Extract Powder, Luo Han Guo Extract, Raspberry Powder, Blueberry Powder, Carrot Powder |
| Enzyme blend | Amylase (NLT 1608U), Protease (NLT 402U), Lactase (NLT 268U), Lipase (NLT 67U), Cellulase (NLT 13.4U) |
| Probiotic blend | Lactobacillus gasseri, Bifidobacterium bifidum, Bifidobacterium longum |
| Flavors | Original (unflavored), chocolate |
| Sugar per serving | 0 g |
| Sweeteners | Monk fruit |
| Third-party testing | Independently tested for chromatology, pathogens, heavy metals, potency, USDA Certified Organic |
Experience Using Nested Super Greens
Frieda Johnson, GGR editor and product tester, tried Nested Super Greens, specifically the original unflavored option.
"This tastes fine—not good, not bad," she says. "It tastes like a lot of greens powders I've tried: mildly like the color green. Or what I imagine a cow thinks grass tastes like. I could drink it just mixed with water, but I would definitely prefer to mix it with juice."
Frieda has tried the powder a few times, but says she doesn't think she's been using it long enough to determine if there are any long-term benefits or side effects. This is something that's really hard to pinpoint with greens powders, and supplements in general, especially if you take multiple supplements or have changed any other variables in your life.
However, Frieda noted no immediate side effects such as GI distress.
RELATED: Texas SuperFood Review
Price Per Serving
Nested Super Greens cost $0.99 to $1.06 per serving, depending on the size of the container you buy. There is a 30-serving tub and a 60-serving tub, and the cost per serving decreases with the larger container.
This is on the lower end of the spectrum compared to other greens powders we have tested, with top picks like Alani Nu Super Greens costing $1.67 per serving, Garden of Life Raw Organic Protein & Greens costing $1.61 per serving, and Supergreen Tonik costing a boggling $2.85 per serving.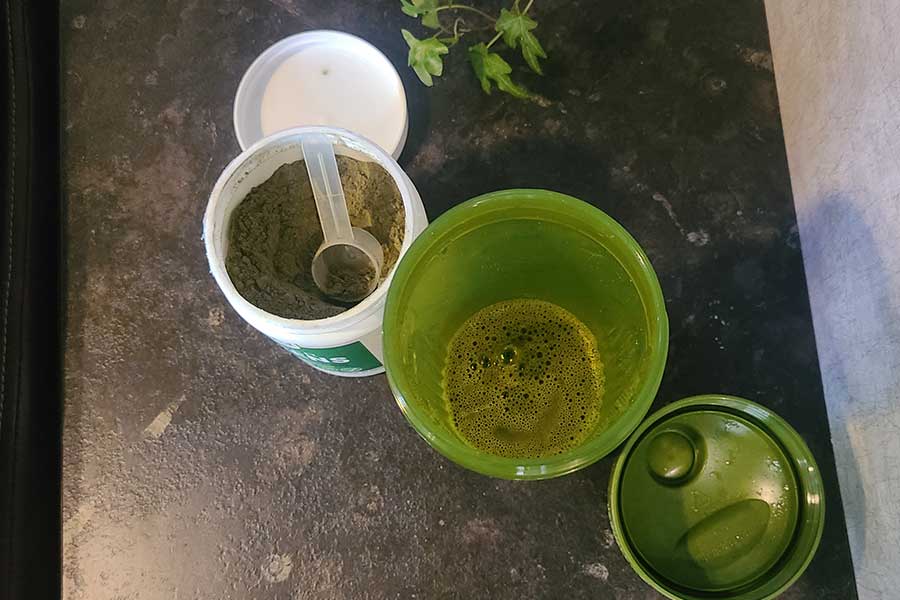 You can find out the price per serving of all of our top picks in our guide to the best greens powders.
Formulation
Nested Naturals Super Greens powder is full of the good stuff. The formula is separated into five distinct parts: an alkalizing blend, fiber blend, antioxidant blend, probiotic blend, and enzyme blend.
The alkalizing blend contains the whole food components, including:
Barley Grass (Whole Leaf) Powder
Alfalfa Grass (Whole Leaf) Powder
Wheatgrass (Whole Leaf) Powder
Spirulina Powder, Chlorella (Cracked Cell) Powder
Sea Kelp
Spinach Powder
Broccoli Powder
Parsley Powder
Collard Green Powder
The fiber blend includes dietary fiber from three whole-food sources:
Apple Powder
Rice Bran Soluble Powder
Jerusalem Artichoke Inulin Powder
The antioxidant blend is composed of several potent sources of antioxidants:
Beetroot Powder
Acerola Extract Powder
Eleuthero Root Powder
Echinacea Powder
Acai Juice Powder
Green Tea Extract Powder
Milk Thistle Powder
Gingko Leaf Extract Powder
Luo Han Guo Extract
Raspberry Powder
Blueberry Powder
Carrot Powder
All of the antioxidant powders and green superfood powders are organic ingredients.
The probiotic blend contains a total of 1.67 billion CFUs of the following healthy bacteria:
Lactobacillus gasseri
Bifidobacterium bifidum
Bifidobacterium longum
And the enzyme blend includes a handful of digestive enzymes that help break down nutrients in food for smoother digestion:
Amylase (breaks down carbohydrates)
Protease (breaks down proteins)
Lactase (breaks down lactose sugar)
Lipase (breaks down fats)
Cellulase (breaks down celluloses, a type of fiber)
Between all of the above ingredients, Nested Naturals Super Greens provides a percentage of the recommended daily value for various micronutrients. However, it is not a complete source of nutrition. One serving of Super Greens provides the following micronutrients, with percentages of the daily value based on a 2,000-calorie diet.
Vitamin D, 0 mcg, 0% DV
Calcium, 19 mg, 2% DV
Iron, 2 mg, 11%
Potassium, 132 mg, 4%
Vitamin A, 42 mcg, 4%
Vitamin C, 28 mcg, 42%
Vitamin K, 15 mcg, 19%
Thiamine, 0.1 mg, 7%
Riboflavin, 0.01 mg, 6%
Vitamin B6, 0.1 mg, 6%
Folate, 9 mcg, 2%
Vitamin B12, 1.9 mcg, 32%
Biotin, 1 mcg, <1%
Phosphorus, 22 mg, 2%
Iodine, 73 mcg, 50%
Magnesium, 9 mg, 2%
Selenium, 1 mcg, 1%
Copper, 0.01 mg, 5%
Manganese, 0.1 mg, 4%
Based on the above, Super Greens are a pretty good source of (providing 10% or more of the daily value of) iron, vitamin C, vitamin K, vitamin B12, and iodine.
Taste and Solubility
Nested Naturals is up front about the taste of this product: "Super Greens Original taste, well, green. The flavor is fresh and honest," the website reads.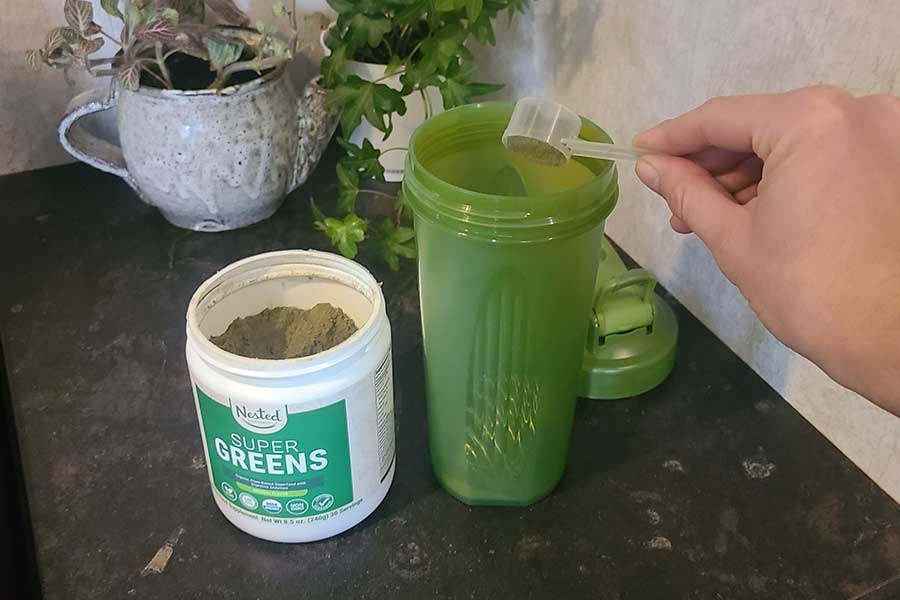 As Frieda put it, this "tastes like what I imagine a cow thinks grass tastes like."
Frieda says the powder blends well in both water and juice. "I didn't notice any clumping or settling, and there wasn't a grainy texture like some greens I've tried," she says.
RELATED: Best Vitamin D Supplements
Side Effects
Frieda didn't experience any immediate side effects, so that's good news. Based on the formula, some side effects you might experience include bloating, digestive upset, changes to your stool consistency, and changes to digestive regularity.
Whether or not you experience any of the above side effects is highly individual and just depends on how your body responds to the increased intake of probiotics and digestive enzymes. A lot of times, people's digestive systems "level out" after a couple of weeks of introducing and consistently taking a new probiotic supplement.
Also, if you take any medications for chronic conditions, check with your doctor before starting to take a greens powder because there could be contraindications.
Third-Party Testing
Nested Naturals Super Greens undergo thorough independent lab testing, including testing for pathogens, herb identification, heavy metals like lead and arsenic, and for potency. The potency testing, according to Nested Naturals, determines the "amount of vitamins, minerals, and specific active ingredients."
Though this product is thoroughly vetted, it isn't NSF Certified Safe for Sport or certified by the Banned Substances Control Group, so those who are athletes subject to drug testing may want to look elsewhere. One option for athletes is Athletic Greens AG1, which you can learn about in our Athletic Greens review.
Nested Super Greens vs Amazing Grass Greens Blend Superfood Original
Amazing Grass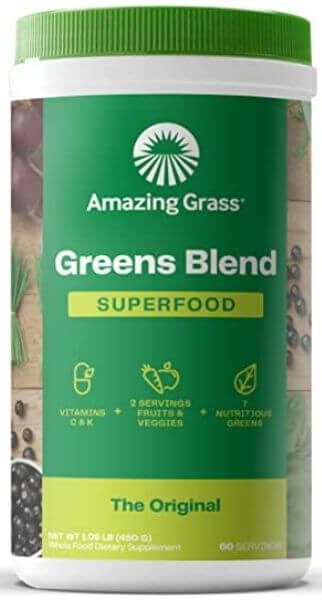 GGR Score: 3.8
Product Highlights
Greens Blend combines greens, fruits, and vegetables

Non-GMO, gluten-free, no sugar added 

Formerly called Green Superfood 

Available in 3 flavors
Pros & Cons
Pros
Subscribe and save 20%
Also available as a capsule
No sugar added
7 greens + 1 serving of fruit and veggies
Cons
Some users disliked the taste
Mixed reviews on how blendable the powder is
Less vitamins and minerals than competitors
Bottom Line
If you can handle the negatively reviewed taste of the Greens Blend, you may benefit from improved energy and digestion according to customer reviews.
Amazing Grass is a very popular brand of greens powder. It's probably one of the most well-known options because of its prominence in brick-and-mortar retailers; I see it at every Walmart, Target, Publix, GNC, Vitamin Shoppe, and CVS I go to.
Frieda also tried Amazing Grass and said it's "Hands-down the best-tasting unflavored greens powder I've ever tried."
"I wouldn't necessarily say it tastes good," she continues, "but it definitely doesn't taste like straight-up dirt like most greens powders. It's totally drinkable just mixed with water, but I prefer mixing it with juice."
Taste aside, Amazing Grass also contains a fiber blend and pre/probiotic blend, making it comparable to Nested Naturals Super Greens. It's slightly cheaper at less than 90 cents per serving, but Amazing Grass lacks the digestive enzyme blend and third-party lab testing that the Super Greens powder boasts.
Read our full Amazing Grass Green Superfood review for more details on this greens powder.
| | | |
| --- | --- | --- |
| | Nested Super Greens | Amazing Grass Original |
| Price | $31.95 for 30 servings or $59.95 for 60 servings | $39.95 for 45 servings |
| Price per serving | $0.99 to $1.06 | $0.88 |
| Serving size | 1 scoop (about 8 g) | 1 scoop (about 8 g) |
| Calories per serving | 30 | 30 |
| Key ingredients | Alkalizing blend, fiber blend, antioxidant blend, probiotic blend, enzyme blend | Green food blend, antioxidant blend, fiber blend, active culture pre/probiotic blend |
| Flavors | Original (unflavored), chocolate | Original (unflavored), chocolate, berry |
| Sugar per serving | 0 g | 0 g |
| Sweeteners | Monk fruit | None |
| Third-party testing | Independently tested for chromatology, pathogens, heavy metals, potency | Not third-party tested |
Customer Experience
If you buy on Amazon, you can sign up for the subscribe-and-save option and save up to 15% on each order. You'd be subject to Amazon's return and refund policies for this product, which may not be as good as the policies on the Nested Naturals website.
If you buy from Nested Naturals directly, you can save 10% with subscribe-and-save. More importantly, your purchase is eligible for the 100% lifetime satisfaction guarantee. Nested Naturals says that at any point, if you are not happy with the supplement for any reason, you can request a refund or replacement with no questions asked.
When buying from other retailers, such as your local supplement store, you'll be subject to that retailer's policies.
Ordering Nested Super Greens
Wherever you buy, the ordering process is straightforward: Select the product you want and add it to your cart. On Amazon and on the Nested Naturals site, you'll be able to choose subscribe-and-save if you want. Remember that the money-back guarantee is only available when you buy from Nested Naturals directly.
Customer Reviews
At the time of writing, Nested Naturals Super Greens powder has an average rating of 4.4 out of 5 stars on Amazon, with a very impressive 17,000 ratings. Of those, more than 11,800 are 5-star reviews.
Even the positive reviews are quite honest about the taste and appearance of the drink.
Reviewer T.S. Peters wrote, "You can put it in your favorite juice or water and shake away if you like. Your drink will turn the color of wet grass. But you can drink it. Personally, I like the lighter green color it turns when blended. If you are just starting to dip your toes into the 'healthy drink' world like I am, for the amount you use daily, the price is pretty decent. I will definitely be repurchasing when my supplies start getting low."
Other reviewers have no idea why some people dislike the taste: "Not sure why people are complaining about the flavor; it tastes great to me," wrote reviewer Rob Carroll. "I lived by the ocean most of my life and the taste of the powder reminds me of the fresh ocean smell. I think it is because of the kelp in the mix. This powder is natural with no artificial sugars or flavors which is a big selling point for me."
Final Verdict of Our Nested Naturals Super Greens Review
Nested Super Greens is a potent greens blend that includes probiotics, fiber, and digestive enzymes. It's not the best-tasting greens powder, but it is free from added sugar, artificial sweeteners, artificial flavors, dyes and colorings, and preservatives. It's also non-GMO, vegan, dairy-free, and USDA Certified Organic, making it a good option for those with dietary restrictions.
Nested Super Greens Full Rating
Nested Super Greens Full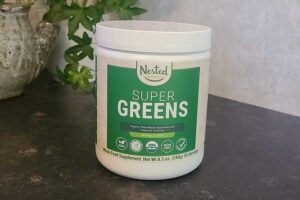 Are greens powders a magic potion for better health? Learn about the benefits of greens powders in our Nested Super Greens review.
Product Currency: USD
Product Price: 24
Product In-Stock: InStock
Nested Super Greens FAQs
What are the benefits of green drinks? 
The potential health benefits of greens powders vary based on what's in the ingredients list. Common reasons for taking greens powders include the potential benefits on brain health, immune function, digestive health, and energy levels.
Do green drinks really help? 
While we know for sure that meeting micronutrient targets and eating fruits and veggies is essential for health, there is limited high-quality research on how greens supplements themselves benefit us. 
A 2019 systematic review in the Journal of Clinical Medicine found that concentrated fruit and vegetable supplements may have a positive effect on risk factors associated with noncommunicable diseases like heart disease and diabetes. 
Registered dietitian Bob Iafelice says, "Greens powders can certainly be beneficial for individuals who, for whatever reason, do not eat enough veggies and fruits (AKA, a nutritionally inadequate, low-fiber diet), but they're not meant to replace or substitute recommended vegetable and fruit intake. These powders are the whole-food alternative to taking a multivitamin formula to ensure adequate intake of important micronutrients and fiber and help curb potential nutrient deficiencies." 
Do greens supplements help with weight loss? 
Greens powders aren't weight-loss supplements, but they can enhance your overall health by supporting your immune system and digestive system with micronutrients, fiber, prebiotics, and probiotics. If you are interested in losing weight, learn how to do so safely and successfully in our guide to the best weight loss programs.
Are green drinks good for detoxing? 
You don't need to take any supplements for detoxification—your body has organs that do that—but drinking a greens supplement is a good way to increase your daily water intake by several ounces, and water is important for maintaining your body's various waste removal processes.
These statements have not been evaluated by the Food and Drug Administration. This product is not intended to diagnose, treat, cure, or prevent any diseases.
References
Lorenzoni G, Minto C, Vecchio MG, et al. Fruit and Vegetable Concentrate Supplementation and Cardiovascular Health: A Systematic Review from a Public Health Perspective. J Clin Med. 2019;8(11):1914. Published 2019 Nov 8. doi:10.3390/jcm8111914