We test and review fitness products based on an independent, multi-point methodology. If you use our links to purchase something, we may earn a commission. Read our disclosures.
With the price of food being as unpredictable as ever, you can't blame the average American for not meeting the requirements for eating enough fruits and veggies. There are also barriers to consuming them consistently, such as limited culinary skill, lack of storage space, or fear of premature spoilage.
That's where learning more about a greens powder, like with our Amazing Grass Green Superfood review, can help. A greens powder can be a shelf-stable and convenient option to help you get in some powerful antioxidants along with some vitamins and minerals. Amazing Grass also includes a prebiotic and probiotic blend, making this inexpensive supplement a convenient 2-in-1 choice for those concerned with maintaining a healthy gut.
Medical disclaimer: This article is intended for educational and informational purposes only. It is not intended as a substitute for medical advice. For health advice, contact a licensed healthcare provider. GGR also recommends choosing a product that has been third-party tested for quality.
We Are Far From Green When It Comes to Supplements
Our team of health and fitness professionals took a close look at this green food blend and even had a taste for ourselves. We are committed to giving honest, evidence-based reviews of products that can give you an extra edge in the gym and help you maintain your health.
Amazing Grass Green Superfood
GGR Score: 3.8
Product Highlights
Contains digestive enzymes and probiotics
Caffeine-free version
2 servings of fruits and veggies per scoop
No added sugar
Made from whole food sources
Gluten-free
Kosher
Pros & Cons
Pros
Very affordable (under $1 per serving)
Multiple container sizes
Same-day Prime shipping
Subscription options available
Grass flavor isn't too strong
Contains probiotics and digestive enzymes
Cons
Not the best source of vitamins and minerals
Can remain gritty after mixing
Flavored options may be too sweet for some
Bottom Line
A budget-friendly greens powder supplement that contains a moderate amount of vitamins and minerals.
A Quick Look at Amazing Grass Green Superfood
The company's roots can be traced back to a family farm in Kansas, where founders Brandon and his friend Todd shared their passion for farm fresh greens. Both experienced firsthand the benefits of green nutrition on a daily basis, so, in 2002, they decided to start Amazing Grass.
Green Superfood is one of a few health-promoting dietary supplements they offer and it happens to be Certified Organic by CCOF, Sugar Free, Gluten Free, Plant Based, Kosher, and Non GMO. A serving of the powder contains two full servings of fruits and vegetables, plus fiber, digestive enzymes, and a pre/probiotic blend. Not a bad deal for how reasonably priced it is compared to similar products.
Before You Buy
Consult with your primary care physician, especially if you take prescription medications
Decide how much you want to commit to a greens supplement so you can take advantage of the many savings that come with bulk and subscription purchases
Is Amazing Grass Green Superfood Worth It?
Amazing Grass Green Superfood contains a green food blend made from organic greens and an antioxidant blend. Its formulation is impressive for the price, especially considering it has ingredients that can help aid in nurturing the gut and supporting digestion.
However, before you take the leap, take a look at who this product would be a good fit for and consider if you fall under those categories.
Great for:
Those who struggle to fit enough fruits and vegetables in their diet
Those wanting to supplement with a green food blend on a budget
People who prefer organic ingredients with minimal additives
Not recommended for:
People on prescription medications that may interact adversely
Those who can only consume third-party tested supplements
People sensitive to potentially gritty textures
Amazing Grass Green Superfood Specs
| | |
| --- | --- |
| Price per serving | $1.33 (for 30 servings) |
| Flavor | Original, Chocolate, Berry |
| Vitamins | Vitamins A, C, K |
| Minerals | Calcium, iron, sodium, potassium |
| Whole food-sourced nutrients | Wheat Grass, Barley Grass, Alfalfa Grass, Spinach, Spirulina, Acai Berry, Beet Root, Raspberry, Maca Root, Rose Hips, Pineapple, Carrot, Flax Seed, Apple Pectin |
| Pre/Probiotics | Fructooligosaccharide, lactobacillus acidophilus |
| Adaptogens | Maca root |
| Digestive Enzymes | Amylase, Protease, Lipase, Lactase, Cellulase |
| Features | GMO Free, Organic, Gluten Free, Sugar Free, Kosher, Plant Based |
Experience Using Amazing Grass Green Superfood
Costing as little as $1 per serving if you buy a larger container (or even less if you sign up for the subscribe and save option), this product is a pretty great value, especially if you are taking it the maximum recommended frequency of three times a day. It also doesn't exhibit the same qualities of "cheap" supergreens supplements, which usually consists of too much added sugar to make it taste better and minimal ingredients.
Our testers found the powder to be pretty soluble and one member of our team even crowned it as one of the best green food blends she has ever had. However, the texture may not be for everyone, so it may be safe to start out with a small tub to see how you like it personally.
Price Per Serving
For the standard tub containing 30 servings, the price per serving works out to be about $1.33 per scoop (or $1.06 per serving with Subscribe and Save). However, if you buy in bulk, you could pay as low as $0.80 per serving, which is pretty economical by market standards.
If you plan on taking this dietary supplement consistently and/or multiple times a day, it may be a frugal decision to buy in bulk to save in the long run.
Formulation
The full ingredients of Amazing Grass Green Superfood is as follows:
Organic wheat grass, organic barley grass, organic alfalfa, organic spirulina, organic spinach, organic chlorella (cracked cell-wall), organic broccoli, organic pure acai from Sambazon, organic maca, organic carrot, organic beet, raspberry, rose hips, pineapple, green tea, acerola cherry, organic flax seed powder, apple pectin fiber, F.O.S. (from chicory root), L. acidophilus, alpha and beta amylase, protease, lipase, lactase, cellulase, siberian eleuthero root, and peppermint leaf
Now that is a lot of superfoods in a single scoop, but let's talk about the biggest powerhouses. Spirulina is a common ingredient in greens supplements, and for good reason. It is a powerful antioxidant and studies suggest it can help fight inflammation and maintain a healthy immune system1. Similar compounds including wheat grass, green tea extract, organic acai, barley grass, and chlorella have similar and synergistic antioxidant properties.
This supplement also contains essences of whole food fruits and vegetables which are already well known to offer health benefits. It has been well-established by science that an increased intake of fruits and vegetables is associated with more energy, better heart health, and improved longevity2,3.
Finally, Amazing Grass Green Superfood contains a blend of prebiotics and probiotics. In case you're unfamiliar, a probiotic is a live culture beneficial for gut health, and a prebiotic is a fiber that feeds these bacteria and helps them grow, thrive, and multiply. Probiotic supplementation has been shown to temporarily improve gut health in healthy adults, according to a 2019 meta-analysis4.
Taste and Solubility
Consumer feedback concerning the taste and mixability of this greens powder seems to be mostly positive. It does seem, though, that you have to be careful to add the powder gradually to your chosen solution for best results.
One of our GGR editors, Frieda Johnson, tested the product and had this to say: "I'm really impressed with the taste. Hands-down the best-tasting unflavored greens powder I've ever tried. I wouldn't necessarily say it tastes good, but it definitely doesn't taste like straight-up dirt like most greens powders. It's totally drinkable just mixed with water, but I prefer mixing it with juice."
Another one of our testers had similar feedback: "Mixes very easily with a shaker ball, although it is a little grainy."
Side Effects
To date, there have been no reports of serious side effects of this product when taken as directed. Everyone is different, however, and due to the sheer number of ingredients, you may experience some bloating if you're first starting out using it.
Third-Party Testing
As of the time of writing, Amazing Grass Green Superfood does not appear to be third-party tested.
Comparison to Athletic Greens AG1
Athletic Greens AG1
GGR Score: 4
Product Highlights
Contains 75 minerals and nutrients in one serving

Available in travel pouches and bundle and save options

Said to support gut health with prebiotics, probiotics, and naturally occuring enzymes

Supports immunity with key ingredients like vitamin C and mushrooms

Magnesium is added to boost energy

May aid in recovery as it features superfood complex with adaptogens and antioxidants
Pros & Cons
Pros
Backed by notable health experts
Transparent and detailed ingredient list
75 vitamins and minerals
Cons
Expensive
Some reviewers dislike the taste
Bottom Line
If you're looking for a greens powder with a unique blend of minerals, nutrients, power greens, enzymes, and probiotics and you're willing to spend some money, Athletic Greens may be a good choice for you.
Athletic Greens is a similar supplement we've tried. The type and amount of ingredients is even super similar. However, the flavor of Athletic Greens did not win the favor of our team, and at $3.30 per serving, Athletic Greens is exponentially more expensive than Amazing Grass Green Superfood.
Athletic Greens also does not have any flavor options, so you're pretty limited on the usage and variety of drinks you can make for yourself. There is no doubt that it is a quality product, however if you are on a tight budget, you may want to skip it.
Customer Experience
If you need support or have questions while using this product, you can contact Amazing Grass by phone, fax, email, or mail. The corporate address is as follows:
230 Newport Center Drive Suite 300
Newport Beach, CA 92660
The corporate phone number is 866-472-7711 and the fax number is 415-663-4149. Hours of operation are 8am-5pm PST. If you have questions about your order, you can send an email to orders@amazinggrass.com. If you just have a general query not related to a purchase, you can email info@amazinggrass.com.
If something goes wrong and you need to make a return, Amazing Greens asks to be notified within 30 days of the receipt of your order. In some instances, certain returns may be subject to a restocking fee. If you purchased your products from one of the brand's retail partners, you must work directly with them for a return or product exchange.
Ordering Amazing Grass Green Superfood
You can buy Amazing Greens in servings of 30, 60, 100, 150 (capsules, not powder), or a box of 15 single-serve packets. The more servings you buy at once, the more you save. Alternatively, you can save even more money by purchasing through online retailers like Amazon, or opting in to the Subscribe and Save option on the Amazing Grass website, which lowers your cost of each order by 20% if you schedule deliveries every 30, 60, or 90 days.
When you order from the company site, the process is similar to other retail sites. Add your selected products to the cart, put in your shipping and payment information, and you're all set. No sign-up necessary. Amazon orders involve the typical Amazon process and also offer its subscribe and save option.
On the Amazing Grass site, orders over $59.99 qualify for free shipping, and shipping times are determined by the ship date, not by the order date. If your purchase is less than $59.99, shipping is $7.99 and typically takes 3-5 business days. Please note that orders are not processed during weekends or holidays.
Customer Reviews
Amazing Grass Greens Blend Superfood ranks as #2 in Spirulina Herbal Supplements on Amazon and currently holds 4.5 out of 5 stars with 43,776 reviews. Most reviews praise this product's flavor and effectiveness at aiding the function of the digestive system.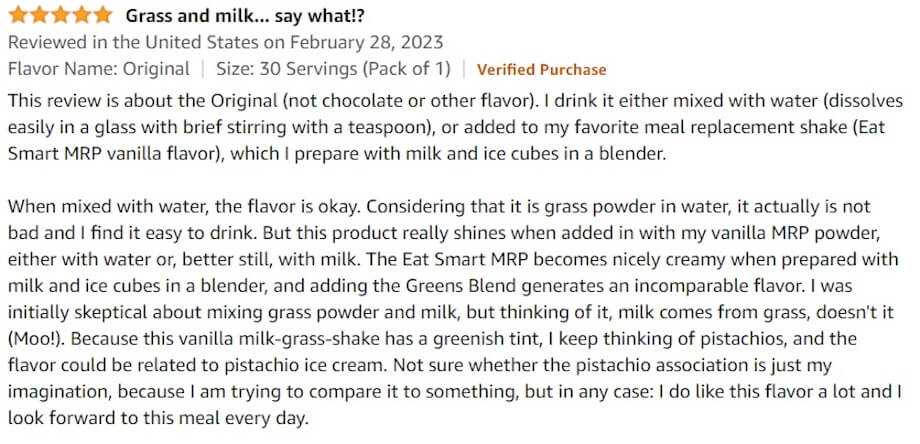 Final Verdict of Our Amazing Grass Green Superfood Review
For the price per serving, Amazing Grass has a solid Green Superfood powder that has a wide variety of inflammation-fighting compounds, digestive enzymes to support smooth digestion, and a prebiotic/probiotic complex to help maintain a healthy gut. So, you get a huge bang for your buck, which is good news for those with limited funds to distribute to a supplement regimen.
However, it is a little concerning that there is no third-party testing, so the ingredients and quality of them are not 100% verified. Also, the feedback on the flavor is mixed based on our team and customer reviews. While all of the ingredients are generally considered safe, it does have a large ingredient list, so the risk of interactions with prescription medications is high. If you decide to add Amazing Grass to your diet, you'll definitely want to check with your doctor first if you are taking any medications.
Regardless of what you choose, it's always important to remember that a greens supplement is no substitute for a nutrient-dense diet. It can be a great addition to help you fill in some nutritional gaps in your nutrition, but always use as directed and only in conjunction with a well-balanced eating plan composed of whole food nutrition.
Amazing Grass Green Superfood Rating
Amazing Grass Green Superfood
Looking for an easy way to get more greens in your diet? Check out our Amazing Grass Green Superfood review!
Product Currency: USD
Product In-Stock: InStock
Amazing Grass Green Superfood Review FAQs
What does Amazing Grass Green Superfood do?
Unfortunately, the idea of doing a detox using greens is a bit of a hoax. What you will get with their Green Superfood supplements, however, according to Amazing Grass, is help to maintain a healthy immune system and support digestive health. 
How often should I take Amazing Grass Green Superfood?
The manufacturers recommend taking 1 to 3 servings daily, in the morning and whenever else you want to take it throughout the day.
Does Amazing Grass Green Superfood have lead in it?
Due to the lack of third-party testing, there is no guarantee that the product is free of heavy metals.
How good is Green Superfood?
Green Superfood is very highly rated on Amazon with an average rating of 4.5 out of 5 stars out of 43,776 reviews, so it can be safe to assume this is an excellent product.
These statements have not been evaluated by the Food and Drug Administration. This product is not intended to diagnose, treat, cure, or prevent any diseases.
References