We test and review fitness products based on an independent, multi-point methodology. If you use our links to purchase something, we may earn a commission. Read our disclosures.
Gone are the days of drinking raw eggs, a jug of milk, and dairy-based protein shakes to reap the benefits of protein. Because as more and more consumers show interest in plant-based diets, the supplement industry has delivered…with peas! I never would've imagined those peas I picked out of my meals as a kid would sit in my pantry as a protein powder as an adult (yet a kid still at heart).
I am a registered dietitian who has spent years helping clients understand the importance of quality protein intake. Myself and the team at Garage Gym Reviews—comprised of certified sports nutrition coaches, competitive weightlifters, and certified personal trainers—personally tested more than a dozen products to find the best pea protein powder supplements on the market by evaluating protein content, the quality of additional ingredients, taste, solubility, and more.
RELATED: The Best Protein Powder
Medical disclaimer: This article is intended for educational and informational purposes only. It is not intended as a substitute for medical advice. For health advice, contact a licensed healthcare provider.
Best Pea Protein Powder
What Is Pea Protein?
Before jumping into our top picks, let's explore what pea protein powder is. For starters, peas are a type of pulse—the edible seed from a legume plant—naturally high in plant-based protein, dietary fiber, and various micronutrients such as calcium and iron.
As a supplement, pea protein1 often comes in pea protein concentrate and pea isolate:
Pea protein concentrate: may contain other pea compounds, although it still has a high protein content
Pea protein isolate: the pea protein is isolated from the other compounds in peas, resulting in a pure protein
As a plant-based protein, people often wonder, "Is pea protein a complete protein?" Technically, because pea protein2 contains all essential amino acids, it is considered a complete protein. However, pea protein is relatively low in methionine and cysteine compared to other plant and animal-based proteins.
Although there are plenty of plant-based protein powder benefits, pea protein is a dietary supplement, so it's important to remember that it should supplement a balanced and varied diet. If you consume other high-protein foods, whether animal or plant-based, you are sure to nourish the body with all essential amino acids.
And, truly, pea protein is a highly appealing plant protein, even on its own. Although a smaller study, 2019 research published in Sports3 found that whey and pea protein produces similar effects on body composition and athletic performance.
Also, unlike other protein powders, pea protein is not derived from one of the eight most common food allergens—milk, eggs, peanuts, tree nuts, soy, fish, shellfish, and wheat. This makes pea protein a suitable option for various dietary patterns.
So whatever your nutritional agenda, one of these pea protein powders could be great for you!
Best Overall Pea Protein Powder: Transparent Labs Rice & Pea Protein
Good for: Those who prioritize organic supplements and products
If you're looking for a plant-based dynamic duo, Transparent Labs Rice & Pea Protein is calling for you. Oh, and it also made our list of the best organic protein powders!
The pea-based protein powder is combined with rice protein4 to provide 24 grams per scoop. The combo of the two plant proteins enhances the overall amino acid profile, especially uplifting the lysine content—an essential and branched-chain amino acid—often lacking in vegan proteins.
To toot the pea and rice protein blend's horn even more, a study in the Nutrition Journal5 suggests whey and rice protein can improve body composition and exercise performance similarly to other animal-derived and commercially available proteins. Research6 also hints that pea and rice proteins are promising allergen-friendly proteins.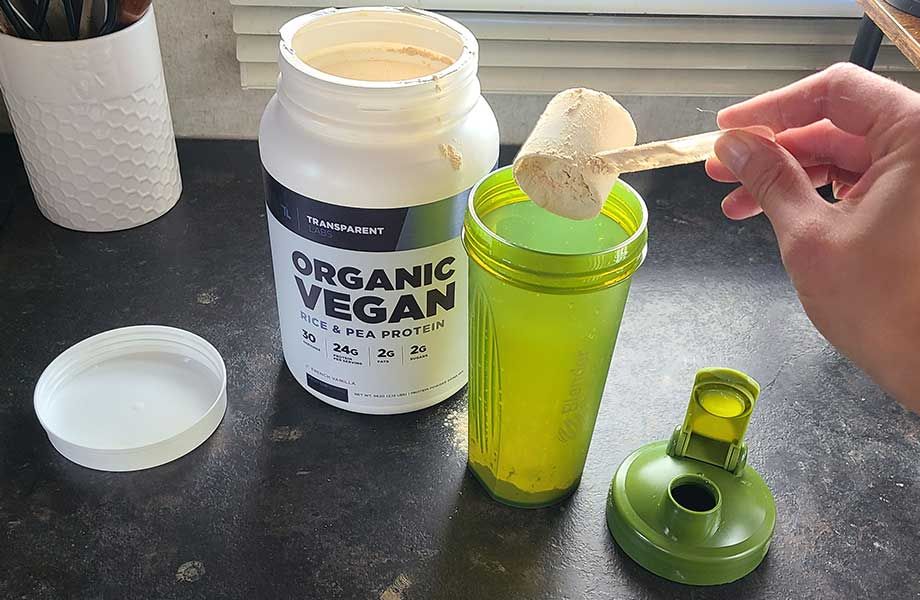 Protein aside, you'll get a healthy dose of vegan-friendly iron, specifically 4 milligrams (or about 20% of your daily value) with each scoop. Dietary fiber is also present, although the amount depends on the flavor: Chocolate provides 4 grams of fiber per scoop, while French Vanilla supplies only 1 gram.
GGR writer and expert product tester Lauren Strong tried the chocolate pea protein powder and was pleasantly surprised, calling it one of the best tasting pea protein powders. "Not too bad for a vegan protein powder! It tastes like a dark chocolate drink (not milk chocolate), but with an earthy hint because of the rice and pea protein." However, Lauren says she wouldn't suggest this for people who like sweet/sugary protein drinks, as it's not very sweet and you can really taste the cocoa.
RELATED: Transparent Labs Protein Review
However, GGR Editor Frieda Johnson tried the vanilla pea protein powder, and found the flavor to be very artificial. She said it also upset her stomach a bit, which is obviously not desirable. She also rated this a 3.75 out of 5 for solubility, as it was very foamy after mixing.
Both Chocolate and French Vanilla options are free of GMOs, added sugar, soy, and artificial ingredients like sweeteners, dyes, and preservatives. Also, like all Transparent Labs products, you can view their Certificate of Analysis that's been conducted by a third-party lab.
| | |
| --- | --- |
| Main Protein Source(s) | Organic rice protein, organic pea protein isolate |
| Protein Content | 24 g per 1 scoop (32.05 g) serving (Chocolate) |
| Calories Per Serving | 130 |
| Flavor Option(s) | Chocolate, French Vanilla |
| Cost | $49.99/30 servings=$1.66 |
Best Natural Pea Protein Powder: Ritual Essential Protein 18+
Good for: Anyone who' looking for a pea protein powder with no artificial ingredients
Ritual Essential Protein 18+ contains all-natural and organic ingredients, including monk fruit and fermented sugarcane used to sweeten the powder. The company also prides itself on using 100 percent traceable ingredients, even providing you the supplier of the organic yellow peas used to create this protein powder.
Speaking of peas, pea protein is sometimes low in an amino acid called methionine and as a result isn't technically a complete protein—Ritual fixes this by adding nearly 500 milligrams of the amino acid to create a higher quality protein supplement.
Kate Meier, GGR's head of content and a competitive weightlifter, says Ritual Essential Protein tastes good even when mixed with water—"That's how decent I think this taste is," she says—but prefers it in her morning smoothie when mixed with berries and water. "It's not super plant-y or hemp-y like some plant-based proteins are," she says, awarding it a 4 out of 5 on taste. "The Vanilla taste is definitely detectable, but not overly strong."
Ritual is a subscription-based company so you can't order just one protein pouch, though they offer a 30-day money-back guarantee if you don't like the protein. If, like us, you end up being a fan the subscription service guarantees you'll never run out of protein, and you can always pause deliveries if you're going to be out of town.
| | |
| --- | --- |
| Main Protein Source(s) | Organic pea protein |
| Protein Content | 20 g per 1 scoop |
| Calories Per Serving | 115 |
| Flavor Option(s) | Vanilla |
| Cost | $40/15 servings = $2.67 |
Best Organic Pea Protein Powder: Naked Nutrition Pea Protein
Good for: Anyone looking for a high-quality, pure pea protein powder
Naked Nutrition's pea protein is just what you'd expect: a single-ingredient protein powder with one ingredient: organic pea protein. Well, unless you opt for the Chocolate or Vanilla flavors, but we'll first highlight the beauty of Naked Pea.
Naked Nutritoin's pea protein provides a whopping 27 grams of protein in a 2-scoop serving, along with 2 grams of natural carbohydrates and 0 grams of fat. The protein is specifically sourced from yellow split peas grown on U.S. and Canadian farms.
Also recall that while pea protein is technically a complete protein, it is relatively low in methionine and cysteine. Due to this, Naked Nutrition recommends adding its pea blend with Naked Rice to diversify and complete the amino acid profile.
While it goes without saying as a single-ingredient product, we'll still mention that Naked Nutrition's unflavored pea protein is free of artificial flavors and sweeteners, added sugars, fillers, and anything else that's not yellow pea protein isolate.
Even if you choose a flavored option, both Chocolate and Vanilla options contain slim ingredients list from natural sources—like cacao powder and natural vanilla flavor. It's important to note that both flavors also contain added sugar, although it's sourced from coconut sugar that's considered a more natural source.
GGR Editor Frieda Johnson, who eats a lot of plant-based food, tried the unflavored version of Naked Pea and enjoys it, mixing it into oatmeal to add an extra protein punch with a smooth, creamy texture.
She gave it a low 2 out of 5 for taste and has a warning for those who are new to pea protein: "This one has a strong pea protein flavor, and a serving is 2 pretty large scoops, so I would definitely recommend starting with half a serving—it will make whatever you mix it with taste like pea protein unless you really double-down on the sweeteners."
Whichever Naked Nutrition pea protein you go for, all are certified gluten-free, non-GMO, and vegan. They're also third-party tested for heavy metals and Informed Choice Trusted by Sport certified, ensuring each product's purity and guiding athletes to careful purchasing decisions.
RELATED: Naked Greens Review
| | |
| --- | --- |
| Main Protein Source(s) | Yellow pea protein isolate |
| Protein Content | 27 g per 2 scoop (30 g) serving (Unflavored) |
| Calories Per Serving | 120 |
| Flavor Option(s) | Chocolate, Unflavored, Vanilla |
| Cost | $57.99/76 servings = $0.76/serving |
Best Low-Sugar Pea Protein Powder: Onnit Plant Protein
Good for: Minimizing sugar intake with maximum plant-based protein
Naturally sweetened with zero-sugar stevia leaf and monk fruit extracts, Onnit's plant-based protein supplement is a great option for anyone watching their sugar and carb intake. It specifically contains 3 grams of total carbohydrate with a 1-gram dose of dietary fiber.
Of course, Onnit's low-sugar profile is worth writing about, but its amino acid profile is worth writing home about. It provides 20 grams of protein per scoop, all essential amino acids, and branched-chain amino acids in the 2:1:1 ratio—thanks to added leucine—that the best BCAA supplements contain.
The plant protein contains our beloved pea protein and features Smooth Protein™, which is a blend of pumpkin seed, sunflower seed, and watermelon seed protein powders. It's also balanced with keto-friendly avocado oil powder to provide healthy fats and improve flavor. (But don't worry, it just contains an additional 1.0-1.5 grams of total fat, depending on the flavor of choice.)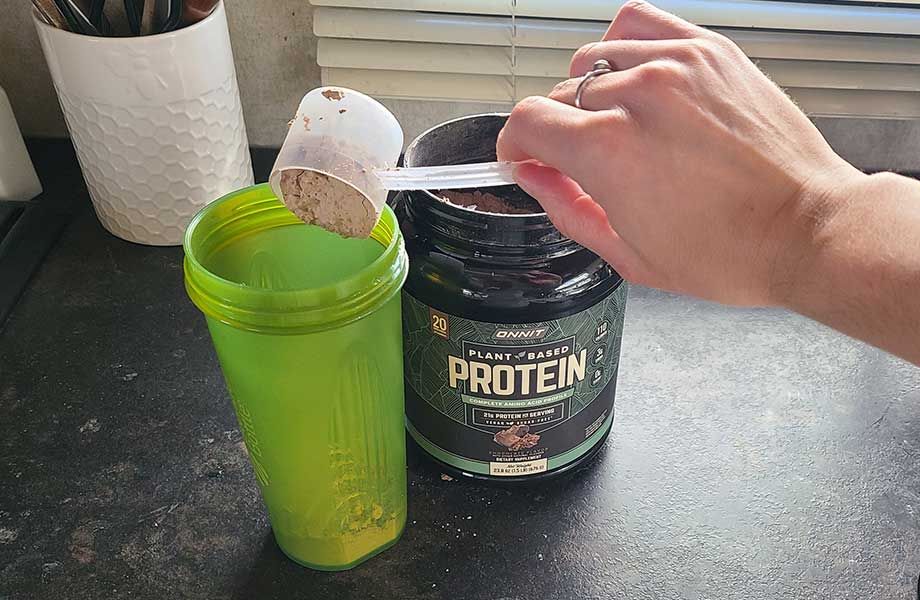 GGR Editor Frieda Johnson was surprised at how much she liked the Chocolate flavor of Onnit's Plant Protein, giving it a 4 out of 5 for taste. "Most vegan chocolate proteins are disappointing, but this actually tastes quite a bit like (dairy-free) chocolate milk I've tried in the past."
Speaking of flavor, Onnit Plant-Based Protein comes in Chocolate and Vanilla, which are both free of sugar, dairy, soy, and gluten. And to send this one home, Onnit is Informed-Sport third-party tested so you, especially if an athlete, can rest easy knowing it's free of banned substances and meets rigorous testing standards.
| | |
| --- | --- |
| Main Protein Source(s) | Pea protein concentrate, pumpkin seed protein powder, sunflower seed protein powder, watermelon seed protein powder |
| Protein Content | 20 g per 1 scoop (31.1 g) serving (Vanilla) |
| Calories Per Serving | 100 |
| Flavor Option(s) | Chocolate, Vanilla |
| Cost | $44.95/20 servings = $2.25/servings |
Best Pea Protein Powder for Athletes: Ladder Plant Protein
Good for: Athletes searching for an honest pea protein powder with a boost of BCAAs
Co-founded by Arnold Schwarzenegger and Lebron James, Ladder Plant Protein is made for athletes and BY athletes. So, let's explore how plant-based protein could be your next slam dunk!
Ladder Plant Protein seems to have undergone a formulation change, as its product picture lists pumpkin protein; now, it only lists pea protein powder under its ingredients list. Despite subtle confusion, each scoop provides 21 grams of plant-based protein and 480 milligrams of tart cherry to aid muscle recovery.
Also because plant-based proteins tend to be low in all essential amino acids, Ladder contains a proprietary vegan amino acid blend—it contains the three BCAAs (leucine, isoleucine, and valine) and methionine (the essential amino acid naturally low in pea protein). One downside is that the amino acid profile is not itemized, although the Nutrition Facts label tells us you'll get 1,000 milligrams of the vegan amino acid blend with each serving.
Snag Ladder's pea protein in various serving sizes—including 4-, 15-, 30-, and 45-serving options—and Chocolate or Vanilla flavors to suit your protein needs and preferences. Both flavors are also free of gluten, artificial flavors, sweeteners, and synthetic colors.
Our tester, GGR Senior Editor Nicole Davis, is a whey protein drinker and thus wasn't a huge fan of the Ladder Plant Protein, but it does have plenty of positive reviews on its taste.
And as a protein built for athletes, although anyone can enjoy it, Ladder is NSF Certified for Sport. Sporting this label lets consumers know that the product is independently third-party tested for purity and free of banned substances.
| | |
| --- | --- |
| Main Protein Source(s) | Pea protein powder |
| Protein Content | 21 g per 1 scoop (33 g) serving (Vanilla) |
| Calories Per Serving | 140 |
| Flavor Option(s) | Chocolate, Vanilla |
| Cost | $39.90/30 servings = $1.33/serving |
Best Budget Pea Protein Powder: Anthony's Pea Protein
Good for: Enhancing protein intake without depleting your wallet
Anthony's Premium Pea Protein is similar to Naked Pea, as it's a single-ingredient powder with, you guessed it, pea protein. Specifically, a premium pea protein isolate sourced from Canadian yellow peas.
The pea protein is a smaller-dose supplement that provides 8 grams of protein per 1 tablespoon serving. But, like any protein powder, you can adjust the portion size to best fit your dietary needs.
It's also important to note that one 91-serving bag costs $19.49, equating to about a $0.25 per serving. This cost is for 8 grams of protein, which is one-third of Transparent Labs protein content that provides 24 grams per $0.76 serving. With some quick number crunching, it'd cost about $0.75 of Anthony's Goods Pea Protein to reach the same 24 grams of protein.
However, you can score bulk pricing with a specific discount based on the quantity you buy. Bulk pricing qualifies in increments of 2 (3% off), 5 (10% off), 10 (12% off), 20 (15% off), and 50 (17% off). Because protein powder is shelf-stable, purchasing in bulk and saving some dollars if you anticipate using them all is not a bad idea.
Costs aside, it goes without saying that the single-ingredient pea protein powder contains no artificial ingredients and is unsweetened and unflavored. This makes it a sneaky protein booster for protein shakes, smoothie bowls, baked goods, and other foods and drinks that Anthony's Goods recommends on its official site.
GGR Editor Frieda Johnson said this pea protein was very unoffensive, which we think is a good thing. "If you're not used to it, it might taste a bit strong," she says, "but it mixes fine in smoothies and baked goods." She gave it a 3 out of 5 on taste and a 4 out of 5 on solubility.
Anthony's Goods meets high safety standards and complies with guidelines set by the Food and Drug Administration (FDA), California Department of Public Health (CDPH), and Good Manufacturing Practices (GMP) in conjunction with Hazard Critical Control Point (HACCP) analysis. They also adhere to the U.S. Department of Agriculture (USDA) and U.S. Customs and Border Patrol (USCBP) when applicable.
All this to say, Anthony's Goods takes food safety seriously. Oh, and the pea protein powder is also verified as gluten-free and batch-tested.
| | |
| --- | --- |
| Main Protein Source(s) | Vegetable pea protein isolate |
| Protein Content | 8 g per 1 Tbsp (10 g) serving |
| Calories Per Serving | 35 |
| Flavor Option(s) | Unflavored |
| Cost | $19.49/91 servings = $0.25/serving |
Best-Tasting Pea Protein Powder: Truvani Plant Protein
Good for: Shocking your tastebuds with a plant-forward protein blend
Truvani continues to outrank other products as one of the best-tasting protein powders. In fact, Amanda Capritto, GGR senior staff writer and expert product taster, confidently proclaims that Truvani is the best vegan protein powder she's ever tried—and would willingly reach for it over whey protein powders!
But before we fully capture the flavor of Truvani, we'll first mention that it provides 20 grams of protein per serving exclusively from organic pea, organic pumpkin seed, and organic chia seed concentrates. Pumpkin seeds7 and chia seeds8 are packed with essential amino acids like pea protein and joined with other beneficial nutrients such as omega-3 fatty acids and antioxidants.
Beyond the primary protein sources, any additional ingredients are natural flavors and sweeteners—like organic vanilla powder, organic monk fruit powder, and Ceylon cinnamon —but are flavor-dependent.
Speaking of flavors, Truvani offers six flavors to choose from—including Banana Cinnamon, Chocolate Peanut Butter, and Vanilla Chai—and an Unflavored option if that's more up your alley. And if narrowing your choices to just one flavor seems impossible, a single-serve variety pack is available for you to sample all flavors!
Needless to say, because Truvani is a "clean" formula, you need not worry about any artificial ingredients and fillers. Truvani is also certified USDA Organic and Non-GMO Project Verified, making it one of the best organic protein powders on the market.
| | |
| --- | --- |
| Main Protein Source(s) | Organic pea protein concentrate, organic pumpkin seed concentrate, organic chia seed concentrate |
| Protein Content | 20 g per 1 scoop (29 g) serving (Vanilla) |
| Calories Per Serving | 130 |
| Flavor Option(s) | Banana Cinnamon, Chocolate, Chocolate Peanut Butter, Peanut Butter, Unflavored Vanilla, Vanilla Chai |
| Cost | $49.99/20 servings = $2.50 (on Amazon) |
Best Unflavored Pea Protein Powder: Bulk Supplements Pea Protein Isolate
Good for: Anyone wanting to sneak plant protein in their diet
Bulk Supplements Pea Protein Isolate is an unflavored pea protein with one single ingredient: pea protein isolate. This naturally means it's packed with pure protein—21 grams of protein per 30 grams (about 4 tablespoons), to be exact—and free of any added sugars, artificial ingredients, additives, and fillers.
The pea-based protein is offered in various sizing options to best accommodate your protein needs. If you anticipate using it frequently, you can save about $.40 per serving by opting for the 33-serving (2.2-pound) bag (for $0.66 per serving) versus the 17-serving (1.1-pound) bag (for $1.06 per serving).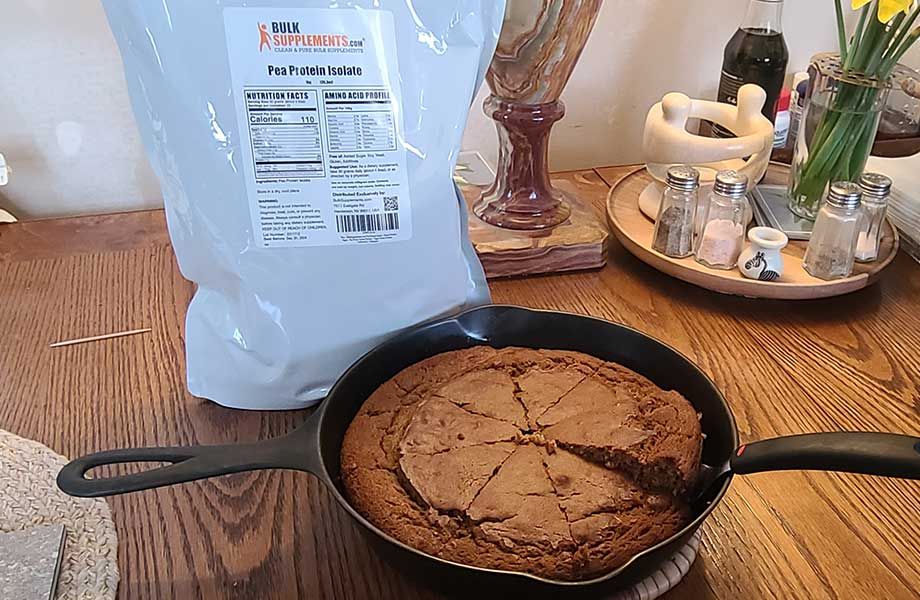 The pea protein isolate is said to have a light flavor while mixing easily with water or juice. It can also be blended into a more satiating and flavorful smoothie with your favorite fruits, leafy greens, and nut butter. GGR Editor Frieda Johnson uses this to bake and says it works great for that purpose—it's mild and doesn't overpower what she's making.
All Bulk Supplements products are manufactured in NSF-certified and FDA-registered cGMP facilities. They're also third-party tested in U.S.-based independent labs before distribution.
| | |
| --- | --- |
| Main Protein Source(s) | Pea protein isolate |
| Protein Content | 21 g per 30 g serving (about 4 Tbsp) |
| Calories Per Serving | 110 |
| Flavor Option(s) | Unflavored |
| Cost | $21.81/33 servings = $0.66/serving |
Best Keto Pea Protein Powder: Sunwarrior Protein Warrior Blend
Good for: Keto and plant-based dieters hunting for a unique protein blend
Sunwarrior Protein Warrior Blend is one of the best keto protein powders due to its low-carb content, specifically providing 2 grams of carb (and 16 grams of protein) per serving without worry of added sugars. Medium-chain triglyceride (MCT) oil from coconut also added, which may enhance ketone production, cognition, and satiety.
Sunwarrior contains a proprietary blend of organic pea protein, organic hemp seed protein, and organic goji berry. While we often discourage proprietary blends, the itemized amino acid profile allows us to strongly assume it's a complete protein.
Hemp seed is another great complete protein source with high arginine levels, which helps produce nitric oxide to improve blood pressure and athletic performance. It's also rich in omega-3 fatty acids and other micronutrients, including vitamin E, phosphorus, magnesium, iron, and zinc. Goji berries9 are among the only fruits abundant in essential amino acids and packed with antioxidants, vitamins, and other micronutrients.
Sunwarrior Protein comes in various flavors and sizes, so you can order according to your flavor preferences and protein needs. All options are USDA-Certified Organic and undergo third-party testing in an FDA-registered facility.
GGR head of content Kate Meier mixed this protein with water and with a dairy-free milk to assess its taste.
"This is a plant-based, organic blend that is soy-free, gluten-free, and dairy-free, no added sugar, nonGMO, so I knew it wouldn't knock my socks off with taste," she says. "You can tell it's plant-based because it has that typical plant-protein taste. The chocolate flavor does come through, but the hemp flavor is stronger. I think if you drink only plant-based protein and like hemp, you would be fine with the flavor."
Read our full Sunwarrior protein review for our complete thoughts on this supplement.
| | |
| --- | --- |
| Main Protein Source(s) | Organic Pea Protein, Organic Hemp Seed Protein, Organic Goji Berry |
| Protein Content | 16 g per 1 scoop (25 g) serving (Chocolate) |
| Calories Per Serving | 90 |
| Flavor Option(s) | Berry, Chocolate, Maple French Toast, Mocha, Pumpkin Spice (seasonal), Unflavored, Vanilla |
| Cost | $40.47/30 servings = $1.35/serving |
Best High-Protein Pea Protein Powder: Vega Sport Plant Protein
Good for: Anyone searching for a mega dose of plant-based protein
Packing 30 grams of plant-based protein with each scoop, Vega Sport is one mighty plant-based protein powder. It's also a complete protein—containing all essential and branched-chain amino acids—thanks to its varied protein blend of pea, pumpkin seed, sunflower seed, and alfalfa proteins.
Vega Sport is formulated with other unique ingredients—such as tart cherry powder and turmeric—to aid in muscle recovery and ease inflammation. It also contains probiotics and bromelain (an enzyme), which may improve digestion and gut health.
All five Vega Sport flavors—including Berry, Peanut Butter, and Vanilla—are sweetened and flavored with natural ingredients like stevia and peanut flour. They're also free of gluten, added sugars, artificial sweeteners, and dyes.
GGR performance editor and expert product tester Anthony O'Reilly, had pretty good things to say about the taste: "I went with Mocha, but got more of a brownie flavor (not a bad thing). It's easy to mix and tasted pretty good with my morning iced coffee. All in all, great for a vegan protein powder!"
Showcasing the NSF Certified Sport logo, Vega Sport is third-party and free of banned substances from the World Anti-Doping Agency (WADA). Vega is also certified B-Corp™ and partners with Veritree, a platform that helps companies plant trees with customers' orders, as an effort to drive sustainable social and environmental change.
Check out our Vega protein review for more information.
| | |
| --- | --- |
| Main Protein Source(s) | Pea protein, pumpkin seed protein, organic sunflower seed protein, alfalfa protein |
| Protein Content | 30 g per 1 scoop (41 g) serving (Vanilla) |
| Calories Per Serving | 170 |
| Flavor Option(s) | Berry, Chocolate, Mocha, Peanut Butter, Vanilla |
| Cost | $54.99/19 servings = $2.89/serving (Chocolate on Amazon) |
Other Pea Protein Powder We Researched
If you're curious about more great products on the market, check out other pea protein powders we researched and recommend:
How We Picked and Tested the Best Pea Protein Powder
Interested in our selection process? We'll let you in on our little secret—here's how we picked and tested the best pea protein powders based on our intricate supplement testing methodology for protein:
Protein sourcing and variety: All of our pea protein powders contain high-quality protein, including pea protein with some blended with other plant-based proteins. This allows consumers to choose single or multi-protein blends to fit their protein needs best.
Additional ingredients: If other ingredients are added to the pea protein, we ensure there's a rhyme and reason to their inclusion.
Flavor options: Recognizing that not everyone has the same palates, you'll always find flavor variety (and even unflavored options) on our lists.
Third-party testing: We strive to find dietary supplements that are third-party tested, and all of our top pea protein powder picks have undergone such rigorous testing.
Cost: We always accommodate various budgets so that most, and hopefully all, of our readers can enjoy the products we recommend.
Brand reputation: We believe that the brand behind the product deserves as much, if not more, investigation. A better understanding of the company and its values allows us to confidently recommend its products to our readers.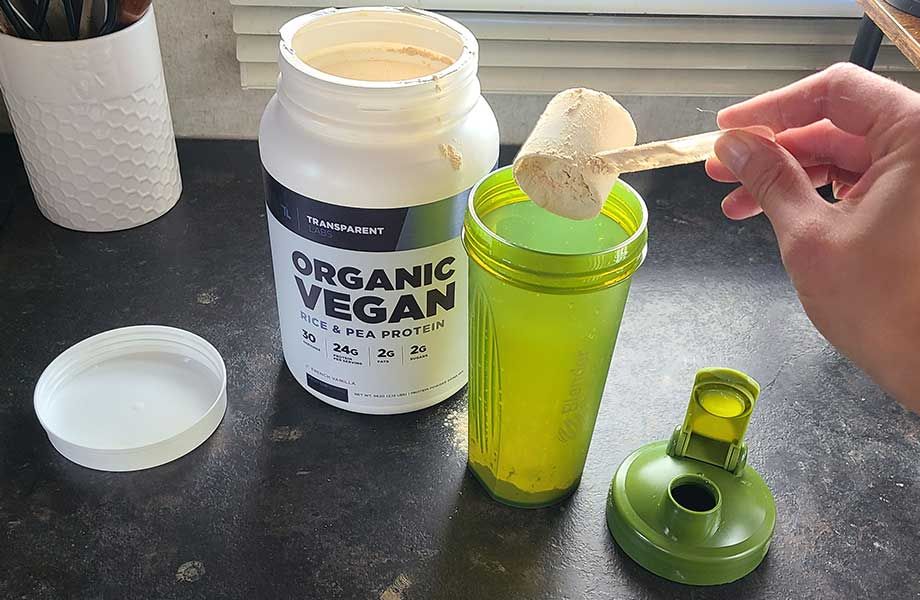 Benefits of Pea Protein Powder
Whether you're on the fence about pea protein or a nutrition nerd like we're proud to be, here's how pea protein powder can benefit and enhance your lifestyle:
Inclusive Protein Option
Because pea protein is free of common allergens and lactose, it's an inclusive protein option for a broad range of people. And not to mention, even if not following a vegetarian or vegan lifestyle, all animal and plant-based dieters can enjoy pea protein!
Supports Body Composition Goals
Whichever your body composition goal—like weight loss10, building muscle mass, or maintaining your body weight—pea protein can support your endeavors, just like any other form of protein.
Promotes Heart Health
According to a 2020 research review11, pea protein offers impressive heart health benefits. In animal and human studies, pea protein improves blood cholesterol and pressure levels, two major risk factors of heart disease if left uncontrolled.
Provides Additional Minerals
Pea protein is often rich in essential minerals like calcium, phosphorus, potassium, iron, and sodium. Each mineral has its own unique roles in the body, but together, they can help support bone, heart, neuromuscular, metabolic, and overall health.
Offers Versatile and Convenient Utility
While you might've scooted peas off your plate as a kid (and still might—no judgment here), pea protein powder can redeem itself as a totally convenient and versatile ingredient—drink as an on-the-go protein shake, blend into a post-workout smoothie, mix into your oatmeal, and so much more.
Dosing and Interactions
The amount of protein you need depends on your unique macronutrient needs that reflect your age, birth sex, activity level, and other factors. We've taken a deep dive to answer "How much protein do I need?," but here are the cliff notes:
For general health, aim for 0.8 grams of protein per kilogram (g/kg) or 0.35 grams per pound (g/lb) of body weight per day. For someone weighing 200 pounds, this would amount to 70 grams of protein daily.
To build and maintain muscle while supporting exercise performance, consume between 1.4-2.0 g/kg of protein daily. This equates to 127 to 182 grams of protein per day based on the same 200-pound individual.
Ideally, you should get most of your daily protein needs from high-protein foods. However, supplementing with a protein powder can help you hit your protein targets if you struggle to get enough protein, find yourself in a protein pinch, or just want a shelf-stable option.
Also, while pea protein has no known interactions12 at this time, there are certain safety call-outs to consider. For instance, pea protein powder can be unsafe for those managing kidney disease due to its high protein and potentially higher sodium, potassium, and phosphorus content.
Despite being hypoallergenic, pea protein might be cross-contaminated with common allergens during manufacturing. It's essential that you review its certifications and processing guidelines for this reason, especially if managing a celiac disease or major food allergy.
We encourage you to consult with a dietitian if you have questions and concerns regarding your dietary needs and safety. They can advise a nutritional plan for your personal needs and guide you in finding a safe and reputable protein powder—pea-based or not—like the ones we reviewed above.
Third-Party Testing
Because the Food and Drug Administration does not tightly regulate dietary supplements, we encourage choosing third-party tested products. Third-party testing means the product has undergone rigorous testing and contains what it claims to have.
Common third-party verifications include:
NSF Certified for Sport
Informed Choice
Banned Substances Control Group
Third-party verifications can also be helpful if you have specific dietary restrictions, needs, and preferences like:
Certified Gluten-Free
Certified Kosher
Certified Vegan
Non-GMO Project Verified
USDA Organic
Verifications and certifications should be visible on the product's container and the company's website. If you're still questioning a product's manufacturing and testing protocols, you could always contact the respective customer service team or opt for another product with clearly visible marks and logos.
Buying Guide: What to Look for in Pea Protein Powder
Before confirming your purchase, we recommend running through these tips to ensure the pea protein powder is right for you.
Protein Content and Sources
When looking for a pea protein powder, consider how much protein you'd like to obtain for it and any other added protein sources. Of course, you can always adjust the portion size, but protein powders with a denoted serving size (and scoop) help take out the guesswork about the amount of protein you'd expect to consume.
Generally, someone who lacks diet diversity might benefit more from a pea protein blend—such as with rice or chia seeds—than someone who regularly consumes various food sources.
Dietary Restrictions and Preferences
Pea protein tends to be a suitable alternative to other dairy and plant-based proteins, although you should still factor in your own dietary restrictions and preferences. For instance, some pea proteins contain more sodium than others, which is essential to recognize for those watching their sodium intake.
Other pea proteins have other added ingredients—like probiotics and digestive enzymes—that might be beneficial but not always preferred by consumers. Also, pay attention to unwanted ingredients like added sugars, fillers, and preservatives.
Certifications and Verifications
We'll always encourage you to review the product of interest's certifications and verifications, or at least ensure it's third-party tested and manufactured in NSF-certified, FDA-inspected, and cGMP-compliant facilities.
Other certifications a product holds are often a personal choice, including if it's Certified USDA Organic and Certified Gluten-Free. Choosing an Informed-Sport-certified product is also wise if you're a competitive athlete.
Brand Dignity
Before purchasing a product, it's never a bad idea to analyze the company's dignity behind it. While values and integrity can waver from one person to the next, the GGR team is always peeking into the company's mission and values, access to customer service, return policies, and consumer reviews.
FAQs About the Best Pea Protein Powder
Which is better, pea or whey protein?
What's better for you isn't always better for the next person, as there are many factors to consider related to dietary restrictions and preferences—like needing a dairy-free option and following a vegan lifestyle. Both also elicit similar body composition and strength benefits while ensuring daily protein intake.
Is pea powder a good protein?
Pea protein is a great plant-based protein that contains all essential amino acids. Although relatively low in methionine and cysteine, diversifying your other protein sources can help fill in these amino acid gaps.
Is it safe to drink pea protein everyday?
Barring no dietary restrictions and health concerns, drinking pea protein every day is considered safe. However, you should aim to get most of your protein intake from whole food sources and supplement as needed.
How do I choose pea protein powder?
Choose a pea protein powder that best fits your dietary needs and preferences, including if it's joined with other protein sources for amino acid diversity and other beneficial ingredients—like probiotics—as desired. Also, pick an unflavored or flavored option you're likely to enjoy, aiming for natural ingredients over artificial ones, and strive to choose a pea protein that's been third-party tested at a minimum.
How does pea protein compare to other protein powders?
One criticism of plant protein is that it's often called "incomplete." However, pea protein is a complete protein in that it contains all nine essential amino acids. Therefore, for people who cannot or do not want to consume animal protein, pea is a great option. It elicits similar responses in the body and counts toward a daily protein intake.
These statements have not been evaluated by the Food and Drug Administration. This product is not intended to diagnose, treat, cure, or prevent any diseases.
References: