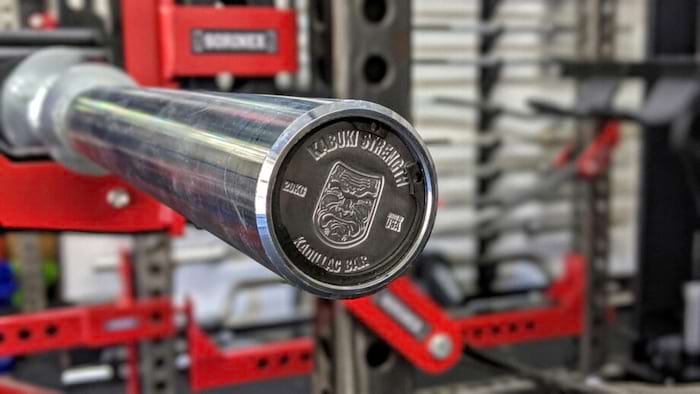 As you build out your garage gym, you're going to realize that there are only so many differences between the straight Olympic bars that you can buy. However, specialty bars offer an entirely new world of experiences in terms of versatility and training effect.
Although we'd likely recommend a trap bar as one of the first specialty bar purchases, a multi-grip bar is high on the list as well. The reality is, there are a lot of multi-grip bars available today and about 99% of them are cheaper than this one. So, why would you buy it? Here's what we like.
Camber Angle & Handles
I really like out of the box thinking. The price of a piece of equipment can only go so low, but the features and details are only limited by the imagination. Thankfully there are companies and people in the industry that are pushing the envelope instead of just jumping in the race to the bottom. Kabuki is one of those companies and there's no doubt that nearly every feature of the Kadillac Bar is thought through.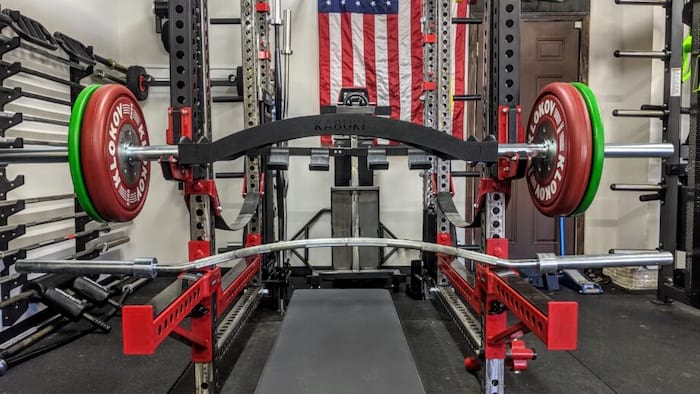 The first and most obvious feature of the bar is the camber angle. When Duffin and Kabuki Strength, then known Kabuki Warrior, introduced the Duffalo Bar, it was one of the first specialty bars outside of the safety squat bar that had been completely reworked to offer a premium experience with no expense spared. We've reviewed the Duffalo Bar in-depth and are big fans of the bar to this day.
One reason the Dufallo Bar was so popular, was the camber angle was actually thought through versus just some random bend that was chosen by a non-lifter who was looking to create something different. Many have attested to the camber angle of the Duffalo Bar being much better than previous Buffalo Bars for squatting as the bar was initially marketed as a squat bar, but eventually, people began pressing with the bar and realizing how great it was for that as well. That exact same camber angle that is so loved has been brought to a bar made for one thing, pressing and it's great.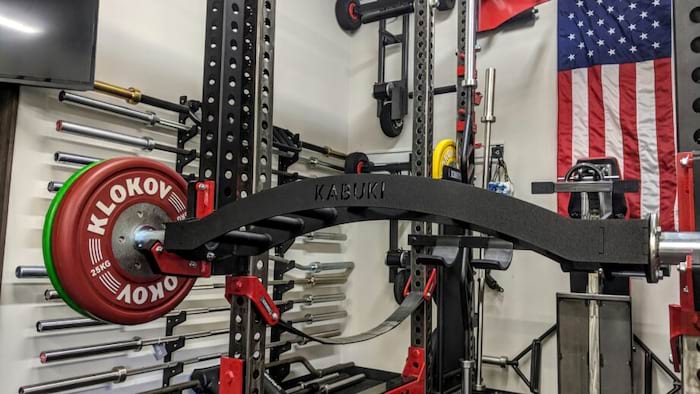 I've always loved pressing with the Duffalo Bar, but marrying the camber with a football bar was a great idea and makes for an awesome benching experience. The camber allows you and the bar to feel stable, which isn't always the case with multi-grip bars. I've had many buddies come over for a workout and look like their using an Earthquake Bar when pressing with a football bar. It's pretty funny, but not ideal. The Kadillac Bar eliminates this.
Also, the angle of the handles as previously discussed are at specific angles that feel great on the shoulders and wrists. I've seen comments that the wide-angle is too wide, however, I love the stretch it provides. I will bench most often with the middle handle as it's most similar to how I bench on a straight bar, and the close grips are awesome for more tricep work. Regardless the camber allows for a deficit in the press that allows a deeper stretch that is often had with cambered bench bars.
Sleeves
Something Kabuki has done with all of their specialty bars from the Transformer Safety Squat Bar to the Trap Bar is adding Olympic-sized sleeves. This may seem like a no-brainer now, but a majority of companies still use Schedule 80 pipe that has a thinner diameter than a typical Olympic Sleeves. A smaller diameter requires special axle collars and causes the plates to jar up and down on the bar. It's not ideal and certainly shouldn't be done on bars that are as expensive as we see today.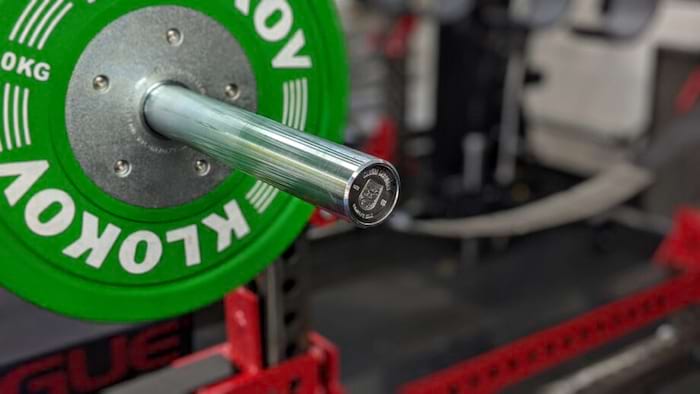 The sleeves on the Kadillac Bar have a Bright Zinc finish that will look good for some time, unlike black powder coat that we so often (still) see. The sleeves have a light ribbing and have a loadable area of 16.75", enough for even triple-ply bench shirt guys like Scot Mendelson.
The sleeve has a separate section that allows it to be racked. I've heard a couple of people question whether the bar fit on the rack fine, and the answer is yes, we've had no issues. We've tested it on both 47" and 49" outer width racks like what comes from Sorinex and Rogue Fitness and both work fine.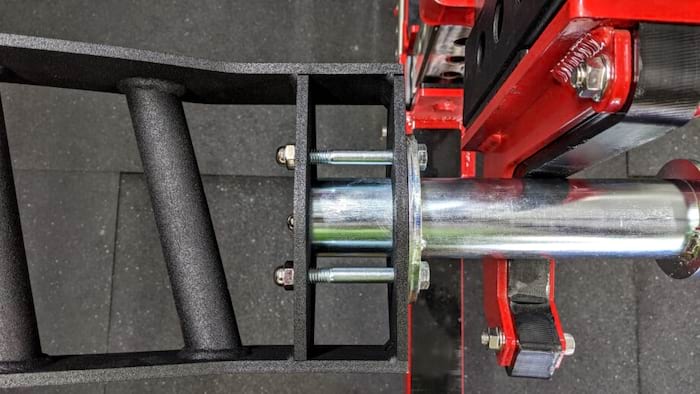 One unique and awesome idea for the bar to reduce the shipping cost (if you bought the Kabuki Trap Bar, you know what I'm talking about) is removable sleeves. The sleeves fit perfectly within the handles with very tight tolerances and once bolted on, never have to be removed. I love this idea for lowering the shipping cost yet making a rock-solid bar. This part could have easily been messed up.
Finish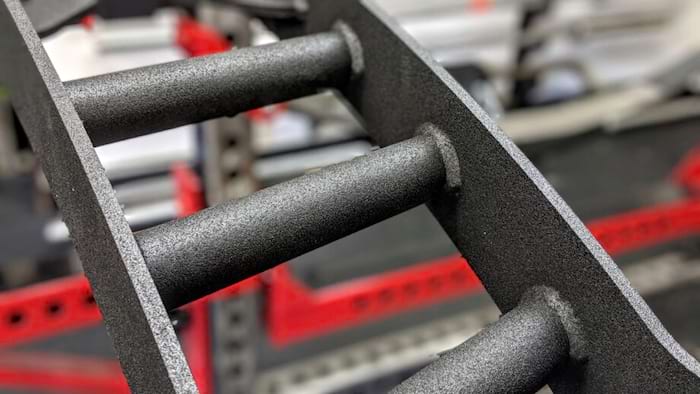 The powder coat that is used on the handled section of the bar is some of the highest textured powder that we've used. I always thought EliteFTS/Williams Strength had the highest textured powder coat, but they've been beaten by Kabuki. Sure, I'd definitely rather have knurled handles, but the additional cost of that on an already expensive specialty bar is not worth it in my opinion. Maybe as an option, but not standard.
The powder coat holds chalk extremely well, although I don't think you need it. You can also use the bar for rows and works really great for seal rows due to the few extra inches of pull you can achieve with the bar.
The Rest
Top to bottom the bar is great. The end caps feature the same muted, etched finish as their other bars which is an awesome feature and something we've been recommending to companies for some time on their specialty bars.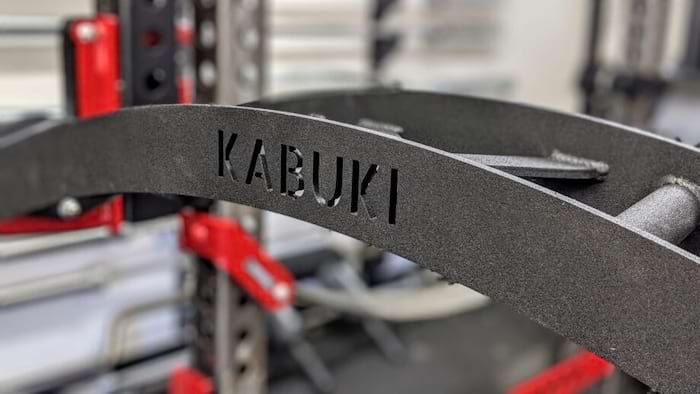 The middle of the bar has their name, "KABUKI" laser-cut. This is so much better than a sticker.
The center of the bar currently has a hole cut out that could eventually allow for an eyebolt and carabiner to be attached for lat pulldowns and low rows. We're going to DIY a solution until they decide to come out with their own.
Lastly, the width of the bar is slimmer than most football bars. This allows the bar to shake less as well as makes it better for overhead pressing, something I do often with multi-grip bars.
Overall, the Kadillac Bar is the best multi-grip bar we've used. We suggest it to anyone that can stomach the price.