We test and review fitness products based on an independent, multi-point methodology. If you use our links to purchase something, we may earn a commission. Read our disclosures.
After researching more than a dozen safety squat bars and testing close to 10 of them during training sessions featuring squats (regular, box, front squat, and back squat), good mornings, lunges, JM Presses, and more, we think that the Titan Safety Squat Bar V2 is the best Safety Squat Bar for most people.
Our previous pick was the EliteFTS SS Yoke Bar; although we still love the SS Yoke, version two of the Titan SSB is almost identical at a much lower price, especially when shipping is considered. It features heavy-duty steel, removable handles, thick padding, and chrome plating. There isn't a warranty which is unfortunate, but we doubt you'll ever need to use it.
The Best Safety Squat Bars
Video Review
Best Overall Safety Squat Bar: Titan Safety Squat Olympic Bar
Good for: Anyone looking for a heavy-duty safety squat bar at a good price
The Titan Safety Squat Bar V2 was a big surprise for us. The first iteration of the Titan Safety Squat Bar is one of the worst specialty bars we've seen. The camber angle is off, the handles are spread too wide, it whips with anything over 135 pounds, and was honestly a bit dangerous.
So, when Titan released a safety squat bar that featured thick diameter steel, the proper camber angle at 22 degrees, thick padding, and the proper width on the padding, we were intrigued. Skeptical still, but definitely intrigued. Thankfully, Titan has not just improved upon their previous iteration, they have absolutely blown it out of the water (not that the bar was set very high in the first place.)
One caveat we must make is the Titan SSB V2 is essentially a clone of the EliteFTS SS Yoke Bar, our previous top pick. I say this as a caveat because according to EliteFTS and Dave Tate, "It took over 10 months, MANY bars, and MANY squat sessions to get this dialed in, but I strongly feel we have the best Yoke Bar ever created."
And Dave was right, the EliteFTS SS Yoke Bar was the best safety squat bar ever created. In fact, it still stands pretty tall today after being on the market for over five years. If you're someone who wants to celebrate the original designer, then you should get the SS Yoke Bar from EliteFTS as it and the Titan SSB V2 are pretty much the same, except for the price.
With that out of the way, there are many reasons why the Titan SSB V2 stands as our top pick for the best safety squat bar. First off, its price is nearly half of every other safety squat bar on our list. We thought about making the Titan SSB our budget pick, but it's honestly good enough that it deserves to be at the top of the list. Sure, there are safety squat bars that cost less than the V2 from Titan, however, we wouldn't recommend any of these, and here's why:
Cheap safety squat bars use low tensile strength steel and therefore whip excessively.
Cheap safety squat bars use cheap padding that breaks down and becomes very uncomfortable to use.
Cheap safety squat bars often use an improper camber angle.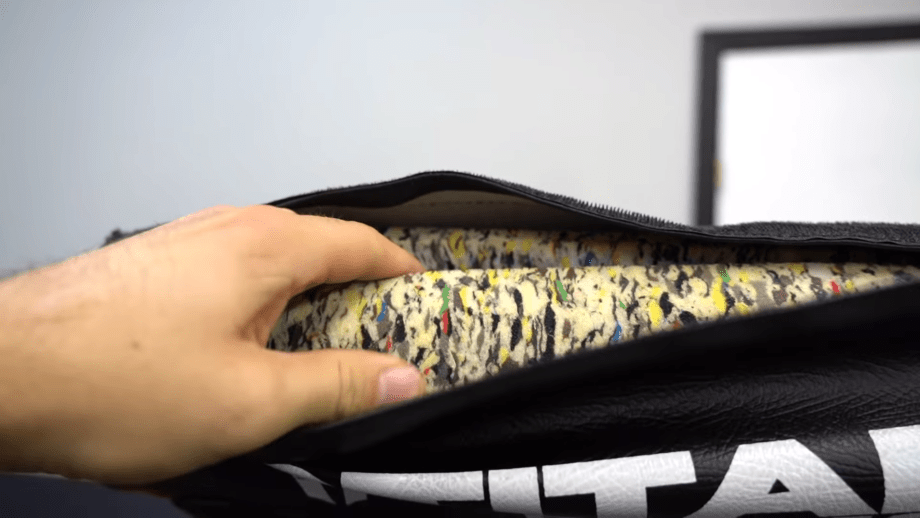 This essentially boils down to the fact that most safety squat bars (pretty much every safety squat bar that costs less than the Titan V2) are too dangerous for us to recommend. If you can't spend at least what this bar costs, then we'd suggest not buying a safety squat bar until you can; you'll get by just fine with your Olympic bar for the time being.
The padding on the Titan SSB V2 is very similar to what EliteFTS has, except Titan's has a single layer of carpet foam instead of two. I haven't noticed a big difference between the padding on the two, even at heavier weights. The vinyl on the Titan SSB is a bit thicker than EliteFTS so, in theory, it should be less likely to rip.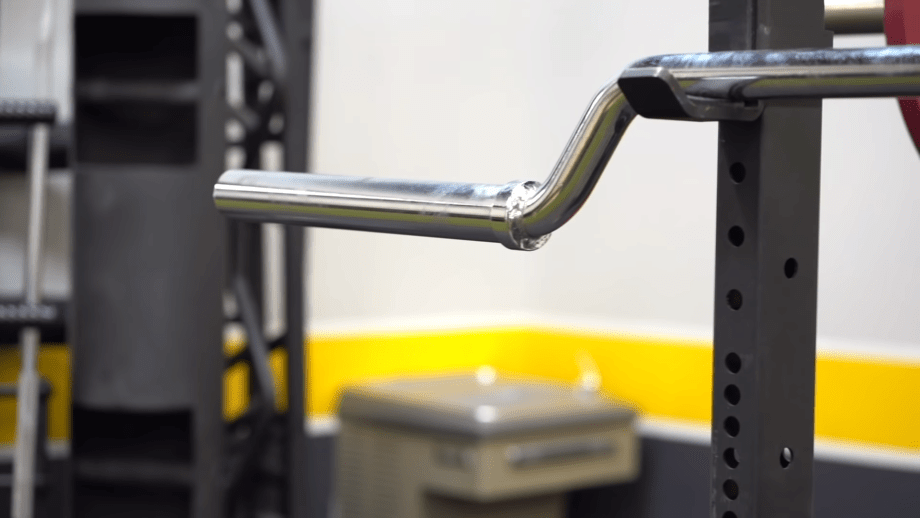 One thing that is an improvement on the Titan SSB V2 over what EliteFTS offers is that the sleeves are Olympic sleeves, meaning they take standard collars instead of having to use axle collars. This means calibrated plates fit well on the bar without too much play as well. Honestly, all bars should use the standard Olympic sleeve size and companies are starting to adopt this.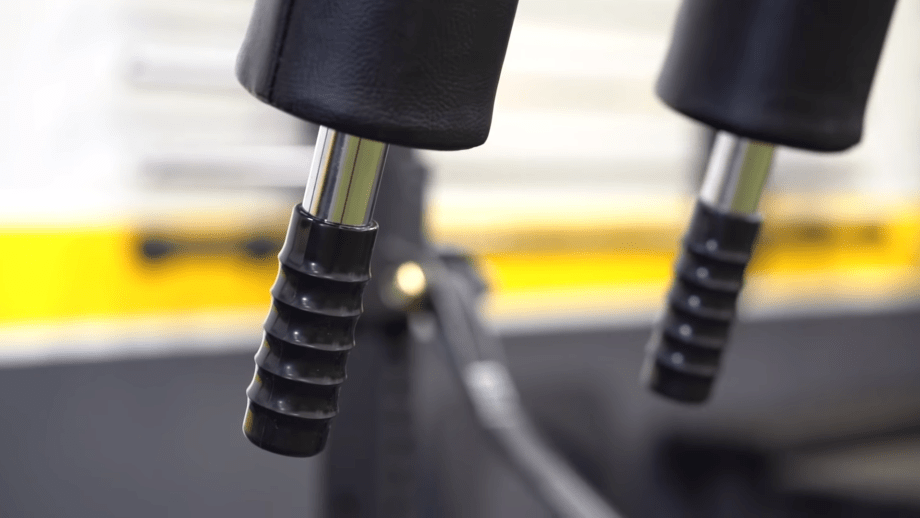 As previously stated, the handles on the bar are removable, which allows you to use the bar for things like JM presses and even curls. Although we don't use the bar for these movements a ton, they are nice to have as options. The more variety a bar gives a user the better when it comes to those training in a home gym.
Best Budget Safety Squat Bar: REP Fitness Safety Squat Bar
Good for: Those who are OK with spending a little more money for a high-value safety squat bar
The REP Fitness Safety Squat Bar is just a little more expensive than our top pick, but if you're OK with shelling out a few more dollars, you'll be rewarded with what we think is the best budget safety squat bar out there.
Coop tested this out and had a lot of great things to say about it. For one, it comes with thick, knurled handles to give you a fantastic grip on the bar. They're also removable, which makes it easy to use the bar for accessory moves like skullcrushers and JM presses. This is part of what makes it such a great value, even though it's a little more expensive than Titan's.
There's only one layer of foam padding, but it's high density so it should feel comfortable and resist deforming for quite some time. The vinyl covering is also nice and easy to clean.
One complaint we have about this bar is that the end caps don't list the weight, which is a problem because SSBs come in different weights. REP's is 68 pounds while Rogue's is 70. This is only a problem when you're calculating how much weight is on the bar but it's still something we feel should be called out.
The REP Fitness Safety Squat Bar has a 5.5-inch camber drop that feels quite similar to Titan's and the EliteFTS SS Yoke, though Coop felt REP's pitched him forward just a little bit.
Check out our full REP Fitness Safety Squat Bar review for more.
Best Value Safety Squat Bar: PRx Performance Safety Squat Bar
Good for: Those who want a safety squat bar that is worth the money
The PRx Performance Safety Squat Bar is a middle-of-the-road SSB, when it comes to price. Clocking in around $400, this bar has some great higher-end features without verging on costing too much money.
For starters, we like the 1,200-pound weight capacity. We know you probably won't squat that much, but it's nice to know that you have the option, right? Also, the black powder coat finish on the PRx SSB is fantastic for preventing rust and corrosion. However, we should point out that powder coats can get scratched up, especially if you're slamming the bar into metal j-cups.
The bar itself weighs 65 pounds and features 16-inch loadable sleeves. Users report that the padding feels great on the back, with one person noting that squatting the bar alone "feels like squatting air."
The handles have a rubber grip coating that is solid in the hand. No, they are not knurled.
With a 1.96-inch sleeve diameter, this bar will fit your Olympic plates at home.
Most Versatile Safety Squat Bar: Bells of Steel SS3 Safety Squat Bar
Good for: Those who want a safety squat bar that can perform a variety of functions
If there's one thing we like here at Garage Gym Reviews it's versatility, and that's what the Bells of Steel SS3 Safety Squat Bar has to offer. Right off the bat, the rotating Olympic weight sleeves work with Olympic weight plates and two-inch barbell collars—the latter of which isn't always a guarantee with SSBs. Typically you have to use axle collars to secure plates on an SSB but luckily that's not the case here.
In addition to that, the SS3 comes with not one, not two, but three removable handles: short, long, and chain. This gives the user more power over how they wish to use the bar and allows them to switch up their training routine if desired.
And at around $350, the SS3 is an incredible value. It also boasts a 1,500-pound weight capacity and comfortable padding.
The rotating sleeves are a cool feature you don't see offered on many SSBs, though we're not sure how necessary it is.
Our one major complaint about the SS3 is the loadable sleeve length, which falls just short of 12 inches. Most safety squat bars have a loadable sleeve length—the amount of space you have to load plates onto your bar—of around 16 inches, so while the SS3 has an impressive weight capacity you likely won't be able to get anywhere close to that unless you have really thin weight plates.
Best Safety Squat Bar for Advanced Lifters: Kabuki Strength Transformer Bar
The Kabuki Strength Transformer Bar is one of the most versatile specialty bars on the market.
Never before has there been a safety squat bar with the ability to change both the camber angle and position in a matter of minutes. This ability allows the bar to go from pitching someone forward to feeling very similar to a traditional barbell squat with padding and handles.
Let's start with the overall construction of the bar first.
The Transformer Bar from Kabuki Strength uses a much different bar stock than nearly all other safety squat bars. Most safety squat bars use a similar piece of steel that's used for axle bars. It's likely to schedule 80 pipes that have been welded and bent into the desired angle.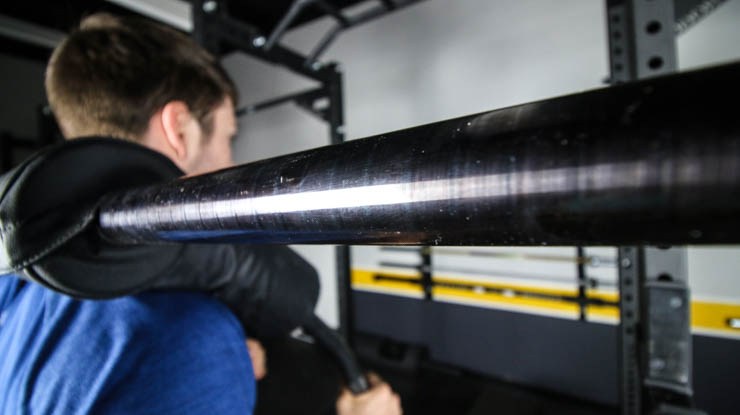 The Transformer Bar uses similar bar stock to what's used on a barbell. In fact, it uses 195k tensile strength bar stock that then has handles welded to it and has the ends threaded to accept bolts for locking in the camber sleeves.
The idea of the various camber angle positions is outstanding. I seriously want to applaud Kabuki Strength for continuing to innovate and think outside the box for creating some of the best home gym equipment currently on the market.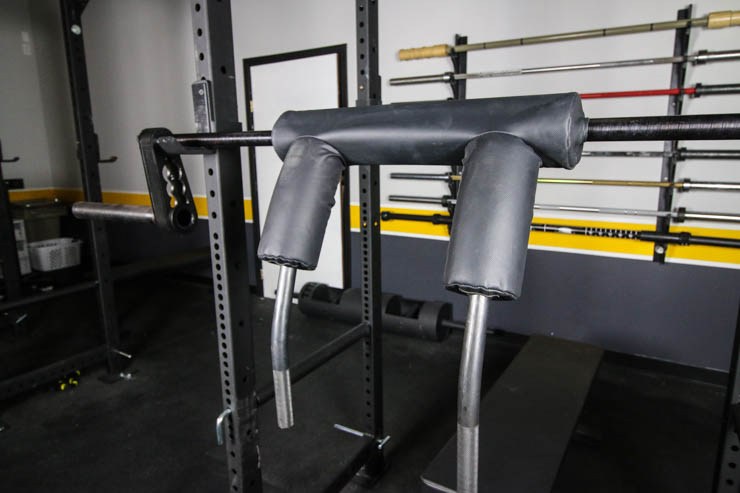 As previously stated, attached to the straight bar are two handles. These are both bent and then knurled to give the feel of a barbell.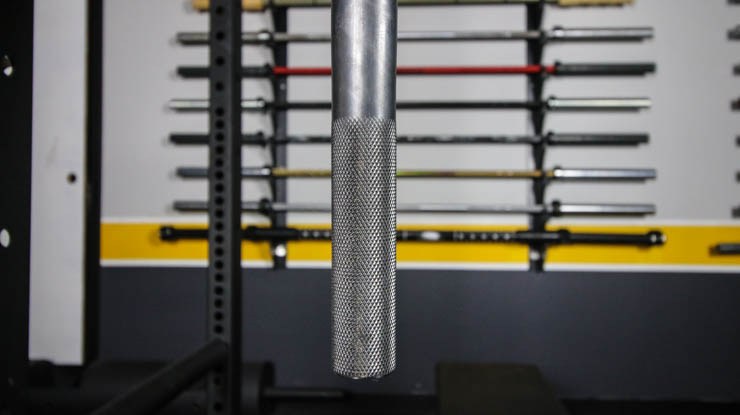 This is a feature I'm a big fan of. Everybody is used to the knurl of a barbell, so why not make the handles of the SSB knurled? It just makes sense.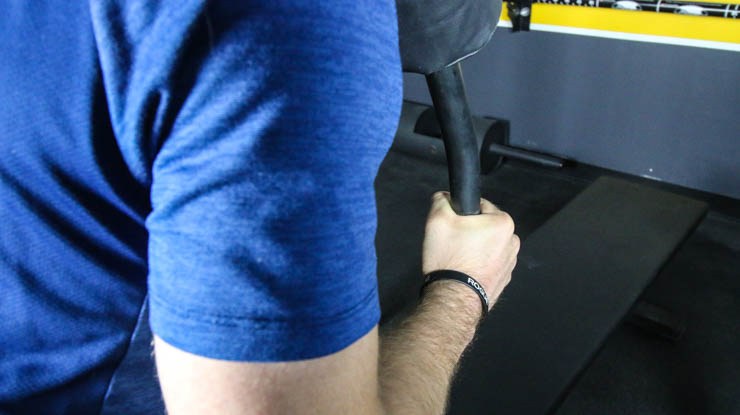 The handles are also long which allows the lifter to get in a comfortable position. Although I prefer to hold onto the padding, most people like the handles.
Wrapped around the middle of the bar and handles is the padding.
The padding Kabuki Strength is using is some of the most comfortable and densely packed I've used on a safety squat bar.
The vinyl that wraps around the padding could be improved by being thicker (I'm worried it could rip, although it hasn't happened yet,) but it's done a great job keeping the bar in place and maintaining its shape thus far.
They even doubled the vinyl up at the handles to keep it from ripping, which is a great touch.
Everything mentioned thus far is cool, but the most important part is the sleeves and what holds the sleeves to the bar.
First off, it must be said that the tolerances on this bar are TIGHT! In fact, there are times where I wish they weren't so tight so I could get the sleeves on and off easier.
Rather than simply bending the bar stock, Kabuki Strength and Chris Duffin have CNC'd complex brackets that fit onto the bar in 12 different angles. This is truly what separates the appropriately named Transformer Bar from our other picks.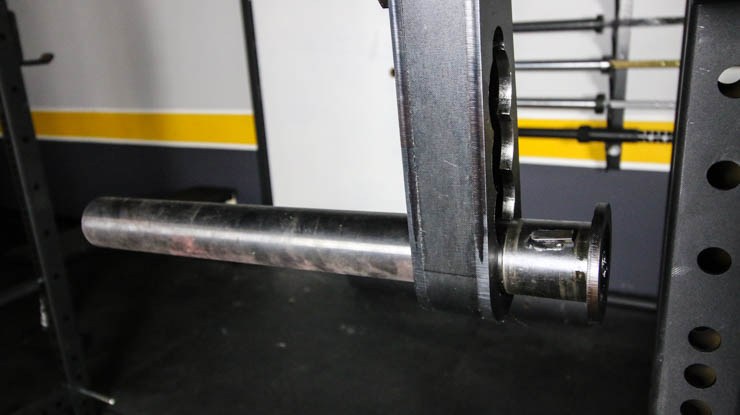 In addition to the various angles, the sleeves of the bar have the option to be placed in brackets at three different heights. This is yet another way to completely change the feeling of the Transformer Bar.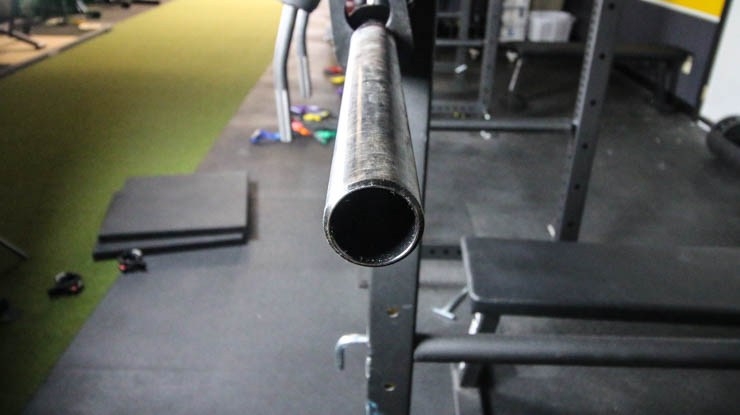 One feature I'm a BIG fan of is the machined Olympic sleeves. No other safety squat bar on the market (that I'm aware of) uses machined Olympic sleeves.
This means you don't have to buy special collars to fit on the bar and there will be tight tolerances between your plates and sleeve which should keep them from sliding during training.
Although the Kabuki Strength Transformer Bar is our upgrade pick, there are some things we believe could be improved.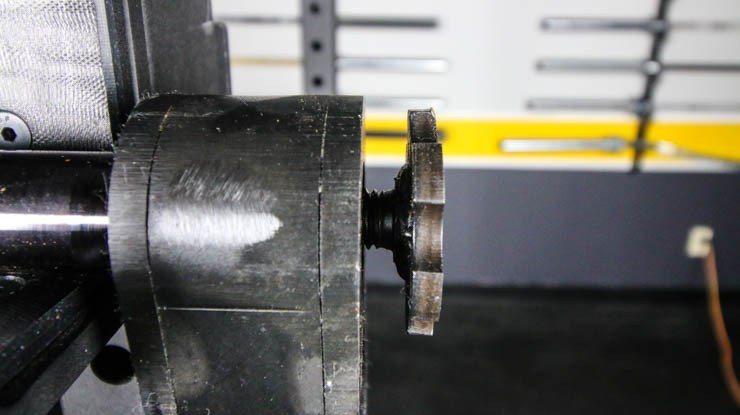 First off, it still takes too long to change out the angle of the camber. It's an awesome idea, but in talking to others who have used the bar, most keep the angle of the camber the same due to the amount of time it takes to change it out. If there could somehow be a quick-adjust system (I'm not an engineer, just thinking out loud) that would make this bar infinitely better.
The next improvement that, in my opinion, NEEDS to happen is rounding off the edges on the brackets. I've cut myself three times changing out the brackets due to how sharp the edges are. This is a simple fix that should be done as soon as possible.
In the end, the Kabuki Strength Transformer Bar is the best safety squat bar in the world, if money isn't an issue. We are BIG fans of the bar and what Chris Duffin and his team are accomplishing over at Kabuki Strength.
Best Traditional Safety Squat Bar: Rogue Safety Squat Bar
Good for: Those looking for a high-quality run-of-the-mill safety squat bar
Rogue Fitness is by and large the best overall equipment supplier around. Although their equipment can often be viewed as expensive, I'd have a hard time saying it was "overpriced.
The Rogue SB-1 SSB weighs in at 70 pounds with a flat black coating and the handles inserting into chrome caps. When initially released the SB-1 experienced a lot of powder-coat chipping.
However, today, it doesn't appear that the finish is 'chipping' on this bar as often as previous iterations (they've improved the powder-coating process,) but it's important to know that it does get marked up easily. There is quite a bit of wear and tear from racking the bar and placing plates on the collars, but that's par for the course.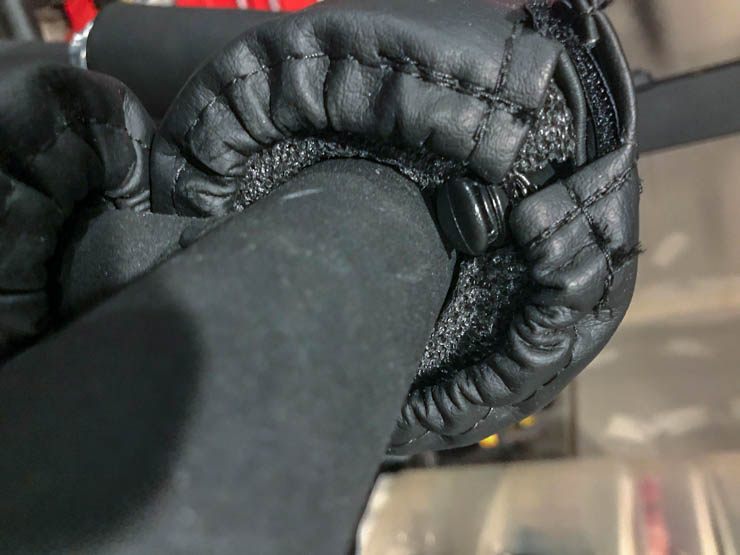 The area that people most have contention with on the Rogue SB-1 is the padding. The padding on the bar uses closed-cell foam that is very dense, however, it's also a rather small amount of padding.
In comparison to other bars such as the Crepinsek SSB, this foam is superior, however, it is not as good as our top pick from EliteFTS.
The next element to look at is the vinyl that is used for covering the foam and its stitching. One of the problems pointed out most on Rogue's comment page is the stitching coming out.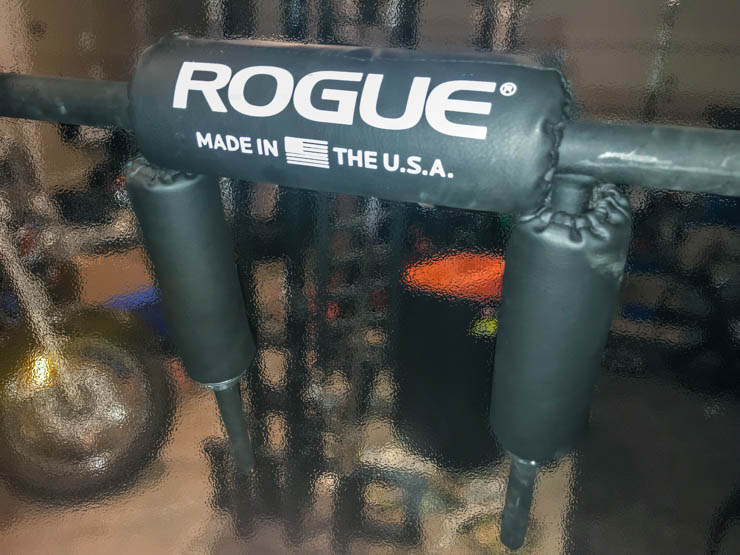 Although this has been reported by a few different people, we didn't experience this problem. The vinyl pad is sporting the only logo you will find on this bar – a white Rogue logo and "made in the USA" with the American flag on the back of the pad.
So how does the Rogue SSB feel while you're lifting? The first thing you will feel when unracking this bar, with any amount of weight on it, is the bar pushing you forward. That feeling is credited to the 5 ½" camber.

Next, the padding is fairly comfortable across your back and traps. It's important to note that you are still lifting weights with a bar on your back, and comfort is very subjective. In our tests with people who haven't used a safety squat bar before (clients at Intentional Fitness & Performance) pretty much everyone preferred the EliteFTS SS Yoke Bar.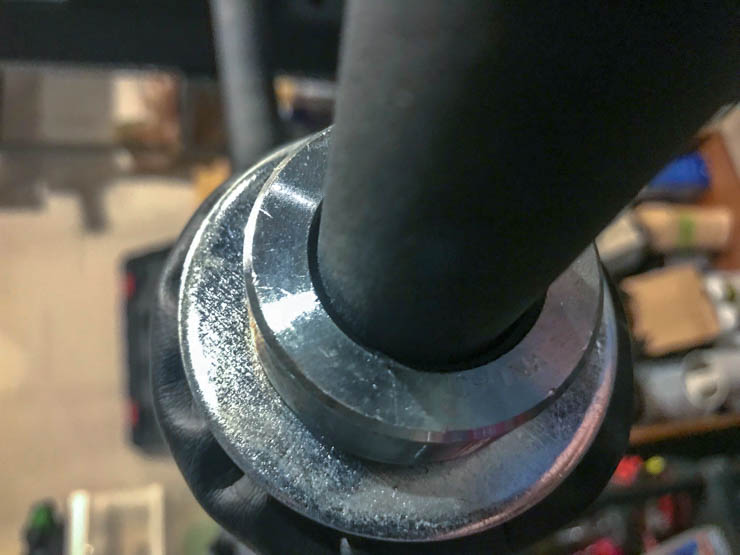 The next element to note is the handles on this bar are long enough to put your arms in a comfortable position. Holding onto the bar feels natural during squats, good mornings, or any of the other exercises one can do with the SSB. This is a huge plus as I have used some bars with shorter handles that do not feel as comfortable.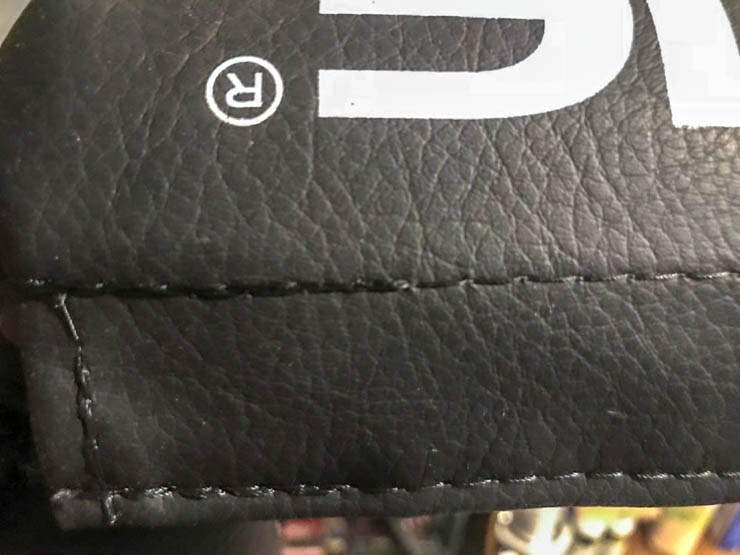 When squatting, the bar feels balanced. I have no trouble maintaining a solid position under the bar and completing the squats with the correct form. Re-racking the bar inside of a Rogue R-3 doesn't present any problems.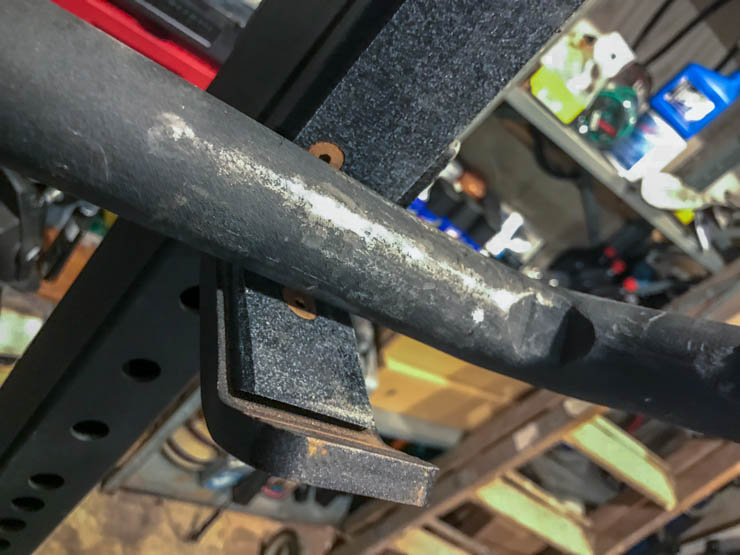 In closing, a person who is serious about gaining strength in a safe and versatile way will not regret making this purchase. Although the EliteFTS SS Yoke Bar is a superior safety squat bar in our opinion, the Rogue SB-1 doesn't fall far behind. We do, however, wish Rogue would let up on the price some.
Best Heavy Duty Squat Bar: EliteFTS SS Yoke Bar
Good for: Strong lifters looking for a durable safety squat bar
The EliteFTS SS Yoke Bar, out of all the safety squat bars we've used and tested is undoubtedly the best for most people. Not only do I use this safety squat bar the most, but I actually use it more than pretty much all of my other specialty bars (except for the Duffalo Bar, of course.)
I'm not kidding when I say there are few bars I like more than this, except for maybe my Eleiko.
The SS Yoke Bar combines an incredibly strong build, with oversized padding, removable handles, and coating from a company that knows more about powerlifting than just about everybody, sans Louie Simmons.
The padding of the bar is an important part to look at.
Companies will often overlook this piece when in reality, it's the most important for longevity. The padding and vinyl covering is always the first part of the bar to break down, and it is what allows someone to actually use the bar. Without it, the handles would dig into your shoulders, and be nearly impossible to use.
RELATED: Eleiko Olympic IWF Training Bar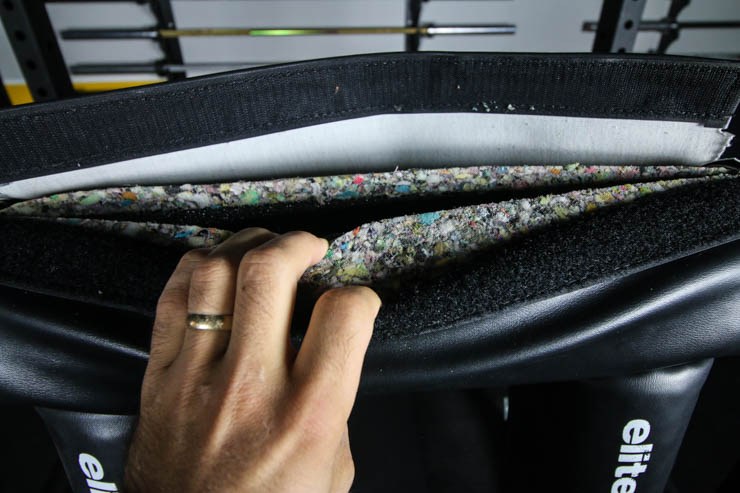 One feature of the EliteFTS SS Yoke that I haven't seen replicated by anyone else is the removable handles.
First off, removable handles increase the versatility of the equipment. When removed things like JM Presses and Skull Crushers can easily be performed without having the handles dig into your chest.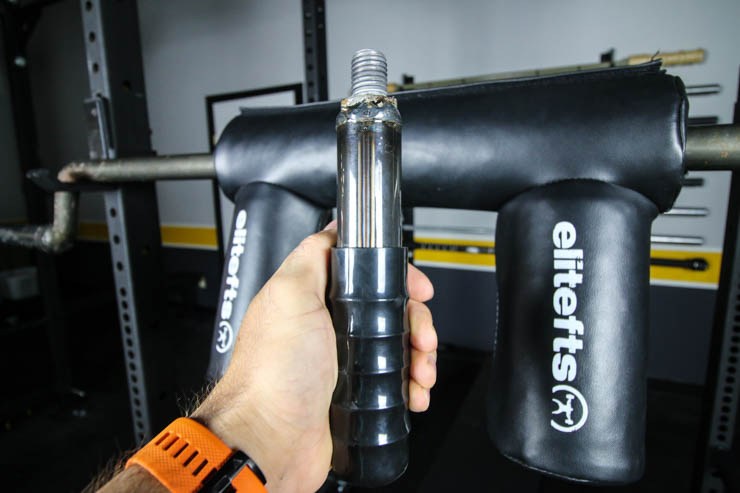 The removable handles also allow for interchangeable handle lengths. I haven't seen a reason to purchase the longer set of handles that EliteFTS sells, but I have seen people who prefer them.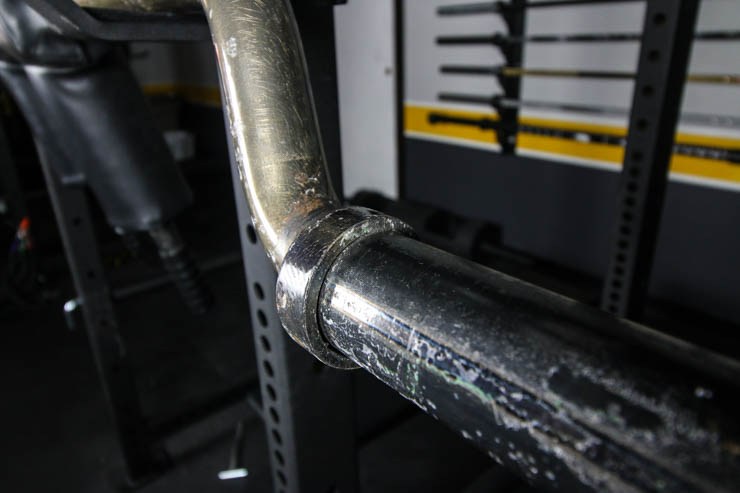 The EliteFTS SS Yoke uses a clear powder coat which is pretty unique for specialty bars.
Other companies, such as Sorinex have used clear powder coating over racks, but this is one of the only bars I've seen with it. Do I like it? Somewhat, but as you can see in the pictures, it does chip often.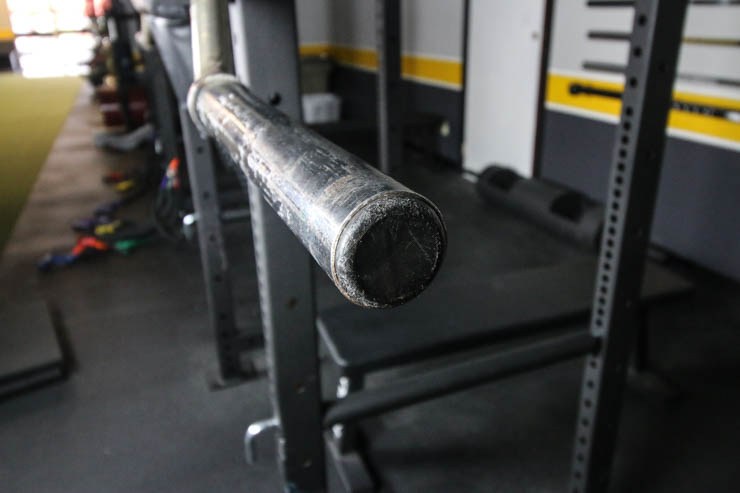 But, although it chips, it doesn't look as bad as a black powder coat, in my opinion. I do wish companies would start to use Cerakote on specialty bars, but we'll have to wait a bit for that (I've been told they're on the horizon from a couple of companies.)
Finally, the EliteFTS SS Yoke sells for less than any other safety squat bar on our list. It all depends on the deal they're doing. However, although Rogue only had one Black Friday sale on their equipment (and their SSB has never been on it), EliteFTS has regular discounts and the SS Yoke Bar is frequently on sale.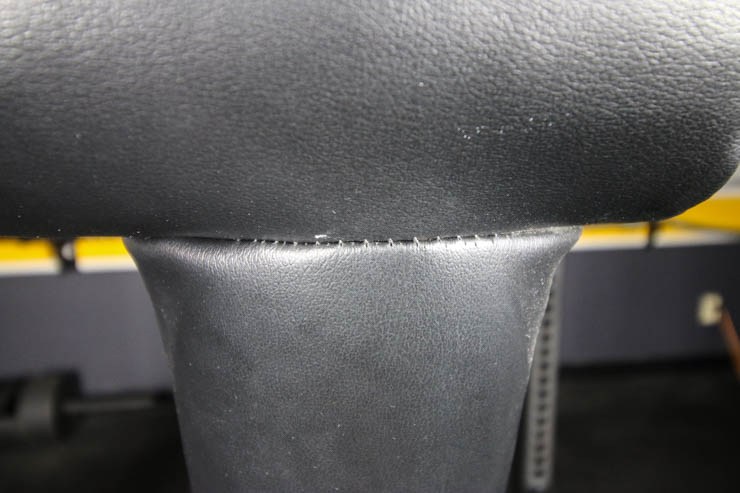 I had the chance to talk to the manufacturer of the SS Yoke Bar (EliteFTS outsources most of its equipment from other companies,) and it was pretty cool to hear what kind of details they've used to set it apart.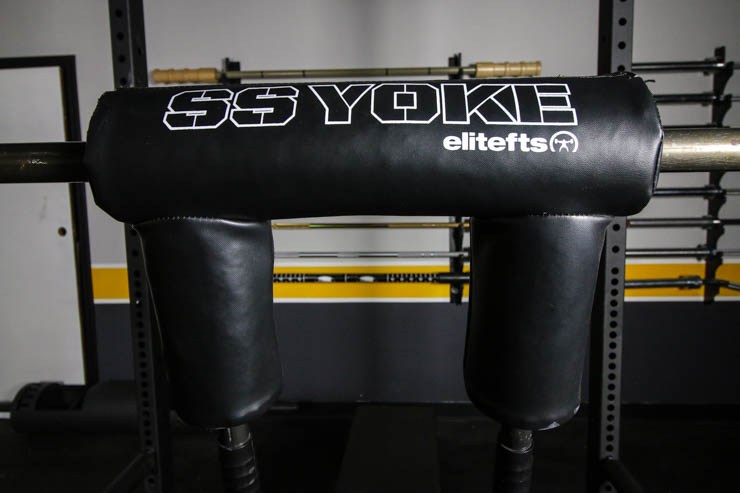 All of this is to say that the SS Yoke Bar is, in our opinion, the best safety squat bar for most people.
Dave Tate took over 10 months and many prototypes to perfect the ultimate safety squat bar and the result is the SS Yoke Bar.
Best Premium Safety Squat Bar: Maars Bar
Good for: Those looking for the best-of-the-best
Most people in the strength training community are familiar with the Marrs Bar, and with good reason. It's one of the most high-quality specialty bars on the market, featuring a comfortable yet highly-durable design that works for lifters of all fitness levels.
The Marrs Bar is technically a safety squat bar but it's also its own animal, so to speak. It has a 45-degree camber drop, which is much steeper than other SSBs, and pitches you farther forward compared to other models. This causes the bar to work your lower back a little more, making it a great choice for movements like lunges and step-ups.
The camber design also means that, if you want, you could use this bar without holding onto the handles. If you're someone who prefers knurled handles, this isn't your choice.
The foam padding is extremely dense and the single-welded frame should work for just about every body type.
Is it an expensive specialty bar? Yes, but it's made in the USA with high-quality materials that should last you many years.
The Purpose of the Safety Squat Bar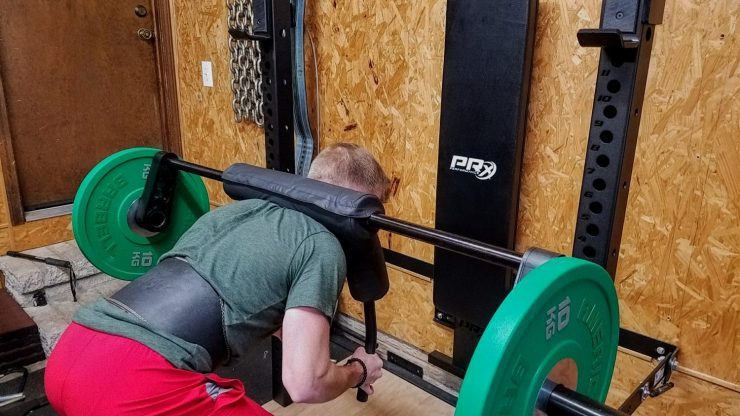 The Safety Squat Bar is one of our favorite specialty bars to use.
This bar is easy on the shoulders, which is especially helpful for powerlifters and those with a limited range of motion. That said, the SSB pretty much decimates every other part of the body.
The two primary movements that are benefited most by the SSB are the deadlift and the squat. Therefore, the part of the chain that is most benefitted is the posterior chain.
Often times when people see the name "Safety" Squat Bar, they think the bar is easier to use. That, however, couldn't be further from the truth. So, just so I can put this idea to rest, the Safety Squat Bar is NOT easier than a traditional barbell squat. It's just different, and in some ways, much more difficult.
One of the details of the Safety Squat Bar that makes it quite a bit different from a standard barbell is the camber.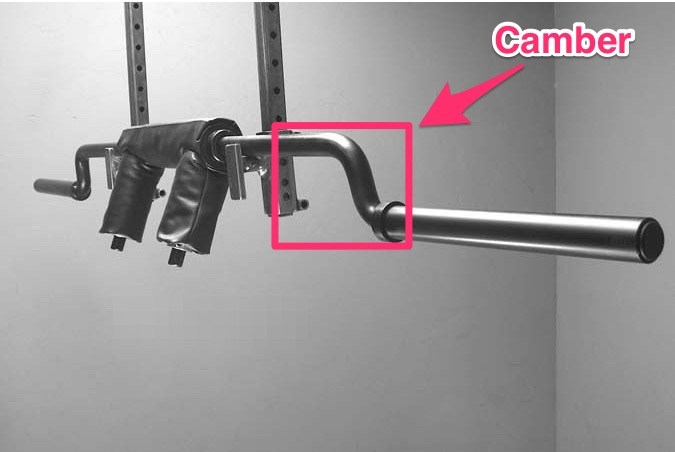 With a normal barbell, since it is straight (or at least should be,) the weight is directed along the path of where the bar is on your back. With an SSB, the weight is directed wherever the sleeves are in relation to the ground.
The majority of the time, what the SSB is trying to do is dump you forward. This forces you to fight by keeping tighter and staying more upright. The people most affected by the SSB are low-bar squatters and it can take them some time to get used to the bar.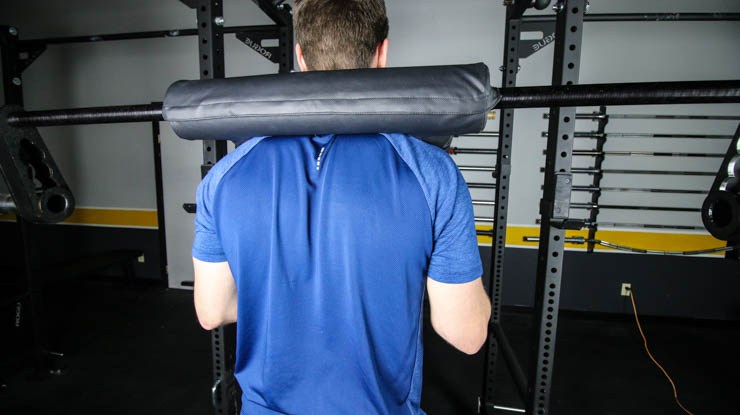 This may sound a little bit counter-intuitive, but something I've found as well as Jim Wendler (somebody much stronger than I) suggests to round the upper back a bit when using the bar. The reason behind this is it puts you in a similar position to which you would be during a deadlift. And, not surprisingly, the SSB is one of the best movements for building your deadlift, other than just doing deadlifts of course.
How to Use a Safety Squat Bar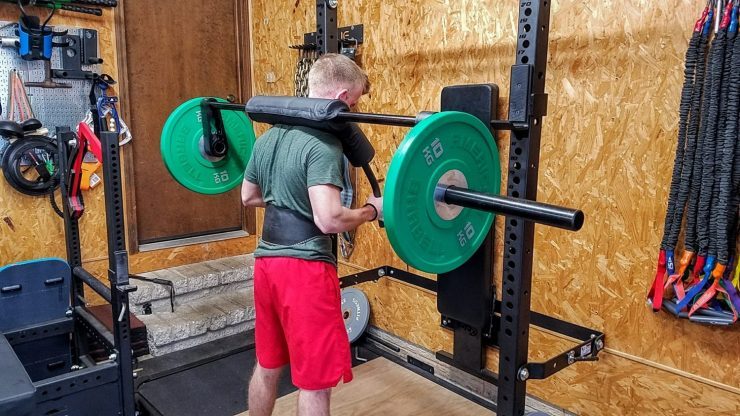 First off, the Safety Squat Bar may have the word safety in it, but it is not a bar beginners should learn to squat on.
It is a COMPLETELY different movement than the barbell squat and should be taught as such. Sure the motion is up and down, but the path and part of the body worked is much different and sometimes quite awkward.
If you squat high-bar like an Olympic weightlifter (which is how I typically squat), I would recommend learning to squat to a box with the SSB first. Open your knees, push your hips back, and keep your core tight; your core should be engaged and taking a pounding throughout this movement. Weightlifting belts can also help relieve tension in your lower back.
A few of my favorite workouts with the SSB are explosive box squats with chains, good mornings (one of the best uses of the bar), front squats, and suspended weight yoke walks.
What to Look for in a Safety Squat Bar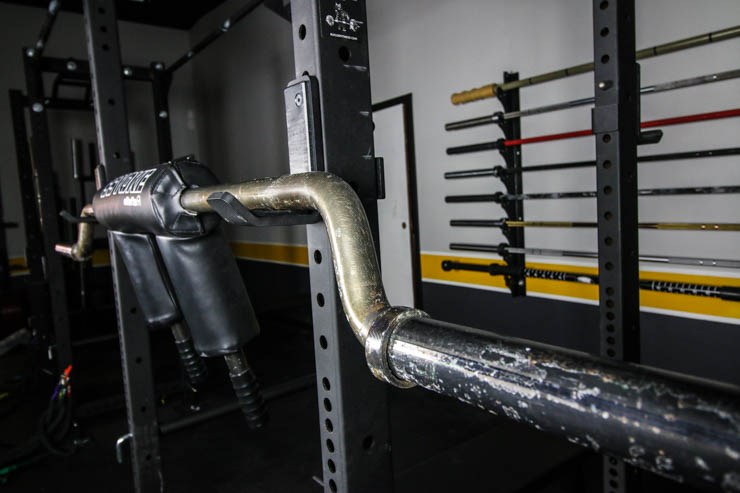 There are a few features to look for in a Safety Squat Bar that, if overlooked, can leave you wishing you bought something else.
The first thing, from a functional standpoint, is the camber. The camber of the bar ranges, and is a detail often left off purchase pages (I literally could not find the camber measurement on any website.) I will just say this, the longer the camber, the more the bar can attempt to throw you forward. This said the camber on SSB's is all very similar.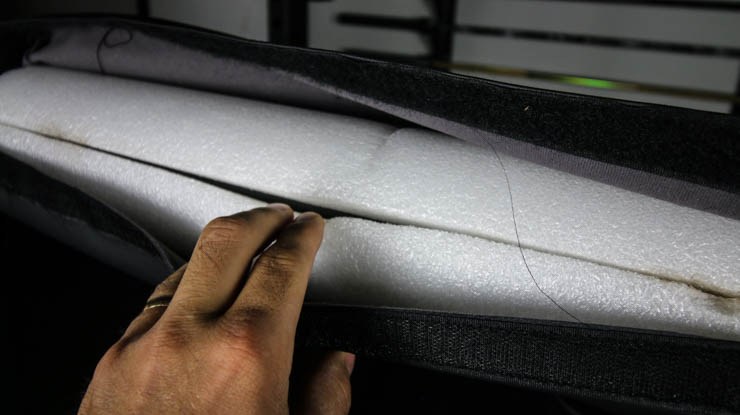 The second thing to look for is the padding.
I can't tell you how many gyms I've been in whose Safety Squat Bar's padding is wrapped in duct tape. Sure, it looks hardcore, but I'd rather not have to wrap a $300-$500 bar in $5 duct tape.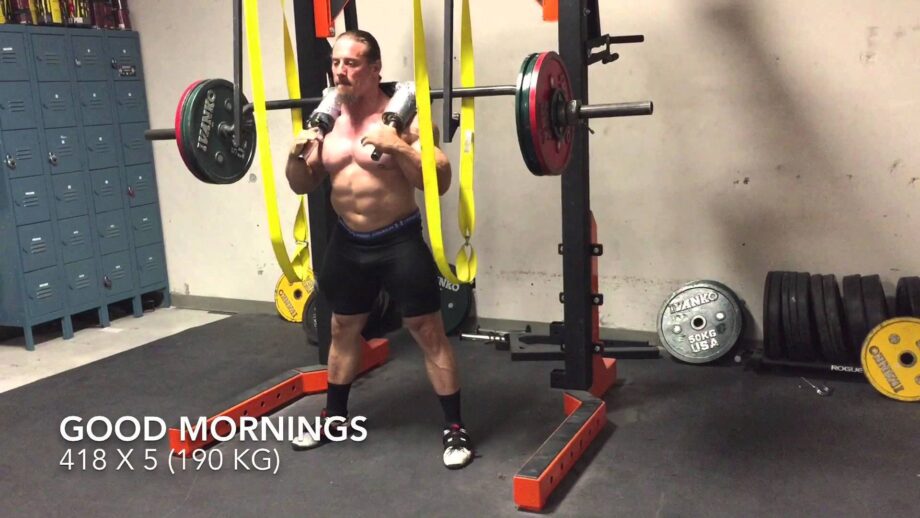 The steel the bar uses is obviously important as well. Expect the bar to be a bit thicker than a standard barbell and weigh north of 65 lbs.
The handles of the bar can either be non-existent like that on the Crepinsek SSB or handle that go do your knees like on the American Barbell SSB.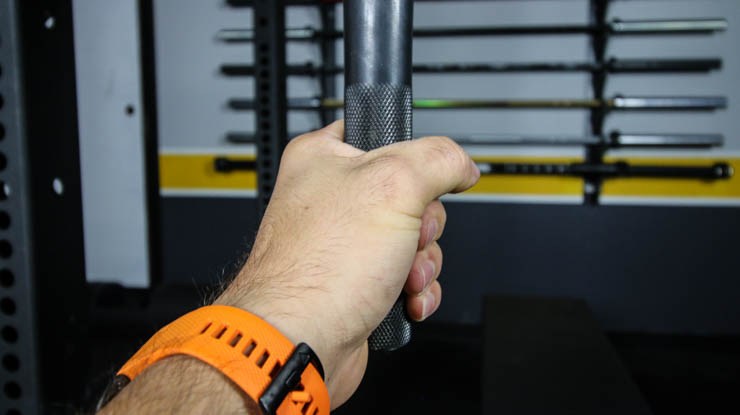 I personally like handles that are somewhere in between the two extremes. It allows me to use the handles for grip, but does not allow me to make the lift easier (a common problem with long handles.) Thick handles feel great as well, although it's not as important as the length.
How could Safety Squat Bars be Improved?
The Safety Squat Bars currently on the market are good, but not great.
Most of them still use powder coats, fixed sleeves, and lack versatility.
First off, the biggest improvement for specialty bars would be to use something other than a powder coat. Many companies are beginning to use Cerakote on their barbells and I think this coating would be perfect for specialty bars.
The next improvement could be done on the sleeves. I'd like to see rotating sleeves using machined Olympic sleeves with bushings. Is this necessary? No, but I love what American Barbell did with the T-Grip Bar by adding Olympic sleeves and I think it would be awesome on safety squat bars.
Finally, working on increasing the versatility of the bar like Kabuki Strength has done would be awesome. Different handle options, different camber angles, or even the ability to remove the padding easily to use the bar for other movements. All of these would be cool additions that increase the use of an already good bar.
Best Safety Squat Bars FAQs
Is the safety squat bar worth it?
Yes. The weight is positioned in a technically beneficial way for athletes who wish to stay upright with the safety squat bar. Although the improvement will not be spectacular, it is significant enough to warrant consideration when employing load capacity and low box heights.
What is the point of a safety squat bar?
Because the safety bar permits you to grip the barbell using forward grips, you won't have any problems with restricted shoulder movement. Second, a safety bar allows you to keep a more elevated posture, which relieves tension on your lower back. This is fantastic news for anyone who suffers from lower back discomfort when performing regular Barbell Squats.
Is a safety squat bar better for your back?
Researchers discovered that the safety squat bar put less stress on the lower back in competitive powerlifters than the standard back squat. The safety bar squat may be a better option for people with back issues.
How heavy is a safety squat bar?
It depends on the brand and model, however, the Rogue Fitness safety squat bar weighs 70lbs. The average squat bar can weigh between 44lbs and 70lbs.
The Competition
Crepinsek Safety Squat Bar – This bar is seen by many as the best safety squat bar available. Although I like the bar, I think that due to the weak padding, thin vinyl, and paint instead of powder-coating that the Crepinsek SSB is a good bar, but not better than the others on our list.
Edge Fitness Systems Yoke SS Bar – We have yet to use the Yoke SS Bar from Edge Fitness Systems. It seems priced well, but we can't comment until we've used it.
Titan Fitness Safety Squat Olympic Bar – We would suggest people stay away from this bar. It's weak, which means it's unstable. The padding is average, handles extremely wide, and the camber angle is completely off. Until improved, we suggest looking elsewhere.
Power Lift Safety Squat Bar – This is a very popular bar among college programs. Unfortunately, its $800 price point is more than we feel most would be willing to pay. We would like to test it to compare it to others, however.
American Barbell Safety Squat Bar – Although the AB Safety Squat Bar looks like an overall good specialty bar, it's been sold out for a while (not sure if they're getting rid of it) and its handles look uncomfortable.
Vulcan Strength Safety Squat Bar – This appears to be the same bar Titan is selling.
TDS Safety Squat Bar -This appears to be the same bar Titan is selling.
Ader Safety Squat Olympic Bar -This appears to be the same bar Titan is selling.
Xtreme Monkey Olympic Safety Squat Bar – 1000lb -This appears to be the same bar Titan is selling.
Top Pick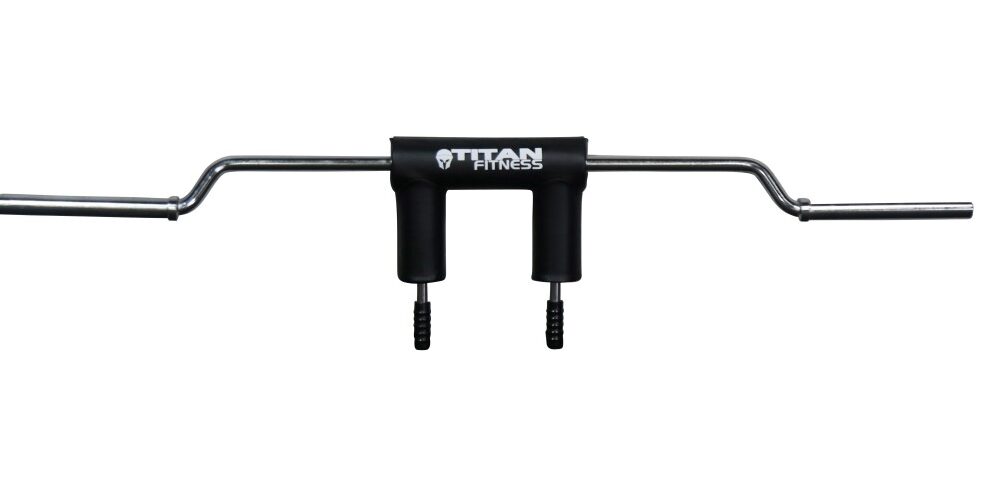 Titan Safety Squat Olympic Bar V2
The Titan Safety Squat Olympic Bar is the safe way to max out your squats and progress your workout to more weight. The padded shoulder and arm pads increase your comfort level at higher weights. In addition, the bent bar lowers the weight plates to stabilize your center of gravity. Hand grips allow you to control the bar during the lift and keeps you in control. Fits 2" Olympic Plates.Features: - Shoulder and arm pads for a comfortable lift. - 5" drop keeps the weight plates lower for a stabilized center of gravity and better balance. - 6" hand grips for control when needed. - Extra thick pad comes in one piece to prevent sliding on the bar while squatting.Specifications: - Capacity: 1500 LB - Weight: 61 LB - Overall length: 90.5" - Handle Spacing: 12.75" - Bar Diameter: 1.5" - Loadable Sleeve Length: 16" - Camber Drop: 5" - Handle Angle: 22 Degrees