We test and review fitness products based on an independent, multi-point methodology. If you use our links to purchase something, we may earn a commission. Read our disclosures.
We have been waiting for YEARS for the REP Fitness Safety Squat Bar, and it's finally here! Coop, our resident barbell expert, unboxed it and took a quick look at the specs of this bar as well as how it feels in use. While we still have some testing to do, we can confidently say that this is one of the best safety squat bars on the market.
We will keep our REP Fitness Safety Squat Bar review updated as we continue to test it. For now, keep reading to get our expert take on this long-awaited piece of equipment.
Years of Testing Safety Squat Bars
REP Safety Squat Bar
REP Fitness Safety Squat Bar
REP Fitness has finally released a safety squat bar, and it was worth the wait.This bar features fully knurled handles that you can remove, which offers incredible versatility. It also has thick, quality padding, and a 5.5-inch camber drop. With a static rating of 1,500 pounds, we tested and found the REP Fitness Safety Squat Bar to be extremely durable. The hard chrome sleeve finish and metallic black powder coat on the shaft of the bar will help prevent scratching and corrosion.This bar weighs 68 pounds, which is more than your standard Olympic barbell but not the heaviest safety squat bar we have seen. It does have 2-inch sleeves, so it's compatible with your Olympic plates. There is a 49.1-inch distance between the cambers. This is significant because it makes the bar easy to take in and out of the rack, even on wider stands.
A Quick Look at the REP Fitness Safety Squat Bar
This is the first time REP has made a safety squat bar (SSB). The brand has other specialty bars, like the Cambered Swiss Bar we love, so we knew it was only a matter of time before they released an SSB.
And wow, are we glad they did. Coop got his hands on the REP Safety Squat Bar and can attest to its great value. At $329, it's certainly less than the Rogue Safety Squat Bar, but it's more than the Titan Safety Squat Bar V2, which has topped our list of the best SSBs on the market for years.
Pros:
High value for this price
Metallic black powder coat finish
Fully knurled, thick handles
Handles are removable
Hard chrome finish on sleeves
High-density padding
Great vinyl covering
Cons:
May be expensive for some at more than $300
No weight listed on the bar end cap
Video Review
Is the REP Fitness Safety Squat Bar Worth It?
In terms of value, Coop believes that this might prove to be one of the best safety squat bars out there. But is it right for your home gym? It really depends on a few factors:
Great for:
People looking for a high-value specialty bar
Those with shoulder or back injuries who still want to squat
Those looking to correct movement patterns
REP Fitness Safety Squat Bar Specs
| | |
| --- | --- |
| Price | $330 |
| Bar Weight | 68 lbs |
| Camber Drop | 5.5 in |
| Sleeve Diameter | 2 in |
| Sleeve Length | 15.6 in |
| Handle Length | 7 in |
| Bar Finish | Metallic black powder coat |
| Sleeve Finish | Hard chrome |
| Handles Finish | Bright chrome |
| Padding | Vinyl and high-density foam |
Using the REP Fitness Safety Squat Bar
Coop used the REP SSB for a variety of exercises, including squats, lunges, and JM Presses. While he hasn't gotten to spend enough time with the bar to attest to factors like its durability, there are a few things he can tell us right away:
He likes the straight handles opposed to angled handles like you see on the Kabuki
He loves how thick the handles are
He prefers the knurled handles on this bar to other handles (He is a sucker for all things knurling, and the REP bar has incredible knurled handles.)
The width between the yokes is about 8 inches, which should fit just about any body
Finally, Coop said he thinks the pitch of the camber is a little "farther out" than other bars, and it feels as though it pulls him a little more forward. We'll need a little more time with the REP bar to fully gauge how this feels with multiple reps across multiple training sessions.
Construction
The REP bar has a lot to offer in terms of versatility in your workouts as well as durability. Let's take a look at what this bar is made of.
Length
The length between cambers is 49.1 inches. Coop used a Rogue rack for the bar, which has a 49-inch width, which is just about as wide as standard power racks go. REP claims to have made this bar in a size to work in just about any rack, and we found this to be true. Even on a wide rack, there is enough room to fit comfortably in the j-cups.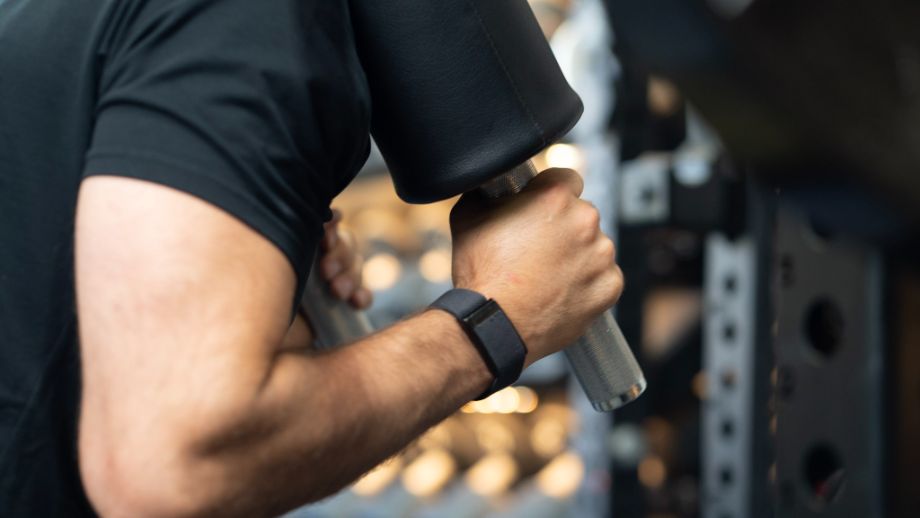 Handles
The handles on the REP bar are really what set it apart for us. First off, they are fully knurled, which gives you a fantastic grip as you move through exercises. Coop says the knurl on this bar isn't overly aggressive, but it does help you keep a hold on the bar.
The diameter of the handles is a beefy 1.5 inches. Just how thick is that? A standard 20-kilogram Olympic bar has a 28-millimeter shaft. The handles on the REP bar are about 38 millimeters. Yeah, they are thicccc.
"Girthy and knurly!" Coop says. "That's how we like it."
Also, these handles are removable. That is a huge bonus for a safety squat bar, because removing the handles means you can now do substantially more barbell exercises with it, like skullcrushers and JM presses.
Finally, the handles have a welded end cap. By contrast, the Kabuki Transformer Bar has plastic end caps on the handles, which doesn't look great, and they can pop off. Welds on strength training equipment are nearly always preferable to plastic!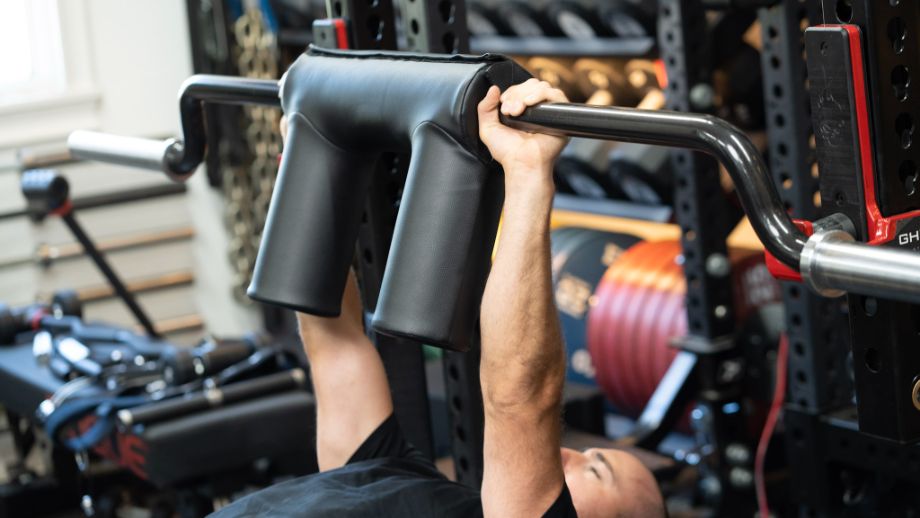 Sleeves
There are two different types of coatings on the bar: one on the sleeves, and one on the shaft. The hard chrome coating on the sleeves is an excellent choice and one you'll often see on high-quality bars. It keeps the sleeves from getting scratched as you take bumper plates on and off the bar. The sleeves are smooth, not ribbed. Also, they do not move or spin, which isn't surprising at this price point.
One thing we don't love is that the endcap on the sleeve doesn't list the weight of the bar (68 pounds). Specialty barbells come in all different weights (for example, the Rogue Fitness Safety Squat Bar SB-1 is 70 pounds). It would be fantastic if REP had put the weight on the endcap so you don't have to remember each time as you're calculating weight. And that goes for power bars, trap bars, and any other barbell: Please, barbell makers, label the bars!
With a 2-inch diameter, these sleeves fit Olympic plates and Olympic collars.
Shaft
The shaft of the bar has a metallic black powder coat that actually sparkles a little and isn't gritty. Powder coat isn't the most durable option for coatings, but it still protects against corrosion better than, say, bare steel.
Also, this is a safety squat bar, not a traditional barbell, so you don't need something like stainless steel, because you don't have sweaty, chalky hands all over the shaft of an SSB. Still, you'll probably see scratches or chipping on the bar from taking it in and out of a squat rack.
Camber Angle
REP has the "camber drop" listed at 5.5 inches. We're used to hearing this stat in degrees (like the Titan SSB has a 22-degree camber). However, Coop said that the REP bar feels very similar to the Titan and EliteFTS SS Yoke, with the REP bar perhaps pitching you just slightly more forward.
Padding
The pad on the REP Safety Squat Bar is made with a single layer of high-density foam, which is then covered in vinyl. Coop found the padding to be extremely nice and dense, and he said it might even be better than the super high-end padding found on bars like the EliteFTS SS Yoke Bar. He thinks the REP padding may deform less over time than other padding.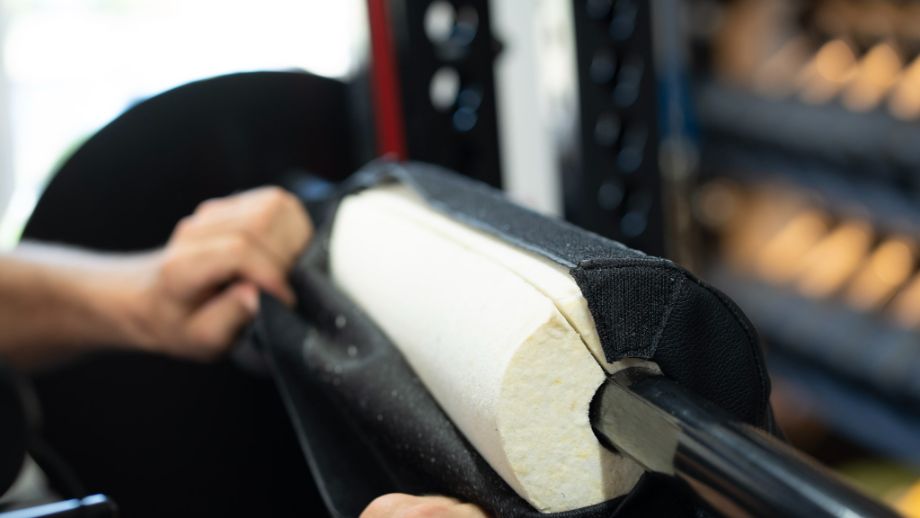 A vinyl cover, which is pretty standard as far as SSBs go, is easy-to-clean and, if it's good vinyl, can be quite grippy. The vinyl on the REP bar is incredibly durable, and Coop feels it might withstand ripping and tearing over time.
REP Fitness Safety Squat Bar vs Titan Fitness Safety Squat Bar V2
Titan Safety Squat Bar V2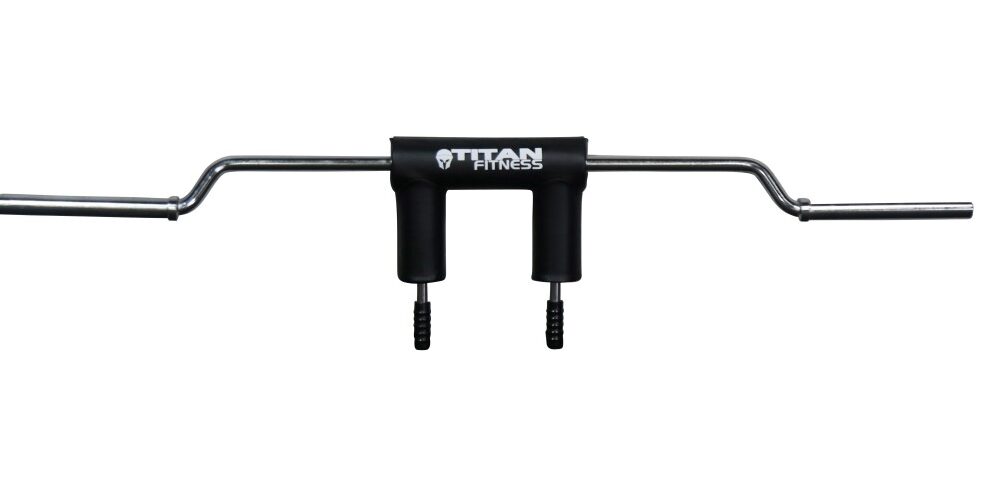 Titan Safety Squat Olympic Bar V2
The Titan Safety Squat Olympic Bar is the safe way to max out your squats and progress your workout to more weight. The padded shoulder and arm pads increase your comfort level at higher weights. In addition, the bent bar lowers the weight plates to stabilize your center of gravity. Hand grips allow you to control the bar during the lift and keeps you in control. Fits 2" Olympic Plates.Features: - Shoulder and arm pads for a comfortable lift. - 5" drop keeps the weight plates lower for a stabilized center of gravity and better balance. - 6" hand grips for control when needed. - Extra thick pad comes in one piece to prevent sliding on the bar while squatting.Specifications: - Capacity: 1500 LB - Weight: 61 LB - Overall length: 90.5" - Handle Spacing: 12.75" - Bar Diameter: 1.5" - Loadable Sleeve Length: 16" - Camber Drop: 5" - Handle Angle: 22 Degrees
If you're looking for a high-value safety squat bar, the top two come from REP and Titan. They differ in price by about $30, with the Titan Fitness Safety Squat Bar being more affordable.
The Titan bar, modeled after the great EliteFTS bar, has some fantastic features, like removable handles and a pitch-perfect 22-degree camber angle. Also, the V2 thankfully introduced Olympic-sized sleeves, which was a breath of fresh air over Titan's first take on the safety squat bar.
However, Coop says the REP bar has the edge. And it's not just because of the fully knurled handles.
"I prefer REP's to Titan's V2 because the fit and finish is better," he said. "For just $29 more, I think I'd recommend it over Titan."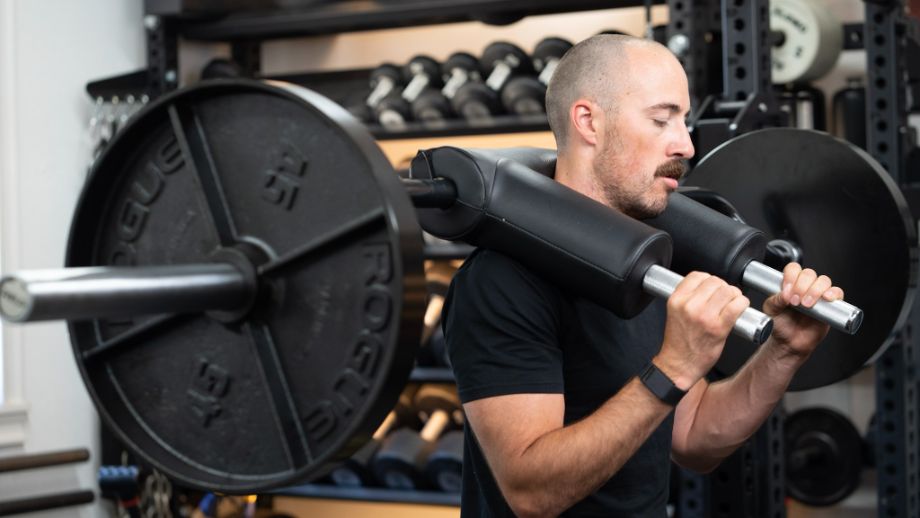 Shipping and Assembly
The REP Fitness Safety Squat Bar comes in two boxes, with the padding in one and the bar and handles in the other. This is fairly unique, because typically safety squat bars come in one box. Shipping in two boxes actually saves you money instead of having one massive package.
As Coop says, "Packaging matters!" With foam inserts throughout, the REP bar is well-protected during shipping. He was able to get the pad and the handles on the bar within a matter of just moments.
"All safety bars should ship like this," he says.
Warranty
This bar is so new, the warranty for it isn't yet listed on REP's website. Other barbell warranties from REP range from one year to a lifetime, so it's hard to say where this one is going to fall.
Final Verdict of Our REP Fitness Safety Squat Bar Review
The REP Fitness Safety Squat Bar appears to be one of the best safety squat bars on the market. The thick, knurled handles definitely won Coop over. We will continue to use and test the bar to give you a better picture of how it performs over time.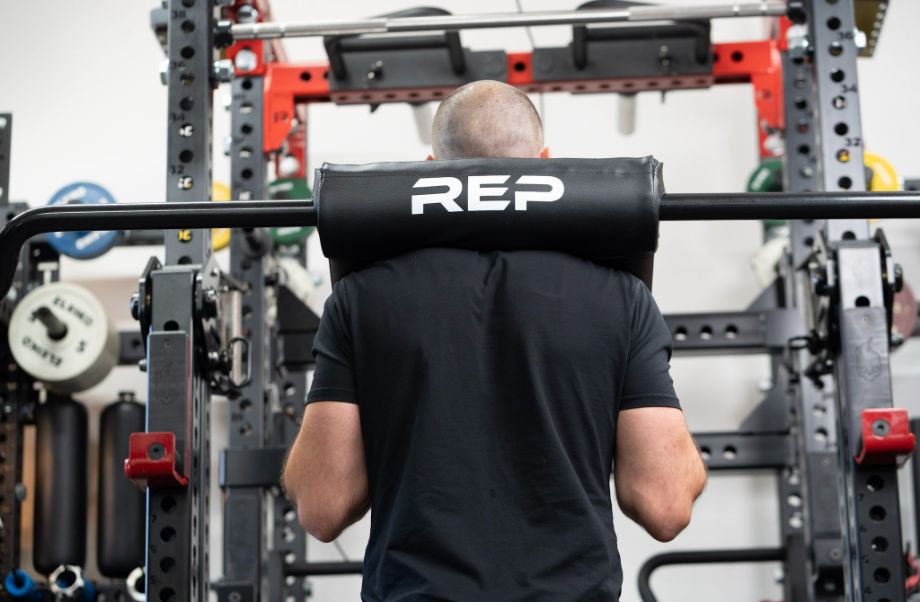 REP Fitness Safety Squat Bar FAQs
Are safety squat bars worth it?
The safety squat bar is an excellent tool for a number of people: those with injuries, those looking to correct imbalances, and those who simply want to train legs in a different way. For many people, using a safety squat bar helps improve positioning on the squat, as it keeps the torso in a more upright position compared to a traditional barbell. 
You can use a safety squat bar for more than just squats. We use them for exercises like good mornings and lunges as well. Also, depending on the versatility of the bar, you may be able to remove the handles and use it for things like bench press and deadlifts. 
Is squatting with a safety squat bar harder?
In short, it might be. The safety squat bar almost forces you into a more upright position, which could be a deviation from your typical squat form, which could then translate to being able to move less weight. However, the point of an SSB isn't usually to max out a squat so much as to train differently or continue training through an injury. Though don't be surprised if you can't lift quite as much.
Are safety squat bars better for your back?
In a 2019 study, researchers found that using the safety squat bar put less strain on the lower back of competitive powerlifters than using a traditional bar. If you have back problems, using a safety squat bar could be a good choice (after consulting with a physician).
How much does a safety squat bar weigh?
There is no standard weight for a safety squat bar, though most tend to be around 60 to 70 pounds.