We test and review fitness products based on an independent, multi-point methodology. If you use our links to purchase something, we may earn a commission. Read our disclosures.
Rogue Fitness has been selling Bumper Plates for years, but up until this point hadn't done much with iron plates. That changes with the release of the Rogue Machined Olympic Plates.
Rogue Fitness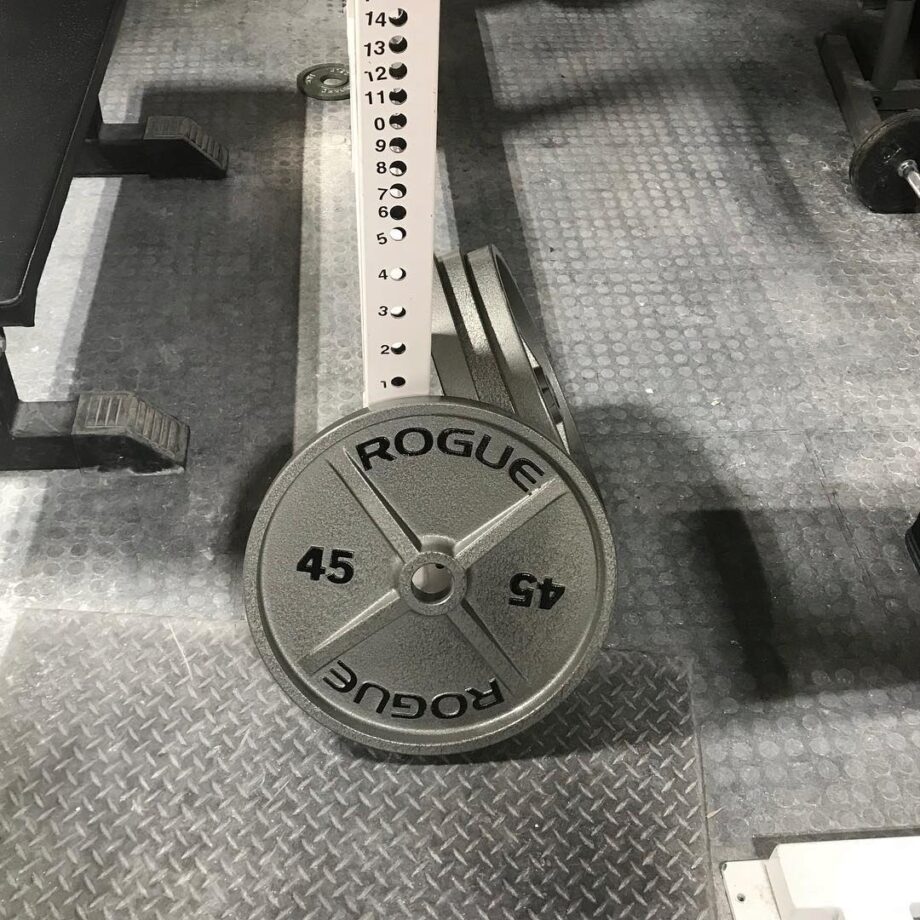 Rogue Machined Olympic Plates
Available here in a unique gray hammertone finish with raised black text, Rogue's Machined Olympic Plates offer greater precision than many comparable steel plates in the industry.Sold in pairs or as a complete 245LB set, these time-tested cast iron plates range from 2.5LB up to 45LB, with custom orders available to equip your affiliate or home gym as needed.Classic steel Olympic plates are still the gold standard for many serious lifters, and quality machining can mean the difference between a PR and a near miss.Specifications:Precision Machined Cast Iron Heavy-Duty Gray Hammertone Finish w/ Black Text Weight Increments: 2.5LB, 5LB, 10LB, 25LB, 35LB, 45LB Weight Tolerance: + 2% / - 0% (25-45LB plates), +/- 3% (2.5-10LB plates)
Rogue Fitness is known for their bumper plates, but in recent years have begun releasing items for those outside of the CrossFit market.
Most recently and notably, Rogue has released new machined Olympic Plates.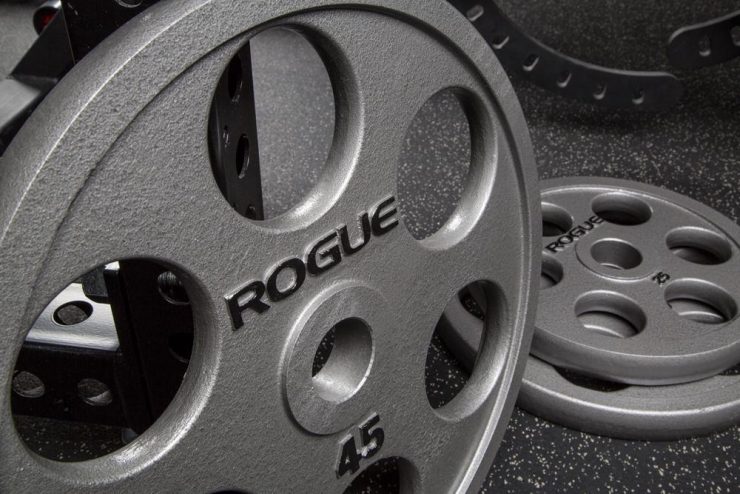 For those unaware, machined plates are different from cast iron plates. The majority of plates you see in commercial and home gyms are cast iron plates. To oversimplify the process, iron is poured into a cast that is the shape of the plate and left to cool.
Machined plates take a block of steel and using a machining tool, often a CNC Machine, iron is cut away until what resembles a weight plate is left. This is superior for multiple reasons including the fact that it's less prone to cracking and is more precise.
In fact, these plates are so precise that they are guaranteed to be within +2% of the stated weight which is pretty good for a machined plate at this price.
There are six-shooter and traditional hub plates available.
These are unfortunately made overseas, but do come with a 5 year commercial warranty.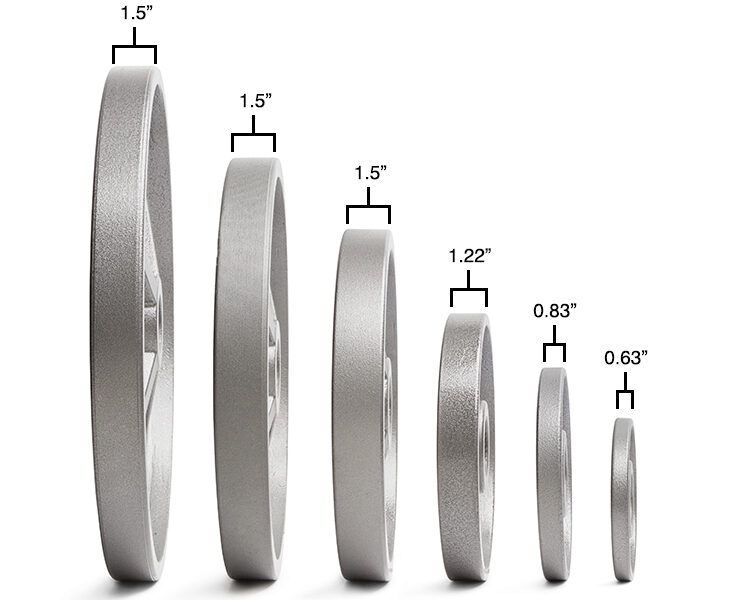 Rogue Fitness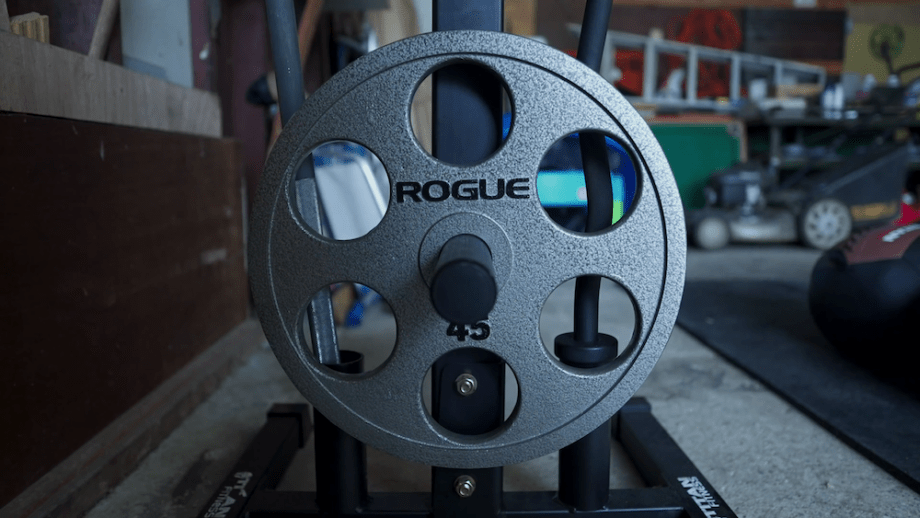 Rogue 6-Shooter Olympic Grip Plates
Our Rogue 6-Shooter Grip Plates feature a unique gray hammertone finish, black text, and six symmetrical grip holes spaced out around the circumference of each 25LB, 35LB, and 45LB plate (a Urethane Coated 6-Shooter is also available). The holes are precision-cut and in close proximity to the raised lip at the edge of each plate, offering athletes a comfortable grip and an easier way to lift, carry, or load a plate from any angle.Each 6-Shooter Olympic Grip Plate includes LB markings, exclusive Rogue branding, and a 2" diameter collar opening for compatibility on any standard Oly barbell. The smaller 6-Shooter change plates (2.5LB, 5LB, and 10LB) include a center hole only, without the additional six-hole pattern.6-Shooters are built for everyday, high-traffic use. Please note, however, that these are cast-iron, NOT bumper plates, and should not be dropped on the floor like a bumper.Specifications:Olympic Cast Iron Grip Plates Gray Hammertone Finish + Black Lettering Six grip holes for easier carrying, loading from any angle (only on 25LB, 35LB and 45LB plates) 50.6MM collar opening LB markings and Rogue branding Weight Tolerance: +/- 1% (25-45LB plates), +/- 3% (2.5-10LB plates) 5-Year Commercial Warranty against breakage (void if there is evidence of abuse or excessive dropping)Plate Diameter:45LB: 448MM 35LB: 376MM 25LB: 308MM 10LB: 228MM 5LB: 195MM 2.5LB: 162MM