We test and review fitness products based on an independent, multi-point methodology. If you use our links to purchase something, we may earn a commission. Read our disclosures.
In case you haven't heard, we're living in the golden age of protein bars. There are more choices on store shelves and online every day, and the best protein bars for men match up with a wider range of men's goals and needs than ever.
Why is this a good thing? The best protein bars work as multi-tools that can be your favorite pre-workout or post-workout snack, high-protein snacks, or "better-than-junk-food" emergency carbs. At this point, it's safe to say that if you haven't found your ideal bar yet, it's only because you haven't been looking hard enough.
So here's the good news: You don't have to look, because our team of coaches, competitive athletes, and registered dietitian nutritionists already tested and tasted them for you! Dig into our in-depth roundup and get ready to unwrap your new favorite.
As a quick note: Despite what some marketing may lead you to believe, protein bars do not affect men and women differently. That said, certain bars speak to specific people and their goals and circumstances better than others. The goal here is to help men find the bars that they'll enjoy most.
Medical disclaimer: This article is intended for educational and informational purposes only. It is not intended as a substitute for medical advice. For health advice, contact a licensed healthcare provider.
12 Best Protein Bars for Men
Best Overall Protein Bar for Men: Rise Bars
Good for: Men looking for one bar to do it all: pre-workout, post-workout, or a healthy snack
Rise Bar started in 2010 with a bar containing three ingredients: whey protein isolate, almonds, and honey. That simple formula hits some big checkmarks:
Fast-digesting, high-quality protein for post-workout recovery and muscle-building
Carbohydrates from natural sweeteners to power training or refuel afterward
Healthy fats from almond butter for lasting hunger control
Gluten-free, and no erythritol or artificial sweeteners
Rise Bar now offers other flavors, as well as vegan bars containing pea protein. But our tester, GGR staff writer and Olympian Caine Wilkes, found their original bar most appealing.
"It's surprisingly good for as simple as it is," Wilkes reports. "Tastes like sweet almonds and honey. At most these bars have five ingredients, so it's about as pure of as you can get. This flavor has the highest amount of protein from their flavors at 20 grams per bar, but the 21 grams of carbs also make it the one of the best pre-workout bars I've tried."
| | |
| --- | --- |
| Protein source | Whey isolate, pea protein |
| Protein per serving | 20 g |
| Flavors | Almond Honey, Snicker Doodle, Chocolatey Almond |
Best Protein Bar for Male Athletes: Legion Athletics Protein Bar
Good for: Replenishing after hard exertion or sports
Legion Athletics Protein Bar takes the same "protein plus fiber" formula as Onnit and bumps both of them up. Along with 8 grams of prebiotic fiber, each bar contains 20 grams of a blend of whey protein concentrate, milk protein isolate, and whey protein isolate.
Milk protein contains both whey and casein, which the body breaks down at different speeds. Casein's slower digestion is a big reason why a 2019 study in Frontiers in Nutrition1 recommended having it before bed to enhance the muscle-growth response to resistance training. That, combined with the Legion bar's low sugar content, make this a great night time snack as well as a solid post-workout bar.
GGR Head of Content Kate Meier turned this bar loose on the ravenous beasts on her weightlifting team, and found that different flavors earned different responses. "The Chocolate Chip Cookie Dough bar has a good flavor, but the chocolate doesn't come through enough for me," she reports. "The Chocolate Peanut Butter bar has a much stronger flavor. Some of my lifters preferred similar bars from CLIF or Luna"
Texturally, the bar received slightly lower marks. "It LOOKS like it will be a moist, chewy bar, but it's a little drier than I expected. One of our testers commented that the bar feels very dense and takes a lot of chewing." While 250 calories per par is on the high end of our list, Kate said the balanced macros and high per-bar protein content were "good selling points for me."
| | |
| --- | --- |
| Protein Source | Whey protein concentrate, milk protein isolate, whey protein isolate |
| Protein per serving | 20 g |
| Flavors | Chocolate Peanut Butter, Chocolate Chip Cookie Dough |
Best-Tasting Protein Bars for Men: Jacked Factory Authentic Bars
Good for: An alternative to candy bars or sugary desserts
Jacked Factory is best known for making pre-workouts and protein powders for muscle gain, but has expanded into protein bars. At 15 grams of protein apiece, their bars aren't a huge help for someone trying to raise their daily protein intake. Likewise, if you're looking for fiber, look elsewhere—the label is clear that it contains "no gut-wrenching fiber"—plus it does have quite a lengthy ingredient list.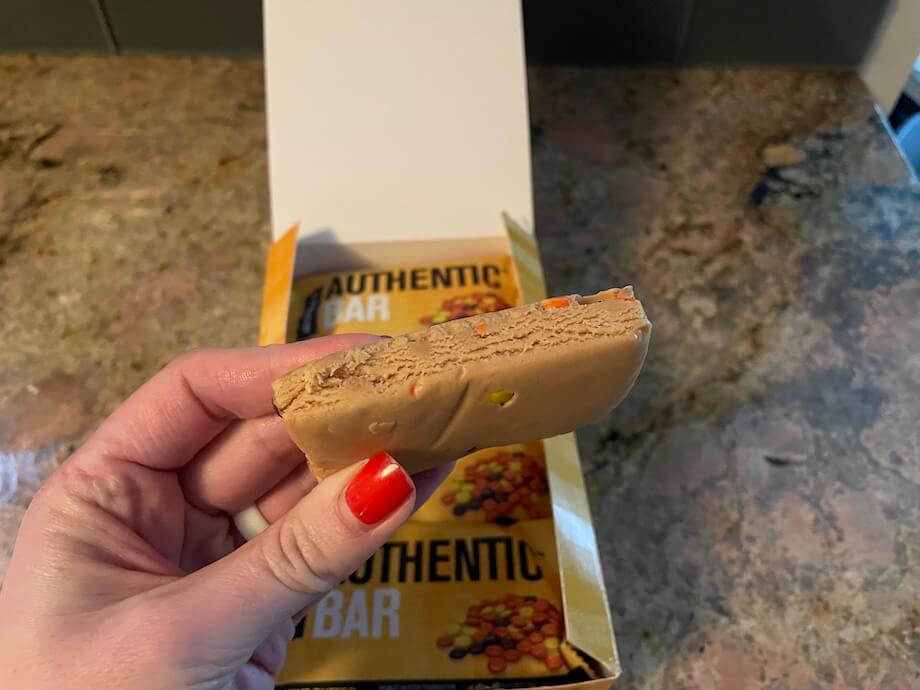 However, our tester, GGR senior editor Nicole Davis, tried the Peanut Butter Candy flavor and found that it hit a sweet spot that "feels like a healthier version of a candy bar, or a more protein-packed Perfect Bar. It tasted exactly like a peanut butter Perfect Bar, but with Reeses Pieces in it. If you're a big peanut butter lover, you'll die for this flavor! The texture is also great."
Since it's not a high-protein bar, Nicole envisioned the Authentic Bar working "as a great dessert/treat-type bar. I'll also say that for 270 calories, it feels small. But yum!"
| | |
| --- | --- |
| Protein source | Whey isolate |
| Protein per serving | 15 g |
| Flavors | Peanut butter Candy, Birthday Cake, Kitchen Sink, Chocolate Chip Cookie Dough, Cookie Crumble |
Best Budget Protein Bars for Men: Onnit Protein Bites
Good for: Killing cravings while getting extra fiber and "just enough" protein
Onnit Protein Bites are like an optimized candy bar, with a long list of vegetable ingredients and fiber content (7 grams) that nearly matches the protein (8 grams). Plus, they're only $1.67 per serving—very reasonable.
GGR Head of Content Kate Meier and her weightlifting team tested all flavors of the Onnit bites and couldn't find a single one they didn't love. "Delicious. All of the flavors are really good. They taste like candy bars! We had at least half a dozen people try these, and all rated these 10/10. The Cookies and Cream is DANGEROUS."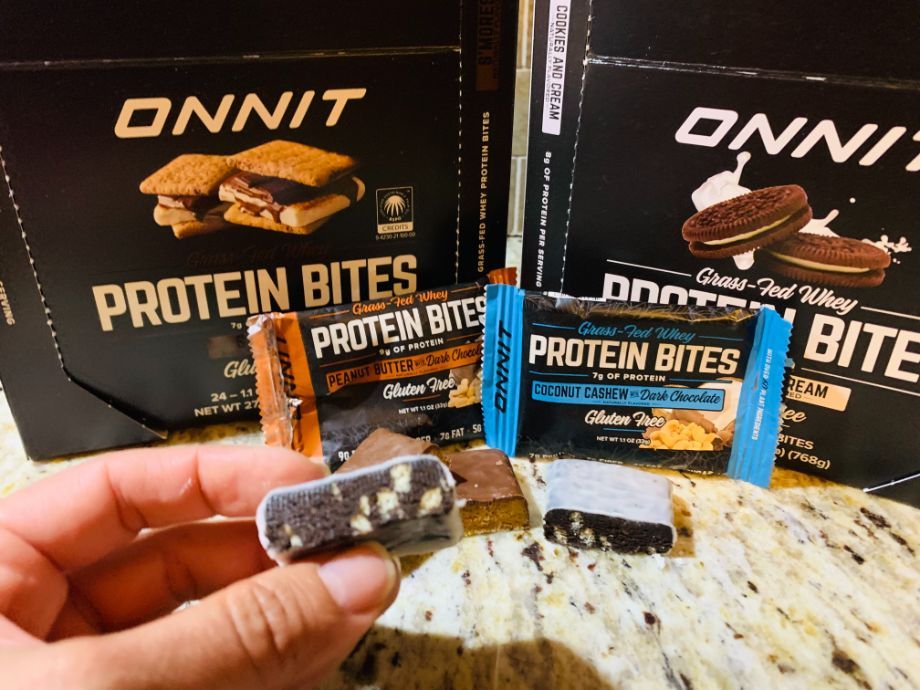 If you crave the crunch, this might not be the bar for you. But Kate was in heaven. "The Coconut Cashew one is super similar to a Mounds Bar in texture. These are chewy and moist and just … (chef's kiss). It wouldn't be our go-to protein snack, but I would view this like a 'healthy dessert' option for when chocolate cravings kick in, or you just want something sweet."
The fiber content is very high, so maybe don't eat the whole box all at once. And if you really don't like how these settle in your stomach, Kate notes, "The return policy is good. You can shoot something back for a full refund if it's at least half full."
| | |
| --- | --- |
| Protein Source | Grass-fed whey protein isolate |
| Protein per serving | 8 g |
| Flavors | Chocolate Coconut Cashew, Chocolate Peanut Butter, Chocolate Cookie Dough, S'mores, Cookies and Cream |
Best Protein Bar for Men for Weight Loss: Bulletproof Crisp Protein Bar
Good for: A good-tasting snack with moderate protein and low calories
If you were hoping that the bar from the creators of Bulletproof Coffee contained butter, sorry to disappoint you. This low-calorie plant-based bar offers a moderate amount of protein at 11 grams, plus hefty dose of fiber at 9 grams, making it a solid option as a snack between meals—we even named it on our best protein bars for weight loss list. Depending on your daily protein intake, you just might want to have it alongside a protein powder shake.
GGR Head of Content Kate Meier and her team found the flavor to be subtle compared to the other bars they tested. "There is definitely peanut butter in this bar, with just a hint of the chocolate chip. Overall, it tastes like a 'healthy' peanut butter bar. I give it a solid 4 out of 5 for taste."
However, the "Protein Crisp" bar struggled to live up to both parts of its name. "For a bar called 'crisp,' it's not very crispy. And just 11 grams of protein is a bummer. I'd love to see that higher," Kate said. "Still, based on taste alone, I'd eat this again! I had about eight other people try these bars, and all eight said they enjoyed it. That's pretty solid."
| | |
| --- | --- |
| Protein source | Pea protein |
| Protein per serving | 11 g |
| Flavors | Peanut Butter Chocolate Chip, Coconut Chocolate Chip, Salted Caramel, Chocolate Mint Chip |
Best Protein Bar for Men With Good Macros: Quest Nutrition Protein Bar
Good for: Macro-counters chasing high protein on limited calories
Quest Nutrition bars have a loyal following as a meal replacement and post-workout treat, and countless people have fallen in love with them on their fitness or weight loss journey. One was our tester, GGR Senior Staff Writer Amanda Capritto.
"I was obsessed with these bars a few years ago and would eat them daily—sometimes multiple times a day—then kind of got sick of them," she says. "I tried them again just recently for our research, and must say, they're as good as I remember! My favorite is the Chocolate Chip Cookie Dough."
Reviewers love the immense range of flavors, 20 grams protein per serving, gluten-free ingredients, lack of added sugar, and widespread availability of Quest Bars. However, the whopping 12 grams of fiber per bar might be a bit much for some people's stomachs, especially pre-workout.
And while 9 grams of erythritol sugar alcohol is on the high end of the bars we tested, it's still well below the levels where a study in the European Journal of Clinical Nutrition2 showed most people begin to experience gastric distress. Eat two or three bars a day like Amanda did, and you might find your personal limit.
Read our full Quest protein bar review to get the rest of our thoughts.
| | |
| --- | --- |
| Protein source | Milk protein isolate, whey protein isolate |
| Protein per serving | 20 g |
| Flavors | Double Chocolate Chunk, Chocolate Chip Cookie Dough, Dipped Protein & Cream, Oatmeal Chocolate Chip, Chocolate Peanut Butter, S'mores, White Chocolate Raspberry, Dipped Chocolate Chip Cookie Dough, Cookies & Cream, Caramel Chocolate Chunk, Lemon Cake, Chocolate Brownie, Chocolate Sprinkled Donut, Mint Chocolate, Birthday Cake, Blueberry Muffin |
Best Keto Protein Bar for Men: EPIC Provisions Jerky Bars
Good for: Low-carb eaters chasing high dietary fat intake
If everything else on this list so far feels like dessert, consider the paleo-leaning EPIC Provisions' bars the main course. Each savory flavor is made from a different variety of meat, and even the fruit-containing versions have fewer than 5 grams of carbs per bar.
EPIC bars are Whole 30-approved and keto-friendly, but at 7 to 12 grams apiece, it's a stretch to call them a "protein" bar. They have just as much fat as protein—in some cases, more saturated fat than protein. However, if you're on the keto path and struggling to get enough dietary fat each day, that's exactly what you want to hear.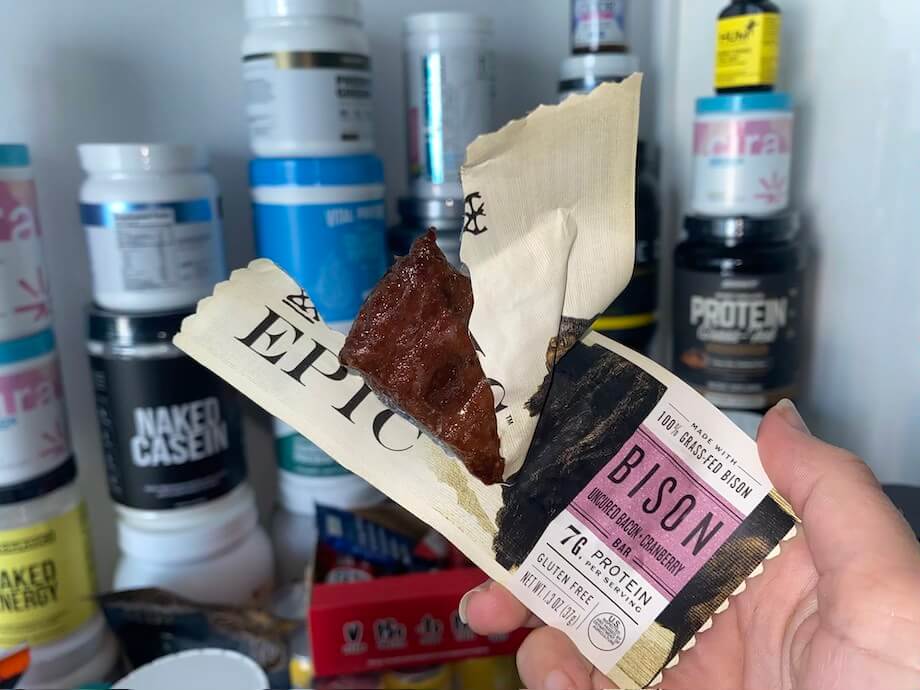 GGR Staff Writer Amanda Capritto came in with appropriate expectations and enjoyed EPIC Bars for what they are. "I've been eating these for a few years now and I really enjoy them," she says. "They're soft in texture, as if you're eating fall-off-the-bone ribs from a cookout. My favorite is the Bison Bacon Cranberry flavor."
Not everybody loves that soft texture, and for every two people raving about Epic bars, you'll find one hater calling them overhyped baby food. If you don't know where you stand yet, try one and figure it out. You know you're curious.
RELATED: Best Keto Protein Powder
| | |
| --- | --- |
| Protein source | Grass-fed meat |
| Protein per serving | 7-12 g |
| Flavors | Bison Bacon Cranberry, Venison Sea Salt & Pepper, Chicken Sriracha, Beef Apple Bacon, Uncured Bacon & Pork, Beef Jalapeno, Beef Sea Salt Pepper |
Best Vegan Protein Bar for Men: NuGo Dark Bars
Good for: Animal-free snacking and dessert replacement
NuGo's vegan bars check a lot of boxes for eaters trying to maximize the benefits of plant-based eating. Not only are they entirely free of animal products, but also non-GMO and gluten-free. And the flavors hit some nostalgia notes that vegans may have thought weren't an option. (Just be sure to check the front label of your bar, because NuGo also makes non-vegan bars.)
The 10-16 grams of protein content doesn't stand out against other bars. But once our tester, GGR Editor Frieda Johnson, bit into the Mint Chocolate Chip bar, the taste was worth the sacrifice.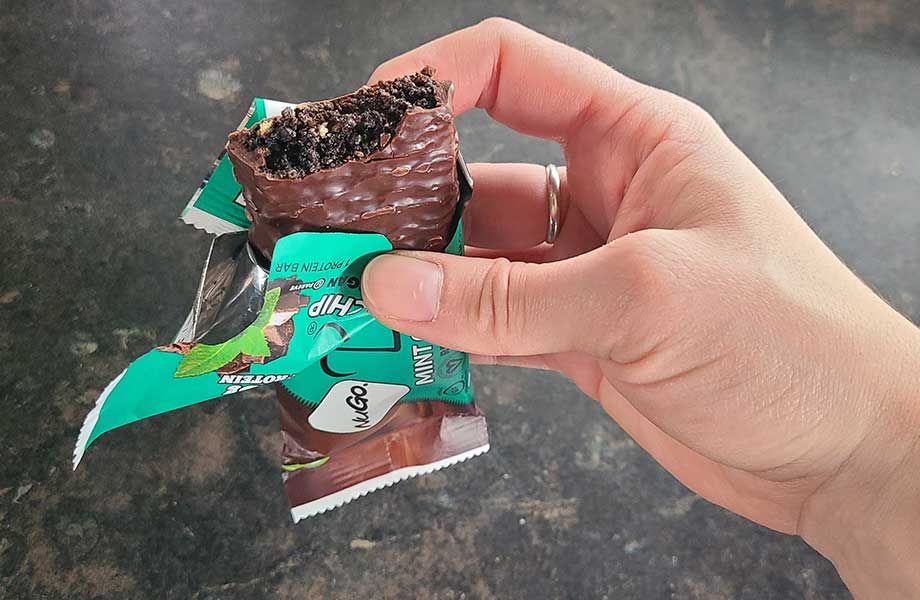 "These are amazing!" she raves. "You can tell that they use real dark chocolate instead of the fake, waxy stuff most brands use. They have a crispy rice texture that really is like eating a candy bar or cookie. Not too gooey, not too dry." If you like Thin Mints but are vegan, give these a try.
| | |
| --- | --- |
| Protein source | Soy protein |
| Protein per serving | 10-16 g |
| Flavors | Mint Chocolate Chip, Chocolate Almond, Chocolate Pretzel, Chocolate Chocolate Chip, Chocolate Coconut, Peanut Butter Cup, Mocha Chocolate, Crunchy Peanut Butter, Toasted Coconut, Espresso, Dark Chocolate Crunch, Dark Chocolate Cherry Pomegranate |
Best Organic Protein Bar for Men: Aloha Organic Plant-Based Protein Bar
Good for: Plant-based meal replacement and craving control
Unlike some companies that offer both organic and non-organic bars, or animal-based and plant-based protein bars, you know exactly what you're getting when you buy Aloha bars. They're always organic, always vegan, gluten-free, and the company has strong commitments to sustainability and climate neutrality.
But how do they taste? GGR Performance Editor Anthony O'Reilly tried the Mint Chocolate flavor, and loved the strong flavor and fudge-like consistency. "Very heavy on the mint with just a wee bit of chocolate taste. Tastes like a York Peppermint patty, TBH," he reported. "If you like fudgy protein bars, you'll like this."
Aloha Bars aren't big hitters in the protein department, at around 14 grams per bar. But most flavors include a blend of both rice and pumpkin seed protein, which creates a more complete amino acid profile than rice protein alone. Most also contain both healthy fats from nuts and a significant amount of fiber from tapioca, making them more of a snack or meal replacement than a full-on performance supplement.
RELATED: Best Organic Protein Powder
| | |
| --- | --- |
| Protein source | Brown rice protein, pumpkin seed protein |
| Protein per serving | 14 g |
| Flavors | Chocolate Mint, Chocolate Chip Cookie Dough, Chocolate Fudge Brownie, Lemon Cashew, Peanut Butter Chocolate Chip, Chocolate Espresso, Coconut Chocolate Almond, Peanut Butter Cup, Peppermint White Chocolate, Pumpkin Spice, Raspberry White Chocolate, Vanilla Almond Crunch |
Best Protein Bar for Men With Whole-Food Ingredients: RXBar
Good for: Pre-workout or intra-workout fueling, or healthy snacking
RXBar made a strong statement when it launched in 2013 by listing ingredients (and "No BS") right on the front label. A decade later, the company still sets the bar for label simplicity and transparency.
GGR Staff Writer Amanda Capritto succinctly sums up their appeal to CrossFitters and other hard-training athletes: "No, they don't have the highest amount of protein, but they're one of the cleanest options on the market."
Most varieties of RXBar contain three egg whites and a variety of whole-food ingredients like nuts, fruit, and extra carbs from either dates or honey. The classic RXBar sits light in the stomach either before or during a hard workout, or can be the perfect treat alongside a protein shake afterward. They're not a full meal replacement, but they're not really trying to be.
"There are plenty of things I love about these bars: their all-natural ingredients, the chewy texture, and the fact that they don't require refrigeration and can go right in your gym bag," Capprito says.
| | |
| --- | --- |
| Protein source | Egg whites |
| Protein per serving | 12-14 g |
| Flavors | Chocolate Sea Salt, Apple Cinnamon, Coffee Chocolate, Peanut Butter Chocolate, Chocolate Hazelnut, Peanut Butter and Berries, Blueberry, Chocolate Chip, Mango Pineapple, Peanut Butter, Coconut Chocolate, Maple Sea Salt, Mint Chocolate |
Best Low-Carb Protein Bar for Men: Perfect Keto Bar
Good for: Low-carb eaters who need both lots of fat and moderate protein
If you're cutting carbs almost entirely out of your diet, you need to get your calories from somewhere. And that somewhere is fat. The Perfect Keto Bar, which reigns on our list of the best low-carb protein bars, has plenty of it, getting 18 grams per bar from nut butters, cacao butter, and coconut-derived medium-chain triglycerides. Carbs are a miniscule 3 to 10 grams per bar, depending on the flavor, and there are 11 grams of protein to be found.
If that sounds decadent and doughy, you're right, says our tester Wilkes. "It's a little pricey, but a very good-tasting bar, with a higher protein content than other keto bars," he reports. "No added sugars or sugar alcohols either. I would, and currently am snacking on this. It kind of melts in your mouth. It literally feels like you're snacking on peanut butter with chocolate chips."
Unlike Perfect Bars, which do need to be refrigerated, Perfect Keto Bars are shelf stable. However, they can get mushy and misshapen if left out for long. The company recommends tossing them in the fridge for an hour before eating to firm up.
| | |
| --- | --- |
| Protein source | Nut butter and collagen |
| Protein per serving | 11 g |
| Flavors | Peanut Butter Chocolate Chip, Chocolate Chip Cookie Dough, Salted Caramel, Almond Butter Brownie, Cinnamon Roll |
Best Protein Bar for Men for Post-Workout: CLIF Builders Bars
Good for: A quick protein and carb source after hard training
CLIF makes the omnipresent protein bar you can buy at any big-box store and always find on sale. You may have thrown them in your kids' backpack, or eaten one on the summit of the tallest point in your state. CLIF Builders takes the familiar packaging and flavors and boosts the protein up to 20 grams with 31 grams of carbs, making it a legit post-workout option, just like our list of the best muscle recovery supplements.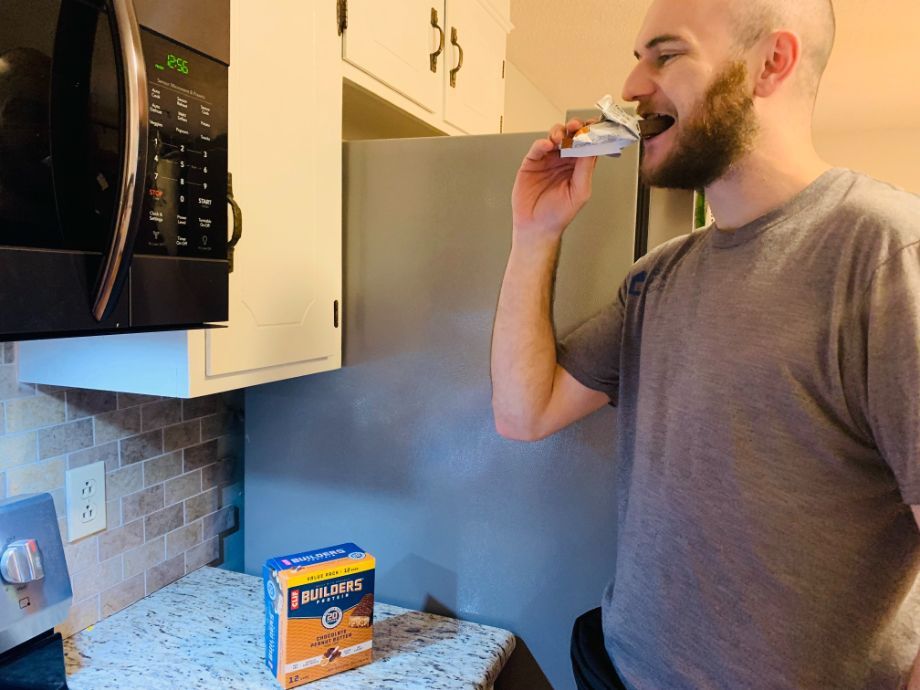 GGR Head of Content Kate Meier and her weightlifting team were no stranger to CLIF Builders, and each athlete already had their faves. "I'm partial to Chocolate Mint, while my teammate Jacob likes the Chocolate Peanut Butter," Kate reports. "But they are generally all really good, especially if you refrigerate them. You do get a bit of that protein-y taste, but these are packed with protein. Definitely a fan-favorite. Affordable, tasty, and good macros."
| | |
| --- | --- |
| Protein source | Soy protein |
| Protein per serving | 20 g |
| Flavors | Chocolate peanut butter, chocolate mint, cookies & cream |
Other Protein Bars for Men We Researched
Our team has tested over 40 varieties of protein bars, so there are many that didn't make this list. Here are a few notable runner ups.
How We Picked and Tested the Best Protein Bars for Men
A well-chosen protein bar can be a secret weapon in achieving your goals. A poorly chosen one can be a reason you end up frustrated. Our testers include athletes who have worked extensively with high-level nutritionists, and we only recommend bars they have tried, enjoyed, and can personally stand behind, using the following criteria:
Cost
Our top picks packed a lot of nutrition into a small price tag. No food or supplement works if you only take it once, or even just a few times, so we favored bars that were cost-effective enough to buy by the dozen.
Ingredient Quality
Not every high-protein food can match the label simplicity of an RXBar. But we only included items that prioritized whole food ingredients, and that didn't need to be refrigerated. They need to be able to last all day in a gym bag!
Taste
If someone tells you that a bar's macros are all that matter, they're lying. You need to look forward to eating a snack bar if you're going to experience its benefits! We only included bars that had nutritional bona fides, while still being up to the challenge of doing battle with our testers' sweet tooths.
Protein Amount
Protein isn't everything, but it's a big thing. And that 4-gram "protein" bar you're snacking on might be tasty, but it's not doing much to help you control your appetite or improve your nutrition. Sorry, not sorry! Not all of our bars have 20-plus grams per serving, but they're all at or near double digits—and we let you know when they're on the low side.
Benefits of Protein Bars for Men
Of course one big benefit of protein bars is what they can replace in your diet—candy bars and cookies. But they do have some distinct benefits, especially for men with athletic or body composition goals.
Increase Overall Daily Protein
A growing amount of research is concluding that men and women who exercise need a greater amount of protein than those who don't. The low end recommended by the International Society of Sports Nutrition3 sits right around .8 grams per pound of bodyweight.3 For a 160-pound man, that's 128 grams of protein per day. If you get 35 grams at three meals a day, you're still 23 grams short; adding a 20-gram protein bar can get you most of the way there.
Increased Fiber Intake
Some bars on our list, like Onnit's Protein Bites, contain over a quarter of your daily RDA of fiber. This isn't enough to replace vegetables or whole grains, but it's a great head start.
RELATED: Best Fiber Supplements
Dosing and Interactions
There is no evidence that protein bars can cause any serious side effects when eaten in reasonable quantities—just be sure to check the ingredients label if you have any food allergies
However, the new generation of protein bars does like to pack 8 to 10 grams of prebiotic fiber. This particular type of fiber has been shown to have beneficial effects for gut health4. However, it can also cause gassiness and bloating for the first few days as your body adapts to the increased fiber intake. But a study in Neurogastroenterology & Motility5 from 2017 found that this side effect decreases in just a few days.
Buying Guide: What to Look for in Protein Bars for Men
Staring at the back of a box of protein bars in the store? We've all been there. Here's how to tell if the one you're considering is worth your time and money.
Protein Source And Amount
If you're buying a bar to increase your daily protein intake, or to get high-quality protein after a workout, then this is the highest priority.
Protein should be one of the first ingredients on the list, and ideally, upwards of 18 grams per bar from a high-quality source like whey, egg, or a plant-based protein.
However, if you're having a bar for craving control or as a healthy snack, you can be a bit more flexible. Some of the bars on this list have around 12 to 14 grams of protein, but also have solid amounts of fiber and dietary fats from nuts and seeds. These slow-digesting nutrients can help you control cravings and act as a "bridge" to a more substantial meal.
Overall Calories
Calorie needs are very personal, both to people and goals.
If you have muscle-building dreams, you might want a high-calorie, high-protein bar— perhaps over 200 calories per bar or even more.
If you're looking to lose weight, something more economical, like 140 to 170 calories with high fiber and protein, could be a better choice.
That may not sound like much of a difference, but if you're eating a bar every day, the difference can quickly add up.
Type of Sweetener
Every type of sweetener has pros and cons. Honey-sweetened bars like the Rise Bar can be great before or during long workouts or hikes to help give you energy, for instance. But that bar is also among the most caloric on our list, at 280 calories per serving.
Sugar alcohols are an increasingly popular sweetener because they don't contain calories, but still offer intense sweetness. Certain sugar alcohols, however, have also been linked in research to digestive distress, gas, and bloating.
Erythritol is the most common sugar alcohol in the bars we reviewed, and has been shown in studies2 to be well-tolerated in doses up to around 50 grams. However, if you're slamming multiple bars in a single sitting or day, pay attention to how you feel and consider eating more food and fewer bars.
FAQs About the Best Protein Bars for Men
Is it OK to eat protein bars every day?
Eating a protein bar every day is an easy way to boost your daily protein and fiber intake. However, they're not nutritious enough to be the primary food in your diet. You need fruits, vegetables, whole grains, and protein from other sources, too.
Which protein bar is best for the gym?
If you're eating before working out, something with honey-based carbs and less fiber like the Rise Bar is a great choice. After training, a high-protein, higher-fiber bar like Legion Athletics can help you refuel and stay full.
What are the best protein bars for weight loss and muscle gain?
If you're chasing muscle, a higher-calorie, high-protein bar like Legion Athletics bar is a perfect fit. If you're controlling calories and prioritizing fullness, Quest Bars are a classic choice with a well-earned loyal following.
What is the no. 1 best protein bar?
For a balance of craveable taste, simple ingredients, and versatility, the honey almond Rise Bar is tough to beat. It only has three ingredients: whey protein isolate, honey, and almond butter.
These statements have not been evaluated by the Food and Drug Administration. This product is not intended to diagnose, treat, cure, or prevent any diseases.
References