We test and review fitness products based on an independent, multi-point methodology. If you use our links to purchase something, we may earn a commission. Read our disclosures.
Out of all of the modern diets to come out in the last few years, low-carb diets like paleo, keto and Atkins require some of the most planning in order to adhere to the guidelines. For example, a ketogenic diet asks dieters to keep their daily carbs to less than 20 to 30 net carbs daily. This is equivalent to the amount found in one medium plain bagel and, keep in mind, this is all the carbs you can have in a single day.
So, snacks like the best low-carb protein powder or the best low-carb protein bars can be incredibly helpful to make following these diets much easier. We will be using the term "net carbs" pretty liberally throughout this article, so I want to define the term for the uninitiated.
The net carbohydrate content of a product or meal is the total amount of digestible carbohydrates it contains. So, since fiber and sugar alcohols do not "digest," meaning they don't contribute calories, they don't count towards your carb allowance on a low-carb diet. As a result, net carbs play an extremely important role when searching for foods that fit into a low-carb diet. Well, now that that's out of the way, let's get to the list!
Medical disclaimer: This article is intended for educational and informational purposes only. It is not intended as a substitute for medical advice. For health advice, contact a licensed healthcare provider.
Keeping the Carbs Low and the Expertise High
Whether you're low-carb, keto, paleo, vegan or adhering to a similar structured diet, we want to be a guiding voice for you. Our team of nutritionists, trainers, registered dietitians and other health and fitness professionals strongly believe in providing an honest voice of authority in our reviews. Whether you're just starting out on a low-carb diet or are just looking to shake up your routine, our testers are committed to using their real experience to provide you with a list of tried-and-true protein bars.
13 Best Low-Carb Protein Bars
Best Overall Low-Carb Protein Bar: Perfect Keto Bars
Good for: A minimally processed snack that eats like a dessert
Not to be confused with Perfect Nutrition bars, Perfect Keto bars' mission is to provide consumers with a delicious, keto-friendly bar that is high in quality ingredients and can help you remain in ketosis. There are only 2 to 3 grams of net carbs and 13 grams of protein in each snack bar.
There are no artificial sweeteners, added sugar, dairy, soy, or corn fiber. Perfect Keto Bars are also not made with any sugar alcohols for anyone who may be concerned about their intake. We have chosen it for our overall pick for the best bar on this list because of all of these factors.
RELATED: Best Keto Protein Powder
Now, you should know, Perfect Keto Bars don't feature any gums or other stabilizing ingredients to help the bars hold their shape in varying conditions. So, if you are ordering your protein bars to be delivered, be warned that the bars may melt in transit, especially if you live in warmer climates. In any case, you simply have to put your newly delivered bars in the fridge for an hour or so if this happens and they will regain their original shape.
GGR staff writer and Olympian Caine Wilkes tried the Peanut Butter Chocolate Chip flavor of Perfect Keto Bars and said he wasn't mad about them. "They're very peanut butter forward with chocolate chips and peanut bits, and it kind of melts in your mouth in a good way. I would definitely snack on these again."
| | |
| --- | --- |
| Net Carbs | Up to 3 grams |
| Flavors | Peanut Butter Chocolate Chip, Chocolate Chip Cookie Dough, Salted Caramel, Almond Butter Brownie, Cinnamon Roll |
| Main Protein Source | Grass-fed collagen |
| Protein Per Serving | 13 grams |
Best Budget Low-Carb Protein Bar: Onnit Protein Bites
Good for: People looking for a small, but affordable, snack
This snack contains whey and milk proteins from grass-fed cows, as well as nutrients from more than 60 plants including herbs, seeds, nuts, and vegetables. So, if you're the type that likes your ingredients lists on the succinct side, you won't find it here.
Even so, these bites manage to hold 9 grams of whey protein isolate and milk protein isolate. The whey used in Onnit Protein Bites comes from Glanbia cows that graze on grass lands for an average of 300 days a year, receiving 95% of their nutritional needs from grass. In addition to not receiving growth hormones, these healthy, humanely treated cows also produce non-GMO milk.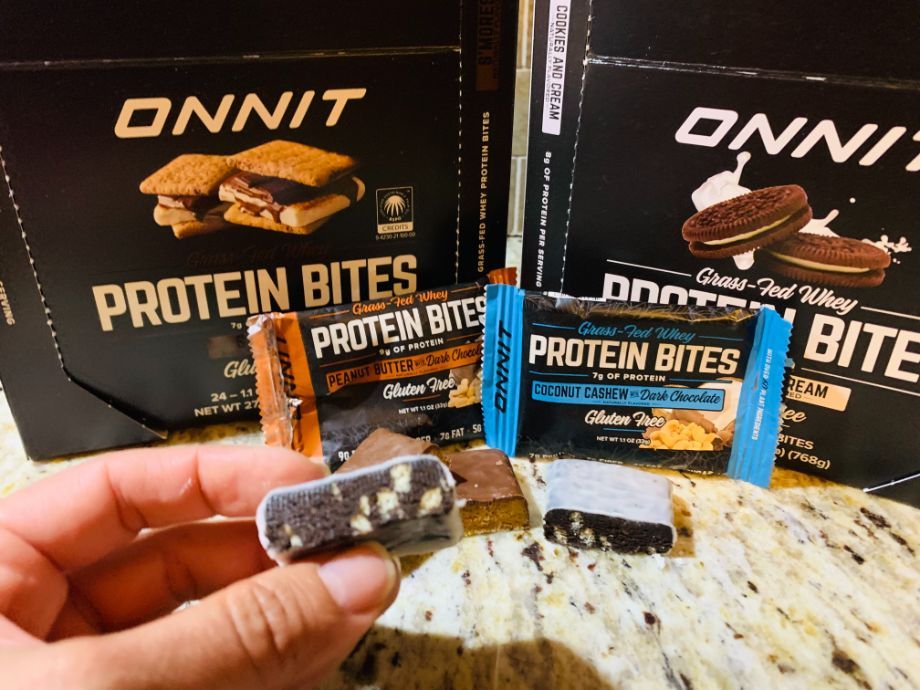 At $1.99 per serving ($1.66 if you buy a box), they're significantly more affordable than the protein bars you'll find in the checkout aisle, which is why they're our pick for the best bar on this list for people on a budget. It does contain tree nuts, milk, soy and sesame, which is quite a few allergens, so be careful if you suffer from allergies.
Onnit Protein Bites are also sweetened with agave syrup, so the flavors can contain up to 7 grams of sugar. However, the bar still manages to only contain 15 grams of carbs and 120 calories.
Our testers overwhelmingly liked these bites, especially the Cookies and Cream flavor.
"The protein content isn't super high in just one, so it wouldn't be our go-to protein snack, but I would view this like a 'healthy dessert' option for when chocolate cravings kick in, or you just want something sweet," says GGR Head of Content Kate Meier and her weightlifting team.
| | |
| --- | --- |
| Net Carbs | 8 grams |
| Flavors | White Chocolate Cookies and Cream, Chocolate S'mores, Chocolate Coconut Cashew, Chocolate Cookie Dough, Chocolate Peanut Butter |
| Main Protein Source | Grass-fed whey and milk protein isolate |
| Protein Per Serving | Up to 9 grams |
Best Low-Carb Protein Bar for Weight Loss: Bulletproof Protein Crisp Bar
Good for: People who want a satiating, but low-calorie bar
Bulletproof is one of the biggest names in keto eating, so obviously we had to give their bars a try. There are some guidelines that Bulletproof provides for its diet plan, namely that you should get between 50 and 60% of your daily calorie intake from fats, 20% from protein, and the remainder from vegetables, while avoiding grains and sugars.
While I can't say that these are dietary guidelines I would recommend on a mainstream level, I can say that it works for some people. Therefore, if this type of low-carb diet works well for you, their bar should greatly help you to adhere to it more easily since it only contains one gram of sugar and four grams of net carbs.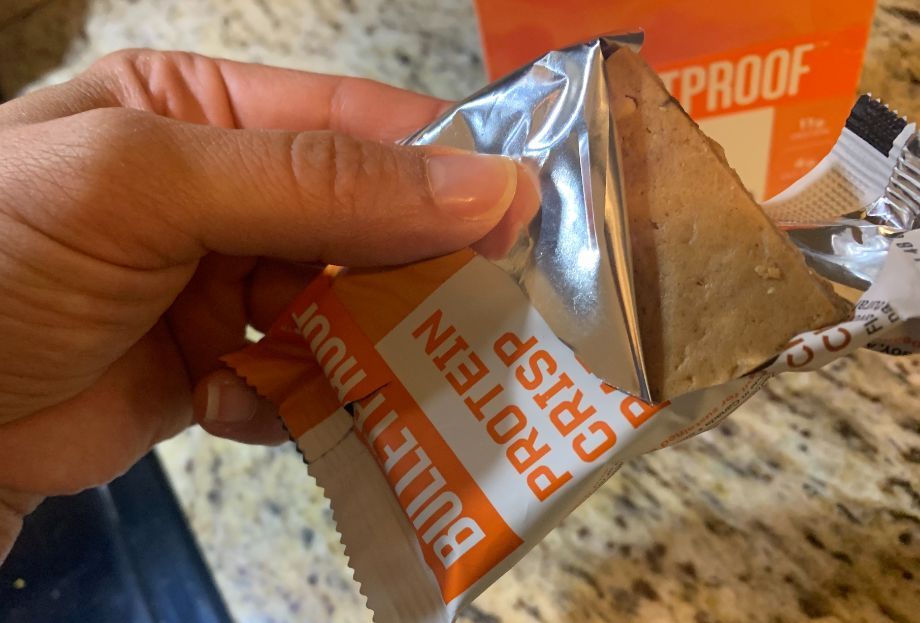 Bulletproof recommends between 30 to 150 grams of net carbs daily, which would take some planning for most individuals as this is much less than what most people would include in a standard American diet. Despite that, you can enjoy this snack bar as a cure for that sweet tooth during the day when you are in the mood and you will still have plenty of carbs left over for whatever else you decide to eat.
So, at only 160 calories for this peanut buttery goodness and 11 grams of protein from peas, this is a pretty good option for those trying to lose weight. The combination of protein and healthy fats can help control hunger throughout the day and the calories are modest enough to help one stay in a deficit.
GGR Head of Content Kate Meier and her weightlifting team tried these bars and the consensus was that just based on taste, they'd eat them again. "I had about eight other people try these bars, and all eight said they enjoyed it. That's pretty solid. Just 11 grams of protein is a bummer though; I'd love to see that protein content higher."
| | |
| --- | --- |
| Net Carbs | 4 grams |
| Flavors | Peanut Butter Chocolate Chip, Coconut Chocolate Chip, Salted Caramel, Chocolate Mint Chip |
| Main Protein Source | Pea protein |
| Protein Per Serving | 11 g |
Best-Tasting Low-Carb Protein Bar: BHU Keto Bars
Good for: Individuals watching their sugar intake
The creator of BHU started the company because she could not control herself around sugar. She knew she couldn't be the only one with this issue and wanted to develop a product that could help people transition to a diet with less added sugar.
I want to be very clear here that I do not want to demonize sugar, even as a dietitian. In excess, when living a mainly sedentary lifestyle, added sugars can be harmful to health. If, on the other hand, sugar is consumed by active individuals and athletes and it is timed specifically around exercise, it provides significant performance benefits1.
In any case, in line with BHU's philosophy, there is only 1 gram of sugar per bar, which makes it perfect as a keto or low-carb protein bar. Instead, the bars are sweetened with monk fruit instead of sugar alcohols. It's important to note that these bars have to stay refrigerated in order to hold their form, so they aren't especially portable.
The main source of the 13 grams of protein comes from cashews, which is not an optimal choice for those looking for a bar to help with strength or muscle gain when compared to the likes of whey. However, 13 grams is still an impressive amount for a bar this tasty.
GGR writer and expert product tester Lauren Strong tried these bars and said they're super easy to eat. "The flavor on the label was actually how the bar tasted, with a creamy texture. They're dessert-tasting without being too sweet."
Lauren's only gripe is that these aren't convenient for eating on the go, as you have to keep them refrigerated. Beyond that, A+!
| | |
| --- | --- |
| Net Carbs | 2-5 grams |
| Flavors | Caramel Peanut, Chocolate Coconut, Chocolate Mint, Chocolate-Chip Cookie Dough, Double Dark Chocolate, Peanut Butter, Chocolate Chip, Snickerdoodle, White Chocolate Macadamia |
| Main Protein Source | Cashews |
| Protein Per Serving | 6-13 grams |
Best Vegan Low-Carb Protein Bar: CORE Keto Bar
Good for: Vegans and vegetarians who want a bar that can also support gut health
CORE Keto Bars contain 6 grams of plant-based protein from peas, which is a popular choice for most vegan protein products. It also comes in a certified keto, non-GMO, gluten-free, and kosher package.
There are also 8 whopping grams of fiber from resistant maltodextrin, inulin, and allulose. A 2019 study2 found that resistant maltodextrin promotes satiety and reduces food intake by maintaining blood and lipid profiles.
According to the study, however, a high intake of resistant maltodextrin (as is the case with most types of fiber) may cause gastrointestinal discomfort due to the gas production. So, be careful with consuming CORE Keto Bars in excess throughout your day. Also, be sure to drink plenty of water when consuming high-fiber foods to help prevent stomach distress.
Another ingredient in these bars I just have to call out is the probiotic strain by the name of bacillus coagulans. This is a form of beneficial bacteria that's caught the attention of sports dietitians everywhere as of late. Recent studies have shown that the probiotic has the potential to reduce the muscle damage caused by exercise.
A 2016 study3 in particular gave a group of trained men 20 grams of casein protein and another group 20 grams of casein along with bacillus coagulans. The latter group showed improvements in recovery, lower muscular damage, and maintenance in physical performance.
Since CORE Keto Bars are made from fresh, simple ingredients with no preservatives, they are required to be refrigerated until you are ready to enjoy them. This is also the best way to preserve the probiotics that we talked about earlier.
GGR Head of Content Kate Meier confirmed the need for refrigeration, as she said she tried one of these in her garage gym that was 80 degrees and the bar started to "sweat." Otherwise, she really enjoys them.
"I've tried several keto bars, and so far, this is my favorite," Kate says. "I think the taste is pretty good; but, you have to like nuts in order to like these, because they all have a bit of a nutty taste."
| | |
| --- | --- |
| Net Carbs | 3 grams |
| Flavors | Chocolate Chip Cookie Dough, Birthday Cake, Peanut Butter Chocolate, Dark Chocolate Sea Salt |
| Main Protein Source | Peanuts and pea protein |
| Protein Per Serving | 6-7 grams |
Best Organic Low-Carb Protein Bar: :ratio Keto-Friendly Bars
Good for: People who don't mind a high-calorie bar with some great texture
The 12 grams of protein in this bar comes from soy and whey, but there are also some fun little surprises like almonds and pumpkin seeds that give :ratio Keto-Friendly Bars a nice, crunchy texture. Generally speaking, there aren't too many ingredients on the ingredient list, and it's mostly full of stuff that we are familiar with.
There are 240 calories per serving, which is a bit on the high side, so I can't say I recommend this bar for someone trying to lose weight. I'm also not a fan of there being more grams of fat at 17 than grams of protein. However, if you're on a keto or low-carb diet, this would make for an excellent low-carb snack option, as there are only 2 grams of net carbs per serving.
Thanks to being sweetened with erythritol and stevia, there are zero grams of added sugar, but these babies still taste pretty great. However, we do have to say that, due to there being almonds in every single bar, the only flavors available are…well, almond-flavored. If that's not something you jibe with, then this may not be the optimal snack choice for you.
GGR Head of Content Kate Meier and her weightlifting team tried these and everyone enjoyed them. "It pleasantly surprised us," she said. "One of the guys compared it to a Nature Valley bar, but said he thinks it tastes better. These are crunchy bars on the dry side, so have water with you, but they're not so dry that it's unpleasant."
| | |
| --- | --- |
| Net Carbs | 2 grams |
| Flavors | Coconut Almond, Vanilla Almond, Toasted Almond |
| Main Protein Source | Soy protein concentrate & whey protein isolate |
| Protein Per Serving | 12 grams |
Best Gluten-Free Low-Carb Protein Bar: Atlas Protein Bar
Good for: People looking for a bar with minimal allergens
The folks at Atlas say they have the first protein bar designed to help both your mind and body thrive. It includes ashwagandha, which is a root derived from the nightshade family and has been used in Eastern medicine for generations. However, it's becoming more common in America due to science showing4 it can help alleviate stress and anxiety. It is also used as a sleep aid for this reason.
RELATED: Best Time to Take Ashwagandha
Ashwagandha also appears to have modest effects on improving athletic performance5, evidenced by preliminary studies, which explains why I've seen an increase in supplement usage among the athletes I'm working with in recent years. There are 300 milligrams of this adaptogen, which is included in every Atlas bar.
Atlas Protein Bars are non-GMO, plant-based, soy-free, dairy-free and, of course, gluten-free. Although it does contain nuts, if you have a sensitivity to other foods along with gluten, this is one of the safer bars on our list. It is also naturally sweetened with monk fruit extract, so there is zero sugar.
| | |
| --- | --- |
| Net Carbs | 3-4 grams |
| Flavors | Almond Chocolate Chip, Chocolate Cacao, Peanut Butter Chocolate Chip, Mint Chocolate Chip, Peanut Butter Raspberry, Coconut Almond, Dark Chocolate Sea Salt, Peanut Butter Dark Chocolate |
| Main Protein Source | Grass-fed whey protein and rice protein |
| Protein Per Serving | 15-16 grams |
Best High-Protein Low-Carb Protein Bar: EPIC Jerky Bars
Good for: Meat lovers who will appreciate a nice source of portable animal protein
Besides being great for keto diets, EPIC Bars are Paleo and Whole30-compliant, which means they meet the macronutrient requirements for people following these diets as well. It can be difficult for people who eat keto to find portable protein options, since most protein bars also contain carbohydrates, but you won't have to worry about that with EPIC Jerky Bars, which made our list of the best protein bars.
There are no dairy products, gluten, grains, or sugars in EPIC bars at all. In fact, they hardly contain any ingredients other than high-quality meat across all of their flavors, aside from some dried fruit for some flavor dimension. Make no mistake, though, even that is not enough to kick you out of ketosis. Come to mention it, none of their bars contain more than 1 net gram of carbs, with some containing zero. What more can you ask for in a keto protein bar?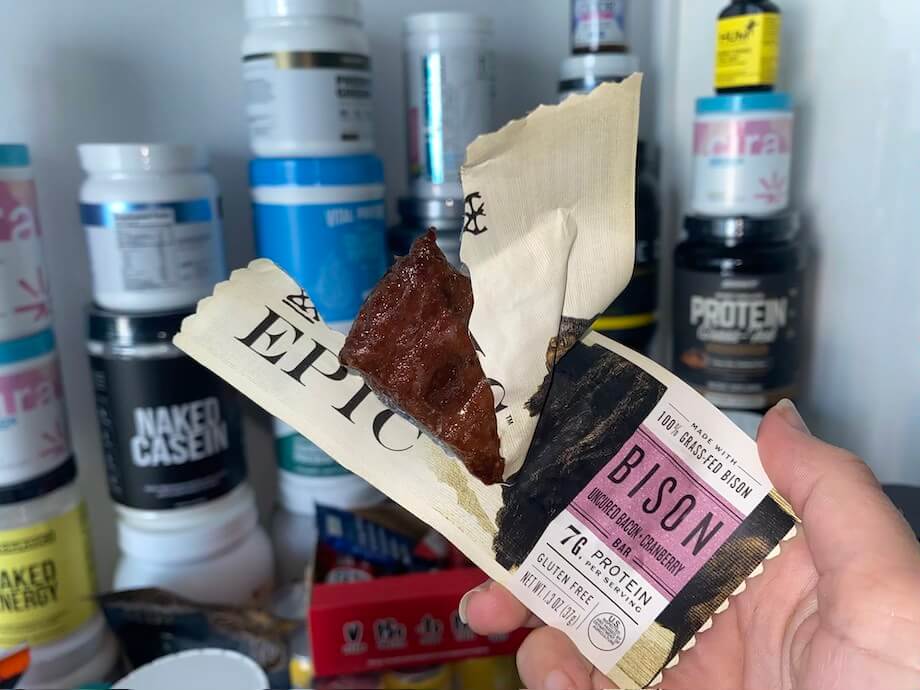 Whether you choose grass-fed beef, bison, or venison at EPIC, you can be confident that it has been responsibly sourced, as the company offers cage-free chicken, duck, and salmon, as well as antibiotic-free pork.
We should mention that the average price per bar is $3.40, which is a little steep when you consider that there are 7 to 11 grams of protein in each bar. However, that can simply be attributed to the cost of sustainable meat and a thoughtful formulation to make this product keto-friendly.
GGR Senior Staff Writer Amanda Capritto has been munching on these bars for years, and loves them as a clean, protein-filled snack. Her favorite is the Bison Bacon Cranberry bar.
| | |
| --- | --- |
| Net Carbs | Up to 1 gram |
| Flavors | Bison Bacon Cranberry Bar, Venison Sea Salt Pepper Bar, Chicken Sriracha Bar, Beef Apple Bacon Bar, Uncured Bacon + Pork Bar, Beef Sea Salt + Pepper Bar, Beef Jalapeño Bar, Beef Barbacoa-Inspired Bar, Chicken BBQ Seasoned Bar |
| Main Protein Source | Animal meat |
| Protein Per Serving | 7-11 g |
Best Dairy-Free Low-Carb Protein Bars: Dang Bars
Good for: Individuals who want a bar without dairy, but is still yummy
You gotta love the story behind Dang Bars. Two Thai brothers from Bangkok decided to open a pop-up restaurant in New York City in order to share their delicious Thai food with New Yorkers. So their mother gave them her recipe for lettuce wraps that called for toasted coconut for them to start out with for their business.
The brothers made their own toasted coconut from scratch for their roommates to test out for them, and their roommates found them to be so tasty that they kept coming back for more. Eventually, they knew they had to start a snack food company, who they named after their mother, Mama Dang.
Dang bars use coconuts and coconut oil sourced from a family farm in Thailand, one of the founders' farms, who pride themselves on following ethical business practices in their business operations. Dang has also made it their mission to use their business to work with local farmers and to support organizations that aid refugees and people who are affected by natural disasters.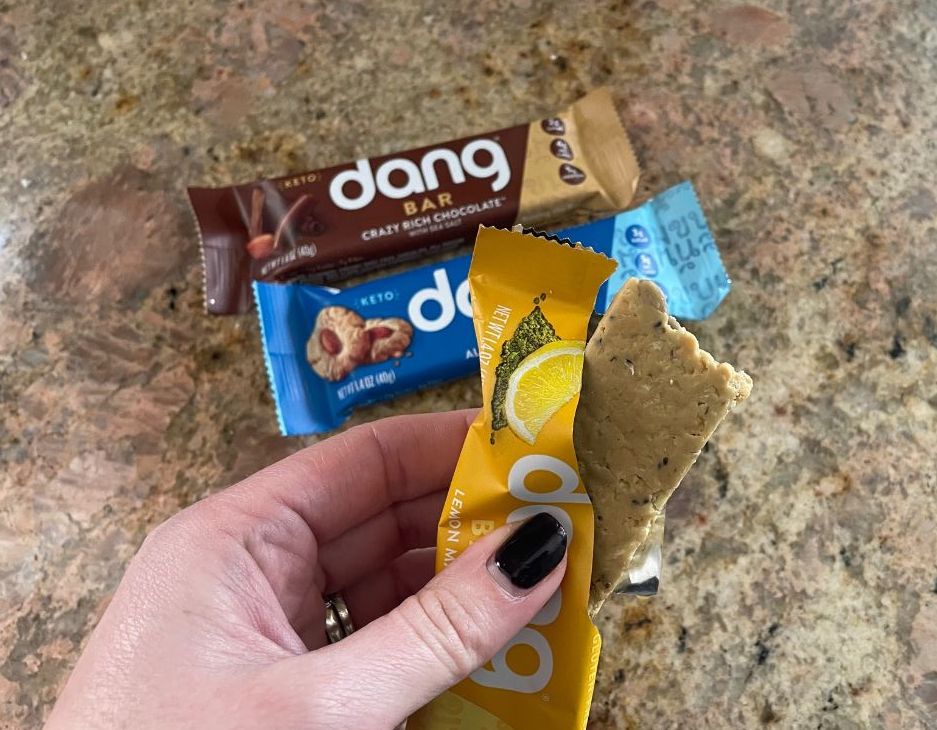 With only 5 grams of carbs and 18 grams of fat from coconut, cocoa butter, and almond butter, Dang is a bar that definitely fits into the keto guidelines with only 5 grams of net carbs. Dang bars are vegan, too—good news for plant-based eaters!
Overall, these bars contain low sugar because they want to keep carbs low, but they are sweetened naturally with stevia instead of sugar alcohols. As a matter of fact, there are no artificial ingredients at all. So we would say Dang would be an excellent choice for people on a ketogenic diet, and tasty, too. You can thank their mom!
| | |
| --- | --- |
| Net Carbs | 3-5 grams |
| Flavors | Crazy Rich Chocolate, Peanut Butter, Almond Cookie, Lemon Matcha, Mint Chocolate, Toasted Coconut |
| Main Protein Source | Pea protein |
| Protein Per Serving | 9 grams |
Best Meal Replacement Low-Carb Protein Bar: Keto Bars
Good for: People who want a responsibly made meal replacement
Keto Bars were founded in the year 2012 and they were the original pre-packaged ketogenic protein bar. It was more than 10 years ago that the founders of the company were on the hunt for an easy and on-the-go, low-carb snack that was keto-friendly, made with simple ingredients, and tasted homemade. When they couldn't find one, they decided to make their own out of their home kitchen.
Get this: The owners are still making these bars from scratch out of their small bakery! So, they are probably unlike anything you've ever had before. The creators insist that, instead of a chalky and chewy bar, you can expect something that feels more like a brownie or no-bake cookie.
Our testers like to keep it real—GGR Head of Content Kate Meier and her weightlifting team thought that the bars were definitely a little dry. "The texture is a little gritty, almost like dirt. But once you taste it, it tastes great."
Now, let's talk macros. As to be expected, these bars more than comply with keto guidelines at only 3 grams of net carbs in each bar and 20 grams of fat (but 0 cholesterol) from peanut oil and coconut. In terms of calories and protein, this meal replacement is a great choice for people needing macros for weight loss while on a ketogenic diet.
| | |
| --- | --- |
| Net Carbs | 3 g |
| Flavors | Chocolate Peanut Butter, Dark Chocolate Coconut Almond, Mint Chocolate |
| Main Protein Source | Peanuts |
| Protein Per Serving | 8 g |
Best Texture in a Low-Carb Protein Bar: Barebells Protein Bars
Good for: Those who want a satisfying snack instead of another protein shake
I remember when I first saw these bars in person I was so taken aback—they're so chunky! And I made this observation before I even took a bite. But, I say it as a total compliment. Barebells Protein Bars contain ingredients like chunks of chocolate and hazelnuts to give you a texture you can really bite into for some satisfaction.
GGR Senior Editor Nicole Davis tried these bars and proclaimed them her new favorite protein bar, partially due to the texture alone. "These are soft and chewy on the inside and crunchy on the outside from the nougat pieces and chocolate coating. The Chocolate Dough was almost like a 100 Grand bar, which is my ultimate favorite candy bar."
At 20 grams of protein from milk, whey protein concentrate, and whey isolate, this is one of the highest protein bars on our list. Interestingly, it also gleans some protein from bovine collagen as an ingredient. Some studies6 show that bovine collagen has the potential to help people suffering from joint issues, especially inflammatory issues, making it a popular supplement on its own in the sports world.
Barebells does warn that consuming their bars excessively can cause a laxative effect due to the inclusion of maltitol. Science7 has shown that too many sugar alcohols can cause some tummy issues so, as tasty as these bars can be, don't go too crazy.
| | |
| --- | --- |
| Net Carbs | 8-10 grams |
| Flavors | Cookies & Cream, Caramel Cashew, Salty Peanut, Creamy Crisp, Hazelnut Nougat, White Chocolate Almond, Crunchy Fudge, Chocolate Dough |
| Main Protein Source | Whey protein concentrate and isolate |
| Protein Per Serving | 20 grams |
Best Crunchy Low-Carb Protein Bar: Power Crunch
Good for: People with a higher carb allowance who want a bar that feels like a cheat
Let me tell you a quick story…and this is the 100% truth. When I was a personal trainer in San Francisco, I was a starving graduate student just trying to get through my supervised practice without going broke. So, I used to squirrel Power Crunch bars away (specifically the Salted Caramel flavor) in my backpack to make it through the day and I could not wait to get more.
GGR Senior Editor Nicole Davis agrees with my sentiment, calling these her OG protein bar pick. "I've been picking these up here and there for years," she says. "If I'm traveling especially, I tend to go for these in airports or at gas stations because I know that I like them. That said, with only 13 to 14 grams of protein, they're not the best option in terms of a protein bar. BUT, they taste amazing."
A wafer is baked in the middle of these bars, almost like the wafers you might find in a Kit Kat bar, so there is always a perfect crunch to them. It also contains 13 to 14 grams (depending on the flavor) of hydrolyzed whey protein, which is easy on the stomach.
It is worth noting that this bar has more added sugar than most of our other picks listed here, around 5 to 8 grams of sugar. In addition, it has 8 grams of net carbs, which is also higher than most of the other bars on this list.
That said, these bars can still be safely consumed on a well-planned ketogenic diet and are particularly perfect for a day that your carb allowance is higher than usual.
| | |
| --- | --- |
| Net Carbs | 8 grams |
| Flavors | Red Velvet, Strawberry Creme, Cookies & Creme, Salted Caramel, Peanut Butter Fudge, Chocolate Mint, Chocolate Coconut, French Vanilla Creme, Lemon Meringue, S'mores, Triple Chocolate, Peanut Butter Creme, Wild Berry Creme |
| Main Protein Source | Whey protein isolate |
| Protein Per Serving | 13-14 grams |
Best Chewy Low-Carb Protein Bar: Quest Nutrition Quest Bar
Good for: People who want a bar that's easy to find and has a reliably chewy texture
Quest Nutrition Bars are currently ranked as the #1 Best Seller Protein Bars in the Sports Nutrition category on Amazon and have been around for some time as one of the most prominent names in the protein snack category. Apparently, Quest has succeeded in its mission of creating bars that are low in total carbs, while at the same time being delicious, as they have been receiving rave reviews from users.
The carbs stay low in Quest bars due to their use of low calorie sweeteners like sucralose and stevia. As a result, there are only 4 grams of net carbs to the approximately 20 grams of milk protein these bars have to offer.
If you're looking for a bar with minimal ingredients and more of a whole food bar, this probably won't be the best choice for you. However, in our opinion, it is one of the best keto-friendly bars out there for the simple reason that they have a ton of different flavors (a total of 28 and counting!) to choose from, and they also have a chewy tasty texture in every flavor.
To get the full scoop on these bars, check out our Quest Protein Bar review.
| | |
| --- | --- |
| Net Carbs | 4 grams |
| Flavors | Cookies & Cream, Chocolate Chip Cookie Dough, Chocolate Sprinkled Doughnut, Caramel Chocolate Chunk, Double Chocolate Chunk, Vanilla Almond Crunch, Peanut Butter Supreme, Apple Pie, Chocolate Brownie, Chocolate Peanut Butter, Strawberry Cheesecake, Lemon Cake, Mixed Berry, Mint Chocolate Chunk, Coconut Cashew, Cinnamon Roll, Banana Nut Muffin, Peanut Butter and Jelly, S'Mores, White Chocolate Raspberry, Oatmeal Chocolate Chip, Blueberry Muffin, Rocky Road, Maple Waffle, Peanut Butter Brownie Smash, Mocha Chocolate Chip, Birthday Cake, Chocolate Hazelnut |
| Main Protein Source | Milk protein isolate |
| Protein Per Serving | 17-21 g |
Other Low-Carb Protein Bars We Researched and Tested
Our team has tried more than 40 different types of protein bars in our quest to find the best options on the market. Here are a few other low-carb bars we tried but didn't make our best-of list:
How We Picked and Tested the Best Low-Carb Protein Bars
From texture to allergens, we carefully selected bars that were not only keto-friendly, but also practical and fit most people's needs. To compile this list, we adhered to the following criteria:
Net Carbs
Obviously this was the most important! As mentioned, you need to stay under 20-30 grams of net carbs per day to stay in ketosis. Even if you are not going for a ketogenic diet, net carbs are still important to note if you are eating low-carb and want to stay compliant. In order to achieve both low net carbs and practicality, we sought out bars that were as low in carbs as possible.
Protein
As part of our list, we evaluated bars that were able to provide significant protein, both in quantity and in source. At the end of the day, these are still supposed to be protein bars, so the amount and quality of the protein was important (although many of them don't come close to the amount of protein in one serving of the best protein powder). It's especially relevant in light of the fact that low-carb diets usually consist of a high proportion of protein and fat, as a rule, so the quality of protein should be top-notch.
Taste
The problem with complying with a diet that has certain diet rules is that many of the foods you pick are not foods you might normally eat, so they might not always taste the best! You have enough to worry about with counting carbs and reading labels without it all being to peel a package away from something that tastes awful. To achieve a good balance between nutritional benefits and flavor, we selected bars that had a nice balance between the two.
Benefits of Low-Carb Protein Bars
Protein bars are a no-brainer snack for those watching their carb intake as protein and fat intake has to stay high in order to displace carbs in the diet. Here are some other benefits to consuming low-carb protein bars.
Helps You Adhere to Low-Carb Diets
The most restrictive of low-carb diets, but also one of the most popular, is the ketogenic diet. Ideally, keto recommends you consume less than 50 grams of carbs per day.
So, having a stock of protein bars that are low in carbohydrates is great to have on hand. Given that the American diet defaults to snacking on high-carb foods like chips, pretzels and sweets, having protein bars as a substitute can be a lifesaver for hitting your macros.
Meal Replacement for Weight Loss
If you are adopting a low-carb diet as part of a weight loss journey, the use of a meal replacement can be effective. Two separate studies8 have shown that in clinical trials, people who replaced their meals with a meal replacement like a protein bar had an average weight loss of 5% more than people who did not replace their meals.
There can be a number of ways to implement this strategy, but in order to avoid eating too few calories, you need to pick the right protein bar. Meal replacements must contain a substantial amount of fat and protein to mimic a real meal as closely as possible. Keto and paleo-friendly protein bars that fit this criteria, therefore, can assist in weight loss while eating low-carb.
Aids in Hunger Control
Protein bars that are high-fat and protein can make you feel pretty full. If you don't believe me, have a large meal with plenty of animal protein and fat, you'll see exactly what I mean. In any case, if your chosen brand of low-carb protein bar is high in protein, fat, but also fiber, it can help control hunger. Due to the slow digestion of these compounds in the stomach, you may feel prompted to eat less frequently.
Dosing and Interactions
There is no evidence that protein bars can cause serious side effects if consumed in moderation. The ingredients in many protein bars are manipulated, however, in order to still make the bars still tasty without adding a lot of sugar.
There are natural sweeteners used in the bars to achieve this goal, including stevia, plus sugar alcohols. However, when consumed in excess, these sweeteners are shown to cause many side effects on the digestive system, including gas, bloating, and abdominal pain.
Buying Guide: What to Look for in Low-Carb Protein Bars
Liking the sound of these low-carb protein bars? Wait just a little longer before you blast off to Amazon or the grocery store. We have some things you might want to look for:
Saturated Fat
This is something that concerns me deeply about low-carb protein bars, as a registered dietitian. Compared with conventional protein bars, because low-carb bars tend to be high-fat by nature, there is a greater risk of there being a high content of saturated fat.
With consistent consumption, this can be harmful to heart health. So, it may be safe to follow the USDA guidelines and ensure only 10% of your daily calorie intake is coming from saturated fat. Thus, while you're shopping for your new favorite protein bar, read your labels carefully.
Carb and Sugar Content
We already kind of went over this, so I'll keep it short. However, it's super important to have it on your radar while you shop. There's not a specific number I can give you given that carbohydrate needs vary wildly by age, physical activity level, and other facts.
However, it's probably a good idea that the carbs from your snacks make up only 30% of your day with the other 70% coming from the carbs in your meals. We'll leave you to work out the math yourself for your individual needs.
Presence of Sugar Alcohols
There has been an increase in the use of artificial sweeteners and sugar alcohols in food and beverage products that are advertised as low in sugar as a result of their desire to make it a sweet treat without adding too many calories. In particular, sugar alcohols are marked as something ending in -ol, such as sorbitol, xylitol, lactitol, or maltitol.
Studies9 have shown that too many sugar alcohols can cause a significant amount of digestive trouble and distress, especially if you are having more than 20 grams a day. In the study, it was concluded that the severity of the effects can differ between individuals. You should however, for your own safety, check the label of the bar you choose to make sure that it contains the appropriate amount of sugar alcohols to ensure you are not overdoing it.
FAQs About Low-Carb Protein Bars
Can you eat protein bars on a low-carb diet?
You can absolutely eat protein bars on a low-carb diet! There are plenty of keto, paleo, and low-carb bars that are tailored just to people who adhere to a low-carb diet.
Which protein bars are good for weight loss?
Protein bars that are low in calories, but high in both fiber and protein, are optimal for weight loss. These bars can help you remain in a calorie deficit by assisting in hunger control and generally keeping calorie intake low.
Are low-carb bars good for you?
Low-carb bars are not harmful to your health when consumed in moderation. Nonetheless, low-carb protein bars are often high in fats that are not always heart-healthy, can cause inflammation, and can negatively impact your health if too many of your daily calories come from them.
What is the best low-carb high-protein food?
Much like the whey that's included in the bars on this list, the best low-carb high-protein food is likely non-fat dairy products. Not only is it devoid of the saturated fats you can find in some meat, but the carb-to-protein ratio is quite good. Additionally, dairy provides nutrients that you won't always find in protein supplements, which are not classified as foods.
These statements have not been evaluated by the Food and Drug Administration. This product is not intended to diagnose, treat, cure, or prevent any diseases.
References