We test and review fitness products based on an independent, multi-point methodology. If you use our links to purchase something, we may earn a commission. Read our disclosures.
Never again will you unsuspectingly open a new box of protein bars only to suffer through the taste and texture of chalk. You can end your hunt for the best protein bar: We did the work for you. It wasn't always fun, but at least we can say we've saved our readers the effort of paying for box after box because no bar tastes just right. 
Not only did our product testers personally order dozens of protein bars and taste all of the ones on this list, but we have professional backgrounds in fitness and nutrition so we can help you make sense of nutrition labels and ingredients lists on things like the best protein powders and bars.
As you read through this guide to find your next favorite protein bar, you'll not only have the pleasure of reading our brutally honest tasting notes, but you'll also learn exactly how each bar can support your wellness goals.
Medical disclaimer: This article is intended for educational and informational purposes only. It is not intended as a substitute for medical advice. For health advice, contact a licensed healthcare provider. GGR also recommends choosing a product that has been third-party tested for quality.
Best Protein Bars For 2023
Best Protein Bar Overall: RXBAR Protein Bars
Good for: Anyone looking for a moderate amount of protein in a natural, chewy bar free of artificial ingredients
RXBAR Protein Bars have been a go-to snack for me for years. They're one of the "cleanest" options on the market, satisfying criteria for people who eat a paleo diet, follow the Whole30, or eat gluten-free. While the protein content isn't the highest of all the bars on the list, let me make my case.
I think there's much more to a good protein bar than the protein content alone. RXBAR has successfully done what I have seen no other brand do: Create a satisfying, tasty, good-textured bar with all-natural ingredients without the need for refrigeration.
Made with dried egg whites, dried dates, nuts, and sometimes, chocolate and/or salt. That's it. Really. Thanks to the egg whites, each RXBAR Protein Bar packs 12 grams of protein, and thanks to the dates and nuts, you get a collection of vitamins and minerals as well. You'll also see "natural flavors" on the ingredients list, which includes plant extracts, oils, and/or essences from spices, fruits, or other plants.
I will say, the ultra-chewy texture isn't for everyone, and sometimes it kills the vibe for me when I don't want to work for my food. (It really does take a while to get these down.) But, there's no chalkiness; they aren't dry; and besides, thoroughly chewing your food is purportedly good for satiety and nutrient absorption.1
If you're looking for flavor recommendations, my favorites are Chocolate Sea Salt and Chocolate Coconut.
| | |
| --- | --- |
| Protein source | Egg whites |
| Protein per bar | 12 g |
| Artificial sweeteners | No |
| Price per serving | $1.67-$200 |
| Taste/texture | Sweet, but not too sweet, and no artificial aftertaste. Soft and chewy. |
| Suitable for | Paleo, Whole30, gluten-free, Kosher |
Best Natural Protein Bars: Legion Protein Bars
Good for: People looking for a bar made with natural, science-backed ingredients
Legion is a brand built on a selling point that they use 100% natural ingredients, including plant-based carbs, prebiotic fiber, and whey and milk proteins in the brand's protein bars. You won't find any artificial sweeteners, food dyes or flavors in these bars.
We love Legion's transparency. The site is covered in links to studies supporting their choice of ingredients, and Legion protein bar is tested in an ISO 17025 accredited lab (which is also important if you're an athlete who may be subject to drug testing)
We'll admit that sometimes, the "all-natural" bars tend to taste … well, not great. However, we had half a dozen people bite into the Legion Protein Bars, and we received mostly positive reviews on the taste.
"I didn't want to finish the cookie dough bar (it didn't taste dough-y enough for me), but I wanted to finish the chocolate peanut butter one," says GGR head of content and personal trainer Kate Meier.
RELATED: Legion Whey Protein Review
We also really like the macro profile on these bars, with 24 grams of carbs, 20 grams of protein, and 12 grams of fat. There are 9 grams of prebiotic fiber, which may support gut health, but if you have too much of it (as in consuming multiple bars in one sitting), you may also find yourself running to the bathroom often.
| | |
| --- | --- |
| Protein source | Whey protein concentrate |
| Protein per bar | 20 g |
| Artificial sweeteners | None |
| Price per serving | $3.33 |
| Taste/texture | Mixed results. The chocolate chip cookie dough was OK but the chocolate didn't come through. Chocolate peanut butter was very good and tasted like chocolate. Dense texture, and a little dry (stuck to our testers' teeth). |
| Suitable for | N/A |
Best Vegan Protein Bar: 1st Phorm Vegan Power Pro Bars
Good for: Vegans and vegetarians who want a quick, easy snack with a good amount of protein
In the name of honesty, I'm going to first share that our product tester did not enjoy these protein bars in the slightest, finding them unbearably dry and chalky. That said, our tester is not vegan and we're acutely aware of the fact that people who are not vegan are not used to a vegan palate.
Additionally, the customer reviews on the 1st Phorm Vegan Power Pro bars are generally very positive, so we're taking it that people who actively purchase vegan protein bars find the taste and texture to be better than okay.
RELATED: Best Vegan Protein Powder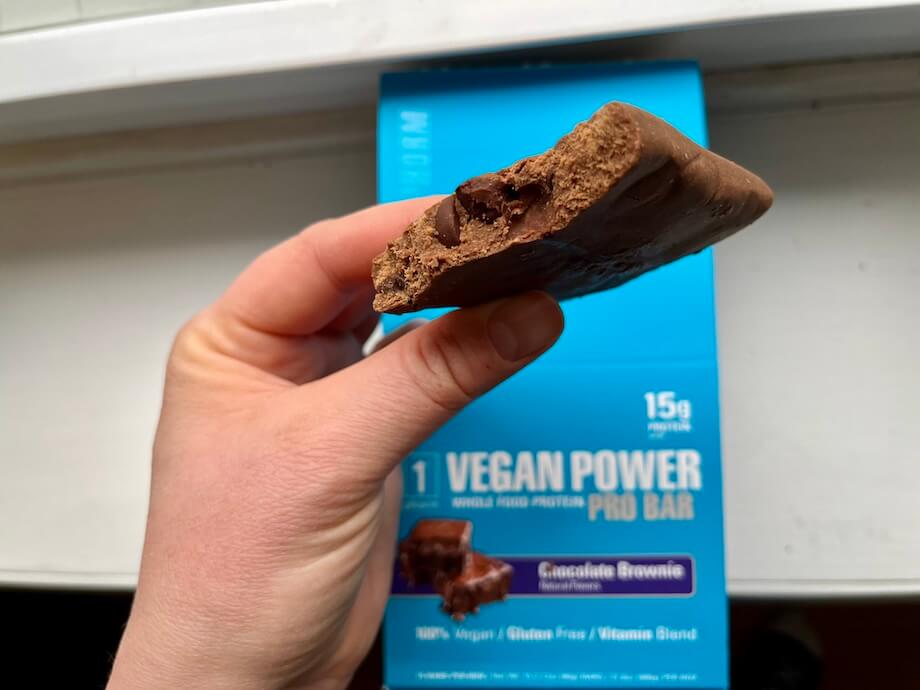 Plus, nutritionally, these 1st Phorm Protein bars are sound: They include 15 grams of protein from pea protein (they're soy-free); they do not include any artificial sweeteners, and the ingredients lists are free from words that make you squint your eyes.
The calorie count is quite high for the protein content—these have 260 to 280 calories depending on the flavor—but that's because of the nuts and nut butters used.
While our tester would recommend a different product for people who can/want to eat whey protein, we appreciate the simple ingredients list and suitability for multiple diet types.
| | |
| --- | --- |
| Protein source | Pea protein |
| Protein per bar | 15 g |
| Artificial sweeteners | No |
| Price per serving | $2.67 |
| Taste/texture | "Close to dirt," is how GGR writer and expert product tester Lauren Strong described these bars. Very dry and crumbly. |
| Suitable for | Vegan, vegetarian, gluten-free, lactose-free, soy-free |
Best Budget-Friendly Protein Bars: Pure Protein Bars
Good for: People focused on macros and/or those who are on a tight budget
Pure Protein is a popular budget-friendly brand that makes a lot of nutritional products, including some of the best protein shakes and protein bars. Kate Meier, GGR Head of Content, tested the Pure Protein Bars in chocolate peanut butter and says they taste like candy.
In fact, "I think these are probably the most candy-bar-like protein bars I've ever had," she says. They are a little chalky—like VERY little—not in the way you taste with other protein bars."
RELATED: Best protein powder for women
As for the texture, it's "similar to something like a Snickers or a Milky Way," Kate explains. "Very nougaty."
Pure Protein Bars have a pretty standard protein content of 20 grams per bar and a decent nutritional profile otherwise: 200 calories; 6 grams of fat; 16 grams of carbohydrates; and a vitamin blend. Note, though, that although these bars are low in sugar (2 grams), Pure Protein uses the sugar alcohol maltitol for sweetness.
These bars are definitely not what we'd call au naturel, but they taste good, provide protein, and our tester didn't experience any digestive problems.
| | |
| --- | --- |
| Protein source | Whey protein concentrate and isolate, milk protein |
| Protein per bar | 20 g |
| Artificial sweeteners | Yes |
| Price per serving | $1.42 |
| Taste/texture | "Probably the most candy-bar-like bar I've ever had," says GGR head of content and expert product tester Kate Meier. "Texture is similar to something like a Snickers or a Milky Way — very nougaty." |
| Suitable for | N/A |
Best Low-Sugar Protein Bar: Quest Nutrition Protein Bars
Good for: Those who can tolerate whey and milk protein, and want a versatile protein bar to eat on its own or bake with
Once upon a time, I was a Quest Bar fiend. I kept Quest Bars in my gym bag, school backpack, work bag, desk drawer, car console… You name it. Eventually, I lost the hyperfixation and actually became quite disgusted with Quest Bars—even my previously beloved chocolate chip cookie dough flavor.
RELATED: Best pre-workout for women
So when I got the news that we'd be writing a guide to the best protein bars, I snapped at the opportunity to return to my old obsession and see if anything had changed (with me or with the formula. This was a twofold experiment).
Of course, I bought none other than chocolate chip cookie dough, and when the package arrived, I gingerly peeled back a corner of the wrapper and nibbled, wondering if I'd be able to stomach the thing.
Good news: Apparently all it takes is six years to overcome the nauseating effects of a hyperfixation food. More good news: These bars taste exactly like I remember. They're protein bars, so it's not like eating a real cookie, despite what the customer reviews might indicate.
However, for a snack with 20 grams of protein, 12 grams of fiber, and only 1 gram of sugar, it's not half bad. These are higher in fat than some other bars, with 9 grams per bar, and I'd be remiss not to call out the use of sugar alcohols.
Quest Bars contain erythritol, a sugar alcohol known to cause digestive upset in some people. I don't experience any negative effects from eating one Quest Bar every now and then, but people who are sensitive to sugar alcohols may want to avoid these.
RELATED: Best Pre-Workout
| | |
| --- | --- |
| Protein source | Whey protein isolate, milk protein isolate |
| Protein per bar | 20-21 g |
| Artificial sweeteners | Yes |
| Price per serving | $2.79 |
| Taste/texture | "The artificial taste from the erythritol is quite strong, but I'd definitely eat these in a crunch or if they're just like," says our tester, competitive triathlete and GGR writer Amanda Capritto. Very dense. "I like chewy textures like caramels, but this level of chewiness is a lot for me." |
| Suitable for | Keto |
Best Soft Protein Bar: Perfect Bars
Good for: All-natural food aficionados who appreciate a clean ingredients list (and anyone who enjoys soft, crumbly textures)
Most protein bars—even the good ones—have an element of dryness and chewiness to them. That's just what happens when you try to cram 15 to 20 grams of whey or pea protein into a 200-calorie glorified cookie. This is not the case with Perfect Bars.
Sure, these are low in protein compared to some other options, with 10 to 17 grams per bar depending on the flavor. They're also higher in calories, with the flavor I tested (dark chocolate almond) clocking in at 310 calories.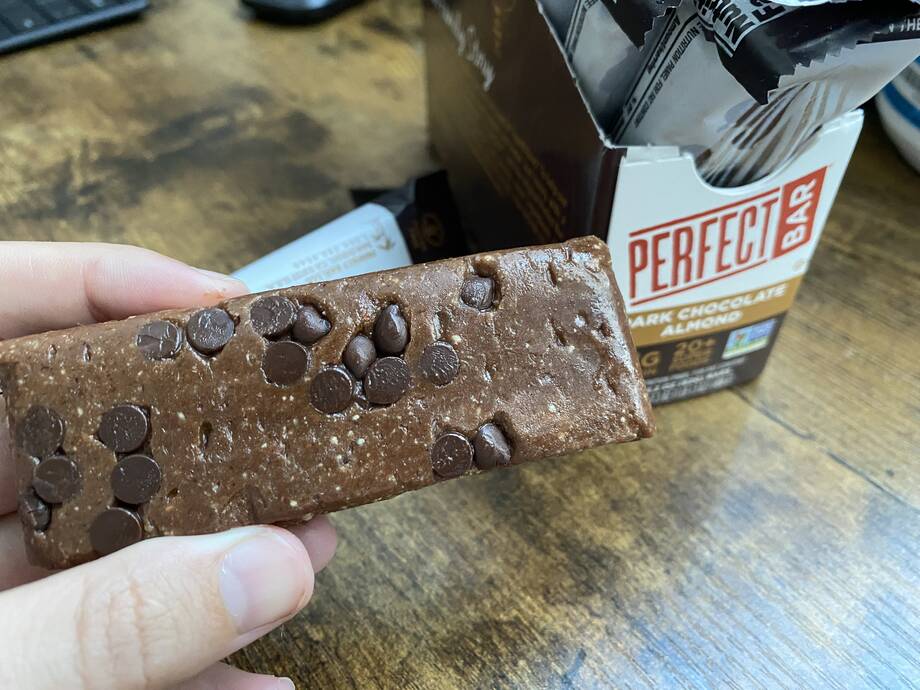 However, this will be worth it for the people who value transparent eating and only want to consume whole-food products—paleo people and Whole30-ers, talking to you.
Additionally, anyone who wants a sweet and soft but nutritious treat will love Perfect Bars. The texture is unlike any other bar on this list due to its whole-food nature. The ingredients list, for the most part, contains only things you'd see sitting on a shelf in the produce section. There are some oils, nut butters, and flavorings such as pure cocoa, too.
Perfect Bars get their protein content from rice protein and they include no artificial sweeteners, instead using honey as both a binder and tastemaker.
RELATED: Best Greens Powder
| | |
| --- | --- |
| Protein source | Rice protein |
| Protein per bar | Varies by flavor (10 to 12 g) |
| Artificial sweeteners | No |
| Price per serving | $3.63 |
| Taste/texture | Very rich and taste fresh with no artificial aftertaste, according to our tester who has tried almost every flavor of Perfect Bars. They are kind of dense but soft and a little bit crumbly. They should be eaten right out of the refrigerator to prevent them from getting oily. |
| Suitable for | Paleo, Whole30, gluten-free, vegetarian, non-GMO |
Best Protein Bar for Sensitive Stomachs: Supergut The Gut Balancing Bar
Good for: Individuals on the hunt for protein without a gut-wrenching effect
The Gut Balancing Bar from Supergut is a protein bar designed to support digestive health. At first glance, I thought the inclusion of milk protein concentrate and erythritol, a sugar alcohol, felt a bit counterintuitive to this mission. Upon further inspection, I found out that these protein bars are stacked with 10 grams of prebiotic fiber.
The resistant starch blend includes unripened green bananas, oat beta glucan, and allulose, three ingredients shown to support digestive function according to a clinical study (conducted with Supergut, I must note). Still, though there's a conflict of interest, the results from the study are quite astounding.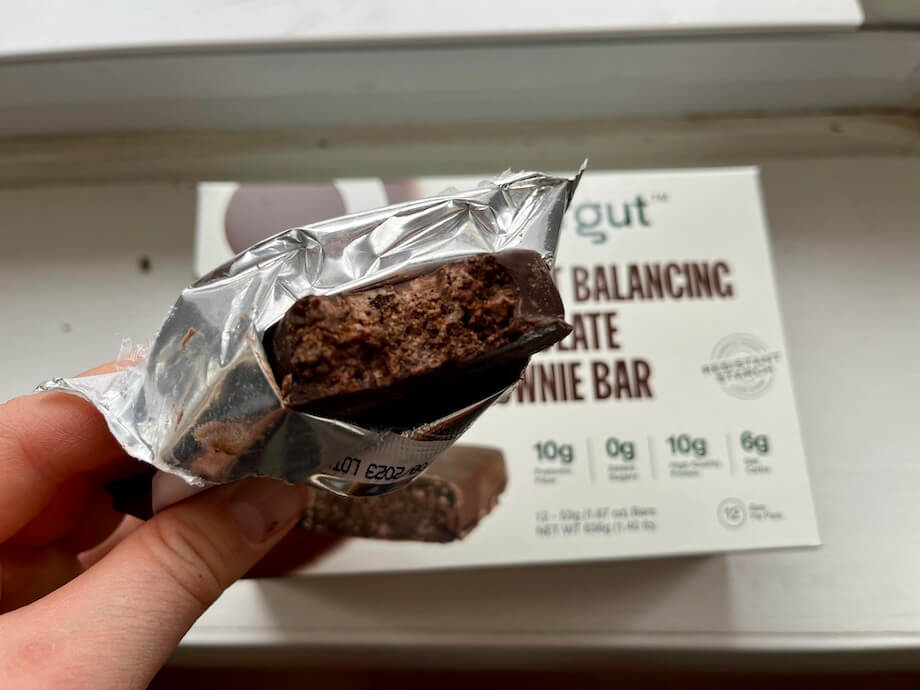 Participants who consumed Supergut's resistant starch blend saw decreased A1C (an indicator of blood sugar), average weight loss of 3 pounds, and an increase in healthy gut bacterial colonies.
These bars are pretty tasty and very chocolatey, according to tester Lauren Strong, who tried the chocolate brownie flavor. "There is a semi-hard chocolate exterior and a softer (but crispy/dry) interior. I liked it, but not as much as I wanted to like it. It's a bar I might eat once in a while. It's also pretty dry and wouldn't really be great in all situations, such as on a hike in the summer when you're just a little bit thirsty the whole time."
RELATED: Best Probiotics
| | |
| --- | --- |
| Protein source | Whey protein isolate and concentrate, milk protein concentrate |
| Protein per bar | 10 g |
| Artificial sweeteners | No |
| Price per serving | $4.08 |
| Taste/texture | Flavors are good but our tester detected an artificial taste and said it had an "aerosol/dry" taste. Hard exterior with a soft interior, though overall pretty dry. |
| Suitable for | Keto |
Best Lactose-Free Protein Bar: MisFits Plant-Powered Protein Bars
Good for: Anyone who wants a tasty protein bar sans milk derivatives
For people who can't or don't want to consume dairy products, finding a protein bar that actually tastes good and delivers a decent amount of protein is tough. Most protein bars include some form of whey or another milk-derived protein, ruling them out for those with lactose intolerance.
The MisFits Plant-Powered Protein Bar provides 15 grams of protein from pea and soy sources, making it acceptable for people who follow vegan, vegetarian, and lactose-free diets. These bars are also certified gluten-free.
I tested the MisFits protein bars and, to my surprise, was not as taken aback as I usually am by vegan food products. (I really, really don't find vegan options to be tasty, usually). While I can't say these are a favorite of mine, I do appreciate the absence of a chalk-ified interior.
I chose the Cookie Butter flavor (obviously) and was pleased overall at the chocolatey coating, chewy caramel-like layer, and crispy nougat-like bits. Some customer reviews say that these bars are way over-hyped and the flavor is overrated, and I'd have to agree—they're good, but on the relative scale that they're vegan and lactose-free. Again, it's likely that someone who eats a vegan diet would find these much more flavorful than someone who's used to rich milk proteins and chocolate.
Nutritionally, these run a similar tab to most protein bars: About 200 calories, 15 grams of protein, and inclusion of some emulsifiers and artificial sweeteners, specifically xylitol.
| | |
| --- | --- |
| Protein source | Pea protein, soy protein |
| Protein per bar | 15 g |
| Artificial sweeteners | Yes |
| Price per serving | $2.50 |
| Taste/texture | "Definitely taste the xylitol in the Cookie Butter flavor," says competitive triathlete and GGR expert product tester Amanda Capritto. A range of textures. "You have the confectionary coating, a thin chewy layer, and then the main nougaty layer which has some crunchies in it." |
| Suitable for | Vegan, vegetarian, gluten-free, lactose-free |
Best Keto Protein Bar: EPIC Bars
Good for: Keto dieters and fans of jerky
If you eat meat and you haven't tried an EPIC Bar yet, what are you doing with your life? I'm not joking. It's time to feast! EPIC Bars by EPIC Provisions are a newer take on both protein bars and jerky, because they're not what you'd expect from either one. Low in carbs and made with a high-quality protein source, EPIC Bars are a keto-friendly healthy snack.
EPIC Bars are made from various grass-fed animal proteins and contain some phenomenal flavor combinations. My favorite, and the type I've been consistently munching on for a few years now, is the bison bacon cranberry bar. Other popular flavors include chicken sriracha, beef jalapeno, and venison sea salt pepper. There are currently a total of nine savory flavors, and you can try them all if you buy the variety pack.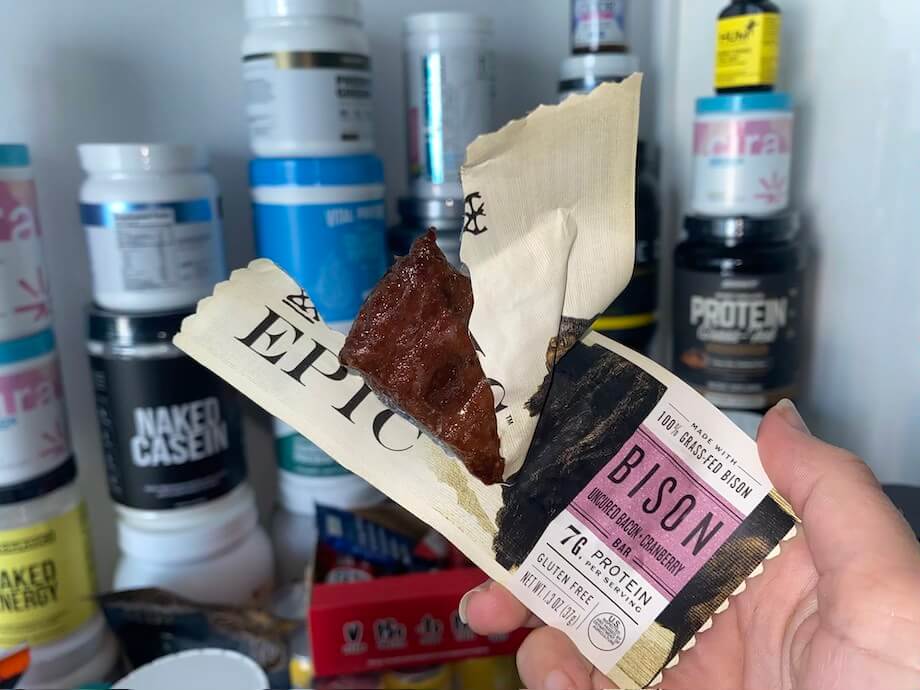 These bars are soft in texture, as if you're eating fall-off-the-bone ribs from a cookout. They're friendly for those who eat paleo, keto, or gluten-free diets, as well as people who follow the Whole30.
The protein content ranges from 7 grams to 12 grams depending on the flavor, and we know that's not super high for something called a protein bar. But, they also only contain 90 to 170 calories, so the ratio isn't all that askew. The best protein-to-calorie ratio is found in the chicken BBQ flavor, which has 90 calories and 11 grams of protein.
EPIC bars are also low in added sugar across the board and have super short ingredient lists containing meat as the first ingredient, with seasonings and binding agents following.
RELATED: Best pre-workout for men
| | |
| --- | --- |
| Protein source | Grass-fed meat |
| Protein per bar | Varies by flavor |
| Artificial sweeteners | No |
| Price per serving | $2.66 |
| Taste/texture | Robust and balanced flavors. Texture can vary depending on how much fat is on each bar. The lesser-fat flavors can be a bit dry and crumbly. |
| Suitable for | Keto, Whole30, gluten-free, paleo |
Best Organic Protein Bar: Orgain Organic Protein Bar
Good for: People who eat organic and plant-based
Orgain Organic Protein Bars fit the bill for best organic and a great vegan option, according to product tester Lauren Strong. "These are really good, and that's even with them being a vegan and soy-free option," she says.
"I liked the texture; it resembles the texture of cookie dough (soft, chewy, doughy) which is nice because it matches the flavor. I'm not sure how this ultra-compressed texture will do with the other flavors, though," she says. "There is a little of that aftertaste you get from some of these artificial ingredients like erythritol, and the texture is a bit dry, but that's to be expected with a vegan product, I think."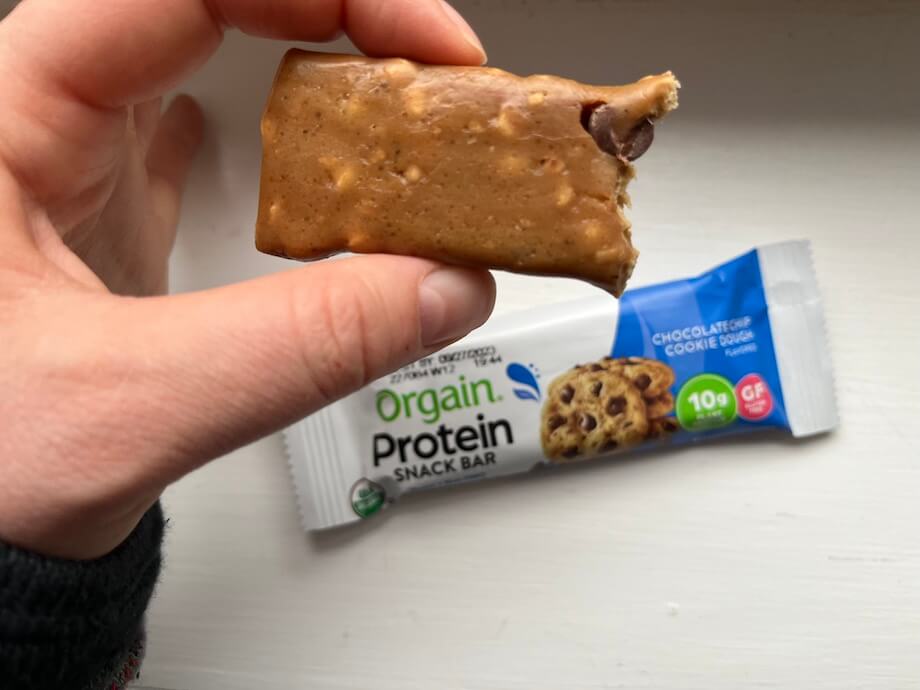 Despite the sugar alcohol content, Lauren said she didn't experience any digestive discomfort after eating these protein bars. They're lower in protein than others on the market, with just 10 grams, but that's not a bad amount for a vegan option in our opinion.
Orgain Organic Protein bars are certified USDA organic and certified non-GMO, gluten-free, and kosher. There are six rich, mostly chocolate flavors to choose from, and, at 150 calories, are a great organic snack. It's no wonder Orgain tops the list of the best organic protein powders.
| | |
| --- | --- |
| Protein source | Rice protein, pea protein |
| Protein per bar | 10 g |
| Artificial sweeteners | Yes |
| Price per serving | $1.67 |
| Taste/texture | The taste and texture are exactly like cookie dough, which is nice because it matches the flavor. |
| Suitable for | Organic, non-GMO, vegetarian, gluten-free |
Best Protein Bar for Muscle Growth: Jacked Factory Authentic Bars
Good for: Exercisers looking for a high-calorie bar with natural ingredients
Nicole, GGR editor, tried the Peanut Butter Pieces flavor of the Jacked Factory Authentic Bars and was very pleased with the taste and texture. "These are really good," she says simply. "They taste exactly like a peanut butter Perfect Bar but with Reeses Pieces in it—same texture and everything!"
"If you are a PB lover, you'll die for this flavor! Also, they're sweetened with honey, which you can taste. These don't have any artificial flavor about them, something I find is noticeable in other protein bars"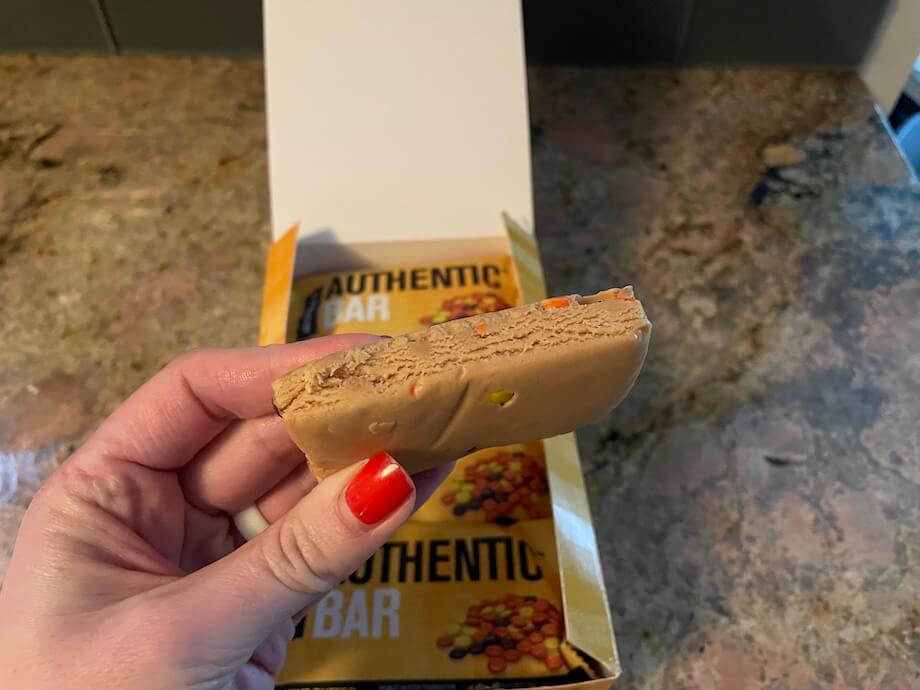 The texture is also great, Nicole says; it didn't give her dirt or chalk vibes like many protein bars do.
From a nutritional standpoint, the Authentic Bars could stand to improve. "This would be a great dessert or treat-type bar," Nicole says. "At only 15 grams of protein and 270 calories, it's not the best from a protein standpoint, but it definitely feels like a healthier version of a candy bar. I'll also say that for the calories, it feels small. But yum!"
The high calorie content is the main reason we recommend this bar for muscle-seekers: Yes, more protein would be nice, but calories are ultimately just as important in the muscle-building process. You can't build muscle without being in a caloric surplus, so dig in!
RELATED: Best protein powder for men
| | |
| --- | --- |
| Protein source | Whey protein |
| Protein per bar | Up to 16 g (depends on flavor) |
| Artificial sweeteners | No |
| Price per serving | $2.50 |
| Taste/texture | Great peanut butter taste with candy pieces mixed in. Sweetened with honey, so there's no artificial taste. Soft and a bit crumbly, but overall moist. |
| Suitable for | N/A |
Other Protein Bars We Tried And Researched
Want to hear about a near-impossible task? Listing every single protein bar each member of our team has tried. But I'm going to list some popular options we have tried.
To spare you from reading the same words over and over, here's a synopsis as to why the following bars didn't make the list:
We couldn't get past the taste and/or texture (and the nutritional components didn't make it worthwhile); we've experienced digestive problems after eating them; they're called protein bars but really aren't; or we simply didn't like them better than an option you see on the list of our top picks. Also, we didn't include meal replacement bars in this guide.
CLIF Bars
CLIF Builder Bars
Larabars
Z Bars
ThinkThin Bars
GoMacro Bars
Zone Perfect Bars
Premier Protein Bars
Nature Valley Chewy Protein Bars
Power Bars
Power Crunch Bars
Fiber One Protein Chewy Bars
Luna Bars
Gatorade Recovery Bars
Atkins Advantage Bars
METrx Big 100 Bar
KIND Protein Bars
ONE Protein Bars
MyProtein Layered Protein Bars
In reality, our team collectively has likely tried dozens more, as you can see in this No Cow protein bar review, and there are still dozens of others that we haven't touched. The world of protein bars is a big one, but we hope we've helped you make a decision today.
RELATED: Best protein chips
How We Picked and Tested the Best Protein Bars
Research, buy, test: That's the name of the game here at Garage Gym Reviews, and we're proud of it. Every item on this guide to the best protein bars was delivered to one of our homes and actually eaten by one of our product testers, in accordance with our supplement testing methodology.
In fact, many protein bars on this list have been household staples for some of us for years. As fitness enthusiasts, we're well-versed in the world of nutritional supplements, including protein bars. Here's how we specifically broke down our protein bar testing criteria.
Ingredients
We looked for protein bars that used high-quality ingredients such as whole food sources, like egg whites or grass-fed meat, or whey protein (ideally whey protein isolate to avoid any digestive issues). For plant-based protein bars, we made sure the protein source contained high amounts of muscle-building amino acids, which are the building blocks of protein molecules. We did not include any protein bars with known dangerous ingredients.
Nutritional Information
We looked at protein bars that had a decent protein-to-calorie ratio. We didn't want to include a 300-calorie protein bar that only provides 5 grams of protein. More importantly, we wanted to avoid suggesting bars with high amounts of added sugar.
Taste and Texture
This one's pretty self-explanatory. While we weren't thrilled with how every protein bar's taste or texture, we avoided including any protein bars that we spit out during testing (and there were some).
Price
We tried to keep most of our suggestions to under $3 a bar, but some made it through based on their taste or nutrition content.
Benefits of Protein Bars
Here's a look at the main benefits of protein bars.
Extra Protein
Probably, if you're looking for protein bars, you're looking for a way to increase your protein intake (we've got a handy guide to help you figure out how much protein you need). Or, you're looking for a more nutrient-dense sweet treat. Either way, protein bars can help you add an additional 8 to 20 grams of protein per day to your diet in an easy, convenient way. Eating a protein snack bar post-workout can aid in muscle recovery just like consuming a protein shake can.
Satiety and Weight Maintenance
Aside from sneaking a bit of extra protein into your diet, protein bars are a useful tool for maintaining satiety throughout the day. If you're short on time and high on hunger, keeping protein bars handy can help you avoid dreaded hunger pangs between meals.
Studies show that consuming more protein can help keep you fuller throughout the day due to a variety of mechanisms in the body, according to a 2020 review in the Journal of Obesity and Metabolic Syndrome2. As per a 2012 review in the British Journal of Nutrition3, these appetite-suppressing effects could lead to weight maintenance and/or weight loss.
Nutrients
Many protein bars also contain nutrient blends to bump up the overall nutritional profile of the product. For instance, it's not uncommon to see amounts of vitamin A and B, as well as calcium, potassium, and sodium, that satisfy a large part of the daily value based on a 2,000-calorie diet.
Convenience
Let's face it: It's much easier to unwrap and eat a protein bar than it is to cut, cook, and prepare a meal that might give you similar protein content. Eating a protein bar can be done at your desk, during your commute, or any other time you feel hungry and need a quick, filling snack.
Buying Guide: What to Look for in a Protein Bar
Protein bars may seem like a simple product on the surface, but once you peek at the ingredients label, you'll realize that there's much more than meets the eye.
Protein Content and Source
Obviously, a bar is not a protein bar if it doesn't contain ample protein. In general, protein bars have 10 to 20 grams of protein. This varies depending on a number of factors, including the protein source, the size of the bar, other ingredients in the bar, and the calorie count.
Generally, the more calories a protein bar has, the more protein it will contain, although this is not always true. If a bar has less than 10 grams of protein, check out the rest of the nutrient profile to see if it's still worth munching. Every bar we recommend has a minimum of 10 grams of protein, except for some flavors of the EPIC Bars—but they have a strong nutrient profile, are relatively low in calories, and taste dang good.
The most common protein source in bars are milk derivatives, including whey protein concentrate and isolate. Some also contain collagen. In plant-based protein bars, you'll commonly see brown rice protein, pea protein, and soy protein.
Diet Type
You're probably already cognizant of what you purchase if you follow a specific diet. But we still want to point out that many protein bars are not suitable for the following:
Lactose intolerance
Gluten sensitivity or Celiac disease
Vegan and vegetarian diets
Paleo or Whole30
Keto diets
Organic and non-GMO diets
Trust, if a product is certified to meet the requirements for one of the above diet types, it will be advertised. But if you're not sure about something, check the ingredients list for the protein source. Anything with whey protein concentrate or isolate isn't vegan, paleo, Whole30-approved, or lactose-free. Many bars with plant-based protein are also dairy-free, non-GMO, and organic.
Sugar and/or Artificial Sweeteners
If a protein bar is sugar-free, it's likely that it contains artificial sweeteners. They have to be sweetened somehow. Neither sugar nor artificial sweeteners are inherently bad, but they're both something to be aware of.
Common natural sweeteners in protein bars include:
Honey
Dates
Monk fruit extract
Stevia
Coconut nectar
Then there are refined sweeteners:
Cane sugar
High-fructose corn syrup
Brown sugar
Brown rice syrup/rice malt
Many bars use artificial sweeteners in place of, or in combination with, a natural or refined sweetener. Common artificial sweeteners include:
Sucralose
Aspartame
Saccharin
Acesulfame-K
Neotame
And, finally, there are sugar alcohols, which I personally see more often in protein bars than any of the above:
Xylitol
Maltitol
Erythritol
Sorbitol
Mannitol
Lactitol

If you have a weight loss goal, sugar-free protein bars might seem more attractive. They can definitely help with craving control and staying within your calorie targets, but some sugar alcohols have been shown to cause gastrointestinal upset4. The state of research on artificial sweeteners' effect on the human microbiome is largely inconclusive5.
Keep this in mind when looking for the best protein powder for weight loss, too.
Ingredients
Aside from the sources of protein and sweetness, protein bars typically contain a long list of other ingredients (although we tried to choose several with short, simple lists, like RXBARs, Perfect Bars, and EPIC Bars).
Lots of protein bars include healthy fats such as cashews, almond butter, and other nut butters. You'll also see flavoring agents like almond extract, vanilla extract, cocoa, salt, and other spices.
Mostly, the other ingredients in protein bars are emulsifiers, thickening agents, binding agents, and oils. For example, you'll commonly see things like soy lecithin, palm kernel oil, chicory, glycerin, tapioca starch, canola oil, xanthan gum, and calcium carbonate.
These things are all generally regarded as safe to consume by the FDA, and mostly, they're used to establish textures of various layers in the protein bar (such as the chocolate coating, nougat-like layers, crunchy crisps, etc.).
You may see various preservatives in the ingredients list, such as sodium nitrate, but this is more common in bars with whole food ingredients.
Calories
This will vary based on how much protein you need in a protein bar. So someone using protein bars for weight loss should find a lower calorie protein bar, whereas someone trying to gain weight or put on muscle should reach for a higher calorie protein bar.
Taste and Texture
Finally, check out customer reviews to get a sense of texture and taste. No matter how good a brand's marketing photos are, there's still a chance that the bar is dusty and dry. This is just a fact of protein bars. It's hard to make various powders all scrumptious and hearty, ya know?
Best Protein Bars FAQs
Are protein bars healthy? 
The nutrient profile of protein bars is vast. That's an understatement, actually. There are so many types of protein bars with wildly different ingredients lists, calorie counts, protein content, sweetener sources, and so forth. Some protein bars are very nutritious while others are like glorified candy bars. We hope that our buying guide above helps you make some sense out of the nutrition facts labels on protein bars.
Will protein bars help build muscle? 
More calories and more protein plus strength training equals muscle gain (usually). That's a super simplified statement, but yes, eating protein bars in conjunction with a progressive resistance training program and a calorie surplus generally can help with muscle gain.
What is the best-tasting protein bar?
Taste is wildly subjective. While we don't have a specific recommendation for the best-tasting protein bar, all of our top picks are pretty tasty, and even the ones we personally didn't like much have positive customer reviews.
Is it ok to eat a protein bar every day?
There's nothing wrong with eating a protein bar every day, so long as it's being used as a supplement to a diet built around whole food sources.
When is the best time of day to eat a protein bar?
The best time of the day to eat a protein bar is when you're hungry and don't have time to make a snack or meal. Sounds obvious, we know, but it's the truth.
Can protein bars replace a meal?
No, protein bars can't replace a meal. Well, they can if you're in a rush or on a road trip but generally they shouldn't be used as meal replacements. For one, they contain much fewer calories than a meal and they're not a good source of vitamins and minerals.
References