We test and review fitness products based on an independent, multi-point methodology. If you use our links to purchase something, we may earn a commission. Read our disclosures.
Not that long ago, fit-minded people approached protein bars with suspicion. The ones that tasted good always seemed to fail a close reading of the ingredient list. The ones that were "healthy" were barely fit to eat. It was almost like the companies themselves didn't "get" what a protein bar was supposed to be.
RELATED: Best Protein Bars
Thankfully, times have changed. Both online and in-store retailers offer more bars, and better bars, with "how did they do this?" taste and whole food ingredients.
The best low-calorie protein bars are the ones that fit seamlessly with your lifestyle, helping you increase your daily protein while matching up with your personal cravings. Post-workout treat, healthy snack, meal replacement—they can be all these things and more.
And here's the good news: our team of coaches, competitive athletes, and registered dietitian nutritionists have done the hard work of tasting and ranking them so you don't have to!
Dig into our in-depth roundup and get ready to unwrap your new favorite.
Medical disclaimer: This article is intended for educational and informational purposes only. It is not intended as a substitute for medical advice. For health advice, contact a licensed healthcare provider.
Best Low-Calorie Protein Bars
Best Low-Calorie Protein Bar Overall: Pure Protein Bars
Good for: Calorie-counters looking for simple, clean high protein bars
A helpful way to analyze protein bars is by grams of protein per calorie. By that standard, Pure Protein Bars are a clear standout. Each gram of protein "costs" you only 10 calories—or 20 grams per 200-calorie bar. The protein comes from a blend of protein sources including milk protein isolate, whey protein concentrate, and whey protein isolate, making it fast-digesting for before or after a workout. And since they're fiber-free, many of the over 30,000 Amazon reviewers loved how light they sit in the stomach.
GGR head of content Kate Meier tested the Pure bar and found the texture to be a major selling point—and it got even better if the bar "firmed up" by sitting in the refrigerator for a little while.
"I think these are probably the most candy-bar-like bar I've ever had," she reports. "They are only a little chalky, like VERY little—not like you taste with other protein bars. Texture is similar to something like a Snickers or a Milky Way—very nougatty (is that a word?)."
The big question: How did they do it without adding any extra sugar? The answer: 13 grams of erythritol sugar alcohol per Pure bar. It's the highest of the bars we tested by several grams. That may sound concerning, but it's still far lower than the levels where a study in the European Journal of Clinical Nutrition concluded most people begin to experience digestive distress.1 But maybe stop at one bar to be safe.
Read our full Pure Protein Bar review for more information.
| | |
| --- | --- |
| Protein Source | Milk protein isolate, whey protein concentrate, whey protein isolate |
| Protein per serving | 20-21 g |
| Flavors | Birthday Cake, Chewy Chocolate Chip, Chocolate Deluxe, Chocolate Mint Cookie, Chocolate Peanut Caramel, Chocolate Salted Caramel, Cookies and Cream, Lemon Cake |
Best Low-Calorie Protein Bar for Dessert: Onnit Protein Bites
Good for: A decadent snack bar with high fiber for lasting fullness
Onnit Protein Bites look like a small two-piece candy bar, but check out the nutrition facts and you'll see a long list of whole food ingredients, including high fiber content (7 grams) that's right up near the protein (8 grams). They also come in at a candy-bar-esque $1.67 per serving—pretty affordable. That's why they were an easy inclusion on our Best Protein Bars for Men list.
When Kate Meier and her weightlifting team tested all flavors of the Onnit bites, a brawl nearly broke out over the crumbs. "Overwhelmingly, we love the taste of these," she reports. "Protein content isn't super high in just one, so it wouldn't be our go-to protein snack, but I would view this like a 'healthy dessert' option for when chocolate cravings kick in, or you just want something sweet."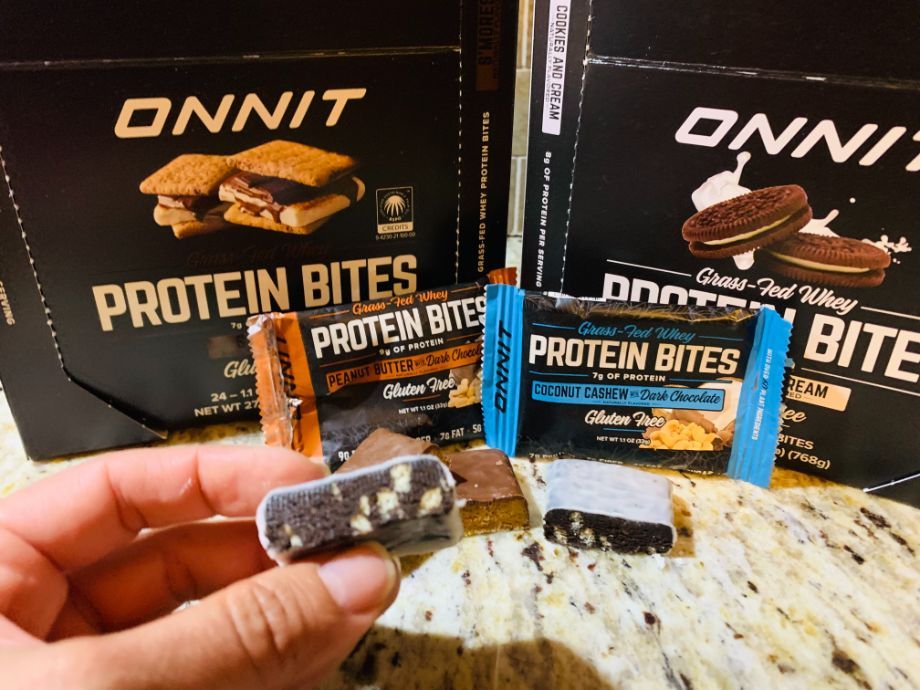 If you hear "Onnit" and think "paleo," you're not alone, but our testers found the bites to be unapologetically similar to a candy bar—and nobody was complaining about that. "The coconut cashew one is super similar to a Mounds Bar in texture," Kate says. "These are chewy and moist and just … *chef's kiss*"
You may be tempted to go through a box of these in a single sitting, but with the amount of fiber in them, your stomach might not be thrilled with that choice. And if you find your guts (and roommates) just can't quite get used to the prebiotic fiber, Kate notes, "The return policy is good. You can shoot something back for a full refund if it's at least half full."
| | |
| --- | --- |
| Protein Source | Grass-Fed Whey Protein Isolate |
| Protein per serving | 11 g |
| Flavors | Chocolate Coconut Cashew, Chocolate Peanut Butter, Chocolate Cookie Dough, S'mores, Cookies and Cream |
Best Keto-Friendly Low-Calorie Protein Bar: Bulletproof Protein Crisp Bar
Good for: Low-carb keto protein bars to help control a sweet tooth
What's the perfect low-carb sweet to nosh with your hot, buttery mug of Bulletproof Coffee? It just might be a Bulletproof Protein Crisp.
This low-calorie plant-based protein bar mixes 11 grams of protein with a beefy 9 grams of fiber, making it more of a "healthy snack" than a post-workout refuel. But take a look at the macros, and you'll see why it made our best protein bars for weight loss list.
Kate Meier said the flavor of the Peanut Butter Chocolate Chip earned rave reviews from her team members. "There is definitely peanut butter in this bar, with just a hint of the chocolate chip," she reports. "Overall, it tastes like a 'healthy' peanut butter bar—which is a good thing! I give it a solid 4 out of 5 for taste." That flavor doesn't come at a high caloric or fat cost, though. Each 160-calorie bar only contains 2.5 grams of saturated fat, and 8 grams of fat overall.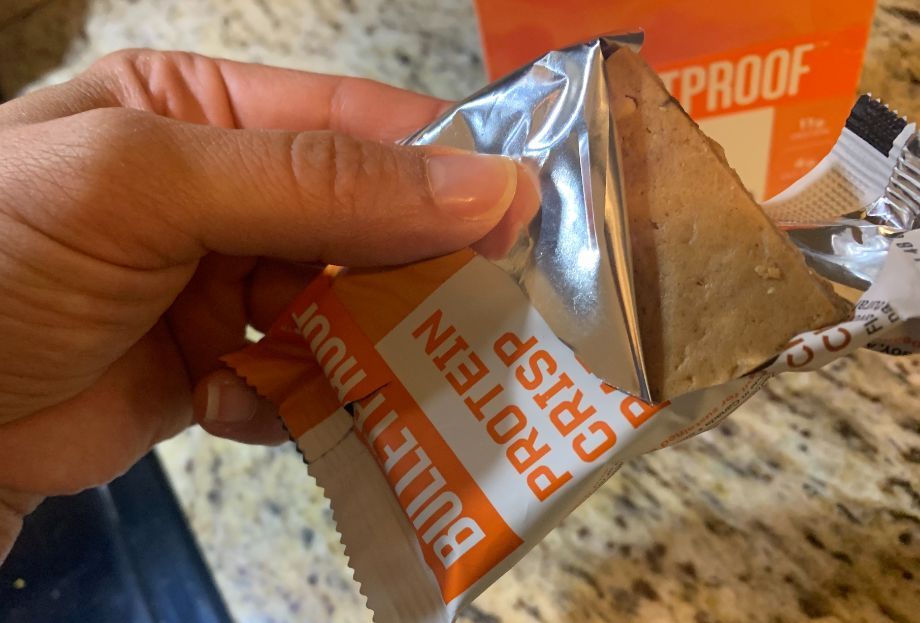 It wasn't all raves, though. Testers found the "crispiness" of this supposed "protein crisp" bar underwhelming, and at only 11 grams of protein per bar, it's a stretch to call it a "protein bar." It's a solid snack, but post-workout it might benefit from a scoop of protein powder as a chaser.
| | |
| --- | --- |
| Protein source | Pea protein |
| Protein per serving | 11 g |
| Flavors | Peanut Butter Chocolate Chip, Coconut Chocolate Chip, Salted Caramel, Chocolate Mint Chip |
Best-Tasting Low-Calorie Protein Bar: Barebells Protein Bar
Good for: Post-workout protein at a reasonable caloric cost
The retro-colored labels of Barebells Protein Bar bear very little resemblance to the tough, modern labels of, say, the RX Bar. Honestly, this is a bar that is begging to be mistaken for a candy bar. And our tester wasn't sure she could tell the difference in a blind taste test.
"Great! Soft and chewy on the inside and crunchy on the outside from the nougat pieces and chocolate coating," raved GGR senior editor Nicole Davis. "The Chocolate Dough was almost like a 100 Grand bar, which is my ultimate favorite candy bar. This bar feels very indulgent for the macros."
Speaking of those macros: 20 grams of protein per 200-calorie bar matches the best per-calorie protein content of the bars we tested. The carbohydrate content is also very low at around 18 grams per bar (depending on the flavor), and no added sugar. The sweetness comes from the common sugar-free gum sweetener maltitol, which has been shown in studies to have less aftertaste than other sugar substitutes,2 along with a small amount of the artificial sweetener sucralose.
Also worth noting: in addition to whey protein, Barebells protein blend has calcium caseinate, which digests more slowly than whey. This is a big reason why a 2019 study in Frontiers in Nutrition recommended having it before bed to enhance the body's response to strength training.3 Bedtime bar, anyone?
| | |
| --- | --- |
| Protein source | Calcium caseinate, whey protein isolate, whey protein hydrolysate |
| Protein per serving | 20 g |
| Spec | Caramel Cashew, Chocolate Dough, Cookies and Cream, Creamy Crisp, Crunchy Fudge, Hazelnut & Nougat, Peanut Butter, Salty Peanut, White Chocolate Almond, Plant-Based Hazelnut & Nougat, Plant-Based Salty Peanut |
Best Crunchy Low-Calorie Protein Bar: Power Crunch Bar
Good for: Healthy snacking for people who demand a crunch
The first time many people buy an Original Power Crunch, it's an in-person impulse purchase during a moment of hunger and weakness. The second time they buy one is when they order an entire box online from their phone, just seconds after finishing that first bar.
At 12-13 grams of protein per 215 calories, this widely available bar isn't the most efficient source of protein out there (although it also comes in a 20-gram Power Crunch Pro Bar). But is it better than a candy bar? Definitely. And does the texture live up to the bar's name? It does, according to our tester.
"These are one of my OG protein bars. Been picking them up here and there for years. If I'm traveling especially, I tend to go for these in airports or at gas stations because I know that I like them," explains GGR senior editor Nicole Davis. "That said, with only 12-13 grams of protein, they're not the best option in terms of a protein bar. But they taste amazing, and I like that they're a lighter option as opposed to a Quest bar, which is super chewy and dense."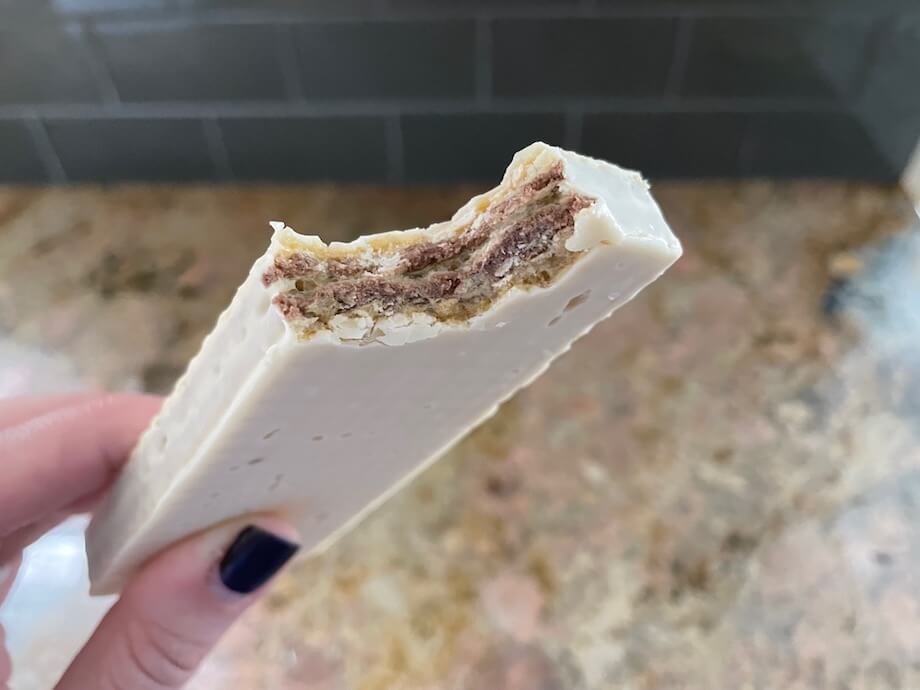 Another difference: Quest bars contain quite a bit of sugar alcohol, while Power Crunch bars don't have any. They contain just enough added sugar (5 grams) to taste decadent, but mix it with stevia to keep the carbs and calories reasonable.
One note: Many Amazon reviewers report that their Power Crunch Bars were broken or smashed when delivered. If you know you like the bar, it might be worth your time to order directly from Power Crunch, or to buy them in person.
Get all the deets with our full Power Crunch Bar review.
| | |
| --- | --- |
| Protein source | Calcium caseinate, whey protein isolate, whey protein hydrolysate |
| Protein per serving | 12 g |
| Spec | Red Velvet, Strawberry Creme, Cookies & Creme, Salted Caramel, Peanut Butter Fudge, Chocolate Mint, French Vanilla Creme, Chocolate Coconut, Lemon Meringue, Triple Chocolate, Smores, Peanut Butter Creme, Wild Berry Creme |
Best Vegan Low-Calorie Protein Bar: No Cow Protein Bar
Good for: Meal-replacement and post-workout vegan gains
No Cow's protein bars hit the "1 gram of protein per 10 calories" benchmark, alongside the best-rated bars we tested. They come in at a clean 20 grams of plant-based protein from blended brown rice and pea, all in a 200-calorie bar.
These popular vegan protein bars also hit a number of other big checkmarks, including certified gluten-free, kosher, non-GMO, and free of soy protein. The label is packed with natural ingredients, including an immense 15 grams of fiber—the highest of any bar we tested. No Cow protein bars also feature no added sugar, thanks to a blend of erythritol, monk fruit, and stevia.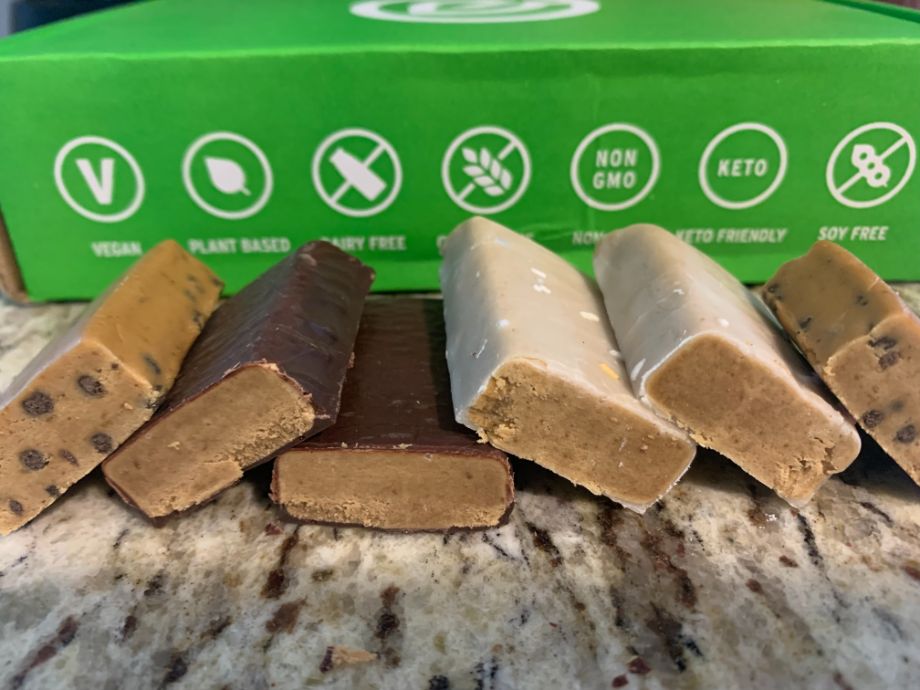 If you read all that and found yourself a bit suspicious about how they actually taste, you're in good company. "As someone who eats quite a lot of products that are dairy-free, gluten-free, soy-free, etc., these were about what I expected—not the best I've ever tried, but not the worst, either," says tester and GGR editor Frieda Johnson. "The texture is a bit odd; it's smooth and creamy, but somehow dry and grainy at the same time. My husband thought they were a little bit like a 'less sticky' old-school PowerBar. My daughter liked the texture, but the rest of us thought it was just OK. Keep a glass of water on hand!"
In terms of flavor, Frieda's family universally liked the birthday cake flavor, but found the chocolate chip cookie dough had "a really strong stevia/sugar alcohol aftertaste." In the end, she said, the nutrition and macros of the bar are a major selling point, but "I wouldn't buy these if you're only interested in the flavors."
Check out our full No Cow Protein Bar review.
| | |
| --- | --- |
| Protein source | Brown rice and pea protein |
| Protein per serving | 20 g |
| Flavors | Peanut Butter Chocolate Chip, Chocolate Fudge Brownie, Birthday Cake, Chocolate Chip Cookie Dough, Chocolate Peanut Butter Cup, Chocolate Sea Salt, Cookies & Cream, Lemon Meringue, Chunky Peanut Butter, Blueberry Cobbler |
Best-Tasting Vegan Low-Calorie Protein Bar: NuGo Protein Bar
Good for: Animal-free snacking and dessert replacement
NuGo's soy-based vegan protein bars deliver decadent, nostalgic flavor for those who are taking advantage of the benefits of plant-based eating. No, the 13-grams-per-bar protein content can't quite stand up to some of the other bars we tested. But our tester found the mint chocolate chip bar to be so delicious, she didn't mind.
"These are amazing!" gushed GGR editor Frieda Johnson. "They taste like Thin Mints. My whole family agreed that these were the best ones we tried. You can really tell that they use real dark chocolate instead of the fake, waxy stuff most brands use. I really like the texture. They have a crispy rice texture, covered in chocolate, that really is like eating a candy bar or cookie. Not too gooey and not too dry."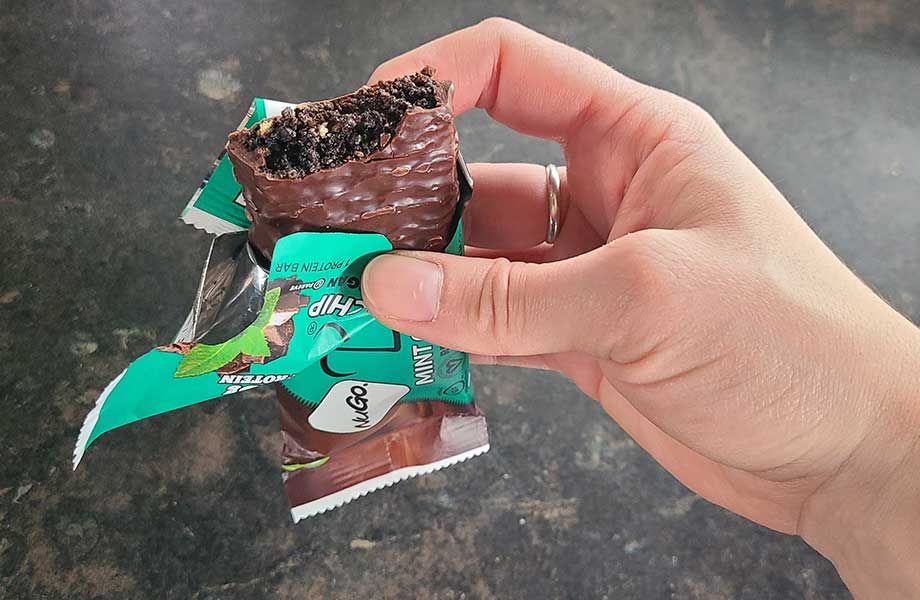 Worth noting: NuGo also makes several non-vegetarian bars, so double check the label of your bar before buying. In addition to their vegan bars, they make a wide range of bars for people seeking out specific needs and lifestyles, such as organic, kosher, diabetic-friendly, gluten-free, and non-GMO.
If you are looking for the best protein bar for weight loss that can be a dessert replacement that provides a bit more protein while still satisfying your sweet tooth, these might be the ones for you.
| | |
| --- | --- |
| Protein source | Soy protein |
| Spec | 10-16 g |
| Flavors | Mint Chocolate Chip, Chocolate Almond, Chocolate Pretzel, Chocolate Chocolate Chip, Chocolate Coconut, Peanut Butter Cup, Mocha Chocolate, Crunchy Peanut Butter, Toasted Coconut, Espresso, Dark Chocolate Crunch, Dark Chocolate Cherry Pomegranate |
| Spec | |
Best Budget Low-Calorie Protein Bar: Orgain Organic Protein Bar
Good for: Vegan-friendly snacking, kids lunches, or healthy dessert
Orgain makes both organic dairy-based and plant-based protein products, but their bars currently only come in a plant-based variety. For 150 calories apiece, you get 10 grams of rice and pea protein, two common vegan sources that combine to make a whole protein. It's a simple, proven recipe, which is why this bar also made our list of the best protein bars for women.
Here's the only downside: At 10 grams per bar, there isn't enough protein content to confidently call this a "protein bar." But the price per serving is very reasonable at $1.50 per bar, and gets even better if you subscribe to Orgain and get an additional 35 percent discount. At that price point, they're a solid choice as a regular snack, or to add some heft to your (or your kids') lunches.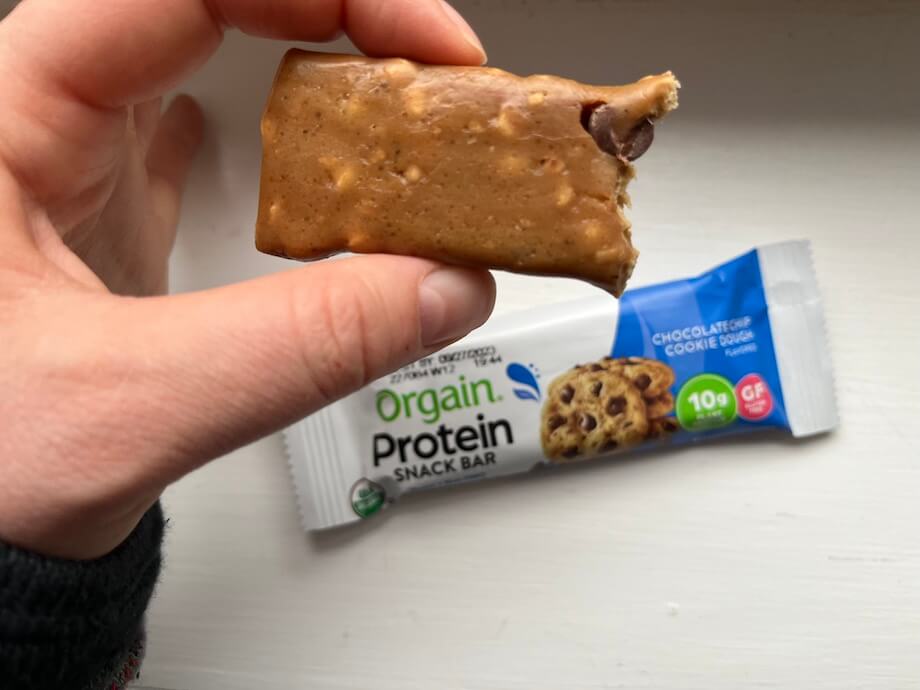 Our testers loved how the texture and flavor hit a nostalgic "stealing cookie dough when mom's not looking" sweet spot. "It resembles the texture of cookie dough (soft, chewy, raw-doughy) which is nice because it matches the flavor," notes GGR staff writer Lauren Strong. "Very surprised how much I liked this bar considering it's vegan. There is a little of that after-taste you get from some of these ingredients like erythritol."
Yes, there is erythritol in the bar, but a pretty meager amount: just 3 grams. With 2 grams of fiber and 5 grams of nut-based dietary fats, it's remarkably light and protein-forward for the price.
| | |
| --- | --- |
| Protein source | Brown Rice |
| Protein per serving | 10 g |
| Flavors | Chocolate Brownie, Chocolate Chip Cookie Dough, Peanut Butter, Peanut Butter Chocolate Chunk, S'mores, Chocolate Coconut |
Best Chewy Low-Calorie Protein Bar: Quest Protein Bar
Good for: Chewy, cakey dessert replacement for serious sweet tooths
Discovering and falling in love with Quest Nutrition bars is a fitness and weight loss rite of passage. The first time you taste one, you just can't believe something this chewy and decadent could possibly check in at 190-200 calories apiece. GGR senior staff writer Amanda Capritto has been there and done that.
"I used to be obsessed with these bars, so much so that I burned out on them," she says. "They're protein bars, so it's not exactly like eating a real cookie, despite what the customer reviews might say. But for a snack with 20 grams of protein, 12 grams of fiber, and only 1 gram of sugar, they're not half bad."
Reviewers love how Quest maintains a consistent chewy texture across numerous (over a dozen at last check) flavors, while also offering gluten-free ingredients, no added sugar, and right around 20 grams of protein per bar. The fact that you can buy them at many gas stations and grocery stores just sweetens the deal.
Here's one thing to watch out for: A single bar contains 12 grams of fiber per bar, among the highest of the bars we reviewed. This may be great for feeling full, but some people's stomachs won't love it, especially before a workout.
Check out our full Quest protein bar review to get the rest of our thoughts.
| | |
| --- | --- |
| Protein source | Milk protein isolate, whey protein isolate |
| Protein per serving | 20 g |
| Flavors | Double Chocolate Chunk, Chocolate Chip Cookie Dough, Dipped Protein & Cream, Oatmeal Chocolate Chip, Chocolate Peanut Butter, S'mores, White Chocolate Raspberry, Dipped Chocolate Chip Cookie Dough, Cookies & Cream, Caramel Chocolate Chunk, Lemon Cake, Chocolate Brownie, Chocolate Sprinkled Donut, Mint Chocolate, Birthday Cake, Blueberry Muffin |
How We Picked and Tested the Best Low-Calorie Protein Bars
A well-chosen protein bar can be a nutritional Swiss army knife, helping you control cravings and make incremental improvements in your fitness and body composition. A poorly chosen bar is truly no better than candy.
Our testers include athletes who have worked alongside high-level nutritionists helping them perform and look their best. We only recommend bars they have tasted, researched, enjoyed, and can personally stand behind, using the following criteria:
Cost
Here's something that doesn't get said nearly enough: No food or supplement helps you achieve your goals if you only use it one time, or even a few times. We prioritized bars that were wallet-friendly enough to buy by the dozen and to be your go-to healthy snack on a regular basis.
Ingredient Quality
There are no laws saying exactly what can and can't go into a "protein bar." So it's up to you to be your own advocate—and up to us to help teach you what to look for. We only featured bars that are made with high-protein food sources and that prioritized whole food ingredients. None of the bars we featured required refrigeration (although a few tasted better after a few hours firming up in the fridge). They need to be able to last all day in a gym bag!
Taste
If a bar tastes awful, or even just "not good," you might choke it down once or twice in the name of nutrition. But that's not enough for you to experience its benefits. We only included bars that had met our high nutritional standards, while still bringing enough flavor (and flavor choice) to dance with our testers' sweet tooths.
Protein Amount
There are plenty of "protein bars" that only deserve that title if you're being sarcastic. None of the bars here fall into that camp! While not all of our bars feature 20 or more grams per serving, they're all in double digits. If they're more of a snack than a post-workout protein source, we let you know.
Benefits Of Low-Calorie Protein Bars
You might think that the only real benefit of a protein bar is that it has less calories and added sugar than what you'd be eating otherwise—candy bars, cookies, and handfuls of dough right out of the bowl (did I share too much?)
But high-quality protein bars have unique benefits for people who want to lose weight and keep it off.
Increase Overall Daily Protein
When you're looking to make a meaningful, lasting change to your body, the goal shouldn't be simply to "lose weight." It should be to lose fat. The International Society of Sports Nutrition recommends that people seeking to lose weight eat double or even triple the USDA's recommended daily allowance (RDA) of protein, in order to maximize fat loss and minimize muscle loss.4
Their recommendation is 0.8 grams of protein per day, per pound of body weight. For a 160-pound man, that's 128 grams of protein per day. For a 130-pound woman, it's 104 grams.
If you get 25-30 grams at three meals a day, you're still coming up a few grams short; adding a 20-gram protein bar gets you a lot closer.
Increased Fiber Intake
Some bars on our list, like the No Cow protein bar, contain more than half of the RDA of fiber. This isn't enough to replace vegetables or whole grains, but it's a great head start.
RELATED: Best Fiber Supplements
Dosing and Interactions
No studies thus far have concluded that protein bars put you at risk of serious side effects. However, if you suffer from food allergies, be sure to check the label.
If you haven't had a bar in a few years, though, there is one thing to watch out for. Many of the bars on our list include 8 to 10 grams of prebiotic fiber—or as much as 15 in the case of No Cow.
Prebiotic fiber is known to have beneficial effects for gut health.5 However, it can also cause gas, stomach pain, and bloating while your body adapts to the increased fiber intake. Just know that it's temporary: a study in Neurogastroenterology & Motility from 2017 found that side effects nearly disappeared in just a few days.6
Third-Party Testing
Not every bar on our list featured third-party testing certifications. But the bars that were designed to match up with specific lifestyles and dietary needs, like the NuGo Protein Bar, clearly stated that they were non-GMO and gluten-free, and had certifications to back it up.
If you have any questions about a bar after looking at a bar's label, go to the company's website for further clarification—and don't be afraid to reach out and ask questions.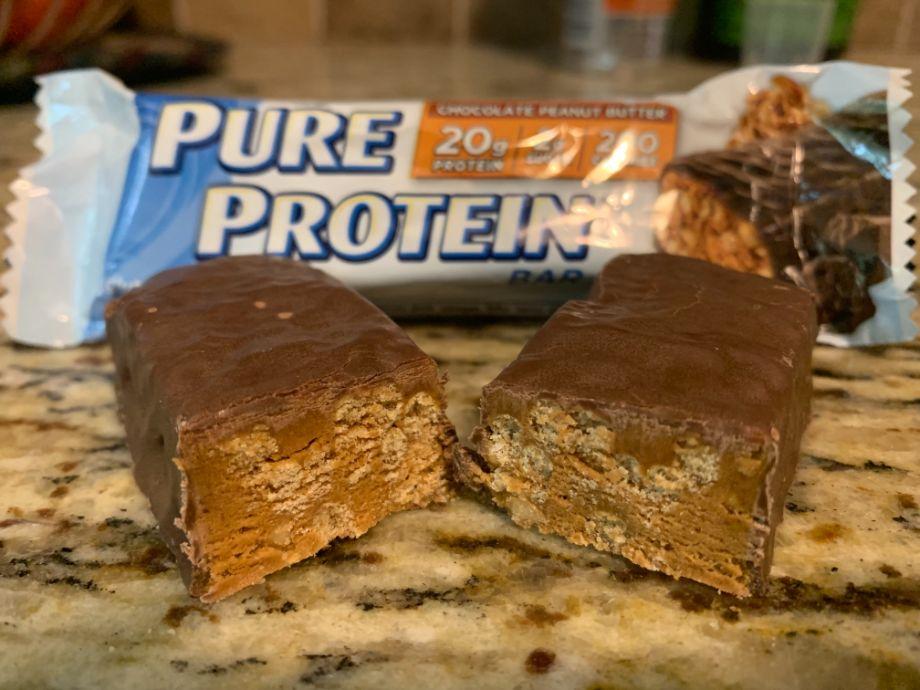 Buying Guide: What to Look for In Low-Calorie Protein Bars
Many of us buy our first protein bar in an airport or gas station, where we're pretty much stuck with whatever there is. But as you get more experienced, you can easily "size up" a bar to see if it's worth your time and money. Here's what to look for.
Protein Source and Amount
Protein should be one of the first ingredients listed on the nutritional label of any bar you're buying. Ideally, it'd be the first ingredient and include 18 to 20 grams or more from a high-quality source like milk protein (whey, casein, or both), egg whites, or a plant-based protein like pea or rice protein.
However, just because a bar has, say, 11 to 13 grams of protein doesn't mean it's not worth eating. It just means it might be more of a snack and less of a full meal replacement.
If you're eyeballing a lower-protein bar, see if it also contains fiber and dietary fats from whole food sources like nuts and seeds. These slow-digesting nutrients can help you manage hunger until it's time to eat your next full meal.
Overall Calories
We can't tell you how many calories your ideal bar contains, because the amount of calories you need is very personal to your body and your goals.
However, it's worth noting that while the difference between a 170-calorie bar and a 300-calorie bar might not sound like much, it can definitely add up if you're having a bar every day.
Most of the bars we featured hovered right around 200 calories apiece. If a bar is much higher than that, it's likely a better weight-gain tool than a weight-loss hack.
Type Of Sweetener
A common theme among low-calorie protein bars is that they contain zero-calorie sugar substitutes like stevia, monk fruit, and sugar alcohols.
All of these ingredients have been studied extensively, and both Stevia and monk fruit have been shown repeatedly to be safe.7,8
That said, some people—but definitely not everyone—find stevia to have a noticeable aftertaste. While testing the No Cow bar, half of GGR editor Frieda Johnson's household didn't notice it, while half found the aftertaste off-putting. Your mileage may vary.
Sugar alcohols are very popular in low-calorie bars, because they bring intense sweetness with no caloric cost. However, certain sugar alcohols have also been linked to digestive distress, gas, and bloating when consumed in high doses.
Erythritol, the most common sugar alcohol in the bars we tested, has been shown in studies to be well-tolerated up to around 50 grams per dose.1 Above that, there's a risk of cramping, gas, bloating, and diarrhea. So if you're planning on eating a whole box of protein bars, consider yourself warned.
FAQs About The Best Low-Calorie Protein Bars
Which protein bar is best for weight loss?
The best protein bar for weight loss contains at least 18 to 20 grams of protein without going much over 200 calories per bar. The Pure Protein Bar hits both standards, and comes in a wide range of flavors to match different cravings.
Are protein bars good for weight loss?
Protein bars are definitely better for weight loss than candy bars! But not all bars are created equal. Look for a bar that offers the highest grams of protein per calorie—ideally, around 1 gram per 10 calories. Barebells Protein Bars hit that standard, while also earning the title of Best-Tasting Bar from our testers.
What is the most low-calorie Quest bar?
The calorie count of each flavor of Quest Bar differs slightly, but they all fall within a range of 170 to 210 calories for bars containing 19 to 20 grams of protein. Quest minis have a far smaller calorie count at 80 apiece, but also only contain 8 grams of protein.
What bars are healthy for weight loss?
Any protein bars that have enough protein and fiber to help you stay full and fight cravings can be great for weight loss. Our testers loved Onnit Protein Bites as an effective replacement for candy bars, but with far more nutritional content and almost no sugar.
These statements have not been evaluated by the Food and Drug Administration. This product is not intended to diagnose, treat, cure, or prevent any diseases.
References