We test and review fitness products based on an independent, multi-point methodology. If you use our links to purchase something, we may earn a commission. Read our disclosures.
If you're one of the many people (myself included) who has a sweet tooth, embarking on a weight loss journey can come with many temptations and challenges. Luckily, we live in an era when protein bars exist.
High protein bars can function as meal replacements, help prevent overeating, and help you meet your macros for weight loss when chosen wisely. They can also fit into structured diets like keto and Atkins when formulated accordingly.
So, this dietitian did most of the work for you and sat down to take a look at various brands of protein bars, so our team of testers could come together and compile a list of what we think are the best protein bars for weight loss available right now.
Medical disclaimer: This article is intended for educational and informational purposes only. It is not intended as a substitute for medical advice. For health advice, contact a licensed healthcare provider.
When It Comes to Weight Loss Tools, We've Honestly Got Your Back
In order to provide you with genuinely honest and unbiased feedback, we make sure we personally purchase and taste test the products we discuss in our reviews, such as our roundup of the best protein powders for weight loss.
Our team of fitness professionals and nutritionists have done the work for you in a deep dive of some of the most popular brands of protein bars on the market to identify what we think will help with a weight loss journey.
11 Best Protein Bars for Weight Loss
Best Overall Protein Bar for Weight Loss: Low Carb think! Keto Bars
Good for: People trying to lose weight who still want to enjoy an indulgent snack
Keto certified by the Paleo Foundation, think! asserts that their chocolate-covered bars of goodness can help give you some fuel while helping you to fight hunger between meals. This probably has something to do with the 10 grams of protein from whey isolate and peanuts and 3 grams of fiber from chicory root.
Featuring delicious flavors with various degrees of peanut butter, the reviews we saw seem to echo that these bars taste just like a Reese's cup. With endorsements like that, how can we not crown it as the best overall protein bar? Caine Wilkes, GGR staff writer and Olympic athlete, said of these, "The chocolate and peanut butter really come through. The inside of the bar is a little dry, but with the chocolate coating and crunch from the peanut bits inside, I actually enjoyed the texture overall."
It also contains only 180 calories per bar, meaning it can likely fit into most weight loss diet plans. It's low in sugar at only 2 grams and has 4 grams of net carbs, so it can fit into a keto diet, as well. We will say that they are sweetened with 7 grams of sugar alcohols, so if you have more than two in a day you might experience some tummy issues. So plan your consumption wisely.
RELATED: Best Protein Bars
| | |
| --- | --- |
| Calories Per Serving | 180 |
| Flavors | Chocolate Mousse Pie, Chocolate Peanut Butter, Chocolate Peanut Butter Pie, Chocolate Peanut Butter Cookie Dough |
| Main Source of Protein | Whey Protein Isolate |
| Protein Per Serving | 10 g |
Best Low-Sugar Protein Bar for Weight Loss: Legion Protein Bar
Good for: People looking for a satisfying snack with minimal added sugar
If you want a higher-protein, lower-sugar protein bar, then the Legion Protein Bar is a great option. It has just 4 grams of sugar (3 added grams), along with 20 grams of protein, 24 carbs and 12 grams of fat (0 grams of trans fat). We should note that these bars have 9 grams of dietary prebiotic fiber. That can be great in supporting gut health, but could be harsh on those with sensitive stomachs.
Just like with its other products, Legion claims these bars are 100% natural. We will say that the nutrition label on the Legion bars is completely transparent, and the brand website features science-backed explanations of most ingredients.
RELATED: Legion Whey Protein Review
In testing, our team generally enjoyed the taste of the Legion bars, which, disappointedly, only come in two flavors.
"These are pretty good, both taste and macro-profile-wise," says GGR head of content and personal trainer Kate Meier. "I didn't want to finish the cookie dough bar (it didn't taste dough-y enough for me), but I wanted to finish the chocolate peanut butter one. And 20 grams of protein is a good selling point for me, especially a higher-calorie bar like this."
Another great low-sugar bar our team enjoyed are the ONE Protein Bars, which you can learn more about in our ONE Protein Bar Review.
| | |
| --- | --- |
| Calories Per Serving | 240 |
| Flavors | Chocolate Chip Cookie Dough, Chocolate Peanut Butter |
| Main Source of Protein | Whey Protein Isolate |
| Protein Per Serving | 20 g |
Most Filling Protein Bar for Weight Loss: Perfect Bar
Good for: Those looking for a meal replacement that actually makes you feel full
I have fond memories of being in grad school and looking forward to my peanut butter Perfect bar after a brutal chemistry class. That's because these little guys are such an indulgent treat with a texture and flavor unlike most other protein bars. GGR staff writer and expert tester Amanda Capritto said, "Anyone who wants a sweet and soft but nutritious treat will love Perfect Bars. The ingredients list, for the most part, contains only things you'd see sitting on a shelf in the produce section. There are some oils, nut butters, and flavorings such as pure cocoa, too."
Now you might balk at the 330 calorie tag these bars come with, but this makes them a pretty solid choice as a meal replacement. With 17 grams of protein, 27 grams of carbs, and 19 grams of fat (slightly variable depending on the flavor you choose), the macros in these bars could mimic a low-calorie meal.
Perfect bars get most of their fat from MUFAs or monounsaturated fatty acids. There has been a large body of evidence that supports the assertion that not only are these fats good for your heart when replacing saturated fat in the diet, but may also help reduce body weight, body fat, and insulin resistance1.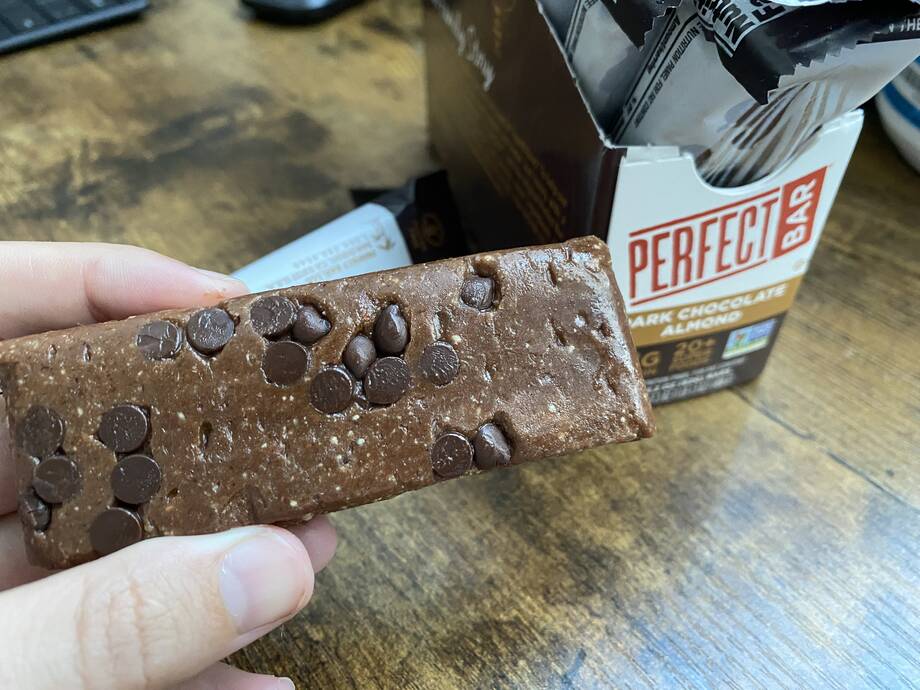 In addition, according to a 2015 study, a diet rich in MUFAs reduced the body's level of ghrelin hormone, or what we registered dietitians call "the hunger hormone," when compared to a diet rich in saturated fat2. This would explain what makes Perfect Bars so darn filling given their high fat and protein content.
Perfect Bars also use organic, whole food ingredients, but you'll pay for the quality. At around $3 per bar, the price tag is significantly higher than most other protein bars. However, if you plan to use it as a meal replacement, that's still cheaper than most healthy meals.
| | |
| --- | --- |
| Calories Per Serving | 330 |
| Flavors | Peanut Butter, Dark Chocolate Chip Peanut Butter, Chocolate Chip Cookie Dough (with sea salt), Trail Mix, Coconut Peanut Butter, Blueberry Cashew, Dark Chocolate Almond, Almond Butter, Chocolate Hazelnut Crisp, Pumpkin Pie |
| Main Source of Protein | Nut butter |
| Protein Per Serving | 17 g |
Best Low-Carb Protein Bar for Weight Loss: Bulletproof Protein Crisp Bar
Good for: People who need to keep their carb and calorie intake low
Bulletproof has created a number of products over the years from bars to coffee to supplements which has made them one of the names in the nutrition and diet space. Among the most well known things about Bulletproof is their diet plan, which recommends that you consume between 50 to 60% of your daily calories from fat, 20% from protein, and the remaining 20 to 30% from vegetables, while avoiding grains and legumes throughout the day.
In order to help consumers achieve these goals, they have created products for them and Bulletproof's Protein Crisp Bar is one of their more popular products. Now this is not to say that we necessarily recommend their diet structure for weight loss.
However, if you do adhere to any low carb diet like paleo, keto, or Whole30 to lose weight, this bar is a great choice with only 1 gram of sugar and 4 grams of net carbs. With numbers like that, you could enjoy this bar as a sweet treat and still have plenty of carbohydrates left over for the rest of your meals that day.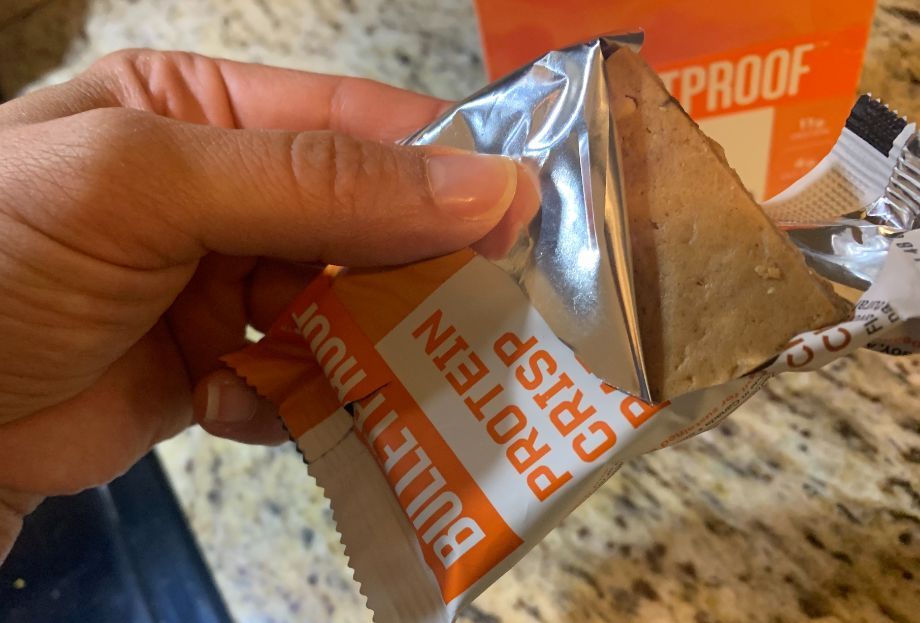 Bulletproof's bar still only contains 160 calories despite the fact that it contains 11 grams of protein in addition to the high fat content, which makes it comparable to most other protein bars out there calorie-wise. Thus, it can fit snugly in a low-calorie diet.
GGR Head of Content, Kate Meier, tried the peanut butter chocolate chip flavor and said, "There is definitely peanut butter in this bar, with just a hint of the chocolate chip. Overall, it tastes like a "healthy" peanut butter bar. The flavors are there, but not fully there, like you'd get in something loaded with fat and sugar. I give it a solid 4 out of 5 for taste."
| | |
| --- | --- |
| Calories Per Serving | 160 |
| Flavors | Peanut Butter Chocolate Chip, Coconut Chocolate Chip, Salted Caramel, Chocolate Mint Chip |
| Main Source of Protein | Pea protein |
| Protein Per Serving | 11 g |
Best No-Sugar-Added Protein Bar for Weight Loss: RXBar
Good for: Those who want a no-sugar bar that also contains no sweeteners
Among the many things that make RXBars unique is their "No BS" tagline, which is printed clearly on the packaging so you can see they are really striving to provide some of the cleanest protein bars available anywhere.
In spite of the unconventional addition of egg whites as the main source of protein, these bars are still widely popular largely due to their delicious taste despite being made with exclusively whole food ingredients.
GGR staff writer and expert product tester Amanda Capritto's favorite flavors are Chocolate Sea Salt and Chocolate Coconut. The texture isn't always her favorite, though: "The ultra-chewy texture isn't for everyone, and sometimes it kills the vibe for me when I don't want to work for my food. (It really does take a while to get these down.) But, there's no chalkiness and they aren't dry."
RELATED: Best Protein Bars for Women
Due to the bars being sweetened with dates rather than with sugar or artificial sweeteners, each bar contains around 23 grams of carbohydrates. I normally recommend that post-workout snacks contain a 2:1 ratio of carbs to protein, with 12 grams of protein, so RXBars could definitely function as one. As a result of its high carb content, it is a suitable pre-workout snack as well.
In addition, RXBars are dairy-free, gluten-free, and do not contain preservatives or artificial sweeteners, so consuming them may be more digestible than eating bars with longer ingredient lists. Basically, if you're trying to avoid sugar while on your weight loss journey or even any sweeteners period, RXBars are the way to go.
| | |
| --- | --- |
| Calories Per Serving | 220 |
| Flavors | Vanilla Almond, Chocolate Chip, Chocolate Sea Salt, Strawberry, Blueberry, Mixed Berry, Mint Chocolate, Banana Chocolate Walnut, Maple Sea Salt, Peanut Butter, Peanut Butter Chocolate, Coconut Chocolate, Chocolate Raspberry |
| Main Source of Protein | Egg Whites |
| Protein Per Serving | 12 g |
Best Keto Protein Bar for Weight Loss: Dang Bars
Good for: People looking for a bar that's both low-carb and made with natural ingredients
So, the story behind Dang bars is just too cute to not share. To share the delicious Thai food they grew up eating with New Yorkers, two Thai brothers from Bangkok decided to start a pop-up restaurant. So their mother, Mama Dang, gave them her recipe for lettuce wraps that called for toasted coconut.
They made their own toasted coconut from scratch, and their roommates found them so tasty they kept coming back for more, so the brothers decided to start a snack food company—fondly named after their mother.
Though Dang doesn't classify itself as a low-calorie snack, it certainly fits in with keto guidelines with only 5 grams of net carbs and 18 grams of fat from coconut, cocoa butter, and almond butter. These macros also make it suitable for low-carb diets. Also, good news for those who are plant-based—Dang bars are vegan, too!
The coconuts and coconut oil used in Dang bars are sourced from the founders' family farms in Thailand, which pride themselves on following ethical business practices. Finally, the brothers at Dang have made it their mission to use their business to work with local farmers and support organizations that aid refugees and people affected by natural disasters.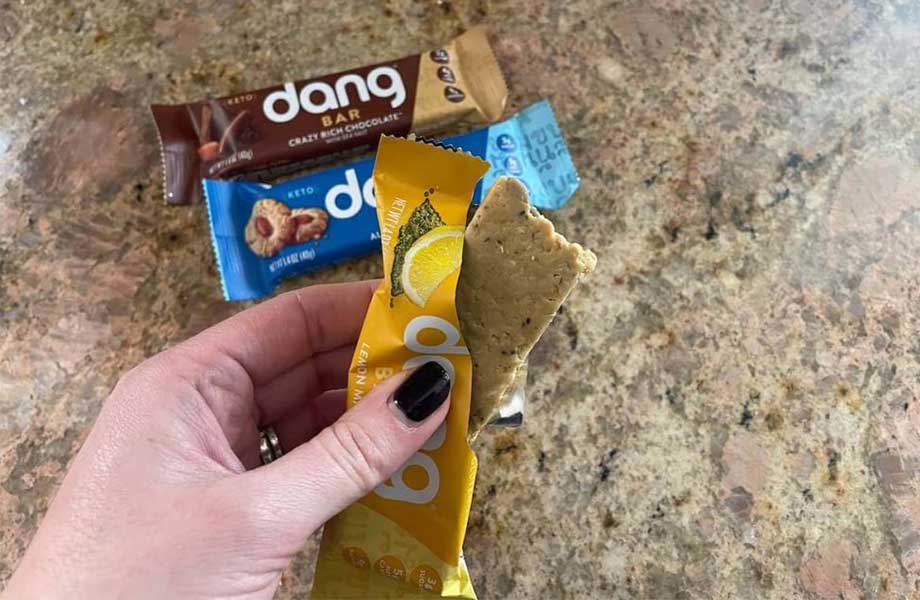 All in all, though the sugar content is low to keep the carbs low, these bars are sweetened naturally with stevia, not sugar alcohols. In fact, there are no artificial ingredients, period. Thus, we would say Dang is a solid choice for those on a keto diet.
RELATED: Best Keto Protein Powder
Nicole Davis, GGR senior editor and expert product tester, thought they were a little dry, but liked the flavors: "The taste of these is good; the Lemon Matcha has a really nice authentic lemon flavor that is unique in a protein bar," she said. "The flavor is better than most plant-based products I've tried."
| | |
| --- | --- |
| Calories Per Serving | 210 |
| Flavors | Crazy Rich Chocolate, Peanut Butter, Almond Cookie, Lemon Matcha, Mint Chocolate, Toasted Coconut |
| Main Source of Protein | Pea Protein |
| Protein Per Serving | 9 g |
Best-Tasting Protein Bar for Weight Loss: Pure Protein Bars
Good for: People who want a great-tasting meal replacement that's also affordable
Pure Protein bars add an indulgent mouthfeel to their bars with healthy fats that come from compounds like canola oil, peanut butter, and almond butter along with a variation of chocolate flavors that are all tasty. There are only 2 grams of sugar in these bars, but our team of testers still loved the taste, and Amazon's reviews seem to echo the same sentiments.
Also, Pure Protein bars are great for people who don't have a huge budget for their protein supplements. There will be no high cost here, as you can expect to only spend about $1.34 per bar, which is around the cost per scoop of the majority of whey protein powders.
Pure Protein bars also use both whey and soy proteins to ensure that their high-quality protein content reaches 20 grams per bar (their chocolate deluxe flavor has 21 grams). Finally, when speaking specifically of weight loss, Pure Protein's bars would work well as a meal replacement given the sufficient content of protein, carbs, and fat. Each bar also only contains about 180-200 calories making it a calorie-efficient, yet high-protein snack you can enjoy at any time of day.
Kate Meier, GGR Head of Content, tested the Pure Protein Bars and compared the texture of them to Snickers or a Milky Way. "I think these are probably the most candy-bar-like protein bars I've ever had," she says. "They are a little chalky—like VERY little—not in the way you taste with other protein bars."
| | |
| --- | --- |
| Calories Per Serving | 180 |
| Flavors | Birthday Cake, Chewy Chocolate Chip, Chocolate Deluxe, Chocolate Mint Cookie, Chocolate Peanut Caramel, Chocolate Salted Caramel, Cookies And Cream, Lemon Cake |
| Main Source of Protein | Whey Protein Concentrate |
| Protein Per Serving | 20 g |
Best Dairy-Free Protein Bar for Weight Loss: No Cow Dipped Bars
Good for: Anyone with dairy allergies or simply want protein that's not whey
Need a break from whey protein in your bars? Look no further than No Cow Dipped bars that not only don't contain whey, but lack any dairy whatsoever. The protein contained in these bars are sourced from brown rice and peas.
This combination always makes me excited when talking about plant-based protein alternatives to whey. When eaten on their own, rice and peas they do not contain all nine essential amino acids (i.e., they lack all the amino acids that would make them complete proteins), but when they are combined, they become complete proteins and produce an amino acid profile that is very much like that of whey3.
These bars are also very low sugar as they've been sweetened naturally with stevia and monk fruit, so it makes No Cow bars a welcome addition to low carb and keto diets, as well. One thing that really impressed me was the protein content. At 20-22 grams of protein per bar, that's well above average for most dairy-free protein bars that tend to have trouble balancing the protein and carb content.
No Cow also asserts that it takes 98% less water to produce their bars than most brands of whey protein bars, which is pretty cool. They also work with sustainable suppliers that focus on fair wages, safe working environments, and quality ingredients. So, when you support No Cow, you're supporting a company that places a lot of value on ethics.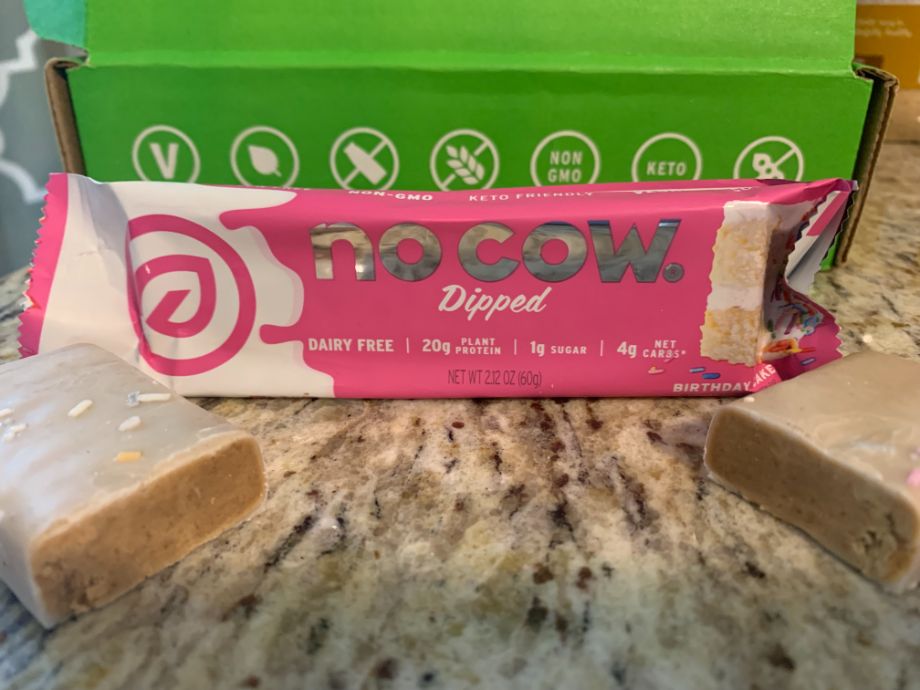 GGR Head of Content and expert product tester Kate Meier cautions that people who don't regularly eat dairy-free products might be unpleasantly surprised by the taste. Kate and five members of her weightlifting team tried a variety of the No Cow bars. "For the most part, we could eat the entire bar, but it wouldn't be our favorite thing," she says. "You can tell there is an attempt to fulfill the flavor on the label, but it's just that—a flavoring, clearly not close to the real thing."
Check out the full No Cow Protein Bar review article for more details.
| | |
| --- | --- |
| Calories Per Serving | 190 |
| Flavors | S'More's, Cookies 'N Cream, Chocolate Chip Cookie Dough, Peanut Butter Chocolate, Chocolate Fudge Brownie, Chunky Peanut Butter, Lemon Meringue Pie, Blueberry Cobbler, Raspberry Truffle, Pumpkin Pie Protein Bars, Maple |
| Main Source of Protein | Brown Rice and Pea Protein |
| Protein Per Serving | 20-22 g |
Best Organic Protein Bar for Weight Loss: Garden of Life Organic Fit Plant Based Protein Bar
Good for: People who want a third-party tested bar that's non-GMO
Garden of Life's organic protein bars contain 14 grams of protein from brown rice, peanuts, and peas along with 13 grams of prebiotic fiber from tapioca. The combination of these nutrients ensures these bars won't digest quickly, so you can feel fuller for longer.
In addition to only having 1 gram of sugar, it also includes Ashwagandha, which is why we recommend it as our favorite organic bar for weight loss. Recent studies have suggested that Ashwagandha can be a powerful weight loss tool.
Based on a 2017 study, Ashwagandha is linked to reducing serum cortisol levels, decreasing food cravings, and improving eating behavior4. So, if you're the sort of person who struggles with stress eating, Ashwagandha and products that include it may be able to support better eating habits.
Garden of Life's protein bars, like many of Garden of Life's other sports supplements, are also third-party tested and Informed-Choice Trusted by Sport, making it a good choice for athletes.
There is one thing that we need to mention here. Although this bar contains ingredients such as green tea extract that have been rumored to aid in weight loss, it is still vital that you adhere to a nutrient-dense, calorie-smart diet while using these protein bars.
Frieda Johnson, GGR editor and expert product tester, tried the chocolate fudge flavor: "These have a nutty flavor that is not unpleasant, although the chocolate flavor is very mild," she said. She also liked that the company is a certified B corporation.
| | |
| --- | --- |
| Calories Per Serving | 240 |
| Flavors | Chocolate Almond Brownie, Chocolate Coconut Almond, Chocolate Covered Cherry, Chocolate Fudge, Peanut Butter Chocolate, Salted Caramel Chocolate and S'mores |
| Main Source of Protein | Pea Protein |
| Protein Per Serving | 14 g |
Best Vegan Protein Bar for Weight Loss: NuGo Protein Bars
Good for: People who want an all-natural bar made with exclusively plant-based ingredients
NuGo Dark protein bars are certified vegan, come in seven flavors, and contain no artificial ingredients…even sweeteners! Furthermore, they are also proud of the fact that they make use of real chocolate, not a simulated chocolate that many products use, which is made mostly from palm oil. And the difference is noticeable! GGR editor Frieda Johnson loves the Mint Chocolate Chip flavor for any time she wants a sweet treat that isn't just empty calories: "These are amazing! They taste like Thin Mints!" she said. "You can really tell that they use real dark chocolate instead of the fake, waxy stuff most brands use."
The main source of protein in these bars is soy, which is one of those rare sources of plant protein that is complete, meaning it contains all nine amino acids5. You get 10-13 grams of this plant-powered protein in each bar which is a pretty decent amount for a vegan bar, especially considering it comes in a 200 calorie package.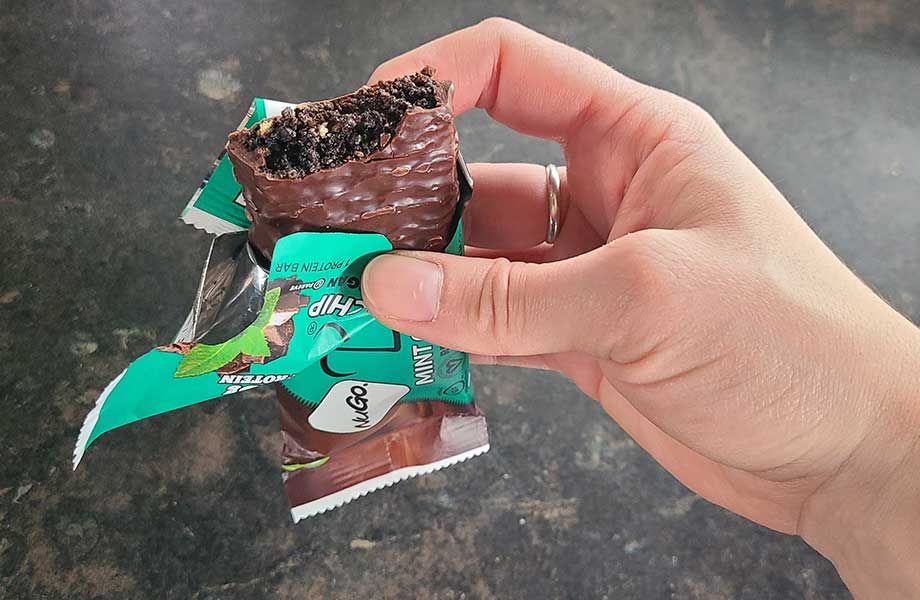 Frieda says she does wish they had a little more protein and a little less sugar in them, but "if you want the experience of eating Thin Mint cookies, but vegan, gluten-free, and with added protein, I can't recommend these enough." If that sounds great, but you want a bar that has a bit more protein and fiber and a bit less sugar, the NuGo Slim bars might be right up your alley.
Despite NuGo Dark bars containing soy, they do not contain GMOs and are also gluten free. Important note for vegan readers! Please know before you buy that not all of NuGo's protein bars are vegan. Their original version does contain milk along with some of their other protein products. So, vegans should opt for their Slim, Dark, or Organic versions that are not made with animal products.
| | |
| --- | --- |
| Calories Per Serving | 200 |
| Flavors | Chocolate Almond, Chocolate Pretzel, Mint Chocolate Chip, Chocolate Chocolate Chip, Peanut Butter Cup, Chocolate Coconut, Mocha Chocolate |
| Main Source of Protein | Soy protein isolate |
| Protein Per Serving | 10-13 g |
Best Gluten-Free Protein Bar for Weight Loss: Orgain Organic Plant-Based Protein Bars
Good for: People looking for an organic bar with minimal allergens
Orgain is a trusted name in plant-based protein supplements. Having been in close contact with Stanford's head nutritionist for many years, I know that Orgain is the main brand of protein shake they give to their athletes due to their reputation for being one of the best in the industry.
As the name implies, Orgain makes use of organic, plant-based ingredients without any gluten, GMOs, dairy, soy, or lactose products. This is big because research has shown that people who are sensitive to gluten may also develop issues with their gut that prompts them to be sensitive to other common allergens, as well6.
Luckily, Orgain's bars have eliminated many common allergens from their formulation (though it can contain tree nuts) and it's a great choice as a protein source for vegans given it gets its protein from rice and peas. Finally, it contains 2 grams of fiber and chia seeds which can help with the feeling of fullness.
There are only 10 grams of protein in this bar and 6 grams of added sugar, so not an ideal choice if sugar is something you're trying to cut down on or if you are seeking an organic bar that's super high protein.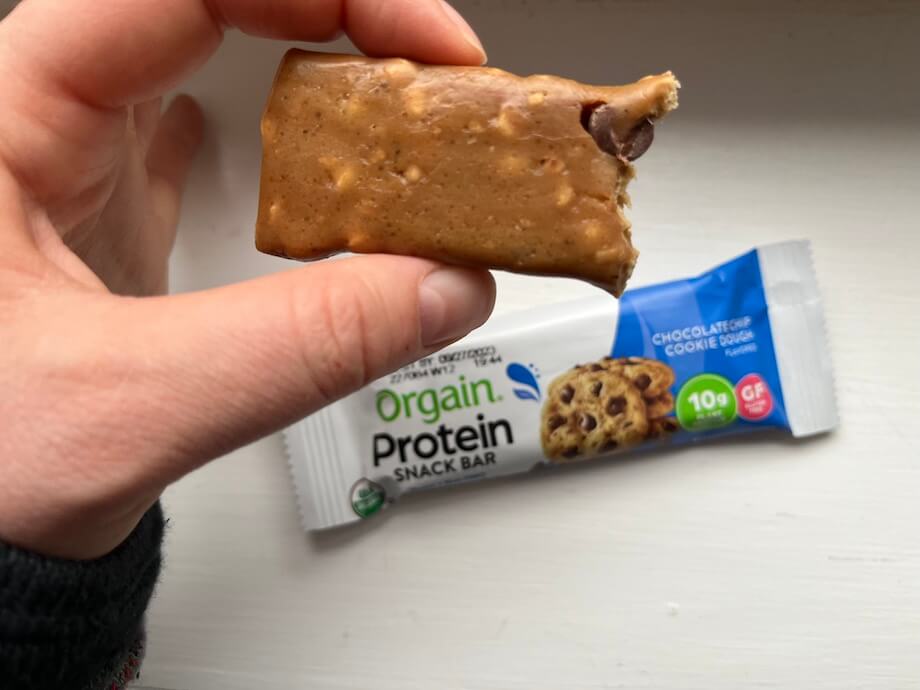 It is our recommendation, however, that if you're looking for a gluten-free, organic bar from a brand whose reputation you can trust, you go with Orgain.
GGR staff writer and expert tester Lauren Strong tried the cookie dough flavor: "I liked the texture; it resembles the texture of cookie dough (soft, chewy, doughy) which is nice because it matches the flavor. I'm not sure how this ultra-compressed texture will do with the other flavors, though," she says.
| | |
| --- | --- |
| Calories Per Serving | 150 |
| Flavors | Chocolate brownie, chocolate chip cookie dough, peanut butter, peanut butter chocolate chunk, s'mores, chocolate coconut |
| Main Source of Protein | Brown rice |
| Protein Per Serving | 10 g |
Other Protein Bars We Researched
Although protein bars can be an effective tool to help you reach your fitness and weight goals, they can also be difficult to navigate due to the fact that they are now more widely available than they have ever been.
Since there were so many protein bar options out there, narrowing it down to this list was really difficult, so here are some good products that didn't quite make it to this list, but are still worth checking out.
How We Picked and Tested the Best Protein Bars for Weight Loss
We really wanted to showcase some brands that would fit into a variety of weight loss plans regardless of what specific diet you may be following to achieve your weight goals. However, the following criteria remained consistent in order to compile this list:
Protein
Among the bars we selected for our list, we choose those that offer significant protein in terms of the source and the quantity. It was important to highlight bars that would be able to assist in weight loss by helping to control hunger and contributing to protein intake.
Since most registered dietitians recommend eating a high amount of protein to aid with weight loss, we liked the protein bars that can assist you in meeting this recommendation in a more convenient way.
Fiber Content
In the same vein as protein, we think that fiber is an incredibly important part of a weight loss diet. Fiber breaks down slowly in the stomach and, in turn, can make you feel fuller for longer. This prolonged satisfaction can help prevent overeating and, it's worth mentioning, fiber is also pretty good for your health7.
A slight word of caution, though. The type of fiber typically used in protein bars can cause GI distress if consumed in excess, so it wouldn't be wise to get the majority of your day's fiber from protein bars. You should still be eating fruits and vegetables, which, along with fiber, provide much-needed nutrients and antioxidants while on a calorie-restricted diet.
Adherence to Diet Restrictions and Preferences
It is very important to our team to find protein bars that will fit well into our daily lifestyles as well as yours. So, whether you eat a plant-based diet, are low carb, prefer to eat organic, or have certain food allergies, we wanted to find a product for you.
Benefits of Protein Bars for Weight Loss
So, why use protein bars to try to lose weight? Although they have their applications, you need to choose them carefully and use them even more carefully if you want the best results.
Meal Replacement
During a weight loss journey, some people find the easiest way to keep calorie intake low is to employ the use of meal replacements. In fact, two separate, recent studies found that people who used meal replacements in clinical trials lost 5% more weight than those who did not8,9.
Protein bars can be a tasty way to implement this tactic, but it is important that you choose the right bar for this need to avoid eating too few calories and undernourishing yourself. The studies above used meal replacements that were between 200 and 400 calories and each meal also contained a substantial amount of fat, protein, and carbohydrates in order to mimic a real meal.
If you are careful to check your nutrition facts labels and these guidelines are met, protein bars can prove useful to a weight loss regimen.
Aids in Satiety
We often enjoy snack foods that are high in carbs but low in protein, and despite being tasty, they leave us feeling unsatisfied shortly after. Snacking on these types of foods is not ideal if you're trying to lose weight and need to control your calorie intake.
Protein bars can be an improvement if your chosen brand is high in fiber and high protein. As previously mentioned, these compounds digest slowly in the stomach, so you feel prompted to eat much less often.
Increases Protein Intake
High intakes of protein are often recommended for weight loss. However, as we just talked about, protein makes you feel full for longer than other macronutrients. This is a bit of a catch-22, because you may be so full you're not hungry enough to meet your protein needs.
This is where having a protein bar, which is something incredibly palatable and enticing to eat, can help to increase your protein intake and break up the monotonous routine likely full of high-protein foods like chicken and Greek yogurt.
Dosing and Interactions
Consuming protein bars in moderation is unlikely to cause any serious side effects. Protein bars are often formulated in a way to taste great without adding a lot of sugar to ensure that they taste great.
There are several methods used to sweeten these bars. In order to achieve this, sugar alcohols are used to sweeten them. When consumed in excess, sugar alcohols have been proven to cause a variety of gastrointestinal side effects, such as abdominal pain, bloating, and gas, among others.
Buying Guide: What to Look for in Protein Bars for Weight Loss
Sold on the idea of adding protein bars to your diet? Hold off for just a few more minutes, so you can be sure to know what to look for while you're scanning those labels.
Protein Amount
It is of the utmost importance that the protein bar you choose is rich in, well, protein! Unfortunately, many bars on the market today are so loaded with saturated fats and sugars that they can hardly be categorized as protein bars at all.
The optimal amount of protein a bar can have is 20 grams, considering science shows this is the minimum amount needed to build muscle and recover optimally for those who engage in resistance exercise10.
However, provided the bar has enough fiber and the fat is low (with the exception being keto-friendly bars), you can probably get away with as little as 9 grams as long as your diet is supplying enough to make up the difference.
RELATED: High-Protein Foods for Weight Loss
Calorie Content
You should always take the time to study the nutrition facts on your protein bars carefully when you are looking for a new one in order to select one that has a good ratio of calories to protein. When trying to lose weight, every calorie needs to be used wisely and there is little wiggle room for empty calories that don't serve to support your health or athletic performance.
Therefore, it is not recommended that you choose a bar that contains a low amount of protein and is high in calories. If the amount of calories is high, the amount of protein should be, as well. If this isn't the case, you're better off moving on to the next option.
Presence of Sugar Alcohols
In the last several years, artificial sweeteners and sugar alcohols have become super popular because they make it a sweet treat, but because they don't contain calories, they can be advertised as being low in sugar. Sugar alcohols in particular will be featured on the ingredient list as something ending in -ol like sorbitol, erythritol, xylitol, lactitol, isomalt, or maltitol.
This can be great for food companies, but can also be not-so-great for your tummy. Studies have shown that too many sugar alcohols can cause a significant amount of digestive trouble and distress11.
According to the study, it appears that the majority of people can tolerate up to 20 grams of sugar alcohols in a day before they start experiencing symptoms, however that same study also mentioned that it can vary from person to person.
So, to be on the safe side, check your labels to see how many sugar alcohols your chosen bar contains to determine how many you can safely have in a sitting. Your belly will thank you for it.
FAQs About Protein Bars for Weight Loss
Are protein bars good for losing weight?
Protein bars can be good for losing weight if the protein bar satisfies your sweet tooth and keeps you feeling satisfied. It's just of the utmost importance to remember that, without a calorie deficit, you will not lose weight no matter what bars, snacks, or food you choose to include in your diet.
What is the best weight loss bar?
The best weight loss bar is one that has three key qualities: low in calories, high in protein, and a moderate amount of fiber. If you're looking to use it as a meal replacement, it should have just as many carbs as it does protein to keep it balanced.
What are the best protein bars for weight loss and muscle gain?
For weight loss, the best protein bars should contain enough protein and fiber to promote satiety, that way it can aid in preventing overeating later in the day. As far as weight gain, the best protein bars are those that have over 200 calories to assist in a calorie surplus.
Are Larabars good for weight loss?
When eaten in a calorie deficit, Larabars can be good for weight loss. However, they can be very high in sugar and low in protein, so there are far better choices out there in terms of protein bars.
These statements have not been evaluated by the Food and Drug Administration. This product is not intended to diagnose, treat, cure, or prevent any diseases.
References