We test and review fitness products based on an independent, multi-point methodology. If you use our links to purchase something, we may earn a commission. Read our disclosures.
In my years as a practicing sports dietitian, protein bars have been both a blessing and a curse in equal regard. A blessing in that they can be a portable, convenient, and indulgent source of protein for active individuals that can be eaten quickly and stored easily.
However, the curse comes from the fact that these little guys have become so wildly popular, protein bars are pretty much as common as a candy bar now. And with that, I can confidently also say that I would classify most protein bars on the market today as glorified candy bars with a little bit of protein added just to, you know, keep with the theme.
This is a trap we don't want you to fall into. Women tend to have a sweet tooth just as much as men, but research suggests1 we have more trouble than men losing weight for various reasons. Therefore, it's important for women to find a balance in eating responsibly and still being able to satisfy cravings. So, we put a list of the best protein bars for women together that we think active women would want to try.
As a quick note: It's important to emphasize that protein bars do not affect men and women differently. That said, we still wanted to find products that can address pain points specific to women, when applicable.
Medical disclaimer: This article is intended for educational and informational purposes only. It is not intended as a substitute for medical advice. For health advice, contact a licensed healthcare provider.
We've Raised the Bar on Protein Expertise
Penning this piece is a registered dietitian who has worked with athletes for several years, and I can tell you I've done an exhausting amount of work searching for the best protein bar that would make both a healthy snack and a solid source of macros to support my athletes' performances.
Our expert testers also wanted to be sure to bring you the best tasting protein bars—ones that would fit into your specific diet preferences and restrictions—and to just give you our honest two cents about the various protein bars.
We wanted to make it easier for you to make an informed decision when it comes to choosing the right protein bar for your needs, because there are so many to choose from.
12 Best Protein Bars for Women
Best Overall Protein Bar for Women: RXBar
Good for: Women looking for a versatile bar with minimal artificial ingredients or additives
RXBars are known for their "No B.S." tagline that's printed right on the package to really drive home their mission of providing some of the cleanest protein bars on the market. The protein source comes from egg whites, which may sound strange to you, but the result is actually a great-tasting bar that's sweetened with dates and often has some nuts thrown in for texture.
Each bar also contains around 23 grams of carbohydrates along with its 12 grams of protein, which means RXBars can double as both a pre-workout energy bar and a post-workout recovery snack.
RELATED: Best Pre-Workout
Given that the bar is dairy-free, gluten-free and is free of preservatives or artificial sweeteners, it's likely more easy on the digestion than bars with longer ingredient lists.
One reason this is our favorite overall protein bar for women is its versatility in use, as mentioned earlier, the transparency of the ingredients, and lack of artificial ingredients. The combination of protein and 5 grams of fat in each bar can help with satiety, as well, which is the whole point of a snack bar, right?
Amanda Capritto, GGR staff writer and expert product tester, said, "The ultra-chewy texture isn't for everyone, and sometimes it kills the vibe for me when I don't want to work for my food. (It really does take a while to get these down.) But, there's no chalkiness and they aren't dry. If you're looking for flavor recommendations, my favorites are Chocolate Sea Salt and Chocolate Coconut."
| | |
| --- | --- |
| Ingredients (Chocolate Sea Salt flavor) | Dates, Egg Whites, Cashews, Almonds, Chocolate, Cocoa, Natural Flavors, Sea Salt |
| Flavors | Vanilla Almond, Chocolate Chip, Chocolate Sea Salt, Strawberry, Blueberry, Mixed Berry, Mint Chocolate, Banana Chocolate Walnut, Maple Sea Salt, Peanut Butter, Peanut Butter Chocolate, Coconut Chocolate, Chocolate Raspberry |
| Main Protein Source | Egg Whites |
| Protein Per Serving | 12 g |
Best Protein Bar for Female Athletes: Legion Athletics Protein Bar
Good for: Female athletes who rely on lab-tested protein sources
We have already established ourselves as huge fans of Legion's protein powder (and their fruity cereal Whey+ is personally my favorite thing in the world right now) and their protein bars are no different.
RELATED: Legion Whey Protein Review
Like all Legion products, their protein bar has transparent ingredients all cited with science on Legion's website and are all-natural and low in sugar. It also contains 9 grams of prebiotic fiber which can aid in supporting a healthy gut. Though, be careful here—if you have two or more of these bars in a day, that much fiber can cause some stomach distress.
That said, it makes our list as the best protein bar for female athletes due to the fact that it contains 20 grams of whey protein which is about the same amount as a serving of the common protein shake. Only with this bar, you get the satisfaction of actually eating something, which all of us need sometimes!
Every Legion protein bar is tested in an ISO 17025 accredited lab to determine what it contains and what it doesn't. By doing this, you'll know exactly what you're eating, which is important for athletes who are likely drug tested. If you fall under this category and aren't getting your protein from lab-tested sources, then you're at risk of putting banned or harmful substances in your body.
Honestly, if you were my athlete, I'd definitely yell at you for not being more selective. Luckily, I'm giving you the ideal choice right here! I'm sorry to say that Legion's flavor choices for their bars aren't nearly as diverse as their other supplement offerings, but the protein and carb content make it a great post- or even pre-workout snack for female athletes on the go.
GGR Head of Content and personal trainer Kate Meier tried out these bars and had this to say about them: "These are pretty good, both taste and macro-profile-wise. I didn't want to finish the cookie dough bar (it didn't taste dough-y enough for me), but I wanted to finish the chocolate peanut butter one. And 20 grams of protein is a good selling point for me, especially a higher-calorie bar like this."
She also noted that the bars are drier than expected and not everyone was a fan of the texture. She was, however, impressed by the no-returns-necessary return policy that gives you a full refund if you don't like the bars.
| | |
| --- | --- |
| Ingredients | Protein blend (whey protein concentrate, milk protein isolate, whey protein isolate), almond butter, soluble tapioca fiber, prebiotic IMO from tapioca, 69% Dark chocolate chips, dairy protein crisps, sunflower oil, chicory root fiber, vegetable glycerin, erythritol, sunflower lecithin, natural flavors, sea salt, monk fruit extract, stevia |
| Flavors | Chocolate Peanut Butter, Chocolate Chip Cookie Dough |
| Main Protein Source | Whey protein concentrate |
| Protein Per Serving | 20 g |
Best Budget Protein Bar for Women: Pure Protein Bars
Good for: Individuals who eat protein bars often and need an economical brand
Protein bars are not only delicious to indulge in, but they can be a valuable tool for weight gain or just snacking your way closer to your protein numbers. That said, if you like protein bars (and we hope you do, that's why you're here), eating them all the time can get pretty expensive.
Luckily, Pure Protein bars will only run you about $1.34 a bar, which is in line with the cost per scoop of most whey protein powders. This is a huge win since whey protein powder is generally considered one of the most cost-effective ways to supplement protein intake.
RELATED: Best Protein Powder
You won't find yourself skimping on the protein amount, either. Pure Protein bars use both whey and soy to boost the high quality protein content to 20 grams a bar (their chocolate deluxe flavor has 21 grams). Amazon reviews also give the consensus that each of the flavors are great-tasting. GGR Head of Content and expert product tester Kate Meier said, "I think these are probably the most candy-bar-like bar I've ever had. They are a little chalky—like VERY little—not like you taste with other protein bars. Texture is similar to something like a Snickers or a Milky Way."
For women in particular, especially those looking for a meal replacement, Pure Protein bars contain enough calories, carbs, and protein to function as one. Just make sure the food you consume throughout the rest of the day is nutrient-dense.
| | |
| --- | --- |
| Ingredients | Protein Blend (Whey Protein Concentrate, Whey Protein Isolate, Milk Protein Isolate), Chocolate Flavored Coating (Maltitol, Fractionated Palm Kernel Oil, Whey Protein Concentrate, Cocoa [processed with alkali], Calcium Carbonate, Natural Flavors, Soy Lecithin, Sucralose), Hydrolyzed Collagen, Glycerin, Soy Crisps (Soy Protein Isolate, Tapioca Starch, Salt), Milk Chocolate Drops (Sugar, Whole Milk Powder, Chocolate Liquor, Cocoa Butter, Milk Fat, Soy Lecithin, Natural Vanilla Flavor), Maltitol Syrup, Water, Maltodextrin, Soy Protein Isolate, Canola Oil, Natural Flavors, Cocoa Powder, Sucralose, Xanthan Gum, Peanut Flour, Soy Lecithin, Almond Butter |
| Flavors | Birthday Cake, Chewy Chocolate Chip, Chocolate Deluxe, Chocolate Mint Cookie, Chocolate Peanut Caramel, Chocolate Salted Caramel, Cookies and Cream, Lemon Cake |
| Main Protein Source | Whey Protein Concentrate |
| Protein Per Serving | 20 grams |
Best Low-Carb Protein Bar for Women: Bulletproof Protein Crisp Bar
Good for: Those looking for a carb-conscious protein bar
In the health world, Bulletproof (yes, like the coffee) has become known for its diet plan that suggests having 50 to 60% of your daily calories come from fats, 20 percent from protein, and the remaining 20 to 30% coming from vegetables while avoiding grains and sugar. Thus, they have formulated products to help consumers meet these guidelines.
Now, can I say I endorse their diet rules? Not really. But if this is the type of diet that works for you, their Bulletproof bar certainly helps to make adhering to it easier with only 1 gram of sugar and 4 grams of net carbs.
Bulletproof recommends between 30 to 150 grams of net carbs daily, which is not quite in the keto range, but still would take some planning. With this bar, though, you could enjoy it as a sweet treat and still have quite a bit of wiggle room in the carb department with whatever you decide to eat for the rest of the day.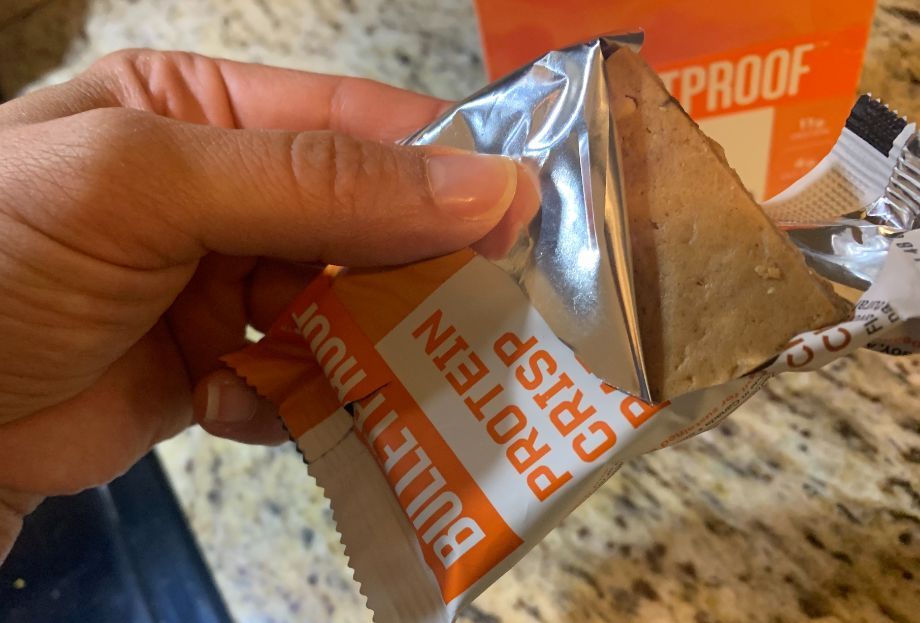 So, without the carbs, the 160 calories in the bar comes from pea protein and peanut products to give the bars a soft texture with some chocolate chips and protein crisps thrown in for some crunch. The number of grams of protein per bar could have been a little higher, but given the bar's low calories despite containing healthy fats, we're willing to overlook it.
GGR Head of Content Kate Meier tried the Peanut Butter Chocolate Chip bar and said she wished the protein content was higher, but liked the taste. "Overall, it tastes like a 'healthy' peanut butter bar," she said. "The flavors are there, but not fully there like you'd get in something loaded with fat and sugar. I give it a solid 4 out of 5 for taste."
RELATED: How Much Protein Do I Need?
| | |
| --- | --- |
| Ingredients | Pea protein crisps (pea protein, tapioca starch, calcium carbonate), peanut butter, inulin, prebiotic tapioca fiber, pea protein, chocolate chips (unsweetened chocolate, erythritol, cocoa butter, stevia, sunflower lecithin), peanut flour, gum acacia, roasted peanuts, glycerin, cocoa butter, erythritol. Less than 2%: MCT oil (caprylic and capric acid triglycerides from high refined coconut oil), sunflower lecithin, sea salt, peanut butter natural flavor, natural flavors, mixed tocopherols, almond meal, monk fruit extract, stevia leaf extract |
| Flavors | Peanut Butter Chocolate Chip, Coconut Chocolate Chip, Salted Caramel, Chocolate Mint Chip |
| Main Protein Source | Pea protein |
| Protein Per Serving | 11 g |
Best Allergy-Friendly Protein Bar for Women: Go Raw Pumpkin Seed Bar
Good for: Females who have multiple food allergies or sensitivities
One thing that should always be top of mind for food companies is sensitivity to people with food allergies. When you think about it, people who are allergy-free have the great fortune of being able to eat what they want!
However, especially when you're eating for specific body recomposition, it's hard enough to craft a meal plan that works without having to work around an allergy. It's for this reason that, as a dietitian, I am grateful to companies like Go Raw.
Their pumpkin seed bar uses only five simple, easy-to-understand ingredients and, because the sole protein source comes from seeds, the bar is free of nuts, gluten, dairy, and is non-GMO. Basically, it contains zero of the most common allergens and is naturally sweetened with dates and agave nectar.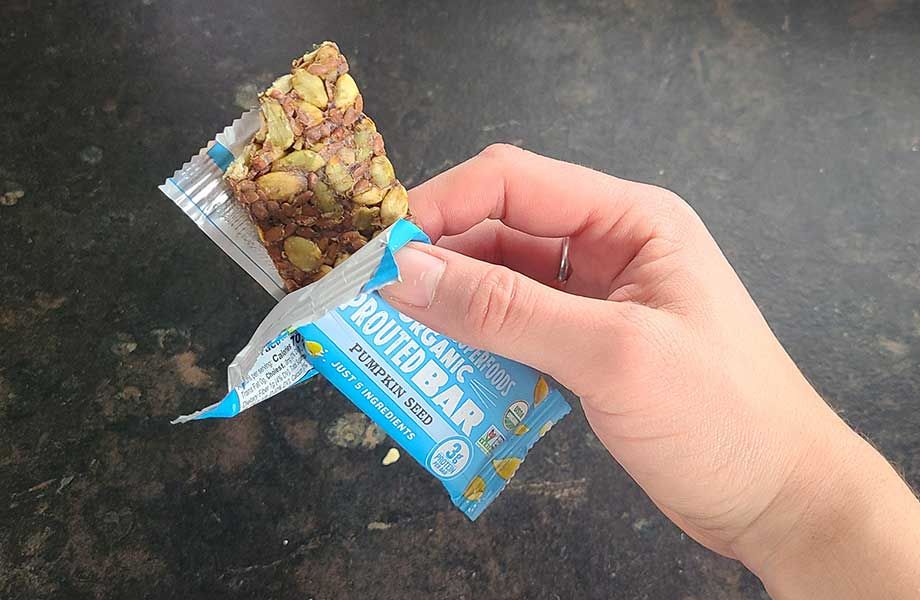 At 270 calories per bar, it's a bit up on the high end in the calorie department, but that is the typical feature of snacks that include nuts, nut butters, and seeds due to the high content of monounsaturated, heart healthy fats.
The pumpkin seeds the bar is made from are sprouted pumpkin seeds. Ever heard of or eaten something called a "pepita"? Same thing! The sprouting process also gives the seeds a crunchy texture that is not as profound in non-sprouted pumpkin seeds, but both types are packed with vitamins and minerals like vitamin K, zinc, and manganese.
GGR Editor Frieda Johnson has had food allergies and intolerances her whole life, so she understands the struggle when it comes to finding an allergy-friendly snack that's both convenient and healthy. "I really like these," she said. "They pretty much just taste like pumpkin seeds, but with a little bit of sweetness from the dates and agave nectar. I like them for a snack when I don't want something too sweet or rich like most bars. They're like a more convenient equivalent to a handful of seeds or nuts for when you want something to toss in your bag and take with you."
| | |
| --- | --- |
| Ingredients | Sprouted Pumpkin Seeds, Sprouted Flaxseed, Dates, Raw Agave Nectar, Sea Salt |
| Flavors | Pumpkin Seed |
| Main Protein Source | Pumpkin seeds |
| Protein Per Serving | 12 g |
Best Low-Sugar Protein Bar for Women: Quest Bar
Good for: Individuals looking for a great-tasting bar with little added sugar
Quest nutrition bars are currently the #1 Best Seller in Sports Nutrition Protein Bars and have been an ubiquitous name in protein snacks for some time. Reviewers of Quest's protein bars seem to agree that Quest has been successful in their mission to create products that reduce sugar and carbs without sacrificing taste.
RELATED: Best Protein Chips
They also use low calorie sweeteners like sucralose and stevia which both have a high digestive tolerance so they can deliver the great taste Quest is known for without all of the added sugar. There are 7 to 15 grams of fiber per serving, which is the same as the amount of fiber found in three oranges!
Without the carb profile, I can't say I recommend Quest bars as a good pre-workout choice, although because it contains 18 to 21 grams of milk protein (depending on the flavor), it's definitely a great snack to have for post workout recovery. In our opinion, it has to rank as one of the best low-sugar bars simply because they offer a whopping 28 different flavors, and they tend to be pretty tasty, too.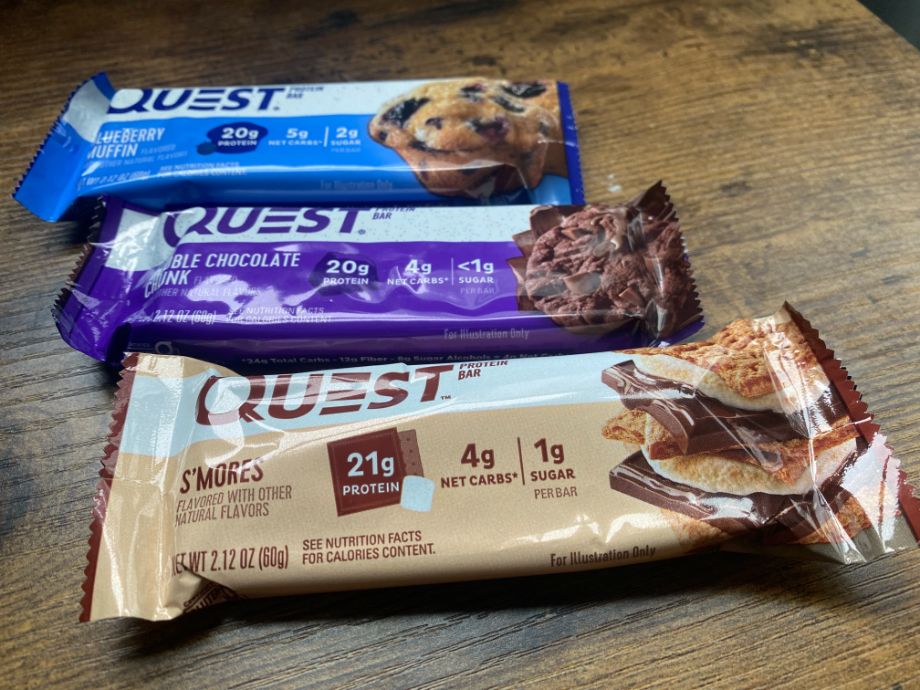 Our expert reviewer, GGR staff writer and personal trainer Amanda Capritto, used to love these bars, specifically the Chocolate Chip Cookie Dough, before she got too burned out from eating them too frequently. After taking a hiatus of six years, however, she was pleased to discover that they taste exactly as she remembered. "They're protein bars, so it's not like eating a real cookie, despite what the customer reviews might indicate. However, for a snack with 20 grams of protein, 12 grams of fiber, and only 1 gram of sugar, it's not half bad," she said.
To get the full scoop on these bars, check out our Quest Protein Bar review.
| | |
| --- | --- |
| Ingredients | Protein Blend (Milk Protein Isolate, Whey Protein Isolate), Polydextrose (Prebiotic Fiber), Almonds, Water, Oats, Unsweetened Chocolate, Erythritol, Glycerin. Contains Less Than 2% of the following: Cocoa Butter, Sea Salt, Natural Flavors, Cinnamon, Lecithin (Sunflower And/Or Soy Lecithin), Stevia Sweetener, Sucralose |
| Flavors | Cookies & Cream, Chocolate Chip Cookie Dough, Chocolate Sprinkled Doughnut, Caramel Chocolate Chunk, Double Chocolate Chunk, Vanilla Almond Crunch, Peanut Butter Supreme, Apple Pie, Chocolate Brownie, Chocolate Peanut Butter, Strawberry Cheesecake, Lemon Cake, Mixed Berry, Mint Chocolate Chunk, Coconut Cashew, Cinnamon Roll, Banana Nut Muffin, Peanut Butter and Jelly, S'Mores, White Chocolate Raspberry, Oatmeal Chocolate Chip, Blueberry Muffin, Rocky Road, Maple Waffle, Peanut Butter Brownie Smash, Mocha Chocolate Chip, Birthday Cake, Chocolate Hazelnut |
| Main Protein Source | Milk Protein Isolate |
| Protein Per Serving | 18-21 g |
Best Protein Bar for Pregnant Women: Perfect Bar
Good for: Pregnant women wanting a clean protein bar that can aid in healthy weight gain
Ideal for those looking for a high-calorie bar to support their calorie surplus during pregnancy, the Perfect bar is a delicious choice. I once had my fridge packed with these bars when I was in a bulking cycle and I could not wait for my post-workout treat. It has such an addictive cookie dough consistency!
When you're pregnant in the first trimester, it's generally not recommended to gain weight or to limit it to 5 pounds. However, in the second and third trimesters, it's advised that weight gain happens at a rate of between 0.5 to 1 pound per week, assuming you were a normal weight prior to pregnancy.
Most women hold the misconception that they should avoid gaining weight during pregnancy to "bounce back" easier after delivery, but this is a shortsighted way of thinking. For optimal nutrition, optimal development, and lowered risk of morbidity and mortality in mothers and infants, gynecologists and nutritionists actually advise pregnant women to gain excess weight2.
RELATED: Exercise During Pregnancy
So, it's best for pregnant women to get these calories from whole foods to gain weight in the healthiest way possible while nourishing themselves and the baby. At 330 calories from minimally processed, organic, whole food ingredients, Perfect bars are the thing to grab. It's even sweetened naturally with organic honey and gets its protein not from whey, but from eggs and nut butters like almond and peanut.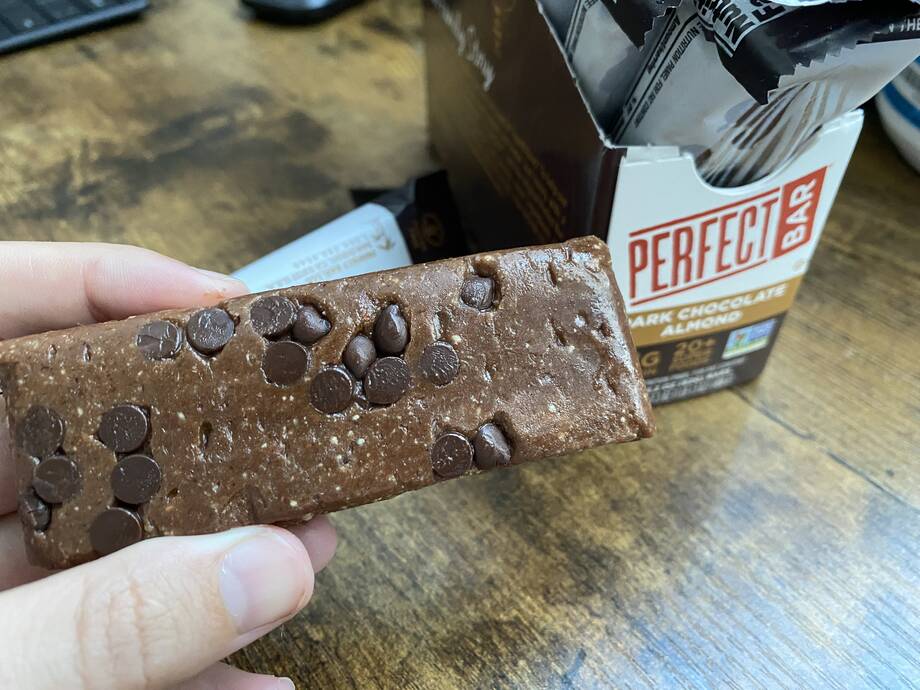 Just know that these bars are not exactly portable. Sure, you can take them with you, but considering they need to be refrigerated, it's not one of those bars you can just keep in the cup holder of your car for weeks at a time.
Pregnant women should take this into consideration especially when considering the risks of foodborne illnesses, which can have disastrous consequences. So, if this becomes the bar of your choice, please read and follow the instructions for storage and consumption carefully.
| | |
| --- | --- |
| Ingredients | Organic Peanut Butter, Organic Honey, Organic Nonfat Dry Milk, Organic Dried Whole Egg Powder, Organic Rice Protein, Organic Flax Seed Oil, Organic Sunflower Seed Oil, Organic Sesame Seed Oil, Organic Olive Oil, Organic Pumpkin Seed Oil, Dried Whole Food Powders (Organic Kale, Organic Flax Seed, Organic Rose Hip, Organic Orange, Organic Lemon, Organic Papaya, Organic Tomato, Organic Apple, Organic Alfalfa, Organic Celery, Organic Kelp, Organic Dulse, Organic Carrot, Organic Spinach) |
| Flavors | Peanut Butter, Dark Chocolate Chip Peanut Butter, Chocolate Chip Cookie Dough (with sea salt), Trail Mix, Coconut Peanut Butter, Blueberry Cashew, Dark Chocolate Almond, Almond Butter, Chocolate Hazelnut Crisp, Pumpkin Pie |
| Main Protein Source | Nut butter |
| Protein Per Serving | 17 g |
Best Keto Protein Bar for Women: EPIC Bars
Good for: Ladies looking for a keto snack with sustainable sourcing
EPIC Bars are Paleo and Whole30 compliant, meaning they fit the macronutrient profile for people who adhere to these diets in addition to keto diets. Since most protein bars also contain carbohydrates, people who eat keto can find themselves hurting for portable protein options.
However, EPIC bars contain no dairy, gluten, grains, or sugars. In fact, they hardly contain any ingredients at all across all nine of their flavor offerings, which typically only consist of animal meat and some type of dried fruit for added flavor.
You can choose from game meats like bison or venison or more familiar offerings like salmon or chicken. You can be confident that whatever you choose at EPIC, it has been sourced responsibly, as the company offers grass-fed beef, bison and venison; cage-free chicken and ducks; wild-caught salmon; and antibiotic-free pork, among other meats.
This comes out to be a carb-conscious, minimalist bar with interesting flavors to choose from. It must be noted that the average price per bar is about $3.40, which isn't exactly a doorbuster deal, considering that each bar contains only 7 grams of protein.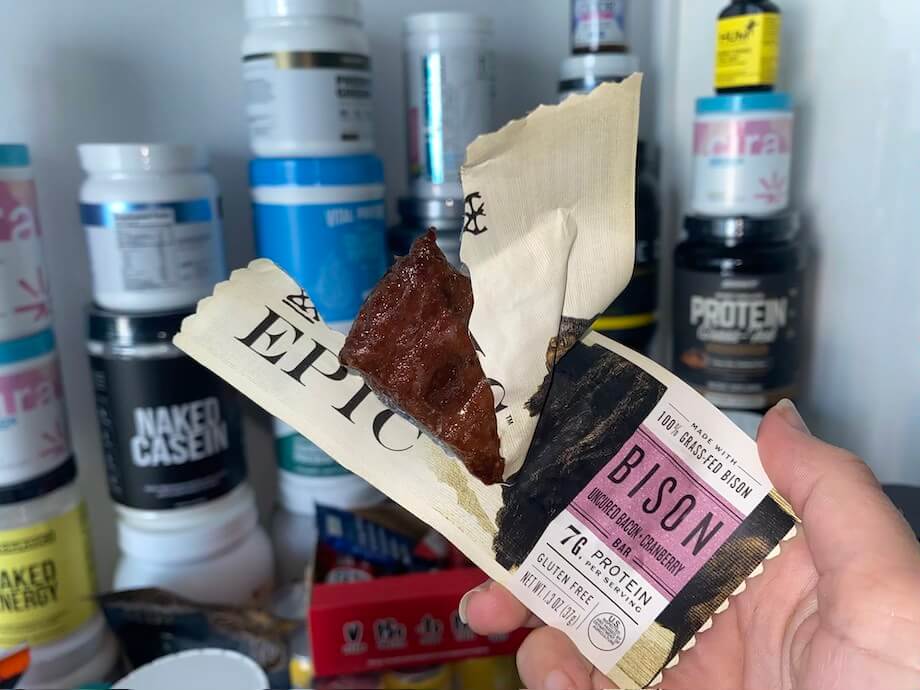 However, that can simply be attributed to the cost of sustainable meat and a carefully constructed formulation to make this product keto-friendly. GGR writer Amanda Capritto's favorite is the Bison Bacon Cranberry bar and she compares the soft texture to eating "fall-off-the-bone ribs from a cookout."
| | |
| --- | --- |
| Ingredients (Bison Bar) | Bison, Uncured Bacon – No Nitrates or Nitrites Added* (Pork, Water, Sea Salt, Brown Sugar, Vinegar, Celery Powder), Dried Cranberries (Apple Juice Concentrate, Cranberries), Encapsulated Lactic Acid**, Cultured Celery Powder, Sea Salt. |
| Flavors | Bison Bacon Cranberry Bar, Venison Sea Salt Pepper Bar, Chicken Sriracha Bar, Beef Apple Bacon Bar, Uncured Bacon + Pork Bar, Keto Friendly Bar, Beef Sea Salt + Pepper Bar, Beef Jalapeño Bar, Beef Barbacoa-Inspired Bar, Chicken Bbq Seasoned Bar |
| Main Protein Source | Animal Meat |
| Protein Per Serving | 7 g |
Best Vegan Protein Bar for Women: GoMacro Bars
Good for: Plant-based women who don't mind a high-calorie snack
Known for its high-quality, sustainably sourced, plant-based ingredients, GoMacro bars are known for their quality and taste. What I really love about them is their texture and how you get little chunks of the actual whole food on the ingredient list. You can literally see the pumpkin seeds!
Even though plant-based protein sources are notorious for lacking essential amino acids3 in notable amounts, and essential amino acids are crucial for gaining and maintaining muscle, the combination of sources used by GoMacro is special.
Rice and pea proteins are incomplete proteins (meaning they lack all nine essential amino acids) on their own, but when combined, they actually produce an amino acid profile very similar to whey to create a complete protein4.
This makes GoMacro a gamechanger for people who engage in resistance training, but need to get in high quality protein to support their strength and lean mass while on a plant-based diet.
A big downside of these bars is the high fat content. Plant-based sources of protein like nuts and seeds also are high in fat. Though these fats are heart healthy, they do bump up the calorie count quite a bit per serving.
For example, GoMacro's Banana + Almond Butter flavor delivers 11 grams of protein, but 12 grams of fat and 280 calories. So, this bar would not be an ideal protein source for ladies seeking weight loss, but would be a great resource for bulking up.
GGR editor Frieda Johnson tried the Oatmeal Chocolate Chip bar. "These taste pretty close to an oatmeal cookie, with the oatmeal flavor the most prominent and almost a maple syrup flavor after that," she said. "While I wish they had more protein in them, I do really like that they're organic, vegan, and gluten-free, and the brand has some cool eco-conscious packaging, such as the compostable tray the bars come in."
RELATED: Best Vegan Protein Powder
| | |
| --- | --- |
| Ingredients | Organic Brown Rice Syrup, Organic Sunflower Seed Butter, Organic Pumpkin Seeds, Organic Protein Blend (Organic Sprouted Brown Rice Protein, Organic Pea Protein), Organic Crispy Brown Rice (Organic Brown Rice, Organic Brown Rice Syrup, Sea Salt), Organic Puffed Brown Rice, Organic Maple Sugar, Organic Natural Flavor, Sea Salt. |
| Flavors | Mint Chocolate Chip, Peanut Butter Chocolate Chip, Coconut + Almond Butter + Chocolate Chips, Oatmeal Chocolate Chip, Double Chocolate + Peanut Butter Chips, Peanut Butter, Banana + Almond Butter, Lemon + Lemon, Sunflower Butter + Chocolate, Blueberry + Cashew Butter, Mocha Chocolate Chip, Maple Sea Salt, Salted Caramel + Chocolate Chips, Dark Chocolate + Almonds, Cashew Caramel |
| Main Protein Source | Rice and pea |
| Protein Per Serving | 12 g |
Best Organic Protein Bar for Women: Orgain Organic Plant-Based Protein Bar
Good for: Women who want an organic protein snack from a trusted brand
Orgain is a leader in plant-based protein products. In fact, having worked for the Pac-12 for years, I happen to know that Orgain is the main source of protein supplement for the athletes at Stanford due to their reputation.
That's one of the reasons we found it to be the best organic protein bar. It's also a great choice for vegans given that the protein is sourced from both rice and pea protein, as mentioned previously. It also contains fiber and chia seeds which can help with satiety and that's a needed feature in any snack choice.
The main difference between this vegan protein bar and those of other brands is that it does not contain any soy, which means people who are sensitive to it or cautious about it need not worry. It is also free of gluten, GMOs, dairy, or lactose.
There are only 10 grams of protein in this bar, which doesn't make it a super rich source of protein. However, if you're looking for a plant-based, organic bar from a brand you can trust, Orgain is what we would recommend.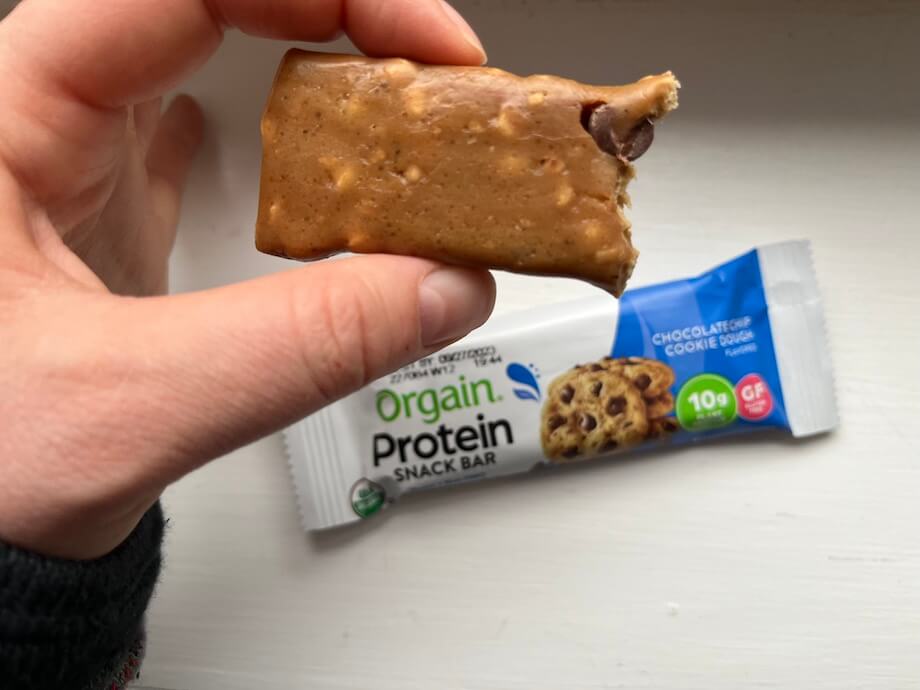 GGR staff writer and expert product tester Lauren Strong tried these bars. As a non-vegan, she was surprised by how much she liked them. She thought the flavor was good and she liked the texture, saying it reminded her of cookie dough—which suits the Chocolate Chip Cookie Dough flavor perfectly.
| | |
| --- | --- |
| Ingredients | Orgain Organic Protein Blend [Organic Brown Rice Protein, Organic Protein Crisps (Organic Pea Protein, Organic Rice Flour), Organic Ground Chia Seeds], Organic Tapioca Syrup, Organic Tapioca Fiber, Organic Chocolate Chips (Organic Cane Sugar, Organic Cocoa Liquor, Organic Cocoa Butter, Organic Vanilla), Organic Almonds, Organic Erythritol,Organic Vegetable Glycerin, Natural Flavor, Sea Salt, Sunflower Lecithin |
| Flavors | Chocolate brownie, chocolate chip cookie dough, peanut butter, peanut butter chocolate chunk, s'mores, chocolate coconut |
| Main Protein Source | Brown rice |
| Protein Per Serving | 10 g |
Best Gluten-Free Protein Bar for Women: OatMega Bars
Good for: Those who have a gluten sensitivity who need a protein snack
Generally speaking, oats have long been the go-to carb source for those who are gluten sensitive since they are whole grains, which tend to have a low-to-no gluten content. They are also a good source of plant-based protein, with 10 grams of it per cup.
With OatMega, the inclusion of oats brings the bar to 22 grams of carbs and 7 grams of fiber, most of which comes from chicory root. In addition to 5 grams of sugar, monk fruit is also used as a natural sweetener.
What is the most interesting feature to me in this product is the inclusion of omega-3 fatty acids, which is likely where the name's play on words comes from. Each bar has 250 grams of omega-3s, which, for those who aren't familiar, is an essential nutrient the body cannot make on its own. A 2019 study5 even found that omega-3s have several properties that can support athletic performance.
However, it is important to note that in order to be able to obtain these benefits, you would need to consume at least two bars each day, and that is assuming that you do not get omega-3s from any other source in your typical diet.
RELATED: Best Fish Oil Supplement
In any case, it's rare to find an essential nutrient in any appreciable amounts in a protein bar, so it's an attractive feature for the health conscious. For those who are conscious of animal welfare, the inclusion of grass-fed whey is also a unique feature.
I would, however, prefer that there be a larger amount of it since 14 grams of protein per bar seems a little bit on the small side for a bar that contains 200 calories. Having said that, this protein bar is an excellent option for those who have a sensitivity to gluten.
Our team tried to find these bars in-store at the time of this writing and had no luck, with team members scouring retailers across the country. We have tried these in the past, though, and liked them.
| | |
| --- | --- |
| Ingredients | Grass-Fed Whey Protein Concentrate, Chicory Root Fiber, Whey Protein Crisp (Whey Protein Isolate, Whey Protein Concen-trate, Rice Flour, Tapioca Starch, Calcium Carbonate), Gluten-Free Oats, Vegetable Glycerin, Tapioca Syrup, Sugar, Sunflower Oil, Almonds, Chocolate Liquor, Responsibly-Caught Fish Oil (Anchovy, Sardine, Tilapia), Cocoa Powder, Natural Flavors, Cocoa Butter, Soy Lecithin, Sea Salt, Monk Fruit Extract |
| Flavors | Chocolate Brownie, Chocolate Coconut, Chocolate Mint, Chocolate Peanut, Cinnamon Bun, Vanilla Almond, White Chocolate Raspberry |
| Main Protein Source | Grass-fed whey protein concentrate |
| Protein Per Serving | 14 g |
Best Meal Replacement Bar for Women: Huel Complete Protein Bar
Good for:Those looking for a weight loss meal replacement
Huel is a 100% vegan product that is free of GMOs, gluten, lactose, or any added sugars. The brand prides itself on using only natural ingredients despite the bars having a shelf life of up to a whopping 9 months.
The reason it makes our list as the best meal replacement bar is the perfect balance of calories and macronutrients. First off, each bar contains about 200 calories, but has 20 grams of protein, 17 grams of carbs, and 7 grams of fat. In case you are looking for weight loss, this ratio of macronutrients would be excellent for you.
RELATED: Best Protein Powder for Weight Loss
The calories are still relatively low for a bar, so it can fit easily into a calorie deficit diet. Furthermore, the protein content of this bar is high enough to promote satiety while the ratio of other macronutrients mimics a low-calorie meal. As an added measure, Huel added 27 vitamins and minerals, and some extra nutrients in a calorie deficit is always critical to ensure the reduced intake is still nourishing for your body.
It is important to note that this product contains 5 grams of chicory fiber and sugar alcohols for some calorie-free sweetness. These two compounds have been known to have a laxative effect if eaten in excess and Huel even warns against this themselves on their product page. Thus, it would be a good idea to limit oneself to just one of these bars daily.
GGR editor Frieda Johnson tested these bars and was, unfortunately, disappointed in the taste: "I really wanted to like these because the protein content is impressive for a vegan bar. Unfortunately, they taste really bad," she said. "The coating is very waxy and tastes strongly of sugar alcohol. I tried two different flavors and I'm not sure I could've told you what flavors they were supposed to be if it hadn't been written on the box."
The ratings on the company website are high, but since they are for all of their products, it's hard to tell what other people thought about the taste of the bars, specifically.
| | |
| --- | --- |
| Ingredients | Pea Protein, Brown Rice Protein, Cocoa Coating (Cocoa Butter, Erythritol, Cocoa Mass, Inulin Fiber, Rice Flour, Rapeseed Lecithin, Natural Flavor, Salt), Chicory Fiber, Glycerin, Peanut Butter, Honeycomb Pieces (Sugar, Cocoa Butter, Rice Starch, Sodium Bicarbonate), Water, Natural Flavors, Ground Flaxseed, Sunflower Lecithin, Medium-Chain Triglyceride Oil (from Coconut), Sunflower Oil, Potassium Citrate, Dried Banana Pieces, Calcium Carbonate, Maltodextrin, Potassium Chloride, Sea Salt, Potassium Glycerophosphate, Magnesium Chloride, Magnesium Oxide, L-Ascorbic Acid, Menaquinone-7, Zinc Gluconate, D-Alpha-Tocopheryl Acetate, Niacinamide, Retinyl Acetate, Plant-Derived Vitamin D3, Calcium D-Pantothenate, Cyanocobalamin, Potassium Iodide, Pyridoxine Hydrochloride, Riboflavin, Thiamine Mononitrate, L-Methylfolate Calcium. |
| Flavors | Banana Pudding, Salted Caramel, Peanut Butter, Raspberry |
| Main Protein Source | Pea |
| Protein Per Serving | 20 g |
Other Protein Bars for Women We Researched
Protein bars have long been a way to both satisfy a sweet tooth without sabotaging diet goals and function as a shelf-stable tool to reach macro goals. Nowadays, protein bars are more widely available than ever before. With so many options, narrowing it down to this list was pretty difficult, so here are some products that are good, they just weren't quite the right fit for this list.
How We Picked and Tested the Best Protein Bar for Women
Our selection of protein bars has something for everyone, whether you're looking to lose weight or simply find the tastiest snack to help meet your goals. The following criteria were used by our testers to select the brands on our list:
Cost
We wanted to present options that were wholesome, but affordable. After all, if you are going to search for a new favorite protein snack and find it, we anticipate you're going to want to enjoy it often. If that's the case, it would be a pretty expensive habit to regularly snack on something with a hefty price tag. So, we wanted to present options with a great value for your money, and present a variety of options to fit a variety of budgets.
Ingredient Quality
Though high-protein food items that are meant to have a long shelf life and need no refrigeration will often have some preservatives, we wanted to give you options that have as little of them as possible. We also looked at the amount of whole food and familiar ingredients to keep your health in mind.
Taste
The reason we at GGR actually test the products we recommend is very simple: We want to help people find products that taste good!
A protein bar can help you build muscle, control hunger, and function as a solid snack—and not be worth the calories you just ingested because it just tastes so darn bad. There are bars like that out there. Not naming names, but I promise you they are out there. So, we tried to pick bars that had a nice balance between nutritional benefits and flavor.
Protein Amount
There are plenty of "protein" bars available that actually contain a measly amount of protein, as little as 4 grams. Well, that's not going to do much for your gains and it certainly isn't going to be much help with satiety or hitting your numbers. To make our list, we selected bars that contained significant amounts of protein for the source of protein they contained.
Benefits of Protein Bars for Women
That's right—deliciously chocolate-covered bars with some creatively added protein can have benefits! Here are some we identified:
Suitable For Low-Carb Diets
When it comes to low-carb diets, it can be quite challenging to stick to the principles if you don't choose your meals and snacks carefully.
Due to most conventional low-carb diets only allowing an intake of 50 grams of carbs per day with some allowing as little as 20, I wouldn't blame most women from just training themselves to forget that sweet foods even exist. That's because fitting those foods into a low-carb diet can be so hard!
Luckily, innovations in food science are making it easier and easier for people to enjoy their favorite foods, and protein bars are no different. The industry is obviously aware that eating low-carb is common for active individuals. So, many protein bars (and many on this very list) have made an effort to deliver mostly protein unlike similar snacks like granola bars.
Thus, we are left with a pretty good collection of options when it comes to bars that are higher in fat and protein but still taste great due to the calorie-free sweeteners that are used, so the carbs can easily be taken out and you can still fit a little treat into your day.
Aids in Satiety
One of the things that makes protein bars so awesome is that you have the ability to indulge in something that reminds you of candy while still preventing overeating at the same time. Most snacks we enjoy are high in carbs, but low in protein, and often leave us feeling hungry again soon after. This is not a good snack.
Protein bars, however, can help to control that hunger, especially if your chosen brand is high in fiber and high protein. Both of these compounds digest slowly in the stomach, so you can feel fuller for longer.
Promotes Higher Protein Consumption
When it comes to changing body composition, it is not uncommon for me to recommend to my athletes to eat as much protein as they can possibly fit into their diet safely, especially if the goal is fat loss while preserving performance.
Nevertheless, due to the satiating effect of protein we just talked about, it can be difficult to get enough protein by eating food alone. Therefore, when you have a macronutrient goal to meet, you must incorporate protein foods into your day in a strategic manner.
In my experience, the most effective strategy for achieving protein needs is to ditch the high-carb snacks for something rich in protein, like a protein bar. Not only can this break up a monotonous diet of chicken breast and salmon with something a little more palatable, but it's more portable and convenient to store than most other protein foods.
Dosing and Interactions
If protein bars are consumed in moderation, there is no evidence that they can cause any serious side effects. However, many protein bars manipulate their formulation to make the bars taste great without much added sugar.
To achieve this, the bars are often sweetened with natural sweeteners like stevia and sugar alcohols, which when consumed in excess have been shown to cause many gastrointestinal side effects, including abdominal pain, bloating, and gas.
Buying Guide: What to Look for in Protein Bars for Women
Ready to go out and find your new favorite protein treat? Well put those keys down for just a moment while we tell you what to look out for in a quality protein bar.
Protein Source and Amount
This is the biggest one. I can't tell you how many times an athlete has brought a new protein bar to me asking if it's fine as a post-workout, only for me to see that it's loaded with sugar, full of saturated fat, and only offers a measly 8 grams of protein.
So, to avoid selecting what could essentially be a Snickers bar sprinkled with a little whey protein, you want to make sure you're being economical with your calories. If the bar is high in calories, but relatively low in protein, it might not be optimal, especially for women trying to lose weight.
Also, if the bar has more grams of fat than grams of protein and the main source of protein isn't a nut or seed, I say find something else. After all, you are trying to buy a protein bar, not a fat bar.
Calorie Content
Previously when I said "be economical with your calories" I meant that you should analyze the nutrition facts on your nutrition bars carefully. Try to find protein bars that have a good ratio of calories to protein. Now, if you're a girl who is trying to bulk up and want to use protein bars to help boost your daily calorie intake, this rule doesn't apply as much.
For everyone else, however, a bar with a low protein content and a high calorie count is not ideal. So, keep your goals in mind and read your labels carefully to make sure you're consuming your daily calories wisely by choosing an efficient protein source in your bar.
Type of Sweeteners
Artificial sweeteners and sugar alcohols are more popular than ever in protein bars because it makes it a sweet treat, but can still be advertised that it is low in sugar because these sweeteners do not contain calories
If you don't have a problem with these products, then great! But we do have to warn you. A high consumption of sugar alcohols6 is known to cause significant digestive discomfort.
Studies show that most people can tolerate up to 20 grams of sugar alcohols in a day before they start seeing symptoms, but that same study also says it can vary from person to person. So, if you are a person known to enjoy multiple protein bars in a day and that bar happens to be heavily sweetened with sugar alcohols, you could find yourself in a literal mess.
So, check the nutrition facts label for the presence of sugar alcohols or the ingredient list for something ending in -ol like sorbitol, erythritol, xylitol, lactitol, isomalt, or maltitol. If they are present, you're probably fine, but definitely be aware of how your tummy reacts to multiple servings in a day.
RELATED: What Is Erythritol?
FAQs About the Best Protein Bars for Women
Should women take protein bars?
Women should take protein bars as long as they portion and time them optimally. Protein bars with high-quality protein like whey and eggs are efficient as a recovery snack, and protein bars that are high in calories but have a nice balance of macronutrients can function as a meal replacement for weight loss.
Is it OK to eat a protein bar every day?
It's perfectly fine to eat a protein bar every day as long as you are only using it to supplement your protein intake. The largest majority of your protein intake should be coming from whole-food animal and plant protein sources.
Are protein bars good for losing belly fat?
A person loses belly fat when they lose fat throughout their entire body. That said, if your favorite protein bar can help you both stay in a calorie deficit and make your workouts more efficient, they can be a good tool for losing fat.
Which protein bars are good for weight loss?
Protein bars that have a good amount of fiber and are high protein (preferable 20 grams or more per bar) may be good for weight loss in that they can help you feel satiated and prevent overeating later in the day. Weight loss efforts can also be aided by properly balanced protein bars that can also serve as meal replacements.
These statements have not been evaluated by the Food and Drug Administration. This product is not intended to diagnose, treat, cure, or prevent any diseases.
References