We test and review fitness products based on an independent, multi-point methodology. If you use our links to purchase something, we may earn a commission. Read our disclosures.
There is an endless sea of protein bars in supermarkets, supplement stores, and online, many marketed as the best protein bars for weight loss or the best protein bars for women, the best for building muscle, or something else.
This can make it extremely difficult to choose, especially for people who are unsure of what macronutrient ratios or nutritional profiles will help them reach their specific goals. That's why we bring you guides like these to narrow down your search.
In this guide we cover the best low-sugar protein bars for increasing your protein intake without unnecessary sugar.
Medical disclaimer: This article is intended for educational and informational purposes only. It is not intended as a substitute for medical advice. For health advice, contact a licensed healthcare provider.
Best Low-Sugar Protein Bars in 2023
Best Overall Low-Sugar Protein Bar: Legion Athletics Natural Protein Bars
Good for: Anyone who wants a tasty high-protein bar with minimal added sugar from a reputable brand
Legion Athletics Natural Protein bars are quite good in terms of both taste and macronutrient profile, says Kate Meier, GGR head of content and product tester. She and members of her Olympic weightlifting team tested a box of these bars.
"A majority of us mostly liked the flavors," Kate says, noting that the Chocolate Chip Cookie Dough bar has some flavor; but the chocolate doesn't come through enough for her. "The Chocolate Peanut Butter bar has a much stronger flavor, and YES CHOCOLATE, COME THROUGH," she exclaims.
As for texture, Kate says that these look like they'd be moist, chewy bars, but they're a little more crumbly than she expected. "I thought it would be the consistency of a Larabar, but it's a little drier than that," she explains. "One of our testers commented that the bar feels very dense and takes a lot of chewing to get down."
Though these Legion Athletics bars are higher in calories than many protein bars, the 20 grams of protein is a selling point for Kate. They also only contain 4 grams of sugar, 3 grams of which are added sugars, which is not a lot at all in a 250-calorie bar.
"I had men and women try this bar to mixed reviews. Most people liked the taste, though a few preferred the taste of something like a Clif Bar or the texture of a Luna Bar to this," Kate says.
Notably, the return policy is great: Legion will give you a full refund if you don't like the product, and they don't even ask you to send it back. So really, there's nothing to lose by giving these a shot.
RELATED: Legion Whey Protein Review
| | |
| --- | --- |
| Calories per serving | 250 |
| Protein per serving | 20 |
| Sugar per serving | 4 g (3 g added) |
Best Budget Low-Sugar Protein Bar: Pure Protein Protein Bars
Good for: People who want a coated high-protein snack that tastes like candy and is easy on the wallet
If you want candy without the candy, check out Pure Protein Bars. These bars are relatively small in size but pack 20 grams of protein per serving and a ton of sweetness with just three grams of sugar. Best yet, Pure Protein Bars are wallet-friendly, with a per-serving cost of just 70 cents on Amazon as of this writing.
Of course, all that is too good to be fully true—the bars also contain 2 to 13 grams of sugar alcohols, depending on the flavor.
While that may not be ideal for all people, sugar alcohols are generally recognized as safe and make for super sweet treats for those whose digestive systems can handle them. In fact, Kate says that Pure Protein Bars are the most candy bar-like protein bars she's ever tasted.
She and her weightlifting team shared a box of the Chocolate Peanut Butter flavor, and Kate says that everyone decided they'd return to them for a high-protein snack. While the texture is a little bit chalky, Kate emphasizes that Pure Protein Bars are nowhere nearly as dry or chalky as most other whey protein bars on the market.
"The texture is similar to a Snickers or a Milky Way, with a very nougat-like texture," she says. While they're not "clean" protein per se, since they do contain highly processed and artificial ingredients, they're fine in moderation or for people who can tolerate such ingredients.
RELATED: Best Clean Protein Powder
| | |
| --- | --- |
| Calories per serving | 200 |
| Protein per serving | 20 g |
| Sugar per serving | 3 g (plus 2-13 g sugar alcohol) |
Best Keto-Friendly Low-Sugar Protein Bar: Bulletproof Protein Crisp Bar
Good for: Keto dieters who want a bar without artificial sweeteners and a simple ingredients list
For those on a diet type that minimizes carbohydrate intake, Bulletproof Protein Crisp Bars are a good option. These snack bars are available in a few flavors, including Coconut Chocolate Chip, Peanut Butter Chocolate Chip, Salted Caramel, and Chocolate Mint Chip.
These scored high in the flavor department, with product tester and GGR head of content Kate Meier saying that the Peanut Butter Chocolate Chip flavor tastes, overall, "like a "healthy" peanut butter bar"
There is definitely peanut butter in this bar, with just a hint of the chocolate chip," she says. "The flavors are there, but not fully there, like you'd get in something loaded with fat and sugar. I give it a solid 4 out of 5 for taste."
While it's not the best-tasting protein bar Kate's ever had, she says, "Based on taste alone, I'd eat this again! I had about eight other people try these bars, and all eight said they enjoyed it. That's pretty solid."
The low protein content—just 11 grams per bar—is a bit of a bummer, Kate says, but still, these bars may help satisfy cravings while managing net carb goals and providing a touch of protein.
The protein sources in this keto protein bar are pea protein and nut butter, and each bar has 9 to 10 grams of fiber.
RELATED: Best-Tasting Protein Powder
| | |
| --- | --- |
| Calories per serving | 190 |
| Protein per serving | 11 g |
| Sugar per serving | 1 g (plus sugar alcohol, monk fruit extract, and stevia leaf extract) |
Best Naturally Sweetened Low-Sugar Protein Bar: Atlas Protein Bars
Good for: Those looking for a naturally sweetened but low-sugar protein bar
Atlas Protein Bars make for a naturally sweetened healthy snack, with 15 to 16 grams of protein per serving depending on the flavor. Atlas makes grass-fed whey protein bars as well as plant-based protein bars that include brown rice protein, almond protein, and pea protein crisps.
The full flavor lineup between the whey and plant-based bars includes Coconut Almond, Dark Chocolate Sea Salt, Peanut Butter Dark Chocolate, Peanut Butter Chocolate Chip, Vanilla Almond Chai, Chocolate Cacao, Mint Chocolate Chip, Peanut Butter and Raspberry, and Almond Chocolate Chip.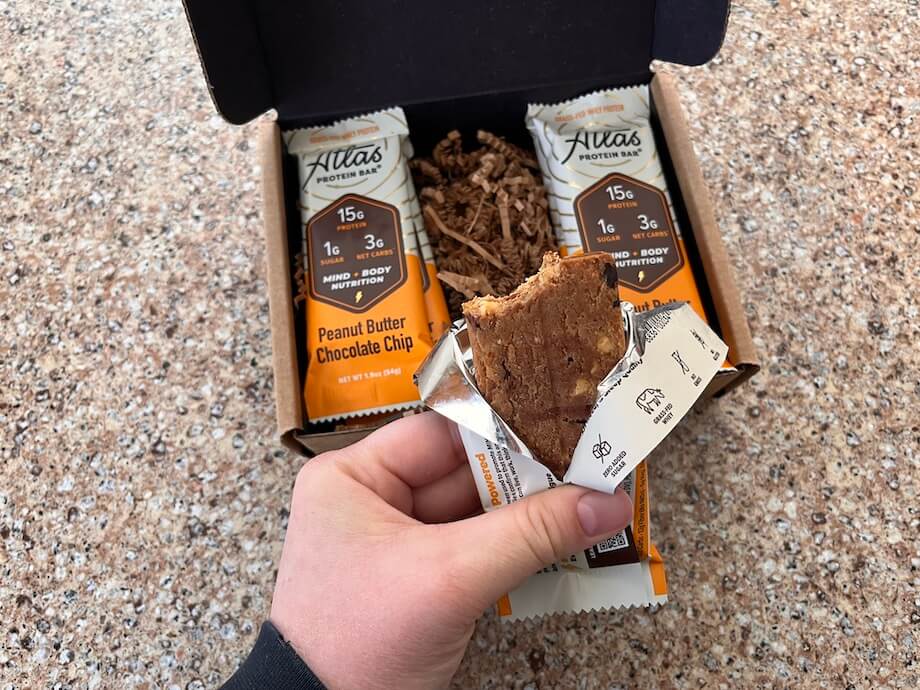 Product tester and GGR staff writer Lauren Strong tried the Atlas Bars in the Peanut Butter Chocolate Chunk flavor and said they have a "good taste, very peanut butter-y without being fake or too dry." The texture, she says, is "very smooth and soft" and she's "a fan for sure."
These are somewhat high in calories for the protein content, but that can be blamed on the whole food ingredient approach that uses almonds and almond butter, making these kind of like an energy bar. However, each bar contains just 1 gram of sugar and is otherwise sweetened with monk fruit extract.
RELATED: Best Low-Carb Protein Bars
| | |
| --- | --- |
| Calories per serving | 210-230 depending on flavor |
| Protein per serving | 15-16 g depending on flavor |
| Sugar per serving | 1 g (plus monk fruit extract) |
Best Vegan Low-Sugar Protein Bar: Misfits Plant-Powered Protein Bars
Good for: People who want plant-based protein in a variety of yummy flavors but without the sugar
When eating a vegan diet, it can be tough to increase your protein intake, not to mention find high-quality sources of protein to contribute to said intake. Misfits Plant-Powered Protein Bars can help fill a gap in your diet by providing 15 to 16 grams of protein from a blend that contains pea protein and soy protein isolate.
Available flavors include Cookie Dough, Choc S'mores, Cookie Butter, Caramel, Cookies 'N Cream, White Chocolate Caramel, Chocolate Orange, Dark Chocolate Brownie, and Strawberries and Cream.
I tried the Cookie Butter flavor and, despite it being a plant-based product (which I typically don't like), I was pleasantly surprised at the flavor and texture of these bars. They're sweet enough to satisfy my (very strong) sweet tooth, without the yucky aftertaste you normally get from artificial sweeteners like sucralose. These do contain stevia and xylitol, but if there is an aftertaste, I'm not picking up on it.
What makes these bars better than many vegan protein bars is the inclusion of soy protein nuggets. These give the interior a crunchy texture, much like an actual Crunch Bar candy bar. Of course, it's not the same, but the crunch is very much appreciated.
RELATED: Best Vegan Protein Powder
| | |
| --- | --- |
| Calories per serving | 200-210 depending on flavor |
| Protein per serving | 15-16 g depending on flavor |
| Sugar per serving | 1-3 g (plus stevia and xylitol) |
Best Gluten-Free Low-Sugar Protein Bar: EPIC Provisions EPIC Bars
Good for: Keto and gluten-free dieters who enjoy jerky snacks
EPIC Provisions EPIC Bars are not your typical protein bars. You won't find flavors like Crunchy Peanut Butter, Salted Caramel, or Birthday Cake when you head to the EPIC website. And that's precisely why they are one of my top picks on my guide to the best protein bars.
EPIC Bars are made of meat, which means they're automatically complete proteins with all nine essential amino acids. They're popular with nutritionists and registered dietitians for their minimal ingredients lists and whole food-first approach. All EPIC bars are also Non-GMO Project verified and certified gluten-free.
The sugar content in EPIC bars ranges from 0 grams to 6 grams. If you're really trying to limit your sugar intake—or need to for medical purposes—be sure to double check the amount of sugar in each flavor.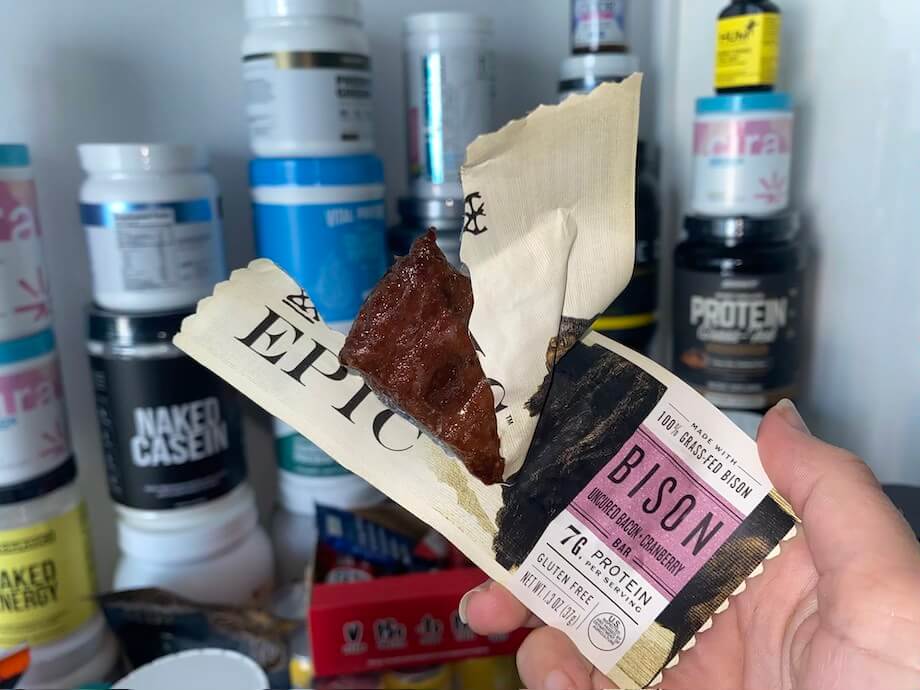 On the protein side of things, despite being made from animal meat, these bars don't have the highest protein content. They range from 7 to 12 grams of protein per bar, but most flavors are also quite low in calories, with some flavors under 100 calories. When that's considered, the protein-to-calorie ratio isn't bad.
My personal favorite flavor is the Bison Bacon Cranberry, but that's one of the higher-sugar options. Of the zero-sugar options, I really like the Venison Sea Salt & Pepper flavor.
| | |
| --- | --- |
| Calories per serving | 90-170 calories depending on flavor |
| Protein per serving | 7-12 g depending on flavor |
| Sugar per serving | 0-6 g depending on flavor (no artificial sweeteners) |
Best Organic Low-Sugar Protein Bar: Orgain Organic Vegan Protein Bars
Good for: Individuals with multiple dietary requirements or preferences
Orgain Organic Vegan Protein Bars check all of the boxes for individuals who eat a vegan diet and seek out organic ingredients. They pack 10 grams of protein in 150 calories with just 3 to 6 grams of sugar, too. (These bars also include 3 grams of erythritol, a sugar alcohol, to enhance the sweetness in the absence of sugar.)
Available in six flavors—Chocolate Brownie, Chocolate Chip Cookie Dough, Peanut Butter, Peanut Butter Chocolate Chunk, S'Mores, and Chocolate Coconut—Orgain protein bars are made without soy, dairy, lactose, and gluten. Additionally, they are certified non-GMO and Kosher.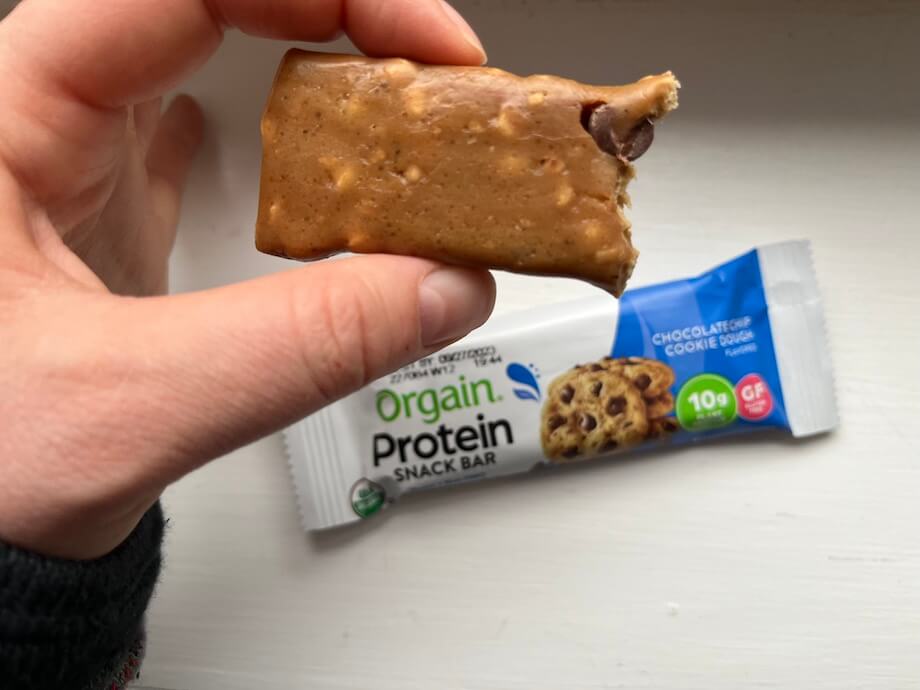 GGR staff writer LaurenStrong tested these plant-based protein bars and found the Chocolate Chip Cookie Dough flavor to be tasty despite her usual aversion to pea- and rice-based protein sources. She also really liked the texture, saying "It resembles the texture of cookie dough, as it's soft, chewy, and raw-doughy, which is nice because it matches the flavor."
She says she was very surprised at how much she likes these protein bars and that there's only a slight aftertaste, likely from the erythritol.
Read our Orgain Protein Powder review to learn more about Orgain products.
| | |
| --- | --- |
| Calories per serving | 150 |
| Protein per serving | 10 g |
| Sugar per serving | 3-6 g (4-6 added depending on flavor, plus 3 g erythritol) |
Best Low-Carb, Low-Sugar Protein Bar: Quest Nutrition Quest Bars
Good for: People who like a chewy texture and want a variety of low-carb, low-sugar flavors
Quest Bars have been around for as long as I've been immersed in the fitness industry. Like many people—including many of our own product testers—Quest Bars were some of the first protein bars I began using as a fitness newbie. They are easily accessible, relatively inexpensive, and not terrible in terms of taste and texture.
I actually ate Quest Bars daily for several years, before I just became burnt out on them. When we ordered some to test for our guide to the best protein bars, I was excited to retry them and happy to learn that they taste just like I remember.
The Chocolate Chip Cookie Dough flavor was always my favorite, but I enjoy the Blueberry Muffin and Chocolate Brownie, too.
Quest Bars range from 190 to 210 calories per bar depending on the flavor, and each contains 20 to 21 grams of protein with just 1 to 2 grams of sugar. The reason these bars are so sweet is that they contain quite a high amount of sugar alcohols, which can cause an upset stomach in some people. Quest Bars also contain a lot of fiber compared to other protein bars, which can also take some time for the gut to become used to.
Still, Quest Bars are ultra-popular and have remained a staple among fitness enthusiasts for more than a decade due to the great macronutrient ratio.
Read our full Quest Bar review for more details.
| | |
| --- | --- |
| Calories per serving | 190-210 depending on flavor |
| Protein per serving | 20-21 g depending on flavor |
| Sugar per serving | 1-2 g depending on flavor |
Best Dairy-Free Low-Sugar Protein Bar: No Cow Protein Bars
Good for: People who have allergies or sensitivities to dairy products
Right off the bat, I'll let you know that our product testers were not fans of the taste and texture of No Cow Protein Bars. As we detail in our No Cow Protein Bar review, GGR head of content Kate Meier and GGR editor Frieda Johnson (and their friends and family who tried the bars) found them to be mealy and dry, and leave an icky residue on their teeth.
That said, the customer reviews for these bars absolutely do not reflect our experience, with many buyers writing that No Cow bars are the only protein bars they'll eat for dietary and taste reasons. Between the positive customer reviews and the great macro profile of these bars, we think they're worth a shot. Plus, No Cow offers a satisfaction guarantee, so you don't really have anything to lose.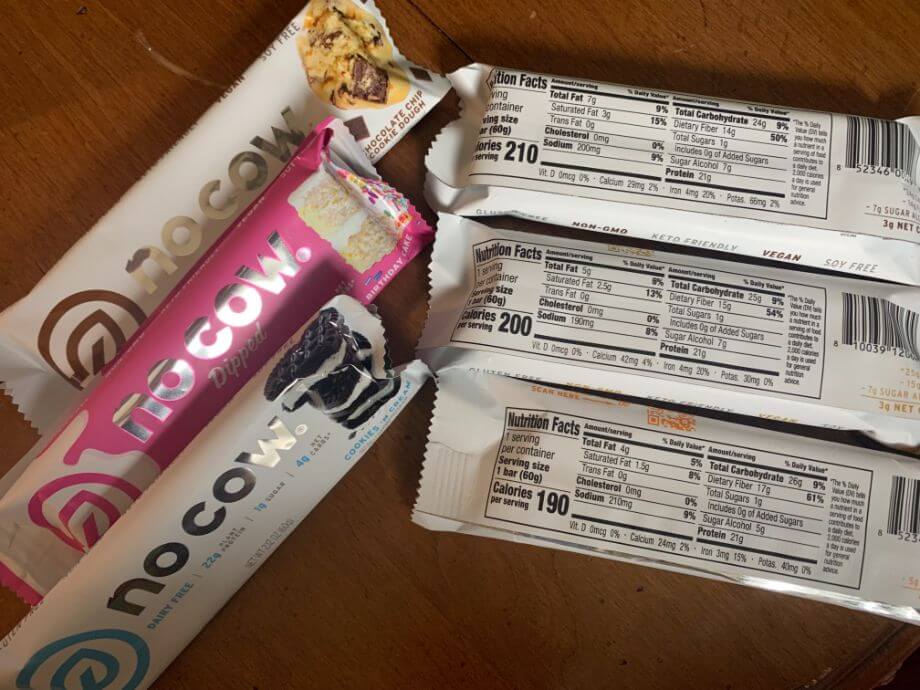 Ranging from 190 to 210 calories per bar depending on the flavor, these offer 20 to 22 grams of protein and just 1 gram of sugar while being free from dairy and gluten, and they are Non-GMO Project Verified, Kosher, keto-friendly, and vegan.
No Cow Protein Bars come in a ton of flavors; we recommend purchasing a variety pack to start so you can find out which ones you like. Our testers agreed that Birthday Cake and Chocolate Fudge were the best, and that the "dipped" versions taste better than the non-coated versions.
| | |
| --- | --- |
| Calories per serving | 190-210 depending on flavor |
| Protein per serving | 20-22 g depending on flavor |
| Sugar per serving | 1 g (plus 5-6 g sugar alcohols and monk fruit) extract) |
Other Low-Sugar Protein Bars We Researched
As of this writing, our product testers have bought, eaten, and analyzed 40 different protein bars. Here are just a few that we think are worth calling out here.
RXBAR: Many of our team members love RXBARs due to the whole food sources like egg whites and dates. While they're a paleo-ish option, they aren't low in sugar, so we don't recommend them for that purpose.
Aloha Bars: These are very popular, and product tester Anthony thinks they're alright. But, there wasn't anything spectacular about them that led us to include them here.
Probar: For the high calorie count (400 calories), these are relatively low in sugar at 10 grams per bar. They're more of a meal replacement bar than a protein bar, though.
How We Picked and Tested the Best Low-Sugar Protein Bars
We actually buy and eat the protein bars we recommend. Our process involves judging each product against a set of criteria, which, for protein bars, is as follows:
Price per serving: Anything under $2 per serving is a great deal; anything higher than $3 is considered quite pricey.
Formulation: We look at the ingredients lists, nutrition labels, and any other information the brand offers to make informed analyses of the nutrient density and macronutrient profiles.
Taste: While taste is entirely subjective, we still think it's important to let our readers know what we thought of a given protein bar. Sometimes, our opinions match up with customer reviews and sometimes they don't.
Texture: We take notes about the bars' textures, such as whether they are fudgy or crumbly, crispy or soft, or dry or moist.
Side effects: If we experience any digestive problems after eating a bar, we make note of this. (Yes, our testing database does include notes such as, "Not gonna lie, I had some stomach rumbling after consuming this" and "If you eat two, you'll be on the toilet.)
Customer service: We look at return policies, shipping times and costs, guarantees (or lack thereof), and how you can get in touch with companies if you have a problem.
Customer reviews: We think customer reviews are some of the greatest indicators of how good (or not) a product is. We peruse reviews on products we are considering for our guides to see what real buyers think.
Benefits of Low-Sugar Protein Bars
The primary benefit to low-sugar protein bars over other protein bars is, as you can guess, they are lower in sugar, which usually also makes them low-carb protein bars. The trade off is that many low-sugar protein bars have artificial or alternative sweeteners, although not all do.
By choosing a low-sugar protein bar, you can better manage your blood sugar and reduce caloric intake from sugar, which may help with weight loss. Additionally, protein bars can help keep you full and prevent mindless snacking since protein is a satiating nutrient.
Protein is important for overall health and for meeting fitness goals like building muscle, and protein bars can help you increase your daily protein intake to meet the required minimums for health; eating a high-protein bar post-workout may assist with muscle recovery and muscle protein synthesis much like drinking a protein shake can.

RELATED: Best Protein Shakes
Dosing and Interactions
Protein bars are generally safe and should not interact negatively with other supplements or medications. However, if you take prescription medications, it's never a bad idea to check with your doctor before consuming new-to-you ingredients.
Always check ingredients labels for allergens if you have food allergies. Many protein bars contain common allergens, such as soy, peanuts, and tree nuts.
Third-Party Testing
Third-party testing is really important for supplements. This is when a manufacturer takes it upon itself to pursue independent laboratory testing on its products, in an effort to check for things like allergens, heavy metals, and banned substances in sports.
However, third-party testing is not common with protein bars, since they are considered food products and not supplements. Protein bars are subject to the strict FDA regulations that all food products are subject to, unlike the lax regulations around supplements.
FAQs About Low-Sugar Protein Bars
We have the answers to protein bar FAQs here.
Are protein bars healthy?
We can't make a blanket statement that protein bars are or aren't healthy; there's simply too much variance in the nutritional profiles across brands and even across different products from the same brand. We do our best to recommend nutritious products and we make it clear when something we recommend isn't the healthiest option. In those cases, there's another reason for our recommendation, such as a lower cost per serving.
Can you eat a protein bar every day?
You can eat a protein bar every day if you want—it won't cause any problems unless you have an allergy or a sensitivity to one or more ingredients in the bar. Just make it a point to check the sugar content, so you're not inadvertently consuming 20 grams of sugar in a single protein bar on the daily. And as always, it's best to prioritize whole foods first in your diet.
What's better, protein bars or protein powder?
Protein bars and powder both have their place. Bars are more like snacks, or potentially meal replacements if they are very high in calories and nutrient-dense. Protein powder is a supplement, not a food, that is shown to play a beneficial role in fitness pursuits.
These statements have not been evaluated by the Food and Drug Administration. This product is not intended to diagnose, treat, cure, or prevent any diseases.