We test and review fitness products based on an independent, multi-point methodology. If you use our links to purchase something, we may earn a commission. Read our disclosures.
Protein powder is the MVP of workout supplements. And while many workout enthusiasts swear by whey protein, plant-based protein powders have been making their way onto the scene in a big way in recent years.
Orgain, which was founded in 2009 by a doctor and cancer survivor, is one of the OGs of plant-based protein powder. While the company does make whey options, it has an extensive line of plant-based protein powders. There are a bunch of different flavors, like chocolate peanut butter, creamy chocolate fudge, vanilla bean, and cookies and cream, plus targeted formulas like the higher-protein Sport line and the zero sugar keto option.
Over the past few weeks, our expert tester, Nicole Davis (who is a GGR editor and certified personal trainer) swapped her preferred whey protein for the Vanilla Bean plant-based version. In this Orgain Protein Powder review, we'll highlight her experience and give you some background on the product and the brand to help you decide if you want to try it for yourself.
Medical disclaimer: This article is intended for educational and informational purposes only. It is not intended as a substitute for medical advice. For health advice, contact a licensed healthcare provider. GGR also recommends choosing a product that has been third-party tested for quality.
We Are Protein Powder Connoisseurs
At Garage Gym Reviews, we are a team of fitness freaks—and we use that term in the most loving way possible. Not only do we make working out a part of our lifestyle, but our testers are certified personal trainers, CrossFit-L1 trainers, and nutrition coaches. In between testing every single piece of exercise equipment that we can get our hands on, we've tasted a LOT of protein powders and most of us regularly incorporate protein into our day. Nicole, who tested this particular product, drinks a whey protein shake almost every day, so she knows a thing or two about taste and solubility.
Orgain Organic Protein Powder
GGR Score: 3.5
Product Highlights
Multi-source vegan protein powder 

USDA organic, non-GMO, dairy-free, kosher, and no artificial ingredients 

21 grams of protein per serving
Pros & Cons
Pros
Wide variety of flavors, including seasonal options
Under $2 per serving
Coffee flavor with caffeine
Cons
Only 21 grams of protein per serving
Some reviewers found flavors too sweet
Reviewers reported upset stomach
Bottom Line
Orgain protein doesn't have as much protein per serving as its competitors, but it has the widest variety of flavors. Some users did experience upset stomachs after using the protein.
A Quick Look at Orgain Protein Powder
Before jumping into our Orgain protein powder review, let's start with a little background on the brand. Orgain was founded in 2009 by Dr. Andrew Abraham, an integrative medicine specialist and cancer survivor. Dr. Abraham is a big proponent of the idea that food is medicine. As such, he set out to create a clean line of protein powders.
All products from Orgain are certified organic whenever possible. They're non-GMO and made without soy, carrageenans, and artificial sweeteners, flavors, colors, and preservatives. To keep the sugar content low, the protein powders are sweetened with erythritol—a sugar alcohol that's common among keto dieters—monk fruit, and/or stevia. A handful of the products use organic sugar or coconut sugar.
There is a full line of protein powders. There's a grass-fed whey-based protein powder, plant-based protein powders, and formulations that are made for kids. For this Orgain protein powder review, we tested the organic plant-based protein powder in the vanilla bean flavor.
Before You Buy
Each serving offers 21 grams of protein; a serving is two scoops
All powders are certified organic and lactose-free, soy-free, non-GMO, and gluten-free
The proteins don't contain unnecessary fillers or additives
Because the ingredients are organic, the price per serving may be a little higher than others
Plant-based protein powders typically aren't as bioavailable as whey protein
Is Orgain Protein Powder Worth It?
It's hard to give one answer to this question. For some people, like those on more restrictive diets, the Orgain protein powder is worth it. For others, it may not be. Here's who we think it's great for and who should skip it.
Great for:
Anyone who wants a plant-based protein powder
Those who don't mind mild flavors
People who value certified organic ingredients and clean ingredient lists
Those on restricted diets
Not recommended for:
Those who prefer whey protein powder
Anyone who's sensitive to the grassy taste of plant-based protein
People looking for a really high protein content
Those on a tighter budget
Orgain Protein Powder Specs
| | |
| --- | --- |
| Price per serving | $1.70 to $3.10, depending on size |
| Flavors | Creamy Chocolate Fudge, Chocolate Coconut, Chocolate Caramel Sea Salt, Chocolate Peanut Butter, Peanut Butter, Natural Unsweetened, Vanilla Bean, Iced Coffee, Cookies and Cream, Strawberries and Cream |
| Calories per serving | 140-190 (depending on flavor) |
| Protein per serving | 21 g |
| Protein source(s) | Organic pea, organic brown rice, organic chia seed |
| Fat per serving | 4-5 g (depending on flavor) |
| Carbohydrates per serving | 7-16 g (depending on flavor) |
| Sweeteners | Erythritol, stevia |
Experience Using Orgain Organic Plant-Based Protein Powder
To reiterate: We specifically tested the Orgain Organic Plant-Based Protein Powder in the flavor vanilla bean. Here's our experience with that formulation.
Price Per Serving
This protein powder retails for $34 for the largest tub, which is just over 2 pounds. There are 20 two-scoop servings in the container, so the price per serving breaks down to $1.70—not too bad for an organic protein powder. If you opt for the smaller tub, which has 10 servings, the price goes up to $2.30 per serving.
There are also single-serve packets. They come in boxes of 10 for $31, which breaks down to $3.10 per serving. You'll definitely be paying an upcharge for convenience if you decide to go with the packets.
If you opt for the subscribe and save option on the site, you'll save 25% on your first order and 10% on orders after that, so that can bring the cost per serving down slightly.
Formulation
The formulation we tested is made with a blend of organic pea protein, organic chia seed, and organic brown rice protein. It has a handful of emulsifiers and binders like guar gum, plus an "organic creamer base" that's made from sunflower oil and acacia, which is used as a thickening agent. It's sweetened with organic stevia extract and erythritol and includes natural flavors.
RELATED: Best casein protein powder
This blend offers 21 grams of protein, 15 grams of carbs (9 grams of net carbs), 4 grams of fat, and zero added sugar. It also has small amounts of vitamin D, iron, calcium, and potassium.
Taste and Solubility
Taste is really where this protein powder fell short. Nicole tried the Vanilla Bean flavor, and said it tasted like grass with a hint of vanilla. Even when blending with fruit and spinach, it was difficult for her to stomach and she couldn't finish it. However, many reviews online raved about how great the taste was, so you never can tell.
The serving size is two scoops, which is a lot of protein powder. While it mixed in fine, even with water, Nicole said it got really thick. It was never clumpy, though, and she actually preferred the consistency of this protein powder to the whey she usually uses.
Side Effects
Plant-based proteins don't have as many amino acids1 (specifically methionine, lysine, and tryptophan) as animal proteins like whey. Because of this, people who rely solely on plant-based proteins run the risk of reduced protein synthesis and not getting enough of the essential amino acids.
Whey protein powders are notorious for stomach upset, though, especially in those who are lactose intolerant. If you have a sensitive stomach, you may actually be able to tolerate the Orgain plant-based protein better. Nicole says she didn't use it long enough to notice a difference either way, but many customers say their stomachs felt better after switching from whey to plant-based protein powder.
Third-Party Testing
All Orgain's products are tested for heavy metals like arsenic, cadmium, mercury, and lead. Ingredients are also carefully sourced and the company looks over testing data from manufacturers before including anything in its products. All of Orgain's products are manufactured according to the current U.S. Good Manufacturing Practices (GMP).
Orgain Organic Protein Powder vs Other Vegan Protein Powders
If the grassy taste of the Orgain protein powder is a dealbreaker for you, we do have some other favorite vegan protein powders.
Garden of Life
GGR Score: 3
Product Highlights
Multi-source vegan protein powder

NSF Certified for Sport, certified Informed Choice for Sport, Non-GMO Project-verified, USDA Organic, and gluten-free

Includes BCAAs, probiotics, and antioxidant blend
Pros & Cons
Pros
30 grams protein per serving
NSF Certified for Sport and certified Informed Choice for Sport
Probiotics for immune support
Cons
Only 2 flavors
Very mixed reviews on taste and blendability
Pricey at nearly $2 per serving
Bottom Line
Garden of Life Plant-Based Protein has a relatively high protein content and a variety of other healthy ingredients, but this comes at a cost; it is more expensive than other vegan protein powders.
Now Sports
GGR Score: 3
Product Highlights
Multi-source vegan protein powder

Informed Sports-certified, Non-GMO project verified, gluten-free, vegan, and kosher 

22 grams of protein per serving
Pros & Cons
Pros
Under $1.50 per serving
Packaged in USA
Reviewers say blends well
Cons
Only available in 2 flavors
Sweetened with xylitol
Bottom Line
Now Sports Protein Powder has very mixed reviews on taste, but people like the price point and that it uses a variety of protein sources.
Garden of Life Organic Plant-Based Protein
Another organic option, the Garden of Life protein powder is our top pick. It has 30 grams of protein in two scoops, compared to the 21 grams in the Orgain version. The protein blend is a bit different—it comes from peas, navy beans, lentils, and garbanzo beans—but the ingredient list is equally clean. It's soy-free and gluten-free and sweetened with stevia. This protein powder includes natural flavors, plus a recovery blend of superfoods like apple, tart cherry, turmeric, and goji berry that can help fight inflammation. It's a little more expensive than the Orgain, but also high-quality.
Now Sports Plant Protein Complex
If the Orgain and Garden of Life options are out of your budget, the Now Sports Plant Protein Complex is another good option. This one has 22 grams of protein per serving, but the serving size is only one scoop so you'll really get more bang for your buck. The protein comes from a blend of yellow peas, quinoa, and hemp, and the rest of the ingredient list is fairly clean, too. It does have some fillers, like xanthan gum, but it's sweetened with stevia and doesn't have any added sugar.
Ordering Orgain Protein Powder
When ordering directly from the manufacturer, you can choose from three sizes: 10 single-serve packets, a 1.02-pound canister, or a 2.03-pound canister. If you opt for the larger jar, the price per serving drops pretty significantly.
After deciding which size you want, you can also opt for a single order or commit to a recurring subscription. If you sign up for the subscription, you'll save 25% on the first order and 10% on all orders after that. Subscription orders also ship free. If you do a single order, you'll get free shipping over $65.
Customer Experience
Orgain does accept returns. If you don't like the protein powder, you have 30 days from the day you receive it to send it back for a full refund. The company will cover the cost of return shipping for you, but you won't get a credit for any shipping fees you paid on your initial order.
Customer Reviews
The Orgain organic plant-based protein powder has an average rating of 4.5 out of 5 stars on the brand's site. It gets high marks from customers with food sensitivities or on restrictive diets who want to up their protein intake but have to be extra careful about ingredients. Customers also say it tastes good, it blends well, and it's not too sweet—which is really a testament to the fact that everyone really does have different tastes.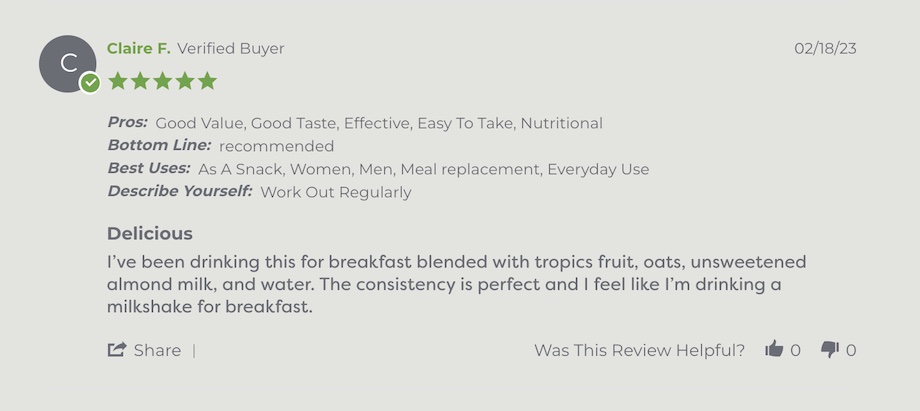 Amazon shoppers are big fans of this protein powder, too. It has more than 62,000 reviews with a 4.5-star average. Many customers agree that the flavors are pretty mild—like Nicole, some said they wished for just a little more oomph in the flavor department. However, overall it gets lots of praise for taste, ease of use, and the high-quality ingredients.

Final Verdict of Our Orgain Protein Powder Review
We love Orgain's quality ingredient list and overall mission: to make cleaner protein blends that can supplement your workout or act as a healthy meal replacement. However, we just couldn't get past the grassy flavor and aftertaste to be able to wholeheartedly recommend it. It does have a nice texture, though, and many who can't stomach whey protein powder say they don't have any digestive troubles with this one. If you need a dairy-free option and value the USDA organic seal, this may be a decent option for you.
Full Rating
Orgain Protein Powder
In this Orgain protein powder review, we'll highlight our experience with the product and dive into the brand to help you decide if it's right for you.
Product Currency: $
Product Price: 25
Product In-Stock: InStock
Orgain Protein Powder FAQs
Does Orgain Cause Digestive Issues?
Many people experience digestive issues with whey protein, so switching to a plant-based powder like Orgain may actually help alleviate these concerns. That being said, Orgain does contain erythritol, which is a sugar alcohol. Some people are sensitive to sugar alcohols, but erythritol seems to be more well-tolerated2 than others.
Can I Lose Weight On Orgain?
Protein powders can contribute to weight loss and body composition changes when worked into a healthy lifestyle. Orgain also offers meal replacement shakes and protein bars that can be part of a weight-loss plan. But for sustainable weight loss, you really need to make sure you're eating a balanced diet and committing to a regular workout routine and sleep schedule.
Can Orgain Protein Be A Meal Replacement?
The Orgain protein powder doesn't have a wide enough range of nutrients to replace a meal, but the company does offer specially formulated nutrition shakes that contain 20 vitamins and minerals, as well as a balance of protein, fat, and carbohydrates. Like the protein powder, the nutrition shakes are still low in grams of fiber, though, so you'd likely benefit from adding a side of veggies if you want to make it a meal.
These statements have not been evaluated by the Food and Drug Administration. This product is not intended to diagnose, treat, cure, or prevent any diseases.
References
Krajcovicova-Kudlackova, M, Babinska, K, Valachovicova, M. Health benefits and risks of plant proteins. Bratisl Lek Listy. 2005;106(6-7):231-234.
Mäkinen, KK. Gastrointestinal disturbances associated with the consumption of sugar alcohols with special consideration of xylitol: scientific review and instructions for dentists and other health-care professionals. Int J Dent. 2016;2016:5967907. doi:10.1155/2016/5967907