We test and review fitness products based on an independent, multi-point methodology. If you use our links to purchase something, we may earn a commission. Read our disclosures.
If you're reading this, you probably deal with tight muscles or some sort of post-workout muscle pain. No matter how much you work out or how long you've been doing the whole fitness thing, there are just some workouts that push your body to its limits and absolutely wreck your muscle tissue.
Luckily, there are a number of tools out there designed to deal with that, one of the most popular being massage guns (it seems the whole world has collectively moved on from the foam roller craze). My goal with this REP Rapidstrike Massage Gun review is to help you find out if this specific massage gun is right for you. Like all other home gym equipment—squat racks, barbells, dumbbells, and the like—there's a dizzying amount of massage guns to choose from.
Why You Should Trust Us
From Hypervolt to TimTam to ExoGun, I've been reviewing massage guns for years now. I've had my hands on most of the big-name products out there, and while the massage experience is totally subjective, I know what to look for in a percussive massage device that'll suit most people.
REP Rapitstrike Massage Gun Review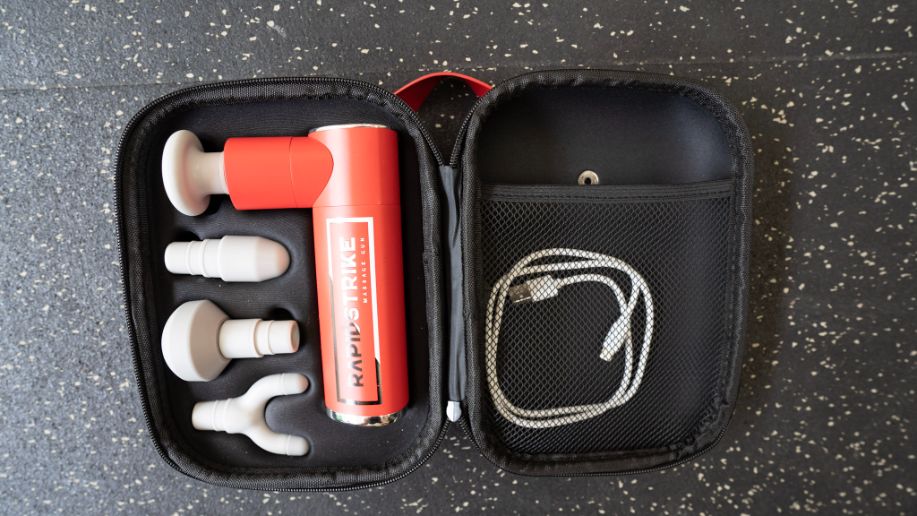 Product Highlights
Compact and lightweight
Easy to travel with
Quiet enough to use without disturbing others, even in the same room
Unclear specs
Pros & Cons
Pros
Compact and lightweight but powerful
Easy to travel with
Quiet enough to use without disturbing others, even in the same room
Cons
Could use some rubber gripping on the handle
Somewhat slow to charge (takes 60 to 90 minutes)
REP doesn't disclose a lot of the specs, like stall force and decibel level
Bottom Line
A small massage gun that offers a ton of value.
A Quick Look at the REP Rapidstrike Massage Gun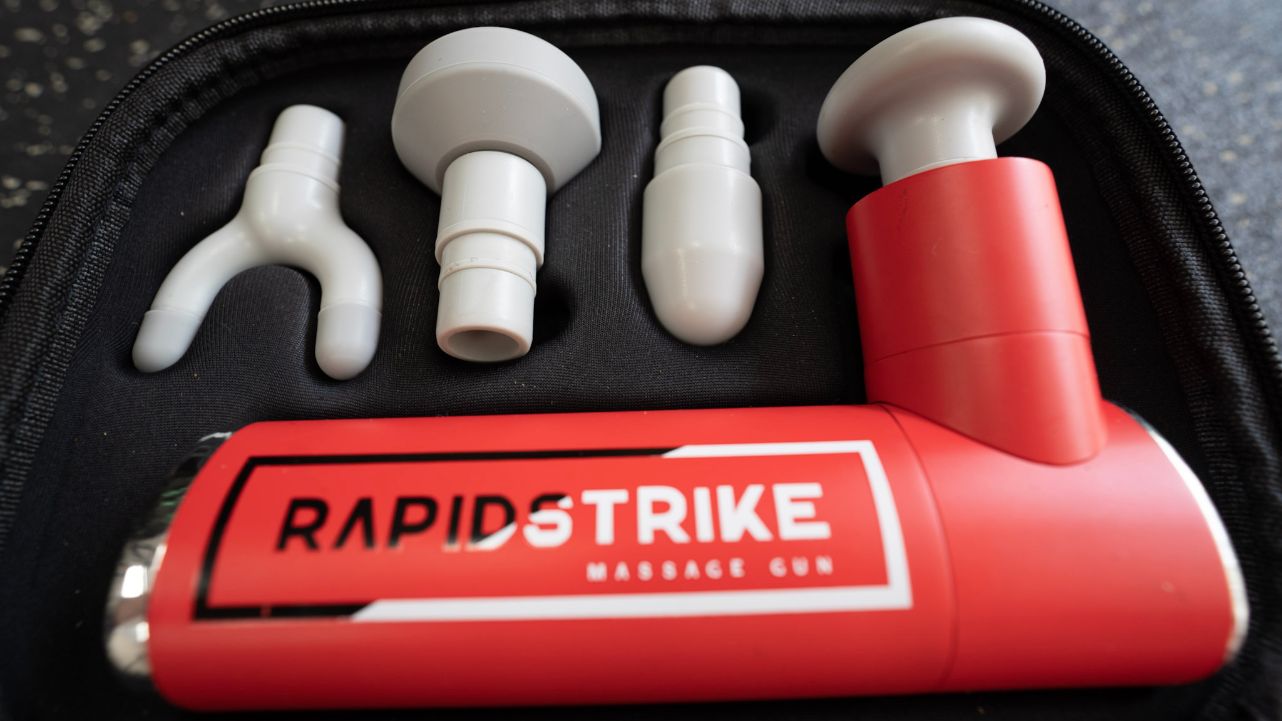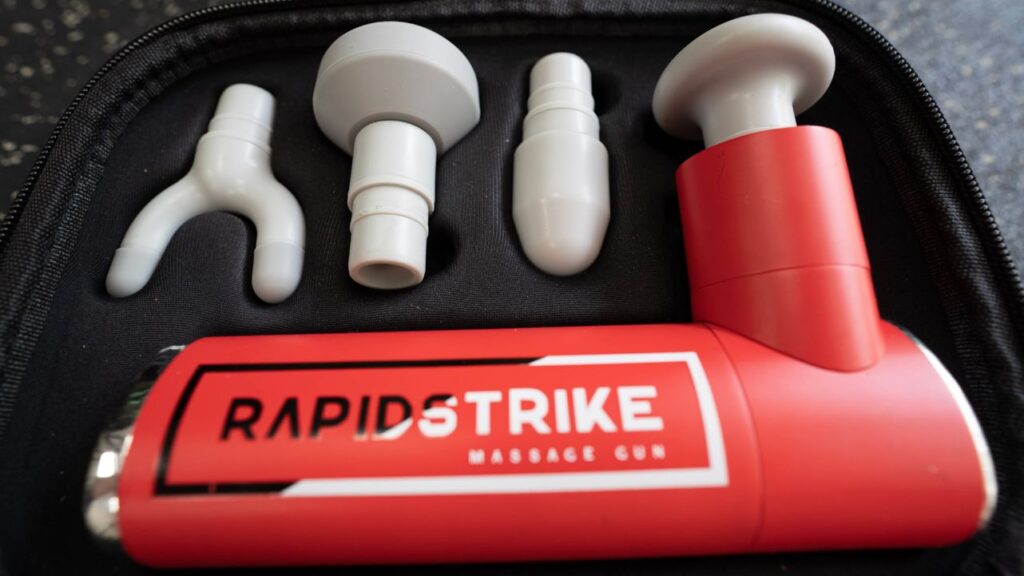 The Rapidstrike Massage Gun is the first percussive therapy device from REP fitness. REP has a few other recovery tools in their shop, but until now, they've only had basic items like foam rollers and floss bands. For the brand's first foray into percussion therapy, I think they did a phenomenal job.
Coop's Tips:
This is a mini massage gun, so don't set your expectations for a full-size one. For the compact size, it's very powerful.
Make sure you have an extra charging brick; this device doesn't come with one
There's no battery indicator light, so try to keep track of how long and how often you're using the Rapidstrike
My Favorite Things:
Compact and lightweight but powerful
Easy to travel with
Quiet enough to use without disturbing others, even in the same room
My Callouts:
Could use some rubber gripping on the handle
Somewhat slow to charge (takes 60 to 90 minutes)
REP doesn't disclose a lot of the specs, like stall force and decibel level
Is the REP Rapidstrike Massage Gun Worth It?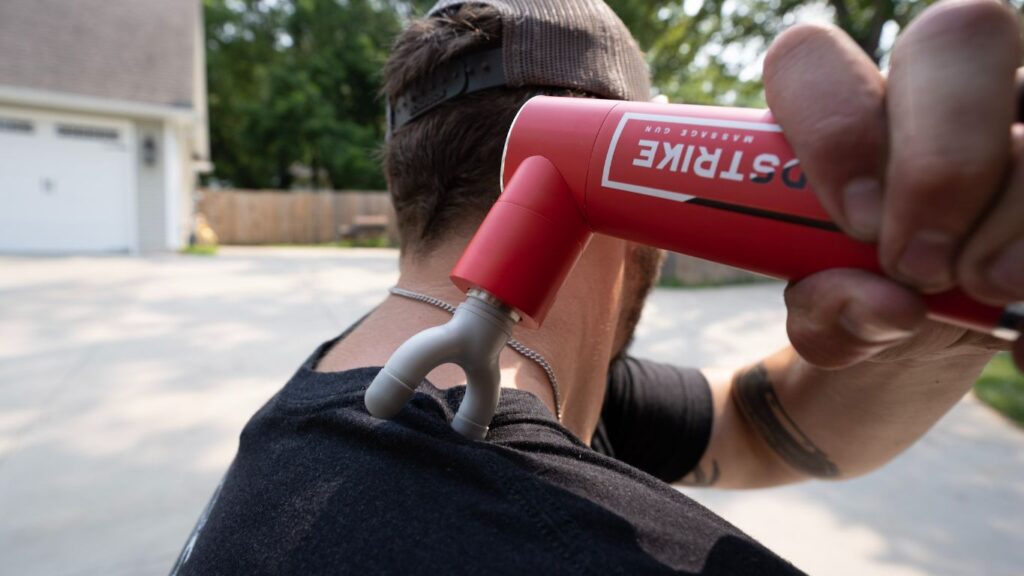 I 100% think the REP Rapidstrike Massage gun is a good value buy. It encompasses all of the features you'd expect in a high-quality percussive massage gun these days, and it's effective at reducing muscle tension, increasing blood flow, and targeting trigger points. There are massage guns available at lower prices, but the price point of the Rapidstrike is great for the quality you get. Overall, I think the Rapidstrike is one of the best massage guns out there.
Great for:
Anyone looking for a lightweight, compact but powerful massage gun
People who want a good value in the percussive therapy arena
Anyone who wants to add a basic but high-quality recovery tool to their home gym
Not recommended for:
People looking for something heavy-duty
Anyone who wants more than three speed settings
Anyone looking for tech features like Bluetooth connectivity
Using the REP Rapidstrike Massage Gun
Overall, I enjoyed my experience with this percussive therapy device. I'd like to see a few small improvements, which I cover throughout my review, but for the most part, the REP Fitness Rapidstrike Massage Gun really impressed me.
Attachments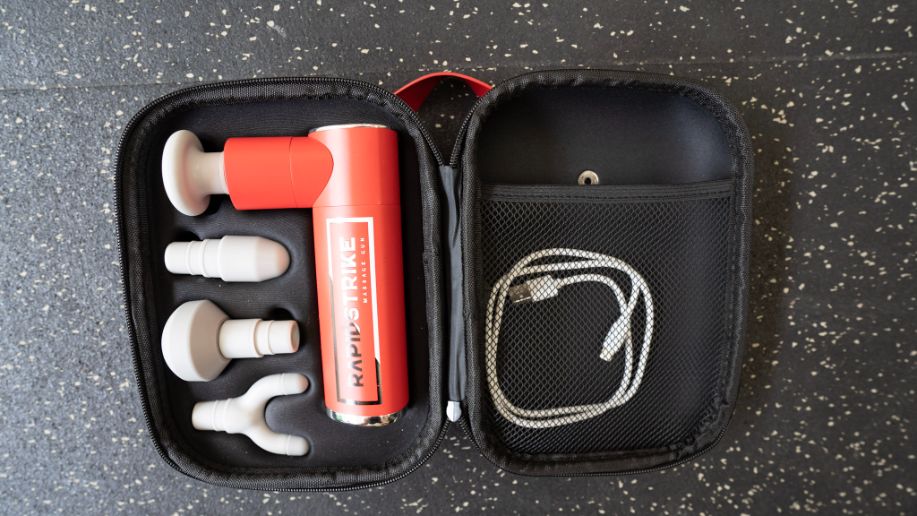 This massage gun comes with four different attachment heads, which is pretty good for a device of its size (usually, mini massage guns, which I'd classify this as, only come with one or two massage head attachments).
In the case with the percussion massage gun, you'll find a round attachment, flat head attachment, bullet attachment, and U-shaped attachment.
All of these are good for pain relief in their own ways, but they each have some specific applications:
The round attachment is good for sweeping large surface areas, such as the quads and hamstrings, and for treating general muscle soreness.
The flat head attachment can be used just about anywhere the round can be used, but it adds a little more oomph, making it feel like more of a deep tissue massage.
The bullet head attachment is great for digging into muscle knots and treating smaller, specific muscle groups, such as the arch of your foot.
The U-shaped attachment works great for treating sore muscles along your spine, as well as your neck, traps, and calves.
REP doesn't say what the attachments are made out of, but they feel like pretty standard silicone massage head attachments.
Experience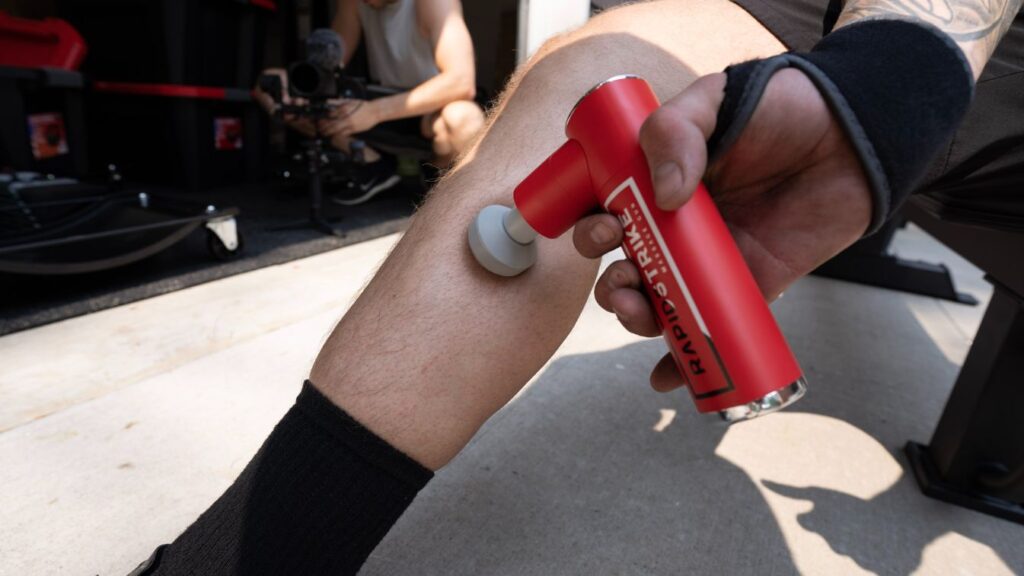 With three speeds, the Rapidstrike doesn't offer the most customizable experience when it comes to massage guns. However, for the size of this one, three speeds is impressive. Most mini massage guns only come with one or two speeds.
The Rapidstrike also has a unique feature I haven't seen on any other massage guns: It automatically adjusts the speed based on how much pressure you put on the massage gun. The harder you press, the more percussions per minute (PPM) you'll get. This is a really cool idea, but I honestly rarely used it because you have to press pretty hard to reach the highest speed, which is what I wanted.
REP states the Rapidstrike uses a high-torque brushless motor but doesn't disclose the power output of the Rapidstrike gun in terms of amplitude or stall force. That's something I really wish they had available online, as I think it's important for buyers to be able to compare those specs with other products. Anecdotally, however, it was quite powerful for the size. My Hyperice Hypervolt is more powerful, but it's also significantly larger. The compact form combined with the power surprised me.
As for sound, the Rapidstrike is easily quiet enough during use to not bother my wife while watching TV, even if we're in the same room. There are no specs listed online for noise either, so you'll just have to trust me that the decibel level isn't too high. In general, all of the newer massage guns are a far cry from the old jigsaw models that were excruciatingly loud.
Battery Life
I was skeptical that such a small massage gun could last for up to eight hours of use, but the Rapidstrike came pretty darn close. It charges with a USB Type-C cable (included) and a power brick (NOT included).
It takes about 60 to 90 minutes to fully charge the battery, which is pretty slow. However, thanks to the long battery life, you'll only need to charge it every couple of weeks probably. I do wish there was a battery indicator light to let me know when I was getting close to a dead battery.
Traveling With the REP Rapidstrike Massage Gun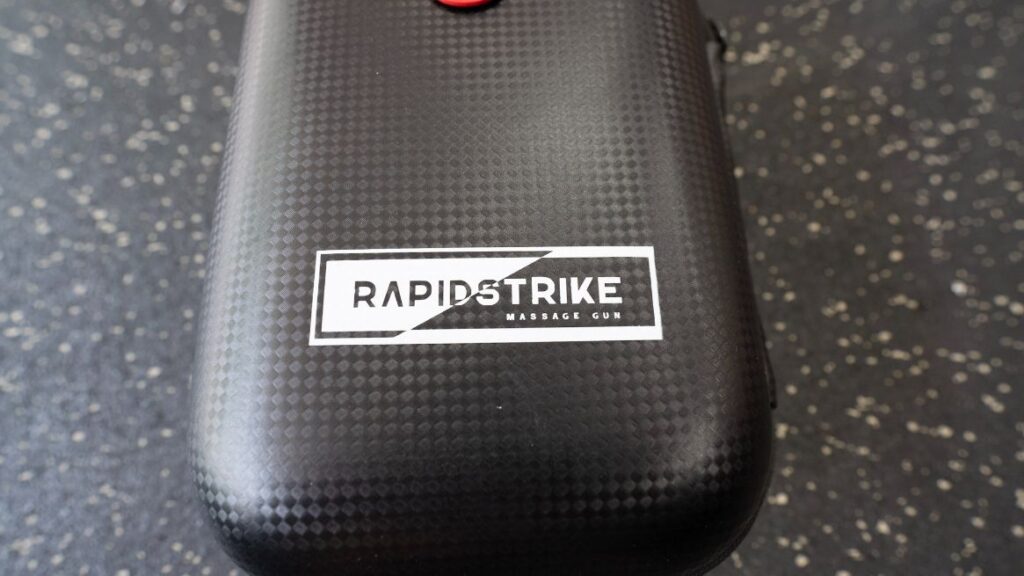 This thing is super small and portable, weighing less than 5 pounds. It can easily fit in your gym bag, even inside the carrying case with all of the attachments and the charging cable. There are definitely smaller massage guns out there, like the Theragun Mini, but you have to be aware of the trade-offs that come with different models (in the case of the Theragun, price and noise level).
The carrying case that comes with the Rapidstrike Massage Gun is of decent quality. I don't think it's crazy protective, so I don't recommend carelessly tossing it around or putting it in checked luggage without padding it with clothing. However, it should hold up to normal everyday use.
The Ergonomics
At first glance, this isn't the most ergonomically designed massage gun. However, it's so small that the boxy design doesn't matter. If it were larger, say the size of a Theragun, Hypervolt, or TimTam, I would expect REP to alter the design a bit to prevent fatigue in the hand and wrist while using it (something I noticed and didn't like about the ExoGun DreamPro Massage Gun).
One change I would like to see on the Rapidstrike is the addition of some rubber gripping on the handle. As is, the handle feels slightly slick, probably due to the fact that it's the same material as the rest of the body of the device—there's no differentiation, so it can take some experimenting to find the best grip for you. It's not like the massage gun was slipping out of my hands, but I do think a dedicated grip section would improve the product.
Adding more of an angle to the handle would also improve the ergonomics of the Rapidstrike massage gun.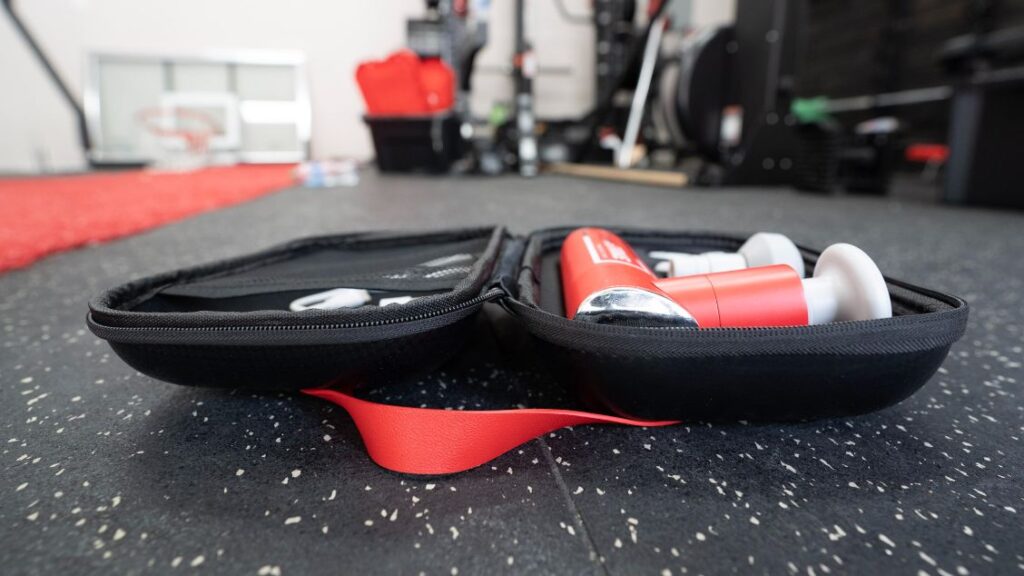 Technology Benefits and Conveniences
There's nothing crazy high-tech about the Rapidstrike Massage Gun, but I personally don't care for those features. Many massage guns these days have WiFi and/or Bluetooth connectivity along with accompanying apps (Theragun and Hypervolt to name a couple). You can log and track your recovery sessions, add notes, and even create full recovery protocols based on your workout routine.
I think this is a little unnecessary and assume only elite athletes need or benefit from features like that. Most people just want a quick, at-home massage to knock off some soreness. Also, if you don't have your diet or training regimen dialed in, you probably shouldn't be worried about logging percussive therapy recovery sessions. Just sayin'.
Anyway, the Rapidstrike Massage Gun does everything you need it to do—deliver a high-impact percussive massage—and it isn't fluffed with any unnecessary features.
Ordering the REP Rapidstrike Massage Gun
Nothing out of the ordinary occurred during the ordering, shipping, or delivery of the REP Rapidstrike Massage Gun. I received the package within a few days of ordering, and the box was in good shape. You can't order REP products on Amazon, but for small items like this, I'd say the shipping and delivery process is just as good.
REP Fitness offers free shipping on all of its products, which is a huge plus in my opinion. Free shipping on all orders is definitely not the standard (yet) in the fitness equipment industry, so I love to see it.
REP Rapidstrike Massage Gun Specs
| | |
| --- | --- |
| Speeds | 3 |
| Motor | Brushless |
| Attachments | 4 |
| Battery Life | Up to 8 hours |
| Noise | Quiet |
Customer Experience
I always have a good experience ordering equipment from REP Fitness. The checkout process is easy, shipping is free, and delivery is fast. REP also has great customer service. If you run into any problems, you can get in touch with the company by emailing info@repfitness.com or calling 720-420-1731.
Or, if you don't feel like interacting with humans, you can always go to REP's FAQ section. The website houses thorough FAQ pages on general questions, product questions, shipping and return questions, and manufacturing questions.
REP offers a pretty good warranty on the Rapidstrike gun: 18-month limited manufacturer's warranty. Most massage guns come with that same type of warranty but only for 12 months.
Customer Reviews
This product is relatively new, so there aren't many customer reviews yet. On the REP website, there are three reviews at the time of writing, and they're all five stars. The reviewers say they're pleasantly surprised and fully recommend the Rapidstrike massage gun. One reviewer even said he didn't know how he ever managed without it.
Full Rating
REP Rapidstrike Massage Gun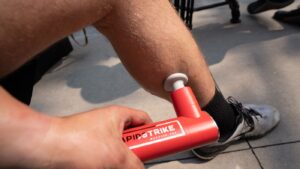 There are hundreds of percussive massage devices out there, and many have the exact same design—but the build quality, power, and price on this make it a tremendous value. I do wish it had a bit harder percussion and possibly a few more attachment options, but again, the price is right. The REP Rapidstrike Massage Gun is powerful for its size, easy to use for long periods of time without fatigue in the wrist and forearm, and overall, a solid value from a reputable company.
Product Brand: REP Fitness
Product Currency: USD
Product Price: 139
Product In-Stock: InStock
REP Rapidstrike Massage Gun FAQs
Is the REP Rapidstrike Massage Gun a good massage gun?
I think the REP Rapidstrike Massage Gun is one of the better percussion massagers in its price range. For $139, you get ample power, three speed settings, and a quiet, ergonomically comfortable experience.
How long does the REP Rapidstrike Massage Gun battery last?
According to the REP Fitness website, the battery on the Rapidstrike Massage Gun lasts for up to eight hours of use. The actual battery life came pretty close to that when I was testing it; if you use it for about 30 minutes a day, you should get two weeks of use out of it.
When is the best time to use a massage gun?
Opinions vary, but in my experience, it's best to use a massage gun either right before a workout (if your goal is to increase mobility and reduce soreness as part of a warmup) or right after a workout to expedite muscle recovery.
Can you use the REP Rapidstrike Massage Gun every day?
It's safe to use the Rapidstrike Massage Gun or any other massage gun every day as long as you follow the instructions and don't use the massage gun on any injury sites.