We test and review fitness products based on an independent, multi-point methodology. If you use our links to purchase something, we may earn a commission. Read our disclosures.
It wasn't too long ago that the only people who knew of percussion massagers were those who worked in physical therapy and chiropractic work that used heavy, expensive, plug-into-the-wall units. Although these are still available and work extremely well, they're not very practical for the typical consumer. Fortunately, brands like Therabody and Hypervolt burst onto the scene to make user-friendly massage tools we can keep in our own homes.
I got the Hypervolt Hyperice in 2018, and I still believe it is one of the best massage guns available on the market today. Despite substantial use, I still use this in my garage gym. In my Hyperice Hypervolt review, I'll go over the multiple attachments that are easy to interchange, the long-lasting battery, and, most importantly, one of the quietest motors we've used.
Why You Should Trust Us
This isn't the first time you've seen us discuss massage guns. My team and I have reviewed a number of products and even showed you how to create your own DIY massage gun. We have used dozens of these tools and know how to evaluate percussions per minute, massage depth and ergonomics.
I used the Hypervolt on sore muscles both before and after training. I made sure to test the different speeds and even compare it to other guns in terms of how loud (or, in this case, how quiet) the Hypervolt is. Staff writer Amanda Capritto has also tested another in the Hypervolt line, the Hypervolt Go, which sits on our list of best massage guns.
Hyperice Hypervolt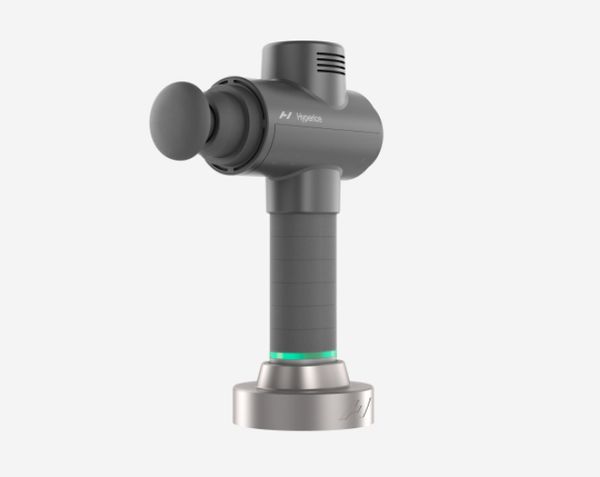 Hyperice Hypervolt 2
There are a LOT of massage guns out there. In fact, expert product testers at Garage Gym Reviews have reviewed and covered nearly 50 among our various massage gun guides, reviews, and comparisons. Hypervolt is one of the better known names in the workout recovery arena--it's up there with Theragun. (We even published a Hypervolt vs. Theragun in-depth comparison because both are so popular.)The Hypervolt 2 is Hyperice's base model percussive massage gun, and it features a lot of upgrades over the original Hypervolt. It's lightweight at 1.8 pounds and Bluetooth-enabled, for example. With three speeds of percussion and five interchangeable massage head attachments, the Hypervolt 2 is more than sufficient for the average fitness enthusiast or home gym owner.It's not the most powerful massage gun, and our team isn't thrilled at the fact that Hyperice doesn't publish certain specifications, but in our testing, it's clear that the Hypervolt 2 is one of the better options with enough power and versatility for most people.RELATED: Best Massage Guns
A Quick Look at the Hyperice Hypervolt
Hyperice has an entire line of recovery tools, including vibrating foam rollers and air compression boots. The Hypervolt is the first generation in the brand's percussive therapy line (there are five such products).
Coop's Tips
The battery life is up to two hours, but using at top speeds could drain it quicker.
If you want an even more travel-friendly massage gun, check out the Hypervolt Go.
The initial battery charge can take up to six hours, so be prepared.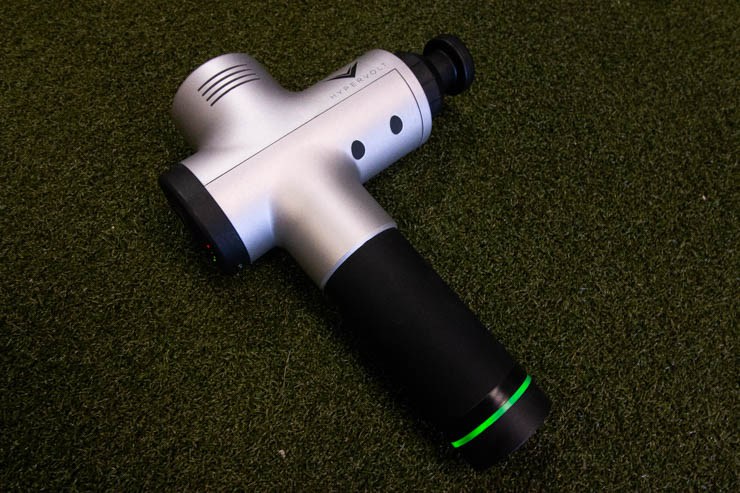 Pros
Super quiet but powerful motor reaches up to 3,200 percussions per minute
Multiple speeds
Five attachment heads
Great price point
Two-hour battery life
Cons
No carrying case for entire unit
No rotating head
One color option
Video Review
Is the Hyperice Hypervolt Worth It?
When the Hypervolt came onto the market, there weren't many other massage tools like it: light, quiet, powerful. Now, there are tons of options out there, though many fail to capture all three of those features.
After three-plus years of using the Hypervolt, I still find that it works quite well. Therefore, I believe it's one of the better options out there at this price point, which is around $250. That's about mid-range, maybe a little higher, when it comes to quality massage guns.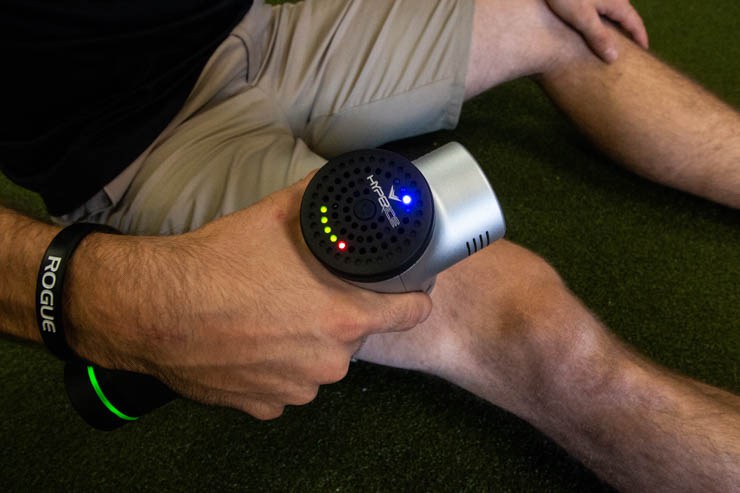 Great for:
People seeking a massage gun with a good battery life
Beginners who want something easy to use
Those seeking multiple speed settings
Hypervolt Comparison and Specs
There are six products in the Hypervolt line: The OG Hypervolt, the Hypervolt 2, the Hypervolt 2 Pro, the Hypervolt Go, the Hypervolt Go 2, and the Hypervolt Plus.
As of this writing, only three are available for purchase on the Hyperice website: The Hypervolt 2, Hypervolt 2 Pro, and Hypervolt Go 2. If you want any of the other three, you'll have to find them on a third-party retailer site such as Amazon, Walmart, Best Buy, or REI.
Aside from the price, the biggest differences are in motor power and the number of attachments.
| | Hypervolt | Hypervolt 2/2Pro | Hypervolt Go | Hypervolt Go 2 | Hypervolt Plus |
| --- | --- | --- | --- | --- | --- |
| Price | $249 | $299/$399 | $159 | $199 | $299 |
| Footprint | 9.7 x 7 x 2.5 in | 7.5 x 2.5 x 9.5 in | 5.5 x 5.5 x 2 in | 6.7 x 7.3 x 2 in | 9.7 x 7 x 2.5 in |
| Speed | 3 speeds | 3 speeds (5 speeds on the Pro) | 3 speeds | 3 speeds | 3 speeds |
| Motor | Brushless high-torque 60W motor | Brushless high-torque 60W motor (90W on the Pro) | Brushless high-torque 40W motor | Brushless high-torque 40W motor | Brushless high-torque 90W motor |
| Attachments | 5 (fork, ball, cushion, flat, bullet) | 5 (fork, ball, cushion, flat, bullet) | 2 (flat, bullet) | 2 (flat, bullet) | 5 (fork, ball, cushion, flat, bullet) |
| Battery Life | 2 hours | 3 hours | 2.5 hours | 3 hours | 2.5+ |
| Weight | 2.5 lbs | 1.8 lbs | 1.5 lbs | 1.5 lbs | 3 lbs |
| Bluetooth | Yes | Yes | No | No | Yes |
Using the Hyperice Hypervolt
The Hypervolt looks like a professional tool. Its sleek black-and-silver build along with the fit and function look like a Gen5 product, not a first iteration (the ensuing models, like the Hypervolt Go and Hypervolt Plus, are also attractive).
After using the Hypervolt for more than three years, I can say with confidence that Hyperice absolutely hit it out of the park with this one.
One feature I love is that not only does it have multiple speed options, but it doesn't require you to hold a trigger. You simply press the power button on the back of the device and it's ready for use. If you want more power, you press the button again. It's that simple. On top of that, the Hyperice has an LED light system on the back of the unit to display exactly what speed you are at.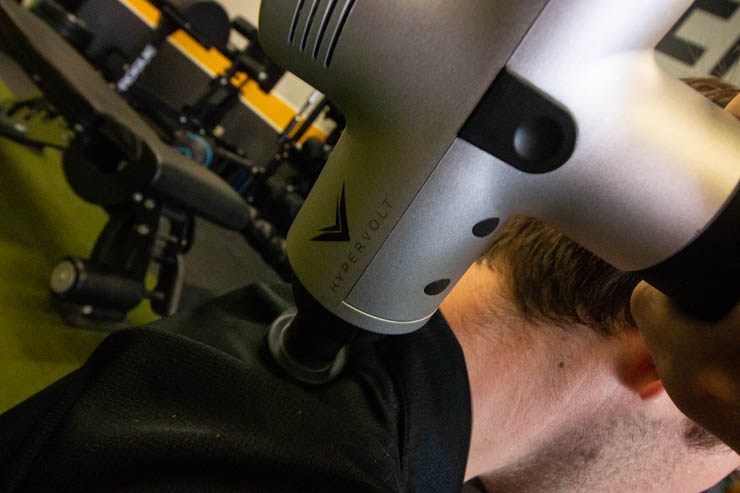 At its max speed, the Hyperice can deliver up to 3,200 percussions per minute. It definitely does feel different from the jigsaw counterparts. Rather than a hard percussion, it's more of a vibration, which I and the people I've used it on have actually preferred.
For reference, the Theragun Pro produces 2,400 percussions per minute, quite a bit less than the Hyperice, which is why the Hyperice feels more like a vibration than percussion.
Attachments
Every Hypervolt comes with multiple attachments to interchange. When I got the Hypervolt, it only had four attachments: ball, a flat-head, a bullet, and a fork-shaped head attachment. Hyperice has now added a fifth option, which they call "cushion," which looks like several of the flat-head options stacked on top of each other.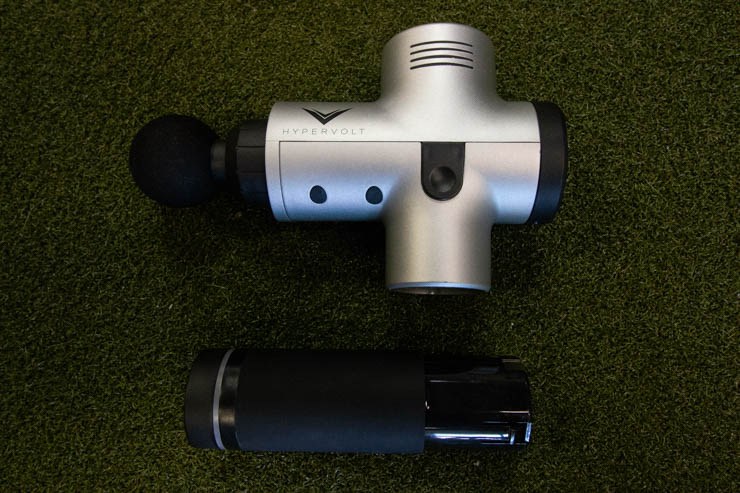 These attachments are all very easy to interchange. When first using an attachment, simply push the attachment opening allotted for the different heads. If you are wanting to change from the flat-head to the ball attachment, simply pull out the flat head and push the ball in. This process is super easy and convenient.
While the ball head is made of a hard foam, each of the other attachments is constructed of a hard plastic.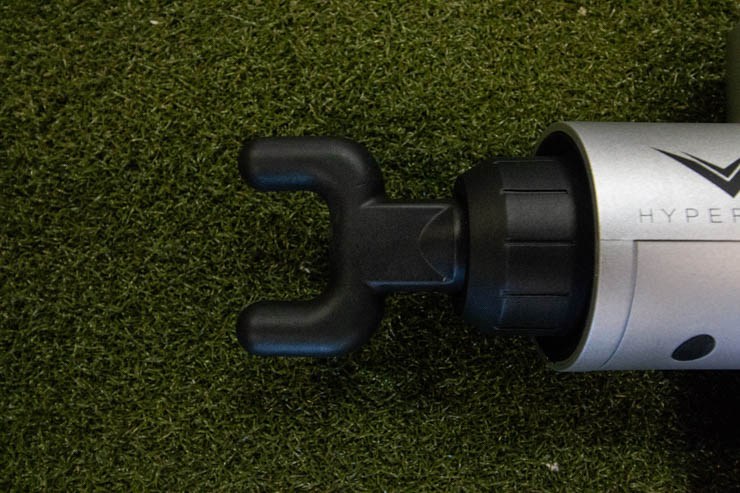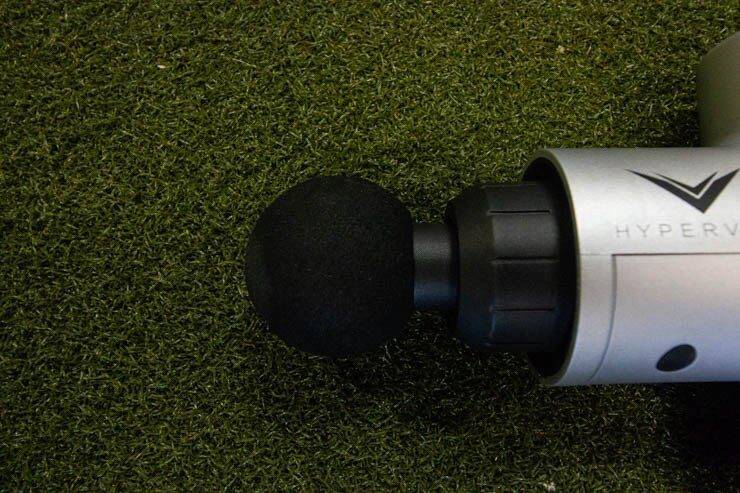 Noise
Although all of these features are great, far and away the biggest benefit for the Hypervolt is that it is unbelievably quieter than its jigsaw competitors. Hyperice leans on their "QuietGlide" technology for that, which literally allows you to carry on a conversation while massaging. That's not just a marketing phrase, it actually works in that way.
Battery Life
The battery used for the Hyperice is a rechargeable lithium-ion battery, similar but quite a bit larger than what is found in your phone. The specific battery for the Hyperice allows a person up to two hours of use (the Hypervolt 2 can last up to three hours). You use the included adapter to charge the battery, which takes less than six hours.
It's worth noting here that on Amazon, the battery life is marked for three hours, but on the Hyperice website, the battery life is said to be just two hours. In our experience, we did get almost three hours out of the battery.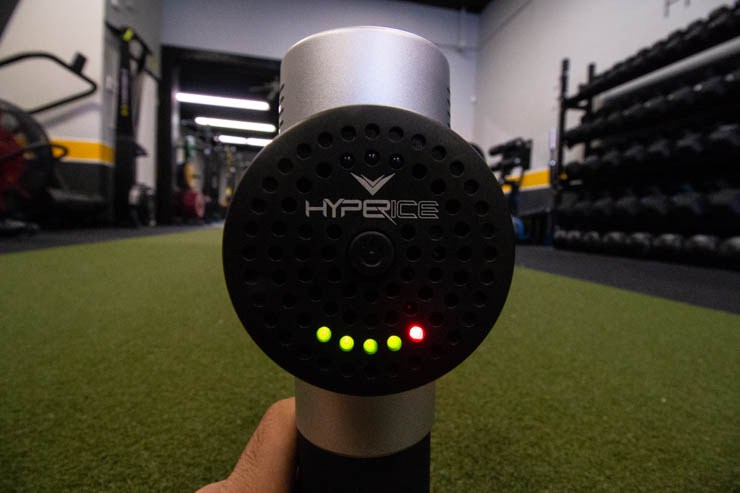 A cool aspect of the Hypervolt line is the battery life display. Although it isn't as precise as what your phone shows, the four LED lights are more than enough to decide when to put the Hypervolt on the charger. The Hypervolt has four green lights and one red light.
Once the switch of the device is turned on, the battery lights on the back of the gun turn. There is also a light ring on the bottom of the grip that glows green when the device is turned on. The green lights fade away as the battery power becomes lower.
Traveling With the Hypervolt
The original Hypervolt is relatively light, weighing in at 2.5 pounds. It's light enough to be able to use on yourself with one hand, but substantial enough that you don't feel like you're able to push against it with much force.
The entire Hypervolt line is TSA-approved for carry-on. However, if you really want a small massage device that packs the power and quietness of the Hypervolt, we actually like the Hypervolt Go best.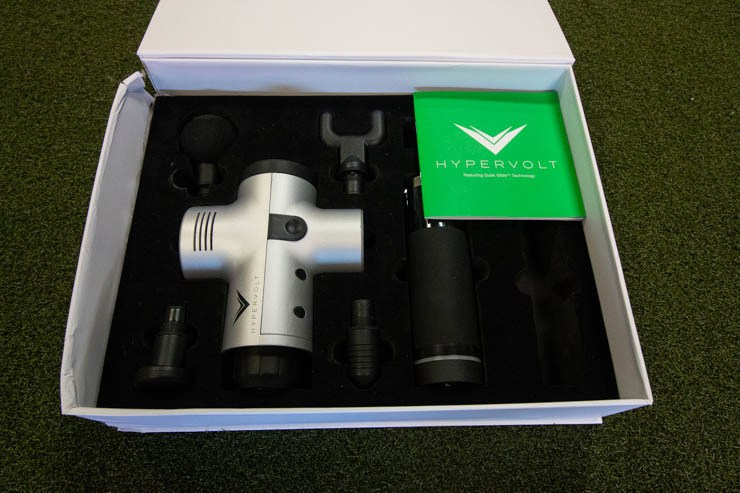 The Ergonomics
From an ergonomics standpoint, the Hypervolt is built pretty similarly to other cordless massage guns in that it looks like an actual gun or a drill. The grip portion of the device features a rubber coating, which does help in terms of keeping the Hypervolt locked into your hand. Also, it's nice that it's such a light product, because the last thing you want when treating sore muscles is to create another sore muscle.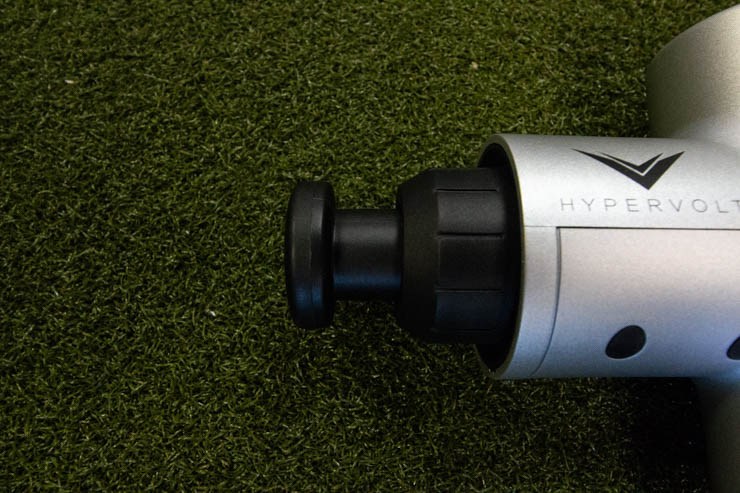 Technology Benefits and Conveniences
In the fall of 2020, Hyperice launched an app. There are some pretty cool tools in there, like guided warmups and recovery routines. It can also sync to many of the brand's devices–including the Hypervolt–using Bluetooth. Doing so gives you a few benefits:
Automatic speed changes
Guided percussive routines
A "HyperSmart Score" to let you know if you are matching your usage to your activity levels
The original Hypervolt was not Bluetooth-enabled, but now, every product in the line except for the Hypervolt Go has the capability to connect to the app.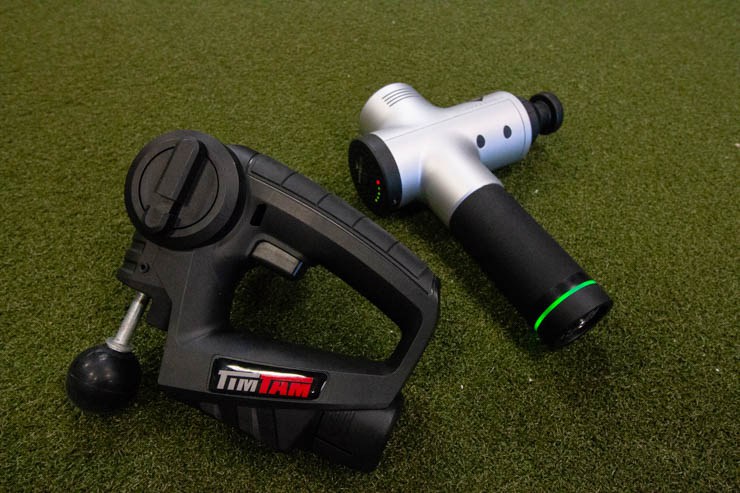 Suggested Improvements
Even though I love the Hyperice Hypervolt, there are some things that would be a great addition to the device. For example, it doesn't have a rotating head the way devices like the Theragun Pro and TimTam have.
Also, the Hypervolt doesn't have a carrying case for the entire unit. It only has a pouch for the attachments.
Finally, producing the Hyperice with multiple color options would take it to the next level. I love the classic gray-and-black look, but I would also like to have other options when making a purchase.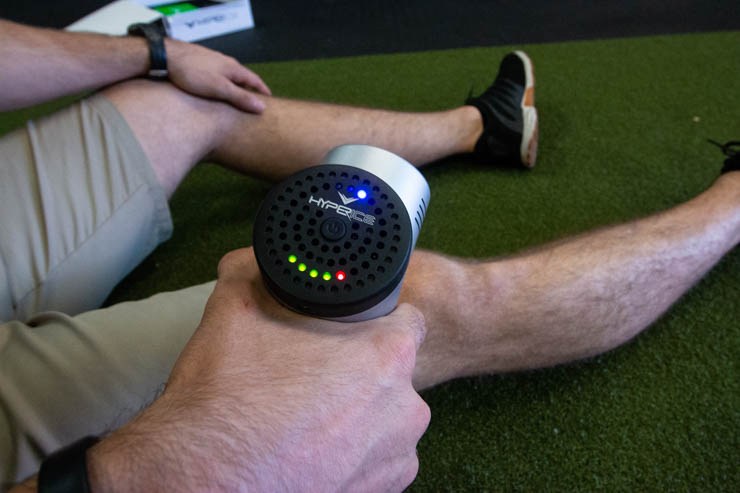 Hyperice Hypervolt vs. Therabody Theragun Prime
Theragun might be one of the most recognized names in percussive therapy. We have used Theragun Prime extensively and believe it is one of the best massage guns out there. It is about $50 more expensive than the Hypervolt (and priced the same as the Hypervolt Plus).
Theragun Prime shines in its ergonomic, triangle-shaped handle, as well as its multitude of speed options (if you use the app, you can choose any speed between 1,750 and 2,400 percussions per minute). While Theragun claims to be quiet, we don't think it's nearly as quiet as the Hypervolt. Also, the Hypervolt offers five attachments, whereas the Theragun only offers four.
If noise or price is an issue, then Hypervolt is the way to go. Otherwise, we can't argue with how great the Theragun Prime is. Read our full Theragun review covering all four models, and our in-depth Hypervolt vs. Theragun comparison.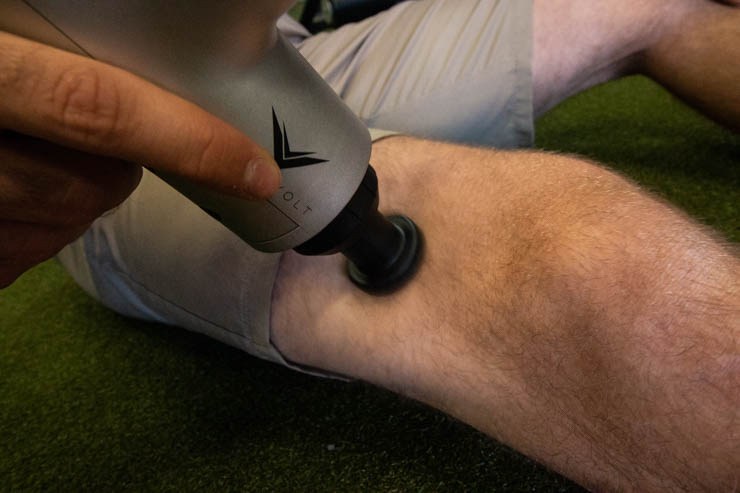 Customer Experience
All the Hypervolt items come with a one-year warranty, which is pretty standard for top-tier massage guns (though some, like the REP Fitness Rapidstrike, offer an 18-month warranty).
The return policy for the Hypervolt (as well as other products from Hyperice) is standard: You have 30 days from the time you receive the massage gun to initiate the return. You are responsible for shipping costs.
Customer Reviews
They Hypervolt has a whopping 4.8/5 stars on Amazon reviews (there are no reviews on the Hypervolt website). We especially enjoy the review from "Tech Daddy" who also owns a Theragun:
There is just one one-star review on Amazon from a buyer who says the product was defective; another good reminder to buy directly from the brand when you can.
Final Verdict of Our Hyperice Hypervolt Review
Overall, the Hyperice by Hypervolt is one of the best options when looking at different massage guns available on the market today. With its multiple speed options, five different head attachments, and great price point, we highly recommend the Hypervolt.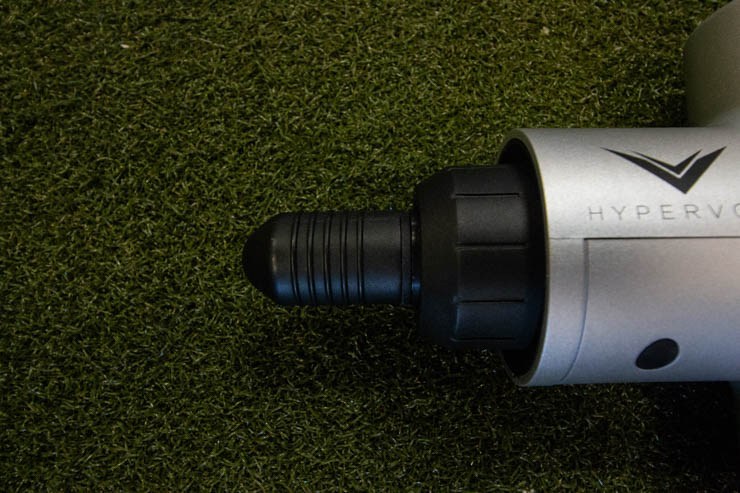 Hyperice Hypervolt Full Rating
HyperIce Hypervolt
The Hypervolt Hyperice is the best price point option for massage guns available on the market today. The device is equipped with multiple attachments that are user-friendly to interchange, a long-lasting battery, three different speed options, and most importantly the quietest motor we've used. The Hypervolt is the best portable massage gun currently available.
Product Brand: Hyperice
Product Currency: USD
Product Price: 349
Product In-Stock: InStock
Hyperice Hypervolt FAQs
Is the Hyperice Hypervolt worth it?
Priced around $250, the Hypervolt is not quite as expensive as the super high-end massage guns, but it certainly isn't dirt cheap. We do believe that this is one of the best percussive massage tools on the market. After using it for the past three years, it continues to perform well. It has a great battery life, up to 3200 percussions per minute, and five interchangeable head attachments.
What is Hyperice good for?
Hyperice is known for making high-quality recovery tools of all kinds. We use the Hypervolt (one of the brand's massage guns) to target sore muscle groups all over; glutes, hamstrings, quads, trigger points in the back, and more. This alleviates muscle soreness and can also be used before working out to loosen tight muscles.
Is the Hypervolt Plus better than Theragun?
This really comes down to which Theragun you're looking at. The Hypervolt Plus costs around $300, which is the baseline price for the first iteration of Theragun. We love the Hypervolt line for its price point and performance, though we believe the Theragun Prime to be one of the best massage guns on the market. Do your research and evaluate things like speed options, battery life and price.
Does Vibration Therapy Work?
I don't think it's enough to say, "I feel good after I use a massage gun." Should you use it if it does that? Sure, feeling good is important, but I don't think it's enough to say it works.
Thankfully, there are multiple studies that point to the effectiveness of vibration therapy.
In a study "To Compare the Effect of Vibration Therapy and Massage in Prevention of Delayed Onset Muscle Soreness (DOMS)" the result was that muscle soreness was reported to be significantly less for experimental (vibration and massage) group (p=0.000) as compared to control group at 24, 48, and 72 hours of post-exercise.
For me, this, coupled with the fact that I feel great after using massage guns, is enough to continue their use until proven otherwise.