We test and review fitness products based on an independent, multi-point methodology. If you use our links to purchase something, we may earn a commission. Read our disclosures.
Hyperice and Therabody are perhaps the two biggest names in fitness recovery. Both brands offer a swath of muscle recovery devices, from compression boots to cryo devices to, of course, massage guns. In this Hypervolt vs. Theragun guide, I put the two brands' percussive massage guns in a head-to-head comparison. 
Why You Should Trust Us
I've extensively tested all Theragun models and most Hypervolt models, including the top-of-the-line Theragun Pro and Hypervolt 2. In addition to testing the latest models of massage guns from both brands, I've also tested previous generations, so I'm able to analyze how each brand has improved its products to better suit the consumer. I also understand all of the vital specs, such as amplitude and stall force.
Quick Look: Hypervolt vs. Theragun
Hypervolt and Theragun are two OG massage gun products, and both come from a top fitness recovery brand: Hyperice and Therabody, respectively. Hypervolts and Theraguns have been around for several years and have seen several iterations, with each new generation improving upon the last.
Both product lines are respectable and will get the job done for the average fitness consumer, but throughout this Hypervolt vs. Theragun comparison, you'll begin to understand why I prefer Theraguns over Hypervolts.
| | |
| --- | --- |
| Hypervolt Quick Facts | Theragun Quick Facts |
| 6 models available (3 on Hyperice site) | 4 models available |
| Slightly quieter but slightly less powerful | Slightly louder but slightly more powerful |
| Cylindrical handle | Triangular handle |
| Plastic and silicone attachments | Closed-cell foam attachments |
| Carrying case not included | Carrying case included |
| Max 3-hour battery life | Max 5-hour battery life |
| Price range: $159 to $399 | Price range: $199 to $599 |
Who Should Buy Hypervolt
People who want a gentler massage or don't mind sacrificing a bit of amplitude for price
People who want the quietest option
Hypervolt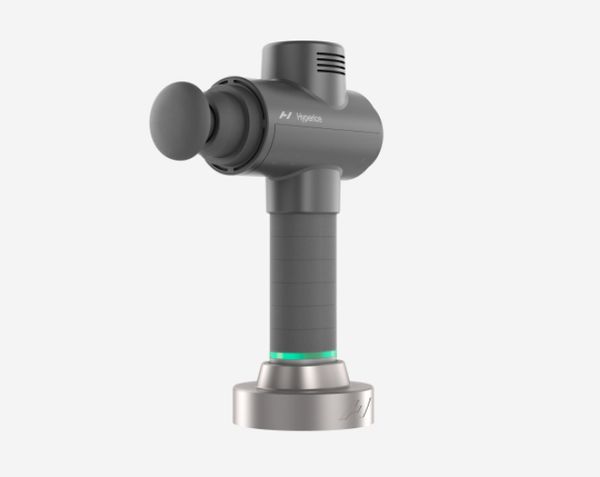 Hyperice Hypervolt 2
There are a LOT of massage guns out there. In fact, expert product testers at Garage Gym Reviews have reviewed and covered nearly 50 among our various massage gun guides, reviews, and comparisons. Hypervolt is one of the better known names in the workout recovery arena--it's up there with Theragun. (We even published a Hypervolt vs. Theragun in-depth comparison because both are so popular.)The Hypervolt 2 is Hyperice's base model percussive massage gun, and it features a lot of upgrades over the original Hypervolt. It's lightweight at 1.8 pounds and Bluetooth-enabled, for example. With three speeds of percussion and five interchangeable massage head attachments, the Hypervolt 2 is more than sufficient for the average fitness enthusiast or home gym owner.It's not the most powerful massage gun, and our team isn't thrilled at the fact that Hyperice doesn't publish certain specifications, but in our testing, it's clear that the Hypervolt 2 is one of the better options with enough power and versatility for most people.RELATED: Best Massage Guns
Who Should Buy Theragun
People who want the deepest amplitude possible
Anyone who wants precise programmable speeds (rather than fixed speeds)
People who want the longest battery life possible (Pro model only)
Theragun Prime
Theragun Prime
The Theragun Prime is Therabody's most basic massage gun, but don't let that fool you: It still provides intense percussive power, reaching an amplitude of 16 millimeters into the body's soft tissue. Equipped with three speed settings and four interchangeable massage head attachments, the Theragun Prime is a solid-gold choice for the everyday athlete.
Theragun vs. Hypervolt: Pros and Cons
Whether you're looking for a percussive massage gun to reduce muscle soreness after workouts, loosen up your hamstrings before heavy deadlifts, or replace your old foam roller routine, you need to know the good and bad about your product options.
This chart points out some of the key pros and cons for both brands:
Theragun Pros/Cons
| | |
| --- | --- |
| Pros: | Cons: |
| Powerful amplitude & stall force on the market | Expensive, especially pro-grade model |
| 4 models to choose from | Heavy and bulky, except the Mini |
| Programmable speeds | Louder than Hypervolt |
Hypervolt Pros/Cons
| | |
| --- | --- |
| Pros: | Cons: |
| Weigh less than all the Theragun models | Doesn't publish info like amplitude and stall force |
| 6 models to choose from (but only 3 from Hyperice site) | Max power output is 90 watts |
| Quieter than Theraguns | Preset speeds only |
Hypervolt vs. Theragun: Key Similarities
Offer multiple models of massage guns
Charge via lithium ion batteries
Have models with Bluetooth connectivity
All models come with carrying case
Have interchangeable heads
Used by professional athletes
Have multiple speed settings
Can easily fit in a gym bag or backpack
Similar price points
Use brushless motors
More expensive models have pressure sensors
Hypervolt vs. Theragun: Key Differences
Hypervolt has six available models (but only three on official website), while Theragun has four
Theraguns have higher amplitudes
Theragun offers customizable speed levels, while Hypervolt has fixed speeds
Hypervolt's mini massage gun is sometimes available at a lower price than Theragun Mini
Essential Specs: Amplitude, Speed, Sound, and Stall Force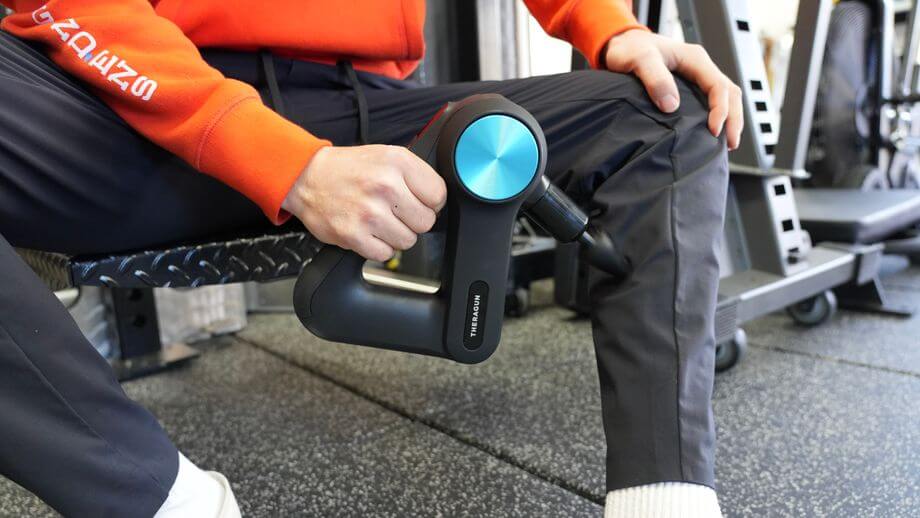 There are four main things people should look for when researching massage guns: amplitude, or how deep the device reaches into soft tissue; speeds at which the massage gun operates; noise level; and stall force, which refers to how many pounds of pressure the device can handle before stalling out. This section analyzes those four specs across Theragun and Hypervolt models.
Amplitude
Amplitude is perhaps the most important spec when it comes to percussive massage guns. The amplitude of a massage gun refers to how deeply the device massages your muscle tissue, which is a crucial piece of information.
An amplitude of less than 10 millimeters, for example, will do next to nothing, as it's basically just vibration.
All Theragun models, except the Mini, have an amplitude of 16 millimeters, which is currently the deepest amplitude of all massage guns available. The Mini has an amplitude of 12 millimeters, which is deeper than any other mini massage gun I'm aware of (and deeper than many full-sized massage guns).
Hypervolt does not publish amplitude information on the website or on third-party retail listings. Unfortunately, the best I have for you is an estimate based on feel after using Theragun and Hypervolt models side-by-side.
After using the Theragun Mini and Hypervolt Go immediately after one another, I estimate the amplitude of the Hypervolt Go to be about 10 millimeters. And after using the Theragun Prime and Hypervolt 2 one after the other, I estimate the amplitude of the Hypervolt 2 to be about 13 to 14 millimeters.
I wish I had more cut-and-dry information on Hypervolt amplitudes, and I hope to either eventually get this information from Hyperice or devise a test wherein I can actually objectively measure the amplitude.
Stall Force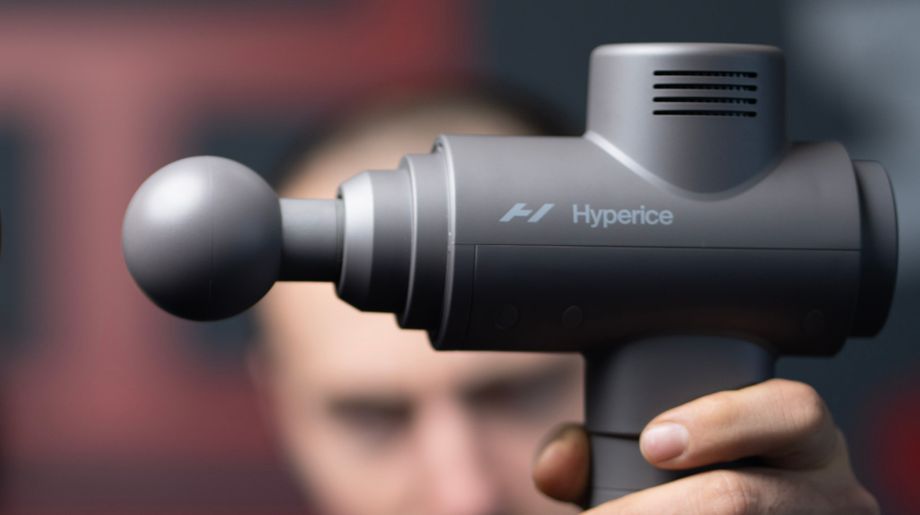 Stall force refers to the amount of pressure in pounds you can apply to a massage gun before the motor stalls. When the motor of a massage gun stalls, the device will bounce or "stutter" against your skin, which doesn't feel great.
The stall force on Theraguns is clear and straightforward:
Mini: 20 pounds
Prime: 30 pounds
Elite: 40 pounds
Pro: 60 pounds
Hyperice does not publish the stall force information for any of its massage guns, which I don't like. I think this is something all massage gun manufacturers should clearly publish because it's one of the most important specs in a massage gun.
Based on feel and Theragun's published numbers, my best guess is that the stall force on Hypervolts is as follows:
Hypervolt Go 2: about 20 pounds
Hypervolt 2: 30 to 40 pounds
Hypervolt 2 Pro: 40 to 50+ pounds
I found in a massage gun Q&A forum that the Hypervolt Plus stall force is 80 pounds, but I can't find that information anywhere else online. The Hypervolt Plus isn't available on the Hyperice website anymore, anyway, although I think you can still find it (as well as the original Hypervolt and Hypervolt Go) on third-party retailers such as Best Buy.
It's hard to compare this spec between brands because of the lack of transparency from Hyperice. Based on feel alone, I believe Theragun is the more powerful massage gun if you're looking at each brand's top-of-the-line model.
Speeds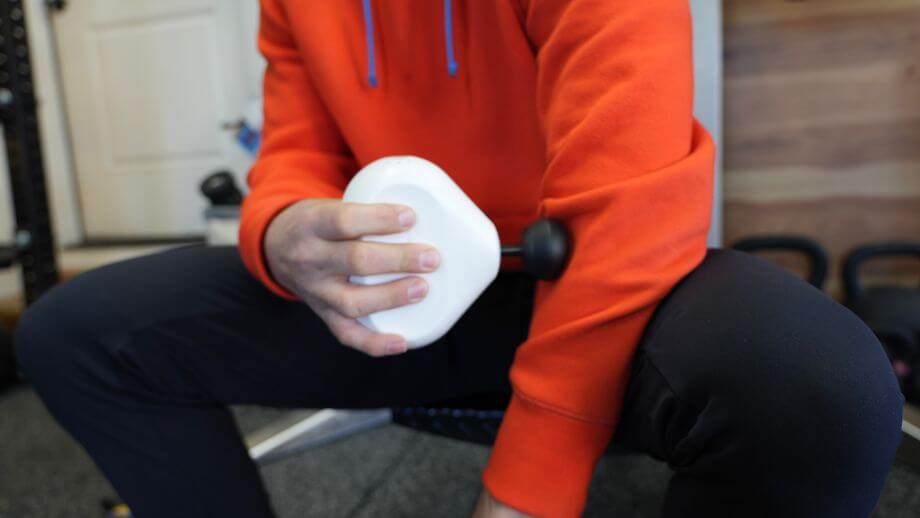 Theraguns have the same speed range across models: 1750 to 2400 percussions per minute. The Mini offers three fixed speeds of 1750, 2100, and 2400 PPM. The Prime, Elite, and Pro offer five fixed speeds (1750,1900, 2100, 2200, and 2400 PPM), as well as customizable speeds within that range in the app.
Hypervolts have up to five speeds (three on the Go and 2; five on the 2 Pro), but again, Hyperice doesn't publish the exact information clearly. I had to do some digging to find the exact speeds, as the device itself only indicates speed through lights on the handle.
According to other Hypervolt 2 Pro reviews, the available speeds are: 1,700; 1,900; 2,100; 2,400; and 2,700 PPM. I would imagine the three fixed speeds on the Hypervolt Go and Hypervolt 2 also fall somewhere in that range.
All in all, the speed ranges across brands are very similar and probably won't affect treatment quality at all for the average consumer. The primary difference is that Theragun allows you to choose precise speeds within that range, while Hypervolt only offers fixed speeds.
Noise Level
Coop and I tested the Theragun Prime and Hypervolt 2 with a phone app that measures decibel level. The Hypervolt 2 hovered around 65 to 70 decibels while the Theragun Prime hovered around 70 to 75 decibels.
The Theragun Pro is a little louder than the Prime and Elite during use, so I imagine it would register in the range of 75 to 80 decibels.
Theraguns are definitely louder than Hypervolts during use, but the noise level is nowhere close to unbearable for either brand.
Design and Ergonomics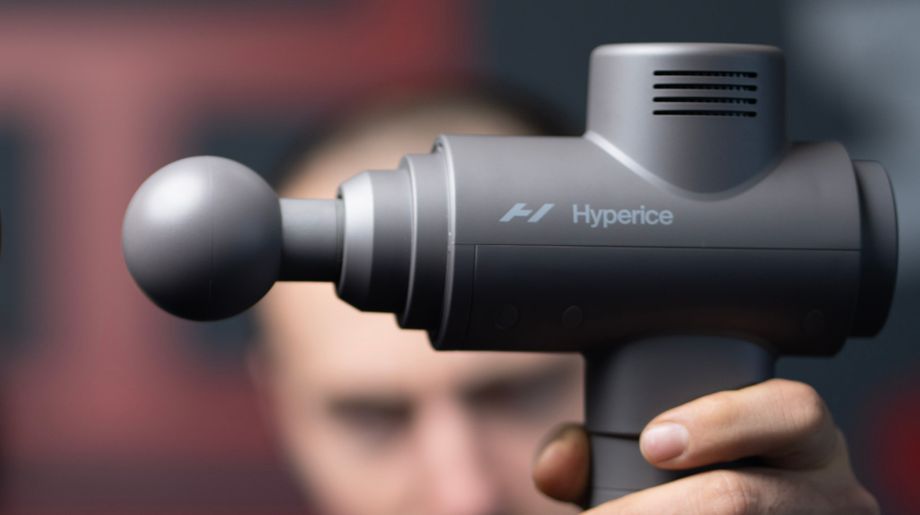 There are basically two types of massage gun handles on the market: The Theragun kind and the non-Theragun kind. Although I'm personally a fan of Theraguns over Hypervolts, that's not why I say this.
I say this because 99% of percussive massagers on the market have the same design: a cylindrical handle with the massage head at a 45- to 90-degree angle. This is how Hypervolts are designed.
Theraguns feature a triangular grip that's not inherently better than the Hypervolt design, but is definitely different. I think the triangular grip allows for better reach, but Coop prefers the Hypervolt handle because he feels like he can get a better grip.
Attachments, Accessories, and Portability
Besides the massage gun itself, buyers should look into accessories such as massage attachments and carrying cases before making a buying decision.
Massage Head Attachments
Surprising to many, Theragun and Hypervolt do not have the same types of massage attachments. In fact, the only attachment available from both brands is the round attachment. This could certainly be a deciding factor for many buyers.
Theragun offers the following attachment heads:
Standard ball
Dampener
Large ball
Wedge
Thumb
Cone
Supersoft™ foam attachment
Theragun also has Duo Adapter sets for multiple attachments, including Supersoft™, thumb, dampener, cone, and standard ball. The Duo Adapter sets juxtapose two identical attachments in order to treat more surface area in less time.
Hypervolt offers these attachments:
Fork
Ball
Cushion
Flat
Bullet
As far as the quality of attachments, I don't notice any clear differences between brands. Theragun attachments are made of closed-cell foam while Hypervolt attachments are made of plastic and silicone (with the exception of the foam ball), but to me, the construction of attachments doesn't affect the treatment quality.
Carrying Accessories
All models of the Theragun come with some sort of carrying case to make the products easily portable. This may seem like a weird thing to compare and rate, but it does matter.
For example, the Theragun Elite and Pro come with a rectangular hard case with a handle, while the Prime comes with a soft drawstring bag. Both are easy to carry, and the Prime is actually easier to slip into a backpack or carry-on.
No Hypervolt model, however, comes with a case that houses the massage gun, charging cable, and massage head attachments. Instead, they come with only a pouch for the massage heads, leaving you to carry the actual device and charging bits separately.
This is a minor inconvenience but seems like a clear shortcut to me.
Color and Design Customization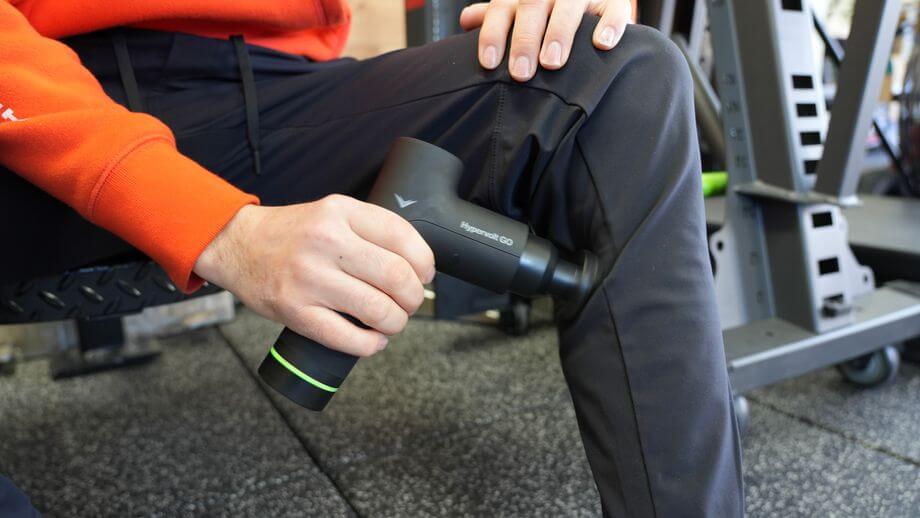 Generally, massage guns come in one design with no room for color customization. This is the case with Hypervolts.
Therabody broke this unspoken rule with the Theragun Mini, for which you can buy colorful "skins" to make the device your own. As of this writing, there's a variety pack of five silicone covers in solid colors, as well as a multi-color Pride skin available for purchase.
Therabody also sometimes releases special edition Theraguns, such as the RED collection, which gave a portion of profits to pandemic relief.
Finally, the Theragun Elite comes in two standard color options (black or white), while no Hypervolt models are available in more than one color.
Connectivity and Smart Features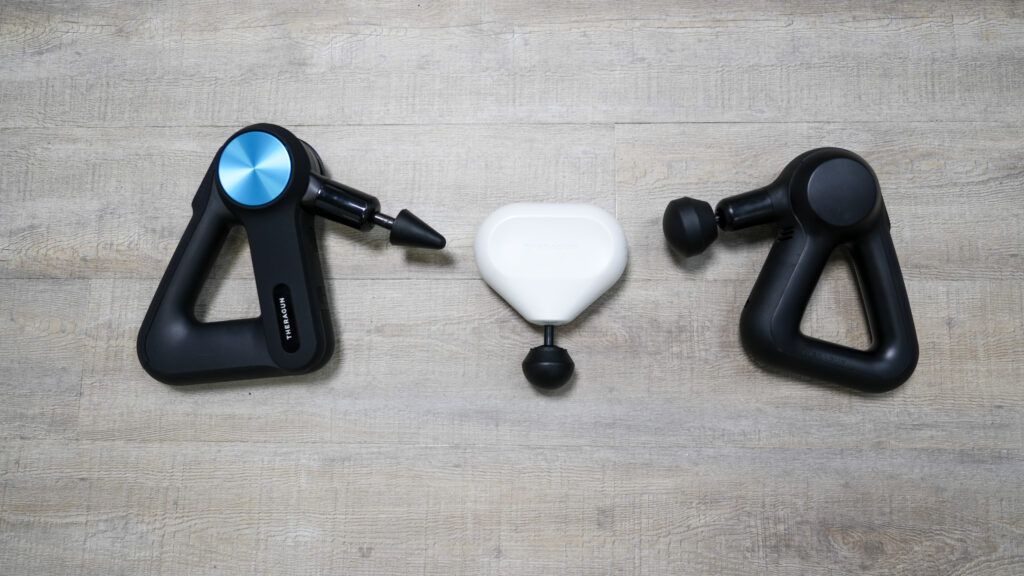 Hyperice and Therabody both have apps that connect to their massage guns via Bluetooth. The primary purpose of this is fine-tuned speed control. With either brand, you have the capability to to program massage protocols in the app and let them play out on the physical device. (Although neither brand's mini massage gun model has Bluetooth connectivity.)
Therabody went one step further by allowing for selection of any speed between the range of 1,750 and 2,400 percussions per minute. This feature isn't available in any other massage gun brand I've tried.
Another Theragun smart feature I love is the Force Meter on the Elite and Pro models. The Force Meter is a pressure sensor that shows you how many pounds of force you're applying to your muscle tissue. The Hypervolt 2 and Hypervolt 2 Pro have something similar, which the brand refers to as Patented Pressure Sensor Technology.
Charging and Battery Life
Theraguns and Hypervolts both use rechargeable lithium ion batteries, so the experience is nearly identical across brands and models. All of the massage guns from both brands have similar battery lives, with the exception of the Theragun Pro, which comes with an extra battery to double the total battery life.
Battery life on available Hypervolt models:
Go: 2.5 hours
Go 2: 3 hours
2: 3 hours
2 Pro: 3 hours
Battery life on available Theragun models:
Mini: 2.5 hours
Prime: 2 hours
Elite: 2 hours
Pro: 5 hours
Pricing
Therabody and Hyperice are both high-quality brands, so you should expect to pay for high-quality items when purchasing from them. Pricing among the two brands for currently available models is identical, with the exception of the Theragun Pro, which there is no Hyperice equivalent to.
| | | | |
| --- | --- | --- | --- |
| Model | Price | Model | Price |
| Hypervolt Go | $159 | Theragun Mini | $199 |
| Hypervolt Go 2 | $199 | Theragun Prime | $299 |
| Hypervolt 2 | $299 | Theragun Elite | $399 |
| Hypervolt 2 Pro | $399 | Theragun Pro | $599 |
Company Policies: Warranty, Returns, and Financing
Now for the boring stuff. When you're buying something expensive like a luxury massage device, you'll probably want to know what kind of warranty your new toy is covered by, as well as if the company offers returns or financing options. Here's an overview of warranties, return policies, and financing available from Hyperice and Therabody.
Hypervolt
Theragun
Warranty
One-year warranty for manufacturing defects for all Hypervolt models
Theragun PRO: Device & charger: 2 years; lithium-ion batteries: 90 days; world travel charger:1 year; wireless charging stand: 1 year; attachments: 30 days

Theragun Elite, Prime, and Mini: Device & charger: 1 year; wireless charging stand: 1 year; power adapter: 1 year; attachments: 30 days
Return Policy
30 days; returns not accepted from third-party retailers such as Amazon
60 days; returns not accepted from third-party retailers
Financing
Klarna
Affirm
Hypervolt vs. Theragun: Final Verdict
The bottom line is that Theraguns and Hypervolts will both do a good job of massaging sore muscles, increasing blood flow to treated areas, and helping you warm up and cool down from exercise. Looking objectively at specifications across models and accounting for my personal experience, my verdict is that Theragun is the better option.
To help you make your buying decision, here's a chart that shows crucial specs across models from each brand.
| | |
| --- | --- |
| Hypervolt | Theragun |
| Stroke length (amplitude): 10 to 14 mm (estimated) | Stroke length (amplitude): 12 to 16 mm |
| Stall force: 20 to 40 lbs (estimated) | Stall force: 20 to 60 lbs |
| Speed range: three to five speeds (PPM not specified) | Speed range: 1,750 to 2,400 PPM |
| Attachments: two to five included | Attachments: one to six included |
| Battery life: 2.5 to 3 hours | Battery life: 2 to 5 hours |
| Product weight: 1.5 to 2.6 pounds | Product weight: 1.4 to 2.8 lbs |
FAQs about Hypervolt, Theragun, and Percussive Therapy
Answers to frequently asked questions about Theragun versus Hypervolt:
Which is better, Theragun or Hypervolt? 
Neither the Theragun or Hypervolt is explicitly better. Both brands produce good products that live up to their claims. However, the massage guns do differ, so it's important to do your research, learn the specifications, and decide which percussive massager is better for you. 
If you're strictly looking for deep-tissue massage, Theragun is the better option as it has a higher amplitude. If you want something slightly quieter, Hypervolt would be your best option. Little differences like this can make a big difference in the overall massage experience.
Is Theragun more powerful than Hypervolt?
Yes, Theraguns are more powerful than Hypervolt massage guns. All three full-sized Theragun reach 16 millimeters into muscle tissue, whereas the full-sized Hypervolts reach 13 to 14 millimeters. 
Also, Theragun's most powerful model has a QX150 motor that puts out up to 160 watts, while Hypervolt's most powerful model has a max power output of 90 watts. Finally, the Theragun Pro has a stall force of 60 pounds compared to the Hypervolt Pro 2's estimated 30 to 35-pound stall force. (Hyperice does't publish this information, and various reviewers have had to devise tests to find this information on their own.)
Is Hypervolt or Theragun quieter?
When measured with a basic phone app that records decibel levels, the Hypervolt Plus was objectively quieter than the Theragun Prime. In general, all Hypervolt models seem quieter during use than Theragun models.