We test and review fitness products based on an independent, multi-point methodology. If you use our links to purchase something, we may earn a commission. Read our disclosures.
If you don't have a massage gun yet, do you even work out? All jokes aside, massage guns have become so ubiquitous in the fitness industry; there are literally hundreds upon hundreds of them available online.
Recovery is equally as important as working out, and massage tools offer a convenient solution for achieving muscle pain relief from the comfort of your own home. A massage gun uses the force of percussive therapy to help reduce lactic acid buildup and promote muscle recovery.
Although the benefits of muscle guns can be invigorating, trying to choose one amongst all the options can incite serious decision fatigue. But don't worry: We're here to help with our guide to the best massage guns 2023.
Why You Should Trust Us
I've been testing percussive massage guns since late 2018 when the technology began to explode in popularity. I've used more than 30 massage guns and have spoken with and interviewed owners and execs at some of the biggest percussive massage companies. I understand the technology that powers percussive massage guns and have written about it for several major media outlets, and I know how to decipher terms like amplitude and stall force to tell you about the specs that really matter.
Best Massage Guns 2023
Video Review
Best Massage Gun Overall: Theragun Prime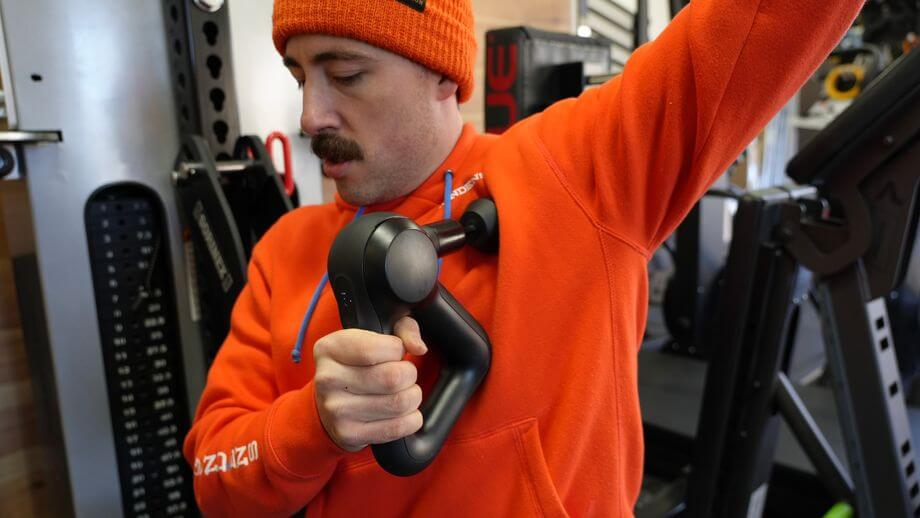 Theragun Prime
Theragun Prime
The Theragun Prime is Therabody's most basic massage gun, but don't let that fool you: It still provides intense percussive power, reaching an amplitude of 16 millimeters into the body's soft tissue. Equipped with three speed settings and four interchangeable massage head attachments, the Theragun Prime is a solid-gold choice for the everyday athlete.
Good for: Active people looking for the best treatment quality without spending a fortune.
Pros:
Provides deep tissue treatment reaching 16 millimeters into soft tissue
Customizable speed ranges
Ergonomic multi-grip handle makes it easy to massage your back
Cons:
Not the most portable massage gun
Quieter than previous Theraguns, but still not the quietest option
Heavy in hand compared to others
Known for its ergonomic triangular handle, sheer force, and customizable speed levels, Theragun—now called Therabody as the brand expands its portfolio of muscle recovery tools—really does make unmatched massage guns.
I have been testing massage guns for years, and I'm always on the lookout for one that might surpass the Theragun's quality of treatment. I've always wanted so badly to find one that's better than the Theragun in all aspects and comes at a better price point, because I generally don't encourage the average person to splurge on top-of-the-line equipment. Most of us just don't need it.
But I have yet to find a product that does everything the Theragun—specifically the Prime model—does for a better price. After researching dozens of massage guns and testing more than 30, I can confirm that the Theragun Prime is worthy of its $300 price tag. You don't get the very best of what Theragun has to offer (see the Theragun Pro below for that), but you'll get the best percussive muscle massage you can find for that price.
The Theragun Prime delivers up to 30 pounds of force without stalling and reaches depths of 16 millimeters into soft tissue. It has a speed range of 1750-2400 percussions per minute (PPM), and you can use the companion app to select literally any different speed in that range. That means if 1750 is too slow, but 1760 is too fast, you can choose 1755 PPM. This stands apart from other massage guns, most of which have predetermined speeds 50 to 100 PPM apart.
I think Theragun has the most ergonomic design, too. The triangular multi-grip handle makes it easy to massage hard-to-reach places compared to the standard single handle on other massage guns. With a two-hour battery life, I find myself charging the Theragun about every 10 days when using it every day.
The Prime comes with four interchangeable heads: A dampener attachment, which is a mix between a ball and a flat head attachment; a ball attachment; a cone attachment; and a thumb-shaped attachment, which is great for treating lower back pain and trigger points.
Now that Theragun has implemented a quiet motor and its massage guns don't sound like jackhammers anymore, the Prime is just too hard to beat.
Best Massage Gun for Travel: Ekrin Athletics BANTAM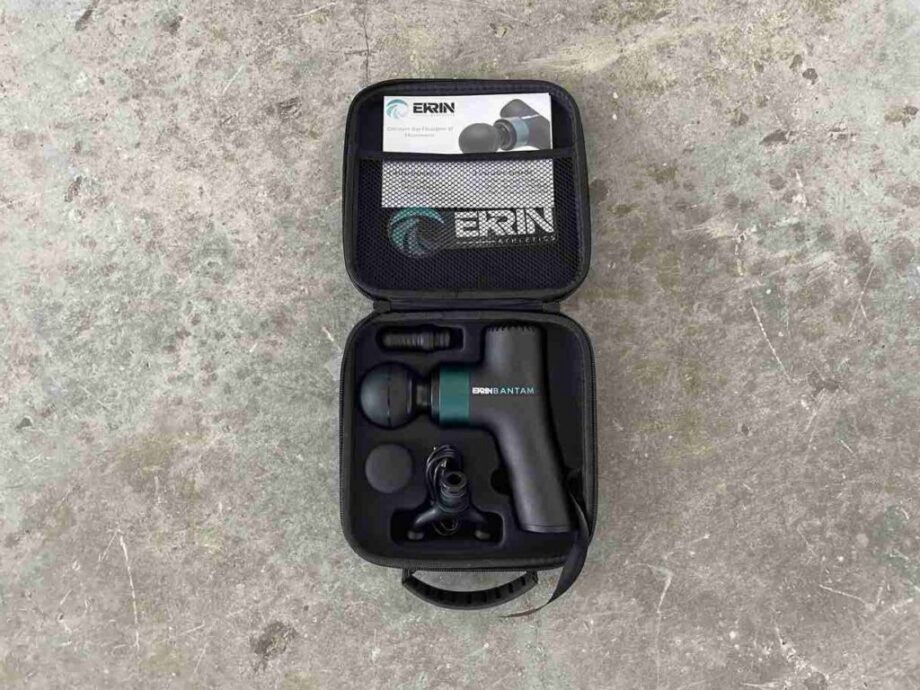 Best Massage Gun for Travel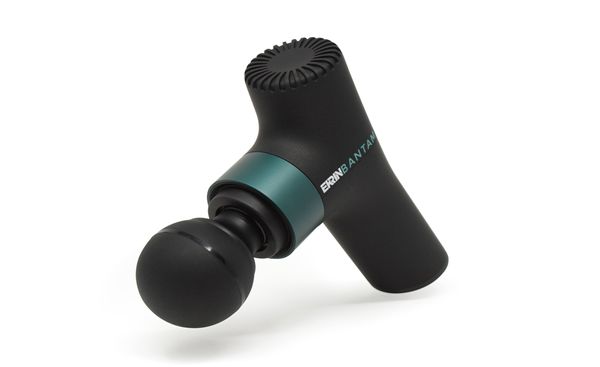 Ekrin Athletics BANTAM
In a market saturated with new mini models of the ever popular massage gun, the Ekrin BANTAM Mini Massage Gun stands out as one of the very best. Its specs stand up against some of its full-sized counterparts, which is quite remarkable given its small size. The BANTAM features three speeds of 2,000, 2,600 and 3,200 PPM, allowing users to choose an intensity that works for them.A 10-millimeter amplitude reaches deep enough to increase circulation muscle tissue to improve recovery. For reference, most mini massage guns feature an amplitude somewhere between 6 and 8 millimeters.The stall force changes with intensity on the Ekrin BANTAM. At the lowest speed, it stalls at 28 pounds and at the top speed, it maxes out at 35 pounds. Buyers rave over how good the BANTAM feels in their hand. The 15-degree tilt of the handle is ergonomically designed to relieve pressure on your wrists. Choose between 4 interchangeable massage heads to more effectively target different different areas of the body. The convenience factor for the BANTAM Mini Massage Gun can not be ignored. It weighs only 1.1 pounds and has a sleek, slim, and compact design, making it incredibly easy to toss in a gym bag, briefcase, or even a good old fanny pack. And, unlike most massage guns on the market, the Ekrin BANTAM Mini Massage Gun is backed with an impressive lifetime guarantee.
Good for: People who want the most power possible in a small device with a nice carrying case.
Pros:
Lifetime guarantee and warranty
Beats stall force on the Theragun Prime
Convenient USB-C charger
Weighs only 1.1 pounds
Comes with a nice, protective carrying case
Cons:
Doesn't come with a charging cube, so you'll need to use your phone cube or plug directly into a USB charging port
$150 is on the higher end for a mini massage gun
Previously, the Hypervolt Go massage gun was listed as the best massage gun for travel in this guide. However, after more thorough testing of both products (and a whole lot of other mini massage guns), the Ekrin Athletics BANTAM mini massage gun has officially usurped Hypervolt and wins this spot.
While I don't dislike the Hyperice mini massage gun, the Ekrin Athletics BANTAM is better for many reasons—for starters, Ekrin Athletics actually makes all of the specs of the massage gun as clear as day, while Hyperice fails to list essential product information for its massage gun lineup.
That annoyance aside, the BANTAM truly does shine as a travel-friendly massage gun: It weighs a mere 1.1 pounds and comes with a carrying case that neatly fits the gun, four attachments, and the USB-C charger. The case measures less than 7 inches across diagonally, and it boasts a hard protective shell to keep your massager safe.
Lots of mini massage guns don't pack the same power you'd expect to find in a full-size massage gun. That's not the case with the BANTAM: Not only does this mini massager beat the paltry 20-pound stall force on the Theragun Mini, it also beats out the 30-pound stall force of the Theragun Prime by 2 pounds.
However, it is worth noting that this is only true at the highest speed setting. See, the BANTAM massage gun features progressive stall force, which means the stall force increases with speed. At the lowest setting, the BANTAM has 28 pounds of stall force; 30 pounds at the middle speed; and 32 pounds at the highest speed. Still, a 28-pound stall force is nothing to balk at in a mini massage gun.
Speaking of speeds, the BANTAM features three fixed speed levels of 2,000; 2,600; and 3,200 percussions per minute (PPM). The four interchangeable attachments—fork, ball, flat, and bullet—reach into the muscle tissue at an amplitude of 10 millimeters, which is average for a mini massage gun.
Finally, the BANTAM boasts a battery life up to 6 hours long, so no need to worry about it dying on the plane ride to your destination.
Best Massage Gun on Amazon: Sportneer Elite D9 Massage Gun
Sportneer Elite D9 Massage Gun
Sportneer Elite D9 Massage Gun
The Sportneer Elite D9 massage gun is one of the best value massage guns for the money. It has a wide speed range of 1300 to 3200 percussions per minute, with an amplitude of 11 millimeters for a moderate massage. It comes in a convenient carrying case with six interchangeable massage head attachments.
Good for: People looking for a quick—but good—buy on Amazon.
Pros:
Slower speeds are great for super sore muscles
Comes with six massage attachments, two of which are chrome for hot/cold therapy
Quiet motor—listed at 40 decibels
Cons:
Handle could have been designed with better ergonomics
Amplitude is only 11 millimeters
Carrying case isn't the best quality
Many of the massage guns I've tested over the years have come from Amazon. Even various Hypervolt and Theragun models are available on the third-party retailer. The Sportneer Elite D9 Massage Gun is my favorite massage gun I've gotten from Amazon that isn't assigned to a different pick on this list.
For its price point of $130, this massage gun is a fantastic value. Not only does it provide ample power and feel good in-hand, but it comes with six massage head attachments, two of which have chrome tips you can heat in warm water or freeze for hot/cold therapy. You can also use the chrome attachments for aromatherapy or to massage CBD oil into your skin. The massage gun, attachments, and charging cable all come in a convenient carrying case.
I think the chrome massage heads are a huge value-add. Not many massagers come with these, and it can totally elevate your percussive therapy experience.
It has a 220-watt motor that's equipped to deliver percussive therapy at speeds of up to 3200 PPM, with six speeds total. Depending on the speed settings you use, the Sportneer Elite D9 has a battery life of up to six hours.
This isn't the most powerful massage gun I've used. The amplitude is only 11 millimeters, but I always felt like it got the job done for me. And for less than $150 and Amazon Prime delivery, what more can you ask for? Because it's gentler, I like this massage gun for extra sore or sensitive muscles.The faster speeds are good for everyday use. It might not be the best pick for super brawny people with a high pain tolerance, but it's a great option for people who wince easily.
Best Deep Tissue Massage Gun: Theragun Pro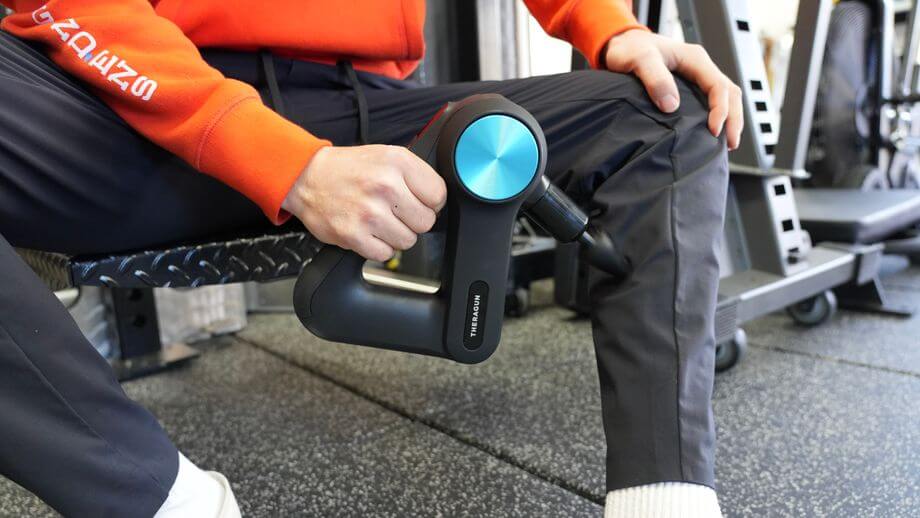 Theragun Pro
Theragun Pro
The Theragun Pro is Therabody's top-of-the-line massage gun, designed for elite athletes and the serious fitness enthusiast. It's extremely powerful, with a stall force of 60 pounds and an amplitude of 16 millimeters for deep-tissue percussive therapy.
Good for: People looking for the best of the best in percussive therapy.
Pros:
Deep tissue treatment
5 hours of battery life
Stall force of 60 pounds
Cons:
Most expensive massage gun on the market ($600)
Not necessary for the average fitness enthusiast
Large and tough to travel with
Do I think anyone aside from elite athletes needs to buy the Theragun Pro? Absolutely not. Is it hella cool? Absolutely yes!
The Theragun Pro represents the epitome of percussive therapy. It's powerful, it's effective, and it's high-tech as heck. It's also totally not necessary. But if you're looking for the best deep tissue massage and overall percussive therapy experience, I can't lead you any other way. Like the Theragun Prime, the high-torque brushless motor on the Pro reaches 16 millimeters deep into muscle tissue and has a customizable speed range.
However, it has a few key features that put it into a class of its own. For one, it has an OLED screen with a responsive force meter, which lets you know exactly how hard you're pressing the massage gun into your muscles. It also has a rotating arm that locks into four different positions, making it easier than ever to deeply massage all muscle groups.
In comparison to the Prime's stall force of 30 pounds, the Pro has an impressive stall force of 60 pounds. This means you can press the device into your muscles more deeply without it stalling.
You can connect the Pro to the Therabody app via Bluetooth, where you can control your speed ranges and automate recovery protocols.
Last but not least, the Pro has an impressive battery life thanks to the fact that the lithium-ion battery is removable and rechargeable—and your purchase comes with two. Together, the two rechargeable batteries last a total of five hours.
Quietest Massage Gun: Ekrin Athletics B37
Ekrin Athletics B37 Massage Gun
Ekrin Athletics B37 Massage Gun
The Ekrin Athletics B37 massage gun is one of the quietest percussion massage guns available, with operating sound levels as low as 35 decibels. That's as quiet as light rainfall. In addition to being ultra-quiet, the Ekrin Athletics B37 is also powerful, with speeds up to 3400 PPM and a stall force of 56 pounds.
Good for: People who want a lot of power without a lot of noise.
Pros:
Ultra quiet
Stall force of 56 pounds
Impressive 8-hour battery life
Cons:
Wish the round attachment was denser (it's the only non-silicone one for some reason)
Handle could be longer to allow for better reach
12-millimeter amplitude may not be enough for some people
Massage gun technology has come a long way since I first started reviewing these things in 2018. Most massage guns used to rattle your bones and make your hand go numb if you held them too long—and heaven forbid using an old-generation massage gun on your neck, for fear your brain might spill out of your ears. Seriously, older models reached decibel levels above 100 dB, which is equivalent to hearing a jet flyover at 1000 feet. Yikes.
Now, thank goodness, the standard is much quieter. Innovators understood that people wanted power without too much noise, and even the louder massage guns on today's market aren't that bad. The Ekrin Athletics B37 massage gun has achieved the best blend of power and sound in my experience.
It has a stall force of 56 pounds, which comes close to the Theragun Pro's 60 pounds. The B37 also rivals Theragun in that it has five speeds from 1400 to 3200 RPM, four attachments, and an 8-hour battery life, which is among the longest I've seen.
Yet even at its highest speeds, the Ekrin Athletics B37 is one of the quietest of massage guns, running at 35 to 55 decibels. For reference, the Theragun Pro runs at about 70 decibels, and the Hypervolt Plus runs at about 55 to 70 decibels. For its highest speed being 3200 PPM, it's really impressive that the Ekrin Athletics doesn't surpass the noise level of a refrigerator hum.
In addition to "proprietary sound insulation," the quietness could also be attributed to the amplitude of the B37, which is 12 millimeters. Theoretically, since the arm doesn't have to move as far, the motor doesn't have to work as hard, thus it wouldn't be as loud as a massage gun with a higher amplitude.
Despite the lower amplitude, I've never put away the B37 feeling dissatisfied with the quality of treatment. I think the higher speeds available (up to 3200 versus the standard 2400) somewhat negate the need for a greater amplitude.
Best Massage Gun Under $150: REP Rapidstrike Massage Gun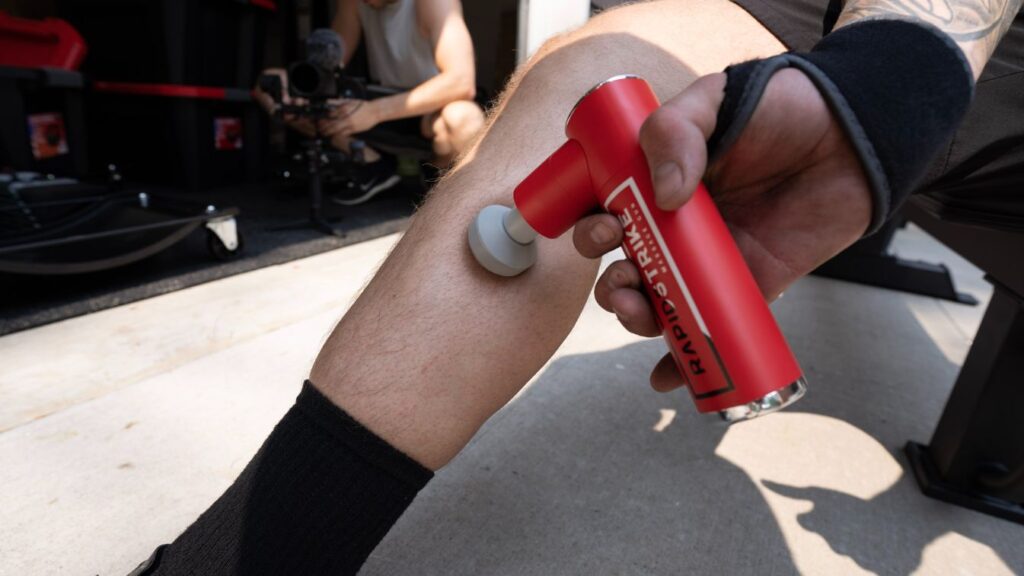 REP Rapidstrike Massage Gun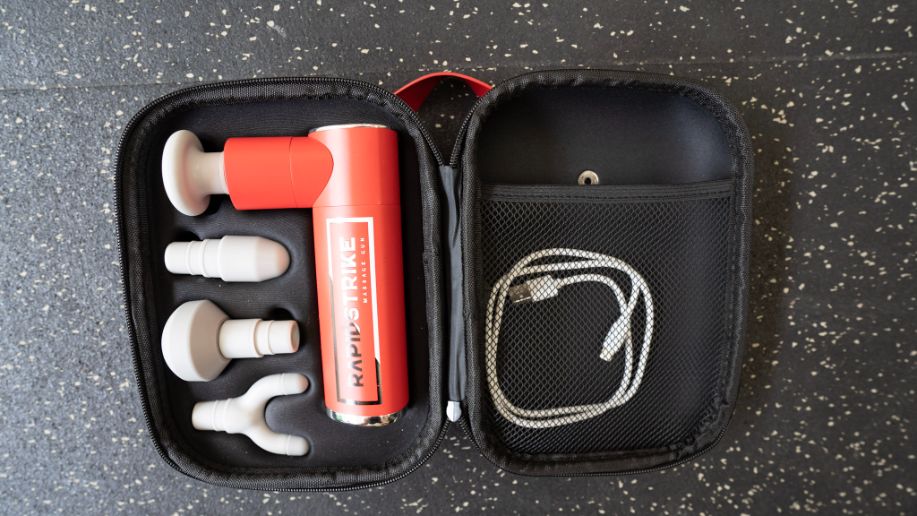 REP Rapidstrike Massage Gun
The REP Rapidstrike Massage Gun is a mini percussive therapy tool from REP Fitness. It's great for anyone looking for a lightweight, compact but powerful massage gun; people who want a good value in the percussive therapy arena; and anyone who wants to add a basic but high-quality recovery tool to their home gym. This massage gun comes with four different attachment heads: bullet, fork, flat, and U-shaped. The battery lasts for up to eight hours and the massage gun is quiet enough to use without disturbing others. 
Good for: Anyone looking for a high-quality, portable massage gun under $150.
Pros:
Lightweight but pretty powerful
Very portable
Battery life up to eight hours
Cons:
Doesn't come with a charging brick
There are a ton of similar products in this price range
REP doesn't disclose specs like stall force and decibel level
Honestly, it's tough to choose the best massage gun in this specific price range, because there are just. so. many. You can go online and find literally hundreds of massage guns that cost less than $150 and they're all gonna be pretty similar. Heck, most of them probably come from the same factories and are just rebranded over and over again.
But, I feel confident recommending the REP Rapidstrike Massage Gun because our team has spent enough hands-on time with it to know it works well. Despite its size, the Rapidstrike massage gun is pretty powerful. I can't say exactly how powerful, because REP doesn't disclose specs like stall force, amplitude, percussions per minute, and decibel level on the product page.
I wish they did, but I can make some educated guesses: Based on my experience with other percussion massage guns, I would venture to guess it reaches about 2200-2400 PPM and has an amplitude somewhere between 11 and 13 millimeters. As for decibels, it's not super loud, but it's not the quietest I've used. At its highest speed, it's likely running around 60-65 decibels.
Regardless of the specs, the Rapidstrike does a good job of relieving muscle soreness and tension. It's super lightweight, so despite the straight-edged handle, it doesn't cause any wrist or forearm fatigue.
The massage gun comes with four interchangeable attachments—round, flat head, fork, and bullet—all of which are silicone. It charges with a USB-C cable, but it doesn't come with a charging brick, so make sure to have one of those handy. It charges in about 90 minutes and should last you up to 8 hours.
One of the main reasons I prefer the REP Rapidstrike Massage Gun over other devices in this price range is that it comes with an 18-month manufacturer's warranty, when even the top-tier massage guns only have a 12-month warranty. We also always make sure to keep an eye out to see what type of deals REP Fitness offers during holidays like Black Friday and/or Labor Day, where you can get the best products we recommend at a better price.
Read my full REP Rapidstrike Massage Gun review.
Best Budget Massage Gun Under $100: Recoverfun Massage Gun Mini
Recoverfun Massage Gun Mini
Recoverfun Massage Gun Mini
The RecoverFun Mini Massage Gun doesn't break your budget and still gets the job done. It comes with four settings ranging from 1,800 to 3,200 percussions per minute. The four attachment heads are easily interchangeable, and with a 30-watt motor, you get just enough of a massage to help loosen up tight muscles and joints.  Weighing just over 1 pound, this tool is easily portable. And, with the decibel range clocking in less than 48, you can pack it in its travel bag and take it anywhere without making too much noise. The battery life is five hours for every one and a half hours on the charger.
Good for: People who want a decent massage gun for under $100.
Pros:
Budget-friendly option
Comes with an aluminum alloy massage attachment
Super compact and portable
Cons:
Shallow amplitude
30-watt motor gets the job done, but isn't super powerful
Takes a while to charge (2 to 3 hours)
When it comes to massage guns, you can't get much for under $100. But you can get the Recoverfun Massage Gun Mini, which is by far the best massage gun I've tried that costs less than three digits.
Just be aware: The age-old adage rings true when it comes to percussive technology. You get what you pay for. So as a fair warning, don't expect to spend $79 on the Recoverfun Massage Gun Mini and receive $600-worthy percussive treatment. If you want deep-tissue massage and techy specs, look elsewhere.
But if you want a decent massage from a device you can fit in the pocket of your favorite cargo pants (no judgement), and you don't want to spend more than $100, you're in the right place. The Recoverfun Mini reaches speeds up to 3200 PPM with four preset speed settings. On the slow end, it runs at 1800 PPM.
The thing only weighs a hair over 1 pound and comes in a tiny drawstring bag. For such a small device, the five-hour battery life is impressive.
I will say the amplitude is unremarkable. At just 6 millimeters, the massage is definitely light, but I found it to be useful on days I was extra sore or just wanted quick and easy pain relief. It does come with a bullet massage attachment, though, which helps dig into tight spots. In addition to the bullet attachment, the Recoverfun Mini also comes with a fork attachment, round attachment, and an aluminum alloy flat head attachment.
All in all, this massage gun is exactly what I would expect to get for $79. For a great price, you get a simple device that's easy to operate and provides decent treatment quality.
I do want to point out that while the Recoverfun Mini made my guide to the best budget massage guns, it doesn't appear as my overall top pick there, because the cost criteria was $150 and under, so I was able to include some higher-end products. There, you'll find the Ekrin Athletics BANTAM as my top pick, plus a bunch of other budget-friendly massage guns.
The Competition: Other Massage Guns We Researched and Tested
This is Theragun's middle-of-the-line model from its fourth generation of products. It rivals the Theragun Pro as the best massage gun for athletes, but I don't recommend it because it's not that much more powerful or feature-rich than the Prime, which is my best overall pick, but it costs $100 more.
I wasn't overly impressed with Theragun's mini massage gun. It has the best amplitude of all the minis I've tried, but it's lacking in the accessories department and its speed range isn't impressive enough for me to recommend it over the Hypervolt Go.
These two are nearly identical. The Hypervolt Go was once my top pick for the best mini massage gun, but the Ekrin Athletics BANTAM ousted it thanks to superb specs at a great price. The Hypervolt Go 2 is the newer version of the Go, but it has the same specs as far as I can tell.
The original Hyperice massage gun, the Hypervolt, is a good product. However, it's not available from the Hyperice website anymore, and I think third-party retailers are just selling back stock at this point. I don't think it has anything special to offer compared to our top picks, anyway.
This is basically the Hypervolt but with Bluetooth connectivity and a slightly longer battery life, for about $80 more. It also isn't available on the Hyperice website anymore, and it probably has been discontinued to make way for the newer models.
Hyperice released this new version of the Hypervolt in 2021. It's a good product, with a 60-watt motor, a three-hour battery life, and an improved grip.
Yet another new release from Hyperice, this has the same design as the Hypervolt 2, but with a 90-watt motor and five speeds of percussion versus the three speeds on all of the other models. It's also the most expensive Hypervolt model at $399.
Slightly more powerful than the Ekrin Athletics B37, the B37S comes with extra attachments, a reactive force sensor, and a cool variable frequency feature at the higher speeds. It costs $100 more than the B37.
This is Ekrin Athletics' newest massage gun, just released in summer 2021. I haven't had a chance to get my hands on it yet, but from looking at the specs, it seems like an ergonomically improved version of the B37.
This thing is just too loud. It's one of those jackhammer-like massage guns and you'd probably be better off using a car buffer. I tested this one in 2019, so maybe it's improved since then, but I don't recommend the version I tried.
I have the same sentiment about this TimTam massage gun. It's overly powerful, and at $500, I don't think it's worth it.
We didn't really like this massage gun. You can read our full ExoGun DreamPro review for full details.
NordicTrack doesn't list the amplitude of this massage gun, but based on my experience, I'm guessing it's less than 12 millimeters, maybe less than 10. Basically, it's not very powerful, and if you want a light massage you could just spend $79 on the Recoverfun Mini.
Coming from the foam roller company, I was expecting to be impressed with this one. I was not. It's another with what feels like shallow amplitude, although I can't be sure because the specs aren't listed.
There's nothing remarkable about the Compex Fixx. It has a unique grip, but it only has three speeds and only comes with one massage head attachment.
I haven't tested the newer model of the Compex massage gun, but it seems pretty similar. The only overt differences I'm seeing are: five speeds instead of three, and it comes with five massage head attachments. It also costs $500.
I like that this massage gun has a two-year warranty, but other than that, nothing impressed me about it. It's your average copycat massage gun, honestly.
It looks like MuscleGun isn't making this model anymore and is just selling back stock (it's no longer in the website navigation), which is a shame because the MuscleGun X is actually pretty great with nine speed settings and seven included massage attachments.
This looks and works exactly like the MuscleGun X—it also has nine speeds and comes with eight attachments—so maybe that's why MuscleGun has discontinued it… patent infringement or something. This is pure speculation, but anyway, I liked the Vybe Pro well enough. It just didn't impress enough to earn a spot on the top list.
This one gave me TimTam vibes and I didn't like it. It's one of those annoyingly intense massage guns.
This is a solid budget-friendly pick. With a list price of $100, it provides a decent massage and has basic features you'd expect from any massage gun.
This massage gun is comparable—nay, nearly identical—to the Recoverfun Mini, both in price and in features. I only don't recommend it over the Recoverfun because it didn't hold up for me. The handle started to come loose and, overall, it doesn't feel very durable.
I haven't tested this massage gun, so I can't say for sure how well (or not) it works, but the specs look good: five speeds up to 3200 PPM, USB-C charging, five massage head attachments, carrying bag included, weighs only 1.5 pounds, and has a silicone grip. I can't find any information on amplitude or stall force, though, which I don't like.
Pulseroll Pro Massage Gun
This mini massage gun has six attachments, four speeds, and a battery life of up to five hours. Because I haven't tried the Pulseroll Pro yet, I can't say if it's worth the $300+ price tag. Online reviews look good, however, Pulseroll is a European company and I can't find the Pulseroll Pro online at U.S. retailers. I only see the Pulseroll Mini Massage Gun available in the States.
Homedics is another brand with a lot of buzz online. The Homedics Therapist Select Plus Massage Gun has six intensity settings and six massage head attachments for a rather customizable experience. I haven't tested this specific product, but it has good ratings and gushing customer reviews.
Other Potential Best Massage Guns
We're always on the lookout for new products and updates to existing products that can help fitness enthusiasts and home gym owners. Here are a few categories we're exploring and may add to our top picks list when we find the right product fit.
Best Massage Gun for Back Pain
Honestly, this is a tough category to choose for, because back pain remedies are super subjective. What helps one person's pain may not help another person's pain. But, based on our experience and massage gun reviews we've seen online, we think a gentler product will fit this bill—something like the Theragun Pro probably isn't the best option for someone with severe back pain, but instead something like the Sportneer or Ekrin Athletics models. We'll keep monitoring this space and add the best massage gun for back pain to our top picks list when we find the right one.
Best Massage Gun for Athletes
This is somewhat subjective, too. I'm of the mind that the best massage gun for athletes is one that has a high amplitude of at least 13-14 millimeters, but ideally 15-16 millimeters. Many massage guns are capable of reaching 13 millimeters into soft tissue, but to my knowledge, only the Theragun models are capable of reaching 16 millimeters. Aside from amplitude, athletes should look for a high battery life, assuming they'll be using the massage gun daily or at least several times per week. Portability will also be key for athletes who travel for training and competition.
Best Battery Life Massage Gun
Most massage guns have a decent, if not good, battery life these days. However, some of them have superior battery life and/or provide extra rechargeable lithium ion batteries to extend the life even further. For instance, the Ekrin Athletics B37, our top pick for the quietest massage gun, has an impressive battery life of eight hours on one charge.
There are usually some trade-offs between battery and power. The Theragun Pro is a good example of this: It's the most powerful massage gun I've tested, but one charge only lasts 2.5 hours. Luckily, though, the Pro comes with an extra battery to extend the life up to 5 hours.
How We Chose the Best Massage Guns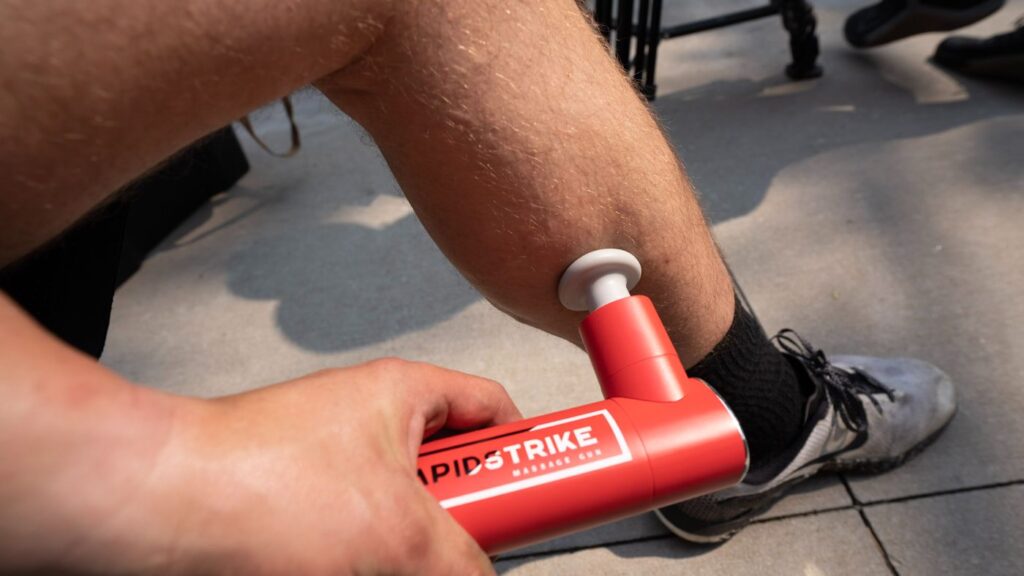 This final list of the best massage guns is a culmination of years of researching and testing massage guns. All of our top picks have actually been in our hands for extended periods of time, allowing us to learn the ins and outs of each of them and determine who they're best for.
We made sure to use them for various purposes and in different scenarios. For example, we used them pre-workout as part of a warm-up, after workouts, and even between sets during workouts to fend off fatigue. With the metal attachments, I tried hot/cold therapy and used them with CBD oil. In addition to using massage guns to help with soreness and pain related to resistance training and cardio, I used them for general relief from achiness—the kind I tend to get from sitting at my computer writing guides like this.
Here are some of the criteria we judge massage guns against:
Portability (weight, size)
Charging and battery life
Amplitude (depth of tissue the massage gun reaches)
Percussions per minute (speed settings)
Stall force
Accessories (massage head attachments, extra batteries, carrying case etc)
Tech capabilities (Bluetooth connectivity, companion app)
Sound level in use and stated decibel levels
Warranty
Ergonomics (how it feels in hand during use)
Price
Benefits of Massage Guns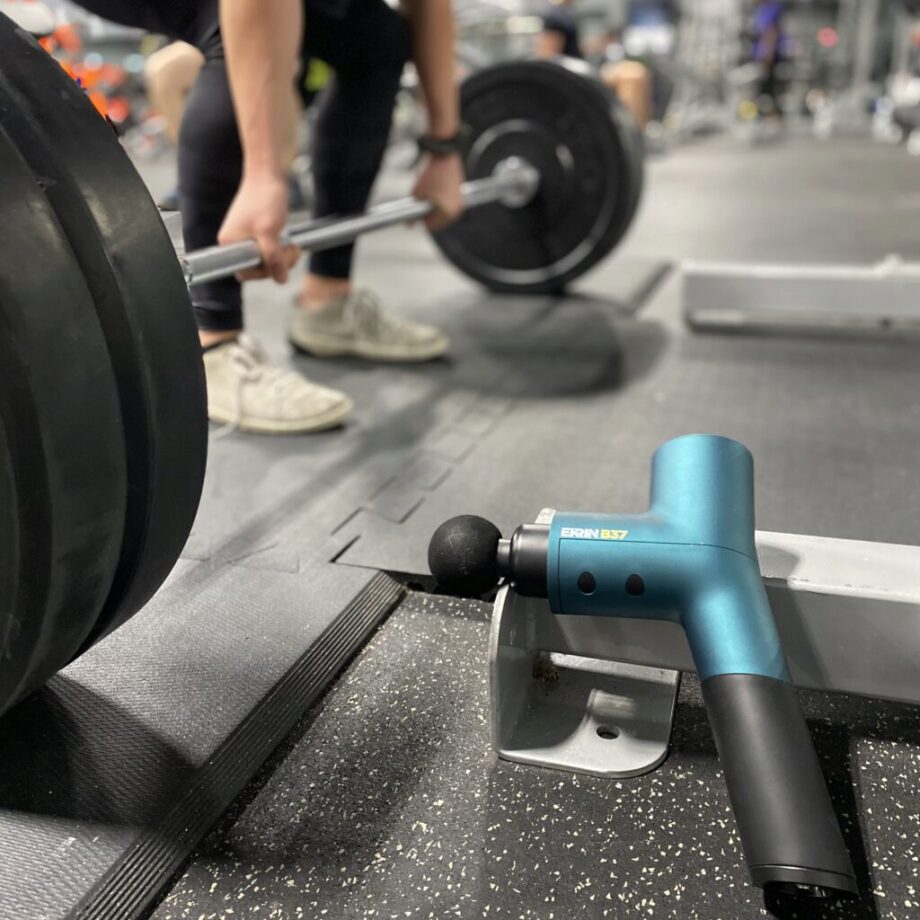 A massage gun is a great workout recovery tool. But what's really going on when you're sending bursts of up to 60 pounds of force into your tender muscles?
Encourage Blood Flow
The intense mechanical action of a massage gun increases blood flow to the targeted area. Applying that sort of force to your muscles essentially tells your brain, "Hey, something's going on here," and your body responds by sending more blood rich in oxygen and nutrients to that area.
Reduce Muscle Damage
Muscle soreness happens because your muscles endure tiny micro-tears during exercise. It's possible that massage guns could reduce the total volume of muscle damage that occurs during workouts if you use it as part of your warmup. Doing so may also reduce muscle fatigue, or at the very least, your perception of muscle fatigue, during workouts.
Alleviate Soreness
Like regular massage, the mechanical action of massage guns temporarily relieves muscle pain. You'll feel the effects of the physical force immediately, but scientists hypothesize that there's more to it than the pummeling of muscle tissue. It's thought that the force applied by massage guns helps remove byproducts of workouts, such as lactic acid buildup (specifically blood lactate) and carbon dioxide from the bloodstream.
Increase Range of Motion
Limited research tells us that using a massage gun may temporarily increase range of motion in the targeted muscle. For instance, one study from 2020 showed that a 5-minute massage gun treatment on the calf muscles increased dorsiflexion of the ankle. Pretty cool, although it's not clear how long the effects last.
Do Massage Guns Really Work?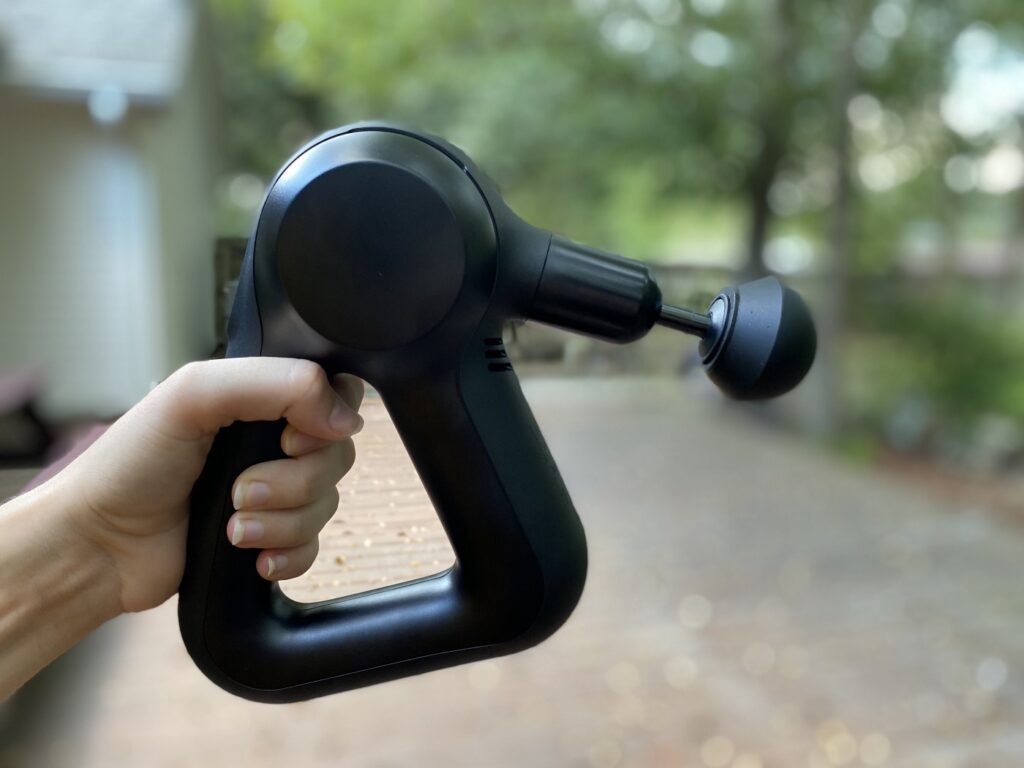 If massage guns didn't work, they probably wouldn't be in college and professional sports training centers or in gym bags all around the world. I'm a firm believer that a good massage gun can have significant effects, but honestly, it's up to each person to decide.
The available science on massage guns and percussive therapy is limited, and because the technology is still evolving, it's hard to say how effective a top-tier massage gun from 2023 is compared to one from a few years ago. Also, much of the existing literature looks at vibration therapy, which isn't exactly the same as percussion therapy (percussion uses a mechanism that "punches" into the tissue to reach deeper, while vibration therapy doesn't have as far a reach).
Many scientific studies support modest temporary effects from massage guns or other modalities of percussive or vibration therapy. For example, one study suggests vibration therapy might be just as effective at reducing post-workout muscle soreness as regular massage therapy.
Another found that vibration foam rolling has a more significant effect on reduced perception of pain than regular foam rolling. And a 2019 meta-analysis of studies concluded that, yes, vibration therapy might alleviate delayed-onset muscle soreness, but ended with the classic: more research is needed.
So, honestly, in a scientific situation like this, I say use your own anecdotal evidence. If massage guns work for you—by reducing soreness, improving your pre-workout range of motion, or alleviating tight muscles—use one to your heart's (and muscles') content.
How to Use a Massage Gun
You can, for the most part, use a massage gun how you see fit. Just follow the instructions that came with the device and don't use it to the point of pain. Here are a few general tips:
Before a workout: Use a massage gun on tight or sore muscles as part of your warm-up to encourage blood flow to the area and to temporarily improve range of motion. For example, using a massage gun on your lower calves, ankles, and thoracic spine before squatting may help with your squat form and depth.
After a workout: Massage the muscles you focused on during your workout to kickstart your body's recovery process.
General use: Experiment with speed settings and different muscle groups to find ways to use your massage gun for general pain relief and relaxation.
More importantly, let's look at how not to use a massage gun…
Don't ever use a massage gun on injuries, including pulled muscles (strains) or torn ligaments (sprains), bruises, or open wounds. Be careful about running your massage gun over bony protrusions under the assumption you're attacking a gnarly muscle knot. Finally, talk to your doctor about safely using a massage gun if you have a musculoskeletal condition such as arthritis, osteoporosis, or fibromyalgia.
Related: Massage Gun For Sciatica
How to Choose the Best Massage Gun for You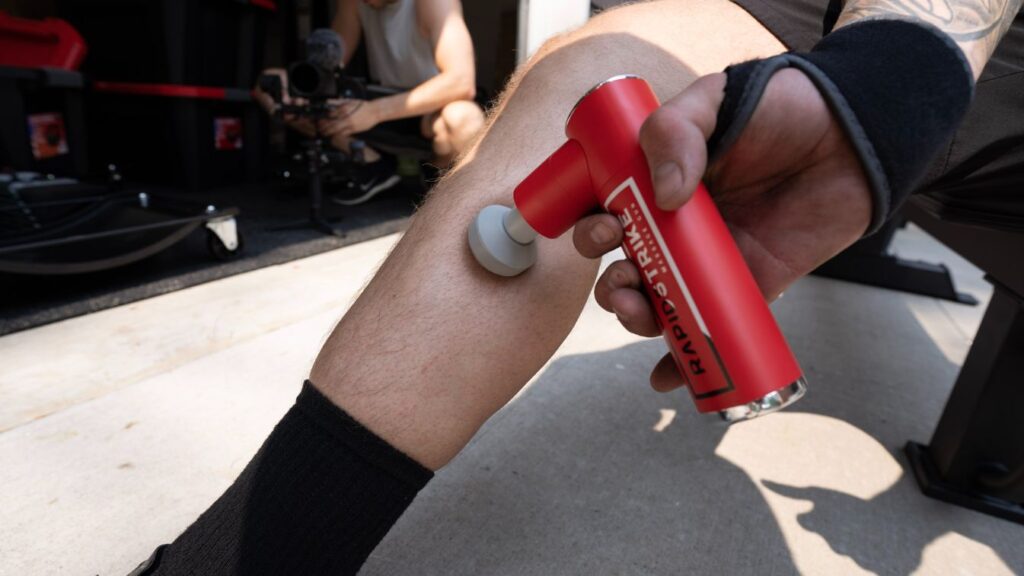 Before you bite the bullet on a handheld massager, make sure to take these buying factors into consideration.
Motion: Percussion vs. Vibration
This may come as a surprise, but percussive therapy and vibration therapy are not one and the same. They're used for a lot of the same reasons, but the mechanical actions differ. Percussive therapy reaches deeper into muscle tissue than vibration does, with percussion therapy defined as a treatment that reaches at least 16 millimeters into the body tissues.
Very few massage guns achieve that level of treatment—most blur the line between vibration and percussion, reaching depths of 12 to 15 millimeters. This isn't to say a massage gun is bad if it doesn't reach that 16-millimeter mark. In fact, many people find the "punching" mechanism of true percussive therapy too intense. (For reference, all of the Theragun models reach 16 millimeters.) It's just something to be aware of.
Speed and Power
I recommend buying a massage gun that has at least three speed and power settings, because your soreness and sensitivity levels will fluctuate—and you'll get really frustrated if your massage gun only has one setting and it's too strong on a particularly sore day. When you have more options, you'll be able to use your massage gun more often.
To dig a little deeper, look for a product that has the actual percussions per minute (PPM) listed, as well as amplitude and stall force. PPM refers to how many times the device "punches" per minute; amplitude refers to how deep into the muscle tissue the massage reaches; and stall force refers to the amount of force the motor can handle before it stalls (the higher the stall force, the more aggressively you can press the massage head into your muscles).
Speed and stall force both come down to preference, but I do think it's worth analyzing the amplitude on any of your massage gun choices. Amplitude is important because it defines how deep of a massage you'll get with the device. As mentioned above, a massage gun is only truly a percussion massage gun if the amplitude is at least 16 millimeters. Anything below that is technically vibration, but amplitudes of 12 to 15 millimeters are sufficient for most people's needs.
Noise Level
These days, most massage guns are relatively quiet. But once upon a time, they all sounded like jackhammers and chainsaws. Make sure to read customer reviews and look out for warnings about the noise level. I personally would be most inclined to purchase a massage gun from a brand that clearly states the decibel level of their products online.
For reference, a normal conversation between two people hovers around 60 decibels. Household appliances like washing machines and dishwashers make sounds at about 70 decibels. And the sound of city traffic from inside your car is about 80 decibels. You probably don't want to buy a massage gun much louder than that.
Portability
If you plan on traveling with your massage gun, it's a good idea to choose a smaller one or a miniature one, especially if you're a frequent flyer. On top of size, consider the quality of the carrying case (don't want it to fall apart on the road), the number of attachments and accessories (too many might be annoying), and the battery life and type of charging cable (to make sure it doesn't die and can't be readily charged).
Attachments and Accessories
It's pretty standard for massage guns to come with multiple head attachments these days. Common attachments include the round, bullet, fork, cone, and flat heads. All of these are most often made of some sort of dense foam or silicone; some massage guns come with certain attachments in both materials.
A less common, but super awesome, type of massage head attachment is the stainless steel kind. If you buy a massage gun with a stainless steel massage head attachment, you can freeze it or warm it up in hot water for hot/cold therapy in addition to percussive therapy.
Charging and Battery Life
For the most part, you probably won't be using your massage gun for more than 10 to 15 minutes at a time. However, that doesn't mean you should ignore battery life and charging specs. I recommend buying a percussive massage gun that has a battery life of at least two hours, because then you can likely get a full week of use out of it before needing to charge it. A shorter battery life might suffice for people who don't use the massage gun every day.
As for charging, look for perks like removable batteries and extra batteries. Most massage guns don't have those things, which means if the battery in the device goes kaput, you have to buy a whole new massage gun instead of just a new battery. Generally, only the more expensive models have removable batteries, like the Theragun Pro.
Quality and Price
The best products are always the ones that offer a good value proposition. In other words, they provide the best features for the best price. That's why my top pick is the Theragun Prime: I believe this massage gun offers the best suite of features for most people at a reasonable price.
In general, you can expect that the pricier a massage gun is, the more (and better) features it'll come with. However, that's not always the case, as you'll notice in the competition section. Some products are simply overpriced. If a massage gun costs more than $300, I recommend looking really closely at the specs and ensuring the amplitude, speed range, and noise level are adequate. Also double-check the attachments and accessories.
Best Massage Guns FAQs
How often should you use a massage gun?
You can use a massage gun every day if you want to. Many people use percussive massage guns before and/or after their workout each day.
Do massage guns get rid of muscle knots?
Massage guns may not completely eliminate muscle knots, but they can relieve much of the tightness and achiness that occurs when muscle knots form. They do this by increasing the flow of blood, which is rich in oxygen and nutrients, to the affected muscle.
Is a massage gun really worth it?
Massage guns are worth buying if you spend your money on a good product. There are lots of crappy percussion massage guns out there, but there are also lots of great ones. By following our recommendations for the top massage guns, we're confident you'll find your purchase worth it.
What are the top five massage guns?
Five of the best massage guns are: the Theragun Pro, Theragun Prime, Ekrin Athletics B37, Hypervolt Go, and REP Rapidstrike Massage Gun.