We test and review fitness products based on an independent, multi-point methodology. If you use our links to purchase something, we may earn a commission. Read our disclosures.
The Hyperice Hypervolt Go is a small, quiet, and lightweight massage gun with rave reviews all over the internet—but those snippets don't tell you everything. In my Hypervolt Go review, I explain the good, the bad, and the "meh" about this mini percussion massager.
Why You Should Trust Us
I've had years of hands-on experience with massage guns and have tested more than 40 models since I began writing about percussive therapy in 2018. My team here at Garage Gym Reviews has started calling me "the massage gun girl," which is a title I'm not sure I'm a fan of, but should tell you enough about my expertise on this topic.
Hypervolt Go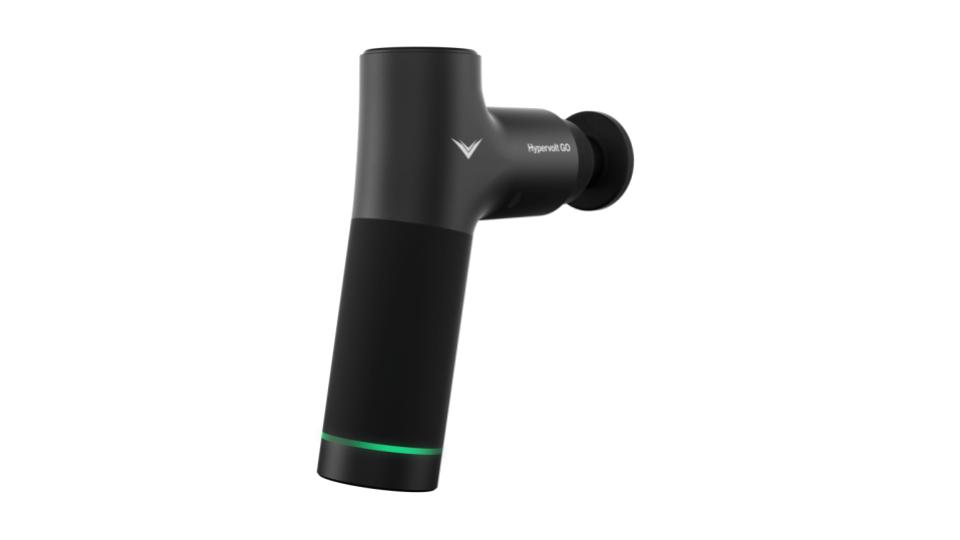 Hypervolt Go
The Hypervolt Go is the pocket-sized percussive massage gun from Hyperice. It's very similar to the Hypervolt and Hypervolt Plus, but it only weighs 1.5 pounds. It has a 40-watt motor that powers three percussion speed settings and it comes with two interchangeable massage head attachments. It's also TSA-approved for carry-on.
A Quick Look at the Hypervolt Go Massage Gun
The Hypervolt Go is Hyperice's mini massage gun. It's a well-made product with a lot going for it—but there's a lot of room for improvement, too.
This massage gun comes from a brand with an established presence in the workout recovery space. In fact, Hyperice released one of the first direct-to-consumer percussive massage guns back in 2018.
Since then, the brand has released several massage gun models, with the Hypervolt Go launching in November 2020.
My Tips:
It's small enough to toss into a gym bag or carry-on, but it doesn't come with a case, so I recommend storing the device and all of its accessories in a small drawstring bag.
It only comes with two massage head attachments; you'll need to buy more separately if you want them. Keep this in mind when researching your options and pricing.
My Favorite Things:
Has an LED battery life indicator
Comes with three international plug adapters
One of the quietest mini massage guns available
Weighs just 1.5 lbs
My Callouts:
The handle is really thick
Only comes with two attachments
Hyperice doesn't disclose specs like amplitude, stall force, or percussions per minute
Hypervolt Go Massage Gun Specs
| | |
| --- | --- |
| Speed Settings | 3 speeds |
| Motor | 40-watt brushless motor |
| Attachments | 2: flat and bullet |
| Battery Life | 2.5 hours |
| Noise | Estimated 40 to 60 decibels |
Is the Hypervolt Go Massage Gun Worth It?
The Hypervolt Go is a solid mini massage gun with decent build quality that's capable of massaging all muscle groups. It'll do everything the average person wants a percussion massager to do: It'll assist with warmups, relieve sore muscles, and may improve range of motion.
All that said, the Hypervolt Go isn't perfect. At its previous price point of nearly $200, some potential buyers may not have found it has enough redeeming qualities to make it worth the price. However, at its new price of about $160–now that Hyperice has released the new Hypervolt Go 2 at a list price of $200–many potential buyers may think the Hypervolt Go is worth it.
Here's a look at who should consider the Hypervolt Go and who should research other options.
Great for:
People who want a good blend of quietness and power
Travelers who want a massage gun that is explicitly TSA-approved
People who travel internationally and want to take their massage gun with them
Not recommended for:
People who want the most powerful mini massage gun option
Anyone who wants lots of accessories and massage attachments
People looking for the best value mini massage gun
Using the Hypervolt Go Massage Gun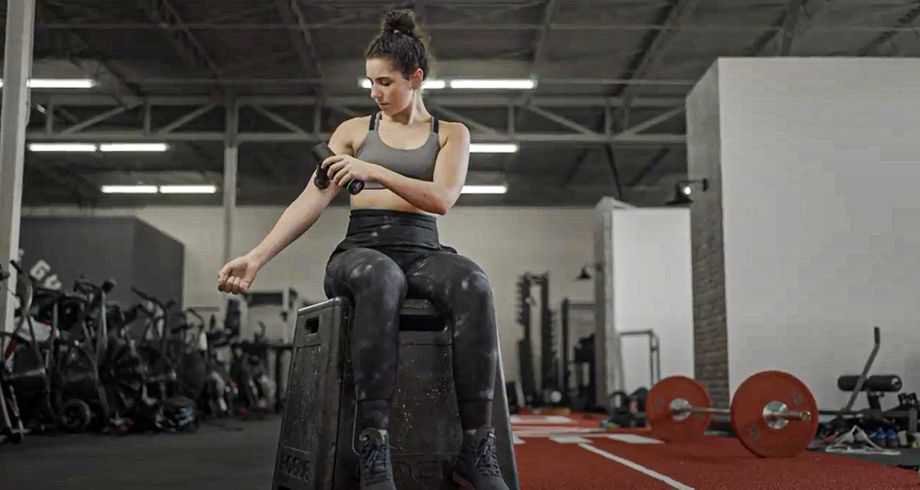 I've used the Hypervolt Go many times before, during, and after workouts, as well as on recovery days. Here's a rundown of my experience with this mini massage gun.
Related: How to Use a Massage Gun the Right Way
Attachments
The Hypervolt Go comes with just two interchangeable head attachments: a flat massage head and a bullet massage head. The flat head is great for covering a lot of surface area in a short amount of time (think sweeping it across your quads), while the bullet digs into trigger points and small areas, such as the arch of your foot.
I wish the Go came with more attachments, specifically a round attachment at a minimum. Aside from the Go and Therabody's Theragun Mini (which comes with just one attachment), all other mini massage guns I've tried arrive with at least three in the box.
You can buy more attachments for your Hypervolt Go separately via the Hypervolt Applicator Set, which will cost you $25. This set includes five attachments: flat, bullet, fork, ball, and dampener. It would be nice if Hyperice sold all of the attachments individually, so buyers don't end up with two flat and two bullet attachments.
Hyperice does not specify what the attachments are made of. My best guess is they're all made of some sort of durable plastic, except for the ball attachment, which feels like ultra-dense foam.
Experience
My experience using the Hypervolt Go was far from bad, but I wouldn't exactly call it groundbreaking. I've used the Go many, many times, and I always find myself internally comparing it to the Theragun Mini, which is more powerful and has a unique grip I love.
RELATED: Hypervolt vs. Theragun comparison
I'm aware that my opinion isn't the only one. Coop loves the Hypervolt Go, as well as the Hypervolt 2 and other models. Coop finds the Hypervolt Go to be plenty powerful for a mini massage gun, and he loves that it's super quiet. As he put it: "I love that I can use this massage gun in the same room as my wife without bothering her."
The quietness is nice; I'll give him that. I, however, am willing to sacrifice the near-silence for a bit more punch.
Power and Speed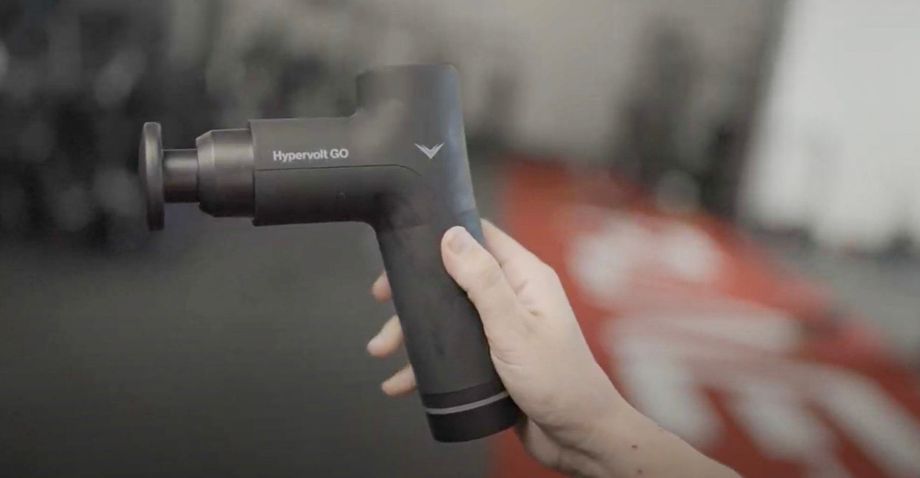 This is where things get weird for me. I simply do not like that Hyperice doesn't disclose the stall force or amplitude of its massage guns. These are things consumers want to know about percussive devices—especially ones that claim to provide a deep tissue massage—and these specs should be easily accessible.
Not one of the three most important specs (stall force, amplitude, and percussions per minute) is noted in the product descriptions of any Hypervolt model. The description of the Go offers only a tidbit of information: three different speed settings.
I'm not saying the Go isn't a good product or that it doesn't work. It's a solid massage gun that works fine. However, I feel this information should be common knowledge, and it feels shady when a big brand name doesn't disclose the same specs as competitors. At the very least, the percussions per minute (PPM) of all three speed levels should be available.
For more information on what these specs mean, read our guide: Do Massage Guns Work?
Battery Life
The Hypervolt Go shines when it comes to charging and battery life. The rechargeable lithium-ion battery boasts a 2.5-hour life, which isn't the longest I've seen on a mini massage gun, but is longer than the life of some other minis from top brands (like Theragun).
I love that the Hypervolt Go charges fully in less than an hour: You won't be suffering for too long should you limp to your massage gun with soreness only to find it's dead as a doornail.
The Go comes with three international plug adapters in addition to the main charging cable— a major bonus for those who travel outside of the U.S.
Traveling With the Hypervolt Go Massage Gun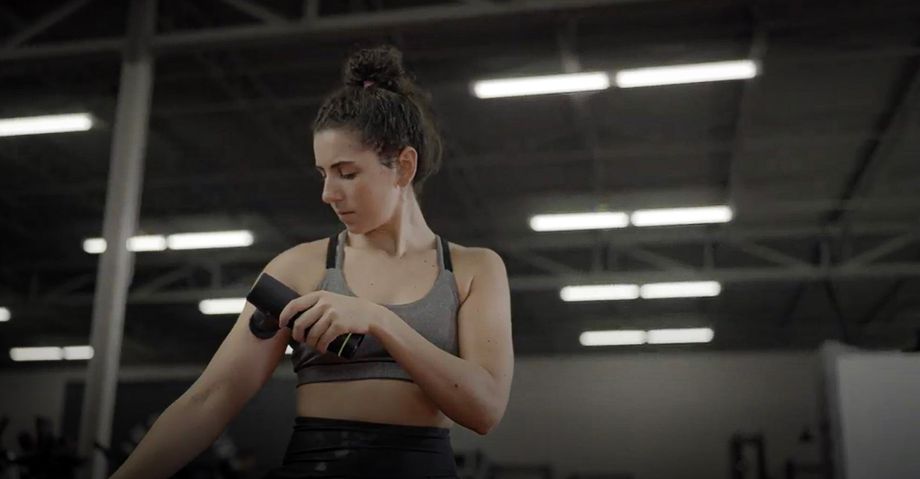 Despite being a mini massage gun, the Hypervolt Go is not the easiest to travel with.
Hyperice doesn't include a carrying case with the Hypervolt Go, and there isn't an option to buy one separately, which is mind-boggling to me. Every other massage gun I've tried comes with a carrying case or, at a minimum, a soft drawstring bag to toss everything in.
What this means for you: If you want to travel with the Hypervolt Go, you have to independently store the device itself, the attachments, the charger, and the plug adapters if you need them.
Is this the end of the world? No.
Is it a slight annoyance that, theoretically, shouldn't be a concern for something that costs more than $150? Yes.
To clarify, traveling with the Go is not so difficult that I wouldn't recommend the product solely based on this factor. But I do think it's worth calling out, because most people who are in the market for a mini massage gun probably expect travel to be seamless.
The Ergonomics
The Hypervolt Go is designed with a cylindrical handle featuring a slight angle of about 45 degrees. The massage heads insert perpendicular to the handle.
This design is very typical of massage guns, miniature or not, and it's common for a reason: The angles allow users to apply a lot of force to the gun and thus the muscle tissue.
My only complaint with the Go: The handle is really thick. If your wrists, hands, or forearms are shot after a tough workout, you might find it a little difficult to hold on tightly.
Technology Benefits and Conveniences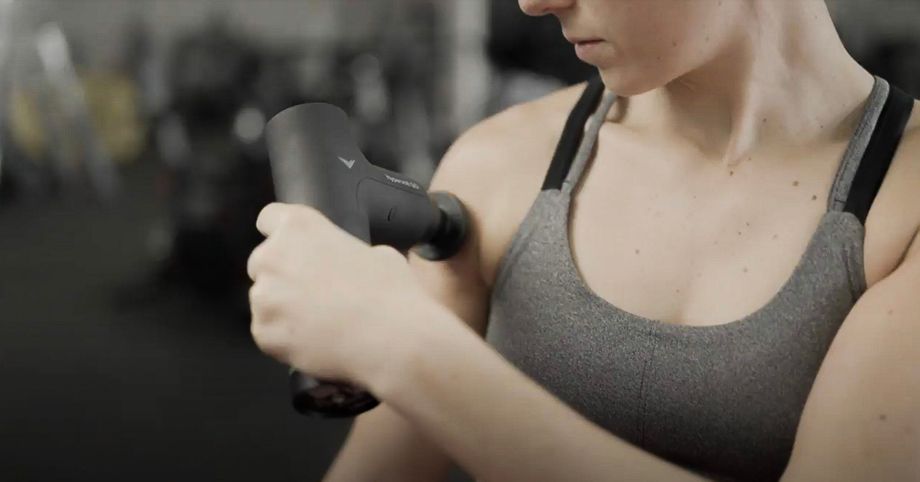 Unlike the more expensive Hypervolt 2 and Hypervolt 2 Pro, the Hypervolt Go does not have any smart features. It lacks the pressure sensor found on the other models, as well as Bluetooth connectivity and speed control via the Hyperice app.
To me, this isn't a big deal. I never use the tech features on massage guns, anyway. I simply don't have a need or desire for automated recovery protocols and instead prefer to use the settings that feel good on my muscles in the moment.
I wanted to point this out, though, for people who might skim the description and assume the Go has the same smart features as its big siblings.
Theragun Mini vs. Hypervolt Go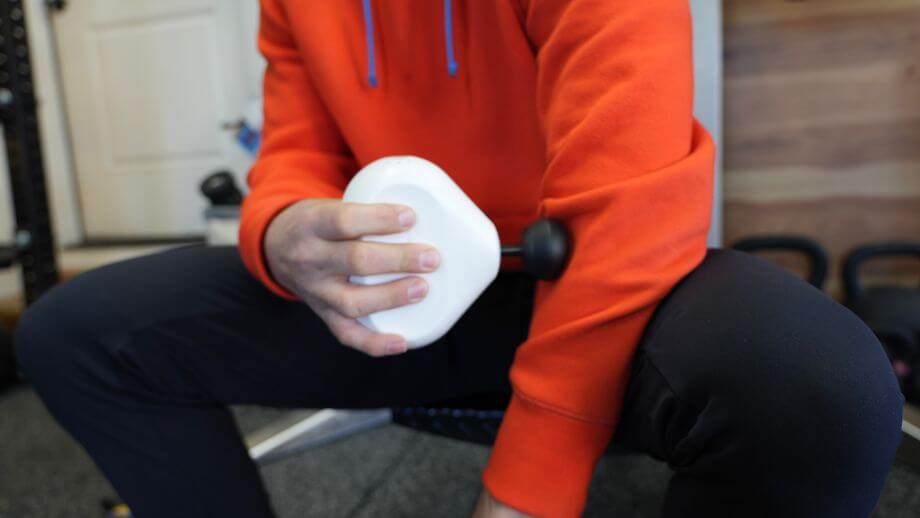 I've written an entire in-depth guide to Theragun vs. Hypervolt where you can get the low-down on the two brands, but I wanted to quickly compare the Theragun Mini and Hypervolt Go here. These side-by-side spec comparisons can help you make the best buying decision for you.
| | | |
| --- | --- | --- |
| | Hypervolt Go | Theragun Mini |
| Product Weight | 1.5 pounds | 1.4 pounds |
| Battery Life | 2.5 hours | 2.5 hours |
| Attachments | Two: flat, bullet | One: ball |
| Amplitude | Estimated 10mm | 12mm |
| Speeds | Three: PPM not specified | Three: 1,750 to 2,400 PPM |
| Decibel Level | Estimated 40 to 60 dB | Estimated 60 to 70 dB |
| Carrying Case | No | Yes |
| Stall Force | Estimated 20 pounds | 20 pounds |
While comparing these specs, remember that the Hypervolt Go now costs about $40 less than the Theragun Mini. The Hypervolt Go 2 is listed at $199, which is the same price of the Theragun Mini and has the same specs as the original Hypervolt Go (except for a 3-hour battery life versus a 2.5-hour battery life).
Ordering the Hypervolt Go Massage Gun
Nothing out of the ordinary occurred during order placement or delivery of the Hypervolt Go. The device arrived intact within a week, with the product box inside of a nondescript cardboard box.
Please note: You can no longer order the Hypervolt Go through the Hyperize website. Only the Hypervolt Go 2 is available there, so you'll need to order the Go on Amazon or another third-party retailer that offers it.
On Amazon, you may get faster shipping, but on the manufacturer's website, you have the option to finance through Klarna and pay interest-free monthly installments, so it may be worth looking into the newer version of this massage gun.
Customer Experience
Never have I had a negative experience with Hyperice support. I've only had to contact support twice, and both times, the team had my issue resolved in less than 24 hours.
If you have a problem with your Hypervolt Go, you can peruse the FAQs on the Hyperice help desk website; send an email through the contact form; or chat with a customer support specialist.
There's no call option, but I'd venture to guess that most customers don't enjoy support phone lines, anyway.
Customer Reviews
Hypervolt Go reviews left by customers tend to be much more positive than I feel about this product, which I suppose is a good sign.
At the time of this writing, the Hypervolt Go has an average rating of 4.6 stars on Google, rei.com, and bestbuy.com; and an average rating of 4.7 stars on Amazon.
Most reviews praise the quietness of the device, as well as the light weight. The few negative reviews I found mention the ergonomics of the massage gun (such as the handle being hard to hold for small hands) and a desire for more stall force.
Final Verdict of Our Hypervolt Go Review
The Hypervolt Go is a good mini massage gun, but it isn't the best. However, at its new price point of about $160 (since the release of the Hypervolt Go 2 in April 2023 at about $200), the Go feels much more worth its price tag.
Still, the Go has its perks. Here's my verdict for this Hypervolt Go review:
Hyperice as a brand lacks in the information department. I think the failure to provide essential specs in the Hypervolt Go's product description is a turnoff to buyers and, quite frankly, a red flag. Why can't we know the precise amplitude of your massage guns, Hyperice?
The Hypervolt Go is more powerful than most mini massage guns, but you can get a more powerful one (Theragun Mini) for not much more. You can also score some solid full-sized massage guns that pack more power and come with more attachments at this price.
I think the success of this product stems primarily from brand recognition and Hyperice's solid footing in the workout recovery space. The product itself is not that impressive, but Hyperice was a pioneer in muscle recovery and thus has a loyal customer base.
Full Rating
Hypervolt Go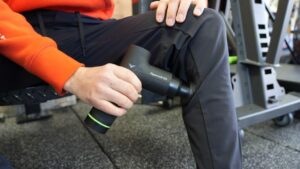 The Hypervolt Go is the pocket-sized percussive massage gun from Hyperice. It's very similar to the Hypervolt and Hypervolt Plus, but it only weighs 1.5 pounds. It has a 40-watt motor that powers three percussion speed settings and it comes with two interchangeable massage head attachments. It's also TSA-approved for carry-on.
Product Brand: Hyperice
Product Currency: USD
Product Price: 199
Product In-Stock: InStock
Hypervolt GO Massage Gun FAQs
Here are some of the most commonly asked questions about the Hypervolt GO massage gun:
Is the Hypervolt GO worth the money?
As someone who has tested nearly 50 massage guns in total and at least 15 mini massage guns, my answer to this is a soft yes. The Hypervolt Go is nice; don't get me wrong. However, there are other options out there at a similar price that have more power, more attachments, and a carrying case.
Is the Hypervolt GO powerful enough?
This question would be easier to answer if Hyperice provided specs on amplitude and stall force, but either way, the answer is "it depends." For the average exercise enthusiast, yes, the Hypervolt Go is powerful enough to provide the benefits of a massage gun: relief from muscle soreness, increased blood circulation, and improved mobility.
How loud is the Hypervolt GO?
Hyperice doesn't disclose the decibel range for its percussive massage devices. After measuring the sound of the Hypervolt Go with a smartphone app that captures decibel levels, I can estimate that the Go hovers between 40 to 60 decibels, which is about as loud as distant bird calls to a normal conversation between two people.  
Can you get more attachments for the Hypervolt GO?
Yes, you can purchase the Hypervolt Applicator Set on hyperice.com. It includes five attachments, although two of the five are already included with the Hypervolt Go.
Can you get the Hypervolt Go on Amazon?
Yes, the Hypervolt Go is available on Amazon, as are all of the other Hypervolt massage gun models.