We test and review fitness products based on an independent, multi-point methodology. If you use our links to purchase something, we may earn a commission. Read our disclosures.
Best Buy is a major retailer with almost every tech-related product you could need. Whether you're looking for a new fridge or want a top-of-the-line massage gun, they have you covered. In more recent years, Best Buy has added fitness equipment to their arsenal, which is music to my ears.
If you're looking to find the best treadmill at Best Buy, you're in the right place. We've carefully vetted every treadmill on their website in the process of making this list.
Bestie, I'm Helping You Make Your Best Buy
Our team of expert product testers and reviewers want to help you, our reader, make an excellent purchase you'll love. At GGR, we know that finding the right equipment for your home gym can be tough, and we want to take any guesswork out of the equation. Plus, we're qualified to give you our opinions and advice. After all, we're a team of personal trainers, former NCAA D1 athletes, and nutrition coaches. This is what we're best at, and we want to share our expertise with you.
5 Best Treadmills at Best Buy
Best Treadmill at Best Buy Overall: Nordictrack Commercial 2450 Treadmill
Good for: People who want a durable treadmill with a tech-y flair
Pros:
Powerful motor (3.6 CHP)
HD touchscreen is compatible with iFIT
22" W x 60" L deck is good for running
Has both incline and decline
Foldable treadmill
Bluetooth connectivity
Cons:
Expensive at almost $2,500
Very heavy at over 353 pounds
Large footprint
If you love running (and interactive programming), the NordicTrack Commercial 2450 is my top pick for you. With a powerful 3.6 horsepower motor, the 2450 is able to support sustained running, jogging, and even sprinting. Plus, the 22-inch-by-60-inch deck is generously sized for exercisers both short and tall.
I love iFIT's extensive on-demand programming, and the 2450 has a large, 22-inch touchscreen with which to view it on. Plus, you can easily rotate the display to enjoy iFIT off of the treadmill, which I think is a major value-add. You'll be able to view a variety of classes including HIIT, strength training, yoga, and more.
It is worth noting that this is a high-end treadmill, and the cost reflects the features provided. At almost $2,500, it isn't cheap, but you can take advantage of Best Buy's financing options to break your payments up into manageable chunks.
Although this machine folds, it doesn't fold particularly flat. You'll still need a sizable amount of space where you can store the 2450 when it isn't being used. Plus, at 353 pounds, this cardio machine is really heavy. If you have to move it up or down the stairs, you'll either need to hire professional movers, or grab two friends to help. 
For more, read our NordicTrack Commercial 2450 review.
| | |
| --- | --- |
| Weight | 353 lbs |
| Weight capacity | 300 lbs |
| Motor | 3.6 CHP |
| Footprint | 81" L x 39" W x 59" H |
Best Treadmill with Incline and Decline at Best Buy: ProForm Pro 5000 Smart Treadmill
Good for: Those who want to simulate outdoor terrain
Pros:
-3% to 12% incline and decline options
14-inch HD touchscreen compatible with iFIT
3.5 CHP motor
300-pound weight capacity
20" W x 60" L running belt
Foldable
Cons:
Treadmill isn't sold by ProForm itself anymore
261 pounds
Lacks pulse monitor
Not too many treadmills have both incline and decline options, especially those that are under $1,300. The ProForm Pro 5000 Smart treadmill would like a word, as it features a 3 percent decline and up to a 12 percent incline. This is ideal for people who want to challenge themselves or simulate running outdoors. The high-powered 3.5 CHP motor won't hold you back, even if you're training for a half marathon or doing a long-distance run on your treadmill.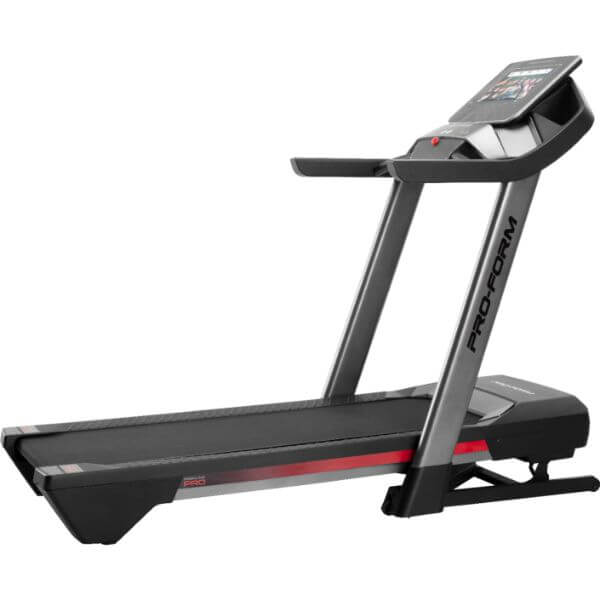 When it comes to industry standards, both the deck size and the weight capacity hit the nail on the head. A 300-pound weight capacity is ideal for most users, and it is what we've come to expect on treadmills over $1,000. A 20-inch-by-60-inch deck supports taller folks and long strides, which makes this a more inclusive option.
It is worth noting that ProForm no longer sells this machine on their website. The last year the brand sold the Pro 5000 was 2021, so the model Best Buy is selling is likely a year or two old. The features all appear current (including a nice 14-inch touchscreen), and the treadmill works with iFIT as the Pro 9000 does. 
To learn more, check out our ProForm Pro 5000 review.
| | |
| --- | --- |
| Weight | 261 lbs |
| Weight capacity | 300 lbs |
| Motor | 3.5 CHP |
| Footprint | 79″ L x 39.15″ W x 71.4″ H |
Best Treadmill for Heavy People at Best Buy: Bowflex Treadmill 10
Good for: Individuals who are heavy or tall
Pros:
400-pound user weight capacity
Compatible with JRNY programming
22″ W x 60″ L deck
Has both incline and decline options
15-year frame warranty
Cons:
Very heavy machine at 323 pounds
Bulky even when folded
Motor CHP is unknown
The Bowflex Treadmill 10 has a substantial weight capacity of 400 pounds, which is 100 pounds higher than the industry standard. If you're taller or heavier, this is an excellent option for you. Plus, the 22-inch-by-60-inch deck is well-cushioned and would be a comfortable choice for people with joint pain.
This machine is compatible with JRNY programming, which can be streamed on the 10-inch touchscreen. I find the display to be on the smaller side, but it is still a nice feature to have.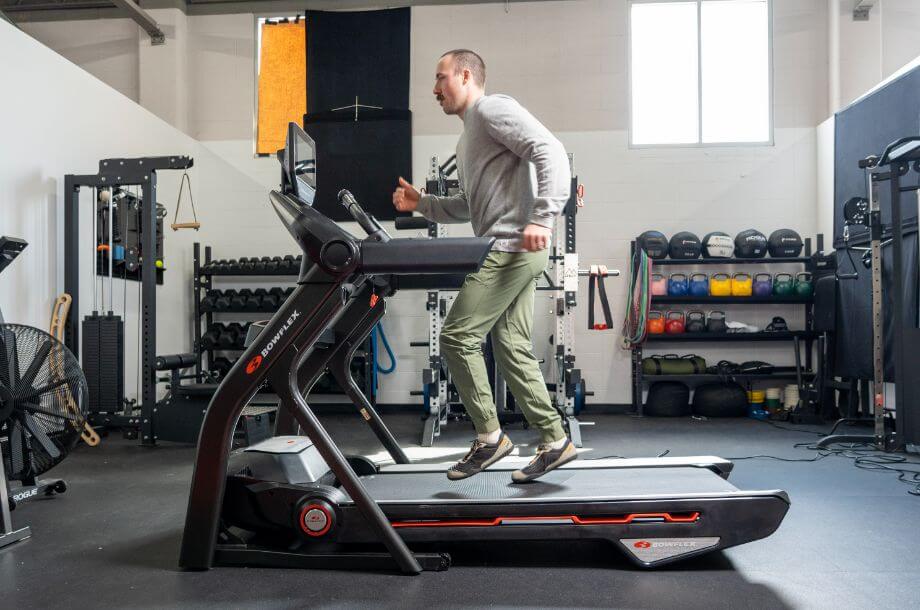 Bowflex is one of the brands that won't disclose the CHP of their treadmill motors, which I find quite strange. I've personally run on this treadmill, and the motor seems strong, so I'm not sure why they won't divulge the exact number.
Although the Treadmill 10 is one of the most sturdy cardio machines I can think of, this comes at a price: The machine is 323 pounds and difficult to move. Although it does fold, it doesn't fold anywhere close to flat, so don't bank on storing this machine in a tight space without a little maneuvering.
Want to learn more? Check out our full Bowflex Treadmill 10 review.
| | |
| --- | --- |
| Weight | 323 lbs |
| Weight capacity | 400 lbs |
| Motor | Company does not disclose motor CHP |
| Footprint | 85″ L x 39.6″ W x 65.3″ H |
Best Budget Treadmill at Best Buy: ProForm Carbon TL Treadmill
Good for: Individuals on a budget who still want a quality treadmill
Pros:
Around $600
300-pound weight capacity
Foldable machine
Bluetooth connectivity
Two cup holders
Easy-to-use jump buttons for speed and incline
Cons:
No included touchscreen on this model
222-pound treadmill
2.6 CHP motor isn't great for running
Buying the ProForm Carbon TL at Best Buy versus on the ProForm website will save you almost $300! This is definitely my favorite budget option at Best Buy because it has Bluetooth connectivity, is foldable with a gas shock, and has a weight capacity of 300 pounds.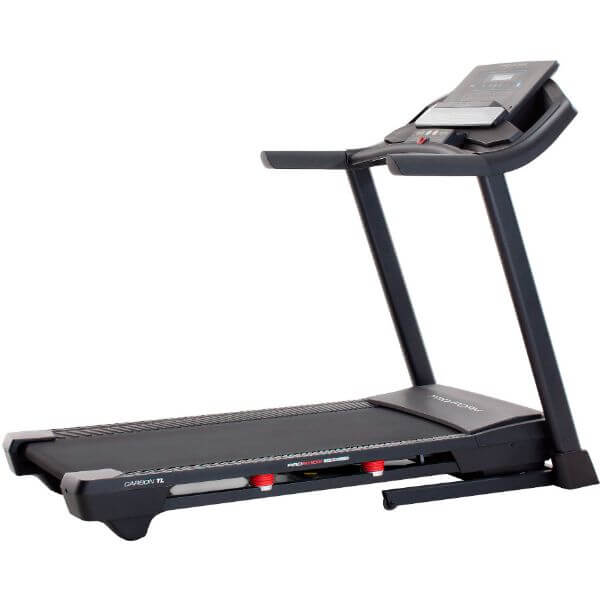 Although the Carbon TL doesn't have a touchscreen, you can use your own device and connect it via Bluetooth to the treadmill. There are also dual cup holders for folks like me who have two different drinks on deck at all times. Plus, the jump buttons located conveniently underneath the display makes switching your speed and incline a breeze.
It is worth mentioning that while the motor isn't awful, it isn't exactly what I would recommend for frequent runners. At 2.6 CHP, the motor is slightly less powerful than the 3.0 CHP we expect on a treadmill geared towards running. You'll be able to comfortably walk and jog (with occasional running or sprinting thrown in) on the Carbon TL, but it isn't my first choice for serious athletes.
| | |
| --- | --- |
| Weight | 222 lbs |
| Weight capacity | 300 lbs |
| Motor | 2.6 CHP |
| Footprint | 74.80″ x 35.43″ x 57.48″ |
Best Folding Treadmill at Best Buy: ProForm Carbon T10 Treadmill
Good for: People who need to be able to store their treadmill when it isn't being used
Pros:
Foldable for easier storage
iFIT capabilities
300-pound user weight capacity
10-inch touchscreen
Cushioned deck
12 levels of incline
Cons:
Heavy machine at 221 pounds
Shakes a bit when running
Warranty could be better
Treadmills may be one of the best cardio machines out there, but they're by no means the most space-friendly piece of equipment. For people who don't have a lot of floor space to work with, we recommend the ProForm Carbon T10 Treadmill. And thanks to the gas shock folding mechanism, you don't have to worry about this 221-pound machine slamming on your floor.
Even when it's unfolded, this treadmill doesn't take up a huge amount of space, at only 74.6 inches in length and 35.2 inches in width (for comparison's sake, our top pick is 81 inches in length and 39 inches in width).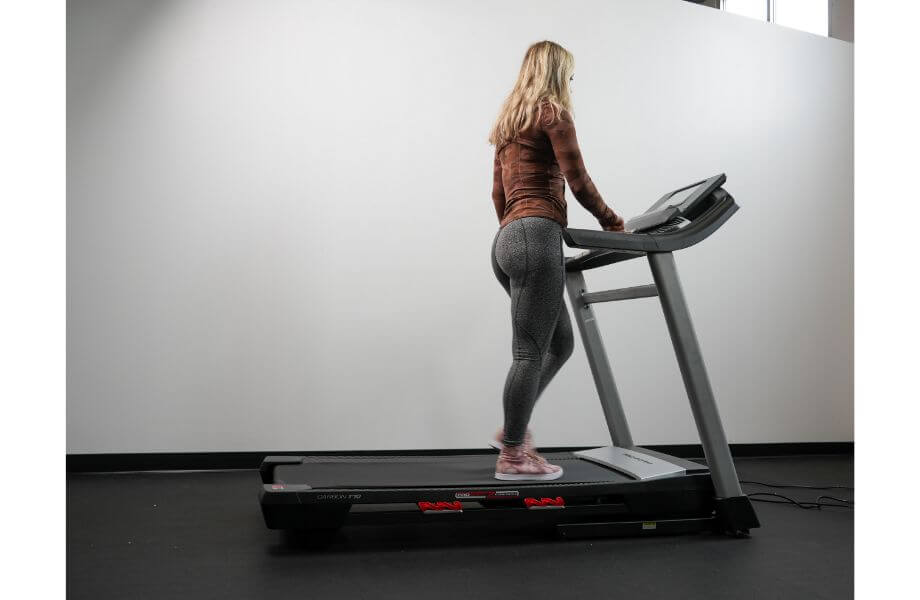 That's good news if you're an average-sized person who's looking for compact exercise equipment, but if you're vertically-gifted or just have a long stride, you may find the 55-inch running deck a bit too small for your liking.
Those who meet the height requirement for this ride will be greeted with a well-cushioned deck, incline adjustments up to 12 percent, and a 10-inch touchscreen with iFIT capabilities. The 2.75 continuous horsepower (CHP) motor is just shy of the industry standard of 3.0 CHP, but it should still hold up to daily use for many years.
Take an in-depth look at our ProForm Carbon T10 review.
| | |
| --- | --- |
| Weight | 221 lbs |
| Weight capacity | 300 lbs |
| Motor | 2.75 CHP |
| Footprint | 35.24" W x 74.62" L x 64.39" H |
Other Treadmills We Researched
Not finding what you're looking for in this roundup? Check out some of our other picks to find your new cardio machine:
How We Picked and Tested
I love seeing processes, and if you do, too, you'll enjoy seeing how we chose the machines for this roundup. Check out the questions we asked ourselves when deciding if each treadmill would make the cut:
Website: Is the treadmill available at Best Buy?
Price: What is the price of the treadmill? Is it more or less expensive than what it is on the actual brand website?
Model: What model is the treadmill? Is it a previous iteration of the machine?
Weight capacity: What is the weight capacity? How does this compare to the industry standard of 300 pounds?
Brand: What is the brand? Is it a budget, mid-range, or luxury treadmill? Is it Sunny Health & Fitness, ProForm, NordicTrack, Horizon Fitness, or Sole Fitness?
Deck: How large is the tread belt? Will it support running or walking best? Is the deck cushioned? Is the cushioning adjustable?
Programs: Does the treadmill have any preset workout programs or treadmill workouts?
Technology: Does the machine have Bluetooth connectivity or speakers? Does it come with a heart rate monitor or can it be connected to one? Does the machine have Wi-Fi?
Display: Is it a touchscreen or an LCD display? How many inches is the screen? Is it easy to use and to read? Will the common person understand how to navigate it?
Extras: Is there a cooling fan or cup holders? Do you get a tablet holder or accessories holders? If so, how large are they?
Portability: How heavy is the machine? Can it be moved easily? Does it have transport wheels? Do you need an additional person to help you move the machine?
Assembly: Is professional assembly available? How difficult is the assembly process? Do you need another set of hands to successfully assemble it? How easy are the directions to understand? How long does the assembly process take?
Foldability: Can the treadmill be folded? Is it easy to fold? Does it have a gas shock to make the folding safer?
Footprint: What is the footprint of the treadmill? Will it fit in a small space? How does it compare to other treadmills we have tested?
Benefits of Buying Treadmills at Best Buy
Trying to figure out why you should purchase a treadmill at Best Buy versus other retailers? Certified personal trainer (and GGR Staff Writer) Anthony O'Reilly has the information you're looking for.
"Best Buy is a great place to buy a treadmill because they make it accessible for just about anyone to afford a top-of-the-line model," Anthony explains. "Not only are they offered at competitive prices, but you can also choose from multiple financing options. If you're buying a tech-heavy treadmill, I recommend adding on the Geek Squad protection to ensure any problems can be fixed."
Buying Guide: What to Look for in Treadmills at Best Buy
Want to purchase a treadmill at Best Buy but aren't sure where to start? Check out this handy buying guide to help—well, guide—you through the process.
Price
The cost of a treadmill is always something to consider ahead of time. I suggest knowing your overall budget before purchasing a new machine. You can also take advantage of Best Buy's excellent financing options (if you qualify).
Availability
Best Buy isn't Amazon or the NordicTrack website, so sometimes the treadmills available can be limited. Check to see if the machine you're interested in can be delivered to your home or sent to a Best Buy near you for pickup.
Geek Squad
One of the main benefits to purchasing a treadmill at Best Buy is the option to get Geek Squad Protection. Although you do have to pay an additional fee at checkout, you could get three or five years of hands-on assistance if your machine breaks down. Decide if this is something you're interested in, or if you feel comfortable with just the manufacturer warranty.
Brand
Best Buy doesn't have every single brand you can think of when it comes to treadmills, but they do have many of the major players––NordicTrack, ProForm, Bowflex, and Echelon. Oftentimes, Best Buy will carry the previous iteration of a popular machine, which makes it hundreds of dollars cheaper than purchasing the newest model. If you don't mind this, you can score a major deal!
Treadmills at Best Buy FAQs