We test and review fitness products based on an independent, multi-point methodology. If you use our links to purchase something, we may earn a commission. Read our disclosures.
Several years ago, walkers and joggers looking for a foldable treadmill to use in their homes would've found the ProForm Performance 600i a good option. It was an affordable choice for those who wanted a piece of fitness equipment that wouldn't break the bank. Plus, users could feel comfortable knowing that this treadmill came from a reputable brand and would meet their cardio needs.
In our ProForm Performance 600i treadmill review, we'll take the time to evaluate and compare both versions of this machine while also mentioning an alternative treadmill for you to consider. Neither of the 600i treadmills is in production today, but there are plenty of other options you can add to your home gym.
We Know ProForm Treadmills
Luckily for you, if you're looking for a trustworthy review from real experts, you're at the right place. Our team of GGR testers has tried out several ProForm treadmills, so we can tell you a thing or two about them. We've also been fortunate enough to try brands like NordicTrack and Sole to see how ProForm stacks up against them.
Our team of expert testers, which consists of athletes, personal trainers, gym owners, and more, has personally trained on these machines themselves. Therefore, they can tell you info like how loud it is, how well the motor functions, or if the running track is suitable for taller individuals. These details are essential when you're trying to buy a treadmill because you need to know if it'll be able to help you meet your individual fitness goals.
Fortunately, you can count on us to give you the information you need on ProForm treadmills without dealing with the marketing fluff. We'll tell you if it's a good treadmill for its price range or just average at best. We can even recommend how to bypass the iFIT subscription on ProForm treadmills if it's not something you want. Seriously, that's how much we know our stuff.
Looking For an Alternative to ProForm Performance 600i Treadmill?
Since the ProForm 600i isn't in production anymore, we recommend you look at the ProForm City L6. It's a very affordable treadmill that's iFIT-enabled, so you'll get access to hundreds of training programs. In addition, you can easily connect the treadmill via Bluetooth to iFIT using your own tablet to enjoy trainer-controlled workouts. This feature really does feel like personal trainers are right there with you.
In addition, like the ProForm 600i, the City L6 has ProShox cushioning, so you won't feel like you're walking on pavement. This treadmill also folds, offering an impressive SpaceSaver design that lets you stow it away when it's not in use.
Although the motor is lacking on this machine, given that it's only 1.6 continuous horsepower, if you're just walking, that'll be satisfactory. However, understand that this particular treadmill isn't for everybody, so have an idea of what you want before you purchase it. If you don't mind having a no-incline, low-top-speed treadmill and just need to walk or casually jog, this is a good option!
A Quick Look at the ProForm Performance 600i Treadmill
The original ProForm Performance 600i lacks a traditional console, but some might say it makes up for that in other areas. You can get a great workout in with a decently sized running track, plenty of built-in workout programs and a reasonable incline and speed range. It gives walkers and runners the versatility they desire.
What's interesting, though, is that ProForm updated this machine a few years ago. The more recent version, the ProForm SMART Performance 600i, was priced affordably, and it includes some updates that many would appreciate (and others would loathe). However, based on some customer reviews, many users likely preferred the first version.
When this treadmill was upgraded, ProForm introduced a much better console but provided a weaker motor and smaller running surface. Based on a few customer reviews, many users didn't like this as the treadmill focused more on tech and less on the running experience.
Nonetheless, let's get into the nitty gritty so you can see what the ProForm Performance 600i treadmill is working with.
For clarification, the pros and cons listed below are based on the original model. However, in the specs section, we share details about both models.
Pros:
Folding treadmill
ProShox cushioning
325 user weight capacity
iFIT-compatible
20+ built-in workout programs
Roomy treadmill belt
CoolAir workout fan
Quick Incline and QuickSpeed controls
Cons:
Subpar console area
Weaker CHP motor
Non-traditional display screen
Short arm rails
ProForm Performance 600i Treadmill Specs
| | |
| --- | --- |
| Footprint | 59.25″ H x 36.63″ W x 79.62″ L (unlisted for upgraded model) |
| Minimum Ceiling Height | Unlisted |
| Weight | 224 lbs (212 lbs on upgraded model) |
| Weight Capacity | 325 lbs (300 lbs on upgraded model) |
| Motor | 2.75 HP (2.5 HP on upgraded model) |
| Walking Belt | 20″ x 60″ (18" x 55" on upgraded model) |
| Display | Round Watts LED Display (10" smart HD touchscreen display on upgraded model) |
| Speed Range | 0 – 12 MPH (0 – 10 MPH on upgraded model) |
| Incline | 0 – 12% (-3 to 10% on upgraded model) |
| Heart Rate Monitor | EKG Grip Pulse (both models) |
| Programs | 22 Built-in Programs (50 Built-in Programs on upgraded models) |
| Warranty | Lifetime frame and motor, 2-year parts, and 1-year labor (both models) |
Key Features of the ProForm Performance 600i Treadmill
One of the key features of this treadmill is its spacious 60-inch-by-20-inch walking belt. What you'll sometimes see with more affordable treadmills, especially those that fold, is that manufacturers will skimp on the running surface. Fortunately, that didn't happen here. However, despite an adequately sized running deck, this treadmill is mostly ideal for walkers and joggers due to its 2.75 CHP motor.
The upgraded version of this machine has a 55-inch-by-18-inch treadmill belt, which is small, even in its price range. Although you'd get a larger touchscreen (the key feature for this one), the reduced running surface suits walkers more than serious runners.
Another feature the original treadmill is a speed and incline range that allows one to intensify their workout. This treadmill had a top speed of 12 MPH and a 0 to 12% incline range, which beats some others in its price range. The upgraded version of this machine, though, only has a max speed of 10 MPH and the incline taps out at 10%. However, this treadmill offers a -3% decline, which is attractive to those looking for downhill simulation.
One additional feature of the original ProForm 600i is the 325-pound user weight capacity. It's nice to see that this machine was inclusive of heavier and taller users. But unfortunately, the user weight capacity was reduced to 300 pounds in the upgraded version.
Footprint, Portability, and Durability
The ProForm Performance 600i isn't a humongous home treadmill that takes up a bunch of space, especially once you fold it. The EasyLift Assist hydraulic system makes raising and lowering the deck easy. However, the instructions on the machine still said you should be comfortable lifting 45 pounds before doing so.
In terms of portability, this treadmill includes wheels so you can move it around a room. Most people probably wouldn't have trouble navigating it alone, but two people may make it easier since it is 224 pounds. The upgraded version is just 12 pounds lighter.
This treadmill's durability is questionable, even for its price range. Customer reviews noted that the machine had a light metal frame and lacked a crossbar, so it shook a bit when users ran. Keep in mind, though, that this treadmill was not made for running. Walkers and joggers didn't experience the shaking.
Ergonomics
Even with this being a more affordable treadmill from ProForm, it still includes the ProShox cushioning system that the brand's more expensive treadmills have. Deck cushioning can make running a bit more comfortable, and it's better on the joints. If you've run outside before, then you absolutely know how rough it can be on your body.
Another thing to point out is the short arm rails, which may be a bit problematic for those with longer arms. Having an appropriately sized arm rail isn't just for safety, it's also for ease of use. Taller users and sprinters may have difficulty feeling secure on this treadmill.
Technology Benefits and Conveniences
The original ProForm 600i has a round Watts LED display, which admittedly looks a bit odd and also confused many. Even when this machine came out, people were used to seeing more traditional display screens, so some struggled to find typical information like how many calories they burned or how long they'd been working out. However, others found it more simple and easy to use. Ultimately, it comes down to your personal preference.
RELATED: The Best Treadmills With TV Screen
The upgraded ProForm Smart Performance 600i made up for this with a 10-inch Smart HD touchscreen, which is one of the most advanced displays for a treadmill in its price range.
Both versions of the treadmill integrate with iFIT, have an integrated tablet holder, and feature two hand-grip heart rate sensors built into the handlebars. These types of heart rate sensors are sometimes inaccurate and unreliable, though. It would've been nice to have wireless heart monitoring included here too, so if you wanted that, you would had to look at other ProForm treadmills.
Other conveniences that both the original and upgraded ProForm 600i have include:
QuickSpeed and Quick Incline for one-touch changes
CoolAire workout fan that's positioned in a way that hits your core
A sound system that consisted of two 2-inch speakers on either side of the display and
Tons of workout apps to choose from (22 on the original and a whopping 50 on the upgraded version)
Water bottle holder
Final Verdict of Our ProForm Performance 600i Treadmill Review
The ProForm Performance 600i is a decent option for walkers and very casual joggers. However, runners may be disappointed by the 2.75 CHP motor (2.5 on the upgrade), which would start to lag if you used the machine at its top speed.
With an iFIT membership, you can access Google Maps using your tablet and imagine jogging around the world, which is nice. Unfortunately, you may feel limited, especially on the upgraded version. A shorter deck, weaker motor, and a top speed of 10 MPH may make you question if having iFIT is even worth it, even with the braggable touchscreen display.
Overall, is the ProForm Performance 600i treadmill a good one? Yes, if your needs surround walking and light jogging. Although it's not the best treadmill ProForm ever produced, it still served a purpose for its intended audience.
ProForm Performance 600i Treadmill Rating
ProForm Performance 600i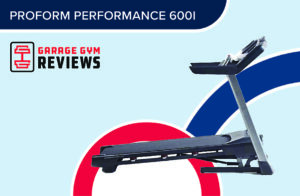 Our ProForm Performance 600i Treadmill review takes a look at this now-discontinued machine and offers alternatives.
Product Brand: ProForm
Product Currency: $
Product Price: 499
Product In-Stock: SoldOut
ProForm Performance 600i FAQs
Is ProForm a Good Product?
Yes, ProForm is well known in these workout streets for creating durable, long-lasting products. 
Who is The Manufacturer of ProForm Treadmills?
ProForm is manufactured under the brand iFIT, which was formerly known as ICON Health and Fitness.
Which ProForm Treadmill is Best for Running?
Currently, the ProForm Pro 9000 would hold that spot as being the best treadmill for running for that brand. It's got a 3.6 CHP motor, a 20″ x 60″ running deck, a max speed of 12, and an excellent incline range. Runners would definitely feel challenged with this one.