We test and review fitness products based on an independent, multi-point methodology. If you use our links to purchase something, we may earn a commission. Read our disclosures.
If you own a ProForm treadmill or are simply thinking about purchasing one, it helps to know if you can use it without iFIT. Although iFIT is incredibly advantageous, with perks like tracking your metrics and getting access to thousands of classes, it's not for everyone. Some people just aren't looking for all the bells and whistles that come with an iFIT membership and prefer built-in workout programs. So, if you're someone who is asking, "Can you use a ProForm treadmill without iFIT?" you're in luck, because you don't.
Below, we're going to address how you can still get fantastic workout results using your ProForm treadmill without iFIT. We'll also address why you might want to consider the iFIT platform or at least try one of the alternatives. So keep reading to learn how to get the most out of one of the best treadmills on the market today.
Using ProForm Treadmills Without iFIT
Many people who purchase ProForm or NordicTrack treadmills, ellipticals, and rowers, are actually looking to utilize interactive programming, like the iFIT subscription. However, others only use iFIT because they aren't so sure if they can opt out of activation or not. This is because ProForm workout equipment often comes with a big red sticker that tells users to activate iFIT before first use. But you don't have to do this at all if you're not interested in the iFIT features.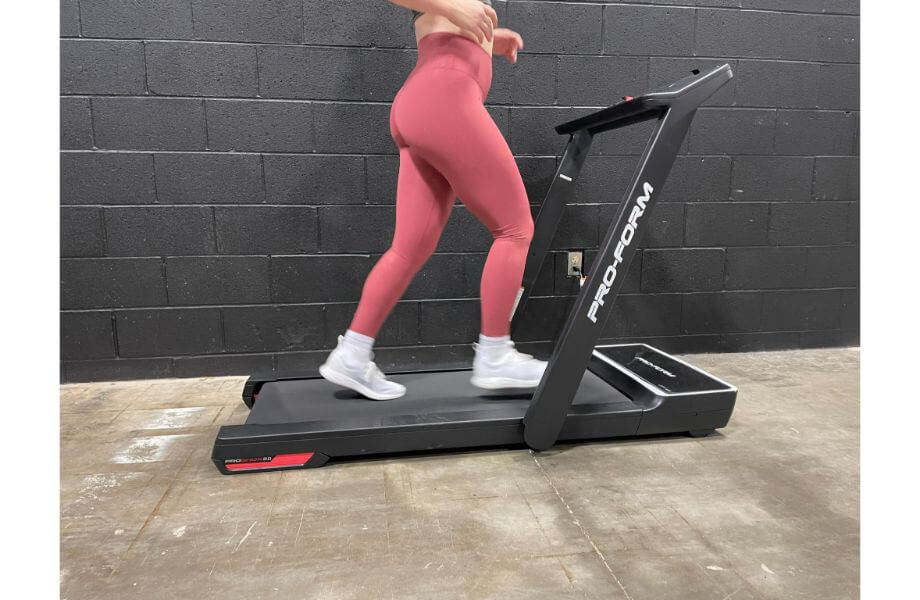 So, let's say you just purchased the top-rated and high-quality ProForm Pro 2000. It's packed with a 10-inch interactive touchscreen, has Bluetooth capabilities, and doesn't take up much room because it's a folding treadmill. Finally, you're ready to try out the 3.25 continuous horsepower (CHP) motor but are instructed to visit the iFIT website before you get started. Therefore, you go over to the website and see that they're asking you for personal details and even your credit card information. I'm pretty sure this is likely the moment when you asked yourself, "Will my treadmill work without iFIT?".
How To Set Up Your ProFrom Treadmill Without iFIT
Instead of going through the process of creating an iFIT account, go ahead and close out of that website completely. After that, double-check that your ProForm treadmill is plugged in and do the following:
Go to the back of your treadmill near the power cord and find your grey reset button. You'll see that one side is labeled "Reset" and the other side reads "Off."
Use a finger to push the side labeled "Off" and then quickly push it back to the side labeled "Reset."

Go to the front of your treadmill and take a look at your screen. It'll flash "Hello" and then go blank.
After it goes blank, look for the blue-and-white iFIT button on the right of the screen. Once you find it, push the button for 15 to 30 seconds. You'll likely see several zeros on the screen, which means your ProForm exercise equipment is ready for use.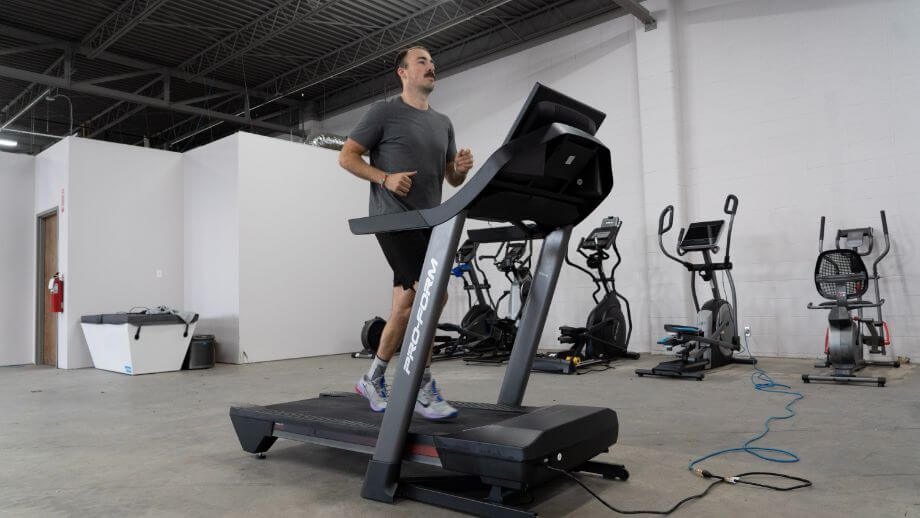 Try The ProForm Treadmill Onboard Workouts Instead
Once you bypass the iFIT set-up, you'll find that your ProForm treadmill is still perfect for walking, running, and jogging. It's a quality piece of fitness equipment that'll still help you burn calories and achieve your fitness goals.
For example, on the ProForm 2000, you can access onboard workouts using the console. All you have to do is press the Fitness Apps button repeatedly until you come across a workout that stands out to you. Once you find one you like, select it. The screen will then show the name of the workout, as well as the duration of the workout. You'll also see a profile of the speed settings appear in the matrix.
When you're ready to begin, press the "Run" button. Your treadmill will automatically adjust to the first speed and incline settings of the workout. Each onboard workout is divided into segments, and each segment will include a speed setting and an incline setting. Some ProForm treadmills will also have a decline setting if that feature is offered. So as you can see, you'll get your cardio in no matter what, and you don't have to rely solely on manual mode!
Reasons to Use iFIT
Maybe you're leaning towards not getting an iFIT treadmill, but would at least consider it if you had a really good reason to use it. If I'm being honest, there are quite a few reasons to check it out and add it to your routine. I'll share some below.
iFIT Is Free For 30 Days
When you purchase ProForm or NordicTrack machines, you'll also gain access to a free 30-day trial of iFIT. Even though it's free, you'll still have to provide your credit card information before you can enjoy the iFIT app. However, be aware that after your 30-day trial is up, the credit card you have on file will automatically be charged. So, if you try it out and don't feel like it's something you want, be sure to cancel it before it auto-renews.
Enjoy Guided Workouts with Personal Trainers
If you're looking for quality personal trainers, iFIT definitely has that. They have more than 180 iFIT coaches and personal trainers to help guide you through your workouts. This is incredibly helpful if you're not sure what kind of workouts to come up with on your own. You'll also find it enjoyable to have a qualified professional motivating you along the way and making what would be a hard workout actually fun.
Access A Robust Workout Library
If you're looking for variety, you'll love this feature! iFIT has an expansive workout library that includes over 16,000 on-demand classes. In addition, they offer several machine-specific workouts that I think you'll find very beneficial, especially if you just got your equipment and are trying to figure out what to do with it. This is also convenient if you have more than one machine that's equipped with iFIT. For instance, if you have a ProForm treadmill but like to use NordicTrack equipment occasionally, you can access classes specific to both brands.
A cool feature that I like is SmartAdjust, which automatically adjusts your speed and incline so you can follow along with your instructor. GGR Head of Content, Kate Meier, tried this feature and said, "When I was on the NordicTrack Commercial 1750, I remember I did one beach run with a trainer, and the first time the machine started adjusting when we were climbing the hill, I was like, 'Whoa!' It's great to be able to focus just on the workout and not pressing the buttons." Pretty neat, huh?
For those who want to take a break from doing workouts on their machine, iFIT also has off-machine classes. You'll be able to browse through their library and sort through things like:
The type of equipment used
Workout duration
Trainer
Type of workout
Intensity
Target area
Class environment
In other words, you've got options if you don't feel like using your treadmill one day. Adding a little variety to your workout routine is actually helpful and keeps you motivated. Getting bored with your workout routine is the last thing you want to happen when you're trying to reach a goal. So maybe hop on the treadmill a few days a week and then do pilates, yoga, Barre, or mindfulness classes on other days. Keep in mind that you can access workouts directly from your machine, iPhone, or iPad if you download the app.
Alternatives to Using iFIT
So maybe you do want to try interactive programming but aren't exactly sold on iFIT. Peloton is another option if you have a Peloton-compatible machine or smartphone. According to former NCAA D1 women's college soccer player and GGR staff writer Caroline Lubinsky, Peloton is better if you're looking for fun playlists with engaging instructors. However, iFIT is the way to go if you prefer outdoorsy-based classes.
Peloton does have live classes, which is no longer something that iFIT offers as of May 2023. However, Peloton does have fewer on-demand classes than iFIT, with 10,000 classes instead of 16,000. But they are adding more classes almost daily. In addition, they have over 50 instructors, whereas iFIT has over 180.
Where Peloton does stand out, though, is their music. You can access specific, artist-based workouts with sounds from Taylor Swift, Usher, Beyonce, and more. It's pretty nice to hear popular music being played while you work out.
Overall, Peloton is a great alternative to iFIT and is raved about by its users. Both will provide you with a quality interactive experience that'll take your treadmill workout up a notch. In my opinion, though, if you're purchasing a ProForm treadmill, you should probably stick with iFIT since it's already programmed to do so.
Can You Use a ProForm Treadmill Without iFIT: FAQs
Can I use my treadmill without iFIT?
Absolutely! You'll still be able to walk, jog, and run on your treadmill without using interactive programming apps like iFIT. However, if you are looking for a guided workout, many treadmills do come with onboard workouts that you can follow.
RELATED: 30 Minute Treadmill Workout
Do you need iFIT to use ProForm?
No, you don't need iFIT to use your ProForm machine. When you receive your ProForm treadmill, you will likely see a big red sticker that tells you to sign up for iFIT before first use, but, as we have found in our treadmill reviews, you can bypass this step. 
How do I get my ProForm treadmill to work?
If you don't want to use iFIT, identify the gray button on the back of your treadmill to reset it. Then, head to the front of your treadmill, wait for it to flash hello, and press the iFIT button for several seconds. Once you see several zeros on the screen, you can start using your treadmill without iFIT.