We test and review fitness products based on an independent, multi-point methodology. If you use our links to purchase something, we may earn a commission. Read our disclosures.
Whether your fitness goals are aimed at weight loss, building muscle, increasing endurance, or all of the above, treadmills can be a great option for your cardiovascular workouts. The treadmill market has many excellent options ranging from manual treadmills to elaborate, computerized models.
If your home gym is begging you to add a treadmill to the lineup, you might wonder if you even have the space. But, good news! Our team of expert product testers has been studying treadmill specs from across the market, and we're happy to share our research with you here. This article will look at the differences between folding vs non-folding treadmills, and help you decide what's the best treadmill for your cardio workout routine.
What Is a Folding Treadmill?
If you need to be strategic with your space, you may be worried that a treadmill won't fit in your home gym. A foldable treadmill might be your answer. Folding treadmills do precisely what their name implies—they fold up, and usually have transport wheels, making them an ideal candidate for easy storage when not in use. These can be motorized or manual.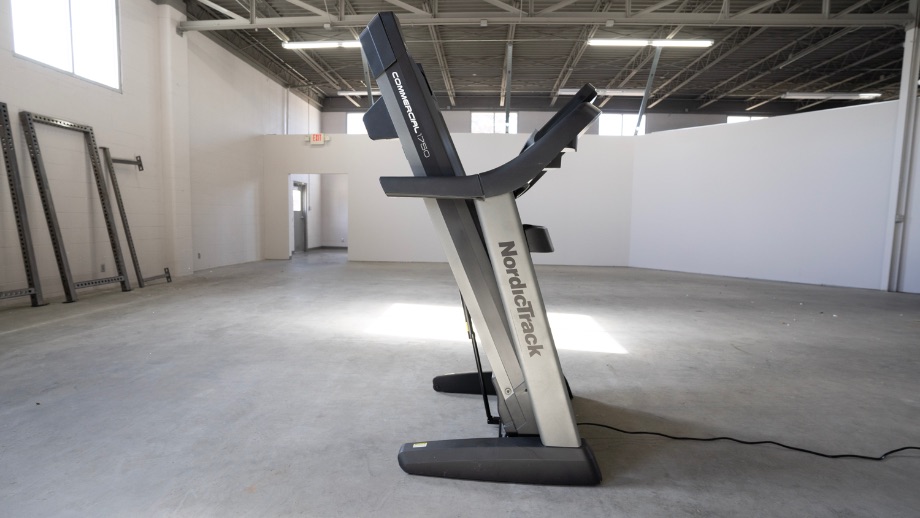 But you might be wondering, are folding treadmills any good? We've tried many of the best folding treadmills here at GGR and we've found many that get our stamp of approval. However, the NordicTrack Commercial 1750 stands out among the rest, due not only to its Easy Assist gas shock folding capability, but also its on-demand programming and added conveniences.
So what are the pros and cons of a folding treadmill?
Pros:
Efficient for limited space
Increased portability
Storage possibilities
Easy to clean underneath
Typically cheaper than a non-folding treadmill
Cons:
Potential safety risk if not locked into place when folded
Not as stable as a non-folding treadmill
What Is a Non-Folding Treadmill?
Nowadays, non-folding treadmills tend to be the more commercial models of cardio fitness equipment. The sturdy structure of these motorized or manual treadmills is made to stay in one place. So if you need to move it or put it away for good, you may need to break it down into pieces, which is not an easy job.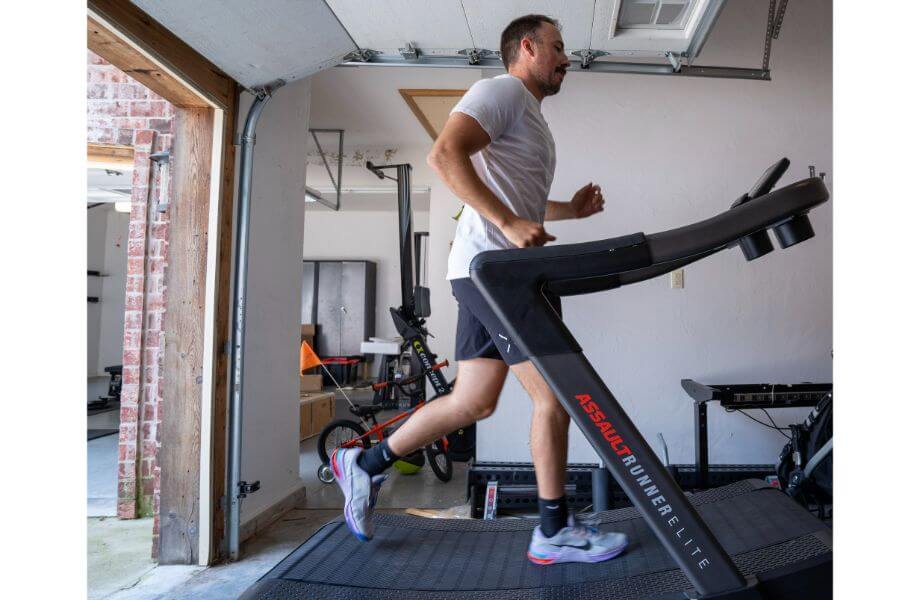 We've had our feet on plenty of non-folding treadmills and found some excellent cardio fitness equipment along the way. Our pick for the best non-folding treadmill is a manual treadmill, the AssaultRunner Pro. This thing is a beast at 280 pounds, but it has a 60-inch running deck and a 350-pound weight capacity.
What are the pros and cons of a non-folding treadmill?
Pros:
Generally more stable than foldable units
Typically have a higher user weight capacity
Motorized options typically have a bigger motor than folding versions
Cons:
Usually more expensive
Heavy
Limited portability
Choosing Between a Folding vs Non Folding Treadmill
If you're deciding between a folding vs non-folding treadmill, keep these things in mind:
Space
If your space is limited, you might consider adding a collapsible treadmill to your home gym. Folding models can be some of the best treadmills for small spaces. Non-folding machines tend to have a larger footprint, taking up more space in your room.
Storage Needs
Do you log your workouts before the kids wake up? Maybe you need your treadmill to stow away so the space can turn back into a playroom? Or maybe you have dinner guests coming over later? Folding treadmills can be easily stored, allowing your space to serve many purposes.
Most foldable units come with wheels, so you can easily fold them up and wheel them to their storage place. As long as you clean up your puddle of sweat, your house guests won't even notice that your living room was just the scene of an awesome workout. Non-folding models, however, don't break down, so storing them on a whim isn't realistic.
Portability
Folding treadmills with wheels allow you to move them fairly easily from one place to another.
Non-folding machines tend to be very heavy and difficult to move, which can be a positive if you want your treadmill to stay in one place. Heavy also translates to sturdy, so you won't feel the treadmill wobble at high speeds when rocking some sprint intervals.
Motor Size
Non-folding treadmills usually have a larger motor than foldable machines, allowing them to accommodate more user weight while providing a smooth, consistent workout. The treadmill's continuous horsepower (CHP) is a good indicator of its motor power. Of course, if you choose a manual treadmill, you're in charge of creating the motor power.
Safety
Standard safety measures should be implemented for both folding and non-folding treadmills. However, folding machines do require additional care for home use. When folded up, it's critical to ensure the safety locks are in place to prevent the deck from falling and injuring someone, especially small children and pets. Also, older adults may benefit from safety features like side handles, a lower deck height, and streamlined controls.
Extras
In the world of exercise equipment, treadmills have definitely kept up with the times. Many treadmills come with bells and whistles that can really amp up your workout. Some treadmills come with touchscreens that can stream online workout programs from certified personal trainers via platforms like iFIT or the Peloton app. Access to interactive programming can benefit beginners in need of guidance or bring a refreshing change of pace to experienced runners. Other extras can include heart rate monitors, adjustable deck cushioning, and automatic trainer control.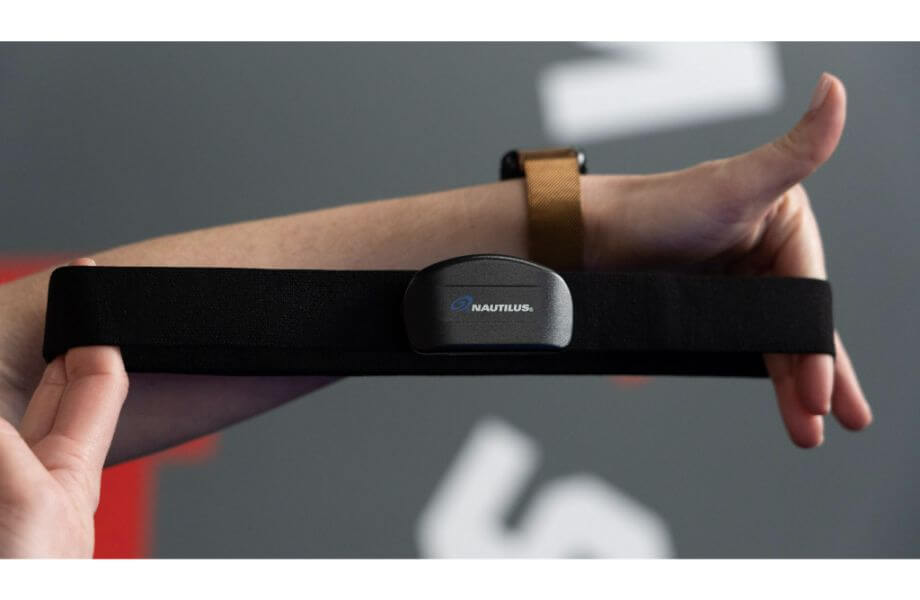 Weight Capacity
Because of the foldable treadmill's design requirements, most folding models tend to be less sturdy than non-folding units, limiting their weight capacity. Although non-folding treadmills aren't nearly as portable as their foldable counterparts, their increased stability comes with increased user weight capacity.
Price Range
As you've seen with most home gym equipment, treadmill prices can vary significantly. You generally get what you pay for, but you can find a decent treadmill for under $1,000, even some budget options under $500. Foldable models tend to be less expensive than non-folding models, though. While you don't necessarily need to break the bank to get your cardio on, you'll notice a difference in quality with the more expensive machines.
Something else to consider within the purchase price is the product's warranty. When investing in new gym equipment, you'll want to know that the company has your back should anything need repair. A solid warranty can give your wallet some peace of mind.
Deck Length
Deck length can be an important factor in your decision, especially if you're a tall runner. Tall athletes and avid runners may appreciate a little more running surface to allow them room for a longer stride and fast-paced runs.
Non-folding treadmills tend to have longer deck lengths and broader belts, though many foldable models can have respectable-sized decks as well. Check the specs—if you're a runner, you'll want something that's 60 inches. However, if you plan to use your treadmill primarily for walking, you may not be as concerned with extra deck length.
Final Thoughts on Folding v Non-Folding Treadmills
If you're in the market for a new home treadmill, chances are you've researched all types of treadmills. When deciding between a folding vs non-folding treadmill, some factors to consider include space availability, portability, motor size, and price range. You may also consider deck cushioning to take care of your knees.
If you have limited workout space, a folding treadmill gives you the option for a cardio workout routine without monopolizing the room. However, you may prefer a more commercial treadmill if you plan to run for long distances or at high speeds, as non-folding treadmills typically have increased motor power, a larger running surface, and sturdier frames.
All in all, the best treadmill for home use is the treadmill that gets you moving and enhances your workout routine.
Folding treadmills can be true space savers.
Non-folding treadmills tend to be sturdier than folding options.
Non-foldable treadmills usually have a larger running surface and higher weight capacity.
Folding treadmills often come with wheels, allowing them to move and store easily.
Non-folding models tend to be very heavy, helping to prevent shaking at high speeds.
FAQs on Folding vs Non-Folding Treadmills
Are folding or non folding treadmills better?
Folding and non-folding treadmills each come with their own benefits. The best treadmill for you is the one you will use and enjoy. Whether a beginner or an avid runner, choose the one that gets you moving and works for your space and budget.
Are folding treadmills less sturdy?
Unfortunately, for a treadmill to fold up, its construction and design prohibit the same sturdiness that a more traditional, non-folding model has. Foldable treadmills may be more likely to wobble at high speeds, no matter the user's weight.
Can you run on foldable treadmills?
Yes, you can run on foldable treadmills. However, many lack the stability needed to run at high speeds or for long distances, so it's essential to make sure the treadmill you choose can accommodate your needs.