We test and review fitness products based on an independent, multi-point methodology. If you use our links to purchase something, we may earn a commission. Read our disclosures.
A majority of people I've met love a good bargain. I mean c'mon, who doesn't want to get a great product at an affordable price? Home gym equipment is no different—at least for me—so I set out to get my hands on, test, and review some of the best budget treadmills on the market.
Everyone on the hunt for a new treadmill is looking for something slightly different, which is why I've found budget options for people who want to run, jog, or walk. Spending less doesn't mean you have to sacrifice the features that are important to you.
Why You Should Trust Us
The Garage Gym Reviews team has done a deep dive on all things treadmill-related. From testing and trying the best treadmills for walking to researching treadmill benefits, we've immersed ourselves fully into these cardio machines to help you find the best options.
We have personally used more than two dozen of the best treadmills for home to assess their value, construction, program offerings and more. Our team literally runs through a complete testing process, from assembling the machine to using it for multiple treadmill workouts.
Regardless of the type of fitness equipment, our commitment to our readers remains the same: provide balanced, detailed reviews you can trust.
Best Budget Treadmills
Best Budget Treadmill Overall: Sole F63
Good for: People looking to spend around $1,000 for an all-around solid treadmill.
Sole F63
Sole F63
Named "Best in its Price Range" by Fit Rated, Run Reviews, Treadmill Reviews, and many others. Easy Assist Folding Deck Design makes storing your treadmill easy and convenient. High-end rollers create a static free motion leading to a long lifespan. Smoothest treadmill when making adjustments mid-workout. LCD screen provides real-time statistics to monitor progress towards goals.Plus, Sole has recently released its own version of Peloton-esque programming: STUDIO. You can access a variety of on-demand classes for just $19.99 per month.
Pros:
60" deck
3.0 CHP motor
325 lb weight capacity
15 levels of incline
30-day free trial of Studio
Cons:
Weighs 325 lbs
Slightly shakes when sprinting
Unboxing and assembly requires two people; expert assembly is offered for a fee
The Sole F63 is one of the best overall treadmills for the money. At around $1,000, this budget cardio machine has a lot of desirable features. The 3.0 CHP motor and generously sized 60-inch cushioned deck can support almost anything from walking to running. For context, CHP refers to "continuous horsepower," which explains the motor's power. It's worth noting the F63 does shake slightly with sprinting, but it's certainly not a deal-breaking amount.
The lifetime warranty on both the frame and motor is in line with what you'd expect from a high-end treadmill, which makes me feel confident about the durability of the F63. I like the 15 levels of available incline and the 12 speed options. These are also above-average features you don't typically see on many budget treadmills.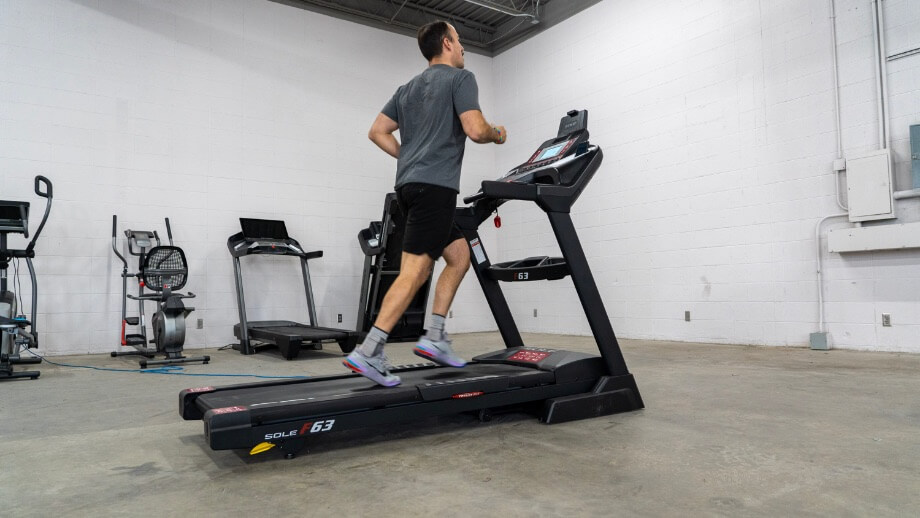 Another awesome feature of the F63? It's foldable and comes with wheels to help the moving process go a little smoother. Plus, this machine also has an "easy-assist" unfolding feature. This machine does all the work once you release the gear system to smoothly set the deck on the ground.
Sole has recently released compatible interactive programming for their machines called Studio. For $19.99 per month, you get hundreds of on-demand classes to follow along with at your convenience. Plus, with the purchase of a Sole machine, you get a free 30-day trial of Studio.
PSA: You'll need to recruit a friend or family member to help you unbox this machine. At 325 pounds, the F63 is really heavy, and too unwieldy to assemble on your own. The actual assembly isn't overly complicated but I'd recommend most people pay for expert assembly.
Take a look at our full Sole F63 Treadmill review for more insight into this machine.
Best Budget Treadmill for Small Spaces: UREVO 2-in-1 Under Desk Treadmill
Good for: Someone who needs a cardio machine that can easily be moved, folded, and stored while not in use.
UREVO 2-in-1 Under Desk Treadmill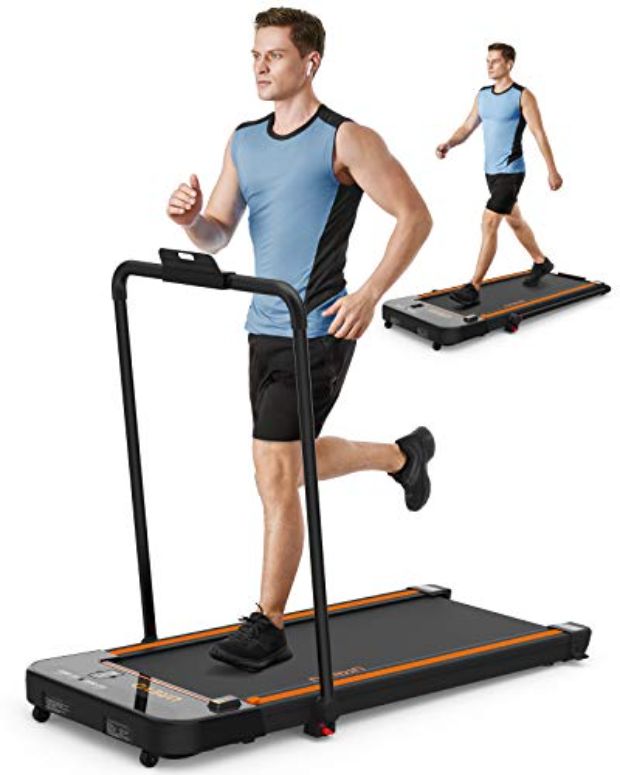 UREVO 2-in-1 Under Desk Treadmill
If you live in an apartment or other compact space, the UREVO 2-in-1 treadmill might be a good option for you. This lightweight machine clocks in at under 60 pounds, which makes it easy to fold and move into a closet or against a wall to free up space. Plus, the handle easily folds down to allow it to be used under a desk while working from home.However, the deck itself is very thin and short. If you're over 5'9", this treadmill might be too short for you to take normal length strides. Although the machine has a maximum speed of 7.6 mph, you likely wouldn't be able to take appropriate strides if you're of average height or taller. However, I personally wouldn't really recommend anyone use thew UREVO for running, as it is better suited for slow paced walking.
Pros:
Folds extremely flat
Comes fully assembled
Under $400
59 lbs and easy to move
Cons:
No incline options
42.5" x 16.9" deck is short and narrow
Customer service is difficult to reach
Garage Gym Reviews writer Anthony O'Reilly lived in a 300-square-foot apartment (with his significant other!) in New York City for most of the quarantine in 2020. He had to get extremely creative with ways to get his cardio in while living in such a small space. The UREVO 2-in-1 Under Desk treadmill likely would've been an ideal choice for O'Reilly. This under-$400 budget treadmill has the ability to fold almost completely flat, including the handlebar, which tucks snugly around the deck.
RELATED: Best Folding Treadmill
I found that this machine could be stored under a bed, against the wall, or inside a closet. Plus, if you work from home, you can situate it under a standing desk to get additional steps in during the day. I love that the UREVO comes fully assembled, which can be another roadblock for people with small spaces. Assembling large pieces of fitness equipment can take up a surprising amount of space, but luckily that isn't a concern with this machine.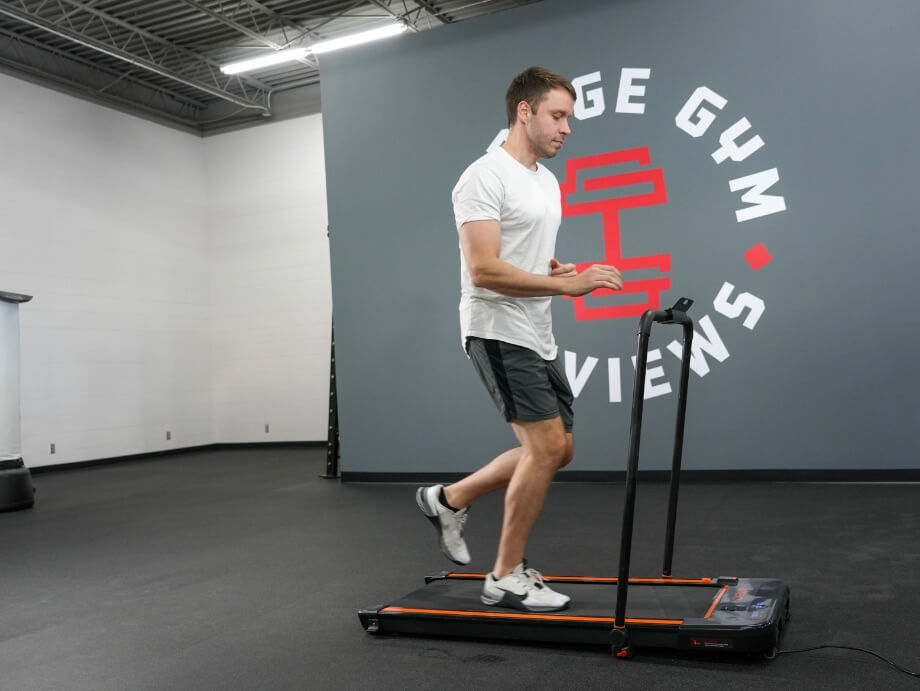 Plus, if you live alone, you won't have much trouble moving the machine yourself. At just 59 pounds, this treadmill is lightweight (and it comes with wheels on the front in order to tip the machine and move it).
RELATED: How to move a treadmill
As long as you just want to walk on it, you'll really enjoy the UREVO treadmill for what it is. However, I wouldn't recommend this machine for people who are serious runners, or for those who are tall. At 5'9" (with a long stride), I had to take purposeful steps to avoid falling off while power walking. It's also worth noting that there are no incline options, so the flatness of the deck you see is what you get.
RELATED: Best Treadmill for Tall Runners
Read our full thoughts on the UREVO 2-in-1 Under Desk treadmill.
Best Budget Treadmill for Walking: Goplus 2-in-1 Folding Treadmill
Good for: People trying to hit their daily step count goal through walking.
Goplus 2-in-1 Folding Treadmill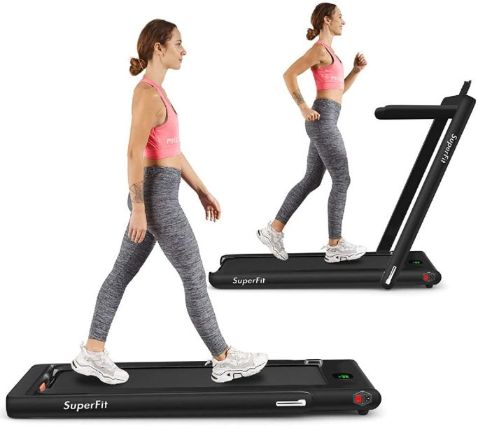 GoPlus 2-in-1 Folding Treadmill
If you are new to the world of exercising, enjoy walking, or are an occasional jogger, the GoPlus 2-in-1 Folding Treadmill could be the treadmill for you. The GoPlus 2-in-1 offers two sport modes, running and walking, with maximum speeds of 8 miles per hour and 2.5 miles per hour respectively. With a 2.25 horsepower motor, it can easily be used under a standing desk so you can get your workout in while working. The GoPlus 2-in-1 Folding Treadmill features a five-layer non-slip and shock-absorbing running belt, safety key, Bluetooth speaker, remote control to change speeds and a phone mount on the handrails. With these features, you can connect and listen to your favorite music, watch a show or talk on the phone all while getting a workout! Although the running surface is a bit smaller than most measuring 40 inches by 16 inches, it does provide cushioning to decrease the tension put on your back, joints, knees and ankles.The LED display has a sleek and minimalist design which shows time, speed, distance and calories, monitoring your movement data in real time. Overall, this is a great budget treadmill for the right customer. That said, the GoPlus 2-in-1 Folding Treadmill is not built to withstand any sustained or fast running. Additionally, because of the smaller running deck and fixed handrail height of 3.5 feet, the GoPlus 2-in-1 is not a good fit for taller people.
Pros:
Fits well under a desk for walking while working from home
Under $400
Only 70 lbs and has wheels to help move the machine
Foldable
Cons:
Tiny 40" deck
Low top speed
265 lb weight capacity
For those looking for a super budget-friendly treadmill for regular walking, the $380 Goplus 2-in-1 Folding Treadmill hits the mark. This machine is controlled using a remote rather than a display, so I'd suggest keeping it in a consistent spot so you won't lose it. The treadmill legitimately will not work without the remote, which is why I'm emphasizing staying on top of its location.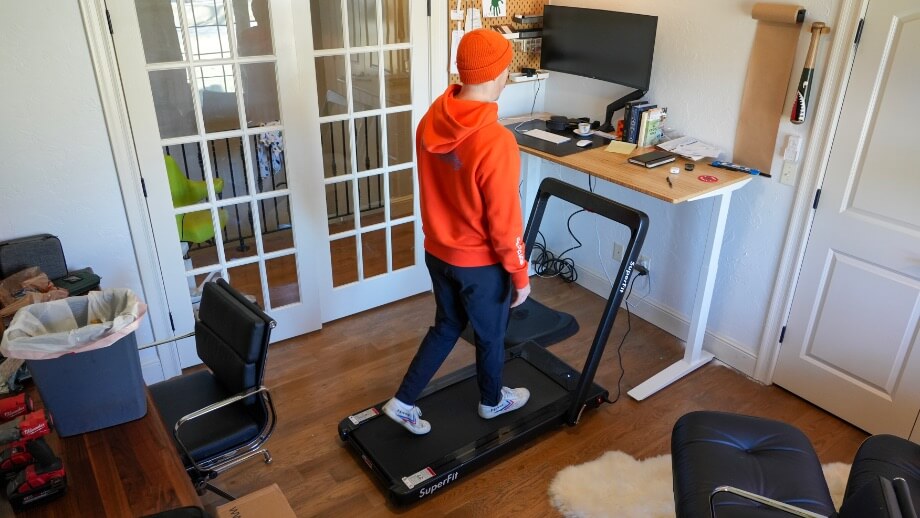 Goplus is ideal underneath a standing desk or for slow walking. The 40-inch deck is far too short for anything resembling running (unless you're super short). The Goplus can fold very flat to be stored, but you'll have to remove the handles to do so. This takes 10 minutes, so it's not a huge deal, but it is something to be aware of when considering storage options.
The 265-pound weight capacity isn't the worst, but ideally, I'd like to see it closer to 300 pounds in order to be more inclusive. With a 2.25 CHP motor, the Goplus has no issues supporting general walking. The max speed of 8 MPH seems like it could support a light jog, but that would be an impossible task for my 5'9" self due to the deck's short length.
Take a look at my Goplus Treadmill review.
Best Budget Treadmill for Running: Horizon 7.0 AT Treadmill
Good for: Individuals who want a sub-$1,000 treadmill with a deck ideal for running.
Horizon 7.0 AT Treadmill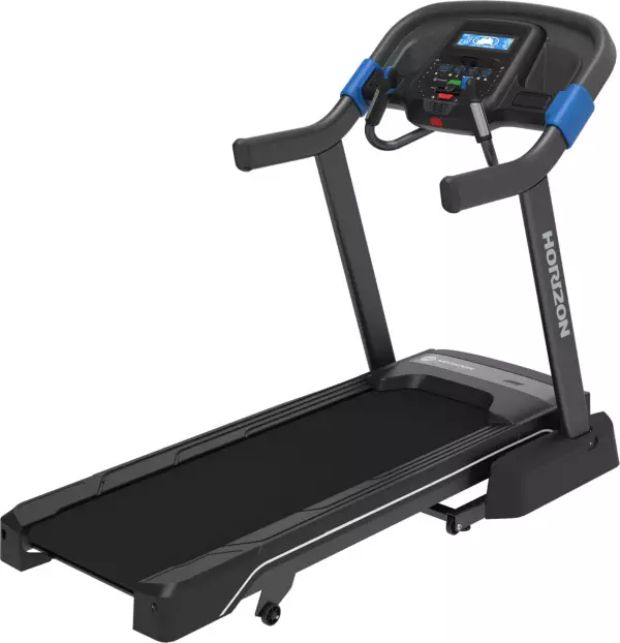 Horizon 7.0 AT Treadmill
Tired of searching for a budget treadmill that'll support your running habits? Look no further than the Horizon 7.0 AT Treadmill. This machine has a well-cushioned deck to aid in a more comfortable indoor run as well as a 60-inch deck (which is what we'd recommend most for running). I also enjoy the QuickDial adjustment feature, which allows users to change their speeds and incline up to "33% faster than other treadmills." This is useful if you love doing HIIT or sprints where you may need to quickly adjust the speed or incline.I would recommend shelling out the extra cash to get professional assembly. The 7.0 AT is a weighty cardio machine, and would best be completed with another helper (or a professional).
Pros:
60" running surface
3.0 CHP motor
Bluetooth connectivity with apps like Zwift, Peloton, and Nike Running Club
325 lb weight limit
Cons:
Heavy machine at over 250 lbs
No included touchscreen
3-year parts warranty and 1-year labor warranties are less than the Horizon 7.4 AT Treadmill
As someone who has used the Horizon 7.4 AT in the past, I feel good recommending the Horizon 7.0 AT treadmill, which is the 7.4's more affordable sibling. At under $1,000, the 7.0 AT appears to be just as ideal for running as the more expensive 7.4. The 60-inch deck and 3.0 CHP motor provide more than enough space and power to support prolonged cardio.
RELATED: Best Home Treadmill for Running
Plus, for the programming fans out there, the 7.0 has Bluetooth connectivity to utilize popular apps like Peloton while on the machine. The speakers can play the audio, display calories burned, and show you your heart rate. Unfortunately, you're in charge of changing the incline and speed yourself, as the connectivity isn't able to extend this far. Still, this capability is impressive, especially for a budget option.
The differences between the 7.0 and the 7.4 AT are fairly minor; the LCD screen is 1.5 inches bigger on the more expensive option, and the parts and labor warranties for the 7.0 are slightly less. The 7.4 AT is also heavier than the 7.0 at 318 pounds and has a higher user weight capacity of 350 pounds.
I'm a big fan of the quick dial adjustment system, which is present on all three iterations of the Horizon Studio Series treadmills. This feature allows users to seamlessly adjust the speed and incline at 33% faster than other treadmills (according to the Horizon website). I particularly like this addition and can tell the difference in the speed of adjustments. It's a HUGE pet peeve of mine when a treadmill takes away precious seconds during a sprint trying to adjust to the button you just pressed.
Be warned: this machine is heavy. You'll definitely need some help to both move and assemble the 7.0. I would pick a spot you feel comfortable leaving the machine the majority of the time since it is difficult to move.
Read more on my Horizon 7.0 review.
Best Quiet Budget Treadmill: Sunny Health & Fitness Treadmill (SF-T4400)
Good for: People who live in a shared space and want a quiet treadmill to use at home.
Sunny Health and Fitness Treadmill (SF-T4400)
Sunny Health and Fitness Treadmill SF-T4400
The Sunny Health & Fitness Treadmill is a space-saving and affordable treadmill perfect for general trainees who may not have specific athletic goals, such as becoming better runners. It's foldable and comes with a soft drop feature, a top speed of 9 miles-per-hour, and 9 preset workout programs.We think this is perfect for the person who may just want to get more steps in during their day, or just wants a low-impact way to improve their cardiovascular fitness. While the tread is a little shorter than most, it does feature shock absorption technology for those who can find their stride on it.
Pros:
Sturdy and quiet while in use
Soft-drop mechanism unfolds the treadmill without slamming it on the ground
About $450
Controls are user-friendly
Cons:
Weight capacity of 220 lbs
49" deck isn't big enough for taller people to run on
3-year warranty on the frame
If you live in an apartment or even share a living space with family, you may be looking for a budget treadmill option that won't sound like a stampede of elephants every time you unfold and use it. The Sunny Health & Fitness (SF-T4400) impresses with a "soft-drop mechanism," which gently unfolds the treadmill hydraulically without slamming the machine onto the ground; bonus points for avoiding smashed fingers and toes. There are also three manual incline options you can easily adjust before stepping on the treadmill.
While in use, the SF-T4400 is exceptionally quiet for a $450 machine, likely due to the shock-absorption cushioning used in the deck. I do wish the deck itself was longer to support lengthier strides, but 49 inches isn't impossible to jog or run on.
The LCD screen is on the more basic side, but there is a small device holder where you can use your own tablet or phone to watch shows or programming on. I didn't feel totally confident in the stability of the holder itself, but it's a nice extra to have if you can figure out how to keep it from dropping your device.
One of my least favorite things about the SF-T4400 is the 220-pound weight capacity. This is well below the industry average of 300 pounds, making this a less inclusive option for people of different statures.
Check out our full Sunny Health & Fitness (SF-T4400) review for all of our thoughts on this machine.
Best Budget Treadmill with Incline: LifePro Pacer Folding Treadmill
Good for: People who like an elevation challenge.
LifePro Pacer Folding Treadmill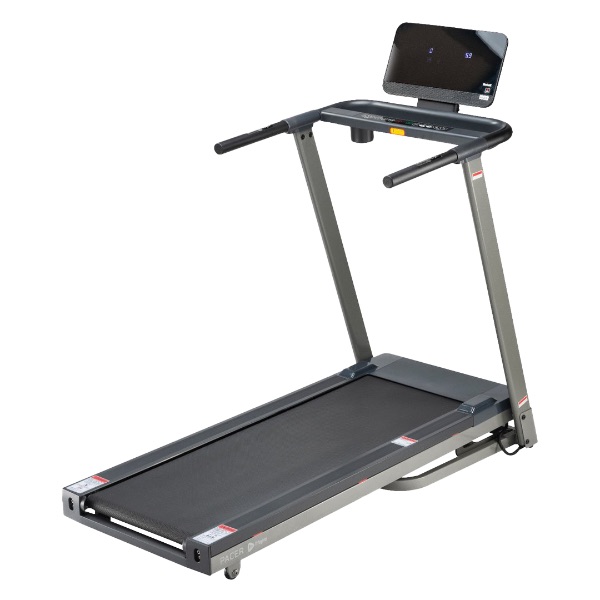 Lifepro Pacer Folding Treadmill
The Lifepro Folding Treadmill has a lot going for it, but it won't be the best option for everyone. If you're tight on space, but want a reasonably priced treadmill you can fold to store away, you'll love the Lifepro. However, if you're a serious runner or someone with a particularly long stride, you likely won't be thrilled with this treadmill. The running deck is small at just 49.2" L x 16.5" W. Plus, with a motor HP of just 1.75, this treadmill is hitting below the industry standard for a motor that can handle serious amounts of running. It is also worth noting that the Lifepro is only 115 lbs, which can be both a blessing and a curse. Since it is so lightweight compared to comparable treadmills, it can more easily be moved from room to room, which can be a big plus for those tight on space. However, with the light weight of the treadmill comes a low weight capacity at just 220 pounds. This makes the Lifepro not a particularly inclusive option.Something that really stands out to me on this treadmill is the lifetime warranty. Even if this more budget-friendly option has issues down the road, it is clear that Lifepro stands behind their products. 
Pros:
12 incline options
36 preset programs
Easy to assemble
Lifetime warranty
Cons:
1.75 CHP motor
48" deck
220 lb max user weight capacity
For those of us who like pretending we're climbing Mount Everest (please tell me I'm not the only one), the LifePro Pacer Folding Treadmill is a great choice. This budget-friendly cardio machine has 12 automatic incline options that can be adjusted with the convenient controls below the display.
There are also 36 preset programs you can choose from if you just want to hop on your treadmill and not think too hard. The Pacer's (unnecessarily large) display shows various metrics like time elapsed, pulse, distance, and incline. Since the screen is so large, it almost looks like it could support interactive programming itself (spoiler, it doesn't). If you want to view an iFIT or Peloton class, you'll have to use your own device.
I'm a big fan of the lifetime warranty that comes with the Pacer. With treadmills under $1,000, you don't often see machines that are backed for life. Although the deck itself is a little small for my taste at 48 inches, it can still support regular walking or jogging for people with shorter stride lengths. However, I wouldn't recommend this machine for people taller than 6 feet who want to use their treadmill for frequent running.
Another plus in the Pacer's favor? It comes to your doorstep mostly pre-assembled. The arms and the screen are the only things that need to be attached, which requires the 10 included bolts and less than 15 minutes of your time.
Want to learn more? Check out our in-depth Lifepro Pacer Folding Treadmill review.
Other Budget Treadmills We Researched
Although we haven't had our hands on these budget-friendly treadmills, we did do quite a bit of research on each to give you our additional thoughts.
Schwinn Fitness 810 Treadmill: The Schwinn Fitness 810 treadmill has a 55-inch deck, which is plenty long for both walking and jogging. This cardio machine also offers a 10% incline, which is a nice bonus for a treadmill under $800.
NordicTrack T 6.5 S Treadmill: At $649, this treadmill from NordicTrack is impressively inexpensive. However, if you check the actual NordicTrack site, they no longer offer it. This leads me to believe they are slowly fading out the less expensive treadmills, so get it while you can through the Amazon link above.
ProForm City L6 Treadmill: Like many of the more affordable treadmills, the City L6 has a super short deck of 45 inches. If you're just looking for an under-$800 machine to walk on, I like that the ProForm is foldable for easier storage and that there's a 10-year frame warranty.
XTERRA Fitness TR150 Folding Treadmill: The TR150 foldable treadmill is a super budget-friendly option at under $400. This machine has a 50-inch deck, 2.25 CHP motor, and a max speed of 10 MPH. Plus, it's available via Amazon with free delivery for everyone (not just Prime customers).
Costway Super Fit Treadmill: The Super Fit is a solid option for people who want to walk on a compact treadmill. With a short 40-inch deck, this machine likely wouldn't be able to support a longer stride or prolonged running.
Horizon Fitness T202: For a budget treadmill you can actually run on, consider taking a look at the T202. The 60-inch deck, 12 MPH max, and the 12% incline all lend themselves to supporting anything from a HIIT session to a light jog. (Check out some HIIT treadmill workouts here.)
ProForm Carbon T7 Treadmill: The T7 is a solidly-built machine for under $1,000. Plus, this budget-friendly treadmill has a touchscreen (although it is small). (Full Proform Carbon T7 treadmill review here.)
How We Picked and Tested
We researched some of the most popular treadmills under $1,000 to decide what to get and test. Our team then ran each machine through the gamut: running, incline walking, jogging, and full-out sprinting. We score each machine out of 5 on a variety of factors:
Warranty
Motor strength
Deck length
Incline and speed options
Bluetooth or programming capabilities
Foldability and compactness
Price point
Customer reviews
Customer service
Overall workout experience
Benefits of Budget Treadmills
Why the heck should you buy a budget treadmill anyway? Well, I'm glad you asked! Here are four benefits of purchasing an affordable option.
Saving Money
It's no secret that choosing a budget option for anything is saving you money in the short-term (duh). However, purchasing an affordable treadmill can also save you some cheddar over time. If you have a gym membership where you use a treadmill, purchasing your own can help you ditch the additional monthly spending.
Working Out From Home
There are a ton of benefits to working out in your own space after purchasing your own equipment (like a budget treadmill). Here are my top reasons to work out from home:
No commute to the gym
Can wear last night's T-shirt with a marinara stain on it without fear of judgment
Ability to blast your favorite music
No wait to use equipment
Added time back into your day
Improved Cardiovascular Health
Regardless of the type of exercise you like to do on your treadmill, studies have shown that doing regular cardio can "decrease the risk of premature mortality due to heart disease". Purchasing (and using) a budget treadmill is a great way to help improve your cardiovascular health.
Compact and Foldable Options
Many of the budget treadmill options mentioned above either have a smaller footprint or can be folded for easy storage while not in use. This is beneficial for people who don't have a lot of extra space in their home.
What to Look for in When Buying a Budget Treadmill
Still can't decide which option is best for you? Check out some of our top treadmills that made it into our treadmill buying guide to consider when looking for a budget treadmill.
Price Tag
Although every treadmill on this list is under $1,000, some may consider a "budget option" to cost slightly more, or even slightly less. Determining a set price point (that works for you specifically) or checking for financing options on a machine you love are great ways to stay within budget.
Warranty
Fifteen years to a lifetime warranty is considered the industry standard when it comes to treadmill frames and motors. Parts and labor are usually under warranty for less than five years. However, when looking at budget treadmill options, you may have to sacrifice on the warranty in order to get within the price range you want.
Track
Determining whether you're looking to run, walk, or jog on your treadmill is a crucial step to finding the right fit for you. If you're over 6 feet tall or plan to run frequently, I'd recommend looking for a 55-inch deck or larger (preferably 60 inches for those with a particularly long stride). For those who just want to walk, the deck length of the treadmill is much less important.
Size
If you're working with limited space, considering the footprint of your prospective treadmill is crucial. Make sure to measure your available room, check out if the machine folds, and take note of how much it weighs. These factors can help you make your final decision about a treadmill.
Bluetooth Compatibility and Programming
Many budget treadmills don't have the glitzy 22-inch HD touchscreen display to view programming on, but they can still utilize Bluetooth to connect your personal device to the treadmill. If it's important to you to monitor your stats accurately while using programming, make sure your budget treadmill has Bluetooth connectivity.
Motor
Motor strength is usually only a real concern if you plan to sprint or run on your treadmill. I recommend looking for a 2.5 CHP motor or greater for running enthusiasts. Generally, you can get away with a weaker motor if you mostly plan to walk or jog on your treadmill.
Usage
Are you a hardcore HIIT junkie or maybe more of a casual walker? Either way, determining how you plan to use your treadmill ahead of time will likely lead to a more fulfilling purchase. Some budget treadmills are better used for walking versus running, due to factors like deck size and motor horsepower. If you want to use your treadmill for running, I recommend a 2.5 CHP motor or greater, and a 50-inch+ deck (55 inches if you're taller or have a long stride).
Incline
The inclination levels on most inexpensive treadmills range from 10-15%. The incline on a treadmill adds variety to your walking and running exercises while also engaging different muscle groups. This is a crucial feature since it helps to break up the monotony of jogging on a flat surface, keeping you engaged and challenged.
RELATED: History of Treadmills
Best Budget Treadmill FAQs
Is a cheap treadmill worth it?
Depending on what you're specifically looking for, an inexpensive treadmill can be a great buy for your home gym. If you're looking for a 22-inch HD touchscreen, you likely won't find it on a high-quality treadmill under $1,000. However, if you want a reliable machine to simply run or walk on, a cheap treadmill is a great choice.
Is a treadmill good for losing weight?
Losing weight is mostly nutrition-based with a pinch of exercise, so running or walking on the treadmill alone likely won't be enough to lose weight. Please consult with a registered dietitian or doctor before starting a diet or new exercise routine.
What are some treadmill features I should look for when choosing one?
Even budget treadmills can have nice extras to make the machine a better buy. Here are some things you might want to look out for:
Tablet holder
Bluetooth speakers
Preset workout programs
Water bottle holder
Incline levels
LCD display
Heart rate monitor
Deck cushioning