We test and review fitness products based on an independent, multi-point methodology. If you use our links to purchase something, we may earn a commission. Read our disclosures.
As the fitness industry has evolved over time, so has budget fitness equipment. Everyone is jostling to outdo each other, which leads to overall better products for consumers.
I'm excited to share with you my Schwinn 810 treadmill review, because it is a good example of a machine you can get for under $1,000. I'll give you all the stats, compare the 810 to a similarly priced machine, and finally, tell you my honest opinion on if you should buy it or not.
Hundreds of Hours Spent Running on Treadmills
Our expert product testers aren't just good writers; among our team, we have multiple certified personal trainers, nutrition coaches, weightlifting coaches, and CrossFit L1 certifications. We know good products and have the industry knowledge needed for in-depth and accurate cardio equipment reviews. Heck, I was a former NCAA D1 college soccer player, so I've been on more than my fair share of cardio equipment, and I'm here to share my knowledge with you.
Schwinn 810 Treadmill
Schwinn 810 Treadmill
If you're looking for a basic, user-friendly treadmill for walking or jogging, the Schwinn 810 is a good choice. Powered by a 2.6 horsepower motor, the 810 supports speeds up to 10 miles per hour and, notably, offers 10 levels of power incline. While the 1.9 horsepower motor certainly will not support any sustained or intense running, the 810 provides enough variability in speed and incline to get in a good sweat.The 810 comes with some impressive features such as the 16 preset workout options, Bluetooth connectivity to the Explore the World App (for a fee), integrated console speakers and a media shelf. The shock-absorbing, cushioned running deck measures 55 inches by 20 inches, which should be suitable for most runners. That said, those with particularly long strides may find it constricting.The soft drop folding system is incredibly easy to use and it makes folding and unfolding the machine a breeze. With two transport wheels and a weight of 155 pounds, the Schwinn 810 is easily transported and stored; an attractive feature to those with small spaces.
Schwinn 810 Treadmill Video Review
A Quick Look at the Schwinn 810 Treadmill
When you think of Schwinn, your brain may still immediately revert back to your childhood of riding bikes outside with friends. Never fear! Schwinn does still make those hallowed outdoor bikes, but they also make solid cardio equipment as well.
The Schwinn 810 is currently the lowest-priced treadmill (out of three) that the company produces. Let's dive head first into the details about this budget-friendly machine!
My Tips:
Get a friend or family member to help with the assembly process, or pay the extra $60 on Amazon for professional assembly.
Bluetooth connectivity is spotty, and generally seems to work better with older iPhones or other smart phones with a headphone jack. (My iPhone XR struggled.)
Pros:
Under $800
Easy to fold and unfold
16 preset workout programs
Two large dual cup holders
Heart rate sensors on handlebars
10-year frame and motor warranty
Cons:
Difficult to wire during assembly
Subpar weight capacity of 275 pounds
Primitive backlit LCD screen
Average 2.6 CHP motor
Subpar cushioning system
Only 10% max incline and 10 MPH max speed
Is the Schwinn 810 Treadmill Worth It?
Like many of the dozens of the best treadmills our expert reviewers have tried, the Schwinn 810 can be a good option for a lot of people. However, this budget-friendly machine isn't the best for everyone. Keep reading to see who I think it's best for and who should pick something else.
Great for:
People under 5'9" or those who don't mind a shorter running deck
A budget treadmill option
Those who want a foldable treadmill
Not recommended for:
Individuals with joint pain
Heavier people
Frequent running
Schwinn 810 Treadmill Specs
| | |
| --- | --- |
| Footprint | 69.1" L x 35.6" W x 56.7" H |
| Weight | 155 lbs |
| User weight capacity | 275 lbs |
| Motor | 2.6 CHP |
| Speed | 1-10 MPH |
| Running deck | 20″ W x 55″ L |
| Incline | 1-10% |
| Manufacturer | Nautilus |
| Warranty | 1 year parts, 1 year labor, 10 years frame & motor |
| Preset workout programs | 16 |
| USB port | Yes |
| User profiles | 2 |
Using The Schwinn 810 Treadmill
I initially tried the Schwinn 810 at our expansive testing facility, which is stuffed with more fitness equipment than the mind can comprehend. Ellipticals, cycling bikes, manual treadmills, racks, dumbbells, and of course motorized treadmills line the walls of this large building.
I say all of this to illustrate my first impression of the Schwinn 810–– it looked rather small. With bigger machines like the Bowflex Treadmill 10 and the Horizon 7.0 AT treadmill next to it, the deck dwarfed in comparison, and I was honestly a bit worried about how it would work with my lengthy stride.
Luckily, I was pleasantly surprised. Sure, the 20-inch-by-55-inch deck isn't the largest. In fact, I generally would recommend a 20-inch-by-60-inch running belt for taller people or frequent runners. However, I was able to both power walk and run pretty comfortably on the 810. If you're much taller than me (I'm 5'9"), I would probably recommend a different treadmill as it would be more comfortable for you in the long run (see what I did there? I love a nice running pun).
Related: Best Treadmill for tall runners
On the Schwinn website, the 810 supposedly has specialized "SoftTrak" deck cushioning, but I was underwhelmed by the feel of it. Personally, I wouldn't recommend this treadmill for bad knees or joint pain, but I've also tried some well-cushioned machines in the past.
At just 155 pounds, the Schwinn 810 surprisingly doesn't shake while in use. Full disclosure: I'm not close to the weight capacity, which is 275 pounds, so your results may vary if you are closer. I do wish the weight capacity was slightly higher, as the industry standard is 300 pounds for a durable treadmill.
With a 2.6 CHP motor, the Schwinn 810 is better suited for walkers, joggers, and occasional runners, versus the die-hard marathon types. Generally, if you are a frequent runner, you'll want to look for a treadmill with at least a 3.0 CHP motor, as this indicates the treadmill will be able to support you long term.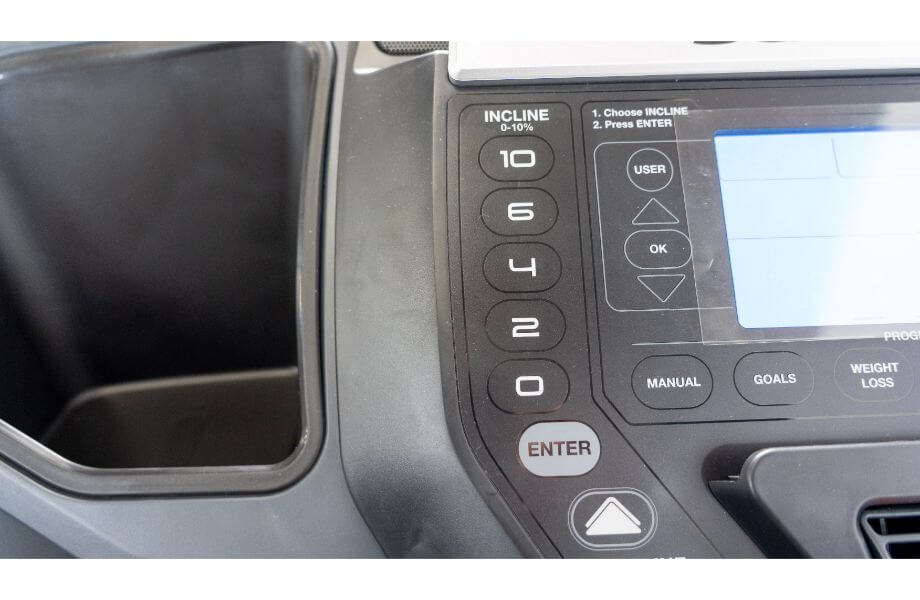 Display
Looking at the dash of the 810, you'll see easy-to-read controls, like speed and incline jump buttons, various arrow keys, plus the traditional stop, start, and pause buttons. The small LCD display shows things like program, distance, speed, incline, and calories burned. I found it all very simple to use, and I like the variety of programs available, such as weight loss and intervals.
You'll also see dual speakers on the top of the dash with a small device holder in between. Although I like the added benefit of having a fan, I wish it was more adjustable because my chest was getting all the air and wasn't sharing with my face (#rude).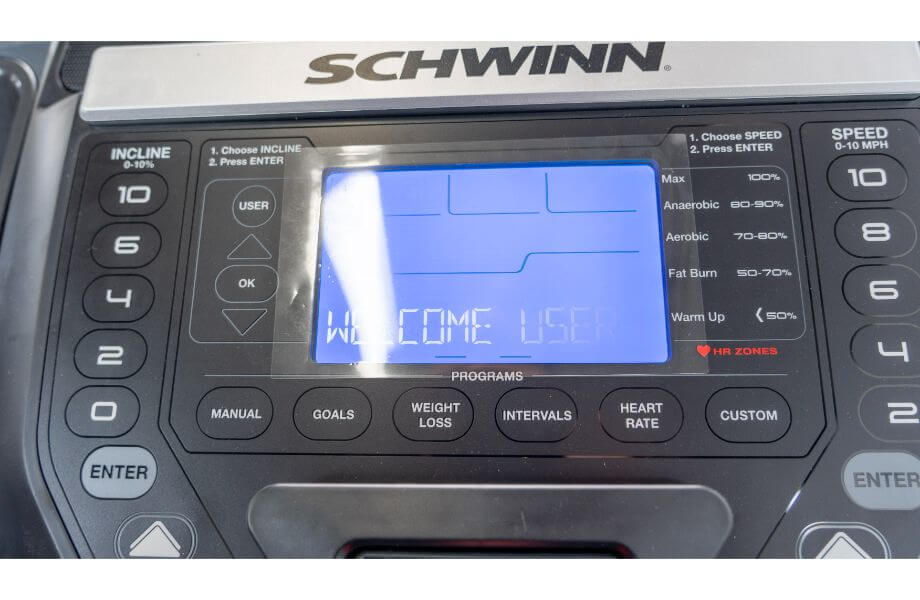 Transportation And Foldability
One of the highlights of the Schwinn 810 is the "SoftDrop" folding system. Essentially, Schwinn added a gas shock so the treadmill's deck wouldn't come down with a bang and potentially injure people and animals. I have to say, I think this was the most graceful treadmill deck lowering I'd ever seen, if that tells you how delicately the machine came unfolded.
RELATED: How to move a treadmill
The transport wheels on the front of the 810 make it simple to maneuver from room to room. This is a treadmill I do think is portable enough to have in a smaller space.
REALTED: Best Compact Exercise Equipment
Technology
The technology on this treadmill isn't incredible. However, that isn't really the main selling point of this machine. At $800, you're really just hoping for a machine that can support your cardio habits and not much more. With that being said, there are two main tech-y features on the 810. Check them out: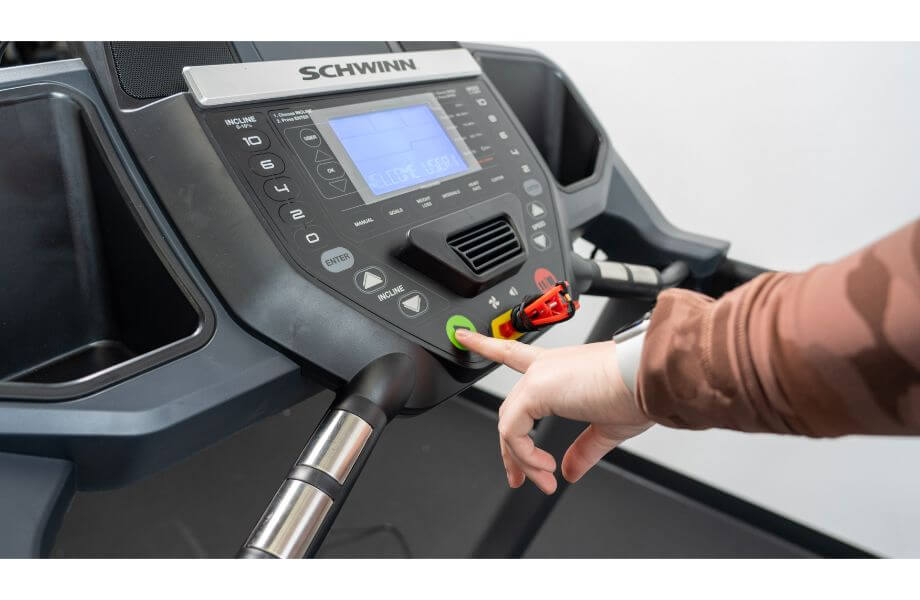 Explore the World
Although there isn't a touchscreen display on the Schwinn 810, it does have the ability to Bluetooth connect (with your own smart device) to the compatible Explore the World app. This app is available for both Apple and Android products, which is always a plus in my book. Explore the World is subscription based, and the cost is just $9.99 per month, which I think is reasonable.
If you're into feeling like you're traveling around the globe while doing cardio, you'll probably like this app. You can choose from various routes in cool countries and locations, like the Alps, Japan, the Netherlands, Ireland, and more. Although the picture quality itself is pretty good, it's a really quiet experience. Most of the videos do not have sound or an instructor, so this is good for people who just want to zone out.
You won't find rah-rah iFIT instructors hyping you up to do another sprint or finish your 5K, which is what I'm more into. Plus, Explore the World is only compatible with exercise bikes and treadmills, so there aren't any fun strength or yoga classes to be found.
I do like that Explore the World can connect to most Schwinn, Bowflex, and Nautilus products. If you have a spin bike from one of these three brands, you can use your subscription on that machine as well, which is pretty cool.
Not sure if it's your cup of tea? No sweat. Explore the World does offer three free trial courses for you to see if you like the app before committing to a subscription.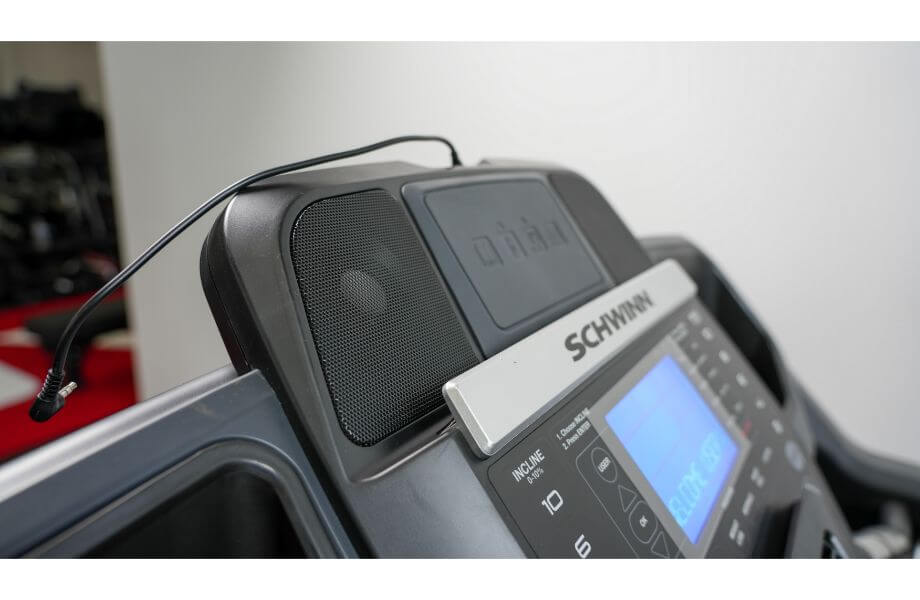 Bluetooth Connectivity
The Schwinn 810 does have Bluetooth connectivity, albeit spotty at times. My iPhone XR struggled to connect to the Explore the World app, which is supposed to sync up with the treadmill seamlessly.
I also was a bit confused with the included jack on the machine. Unless you have an older iPhone (or an Android), you won't be able to use the jack because iPhones no longer have these, so it was essentially useless. The speakers themselves are average, but it is nice to have them on an affordable treadmill.
Comparison To Sole F63
The Sole F63 is one of my all-time favorite home treadmills priced right at $1,000. I was curious to see how it compared to the Schwinn 810, as the price difference between the two is fairly small. Let's check out some specs:
| | | |
| --- | --- | --- |
| Machine | Schwinn 810 | Sole F63 |
| Price | $800 | $1,000 |
| Deck | 20″ W x 55″ L | 20″ W X 60″ L |
| Warranty | 1 year parts, 1 year labor, 10 years frame & motor | 1 year labor, 3 years parts, and lifetime on frame and motor |
| Speed | 0-10 MPH | .5-12 MPH |
| Incline | 10% | 15% |
| Weight capacity | 275 lbs | 325 lbs |
| Machine weight | 155 lbs | 254 lbs |
With all things considered and having had my hands (er, my feet actually) on both machines, I prefer the Sole F63. Do I think the Schwinn 810 is a bad budget option? No, certainly not. I just think the Sole F63 is tough to beat in the under-$1,000 range because of its deck size, weight capacity, and warranty. However, this doesn't mean the Schwinn shouldn't be purchased. It is the cheaper and more lightweight option, so if those matter to you, it is still a solid buy.
RELATED: Sole F63 Treadmill Review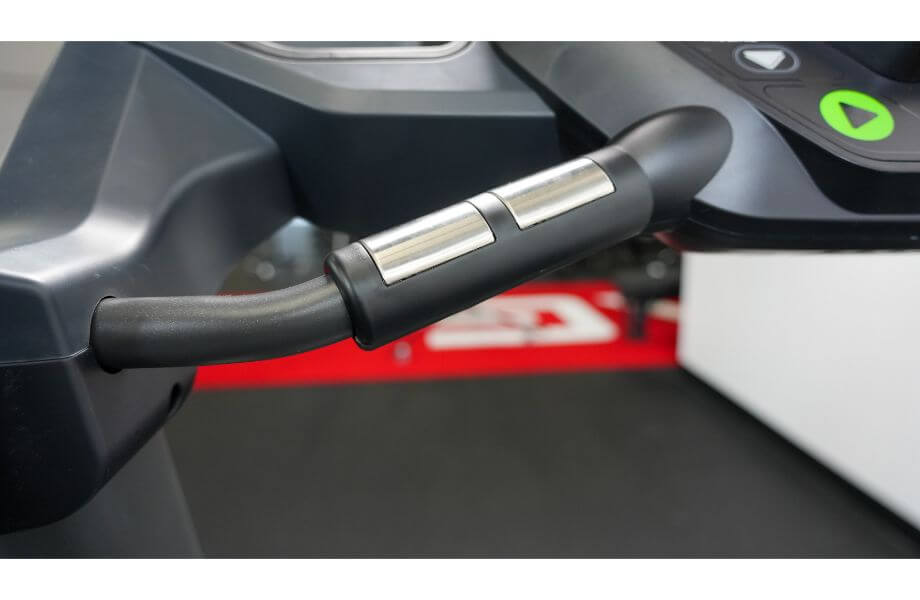 Customer Experience
Warranty-wise, the Schwinn 810's is average. Generally, the industry standard is 15 years to life on a frame and motor warranty. The 810 only has a 10-year warranty. Definitely not even close to the worst I've seen, but I wish it was slightly longer. I am, of course, keeping in mind that this is a budget option. However, when options like the Sole F63 (which is only $200 more) have a lifetime frame and motor warranty, I am judging Schwinn slightly more harshly.
If you're not happy with your Schwinn 810, Amazon allows returns for up to 30 days after purchase. Simply click the "Returns and Orders" button in the upper right hand corner of the website to get the process started. Every time I've returned something with Amazon, it has been super easy and streamlined, so this isn't something to be worried about.
Plus, Amazon has this new support chat option available for certain items up to 90 days after purchase. This makes talking through any troubleshooting or set-up a breeze.
Ordering And Assembling The Schwinn 810 Treadmill
When ordering the Schwinn 810 treadmill from Amazon, there are three different delivery options to choose from. Getting the machine delivered right outside of your door is free for all customers (whether you have Amazon Prime or not). You can also have it put inside a room of choice, or assembled.
If you simply want it delivered into a room of your choosing, it's only an additional $19.99. For those who don't want to go through the hassle of assembling the 810 themselves, professional assemblers will do it for you for $59.99. Not too shabby if you ask me. I'd honestly recommend doing this based on our Operations Manager, Sam "AsSAMbly" Presley's, assessment.
Although he said it wasn't too bad to assemble, it is rather large, so you'll need a second set of hands to help unbox the pieces.
Sam did complain that the process of installing the wires was tedious and unnecessarily frustrating.
"Schwinn wants you to run the wires through the arms and provides a thin piece of wire to pull the cables through," Sam explains. "While this is an okay concept, the thin piece of wire broke with very little resistance. This left the cables stuck halfway down the arm. We then had to use a broom stick to push the wires through the rest of the way."
Customer Reviews
With more than 650 reviews at the time of this writing, the Schwinn 810 has a rating of 4.5 out of 5 stars. Most customers are very pleased with their purchase, citing things like the price, deck size, and simple controls.
"The 10% incline works very well. It's a very quiet treadmill, and I enjoyed walking and running on it," Schwinn 810 purchaser Meri H. Fleischman said. "It feels solid and sturdy, and I feel it was a great value for the price. It also feels like it has shock absorbers or something because it's easy on the legs."
Related: Best Treadmill for Walking
However, others were not happy with the spotty Bluetooth and random error messages. There were more than a few of those concerns, with customers complaining about the machine randomly turning off. I did not personally experience that, but I think it is worth noting that others did.
"After a few months of using, I received an Error 1 (E1) every time the belt would run for 8 seconds," customer K. Santiago explained. "They found this was because of a bad sensor, and expect me to wait 8 weeks for the part now."
Final Verdict Of Our Schwinn 810 Treadmill Review
All in all, if you purchase the Schwinn 810 with reasonable expectations in mind, you likely won't be disappointed. It isn't a ProForm Pro 9000, and it isn't trying to be. This is a budget-friendly treadmill that is a solid option for people who want something simple.
Schwinn 810 Treadmill Rating
Schwinn 810 Treadmill
In this Schwinn 810 treadmill review, I'll detail all there is to know about this budget-friendly machine. Did I like it? Find out by clicking the link.
Product Brand: Schwinn
Product Currency: USD
Product Price: 799.99
Product In-Stock: InStock
Schwinn 810 Treadmill FAQs
Does the Schwinn 810 treadmill have Bluetooth?
The Schwinn 810 treadmill does have Bluetooth capabilities. It also has a USB charging port, water bottle holders, and a small media shelf.
Does Schwinn make good treadmills?
Schwinn makes budget treadmills for people who want a workhorse of a machine without fancy, tech-y features. So yes, I think Schwinn Fitness makes good treadmills.
Does Schwinn still make treadmills?
Yes, Schwinn does still make treadmills. They produce the Schwinn 870, Schwinn 830, and the Schwinn 810.
What other brands make quality treadmills?
Besides Schwinn treadmills, NordicTrack and Sunny Health & Fitness make some of the best cardio machines for your home gym.