We test and review fitness products based on an independent, multi-point methodology. If you use our links to purchase something, we may earn a commission. Read our disclosures.
Suffering from knee pain can be really frustrating, and it's understandable that you may be wary of cardio because you're worried about agitating your joints further. However, picking a treadmill that works with your knees versus against them is the key to a mostly painless workout.
In this guide, I'll tell you my picks for the best treadmills for bad knees and help you select a machine you'll actually want to use. I've also enlisted Amanda Capritto, a Certified Personal Trainer (CPT), for further professional insight on using treadmills for those with knee issues.
Dozens of Treadmills Tested and Researched
The team at Garage Gym Reviews has been on dozens of treadmills and even tested some of the best exercise equipment for bad knees. A copious amount of research has gone into examining deck lengths, belt materials, and other useful specs to help determine the best treadmills for bad knees. We've also enlisted members of our expert panel to give more useful information on using treadmills with knee pain.
7 Best Treadmills for Bad Knees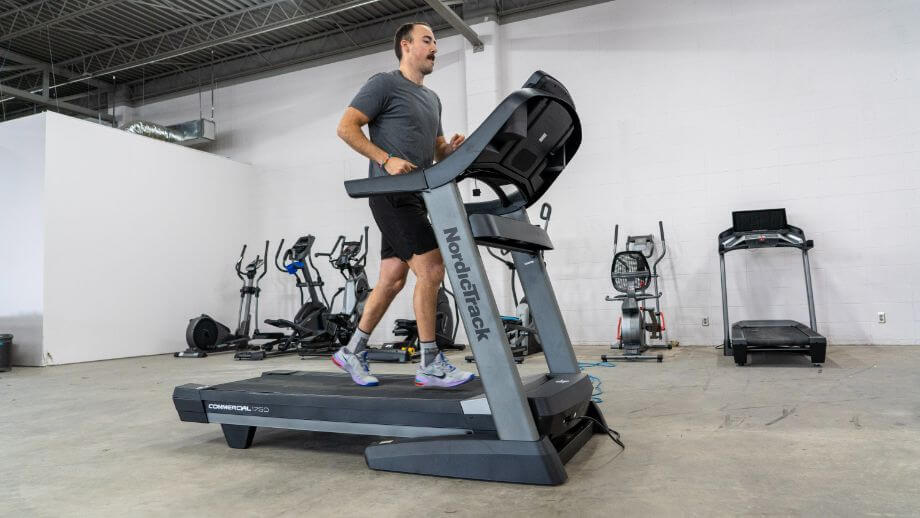 Overall Best Treadmill for Bad Knees: NordicTrack Commercial 1750
Good for: People who want a reliable treadmill with both excellent cushioning and all the bells and whistles.
Best Overall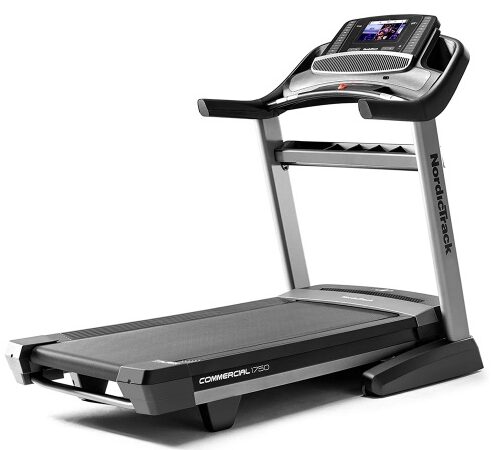 NordicTrack Commercial 1750
The NordicTrack 1750 treadmill features a 14-inch HD adjustable touchscreen with which you can stream iFIT programming on (sold separately). The under $2,000 machine can be financed through the NordicTrack website where you can get deals as low as $49 per month with 0% for 39 months.Models from 2013-2021 of the 1750 had adjustable cushioning, but the 2023 model no longer has this feature.iFIT workouts incorporate Automatic Trainer Control, which allows your trainer to digitally adjust your incline, decline, and speed. This is a nice feature to have because all you have to do is focus on the workout at hand versus frantically switching the controls.
Pros:
Comfortable deck cushioning
Included 14" touchscreen on the new model
Compatible with iFIT programming
Decline and incline settings
Financing options available through the NordicTrack website
Cons:
Time consuming to assemble
Close to 350 lbs boxed
Expensive at close to $2,000
I'll say it: the NordicTrack Commercial 1750 is one of the most complete, all-around best treadmills I've tried. For people with bad knees, the re-designed deck of this treadmill now sits lower to help with transitions on and off the 1750. Plus, studies have found that walking backwards downhill can actually help reduce knee pain and this machine has stellar decline capabilities (plus incline options if you're feeling wild).
In previous iterations of the 1750 (from 2013-2021), this treadmill had adjustable deck cushioning that was able to be turned on and off. Although the latest 2023 model doesn't have this feature, I was assured by customer service that the cushioning on the 1750 is the best available.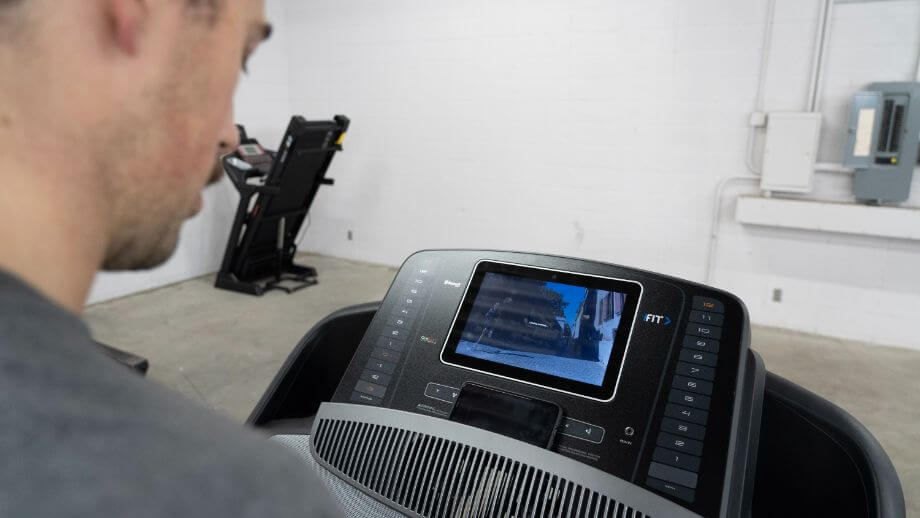 If you plan to assemble the 1750 yourself, grab a friend or two to help with the process. This machine is 350 pounds when it arrives at your doorstep, and unless you're the hulk, trying to unbox and assemble this machine yourself isn't likely going to happen.
If you're into interactive programming, the updated 1750 features an adjustable 14-inch touchscreen (up from the 10-inch touchscreen of previous years) that is compatible with iFIT memberships. Plus, if you're taking an iFIT class, you're able to set your treadmill to automatically adjust to the appropriate speed and incline if you want to focus purely on the treadmill workout at hand.
Read our full NordicTrack Commercial 1750 Treadmill review.
Best Curved Treadmill for Bad Knees: AssaultRunner Pro
Good for: People willing to shell out extra cash for a sturdy, self-powered treadmill
Best Curved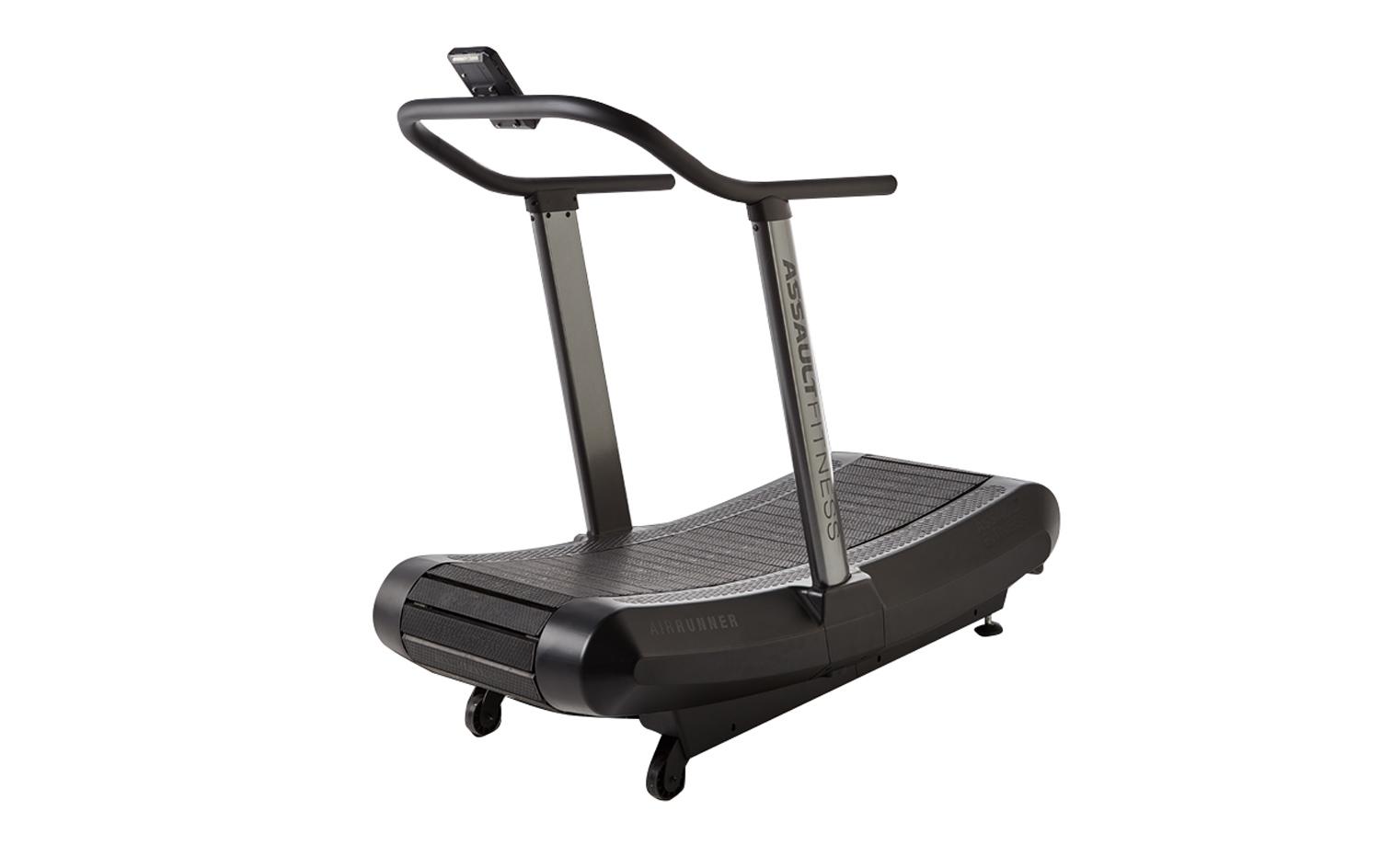 AssaultRunner Pro
The AssaultRunner Pro is a popular piece of equipment among CrossFit athletes, but it can also be used for the novice athlete to anyone who just likes to go for a run. It is a non-motorized treadmill that is completely powered by the output of the athlete. In other words, to get the belt started, you have to start running on it. The AssaultRunner Pro's curved design enables the athlete to run with proper running form and technique, which reduces the risk of injury.   This treadmill comes equipped with built-in wheels in the front and a handle on the back making it easily portable.  The steel handrails on each side of the Runner do come in handy especially for those who are new to running on a treadmill built to move based off of a person's power output.  The belt that is used on the Assault Runner is heavier causing it to spin faster than what it would feel like if you were running on a road. This is a sturdy machine, made with a lot of steel for increased durability. Lastly, the AssaultRunner Pro includes a UV-resistant console.  The digital console keeps track of your time, calories, speed, distance, watts, and pace.  
Pros:
Treadmill belt is shock-absorbing
Sloped design helps users run/walk with better form
Can support up to 350 lbs
Cons:
Imported
Heavy belt makes transitioning from running to walking a little more difficult
Plastic shell
I'm not going to lie—every time I get on a manual treadmill, I pretend I'm a hamster running on a wheel. Weird? Definitely, but hey, whatever keeps me going. If you, too, would like to role play as a hamster, I'm a big fan of the AssaultRunner Pro to fulfill all your rodent dreams.
This self-powered machine has a shock-absorbing belt and a design that helps people walk or run with better form. This is especially important for people with knee pain, as running with incorrect form can further agitate injuries.
I also like that the AssaultRunner Pro has a max user capacity of 350 pounds, which makes it an inclusive choice. This also means you can safely do farmer's carries or other weighted walks like suitcase carries without a problem.
However, all these wonderful features usually mean an expensive price tag, and the AssaultRunner Elite is no exception. This treadmill comes in just under $3,000, and it's huge. You really need to have a dedicated space in your home or garage gym for this almost 300-pound machine. The Pro comes with a 150,000 mile belt warranty, 5-year frame warranty, and three years for moving parts.
Read more on my AssaultRunner Pro review.
Best Cushioned Treadmill for Bad Knees: Sole F63
Good for: Those who want a mid-range treadmill with superior cushioning
Best Cushioned
Sole F63
Named "Best in its Price Range" by Fit Rated, Run Reviews, Treadmill Reviews, and many others. Easy Assist Folding Deck Design makes storing your treadmill easy and convenient. High-end rollers create a static free motion leading to a long lifespan. Smoothest treadmill when making adjustments mid-workout. LCD screen provides real-time statistics to monitor progress towards goals.Plus, Sole has recently released its own version of Peloton-esque programming: STUDIO. You can access a variety of on-demand classes for just $19.99 per month.
Cushioning system said to reduce joint impact
High user weight capacity
Incline options up to 15%
Lifetime warranty on frame and motor
Foldable
No touchscreen
Heavy at 254 lbs
Slight shake when running at high speeds
If you're looking for a cushioned treadmill specifically to help mitigate knee pain while you're walking or jogging, check out the Sole F63. It has what the company calls a "Cushion Flex Whisper Deck," which they say reduces joint impact by 40%. While we can't vouch for that percentage, our testers really enjoy the cushioning system on this machine, saying it provides a pleasant ride.
The F63 is suitable for a variety of users, too. It offers a 325-pound weight capacity, as well as a 20-inch-by-60-inch deck and a 3.0 CHP motor—all enough for runners and walkers alike. Plus, with a lifetime warranty on both the frame and the motor, you'll have peace of mind that this machine will last.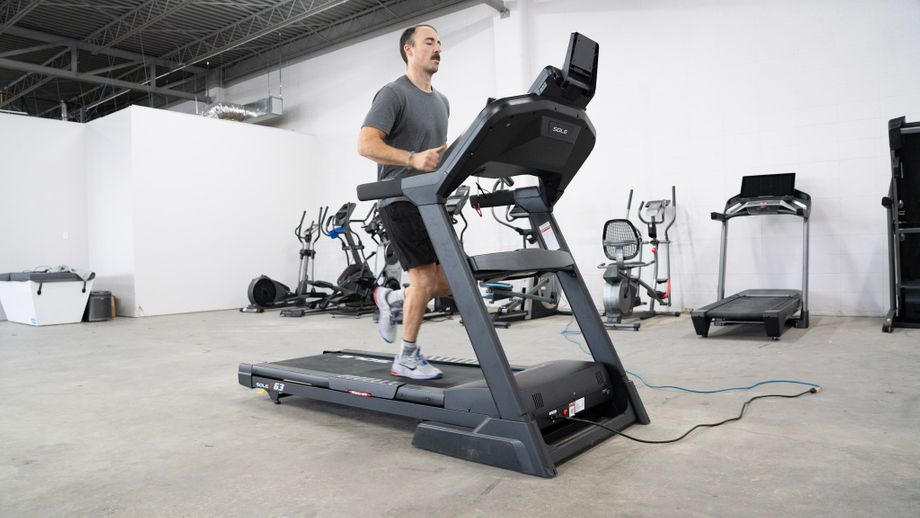 While there isn't an integrated touchscreen or the ability to connect your device to the machine, the F63 does feature a tablet holder as well as six preset programs to choose from. It also comes with a heart rate monitoring strap—a nice added touch.
We will say that during testing, the F63 did shake when we cranked up the speed. It doesn't make the machine feel unstable, but it's worth noting if you plan to do a lot of high-speed running.
Read our full Sole F63 treadmill review.
Best Budget Treadmill for Bad Knees: UREVO Under Desk Treadmill
Good for: A casual exerciser who wants an inexpensive cardio machine with a cushioned belt
Best Under Desk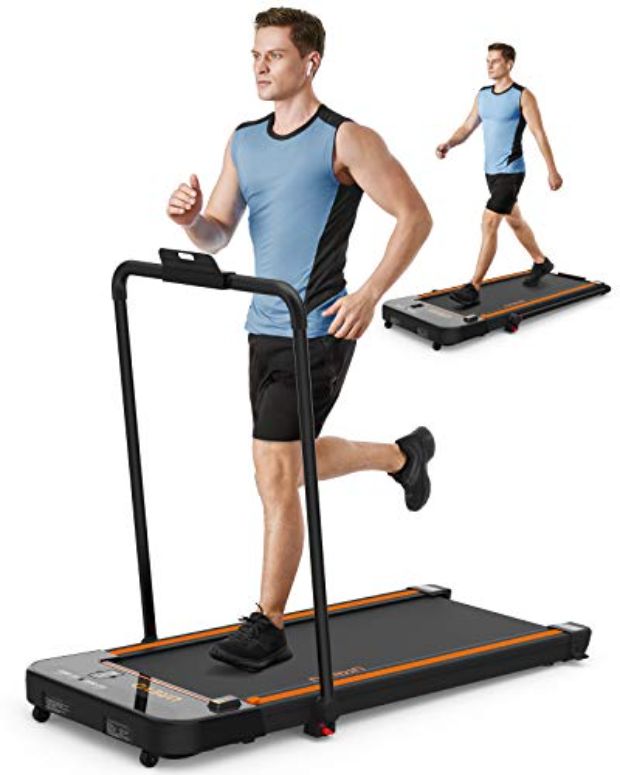 UREVO 2-in-1 Under Desk Treadmill
If you live in an apartment or other compact space, the UREVO 2-in-1 treadmill might be a good option for you. This lightweight machine clocks in at under 60 pounds, which makes it easy to fold and move into a closet or against a wall to free up space. Plus, the handle easily folds down to allow it to be used under a desk while working from home.However, the deck itself is very thin and short. If you're over 5'9", this treadmill might be too short for you to take normal length strides. Although the machine has a maximum speed of 7.6 mph, you likely wouldn't be able to take appropriate strides if you're of average height or taller. However, I personally wouldn't really recommend anyone use thew UREVO for running, as it is better suited for slow paced walking.
Pros:
Under $400
5 layers of cushioning on the deck
Space-saving; easy to store and move
Lightweight
Cons:
No incline options
Short deck at 16.5" x 42.5"
Bare bones with no technology extras
Listen, the UREVO 2-in-1 Under Desk Treadmill is not a Peloton Tread. It doesn't have all the fun technology features or extra long deck. However, this compact treadmill is under $400 and has five layers of non-slip rubber on the running belt. I am a very clumsy individual, so non-slip anything is always a good option for me. Even if you're not fall-prone, if you have less than ideal knees, this is a nice safety option to have.
RELATED: Treadmill Safety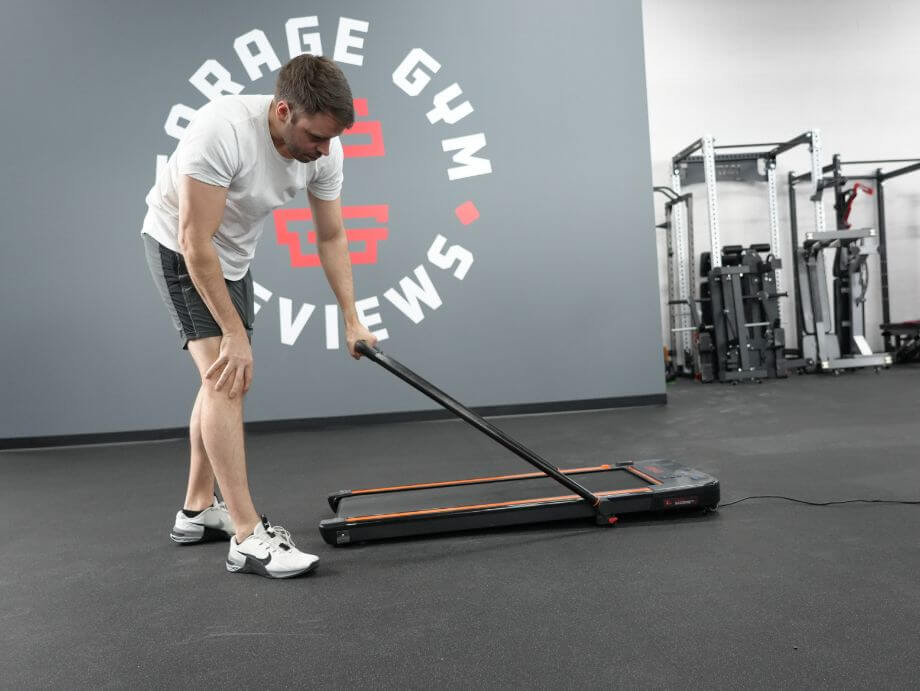 I wouldn't recommend the machine for running or jogging, purely because the deck isn't long enough at 16.5 inches by 42.5 inches. This is a common compromise on machines that are budget-friendly, but it can still be used just fine for walking. Plus, at under 80 pounds, the UREVO can be easily moved from room to room without a lot of fuss. I found it easy to fold—the handlebars come down toward the belt—and move with the attached wheels.
RELATED: How to move a treadmill
Since the actual shell of the UREVO is constructed using a lot of plastic, I don't know how long this machine will last. The controls on the top part of the deck seem cheap and the remote that controls the speed is small. I'd recommend taping it to the treadmill so you don't lose it, otherwise you won't be able to adjust the speed at all. But, if you're looking for the best budget treadmill for bad knees, the UREVO 2-in-1 might be a good option.
Take a look at our full UREVO Treadmill review.
Best Running Treadmill for Bad Knees: Horizon 7.4 AT
Good for: Someone who wants an intense cardio workout and has the space for a treadmill with a large footprint
Best Running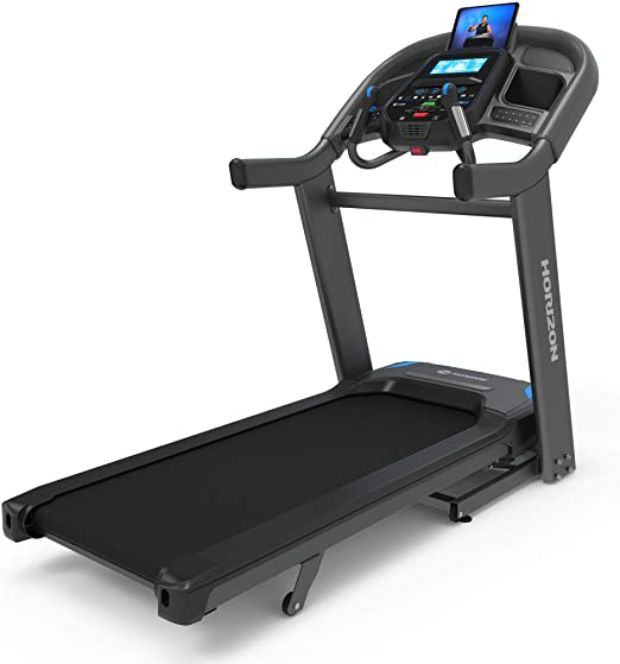 Horizon 7.4 AT Treadmill
The Horizon 7.4 AT treadmill is a workhorse. It isn't a Peloton Tread, nor does it claim to have all the bells and whistles that a technology based treadmill might offer. However, with a 3.5 CHP motor, you'll be able to do pretty much any type of cardio your heart desires. If you're in the mood for some all out sprints, the 7.4 can accommodate you with maximum speeds up to 12 mph. Want to feel like you're climbing a mountain? The 7.4 can help you there too with a 15% incline. Plus, if you're into regular steady state cardio, the 7.4 has a XL running deck of 60 inches, so you can stride without the fear of falling off.Plus, the warranty on this treadmill is stellar. You get a lifetime warranty on the frame and the motor, plus two years on parts and one year on labor. What more could you ask for?
Pros:
Cushioned, shock-absorbing deck
Generously sized running area at 22″ x 60″
Can sync with popular fitness apps such as Peloton and Zwift
User-friendly incline and speed controls with a dial
Cons:
Large footprint; not ideal for small spaces
Bring your own device to stream programming
318 lbs and difficult to move
For someone with knee pain, the thought of running can be chill-inducing. Although a great treadmill can't make the aches go away, it can make your run a more comfortable experience, which is exactly what the heavy-duty Horizon 7.4 AT does. As the best treadmill for running with bad knees, in our opinion, this machine has "three zoned-cushioning" in the deck, which basically means it is shock-absorbing and will move with you as you do more intense workouts, like HIIT treadmill workouts, interval training, or running. The 22-inch wide by 60-inch long deck is generously sized and allows almost any user to stride with ease.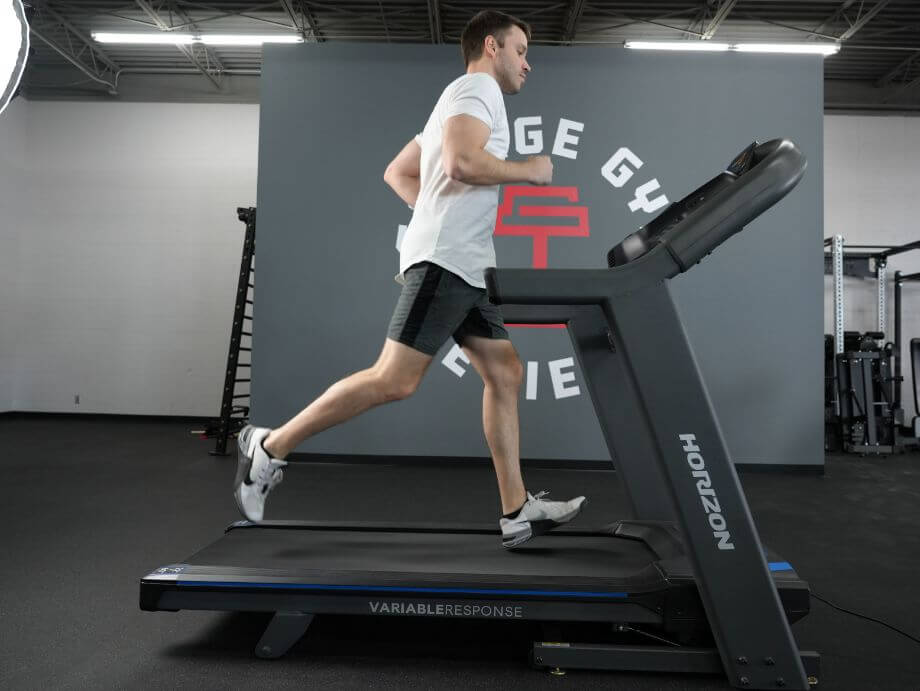 I'm also a fan of the Quick-Dial controls, which allow you to change the speed or incline in a flash. This is a nice feature to have, especially if you're trying to listen to what your body needs at any given time. Although you may or may not use the incline feature, it does go up to 15%, which is more than enough for the average user.
I would not recommend the Horizon 7.4 for people who have small spaces. The 318-pound treadmill has a large footprint at 76 inches long by 37 inches wide by 63 inches high. Even though this treadmill does have folding capabilities, it's still a big presence even when it's tucked away.
RELATED: Best Folding Treadmill
If you're an interactive programming lover, the Horizon 7.4 has Bluetooth connectivity to popular apps like Zwift and Peloton. Although I do wish there was a touchscreen built-in, you can easily use your own iPad or phone to connect with the treadmill and programming.
Read the full Horizon 7.4 Studio Treadmill review.
Best Walking Treadmill for Bad Knees: Echelon Stride
Good for: People who need a compact walking treadmill that won't further agitate bad knees
Best Walking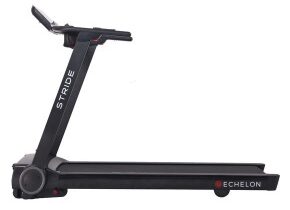 Echelon Fitness Stride
Functionality and technology meet intelligent design in the newest addition to the Echelon product family. Designed with convenience in-mind, the Echelon Stride features auto-fold technology to make heart-pumping workouts more accessible than ever before.
Pros:
Deck is made of rubber and is "impact-absorbing"
Auto-fold feature makes storage a breeze
Under $1,500
Maximum speed options up to 12 MPH
Cons:
Weak 1.75 CHP motor (2.5 HP motor is the industry standard)
No touchscreen
Subpar warranty
No incline availability
The Echelon Stride is another well-cushioned choice for knee pain sufferers. The deck is made of rubber and absorbs the impact of the user's steps. I found the deck to be comfortable and supportive. Plus, the 55-inch by 20-inch belt is substantial enough for a slow stroll or a power walk without having to take calculated strides.
Although this machine has the option to get speeds up to 12 MPH, I wouldn't recommend consistently counting on this machine to perform at the upper level of its speed range. This is due to the fact that the motor is a subpar 1.75 CHP, which is well below the industry standard for motor performance of 2.5 horsepower.
However, I do really like the auto-fold feature. This is a machine that actually folds well to a tiny 10 inches, making it easy to store under a bed or in a closet. If you're tight on space, the Echelon Stride is a solid option to look into. Plus, you don't have to stress about the machine slamming to the ground and potentially injuring yourself like other foldable treadmills I have tested in the past.
Another thing I love? The Stride comes almost entirely pre-assembled. Once you unbox the machine, simply unfold the handrails and plug it in to a compatible outlet and voilá! You're ready to get started.
Read our Echelon Stride review.
Best Treadmill for Bad Knees with Interactive Programming: Bowflex Treadmill 10
Good for: People who love programming but also want one of the best home treadmills for bad knees
Best Interactive Programming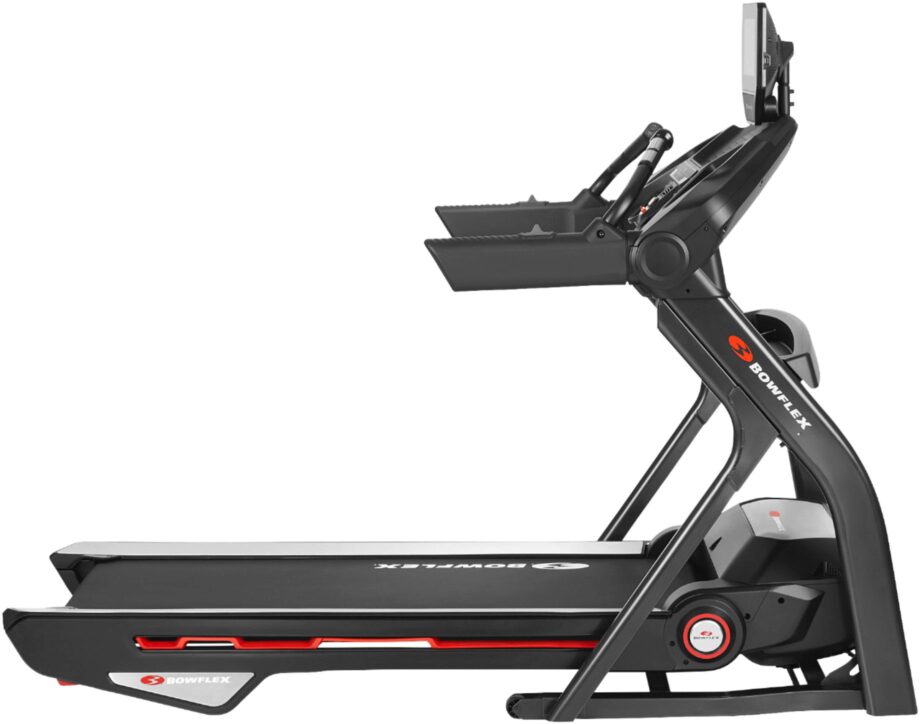 Bowflex Treadmill 10
If you're looking for an interactive treadmill with a solid and sturdy build, the Bowflex Treadmill 10 is a great option for any runner. The Treadmill 10 supports speeds up to 12 miles per hour and, quite impressively, has both motorized incline and decline options ranging from -5%-15%, which makes it possible to train for any terrain. That said, it is odd that Bowflex shares no information on the motor's power. In fact, they stated that they do not have that information on their website when questioned by a potential buyer. Other sites have reported a whopping 4.0 CHP motor, but we couldn't confirm that. Still, users do report a powerful feel to the motor with little to no lag time. Use the interactive, high-definition, adjustable touchscreen to access a myriad of training content that comes with your one-year free JRNY membership. Bound to keep you motivated and on track with your fitness goals, the JRNY membership provides virtual coaching, trainer-led workouts and adaptive workouts that progressively get harder as your fitness improves. The Bowflex Treadmill 10 comes with some awesome conveniences, too. It's Bluetooth-enabled for smart devices, has an included Bluetooth heart rate armband, a console fan and boasts speed and incline knobs for ease of use. The cushioned running deck will feel roomy, too, as it measures 22 inches by 60 inches, which is larger than most folding treadmills. To that end, the Bowflex Treadmill 10 uses a soft drop folding system to easily fold and unfold. However, weighing 323 pounds assembled, this tank of a machine is not easily moved around, so plan on dedicating a space in your home gym for its use. 
Pros:
Plenty of deck cushioning
Compatible with JRNY programming
400 lbs max user weight capacity
Decline and incline levels
Cons:
Large machine at 323 lbs
Although it is foldable, it doesn't fold very flat
Hard to assemble by yourself
The Bowflex Treadmill 10 is the cardio machine equivalent to a Buick. This mammoth features a generous 22-inch by 60-inch running path and "comfort tech deck cushioning." I found the Treadmill 10 to be very comfortable to use and the deck has shock absorption that makes jogging or walking feel less stressful on joints, particularly the knees.
One of my favorite parts of the Treadmill 10 is the included touchscreen, which connects with JRNY programming. JRNY is similar to iFIT, but just less fleshed out. However, at just $19.99 per month, it is one of the cheaper programming options I'm aware of. You're able to take a variety of classes that aren't just limited to the treadmill including strength, yoga, and pilates options.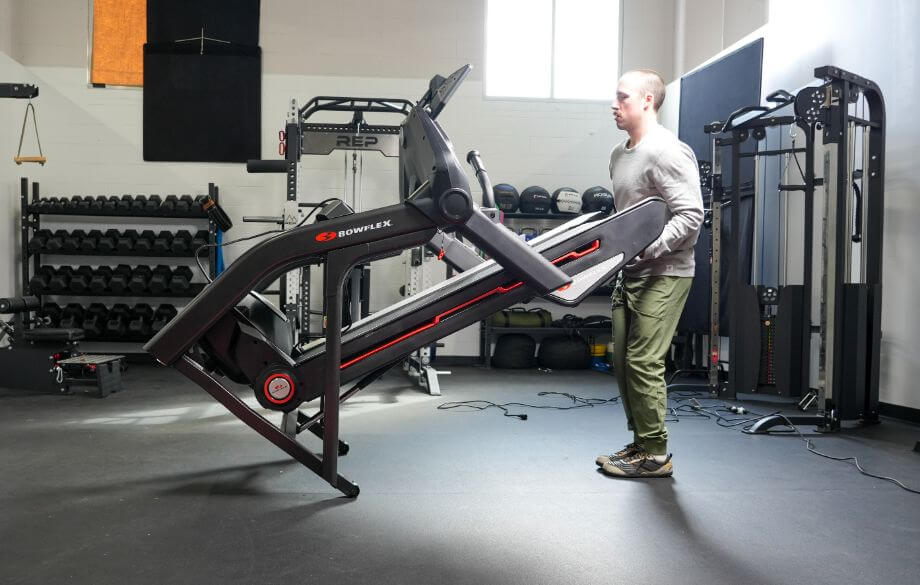 The 323-pound machine is extremely stable, and I had no issues with the machine shaking while in use. The Treadmill 10 also has a max user capacity of 400 pounds, which is well above the industry standard of 300 pounds. Since this heavy machine has a large footprint, it makes the most sense to have a permanent or semi-permanent home for the Treadmill 10. Plus, you'll probably want to pay for expert assembly from Amazon or the like after you purchase this machine, since it is a beast.
RELATED: How to fix a treadmill
Although the T10 is actually able to be folded, it's not really a spacesaver: The protruding screen doesn't allow for a seamless or flat fold, which limits your storage options. Plus, the attached wheels to move the treadmill are small and not conducive to rolling the machine across carpet.
Check out our Bowflex Treadmill 10 review.
Other Treadmills We Researched
These machines didn't quite make the list, but we still think they're worth mentioning. Check out our thoughts on these four high-quality treadmills:
Nautilus T618 Treadmill: This treadmill was recalled on June 9, 2023, for issues with the machine self-starting and requires a software update from the company to be safe to use. But, beyond that, the T618 features a sturdy 3-ply belt and generously sized deck. At $1,500, we do wish it had an included touchscreen to view programming instead of the backlit LCD screens, but the Bluetooth connectivity is a nice add. (Full Nautilus T618 Treadmill review here.)
Schwinn 810 Treadmill: This treadmill has "SoftTrak Cushioning" for a comfortable workout and is under $1,000. However, I'm not crazy about the 275-pound max user capacity, as the industry standard is 300 pounds.
Sole F63: If you don't mind a more primitive but large LCD display, you may enjoy the F63, as it has pretty solid belt cushioning. The Sole website even claims the "Cushion Flex Whisper Deck" can reduce impact by up to 40% on joints. I can't verify that in any way, but the belt does feel more cushioned than the average treadmill.
RELATED: Sole F63 Treadmill Review
ProForm Carbon T7 Treadmill: For under $1,000, this cardio machine is a good option for people with bad knees due to its ISO Flex belt cushioning. (Full Proform Carbon T7 treadmill review here.)
How We Picked and Tested
Every single treadmill that made this list has been personally tested by a member of our team. When testing these machines, we paid special attention to the cushioning and how it felt to run or walk for any length of time.
We also considered things like deck length, and any adjustments or features that made exercising a bit easier. After all, if you're struggling with knee pain, the last thing you want is a complicated and frustrating workout experience
Benefits of Treadmills for Bad Knees
Surprise surprise, treadmills can actually be a good choice for someone with bad knees. I know, shocker. Here are some reasons you might want to add a treadmill to your home gym, even if you suffer from joint pain: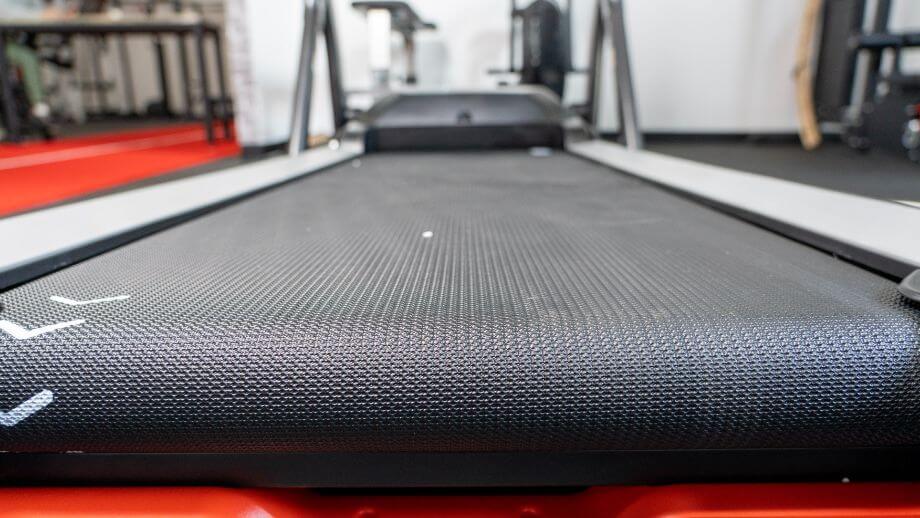 Reduce Risk of Further Injury
Consistently walking on a treadmill if you have knee pain can actually benefit you in the long run. Studies have shown that frequently using a treadmill for exercise can strengthen the muscles surrounding your knee, therefore reducing your risk of further injuring your knee. Plus, physical activity increases blood flow overall, which can help promote healing from an injury.
"Despite the common belief that walking and running are bad for the knees, both types of exercise can actually improve joint health by increasing bone density and strengthening the muscles around the joint itself," says CPT Amanda Capritto.
RELATED: Treadmill Benefits
More Comfortable Workout
Extra deck cushioning on your treadmill means a more pleasant workout for you (and your knees). It's a lot easier to focus on the task at hand if you aren't thinking about how horribly your knees hurt during your workout sessions.
Improve Balance
As we get older or have injuries, it is even more important to continuously exercise to improve your balance to avoid falling. According to a clinical trial, consistent treadmill training is effective for improving balance control. Even more of a reason to add a treadmill to your home gym!
Buying Guide: What to Look for in Treadmills for Bad Knees
If you suffer from occasional or chronic knee pain, the last thing you want is a treadmill that will aggravate your joints even more. Never fear! We're here to help you make the right decision by equipping you with useful information you need to know. Let's get started:
Cushioning
The No. 1 thing you should look for when purchasing a new treadmill (if you have knee pain) is heavy cushioning on the running deck. Pay close attention to the information about the machine's belt. Is it 2-3 ply? Is the PVC belt at least .8mm thick? Is there any information about additional cushioning considerations the brand has made when designing the deck? These are all things to consider before hastily choosing a treadmill.
Incline and Decline
Depending on if you plan to use incline or decline, this may not be much of a concern for you. I don't personally suffer from knee pain, but I do have issues with my reconstructed ankle and I do not enjoy using high inclines because it hurts. If this is similar to you with your knees, you may be able to get a cheaper treadmill that doesn't have incline and decline training options.
However, studies have shown that regularly walking backwards downhill can actually help strengthen knees. If you're feeling up to it, give it a try.
Soft Drop Feature
If you have bad knees, you likely don't want to struggle to fold and unfold your new treadmill and risk hurting yourself further. If this is the case, make sure the machine you chose has some sort of soft drop feature or hydraulics that allow the deck to slowly come down on its own.
Trust me, I don't even have bad knees and it is a struggle when you're unfolding a heavy treadmill that doesn't have a gas shock. You end up having to squat with the machine as it comes down to avoid it slamming on the floor and potentially straining your knees.
Deck Size
Whether you enjoy walking or running, you'll likely want a sizable deck for your new treadmill. The industry standard on a deck for running is 22 inches by 60 inches, but most budget treadmill options are quite a bit smaller. Hey, they have to cut costs somewhere.
However, if you're someone with knee problems, the more walking or running space you have, the better. I feel like you shouldn't have to think too hard about the steps or stride length you're taking, so the larger the deck for those with knee problems, the better.
Control Panel
Personally, I always want all of the controls to be easy to use and intuitive for any user that steps on the treadmill. Who wants to constantly be fumbling around to figure out how to increase their speed or change the preset workout program? Certainly not me. Especially if you have an injury, like bad knees, making your experience on a treadmill as streamlined as possible is key.
Tips for Using a Treadmill with Bad Knees
Although I can't magically make your knees hurt less (I'm sorry, I wish I could), I can give you some helpful reminders and tips for using a treadmill if you have bad knees:
Warm up ahead of time: Spend 10-15 minutes rolling out tender spots, stretching properly, and getting your body (and knees) primed to hit the treadmill.
Wear the right shoes: You won't be doing yourself any favors if you wear unsupportive running shoes on the treadmill. Look for options that fit your foot properly, allow you to adjust the laces if necessary, and have cushioning.
Avoid super high inclines: Although moderate incline should generally be okay for someone with bad knees, you'll likely want to avoid the 10-15% incline range. The higher the incline, the more your knees will be forced into unnatural angles.
Walk backwards: One of the best treadmill workouts for bad knees is walking backwards. Studies have shown that walking backwards can be beneficial for people with knee pain because it can improve "balance and stability."
Listen to your body: You are the only one that truly knows how your body is feeling at any given moment. Do your best to listen to the signs it gives you to figure out when it's had enough for the day.
RELATED: History of Treadmills
FAQs about Treadmills for Bad Knees
Are treadmills good to use if you have bad knees?
What are some low-impact exercises I can do if I have bad knees?
Well well well, I'm glad you asked. We've actually compiled a whole article full of low-impact exercise ideas for post-injury training. Whether you like using ellipticals, are looking to get a stronger cardiovascular system, or are on a weight-loss journey, low-impact exercises are for you!
How can I run on a treadmill without hurting my knees?
I can't provide any magical advice that will suddenly make running on a treadmill feel like floating on Willy Wonka's chocolate lake if it usually feels like a near-death experience. However, I can suggest things like warming up properly, using a treadmill with a well-cushioned deck, and stopping when your body tells you it's had enough. 
RELATED: Best Home Treadmill for Running
What are some treadmill features to look for when purchasing?
Look for things like a generously sized running surface, cushioning system, preset workout programs, water bottle holders, powerful motor, heart rate monitoring, tablet holders, transportation wheels, cooling fans, and an HD touchscreen. Obviously depending on your budget, you don't need to have all of these things in order to get a treadmill that will help you meet your fitness goals, but they are things to consider. 
Check out our full treadmill buying guide for the best tips.
How can I feel less knee pain while walking or running on the treadmill?
"This will vary from person to person, but a good place to start is checking your shoes. By looking at the tread on the bottom of your shoes, you can tell how your gait (walking pattern) might be affecting your knees. For example, a shoe that is unusually worn down on the outer edge of the outsole indicates that the person is overpronating their feet, AKA turning their arches upward. This adds undue stress on the knees and can be corrected with a variety of leg and ankle exercises over time. A short-term solution is to experiment with your stride length and see if you can achieve a heel-to-toe pattern that limits pain," explains CPT Amanda Capritto.