We test and review fitness products based on an independent, multi-point methodology. If you use our links to purchase something, we may earn a commission. Read our disclosures.
Trying to get a little more movement in during the day but don't know where to start? Consider an under-desk treadmill, like the UREVO 2 in 1 to get those much-needed steps in while working from home. 
Everyone is looking for something different when it comes to home gym equipment, and treadmills are no different. In this UREVO treadmill review, I'll tell you all the good, and the not-so-stellar details about this budget-friendly, foldable machine.  
UREVO 2-in-1 Under Desk Treadmill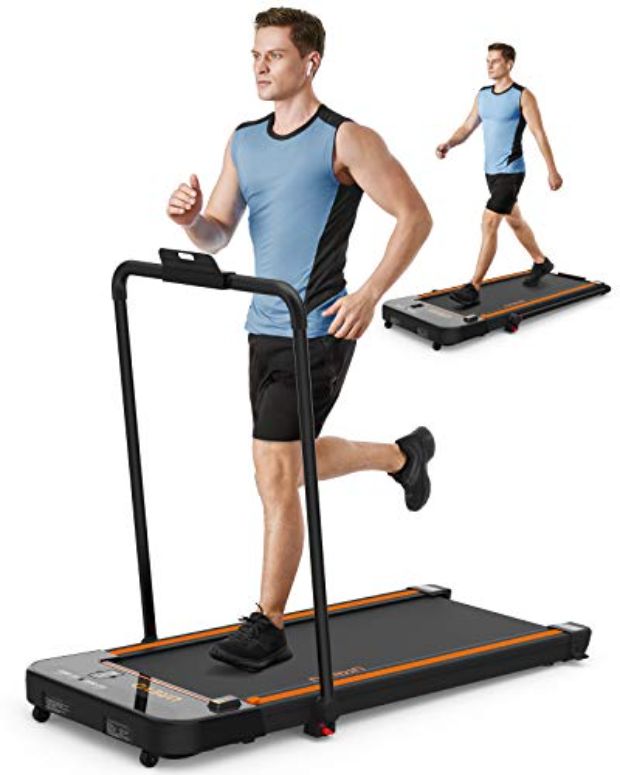 Product Highlights
Folds flat to fit under beds and couches
Comes ready to go; no assembly required
Easy to move
Can also be used under a standing desk
No incline
Pros & Cons
Pros
Under $400
Handle can be folded under to use under a desk
Easy to store and good for people in tight spaces
Cons
Short and skinny deck not ideal for running
User weight capacity below industry standard at 265 lbs
Max speed of 7.6 mph
Bottom Line
If you are looking for a foldable treadmill for under $500, the UREVO 2 in 1 is a great option for you.
Why You Should Trust Us
At Garage Gym Reviews, we've tested some of the best treadmills on the market. We know what to expect when it comes to things like user weight capacity, training programs, frame materials, warranty, and speed ranges.
For this specific review, I used the UREVO treadmill mostly for walking at a slow and steady pace, which is something that could be applicable to using it under a desk. We're sure to tell you who we think each piece of equipment is best for and who should take a look at something different.
RELATED: Best Treadmill for Walking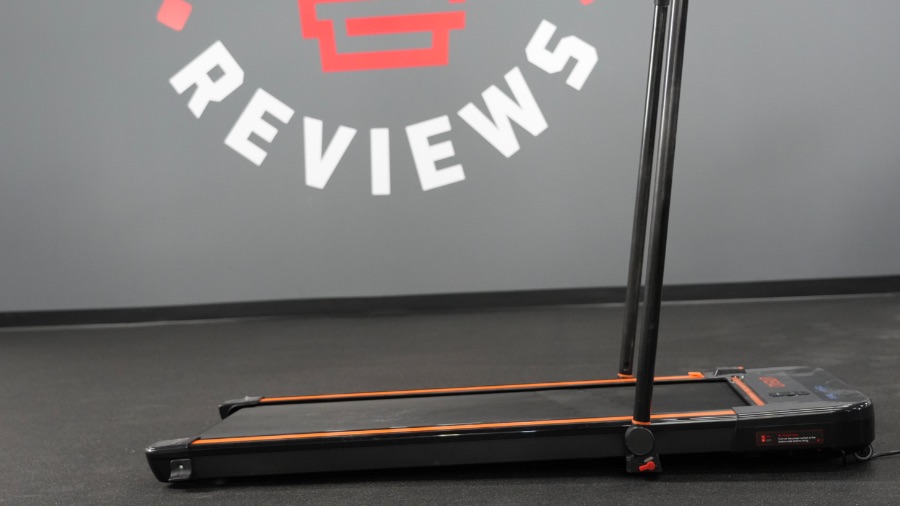 A Quick Look at the UREVO Treadmill
With so many people transitioning to home offices, feeling stuck sitting down the whole day can be a real challenge. The UREVO foldable treadmill comes in clutch as a space-saving option that's usable under a desk during the work day.
My Tips:
On the back of the main control panel, make sure the safety key is pressed into place (it can be easily bumped). Otherwise, you won't be able to start the UREVO.
The handlebar can be folded down if you feel like it is getting in the way.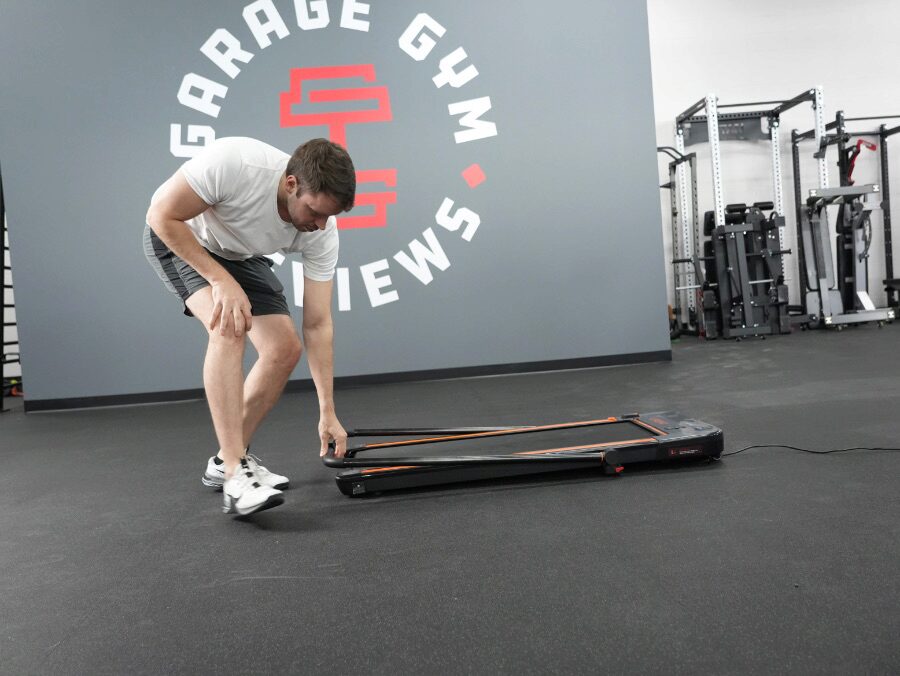 My Favorite Things:
Incredibly easy to move and fold
Inexpensive
Handle can fold down to allow this treadmill to go under a desk for walking while working
2.5 horsepower motor can support walkers and jogging
My Callouts:
Deck size is well below the industry standard of 55 inches by 42.5 inches
Buttons feel cheap and durability is questionable
No incline options or preset programs
Weight capacity is 265 lbs (Below industry standard of at least 300 lbs)
Video Review
Is the UREVO Treadmill Worth It?
The UREVO 2 in 1 Under Desk treadmill isn't a machine I'd recommend for everyone. However, for the right buyer, it can be a home run. Check out who I think should take a closer look and who would be better off with a different cardio machine.
Great For:
People who want a budget treadmill
Apartment residents or others in small spaces
People who just want a treadmill for walking
Individuals with a shorter stride length
Not Recommended For:
Individuals over 5'9
People who want a running machine only
Home gym owners who want top-of-the-line features and technology
UREVO Treadmill Specs
| | |
| --- | --- |
| Brand | UREVO |
| Maximum weight | 265 lbs |
| Horsepower | 2.5 hp motor |
| Top speed | 7.6 mph |
| Running deck | 16.9" x 42.5" |
| Minimum speed | .6 mph |
| Folded dimensions | 54.7" x 26.4" x 5.1" |
| Easy folding | Yes |
| Unfolded dimensions | 52.6" x 26.4" x 39.7" |
| Running belt | 5 layers of an anti-slip, shock-absorbing belt |
| Materials | Alloy steel |
| Weight | 59 lbs |
Using the UREVO Treadmill
Taking a cursory look at the UREVO 2 in 1 Under Desk Treadmill, I honestly was a little skeptical. The team at Garage Gym Reviews has tested a ton of different treadmills, and having the AssaultRunner Elite sit to the right and the NordicTrack 1750 treadmill to the left of the UREVO didn't help its case, as it's very small. However, the AssaultRunner and the 1750 are more than 8x the price of the UREVO, so I realized I was likely being too hard on the treadmill before giving it a truly fair shake.
After plugging in the treadmill to a traditional outlet, I was confused. I couldn't find the power button to get the UREVO started. After dragging fellow GGR writer Anthony O'Reilly in to help me, we found that you have to flip open the panel on the thin handlebar. I don't think it's very intuitive, but nonetheless, I was off to the races.
The "monitor" consisted of seven different buttons; a giant stop button (for obvious reasons), + and – speed, start, a tiny stop button (for pausing but not really meaning STOP, I guess), and two speed jump buttons to 3 and 6. You can stick your phone into the tablet holder that folds out from the control panel while you workout.
RELATED: Best Treadmill Workout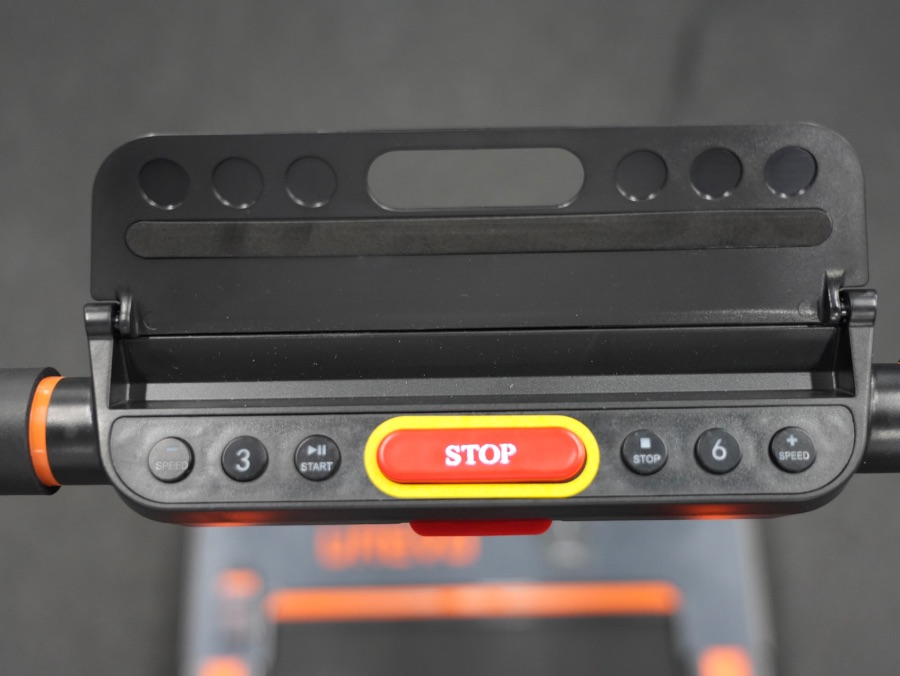 Interestingly, there is also a small remote control included that can change the speed while you're using the treadmill. Personally, I'd prefer a regular LCD display or some knobs. However, I do understand why they added this. You likely don't want to crawl under your desk to adjust anything so this was UREVO's solution.
This treadmill has no incline or decline options, so the flat surface you see out of the box is all you're getting, which is something to be aware of.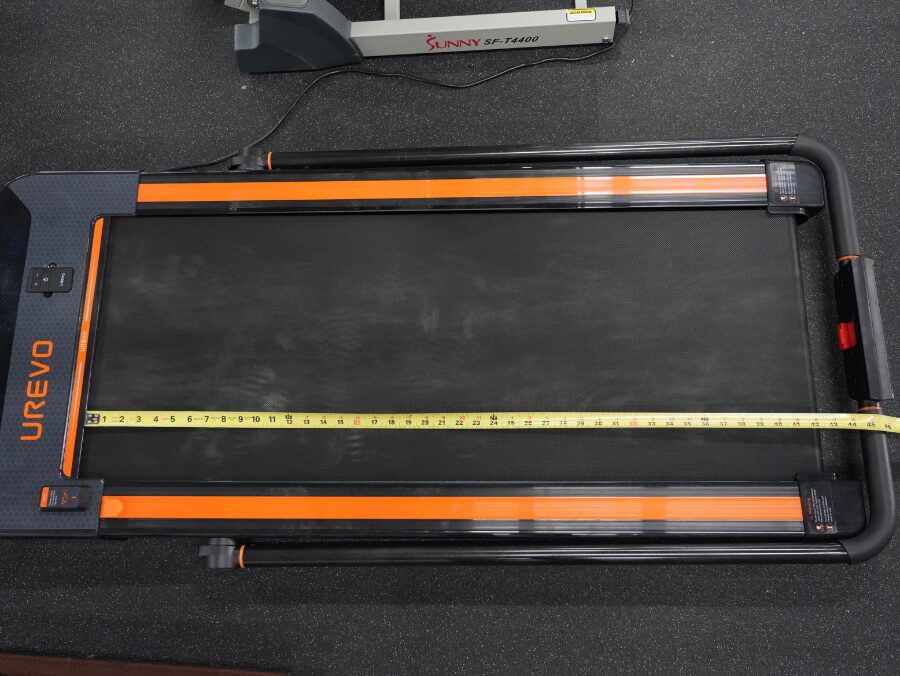 Treadmill Deck and Belt
The actual deck of the UREVO is a lot smaller than pretty much any treadmill I've personally ever tried. At 16.5 inches wide, it's well below the expected industry standard of 18 inches for walkers and 20+ inches for runners. The length of the tread belt was also very short at 42.5 inches. Again, this is definitely below the standard deck size of 50 inches for walkers and 55 inches for runners.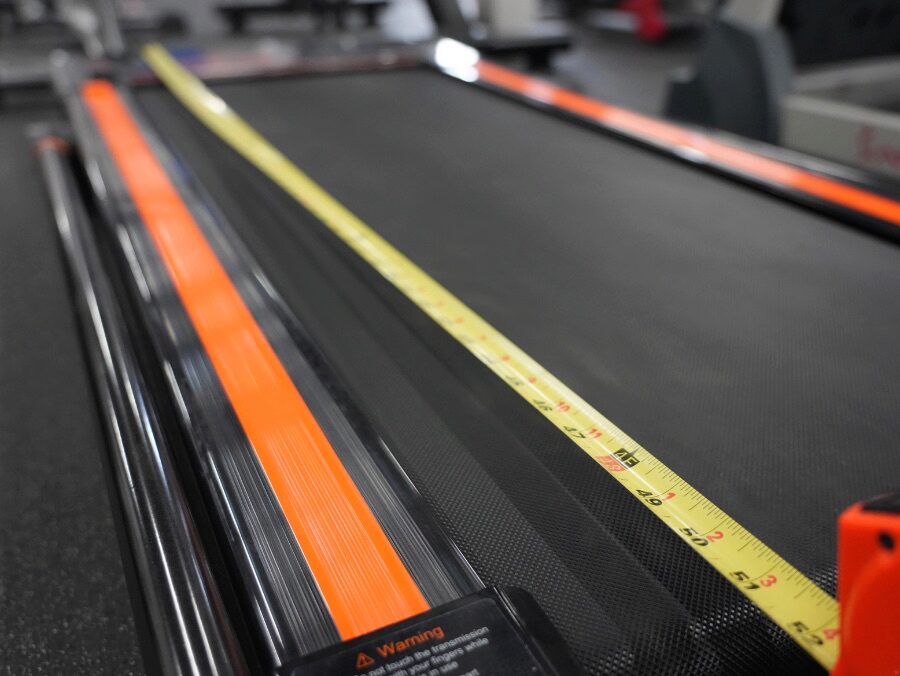 Why does this matter, you may ask? Well, depending on the length of strides you're taking, you could literally fall off of the UREVO. At 5'9", I had to be purposeful about making my strides shorter than I would naturally because the deck is just so short.
The belt itself seemed to be nice quality. The industry standard for a good treadmill is a single ply PVC belt between .8mm-1.1 mm thick. The UREVO claims to have a "non-slip 5-layer running belt" with no information about how thick that meant the belt actually was (no matter how hard I tried to find it).
Horsepower of the Motor
In terms of things I was impressed by, for a treadmill under $400, the UREVO has a decently powerful motor with 2.5 continuous horsepower. This is on target for supporting walking and even light jogging on a normal treadmill.
Notice I did say jogging. The UREVO has a top speed of 7.6 mph, and I do genuinely think the motor could support that, but the deck likely could not for most people. It's really just too short for anyone over 5'9" to run or jog on. I almost fell off trying to run on the very short deck.
I have to give props to the quiet motor. For a budget treadmill, I was impressed with the lack of loud noise while in use.
Stats
For those who want to see their stats as they're working out, you're in luck. The UREVO does show four of these at the top of the treadmill in LED display; calories burned, speed, distance traveled, and time elapsed.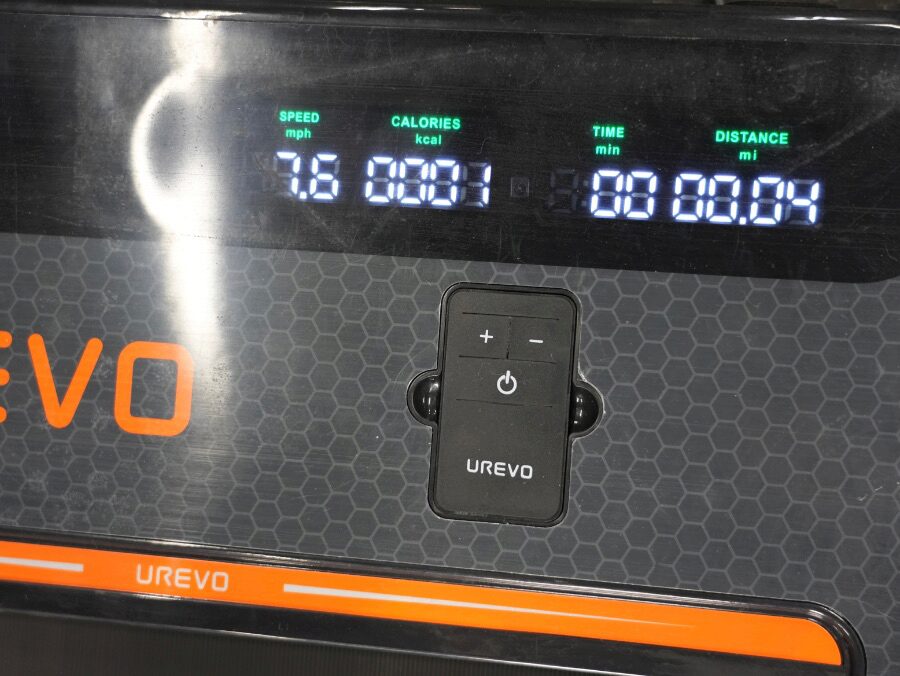 If you have the handlebar up, you might have trouble actually seeing these figures, as it gets in the way. If you don't have the handlebar up, you'll be able to see the stats just fine. I do think this issue could have been avoided with more careful design, but it isn't the end of the world. However, if you want to see these stats while using this under your desk, you might get frustrated that you're unable to see this information with ease.
Best Use
The UREVO was designed to be used under a desk while someone is working. Personally, I can't do two things at once like type coherent thoughts and try to not fall off a treadmill, but that's more of a personal problem.
If you've been looking for a way to get steps in while working from home, this is honestly a great option for that. You can fold down the handlebar and stick this treadmill under a standing desk and slowly walk the whole day. In fact, I have coworkers who do just that. It can work out really well for people who otherwise struggle to hit their step goals for the day.
Footprint and Portability
One of the biggest draws for the UREVO is the foldable design and light weight. At only 59 pounds, this treadmill can be easily moved using the attached transport wheels. You won't have to worry about hurting yourself lifting this machine; pretty much anyone should be able to safely and easily move this treadmill.
RELATED: How to move a treadmill
The small and compact footprint of this treadmill makes it an ideal option for people in apartments or those with small spaces. The handrail can be folded down (as can the deck) to be stored within a closet or against a wall.
Customer Experience
If you're not thrilled with your UREVO, you can return it on Amazon within 30 days of receiving it. However, if it isn't in the original condition it was purchased in, your return request may be denied.
If you purchase the UREVO on Amazon, Walmart, or the brand's website, you get a full year warranty. You'll need to register your product on the website to be able to cash in on the claim.
Ordering and Assembling the UREVO Treadmill
Ordering the UREVO from Amazon couldn't be easier. In true Amazon form, you can get this under $400 machine shipped to your house for free (for Prime members) within a week or two of ordering. However, if you're looking to finance this, you, unfortunately, cannot at this time.
Probably one of my favorite parts of the UREVO is the lack of assembly required. When the machine arrives, you simply need to unbox and unfold it. There is no complicated assembly process requiring multiple people, which I personally love and appreciate. 
Customer Reviews
With over 1,500 reviews on Amazon, the UREVO 2 in 1 Under Desk Treadmill has 4.6 stars out of 5. Customers like the compactness, the easy-fold handlebar, and the overall functionality underneath a desk. Others weren't thrilled with the durability, usefulness for running, and the short deck.
Final Verdict of Our UREVO Treadmill Review
For what it is, the UREVO treadmill is great. It is compact, budget friendly, and fits well underneath a desk. This treadmill doesn't really pretend to be high-tech or last a lifetime, so as long as that's okay with you, you'll likely appreciate this treadmill for what it can deliver.
UREVO Treadmill
The UREVO 2 in 1 Under Desk Treadmill is a foldable, budget-friendly option that will suit people who want to just walk on their machines.
Product Brand: UREVO
Product Currency: $
Product Price: 379
Product In-Stock: InStock
UREVO Treadmill FAQs
Are foldable treadmills good for running?
Some compact treadmills are great for running, but not all of them. A treadmill being able to fold or not fold generally doesn't have much influence on whether or not the machine is useful for running. Things like running deck length and the horsepower of the motor are more important factors when deciding whether a treadmill is a good option for running or not. 
Is UREVO a good treadmill brand?
UREVO has solid budget-friendly options for motorized treadmills. If you aren't looking to spend a lot of money on cardio equipment, you'll likely appreciate UREVO products.
Does the UREVO Folding Treadmill have a Bluetooth speaker or an included heart rate tracker?
No, there is no Bluetooth connectivity on the UREVO nor is there any way to track your heart rate with this machine.