We test and review fitness products based on an independent, multi-point methodology. If you use our links to purchase something, we may earn a commission. Read our disclosures.
In most garage gyms, space is a commodity, and squat racks can take up a lot of space. Wall-mounted racks can solve this problem, but a wall mount isn't always an option.
Today we're going to talk about an American-made squat stand that saves space without taking up real estate on your wall. It's a squat rack that can be folded up and rolled away, just like a weight bench. Our Bridge BUILT Phoenix Squat Rack review will discuss this solid squat rack and its unique design, plus its customization options, some of the attachments that can be added to the rack, as well as for whom this squat rack is best-suited.
A bonus: discount code GGR at check out will save you 5 percent on any Phoenix squat rack purchase!
Squat Racks Are In Our Blood
We have tested a lot of squat racks at Garage Gym Reviews. Like, a lot. It's one of the most reviewed pieces of gym equipment we've covered here. Our testers cover the quality of these pieces of equipment through assembly, construction, durability, and their value.
Along with that, our team consists of certified personal trainers, competitive athletes, and CrossFit coaches; we live this stuff. Heck, I went to the Olympics for weightlifting, and used quite a few squat racks along the way. I know a thing or two about needing a quality, durable rack. We are all dedicated to providing you with the best information on every product we review, so you can make the best decision based on your needs.
Bridge BUILT Phoenix Squat Rack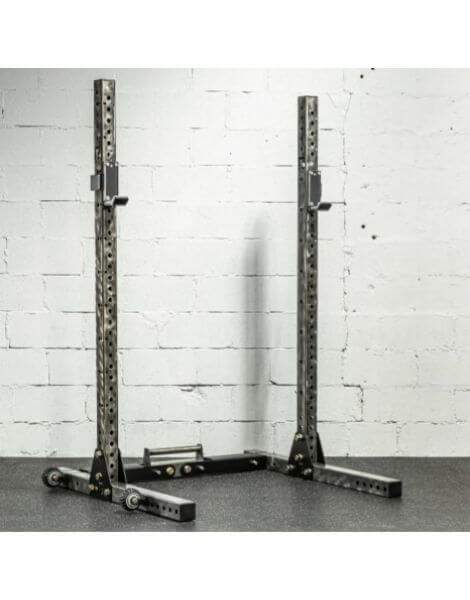 GGR Score: 4.3
Product Highlights
Foldable squat rack 

6 ft, 7 ft, and 8 ft uprights available 

Included: Squat rack, J-hooks, 4 quick-release hitch pins
Pros & Cons
Pros
Foldable
3 heights available
Numbered uprights
3" x 3" 11-gauge steel
Lifetime warranty
Cons
Long shipping times, especially if getting any color besides black
Limited reviews
Colors other than black cost extra
Bottom Line
The Bridge BUILT Phoenix Squat Rack is a fantastic option if you have limited space in your home gym and aren't in a hurry.
A Quick Look at the Bridge Built Phoenix Squat Rack
Bridge Built, based out of Ohio, has three core values listed on its website: Quality, Innovation, and Service. We see a lot of this when we take a look at the Phoenix Squat Rack.
Bridge Built released their Phoenix series to solve space issues for most home and garage gyms, providing a standing squat stand that can fold and be stowed in the corner of your gym. This opens up floor space when the rack is not in use for floor exercises, like deadlifts and barbell cleans.
Despite the foldable element, this squat rack is, as Coop says in our video review, beefy. The 3-inch-by3-inch uprights and stands are constructed from 11-gauge American steel, making this a sturdy rack, but also heavy: 150 pounds, and more if you go with the taller upright options.
This shows a lot of ingenuity in the design, combining a very sturdy, very solid rack with its folding ability making it a space-saver, too.
Before You Buy
The Phoenix Squat Rack has three upright options: 6, 7, or 8 feet. If you're going with a taller option, we'd recommend getting the pull-up bar attachment for increased stability.
There are many options for color customization, but any color other than black will cost extra.
If you're concerned about moving around over 150 pounds back and forth, Bridge Built offers wheel attachments to move the exercise equipment easily.
Video Review
Is the Bridge Built Phoenix Squat Rack Worth It?
The Phoenix Squat Rack is sturdy when unfolded, but is also portable in that it can be folded and moved out of the way when not in use. The quality in the construction and welding is evident, and the customization options can give it a sleek look.
However, this is a premium product, and comes with a matching price tag, starting at $799 with the 6-foot uprights. The 7-foot and 8-foot versions cost more, and any color customization will also have an upcharge. Additionally, the squat rack only comes with their classic J-cups; any other attachments will have to be purchased separately, including the spotter arms. This can get pricey quickly.
We think that the Bridge Built Phoenix Squat Rack is a quality piece of gym equipment, and is worth its price; however, for someone on a budget, there are other options for squat racks at a more affordable price.
Also, the sizing of the holes is ¾-inch, which makes the Phoenix Squat Rack only able to use Bridge Built accessories and attachments; this might deter you if you were looking for a rack to add your 1-inch attachments.
Great for:
Those needing a space-saving squat rack where a wall-mounted rack is not an option
People looking for quality, premium equipment made in the USA
Those looking for different color options
Not recommended for:
People on a tight budget
Those looking for a rack to add attachments from other brands
Those looking for a lighter option for a portable squat stand
Bridge Built Phoenix Squat Rack Specs
| | |
| --- | --- |
| Footprint | Folded: 12" W x 48" L x Upright Height + 3"Unfolded: 49" W x 48" L x Upright Height + 3" |
| Weight | 150 lbs |
| Weight Capacity | 1,000+ lbs |
| Upright Height | 6 ft, 7 ft (+$100), 8 ft (+$200) |
| Hole Spacing | 2" |
| Hole Sizing | ¾" |
| Material | 3" x 3" 11-gauge steel |
| Hardware | ¾" Grade 8 |
| Included | Bridge Built Phoenix Squat Rack1 Pair Bridge Built J-Hooks4 Quick-Release Hitch Pins |
| Standard Color | Black |
| Colors (+$100) | True Blue, Fire Red, Hot Pink, Orange Blaze, Army Green, Sky White, Coffee Cream, Gloss Clear, Desert Tan |
| Premium Colors (+$150) | Built Copper, Built Bronze, Built Burgundy, Built Emerald, Built Plum, Built Midnight, Built Silver |
A Look Into the Bridge Built Phoenix Squat Rack
Bridge Built did everything they could to use quality materials in making their Phoenix Squat Rack, and it shows. Along with this, the design allows for this overbuilt piece of equipment to easily fold up and save room in any small space. Let's take a look at what sets this rack apart.
Durability & Construction: It's Just Solid
The first thing we noticed with this squat rack was the quality of the construction. This thing is built solid. The welding is clean, the steel used is top-notch, and the hardware used is Grade 8, a higher quality than what most companies use. All their equipment is American-made, which is always a plus.
Bridge Built constructed a custom piece for us in this review, and the custom colors and additions really made this rack pop.
Each rack comes with a pair of J-hooks. The J-hooks have polycarbonate lining, protecting the exterior surface, and the interior is lined with high-density polyethylene (HDPE). This helps keep the knurling on your barbell from rubbing against straight metal.
Footprint & Portability: Folding From the Ashes
Bridge Built boasts on its website that the Phoenix Squat Rack can be folded or unfolded in under a minute; and in our testing, it proved true. Even taking your time, opening this 150-pound beast is surprisingly easy, due to most of the weight being distributed down towards the bottom. Along with this, the back brace that folds has an easy-to-grab handle, which helps ease the folding or unfolding of the machine. It's a unique way to fold when compared to other folding squat racks.
Unfolded, the base is 49 inches wide, with a base 48 inches long. However, folding the rack brings that width down to 12 inches, allowing it to be tucked away to the side. This opens up the space of your home gym when needed. Moving such a heavy piece of exercise equipment can be daunting though, and there is a wheel kit attachment available for purchase separately.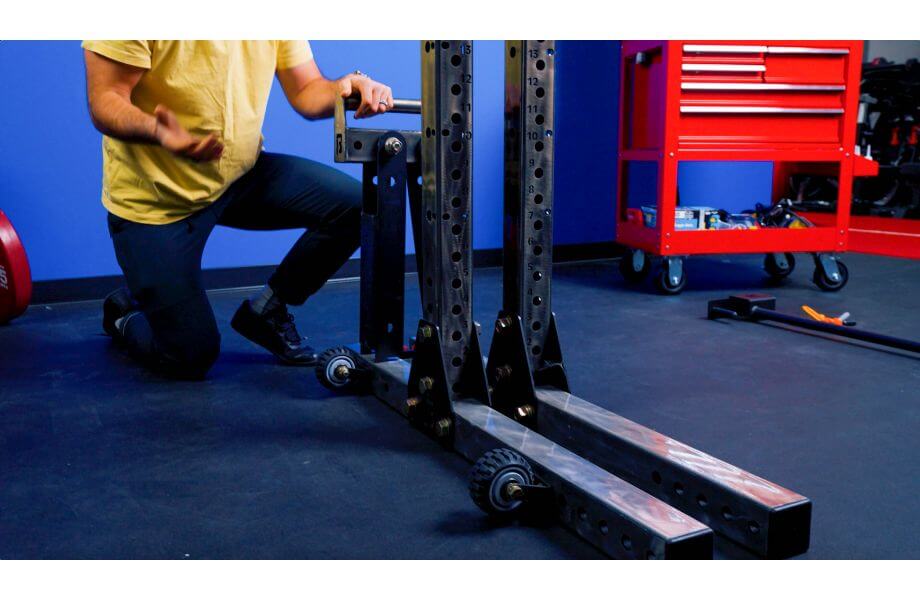 Attachments
One shortcoming of the Bridge Built Phoenix Squat Rack is that the hole-size on the rack is ¾-inch, which means you won't be able to use standard 1-inch or ⅝-inch attachments from companies like Rogue Fitness or Titan.
However, Bridge Built does have some attachments. and they are slowly adding more accessories and attachments. Here is a look at some of the attachments they offer.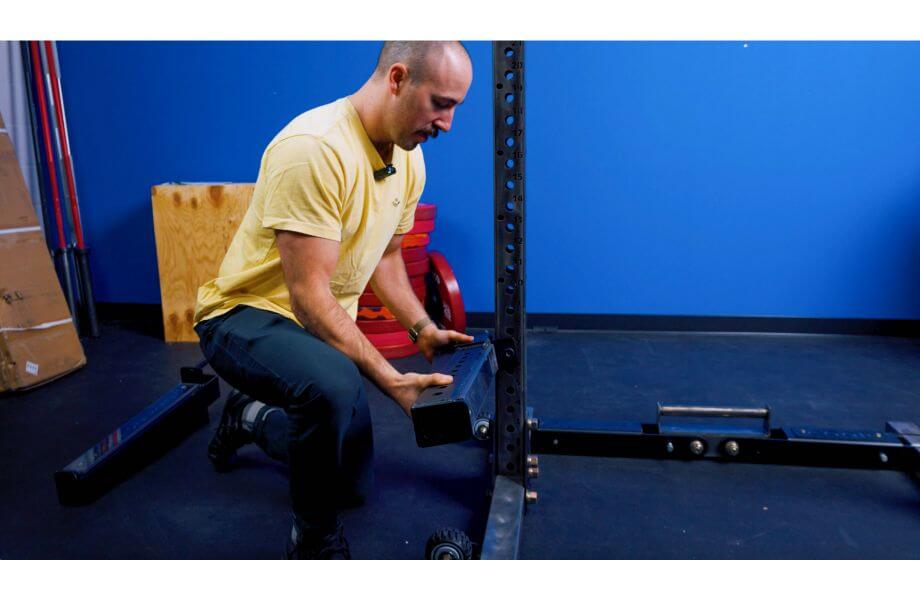 Spotter Arms
The spotter arms match the Phoenix Squat Rack in quality, and also in bulk; they are heavy! Still, the same quality is put into these arms, lining the top of the arms with more HDPE to protect your barbell.
Another neat feature of these spotter arms is the short height. The short height allows you to set them up low on the rack, for a bench press or even a floor press.
Pulley Systems
The pulley system is attached towards the top of the upright, and can be loaded with weight plates for cable exercises like lat pulldowns or triceps pushdowns. There is also a lower pulley attachment, for seated low rows.
Pull-Up Bar
The pull-up bar attachment is easy to set up on top of the upright; just slide through the upright holes, and secure with pins on each side. Not only does this allow for some bodyweight movements on the rack, but it further adds to its stability, especially on the taller versions.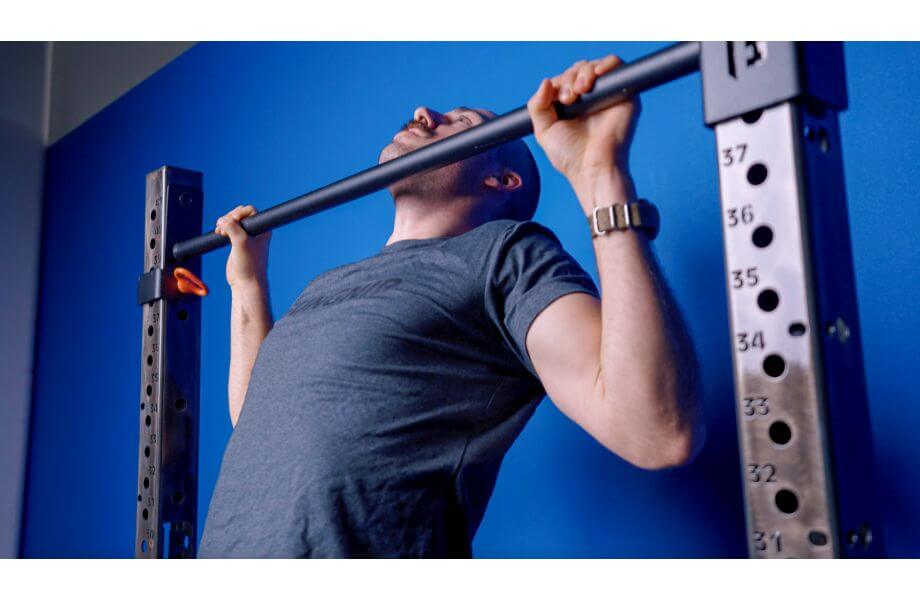 Rack Expansion Kit
Bridge Built offers an expansion kit, where you can build this squat rack into a power rack. It keeps its ability to fold while adding more stability and more places to add attachments. It comes with safety bar rods and pipes that can be upgraded to safety straps.
Other Attachments
In addition to the above accessories, the Phoenix Squat Rack offers a landmine attachment and a dip station, with the dip bars being connected by a pin. There are also plate storage pins and barbell sleeves offered in the rack's ¾-inch size, which can help with bar and weight storage and a barbell. However, with storage attachments like this, it would more than likely make the rack far less portable.
Along with these, there are band pegs, for storing bands, or using resistance bands in your squats. Additionally, there are small holes up and down the corners of the uprights; these can fit carabiners to the rack, which is another way to connect resistance bands.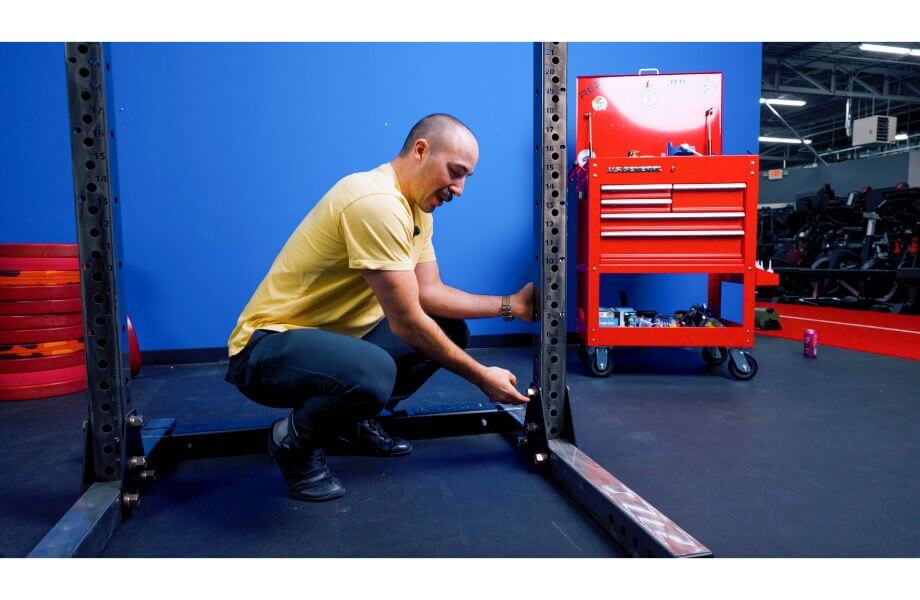 Comparison to Force USA MyRack Folding Power Rack
It's difficult to compare the Phoenix Squat Rack to any one machine, as the folding capability combined with its portability is unique; it's one-of-a-kind. Looking at the quality of the materials, it is built solid; we'd compare the craftsmanship to top-tier companies like Rogue or Sorinex. Although Rogue has cheaper options with quality craftsmanship in the Rogue Monster Lite series (particularly the SML-2 or -3 with its added pull-up bar), none of those options can fold up like the Phoenix.
The closest comparison we could make is the Force USA MyRack Folding Power Rack, which is a folding power rack also not mounted on a wall, although this is made to be a bit more stationary than the Phoenix Squat Rack. Both can fold up to save room in your home gym, making each piece optimal for small spaces. The MyRack folds the sides into the back brace.
The uprights are 2.4 square inches, which makes the MyRack, like the Phoenix, only able to use brand attachments specific for this power rack. Compared to Bridge Built, Force USA offers more attachments, including a multi-grip pull-up bar already attached to the machine. Also, the MyRack uses Westside spacing, adding more customization in where to attach your accessories. However, these attachments are not as well made as the attachments for the Phoenix.
As of this time, the MyRack is the cheaper option starting at $699.99; however, the Phoenix Squat Rack offers all-around better quality at just $100 more. Ultimately, it depends on what you need from your power rack. The MyRack will give you options, while the Phoenix will give you a higher quality.
Force USA MyRack Folding Power Rack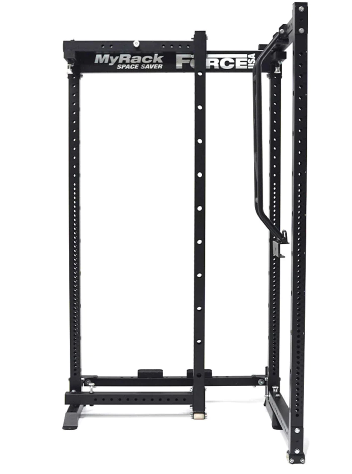 GGR Score: 4.0
Community Score: 2.6
Product Highlights
2,000-lb weight capacity
Fully customizable
12-gauge steel uprights
Lifetime structural warranty
Multi-grip pullup bar
Pros & Cons
Pros
2,000-lb weight capacity
Customizable
Multi-grip pullup bar
Freestanding
Cons
Attachments can get expensive
Not the best for low ceilings
Attachments aren't high-quality
Bottom Line
The Force USA MyRack folding power rack has a high weight capacity and is freestanding, although the attachments are the highest of quality.
Customer Service
Customers can reach out to Bridge Built through email, or through a contact form via their website. Bridge Built prides itself in customer service, and the website customer reviews speak well of their ability to communicate with customers. This is great, due to the company's long shipping times…more on that in a bit.
Warranty & Returns
Bridge Built offers a lifetime warranty on all of their products, but this does not include damage caused by user error.
They also offer a conditional 30-day return on unused equipment. The conditions are that the unused equipment must have the original packaging, and the customer is responsible for any shipping costs. For a rack, these costs could add up quickly, so keep that in mind.
Ordering and Assembling the Bridge Built Phoenix Squat Rack
Assembling the Phoenix squat rack is no more difficult than most squat racks out there. It requires connecting the uprights to the base with triangular plating with the Grade-8 hardware. This is a higher-end hardware than we see in most racks, adding to its quality and stability.
Despite the rack's heft, going from folded to unfolded and back is relatively easy. Pull out the two hitch pins along the back of the base, and pull one upright apart from the other as the center unfolds down. Install four pins along the back brace when unfolded for maximum stability. Then reverse the process to fold the machine back up, pulling on the back brace handle as you pull the uprights closer together. If the weight is worrisome though, you can purchase a wheel kit to help roll the rack around.
Shipping is the biggest complaint seen on the website. Bridge Built has a disclaimer that all orders have a 21 to 35 business day lead time. On top of that, any custom color order tacks on another 20 to 40 business days. Don't get me wrong; this is a great product. Just be ready to wait for it.
Customer Reviews
As of this writing, there are 30 reviews for the Bridge Built Phoenix Squat Rack on its website. They are overwhelmingly positive reviews, with all but three being 5-star reviews, and the others being 3- or 4-stars. Customers are very satisfied with the sturdiness and quality of the rack; the main complaints are over the long shipping times.
Final Verdict of Our Bridge Built Phoenix Squat Rack Review
The Bridge Built Phoenix Squat Rack is a fine piece of machinery. It is quality equipment, similar to top companies in the industry. The price may be more than what some people want to pay for a rack, but you will be getting your money's worth. The rack is heavy, but adjusting it from folded to unfolded is easily done by most people, and will help keep space open in your home gym when not in use.
If you're looking for a premium space-saving squat rack with the options for color customization, and a growing assortment of accessories, this is the rack you're looking for.
Bridge Built Phoenix Squat Rack Rating
Bridge Built Phoenix Squat Rack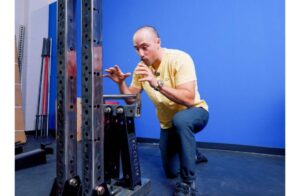 A beefy, overbuilt squat rack that saves space in your home gym; check out our Bridge BUILT Phoenix Squat Rack review.
Product Brand: Bridge Built
Product Currency: USD
Product Price: 799.00
Product In-Stock: InStock
Bridge Built Phoenix Squat Rack Review FAQs
Is a squat rack a good investment?
Absolutely! Every home gym has a squat rack or power rack as its centerpiece, all because of its versatility. Not only does it give you a stand to perform barbell squats, a workout staple, but a good squat rack helps utilize space with the use of rack attachments and accessories. With attachments, your squat rack quickly becomes much more than just a squat stand. The main thing is that a squat rack is a great investment if you use it, so get in there and squat!
How much should I spend on a squat rack?
The average cost for a squat rack is about $1,000, but the price depends on what you want from it. Bigger racks that take up more space and that can hold more bars and equipment will cost more. Smaller racks that are only used for squatting will cost less. The quality of the build will also affect the price.
Is it OK to leave a squat rack outside?
It's not ideal, and outdoor conditions will cause wear faster than normal, but the right squat rack can withstand harsh outdoor conditions. If you're looking for an outdoor rack, look for a rack made with galvanized metal, which is coated with molten zinc to help protect the metal from rusting. Also, take precautions and cover your rack and gym equipment with a tarpaulin when not in use.
Is a power cage better than a squat rack?
It depends on what you want from your home gym. If you want the best equipment with a lot of versatility and capabilities for attachments or storage, then a power cage or power rack will probably be your best bet. If you need something smaller or more budget-friendly for your squats, then a squat rack is your best option.