We test and review fitness products based on an independent, multi-point methodology. If you use our links to purchase something, we may earn a commission. Read our disclosures.
As a home gym owner, I believe the main appeal of a squat rack is versatility. They come in all shapes and sizes, but none of them are limited to purely squatting purposes. The rapid innovation of power rack attachments has left us with endless possibilities, which is amazing but can almost feel overwhelming. Brands that produce racks have made their own attachments, but sometimes, those attachments can also fit racks from other manufacturers.
To help you cut through all the numbers, our team spent a significant amount of time creating this guide to determine which attachments fit your rack, regardless of the manufacturer.
What Rack Attachments Do I Need?
To answer this question, first ask yourself: What do I want to do that I can't already? That's going to help you narrow down your search. If you're just looking to do dips, most rack manufacturers carry some sort of dip bar station that easily hitch pins into the upright, such as the Rogue Matador. For more versatility, you can even try putting utility pins into a cross member or safety spotter arms.
Your selection of rack attachments is a product of your own interests, the resources you can spend, and the resources you need to save. Need to save space? There are countless storage options. Need to save time? Most rack attachments are easily adjusted to move in and out of the way.
How Can I Tell if an Attachment Is Compatible?
The main components that determine compatibility are tube dimensions – meaning the width and depth of the uprights on the rack – and hole sizing. If the attachment is designed to put pegs through multiple holes, hole spacing becomes a concern as well.
Generally, any attachment made by the manufacturer of the rack itself will fit. If you are trying to cross brands and can't figure out hole spacing, look for the specs of the racks themselves and you'll likely find your answer.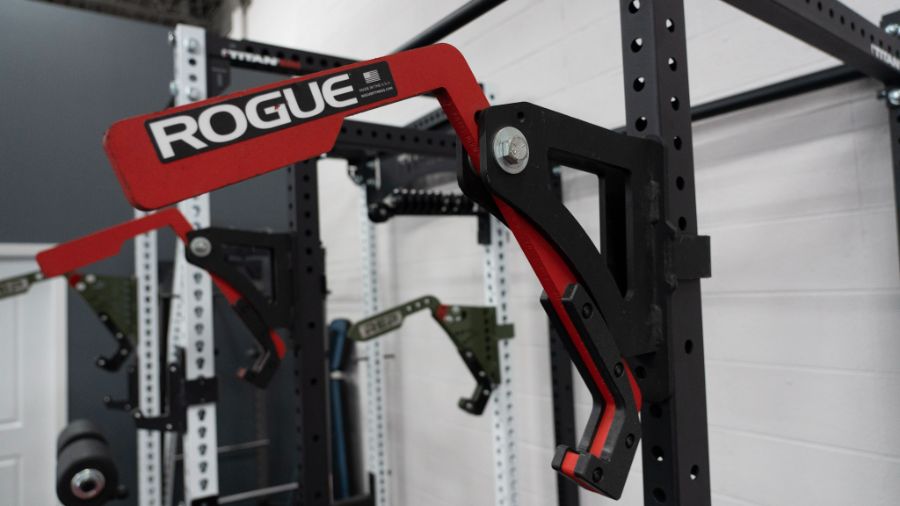 Is It Ever Okay to Use the Wrong Sized Attachment?
This can be a safety issue and also may void warranties. Personally I've used a Rogue Monster Lite (3-by-3-inch, ⅝-inch holes) dip attachment on a Rogue Monster Rack that has just 1-inch holes, and while it was a little more shaky coming on and off, it felt okay in use. That being said, in the future I'd definitely buy the correct sized attachment.
The Most Comprehensive Power Rack Attachment Guide
Here is a list of power rack attachments, sorted by the size they are intended for. They are grouped by brand/rack within each size in case you aren't quite sure of the dimensions of your rack.
Universal
Custom
These attachments will work exclusively with their corresponding rack from the same manufacturer. This is often a result of unique hole spacing/sizing, upright size, and even different shaping.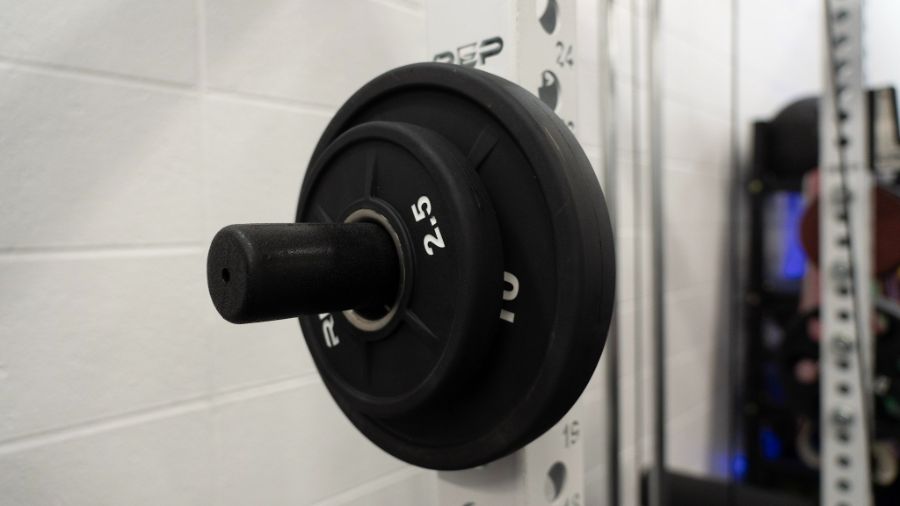 2×2 TUBING, 1/2" PEGS
2×2 TUBING, 5/8″ PEGS
2×2 TUBING, 1″ PEGS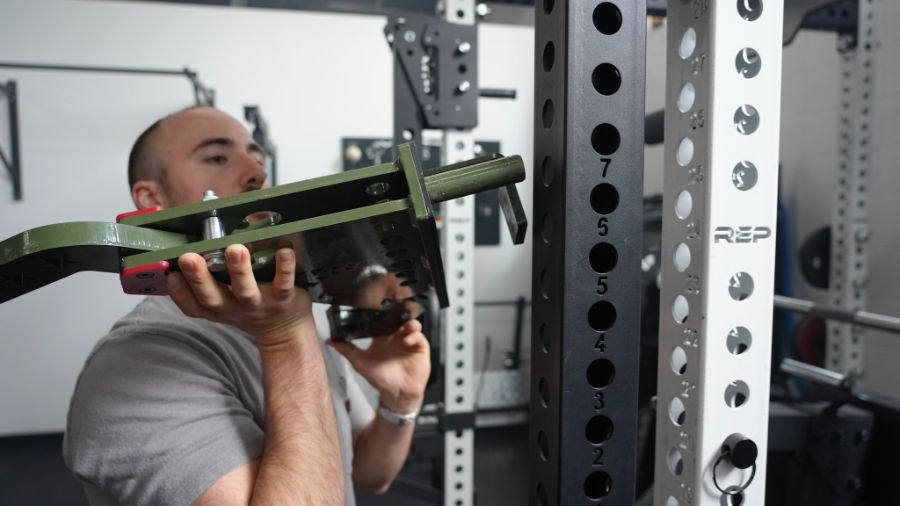 60X60MM (2.36″) TUBING, 5/8″ PEGS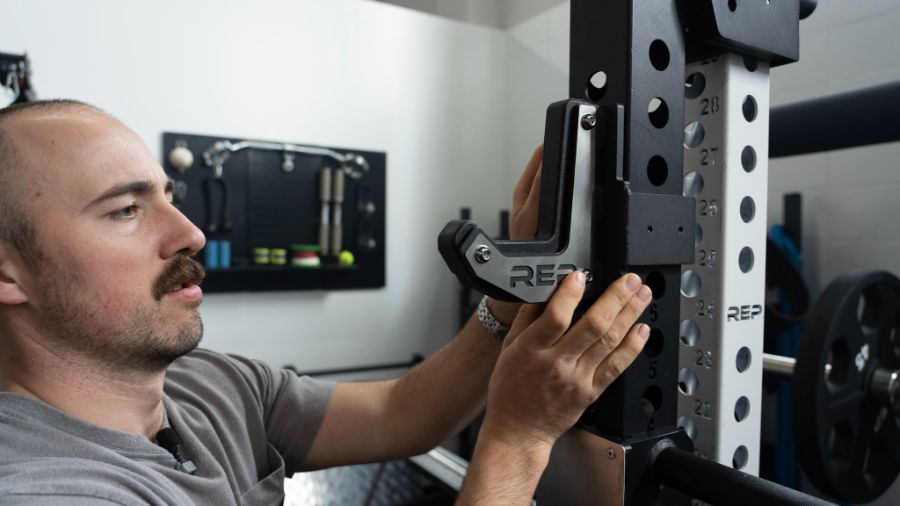 60X60MM (2.36") TUBING, 3/4" PEGS
60X60MM (2.36″) TUBING, 1″ PEGS
2.5×2.5 TUBING, 1″ PEGS
2×3 TUBING, 1/2″ PEGS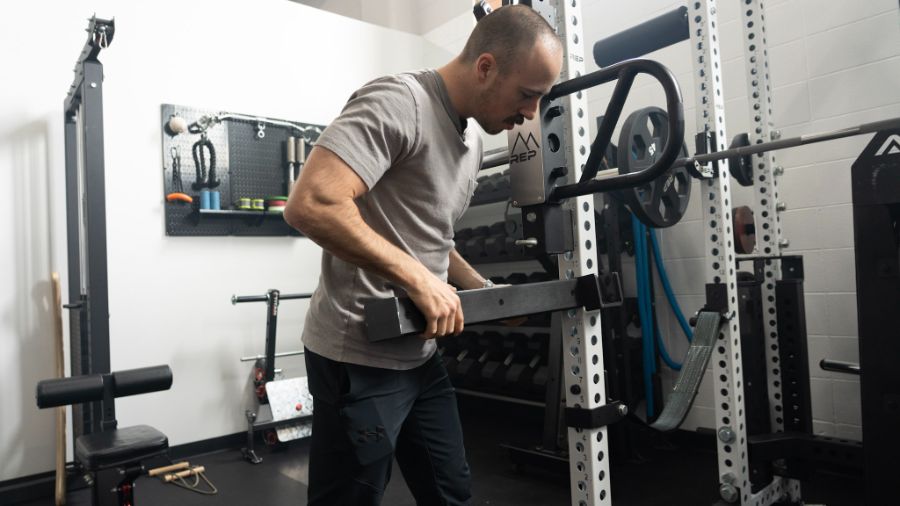 2×3 TUBING, 5/8″ PEGS
Fringe Sport Dip Bar

Note this can only go on the side of the upright since the tubing isn't square on a 2×3 rack.
3×3 TUBING, 5/8″ PEGS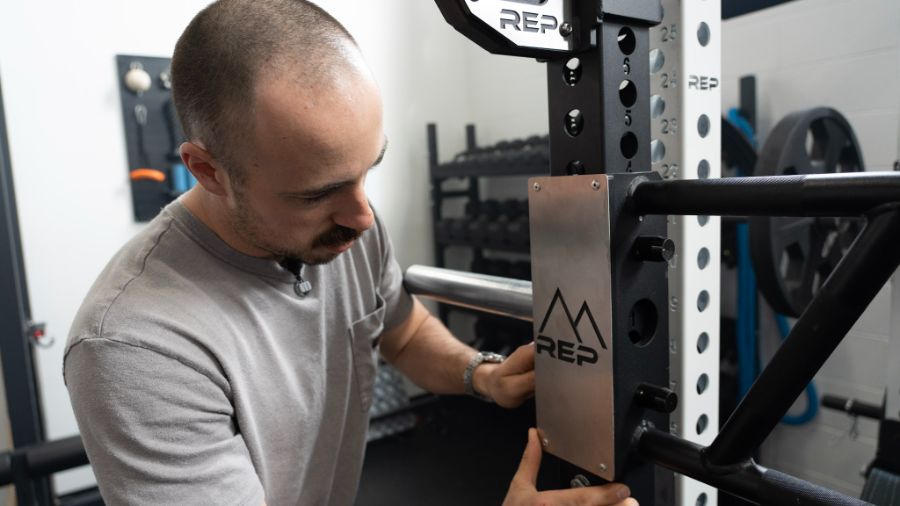 3×3 TUBING, 3/4″ PEGS
3×3 TUBING, 1″ PEGS
PRIME Prodigy Series – note that these are only available by getting a quote HERE.
Centering Device for Bench
Dip Bar
Dumbbell Cradles
Spotter Arm Pair
Roller Pad
Step-up Platform
J-Hook 2.0
Band Pegs (6 Pack)
Barbell Holder
Landmine
Ball Target
Speed Bag
Flying Pull-up Station
Weight Peg Storage
Adjustable ROT8 Pull-up Station
Back Storage Bar
Spotter Bar Pair
Benefits of Rack Attachments
The main benefits of rack attachments are to save us resources:
Space: Rack attachments keep us from purchasing a standalone piece of equipment to serve a singular purpose.

Ex. Purchasing a full hamstring curl machine will take up much more space than a rack-mounted attachment.

Money: Rack attachments are intended to be the more cost-effective solution to purchasing a standalone machine. Cross-compatibility between brands helps us identify the best deal too.
Time: Attachments make transitions between movements and exercises easier. These products are constantly updated and re-released to make it a seamless process.
Final Thoughts
At the end of the day, how your power rack looks will be defined by how you like to train. If you hardly do pull-ups, you're probably not going to be the person with five different styles of pull-up bar on your rack. On the other hand, you might have every little storage attachment to keep all of your equipment within the footprint of the rack.
What matters is that the rack is yours and you hand-selected each piece of it, saving resources while you build your dream home gym. This, to be frank, is one of the best parts of having a home gym. You can build how you please based upon your training style and budget. So, go build the biggest, baddest rack you can imagine…GGR supports you in this mission.
FAQs About Power Rack Attachments
What Are Rack Attachments?
Rack attachments are smaller components meant to be fixed to a squat rack to maximize the number of exercises you can do with your rack. They provide a variety of uses to expand the possibilities of using the rack. For example, some attachments allow for storage of Olympic bars, or some allow you to do bodyweight exercises, like dips.
Are power rack attachments universal?
Any attachments that use pre-drilled holes are going to be limited to racks with the same hole size, and, in most cases, the size of the upright as well. Truly universal rack attachments are few and far between, and often use a strap system to fix to the rack.
Do Rogue rack attachments fit on REP Fitness racks?
Rack attachments will fit any rack with matching tubing and hole size to the intended rack. If Rack A has 3-by-3-inch uprights with 1-inch holes, Rack A's attachments will only fit Rack B if it has 3-by-3-inch uprights with 1-inch holes.
In this specific case, we likely see compatibility from Rogue Monster Lite to Rep PR-4000, as well as Rogue Monster to Rep PR-5000.
Do Rogue attachments work on PRx?
Rogue attachments will fit any rack that has the same tube and hole size as the Rogue equipment the rack accessories are intended for. Hole spacing will need to match up as well if there are multiple pins in the attachment. 
In this specific case, the PRx Profile PRO has different sized holes on different faces of the uprights. The front face is 1-inch holes through the hooking area, while the sides have ⅝-inch holes. All uprights are 3-by-3 inches. For an attachment going through the front, a Rogue Monster-compatible attachment would work. For the side, a Rogue Monster Lite-compatible attachment would be needed.
Are power racks worth it?
Power racks may be the most bang for your buck strength training equipment aside from the weights themselves. They are not the only option though. If you don't have space for a full power rack, check out a folding rack to still take advantage of many of the benefits with less footprint.