We test and review fitness products based on an independent, multi-point methodology. If you use our links to purchase something, we may earn a commission. Read our disclosures.
While jammer arms don't quite make the cut for the absolute best home gym equipment, they are a nice-to-have addition if you want to mimic machine-style training that you traditionally find in commercial gyms.
We Love Squat Racks and Decking Them Out with Accessories
Vendetta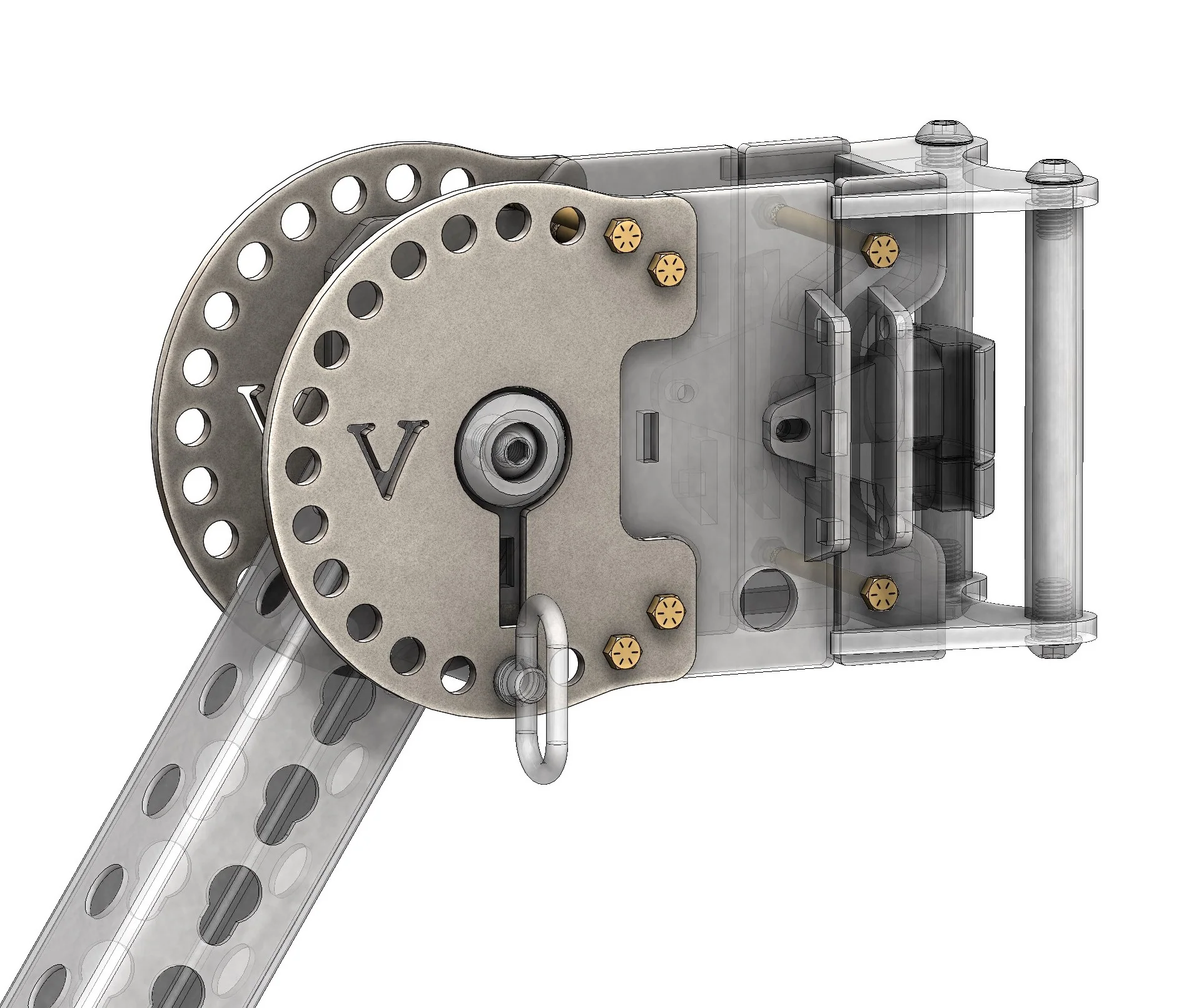 GGR Score: 3.91
Product Highlights
Heavy-duty materials

Simple installation

180° of possibilities 

Comes with all the brackets and hardware needed

Laser-cut steel built-on adapters
Pros & Cons
Pros
The brackets allow you to set a starting position at various angles
Quick and convenient set-up
5/16" thick CNC laser-cut steel side plates
15 equally spaced holes give a variety of adjustable positions
Made by a small business in Chattanooga, TN
Cons
Only compatible with the newer 2.0 versions of lever arms
Doesn't include a few key pieces that you will need to connect to your current system
Bottom Line
If you haven't been using the lever arms on your newer 2.0 machine, this add-on will make it one of your favorite training accessories. This piece allows you to add versatility to your current workouts while also letting you support a small business. You should keep in mind that this isn't made to replace a spotter or spotter racks and is intended to be used as another tool in your fitness arsenal.
GymPin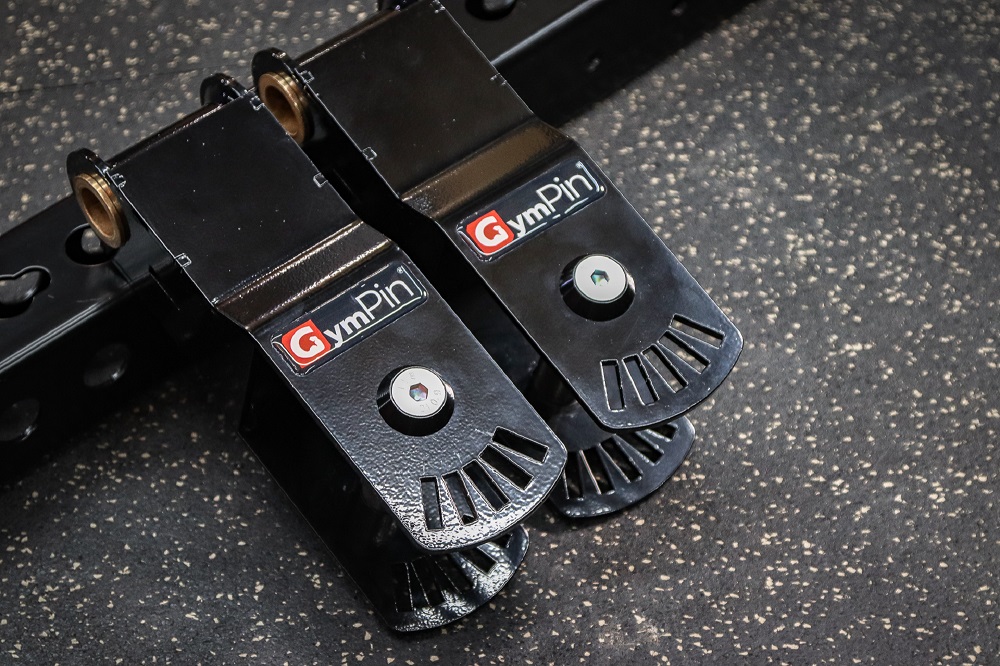 GGR Score: 3.83
Product Highlights
Jammer arm adapter kit

Heavy-duty construction

Sold in pairs

Includes 2 locking keys

Increases jammer arm length by 7″
Pros & Cons
Pros
Constructed from 6-gauge steel
1″ bushes for seamless movement
Lockable in 5 positions
Cons
Expensive
Ships from the UK
Designed for Rogue jammer arms 2.0
Bottom Line
If you're looking to add more versatility to you existing jammer arms, this adapter can give you 360-degree rotation. That means you can use your jammer arm through multiple planes of motion for pressing or pulling. You're no longer just stuck in a vertical plane.
A Quick Look at Both Jammer Arms Attachment
Vendetta Strength and Athletics and GymPin are both small equipment manufacturing brands that offer a select few products made with high-quality materials. Both companies offer after-market jammer arm attachments that provide even more versatility to your home workouts.
Firstly, Vendetta Strength and Athletics exclusively manufactures 180-degree lever arm adapters for jammer arms. The Vendetta lever arm allows you to set a starting position for your jammer arms with a bracket and pin.
GymPin on the other hand manufactures a small selection of innovative equipment. In this review, we'll focus on the jammer arm adapters that allow you to add multi-directional movement to your lever training, which allows you more freedom with your movement pattern.
Before You Buy
Lever or jammer arms are a prerequisite for purchasing either jammer arm attachments in this review.
Expect steep shipping fees from both companies, especially GymPin as it's based in the United Kingdom.
Check out our guide to the 10 best lever arm exercises.
Video Review
Are Jammer Arm Attachments Worth It?
Like we mentioned earlier, jammer arms are a nice-to-have addition to your power rack. If you're a budget-conscious kind of person or a minimalist, let it be known that you can use the best resistance bands, pulley systems, or a landmine attachment to achieve a lot of the same movement patterns as you can with jammer arms.
RELATED: Best Landmine Exercises
Both jammer arm attachments will be worth the investment for some folks, while others won't need or desire the additional versatility.
Great for:
Folks who already own a power rack and jammer arms
Anyone trying to mimic plate-loaded machine movements
People who want more versatility from jammer arms
Not great for:
People who prefer free weights
Anyone who invested in a pulley system
Fitness equipment minimalists
GymPin x Kaizen Jammer Arms Adapter Spec Chart
| | |
| --- | --- |
| | GymPin Jammer Arms |
| Price | $343.28 |
| Weight | 14.3 lbs |
| Dimensions | 12.59" L x 4.73" W x 9.84" H |
| Color | Black powder coated |
| Country of origin | United Kingdom |
| Warranty | N/A |
Vendetta 180 Degree Lever Arm Adapter Spec Chart
| | |
| --- | --- |
| Price | $279.99 |
| Weight | 20 lbs (shipping weight) |
| Dimensions | N/A |
| Color | Black powder coated |
| Country of origin | United States |
| Warranty | Lifetime |
Workout Experience with Both Jammer Arm Attachments
Coop not only had the chance to test both jammer arm adapters, he tested the adapters together. The combination of the two adapters allowed him to use the lever arms as a dip station and pull-up bar, in addition to explosive training and eccentric bodybuilding-style training.
It's also worth noting that neither adapter will limit your ability to load olympic weight plates on the weight horns or minimize functionality of even the best squat racks.
GymPin
GymPin teamed up with home gym maker and creator Kaizen, after he shared a video on his Instagram of a prototype jammer arm—made from wooden posts—that had 360-degree rotation capabilities.
You may be asking why you would want that much rotation from a jammer arm? Coop explains that instead of being stuck in a single plane of motion with a traditional lever arm, you'll have more freedom with your range of motion, which will be similar to using dumbbells.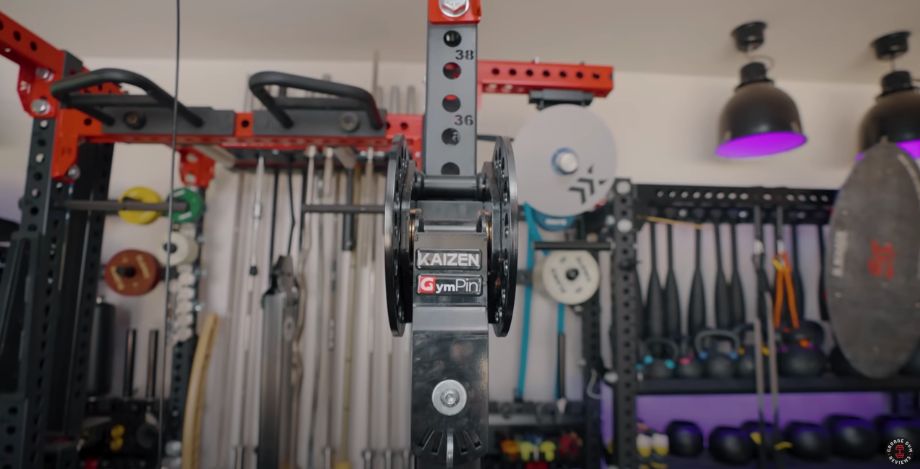 "Suddenly you have a multi-plane motion," says Coop. "Like with a dumbbell press, you can converge at the top because you squeeze your pecs together. You can do something like that with this attachment."
In addition to having 360-degree rotation, you can also lock the adapter in place using a key. Coop notes that once you remove the key, the movement is fluid and you're able to converge the lever arms right away.
"It allows you to use a key—they actually come with it—to fix the position so you can fix them closer together or farther away depending on how you want to use them," says Coop.
It's constructed from heavy-duty steel, features bushings for smooth rotation, and has a black powder coat that will blend well with your existing adjustable lever arms and power cage. Coop also notes that it's smooth and simple to use saying that, "it does what you want it to do."
Vendetta
The Vendetta adapters allow you to create a fixed position for your lever arms so you don't have to start your exercise of choice from a vertical position every time. The adapters are steel plates that attach to the side of your trolley arms and allow you to select a pin and create a fixed position.
In other words, Coop says, "the adapters allow you to create a starting position for your jammer, so for instance instead of having to start the jammer arm lift at the bottom every time—and having to do a clean and jerk—if you want just want to do a shoulder press."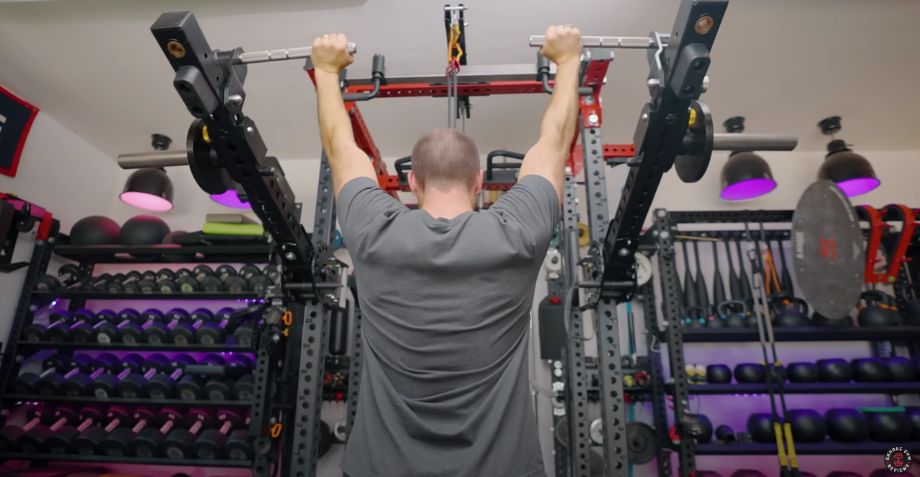 The Vedetta adapters are "basically taking something that you already have and adding functionality that you may want or wish you had," says Coop. The attachment basically mimics "what you would use in a commercial gym," says Coop. "Like a Hammer Strength plate loaded military press or a plate loaded flat press.
"You can create the start position, because you may be able to bench more than you can clean. Here this allows us to do that. That's one of the big benefits."
RELATED: Best Weight Bench
Coop goes on to mention the other benefit is the ability to store your lever arms "out of the way or give them a fixed position so you can use them for things like pull-ups and dips."
Lastly, Coop says, "honestly after using it you're like, man the biggest question mark is why didn't companies think of this before—why didn't they just include this standard?"
Durability and Construction
Coop appreciates the fact that both companies take quality construction seriously. Both adapters feature CNC laser-cut steel, black powder coat finish, and heavy-duty steel construction.
The GymPin x Kaizer is made of 6-gauge steel and features 1-inch bushings for seamless side-to-side movement to allow your adjustable lever arms to have nearly 360-degree rotation.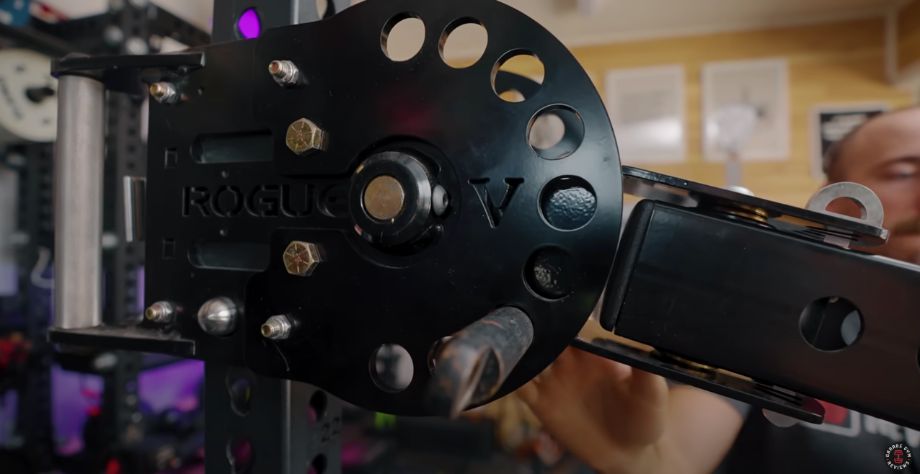 Vendetta is made from thick steel (0.3125" inches to be exact) to provide a super durable bracket to attach to your existing roller mount. It also comes with high strength, grade five bolts.
Ergonomics
While the two adapters are different, they both allow more ergonomics for regular lever arms. In the case of the Vendetta jammer arm adapter, the ability to create a starting position means you can make it so you don't have to hoist the lever arms through a clean to start a press or pull. You have multiple set points along a 180-degree plate.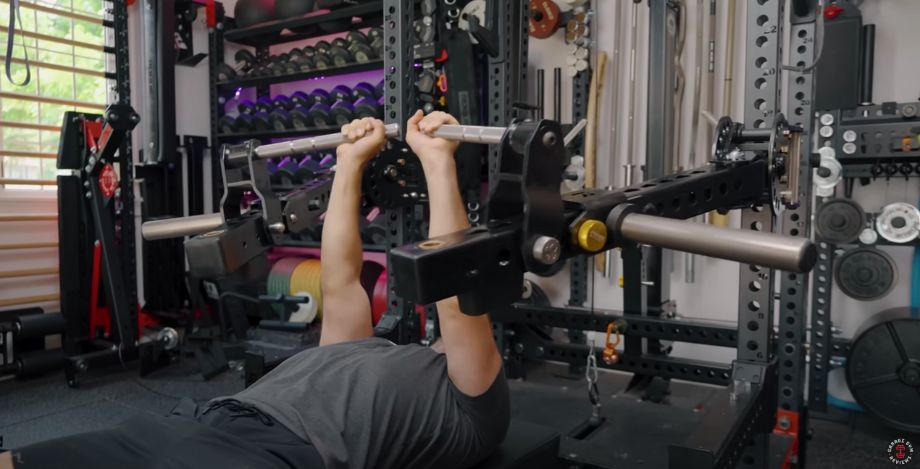 The GymPin provides ergonomics by way of offering rotation of the lever arms so you're not stuck in a single plane of motion. This is ideal for folks who have a narrow build or for folks who have a wide build and need the ability to press beyond the parameters of the squat rack.
RELATED: Best Folding Squat Racks
Side-By-Side Jammer Arms Attachment Comparison
Here's a side-by-side comparison of what to expect from each type of jammer arm attachment.
| | | |
| --- | --- | --- |
| | GymPin Jammer Arms | Vendetta Lever Arm |
| Price | Starts at $343.28 | Starts $279.99 |
| Weight | 14.3 lbs | 20 lbs (shipping weight) |
| Dimensions | 12.59" L x 4.73" W x 9.84" H | N/A |
| Movement pattern | Multi-directional | 180-degree, frontal plane |
| Color | Black powder coated | Black powder coated |
| Country of origin | United Kingdom | United States |
| Warranty | N/A | Lifetime |
Customer Experience
Because both brands are small manufacturing companies, it's not surprising the customer support is limited to online inquiry forms and social media. While GymPin does provide an email address and a street address, Vendetta does not. However, Vendetta's website notes that response time is between 24-48 hours for the inquiry form.
Let's explore more details about warranty and return policies:
GymPin
At checkout, you will have the option to enter your credit card or use PayPal. There are no additional methods or financing options.
GymPin is also based in the United Kingdom, so you'll have fairly high shipping costs if you're sending your Kaizen adapter to the United States. For reference, at checkout, shipping fees were over $50 to ship to my location in New England.
Additionally, I could not find any information about warranties on the Kaizen adapter, or any other product listed on the GymPin website for that matter. What I did find was a 30-day return policy with non-refundable shipping costs. Also, any item that is made-to-order is not returnable.
Vendetta
When checking out on the Vendetta website, you won't see financing options but there is an option to use express checkout with ShopPay or enter your credit card information.
Although Vendetta is based in the United States, I noticed the shipping fees to my location added another $20 to the total cost. It's also worth noting that the return policy explicitly states that the customer is responsible for shipping fees back to the manufacturer. With Vendetta, you'll have a 7-day return policy from the day you received your package.
The warranty for Vendetta provides all mechanical parts with a lifetime replacement warranty.
Ordering and Assembling Jammer Arm Adapters
According to Coop, the Vendetta adapters do require some assembly because you're basically attaching new plates to the outside of each lever arm.
Coop notes that assembly "doesn't take a crazy amount of time—if you put the LT1 trolley together yourself you're going to be able to add these. I'd say maybe 30 minutes to an hour depending on your skill level."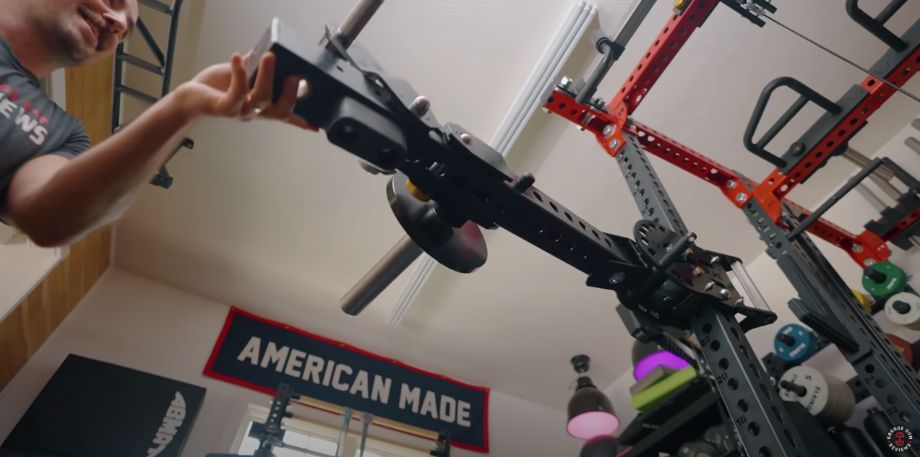 Although it's not too difficult, Coop adds that you will have to attach the plates "on both sides of both trolleys, so it's about four plates. That's what adds up, but after you do one, you figure out what's happening."
On the other hand, the GymPin x Kaizen adjustable jammer arm adapters are more straightforward to attach to your jammer arms with a pin and hardware that is provided.
Customer Reviews
Between the two companies, I read a total of three customer reviews. While that's not a lot, both adapters are fairly new products and it's not surprising to see limited feedback online with these small companies. It's also worth mentioning that all three reviews—two on Vendetta and one on GymPin—were all five-out-of-five-star reviews.
Final Verdict of Our Jammer Arms Attachment Review
Coop admits that he's not an avid user of his jammer arms in the first place. So when reviewing these two attachments, he wanted to be clear that the functionality is nice but perhaps not necessary to an item you might not be using that much.
While Coop prefers the ability to have a fixed position versus 360-degree movement, it's all about your personal preferences and training style.
On the GymPin adapter Coop says, "Is this something I would legitimately add to my training, personally? For the price not really. I like the design but for my training and the type of training I do, these aren't an addition to my gym that I'm like, 'woah I'm really glad I have those.'"
However, everyone's training is different and if you use your lever arms a ton, you might want additional functionality. If you like the idea of having a fixed start and stop point for the jammer arms, the Vendetta is the solution for you.
If you wish you had more range of motion instead of being fixed to just a straight up-and-down motion of your lever arms, the GymPin x Kaizen product is the solution for you.
GymPin x Kaizen Jammer Arms Adapter Rating
GymPin x Kaizen Jammer Arms Adapter
GymPin x Kaizen Jammer Arms Adapters allow you to transform your existing jammer arms into a 360-rotation system allowing for multi-plane training.
Product Currency: $
Product Price: 343.28
Product In-Stock: InStock
Vendetta 180 Degree Lever Arm Adapter Rating
Vendetta 180 Degree Lever Arm Adapter
Vendetta lever arm adapters allow you to set a start point to you existing jammer arms which allows you to customize your range of motion for every lift.
Product Currency: $
Product Price: 279.99
Product In-Stock: InStock
Jammer Arms Attachment FAQs
What are jammer arms for?
Jammer arms are attachments for squat racks that provide a lever arm so you can replicate movements on popular commercial gym machines including chest press, shoulder press, and belt squat.
Are jammer arms worth it?
While jammer arms are a nice-to-have piece of training equipment in a home gym, you can perform all the main compound movements like deadlift, squat, and bench press with a basic setup that includes barbells and dumbbells.
Can you use jammer arms on a half rack?
You may be able to use jammer arms on a half rack depending on the compatibility of the build of the uprights and the hole size. That said, you may need to consider bolting your half rack down if you plan to use jammer arms.